Minimalist Packing is a fun term that didn't appeal to me AT ALL before having kids.  In my twenties (and before baggage fees got so wildly out of hand), I welcomed a large check bag or several. It is humorous to me now that my husband and I would travel with multiple large suitcases for two adults for a week or less.  Choosing to travel with kids means reconsidering what is necessary to create the best experience and this is where the term "minimalist packing" came into my vocabulary.
What does Minimalist Packing mean?  Is it even possible to pack minimally with kids?  For a single person or couple traveling short or long distances, this may mean working out of a carry on bag.  To me, minimalist packing with kids means careful consideration of what is needed for the adventure, likely pairing that down, and considering how efficiently you will be able to move with what you have chosen to take.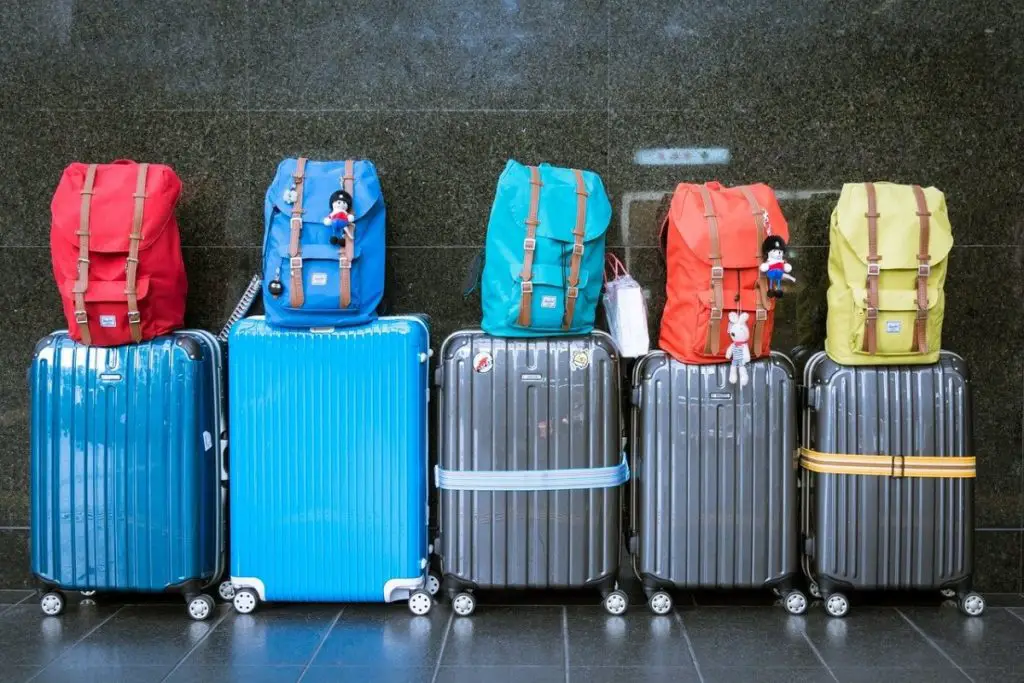 How to Approach Minimalist Packing for your Family:
Consider Length and Weather
Make a Packing List
Laundry
Shoes
Toiletries
Luggage
Baby Gear
Older Kids & Packing
Consider Length of Trip & Weather
These are the two most important factors in packing decisions – length of trip and weather.
If your trip is five to seven days or less, you may just pack everything you need and not consider re-wearing many items.  Longer trips require more consideration of what types of fabrics to pack and laundry options.
1.If your trip is less than 7 days and you don't plan to do laundry, maximize space by limiting heavy adult clothing (i.e. jeans, bulky sweaters) or plan to wear these items on your travel day.
Although kids may require more changes of clothes (because of spills and messes), their clothes take up less space than adults.  As adults, we can create much more efficiency by wearing those bulkier items.  My husband usually take only one pair of jeans on a trip and they are always his travel pants.  I like to layer for travel days because (especially if air travel is involved), you may find yourself in differing climates from the start to the end of the day.  For me, this typically includes a comfortable pant, a camisole, a blouse/short sleeve layer, a sweater and sometimes a light scarf.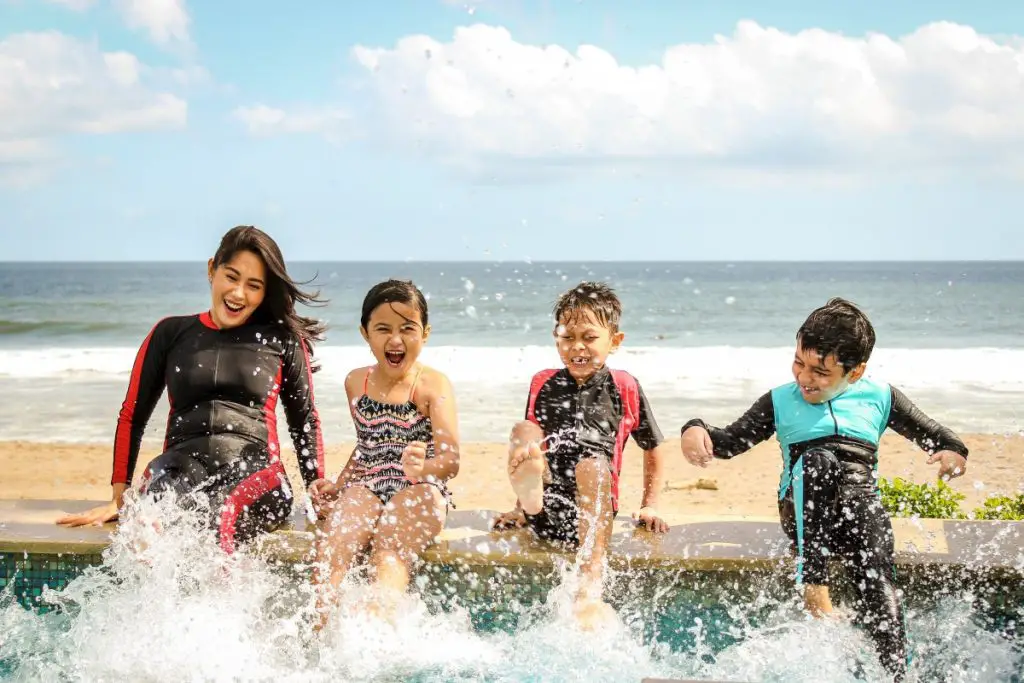 Weather can be a big determinate in packing as well.  You might think cold weather packing poses a greater challenge for light packing, but you must consider that when we travel to warm places, we usually also need swimsuits, cover ups, maybe swim related gear, more shoes, etc.  Both types of destinations can pose challenges to your packing light plans.
2. Unless you are going to spend all day in a swimsuit at a resort, keep your packing to one swim suit/outfit per person.  If you are traveling somewhere warm, they will easily dry by the next use and are easy to "wash out" in the sink after use.
3. For colder weather packing (we are not talking artic temperatures), adopt a layer strategy.  Plan outfits for each person with the base layer (short or long sleeve blouse/t-shirt) and a couple of top layers that can be used repeatedly.  Rather than consider bulky coats, plan for cold weather accessories that pack easily and take up little space.
If coats are required for your destination or you are leaving from a location that requires coats, consider lightweight coats that come with a packable bag that can be compressed into your bag or clip on to your luggage like this one from Tommy Hilfiger.
Make a Packing List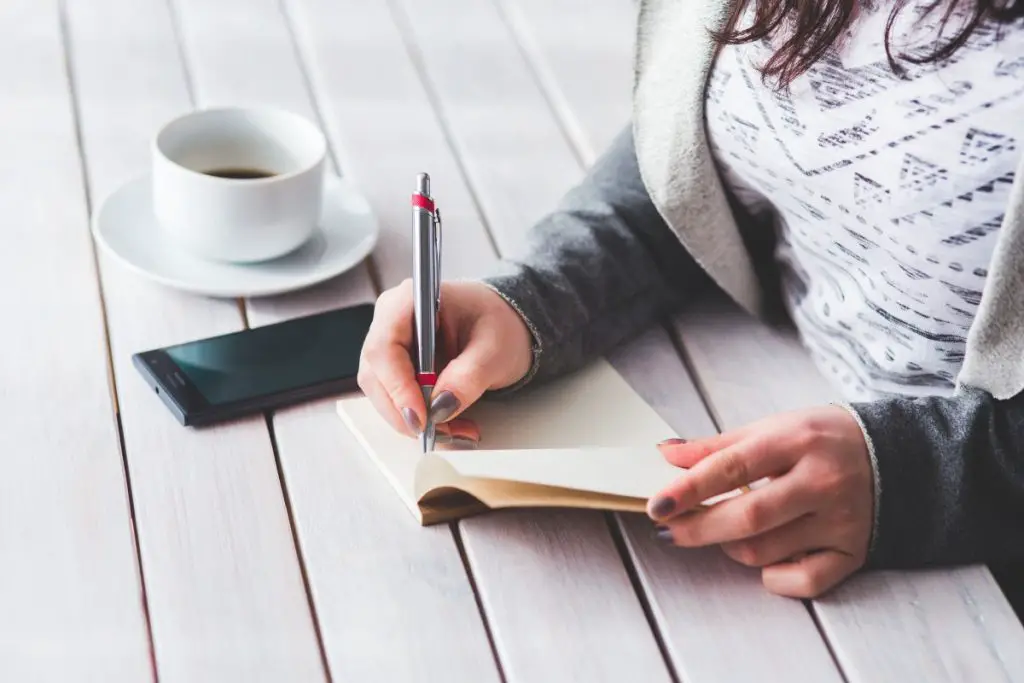 There a million packing apps and printable list you can use to make a packing list, BUT only you know exactly what you need to pack to manage your family's experience.
4. Start at the beginning of the day and walk yourself through getting ready in the morning.  Follow that with what activities you will be doing on your trip that you do not typically do at home.  As you think through this, it will be easier to make a list of what is essential for each family member to pack.
For our family, it would look something like this, starting with thinking through our day:
Work items for Annie – journal, calendar, headphones, phone
Work items for Chris – computer, portfolio, headphones, phone
Workout clothes & athletic shoes for Annie & Chris
Toiletries (our bathroom – more detail on this below)
Toiletries (kids bathroom)
5 outfits for each person
5 underwear/bras for each person
5 pairs of socks for each person
Minimal accessories (jewelry & hair ties)
Tablets, headphones & chargers
Phone chargers
Jacket/Sweatshirt/Coat and related accessories
Purse (Kleenex, lip moisturizer, hand sanitizer, gum, personal hygiene items, baby wipes)
Wallets (remove excess we don't want to carry) & Cash
Sunglasses
Snacks
Water bottles
Any homework to be completed
1 pair of everyday walking shoes
 Kids – additional entertainment (more about that on my Travel Toys page)
1 pair of PJs for each person
Lovies for each kid
Then I think through unique activities of our trip by day:
Canoeing – dry bag, sunscreen, bug spray (if they aren't fairly priced at your destination)
Hiking – any other shoes required?
Beach – swim suit & cover up, sandals
Camera
Travel toilet paper roll – thinking of our trip to Thailand 🙂
Passports
Power converters
Any printed itinerary information
Travel pillows
Yours, of course, might include baby diapering supplies, life jacket, ski clothes, sun hat, Mickey Mouse ears, etc.  The purpose of this list is to provide a starting point to know if you currently own what you need or need to shop for it.  The subject of shopping is also where you might veer away from minimalist packing.  Be sure to stop yourself here and ask if you need to buy something or you can purchase it readily at your destination.  Your decision might be that you are unwilling to buy the 5 bottles of sunscreen for double the cost so you'll bring your own and as you use them, make more space in your case.  Just don't let being prepared prevent you from keeping your packing minimal.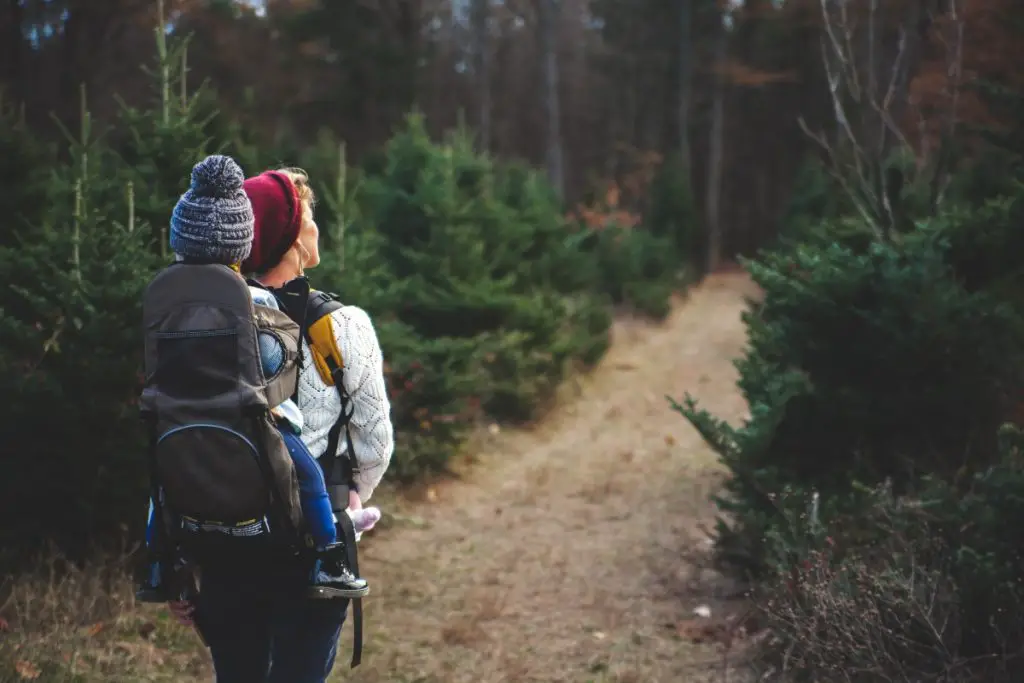 Getting into the specifics of what clothes you will bring is the next obvious step.  We live in the Midwest of the United States which means we have four clear seasons – 1 hot, 1 cold, and 2 moderate.  We rarely travel to a place with the exact same climate.
5. Although choosing kids clothes may be much simpler than pairing down your own, have your bigger kids try on their clothes.  Don't assume last season's shorts are ok or you'll be wasting valuable time vacation shopping.
I tend to choose kids clothes with minimal writing and characters when traveling internationally to stand out slightly less (trust me, we still stand out).  It's also easier to mix and match outfits if needed while on the road.  This phase is also helpful for kids who have strong opinions so you don't find yourself with 1 of 4 outfits he or she is refusing to wear "because they hate it".
Planning clothing for adults when packing minimally typically feels more daunting.  I, for one, am never very excited to pull summer clothes out in the middle of winter to see what fits and what looks tired.  Sometimes people suggest planning around a color palette.
6. I suggest planning around a pair of shoes or two (at most).  Multiple shoes does not equal minimal packing.
My planning is relatively simple – 1 pair of tennis/athletic shoes and 1 pair of either loafers, booties or sandals (depending on climate).  For the kids, it's a pair of tennis shoes and something they can wear to the pool/beach if needed.  For my husband, that means one pair of athletic shoes and one slip on shoe that can be versatile.  For shoe suggestions, see below.
Example: five outfit packing for me in hot weather would include:
3 pairs pants/shorts & coordinating top
1 skirt & coordinating top
1 dress or a 4th pant/top outfit
sandals
1 swimsuit & cover up
1 pair athletic pants, tank & sportsbra
3 pairs of athletic socks
5 underwear, 2 bras
1 pair of PJs pants & top/tank
 1 sweater or jacket for travel day layering
1 scarf
Example five outfit packing for my husband in hot weather would include:
4 pairs shorts & coordinating top (typically solid color t-shirt or wicking shirt/polo)
1 pair jeans & t-shirt to wear under top layer
1 swimsuit & tank
5 pairs of underwear
1 pair athletic short & t-shirt
3 pairs of athletic socks
1 pair of shorts to sleep in
1 pair slip on shoes (Croc's which can get wet/dirty and clean up/dry fast – like these)
Laundry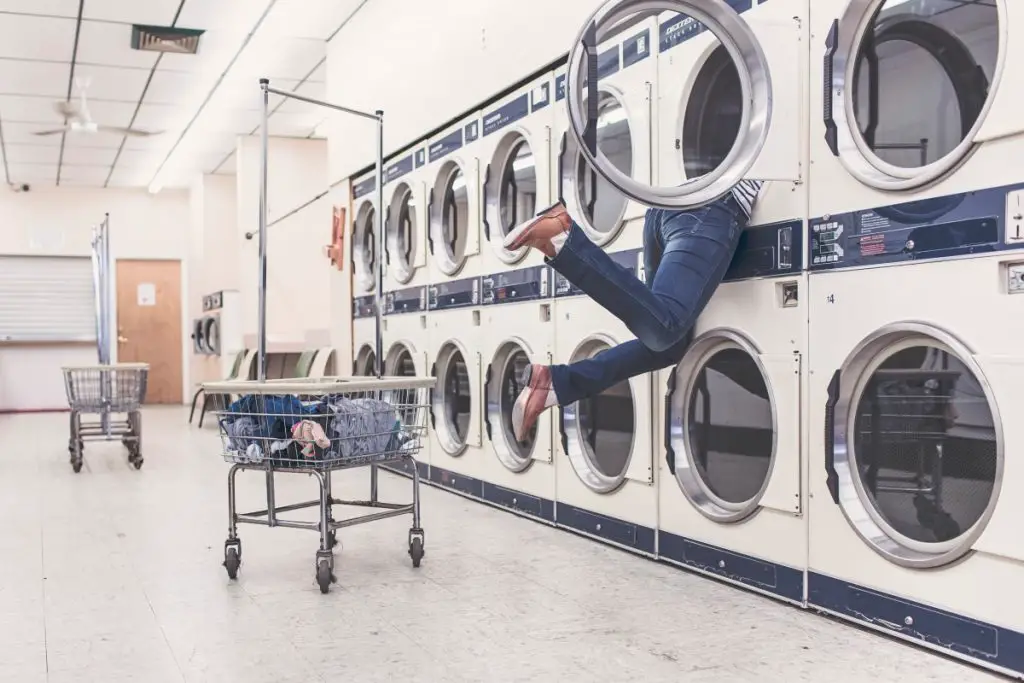 To this point, I've only mentioned a 1 week trip or less, but what if you are embarking on a larger trip – 2 weeks, 1 month, or a trip around the world.  I admittedly haven't done the last one, but I have packed my family of five for a longer period of time with what I've listed above for three weeks.  Yes, just 5 outfits for three weeks!
You're either totally in at this point or feeling a little uncomfortable.  I urge you to lean into the discomfort, the challenge.  If becoming a better, more efficient, seasoned traveler is something you desire, packing minimally will help you achieve this goal.
Naturally at this point, we have to consider laundering our handful of outfits if we're going to make it the duration.  I have a tendency to move my family around a lot on longer vacations and, of course, I search for a rental with a washing machine.  If you're from the US, finding a place to stay with a washer and dryer feels straightforward.  However, if you are traveling most other places in the world, the giant washer/dryer set up you are accustomed to is not what you will find.
7. Most countries do not have laundry dryers or high power dryers in their homes.  Consider this when selecting what fabrics to wear – go for light weight/quick drying fabrics.  You don't want to wash a pair of heavy pants in Denmark in March because it's going to take days to dry.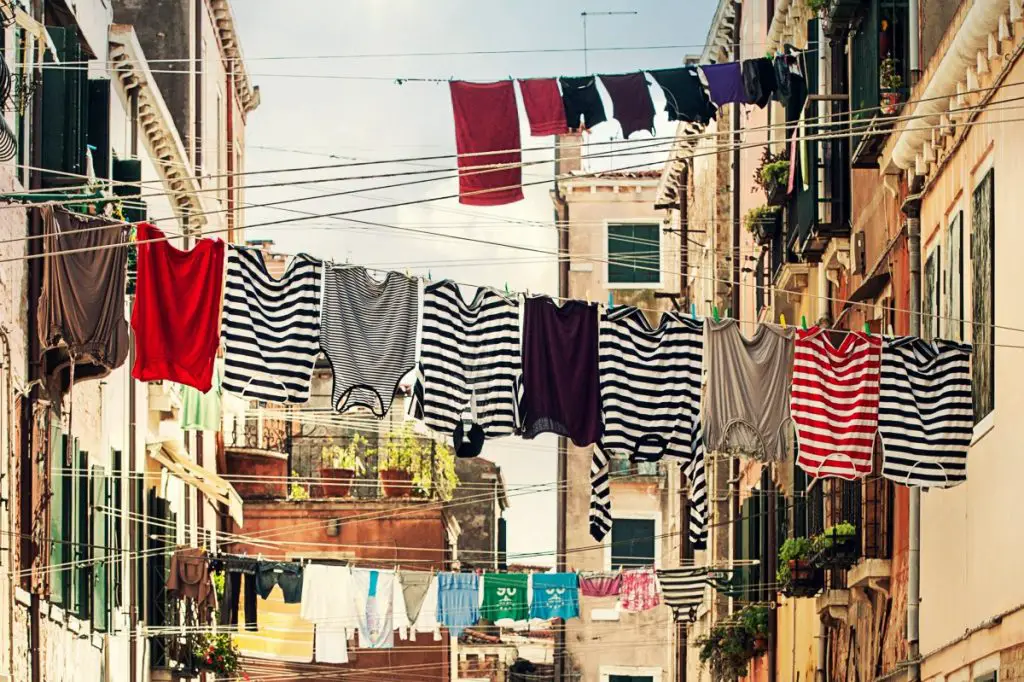 You may have the option of someone else doing your laundry for a fee, which is likely available if you are staying at a hotel.  You could also ask your rental owner or front desk staff for a recommendation of a local laundry that offers drop-off service.  This should be much cheaper than the hotel's service.  Of course, you'll want to consider if you are staying for long enough to hand over the laundry and flexible enough to incorporate the dropping off and picking up into your schedule.  We usually are not, so I choose to find ways to handle it ourselves.
We sometimes wash underwear, socks, and certainly swimsuits in our sink.  I carry Tide wipes to treat stains so hopefully something lasts a bit longer.  You can easily bring a small bag of dry detergent or individual liquid detergent packets from the travel section of your big box store.  Jocelyn from Wolter's World demonstratets washing in your hotel sink, including her "drying trick" below.
One other option for doing your laundry is a product called Scrubba (available on Amazon).  I like it doubles as a dry bag if you're going to be doing anything over water.  The main difference is you can more fully scrub your clothes versus working in a small hotel sink.  You still need detergent to use the Scrubba.  The video below shows the method and review of a month of use:
If you are visiting somewhere warm or hot (and sometimes colder places), there will be a drying rack or clothes line.  Drying your clothes in those climates will likely take less than a day as your clothes absorb the sunshine.
Shoes
When you are just getting accustomed to working with one or two pairs of shoes, you might feel some pressure to bring the right pair.  You want something that is stylish, comfortable, versatile and durable.  It's more than we ask of our day to day shoes certainly.  Here are a few shoes that I have found to be great travel shoes:
Shoes my husband likes for travel:
8. Consider your athletics shoes may become your shoe of choice on long walking days, hiking days, bad weather days.
I try to choose something that is comfortable, but would also work with your chosen outfits.  I used to feel like wearing tennis shoes made me look more like a tourist.  It probably does, but I don't believe packing another pair of shoes would make me stand out less in Southeast Asia or New York City.  Traveling with kids helps to reduce those concerns for me.
Toiletries
Until recently, we were using a few smaller toiletry bags or pouches.  I found a toiletry bag that is both inexpensive and works well for our family size.  We have started using this bag, the EBags Hanging Toiletry Bag (Amazon Link).  I love all of its compartments which avoids sorting through or dumping everything out to find what someone needs.  Before we owned this, someone was always asking me where an item was and I would try to recall in which pouch it was stored.  Now, I know because I organize the sections by medication, skincare, mouth care products, etc.
9. Consolidate your toiletries into one bag.  A "larger" toiletry bag (this one is 15″ by 9″) may seem counterintuitive, but is MUCH more efficient for daily use than dividing toiletries into multiple small pouches.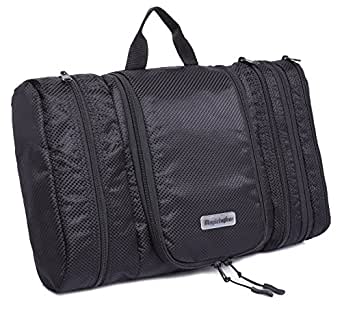 I love travel size items and usually only travel with full size deodorant because mine meets the carry on standard.  If you are choosing to carry on, you will need to remove any liquid, paste or gel items from your toiletry bag.  Each person can have a quart size bag so you should have no trouble fitting your items.
Lay N Go Travel Drawstring Bag
I choose to carry a small makeup bag as well.  My larger eye shadow palette won't fit in my bag and it's nice to be able to take the makeup out of the bathroom so I'm not in the way of whoever is showering.  I also like to be able to grab the makeup bag (which is pretty flat, not puffy as in the image), toss my quart bag in, and freshen up on long haul travel days.
10. Keep extra quart size plastic bag in your makeup or toiletry bag so you can pull out your small liquid items for your carry on if you choose to check bags.  Also, they break and you'll have a back up.
Luggage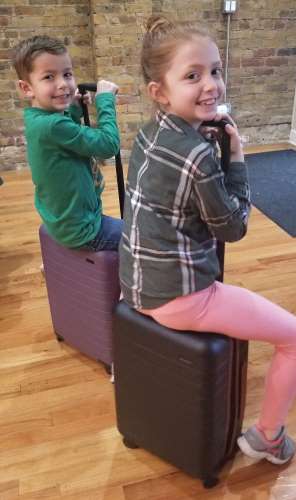 You can find tons of videos and articles comparing packing strategies.  I have tried a variety of methods and products (packing cubes) and in the end think it comes down to your luggage.
11. Choose luggage that encourages efficient packing without extra packing products.
For me, Away Luggage meets that standard.  I love many things about it, but the interior design is one of the best.  Each suitcase has the same two open rectangular compartments, but one side is covered with a zipped mesh cover and the other has a hard framed pocket with straps.  I feel like both give you aspects of packing cubes without actually having to deal with the cubes.  Rarely do I get the Away bag packed and find I've overfilled it.  Because we choose to travel with the carry on size bags, we are never overweight (anymore, don't talk to me about my first 10 years of travel) when we have to check them on smaller, domestic flights.
Baby Gear
Traveling with a bag seems like the anthesis of minimalist packing.  Even though this may be your first time for traveling with a baby, people have been doing it for a long time.  There are many products and services designed to make your travel with baby simpler.
12. Streamline your baby gear with a lightweight, foldable stroller, a car seat backpack bag, and don't overdo the disposable items.
Our favorite stroller is the GB Pockit.  I rave about it over here.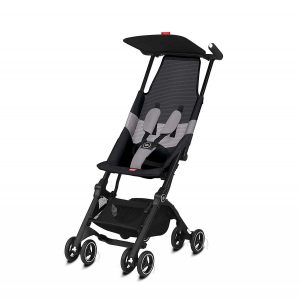 We also used a car seat backpack bag to move through airport.  This keeps your hands free, protects your car seat, and gives you additional storage space if you check or remove your seat for use.  Plus, if you are using your car seat at your destination, the bag folds down for easy storage.
When choosing accommodations, in addition to cribs offered by hotels, many rentals offer baby items.  On Airbnb, you can choose the "Good for Families" option to find those that have kid friendly extras.  There are some tourist destinations with rental companies offering drop off baby items at your rental.  If the idea of shopping for or possibly not finding the disposable items you need is stressful, you can ship what you need ahead of time.
Older Kids & Packing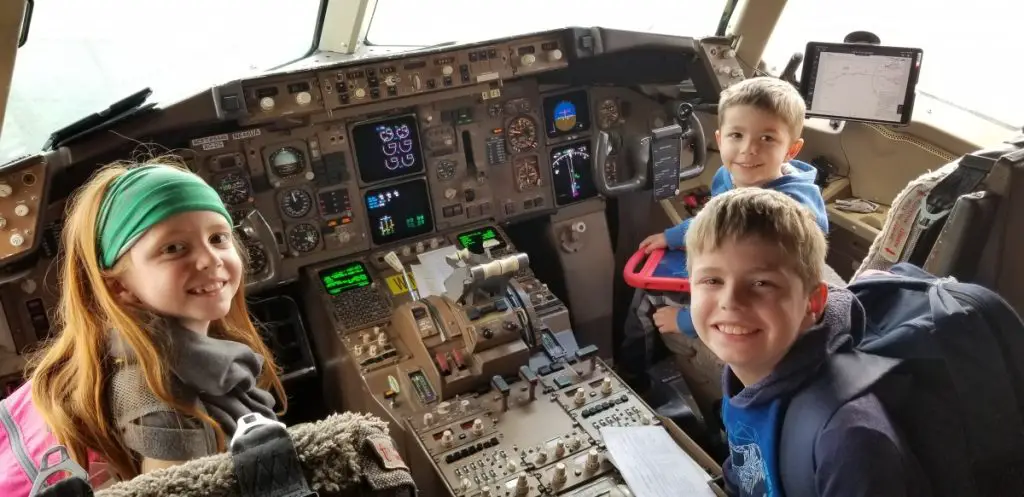 Transitioning out of the baby and toddler phase creates much more freedom for parents in packing.  Each of our kids can carry their own backpack!   Sometimes this is a school backpack or a lighter daypack option.  In addition to their travel toys (called additional entertainment in my packing list), they should carry one more important thing, extra clothes.  You might want to check out my suggested travel toys by age.
13. Don't forget to put one of your child's outfits in their carry on.
Big kids spill.  They get cold and want another layer.  If you check your bag, sometimes you have a delay in receiving it and just want fresh clothes.  Some kids insist on pajamas to sleep on long haul flights.  Let your kids carry some of their clothes.  Bonus, it opens up space in your suitcase!
14. Use your kids tablets to reduce items to pack – download reading apps instead of carrying books, download white noise and nightlight apps instead of carrying those.
When checking over what your child chooses to pack, be sure they left room for souvenirs.  This becomes a great decider when they are asking for things, "does it fit in your backpack?" You don't want to put in all of this effort to pack efficiently and then find yourself carrying fourteen shopping bags on the way home.
Enjoy Your Trip
Don't stress about meeting anyone else's standard for what is minimal.  Just try a few new tricks to simplify your packing and make your travel experience better.  If you have more tips to share on how to pack light with kids, please share them down below!
Related Articles
Travel Toys for Kindergartners
Travel Toys for Kids Ages 9-11