Whether you are embarking on a long haul flight, road trip or a visit to Grandma's house, make your life easier and your child's experience more enjoyable with the perfect toys to keep your kindergartener occupied.
Top 12 Travel Toys for Kindergarteners
Melissa & Doug Scratch Art
Pin Art
Kanoodle Jr.
Binoculars
Brain Quest
Boogie Board
Blind Bag Toys
Reusable Sticker Book
WikkiStix Activity Book
Step Into Reading Books
Magnetic Board Games
Travel Tangram Set
Of course, not every toy or activity is perfect for every child.  Based on my experience traveling by air, car and train with three very different children, I will share which toy is best for each type of child and travel scenario.
Melissa & Doug Scratch Art (Amazon Link)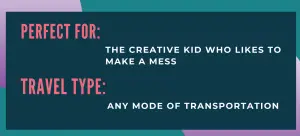 The Melissa & Doug Scratch Arts sets are fun and unique from other art sets for kids.  They get to make something with a variety of colors that usually requires a pile of markers or paint and you don't have to tote all of those art supplies.  I have found this is very satisfying to kids who just like to scribble and make a beautiful disaster.  It fits well into a backpack and if your child misplaces the wooden stylus, you can use a variety of other items to create your scratch art including an unclicked pen, toothpicks or unsharpened pencil.  Putting together a small bag of items that could be used instead of the stylus might lead to more interesting art as well.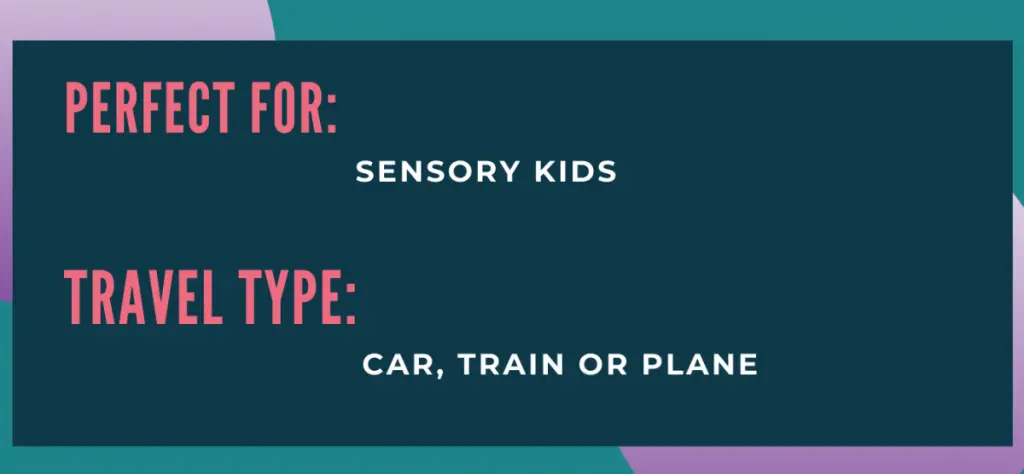 This toy is really fun for kids who like the sensory input.  It didn't hold the attention of my kids who are less sensory motivated, but my oldest son loved putting it all over his body (seriously!), even his face!  He also used a variety of small items to make shapes as well.  It can even be fun to take along outside of the moving vehicle to use on other surfaces, just plan to wipe it down after use.  I should mention that it weighs just over a pound which makes it one of my heavier recommendations.  My six year old's packed travel backpack weighs 3.5 pounds so weight should be a consideration.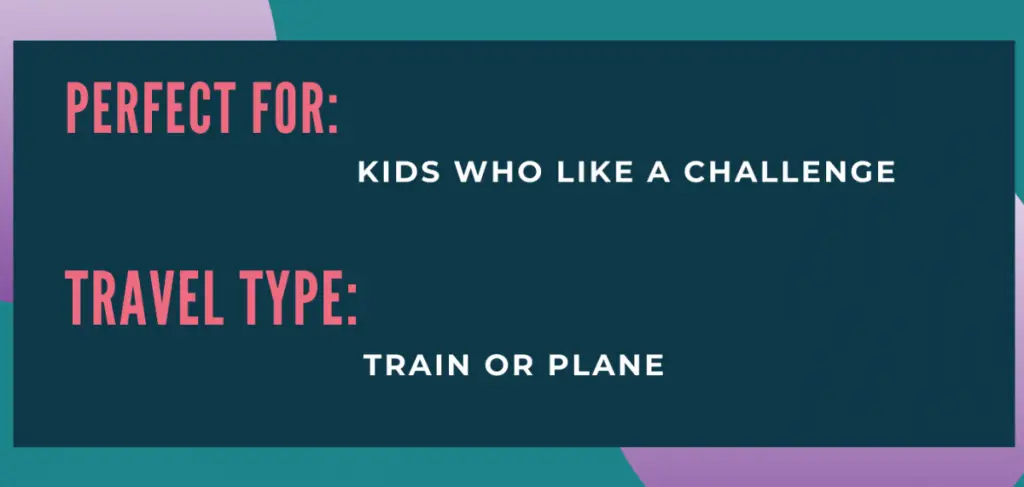 This toy is the predecessor to the Kanoodle toys I recommend for older ages.  I've witnessed my kids so proud of themselves in figuring out these visual problem challenges.  This small game closes to fully enclose the pieces which, in my experience, is very valuable for all kiddos.  To solve a Kanoodle Junior puzzle, the player flips to a sheet of the puzzle book and slides it into the bottom tray.  Some puzzles are fully laid out and the child simply places the correct color pieces where the sheet lays them out.  More advanced pages have blanks for the player to have to imagine solutions themselves.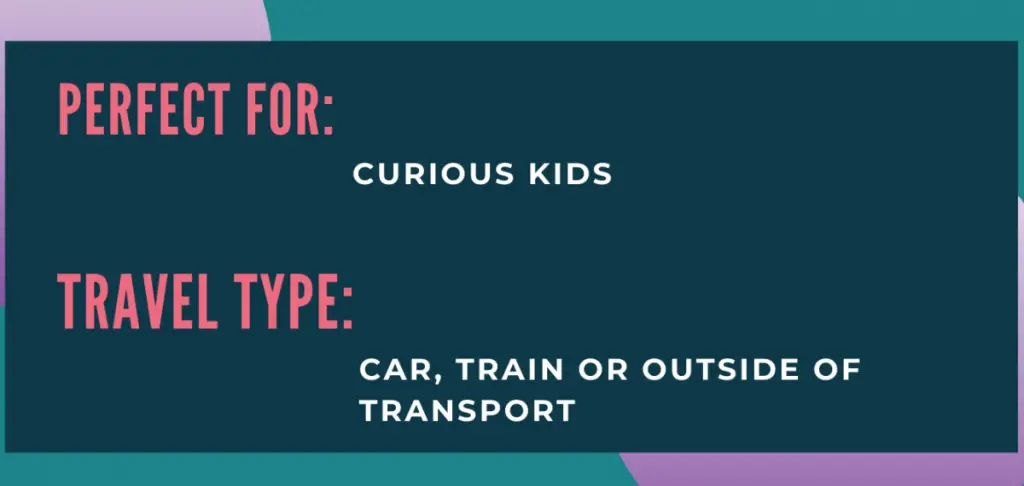 Although my three children are very unique from one another, I consider them all to be curious.  All three love playing with binoculars.  I don't keep them out all of the time and just use them to pack in their travel packs.  They don't provide much entertainment on a plane, but can be a great way to get them looking out of the window of a car or train.  If you are traveling anywhere that a long distance view could be possible, pack those binoculars!  There is something about having them hanging around his neck that makes my six year old feel important.
Brain Quest Kindergarten Edition (Amazon Link)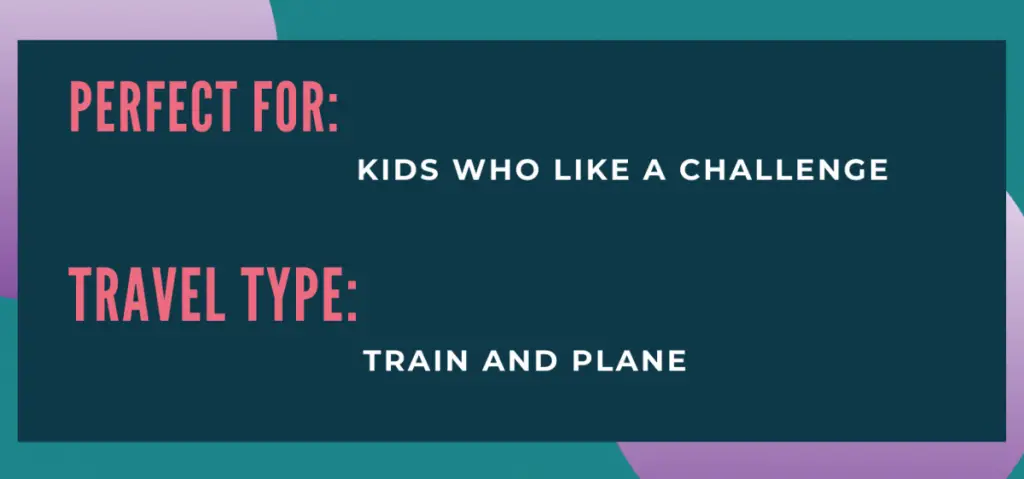 Brain Quest decks are a great size to throw in your backpack or purse.  They work best in travel scenarios when an adult or older sibling is available to ask the questions so I haven't listed it for car travel.  They can be a good way to pass the time waiting for food in a restaurant as well.  If you have older kids, there are packs for older grades.  You can turn it into a game asking each kid questions.
If you haven't seen one of these yet, you might think it's magic or missing a charger.  These LCD notepads are awesome!  You can draw, play tic-tac-toe, practice your letters and numbers or anything you can do with a pencil….and then you just click the button to erase it.  Seriously, they are a game changer.  You do not have to carry piles of paper, notebooks, crayons, etc.  Just slip this sleek little boogie board, available in several colors into your bag.  You're good to go!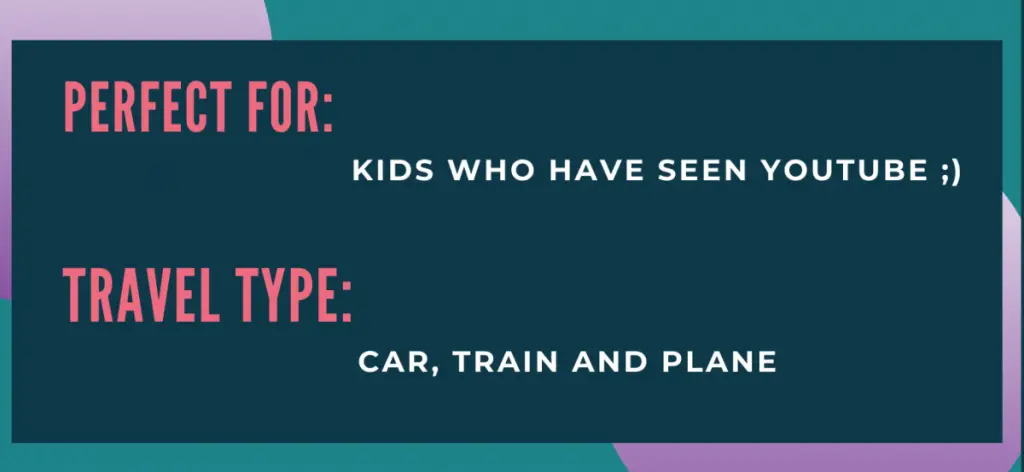 If your kids are like the many others who love Youtube videos of unboxing blind bags, I promise they will LOVE it if you put together one for them.  Think about including little toy packages in the area of their interest – favorite toys, squishies, etc.  Next, throw in sticker sheets, mini-playdough, lip balm, candy, and dollar store goodies.  The MOST important part of this toy/activity is saving it for the most boring part of your trip or the part when you most need a break.  The fun won't last nearly long enough, but the delight should buy you some time.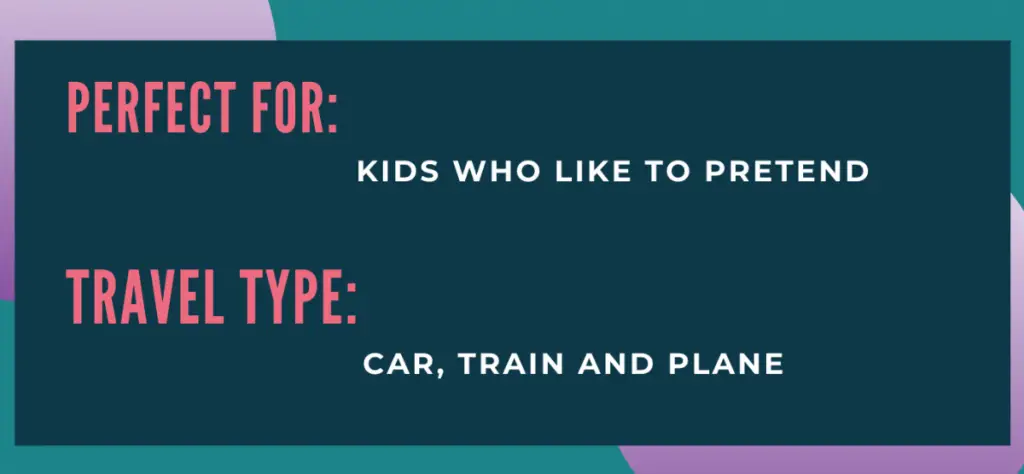 I've been a big fan of Melissa & Doug for this age and younger.  This 3 pack of reusable sticker play sets are great because it offers the opportunity to play out a scene.  They are also really great for waiting at restaurants, in airports, or in church because they are quiet and if you lose a single piece, they are unlikely to notice.  I also like the size – lightweight at 6 ounces for the pack and almost 9″ by 11″ which makes it easy for little fingers to manipulate and have space to play.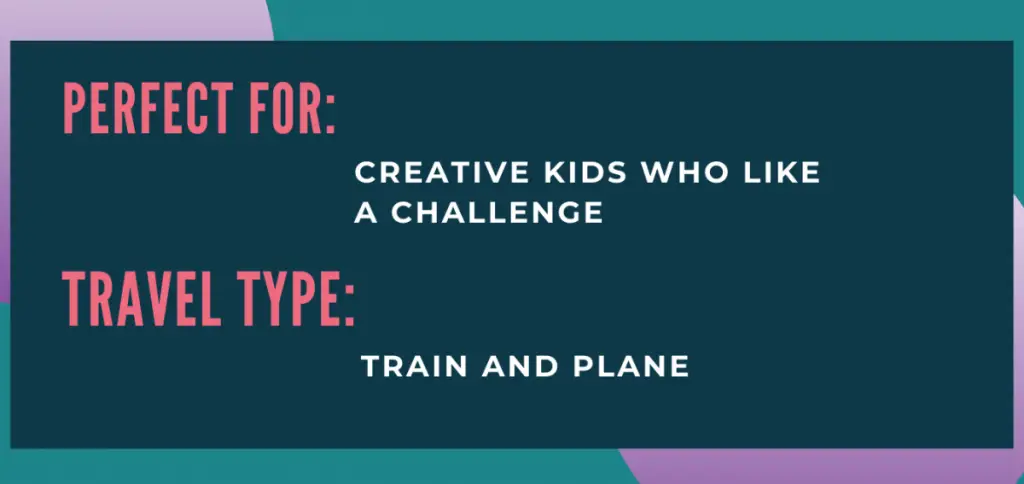 Oh, Wikki Stix, how I love you.  Unless you have a very neat child, I wouldn't plan on the Wikki Stix lasting several occasions, but they can offer a LOT of focused attention time.  We have also purchased refill packs (Amazon Link) for their activity cards.  This is a good Kindergarten level activity set, but you can certainly challenge your child to build something free form that is 2D or 3D.  You do need a fairly flat surface to prevent getting frustrated with these activities so I haven't suggested them for cars (unless you are using a lap desk or something similar).  As with other items I've listed, these are excellent for restaurants and waiting scenarios.  Wikki Stix even sells small packs (Amazon Link) you can open in a restaurant and leave behind after they have been enjoyed.

My current 6 year old loves any time he has an adult's undivided attention.  He also loves that he is beginning to read.  For him, offering new books to "read" (sound out) while he has my attention feels like major quality time.  I like this activity for when I'm driving and can easily listen.  These are, of course, also perfect for reading together in any scenario.  I've found my kids tend to want to read these over and over and over.  They learn new words and feel more confident.  You can feel good about that especially if you took them out of school to go on your current trip.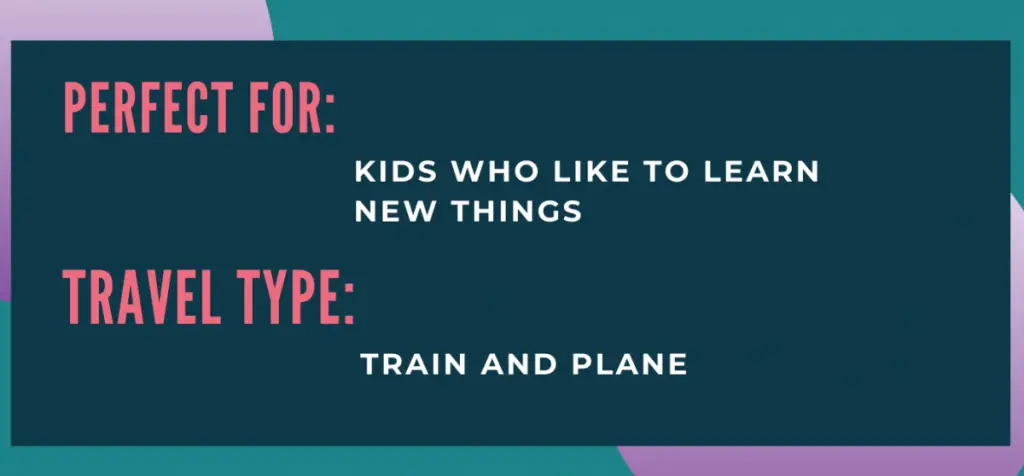 This brand of games offers generic versions of several well known board games, appropriate for various age levels.  My family has always been a game family and this is a great opportunity to teach your child the rules of a new game.  I have not suggested this for a car game because most games would require a flat service and the focused attention of an adult or older sibling to accomplish.  They are very lightweight and a fraction of the cost of the brand new options.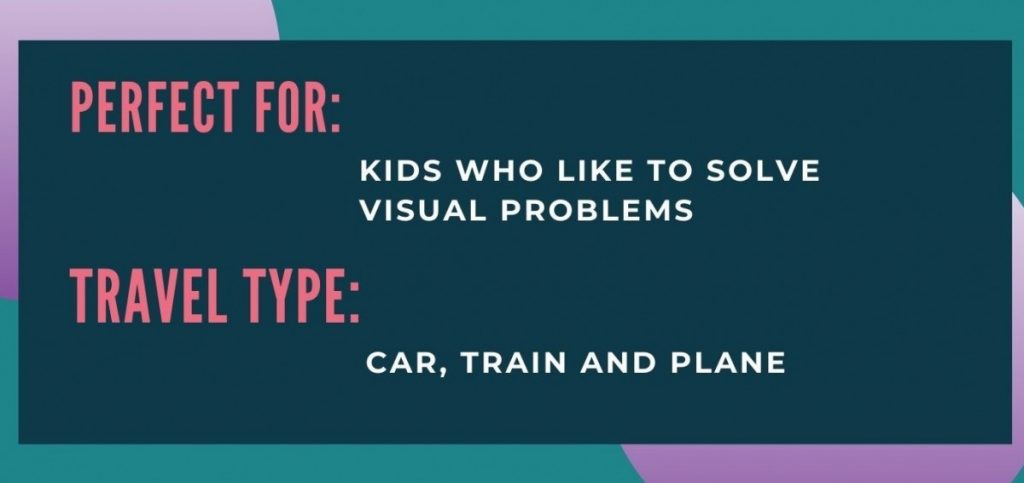 Did you play with tangrams when you were a kid?  I think they really appeal to people or don't.  If your child likes visual puzzles or to overcome a challenge, these are a great option.  I love the size of this book compared to the amount of time it can occupy.  It is 6″ x 6″ and weighs only 5.6 ounces.
Enjoy Your Trip
Hopefully with minimal planning and investment, this list can create a travel pack for your kindergartener that will entertain them for hours.  Everything on this list is a great alternative to screen time which helps you mix it up and keep the batteries charged.