If you have travelled with your 7-8 year old when they were younger, this age range may feel incredibly easier.  The growing independence of a first or second grader can translate well to entertaining themselves.  You may even get to watch a movie on your next flight!
Top 11 Travel Toys to Pack for your 7-8 Year Olds
Spirograph
Battleship
War Game
Dot Incredible
How To Draw the Marvel Way
Etch A Sketch
Kanoodle (Original)
Lego Gadgets Activity Book
Minecraft Puzzle Book
Travel Journal
Radical Road Trip Game Box
To ensure your 7-8 year old is well equipped to entertain themselves for your trip, select some of these top travel toys for your next journey.  These items are ones my family has enjoyed and cover a variety of personalities.  I've included the direct links to Amazon for each product because if you're anything like me, you don't need another to do item requiring you to run around town in order to prepare for your trip.  Cross picking up new travel toys off your list in just a few clicks!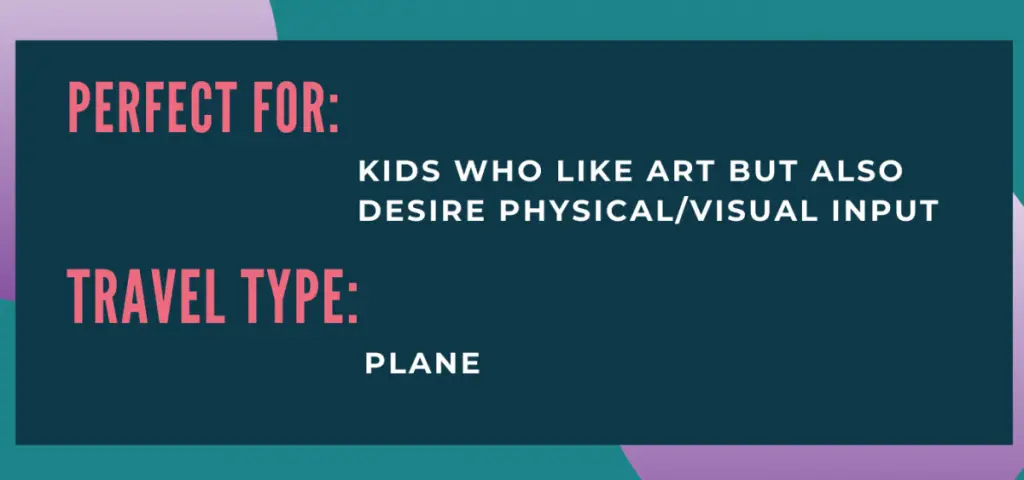 Spirograph continues to be fun generations after its introduction.  There is a travel size option, but it is pretty small and restrictive. I like this set for the variety of pieces included and the ability to draw a larger design.  The tin measures 8.5 x 7 inches, still a great size for a backpack.  It weighs only 10.6 ounces.  I also consider it a great toy for any kid you seeks "input" since the repetitive drawing and varying pressure can provide visual an physical input.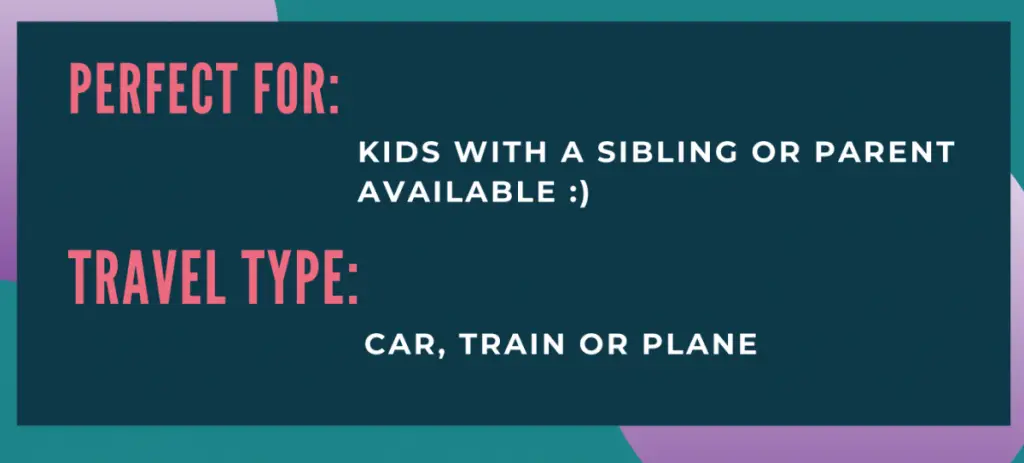 Another iconic toy makes my list.  This extremely lightweight game has two separate boards that lock together.  Each comes with little white and red pins for marking your hits and misses.  Our kids never really played battleship until the travel size and we found it to be easy for a wide range of ages to play together.  The other major bonus of this game is that it takes awhile to complete.  This fits great in a backpack or purse.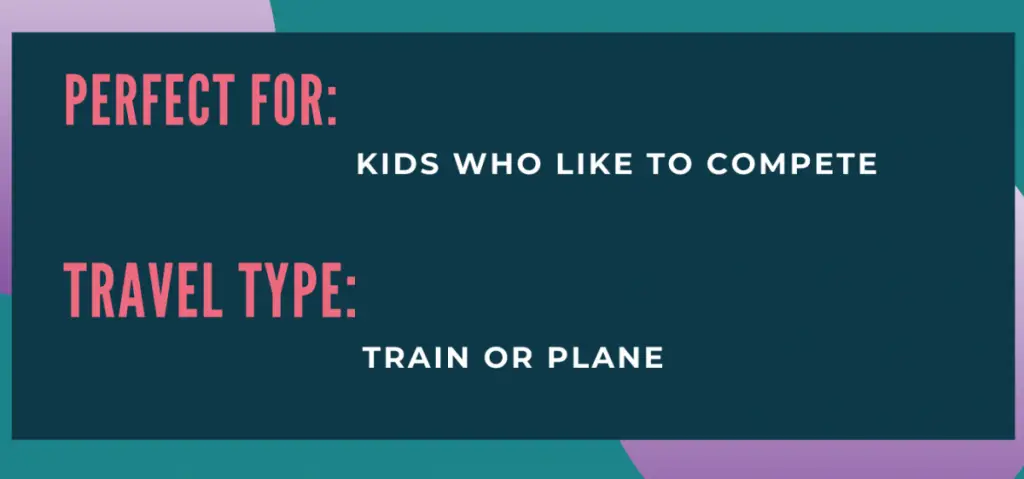 We introduced this simple card game with Skylanders themed cards as that was my oldest son's interest at the time.  There are several other versions of War available too.  I love that it's a fun game to learn and teach.  I don't recommend it for car play since a flat shared surface is required, but this game is perfect for tray tables on a plane or a table on a train or waiting area.  This set also fits easily in a kids backpack or a purse.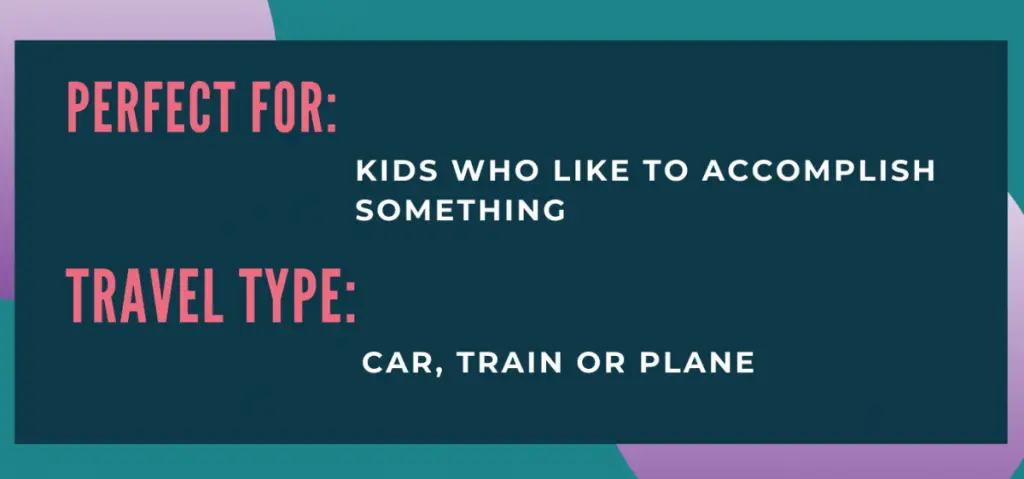 These puzzles require focus and time.  Since it seems during long plane trips or road trips, time is all we've got and keeping our kiddos occupied reduces stress and enhances enjoyment, this book makes my list.  It's a larger soft back book, but with 84 intricate puzzles to complete, it's totally worth its weight.
How To Draw the Marvel Way (Amazon Link)

Add another one to the classics list.  This book was first published in 1984 and takes young artists beyond the basic how to draw books by showing the details that have made Marvel famous.  Your child can learn from Stan Lee himself.  If you have the space, add a fill in the blank comic book as well to draft their first full graphic novel. (Amazon Link)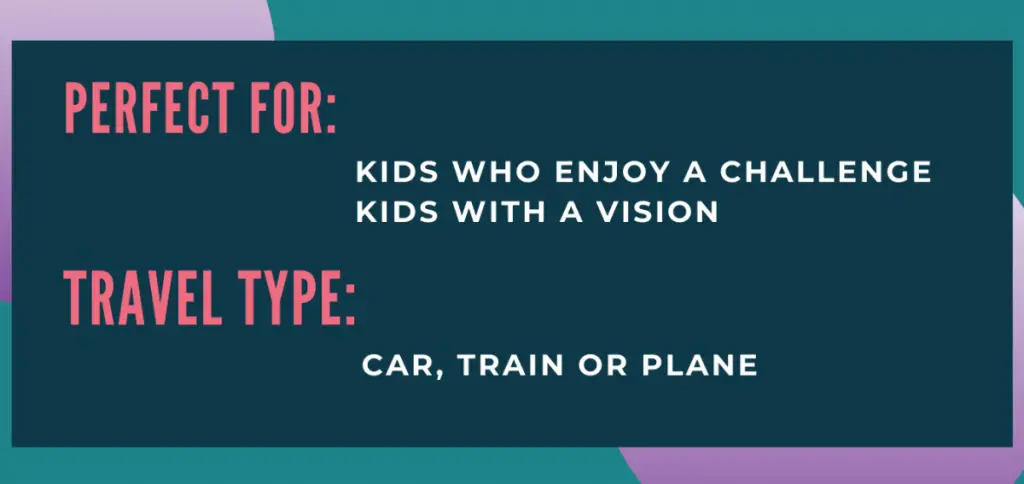 Your kids may have had an Etch a Sketch when they were smaller, but this age seems to be the sweet spot for that fine motor control mixed with budding artist skills to finally gain control of this toy.  There is a smaller version which may be great for someone who has been honing their skills, but the larger size allows for broader practice and larger images.  You can use your Etch a Sketch to challenge kids to draw something, as a competition between siblings (time them or score the outcomes), or even practice spelling words while on a school break.  It's way more versatile than people give it credit and you may just discover a hidden talent in your child.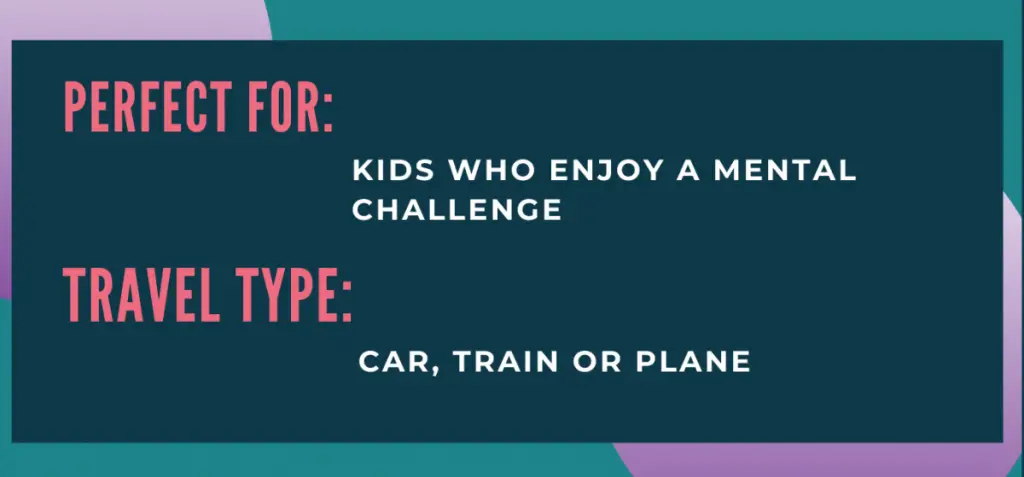 My current 11 year old has been playing this game for at least three years.  We typically put our "travel toys" up in between trips to make them more exciting to use again.  This pocket size toy has both 2D and 3D puzzles.  You stack the pieces to achieve the design in your booklet.  I'm told that the 2D puzzles work best for bumpy car rides, but that you can play it anywhere.  Most recently, he used it on a tuk tuk riding downhill in a rural part of Thailand so I suppose it's true.  It's  very lightweight as well.  We store his in the front pocket of the backpack he carriers for easy access.
Lego Gadgets Activity Book (Amazon Link)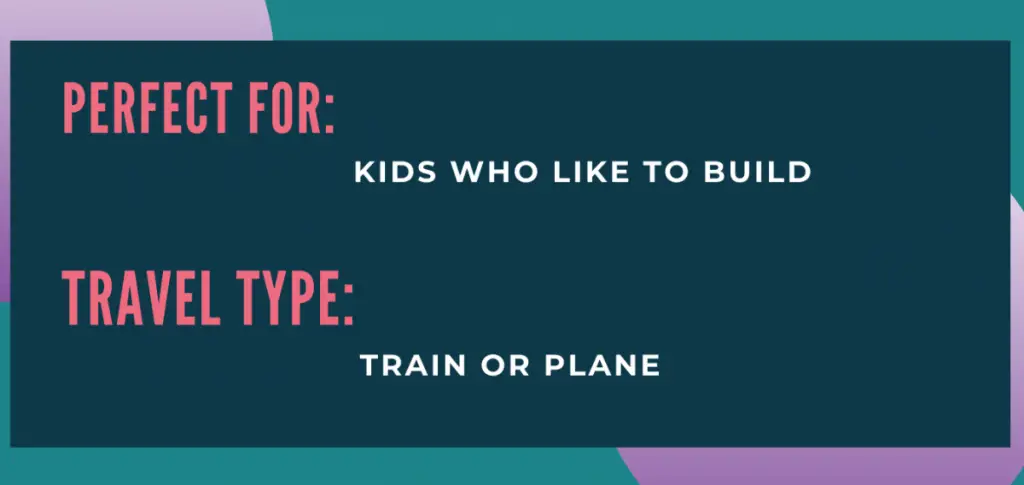 Do you have a Lego lover?  All of our kids have been interested in doing different things with Legos as they mature.  This book provides a fun way to play Lego on the go.  I like this book over the other Lego Chain Reaction book because it doesn't require you to shoot anything which could be tricky in a travel scenario.  The gadgets is also early Physics and they won't have any idea they are learning.  I don't recommend it for a car as a flat surface makes it much easier to use.  I do recommend you bring along a gallon size bag since the pocket holding the pieces inevitably gets torn or a partial build may need stored.  For reference, it's is just over a pound in weight and 9 x 11 inches in size.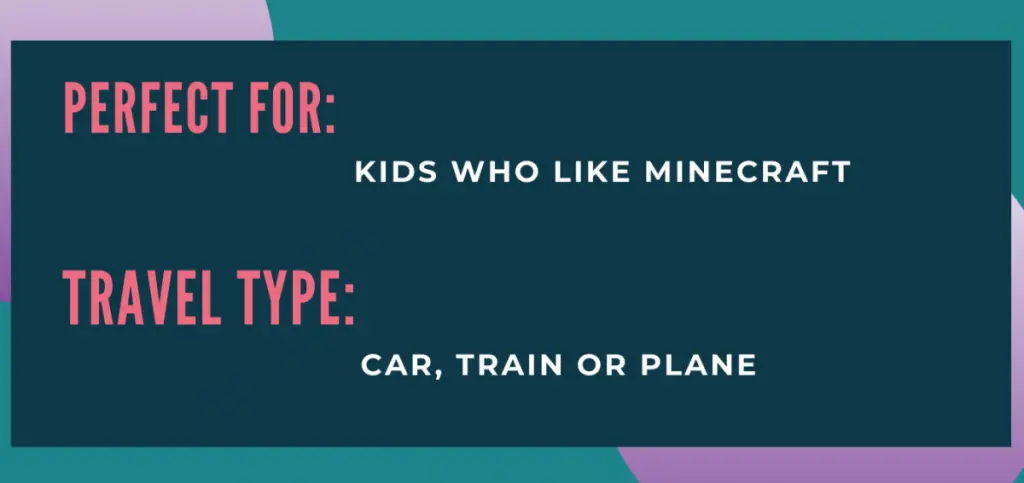 I have a feeling I'm not the only parent of a 1st or 2nd grader who is obsessed with Minecraft.  I'm grateful for the bevy of Minecraft related products that teach and also give them an opportunity to take a screen break.  This little magnetic book is only 6 x 10 inches in size, but contains over 40 challenges.  Let me charge their tablets while still "playing Minecraft".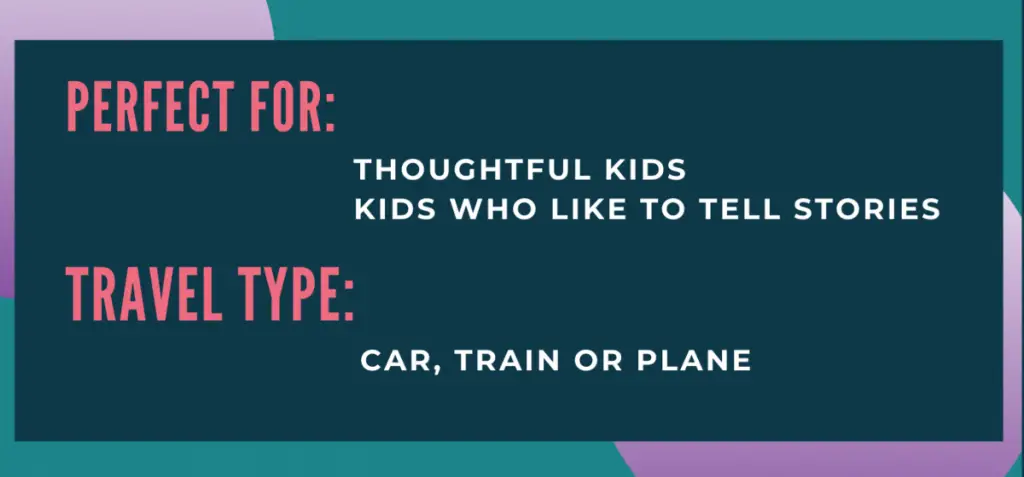 I am a huge proponent of kids keeping their own travel journal.  We required all three kids to do so on our first international trips, but have since let them choose.  Our daughter has submitted her completed journal to her teacher as part of her schoolwork while missing actual school days.  This particular journal works well for kids who like to write their own story or would benefit from some prompts or list format.
Radical Road Trip Game Box

(Amazon Link)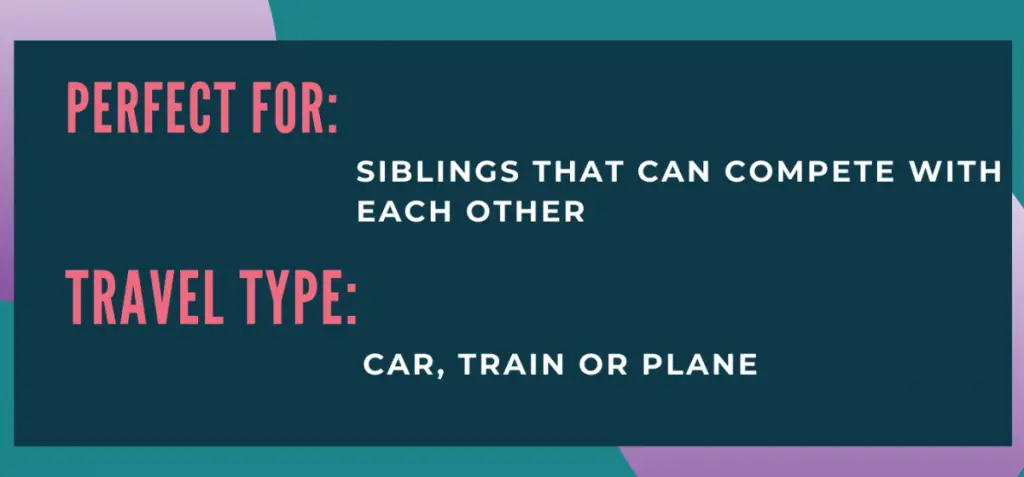 This final recommendation is a fun mixture for one or more people to enjoy together.  Kids love unboxing things and this provides them with their fun sensation of unwrapping something new and exciting.  It contains games and challenges that can be shared by one or many on a road trip or any other long journey.  The box is only 6.5 x 6.5 x 3 inches and weighs just 15 ounces so it fits easily under a car seat or other storage options.
Enjoy Your Trip
Hopefully with minimal planning and investment, this list can create a travel pack for your 7-8 year old that will entertain them for hours.  Everything on this list is a great alternative to screen time which helps you mix it up and keep the batteries charged.