Oh, London!  London is the perfect destination for Americans to begin their travel in Europe.  Not only because of the ease of language, but also our history is so fully intertwined.  London is a cosmopolitan city with a fascinating creative history, worldwide cuisine, diverse neighborhoods, well known landmarks, and, of course, the Royals.
Day One – Arrival, Double Decker & Boat Tours, and Tower of London
Day Two – Hyde Park and Natural History Museum
Day Three – Day Trip: Harry Potter or Stonehenge
Day Four – Shakespeare, Borough Market, and London Eye
Day Five – Hamley's and Departure
Arrival: Heathrow vs. Gatwick
You may not have a choice based on the flights offered to you.  Gatwick has efficient transfer to central London, is smaller and more simply laid out than Heathrow.  It's where you will likely go if you are using any budget airlines to move around Europe before or after your time in London.  Heathrow has more international airlines coming in and out.  Transfer to the tourism center of London will take about an hour.  If you are like us, you may be looking for a direct flight from a major U.S. hub.  We chose to leave as late at night as we can from Chicago to arrive  early or mid-morning in London.  All of these types of flights take us into Heathrow.
Transportation: Oyster Card vs. Travelcard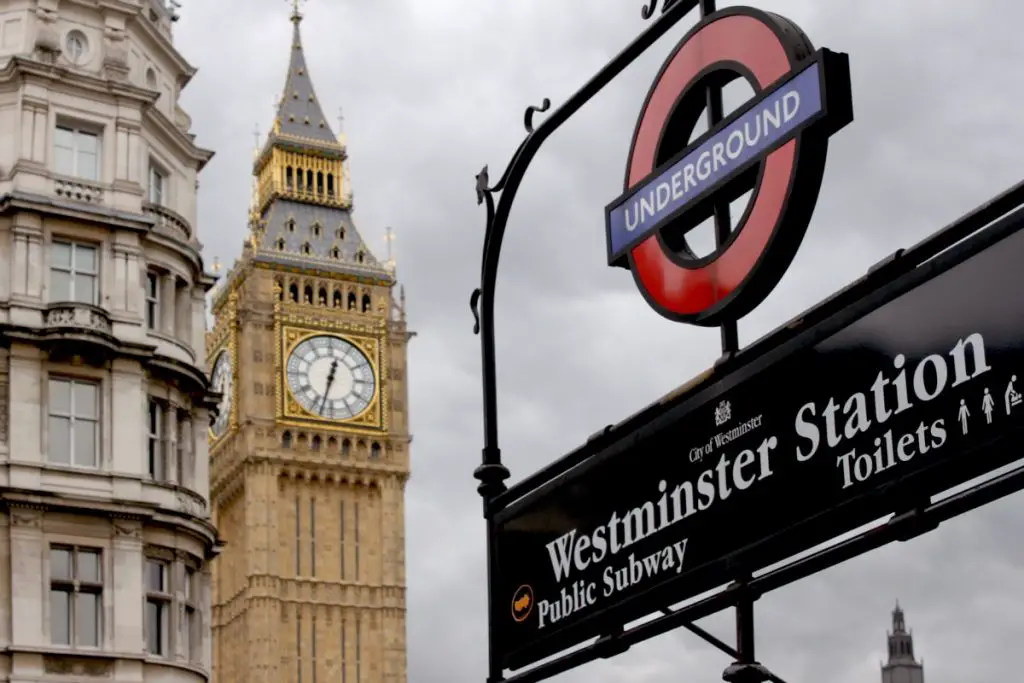 If you plan to use public transit, the Oyster Card are electronic smart cards that can be "pay as you go" with daily caps.  You simply touch them to a yellow reader, which has to be done in and out of some forms of transport.  You will never pay more than the capped amount. You can top off your balance in tube stations. There is also a Visitor Oyster which allows you to order the card in advance. The downside to this is a approximately $6 non-refundable fee whereas on the regular Oyster the fee takes the form of a deposit and gets refunded to your balance. You will also note below there are different prices for peak (commute timing) and non-peak travel. The information can be confusing, but here is what the cost looks like for my family (in 2022):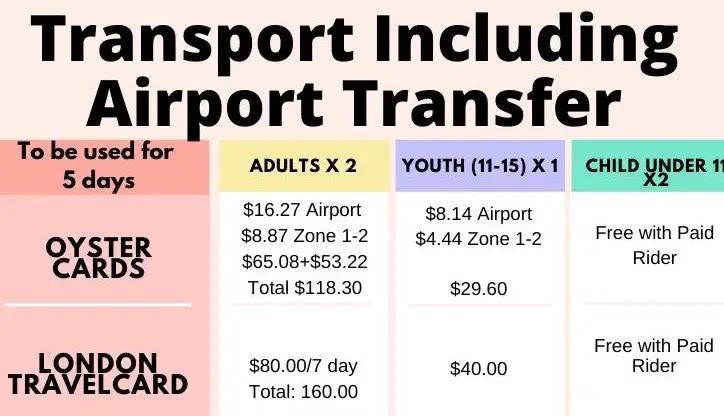 I am assuming a few things in this chart you should know.
We get the regular Oyster cards which charge a deposit that is returned to you when you turn your cards in at the end of the visit. You can do this at any ticket machine which will invalidate your card and provide you a refund.
Children under 11 can travel free on nearly all forms of transit in London with a paid rider.
The Young Visitor Discount can be applied to a regular Oyster card for anyone ages 11-15.  It can only be used for 2 weeks.  It has be added onto the card by staff which is available at Heathrow.  This page has great information on child fare, check it out!
The rates listed for Oyster are the daily caps in the zones I plan to travel which is mostly zone 1 and 2 with the exception of our days traveling to and from Heathrow (zone 6).
We use the "pay as you go" option, but you still need separate cards for each rider.  The under 11 just pass through the stall with the adult.
Where To Stay
I always look for hotels that can accommodate families with 3 children because that's how many we have.  London can be a pricey place to visit and rather than ending up paying for a palatial suite or two full priced adjoining rooms, I like to find one room with sleep space for five.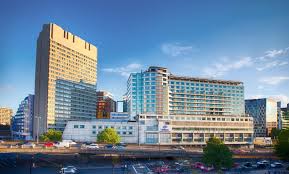 Hilton London Metropole: This familiar brand has the perfect room for a family of five with two doubles and a sofabed in their Family Superior Room.  The hotel is convenient to Hyde Park and transportation options.  The kids will also love the indoor pool after a long day of sight seeing.
Park Plaza Country Hall: This Radisson brand hotel has a variety of suites and studios with a double bed and sofabed.  Although not advertised for 5, we could make this work for our group with the additional square footage available in the rooms.  I would highly consider this hotel for its excellent location and view of tourist sites.
Kings Cross Inn Hotel: This is a value choice for sure, but in an excellent location and with a rare configuration that includes a double bed (likely queen size) and three singles in one room.  Reviews mention that it can be a little noisy for light sleepers, but with our sound machine apps, this usually isn't a concern for us.  This is the location too if your Harry Potter fans want to visit 9 3/4 platform.
AirBnBs for Families: In big cities, we often find an apartment rental is the most economical and efficient way for us to be near the sites.  Here are a few options that might interest you at different budget levels:
Day One: Arrival, Double Decker & Boat Tour, and Tower of London
We have utilized the hop on, hop off style of double decker bus tours in many cities around the world.  Although those exist in London, the double decker bus exists in London as a public mode of transportation. If you are interested in doing a tour, consider TOOT Bus company which includes a pre-recorded commentary and live hosts.  One of the commentary options is the Kids commentary designed for children ages 5-11 years, a great bonus if your kids have ever tried to listen to the adult commentary on such a tour. This video is a great introduction to London for kids.  Follow the yellow route for the buses featuring kid commentary.  I highly recommend purchasing the tickets in advance as not all stops have a representative and you will save by purchasing in advance.
I like this introduction to London for potentially sleepy travelers as you can choose to get off and get moving when you need to and relax when it's needed as well.  The yellow route will take you by the best known tourist sites including Big Ben, Westminster Abbey, Tower of London, London Bridge, Buckingham Palace, and Picadilly Circus.  You can just ride and take it all in over the couple hours of route or follow the suggested route: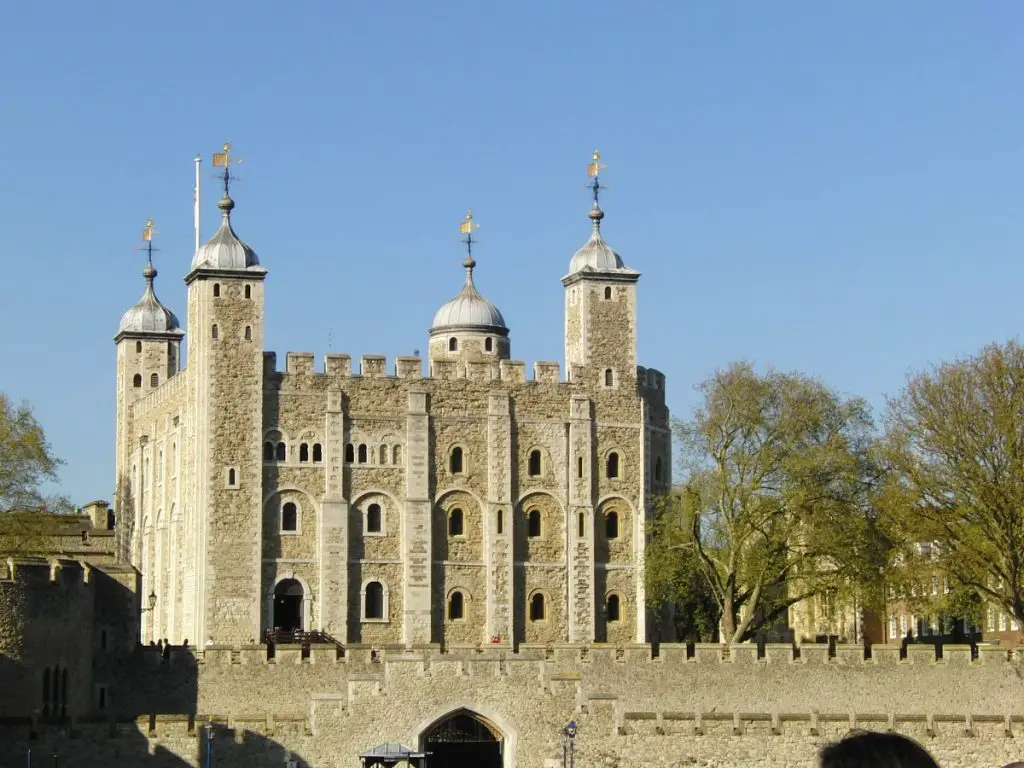 Start at stop 17 (Westminster Bridge/Westminster Pier) which is a scenic walk if you are staying near Park Plaza.  Your 24 hour ticket entitles you to a river cruise.  You can ride from the Westminster Pier to the Tower Pier for a 40 minute guided ride.  At this stop, you'll take your only tour of the day, the Tower of London. This fun site includes exhibits of the crown jewels, hands on armory sampling, the storied ravens, medieval battles, and the royal menagerie.  The history and architecture featured spans all ages in something to interest anyone in your party.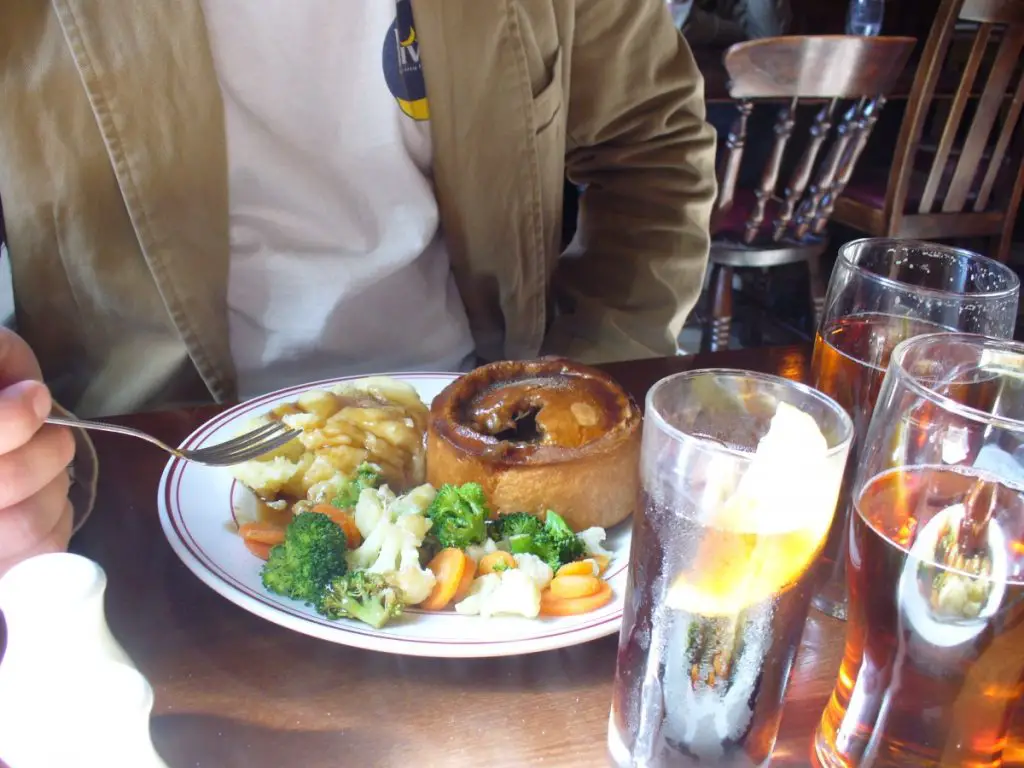 After your tour, get on the double decker bus at stop 15.  You'll go back the direction that your boat toured so you won't miss any historical commentary.  You may want to disembark near stop 19 to get a view of Buckingham Palace.  If you arrive around 11, you may witness the historic Changing of Guard.  If you happen to be in this area at lunch time, take a quick walk toward Fuller's Kitchen located at the Sanctuary Hotel. This is a great spot to try a British Pie.  The menu features other specialties like black pudding, fish and chips, and sticky toffee pudding.  They offer a kids menu for adventurous eater willing to try a pie of their own (think steak and mushroom or roasted cauliflower) or your burger and fries or mac and cheese preferring kiddo.
If some time outdoors sounds desirable, take a stroll to St. James Park.  Everyday at 2:30 and 3, the royal pelicans are fed next to the Duck Island Cottage.  Take in the various wildlife in this lush park as you make your walk back to reboard at stop 19.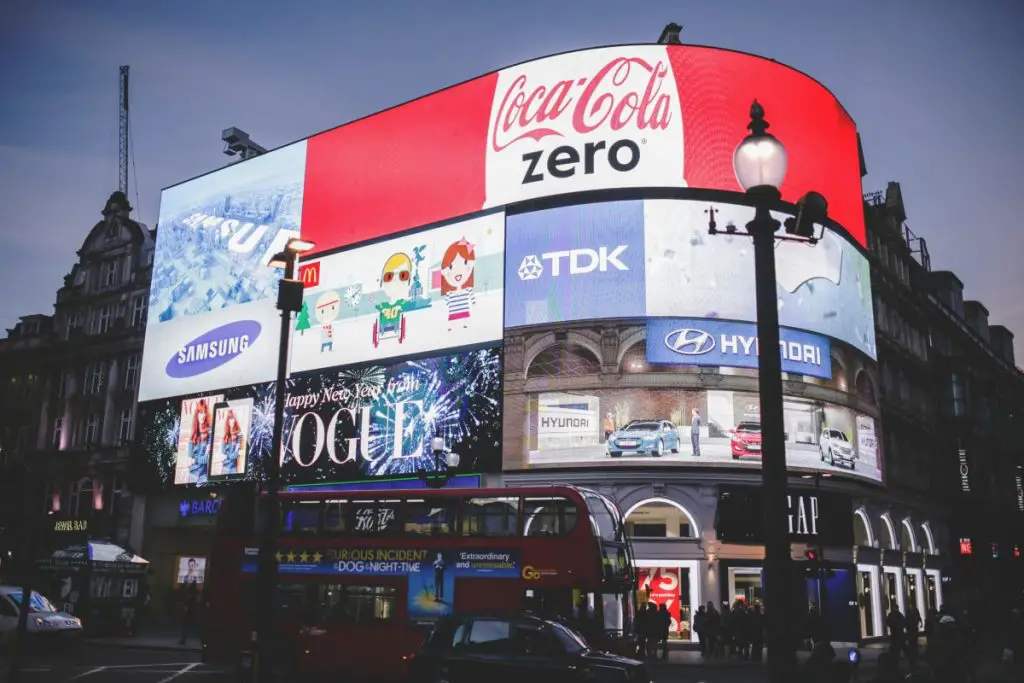 Continue your tour on the yellow route.  You will go through Piccadilly Circus, which is similar to Times Square.  You can take it in from the bus or make a stop to visit the many big brands represented or just grab a pictures.  You can easily walk from here to Leicester Square as well.  You will have several more chances to view or stop at well known monuments and sites.  Follow the tour back to the spot most convenient for your return to your hotel or apartment.
This will no doubt be plenty of action for your first day accounting for jet lag.  You should have a good introduction to London and know what you would like to see more of in the coming days.  Keep the kids awake with a dip in the hotel pool!
Day Two: Hyde Park and Natural History Museum
Now that we have a taste of what all the main sites in London look like, let's get further immersed into some of its beautiful spaces. We'll start our focus on Hyde Park.  If you stopped in St. James park yesterday, you may have noticed part of the Princess Diana Memorial Walk.  It's a seven mile long path through multiple parks that notes important buildings and events from her life. It continues through Hyde Park.  There is a memorial fountain that you can walk and play in.  Depending on the season, you will see lots of children enjoying the water feature.  There is also a memorial playground located in the neighboring attached Kensington Gardens which features a giant wooden ship and other play features and is a tribute to Diana's love of the innocence of childhood.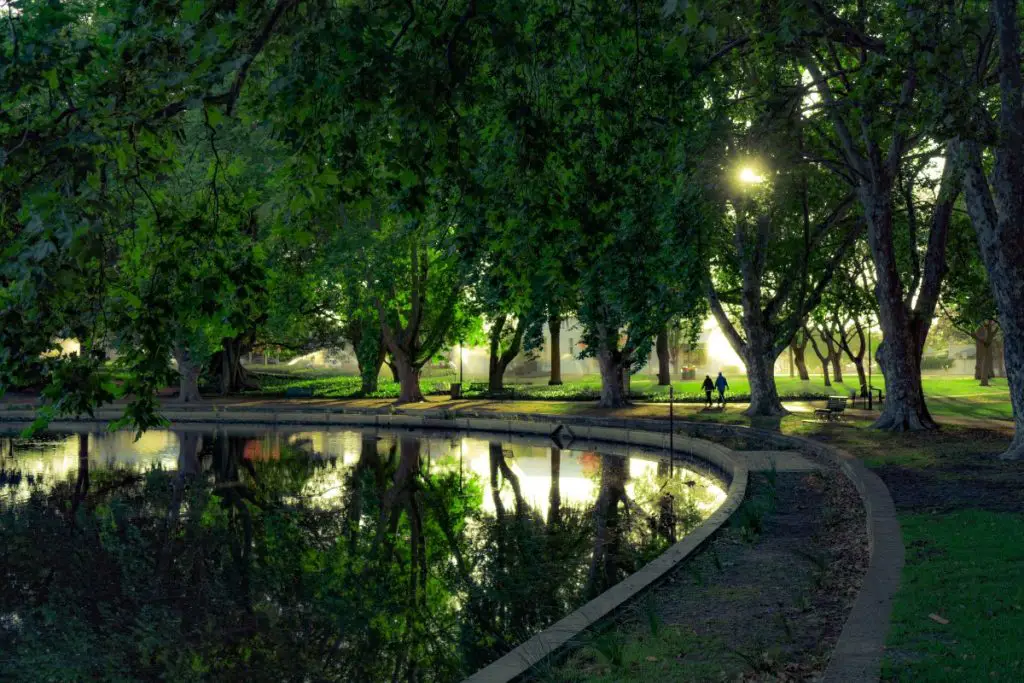 To plan your time, take a look at the park map found here.  You may enjoy renting a boat on the Serpentine or watch others from the awesome structure overlooking the waterway.  The row boats (which holds up to 6) rental is $25-40 for a family rental for 30-60 minutes depending on the number of children and ages.  There are several food and drink options you can enjoy.  The Serpentine Bar & Kitchen hands a tasty menu that includes the a kids menu.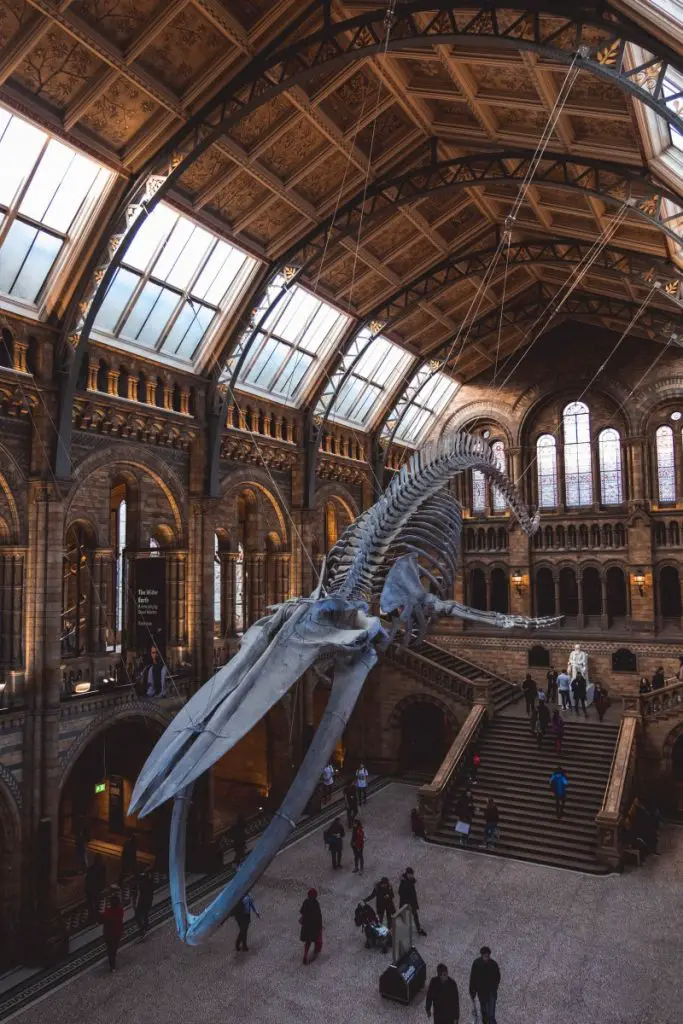 After lunch, make your way to the British Natural History Museum.  The museum is a 20 minute walk from the Serpentine Bar & Kitchen or a about the same length of a bus ride.  You will find impressive and every changing exhibits.  The museum is divided into four zones by color and covers the spectrum of dinosaurs, mammals, birds and creepy crawlies, minerals, fossils, evolution, volcanoes, and more.  Your science lovers and curiosity seekers will love an afternoon spent here.
Day Three: Day Trip – Harry Potter Tour or Stonehenge
Today is a chance to get out of the city and explore something iconic according to your preferences.  Do you have Harry Potter readers?  Or would you enjoy something in a more natural and historical setting?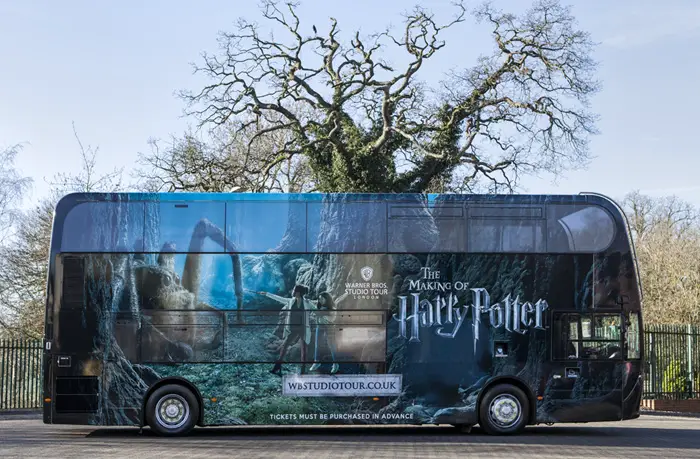 The Warner Brothers Studio The Making of Harry Potter  is located 20 miles outside of London (about 60 minutes or more of travel time).  It is an opportunity to visit the settings of the books and movies, see authentic props, and view the changing exhibits.
There are several guided Harry Potter themed tours that include transport to the Warner Brother Studio such as this one: Small Group Studio Visit.  These tours are designed for those desiring private transfer to and from the Warner Brothers Studio Tour. You will ride on a bus or van depending on the tour and it will include your ticket to the studio as well.  These vary by age in some cases, but likely will cost you about $100-150/person.  For my family that would be $500-$750.
You can also book your tickets and transfer on your own.  Tickets actually must be purchased on your own and using your Oyster card will likely save you a considerable amount.  For my family of five, the entry fee is currently about $230.  If we use our Oyster cards to take Euston station where children under 11 can ride for free on the train as well as the Overground (normally it would only be kids under 5 that would be free).  If you arrived to Euston on the Underground, you will swipe out and swipe back in for this next leg. Take Euston to Watford Junction using your Oyster card, about 30 minutes travel time.  If you ride the Overground instead of the Midland train, this journey will take longer because it will stop several times.  This will cost each adult $14-23 roundtrip depending on whether you leave during peak hours.  In our case, our 11 year old would be half of this cost and our younger two would be free.  From Watford, you will ride a Studio Shuttle Bus.  The return trip costs 3 pounds ($3.71) per person and must be paid in cash or contactless card (no Oyster).  This journey is about 15-20 minutes.  Tickets have an entrance time so backing out from your entrance time and allowing for some wait time is a good plan.  This DIY approach to the transfer with tickets would costs my family $318 during peak travel time.
Another suggestion for this day would be a DIY Harry Potter tour as devised in this link.  This would allow you stay in London sight seeing and indulge your Harry Potter lovers.  There are also several Harry Potter guided walking tours that take you to the sites in London like this one.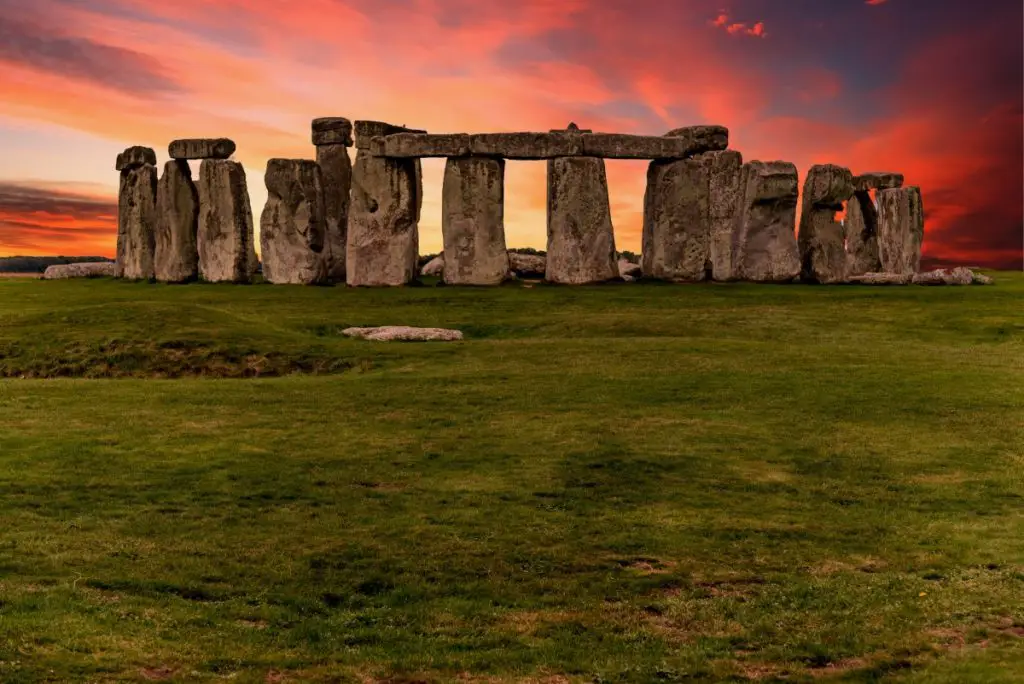 If Stonehenge is more your interest, consider booking a private tour.  The travel time by private vehicle is about 1.5 hours, but can be closer to 2.5 by public transit, making for a very long day.  I like this company, Stonehenge Tours, for the diversity of offerings and great reviews.  Depending on your budget, tolerance, and interests, you can go with a group tour or private, tours offered at different times of day and tours that also stop at Windsor Castle, Bath, Salisbury, and more.  Young or old,  Stonehenge truly does amaze anyone who can fathom that these 50 ton pieces of stone were placed in phases thousands of years ago for likely astrological study.  This trip also allows you to grow your perspective on England as a country away from the bustle and cosmopolitan of London.
Day Four: Shakespeare, Borough Market, and London Eye
Now that it feels like you have a good handle on London, let's bring in local expert.  I love With Locals as a company for their tours offered by exuberant locals, but the Family Friendly London City Tour accomplishes what we have not yet seen.  Not only with your local guide give you background on a few landmarks you have viewed on your rides around town, you will cross the Millennium Bridge and look on Shakepeare's Globe Theatre, Tate Modern, and several other secrets to be revealed.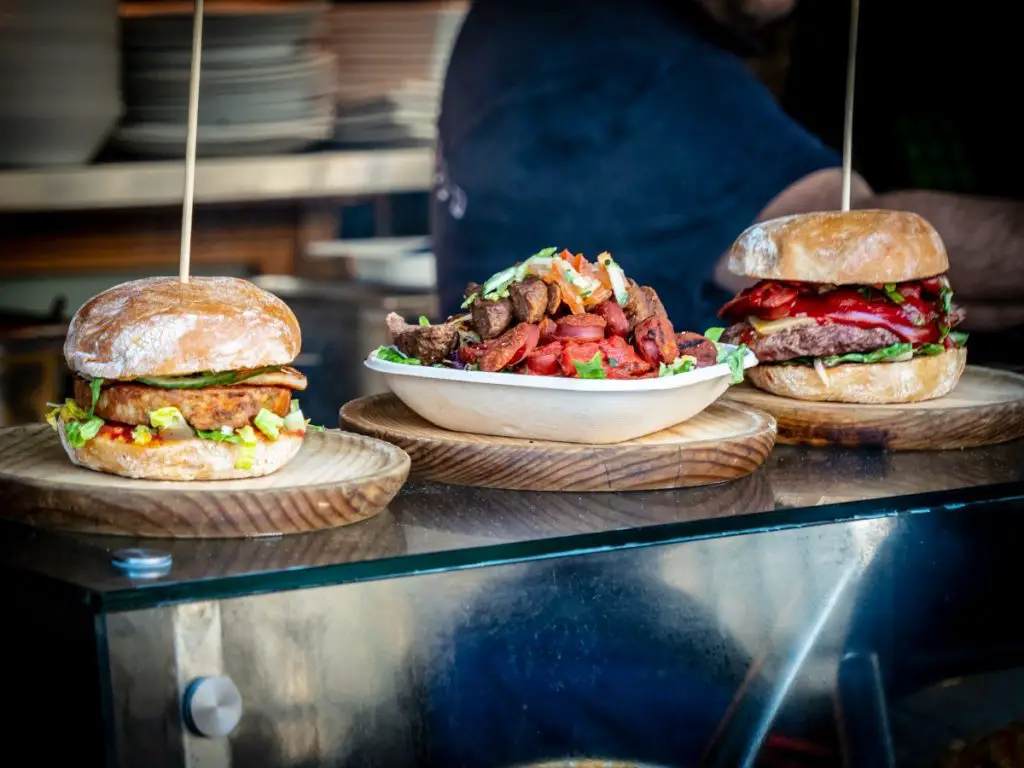 Take the tour in the morning and make your way to Borough Market for lunch.  There are paid tours available of the market or you can even do your own self-guided tour.  If you're not a huge food enthusiast or the kids have had enough, just grab some lunch and take in the sights and smells.  The market is substantial and is divided into sections selling free produce, retail, and restaurants.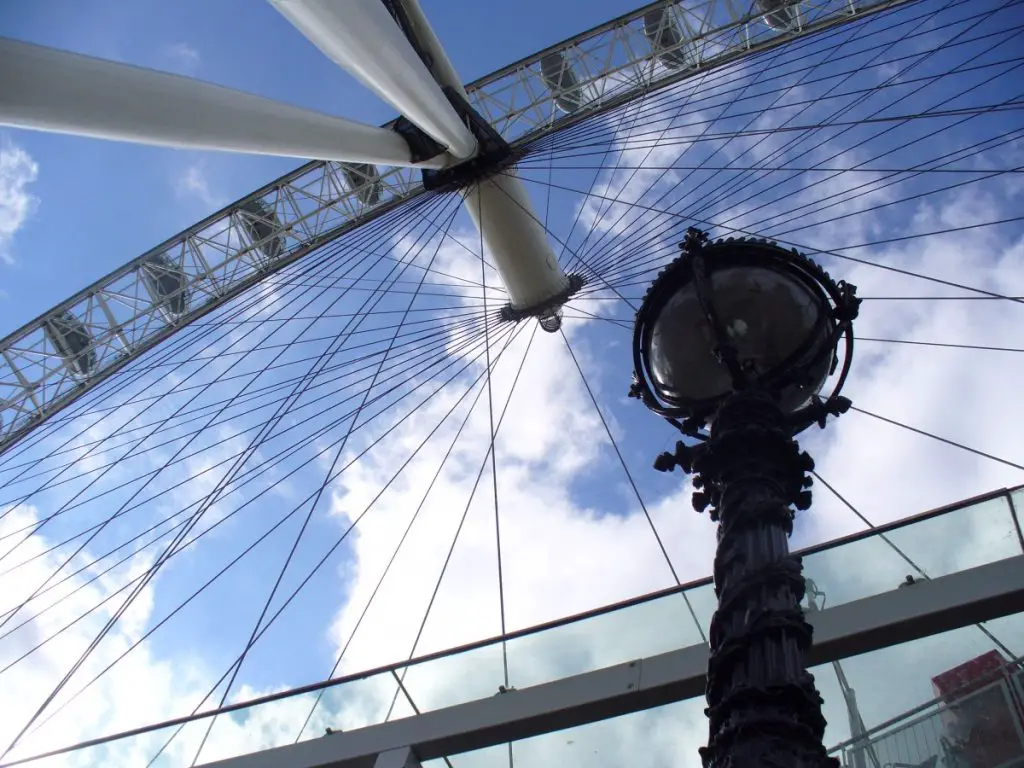 The last item on today's list is the London Eye. You should pre-purchase your  Family Standard ticket with pre-assigned time.  You could choose to proceed here in the afternoon or wait until the evening for a lit view of the London skyline.  The family standard ticket is different than the fast track tickets which cost more.  Many people experience minimal wait or quick moving lines so the family standard ticket seems to be the way to go.  The weather and day of the week will likely be the largest determinant of how crowded the lines and your pod will be.  Expect the ride to be about 30 minutes around.  The London Eye is less than five minutes walk from the Park Plaza Country hotel mentioned above.
Day Five: Time to Go Home?
Sadly your busy days in London are coming to an end.  If you have a few hours left to squeeze in a delicious breakfast and visit England's most famous toy store, don't miss the chance.  Grab a delicious breakfast or items from the all day menu at The Good Egg Soho, a Middle Eastern inspired restaurant with something for everyone to try.
Hamley's on Regent Street opens at 11am most days. This toy mecca will fulfill your kids' toy fantasies.  With seven floors of toys, there is quite literally something for everyone.  Increase the anticipation by showing your kids the store index by brand.  Maybe choose a few selections for entertaining on the journey home or to your next destination.
Have a great time!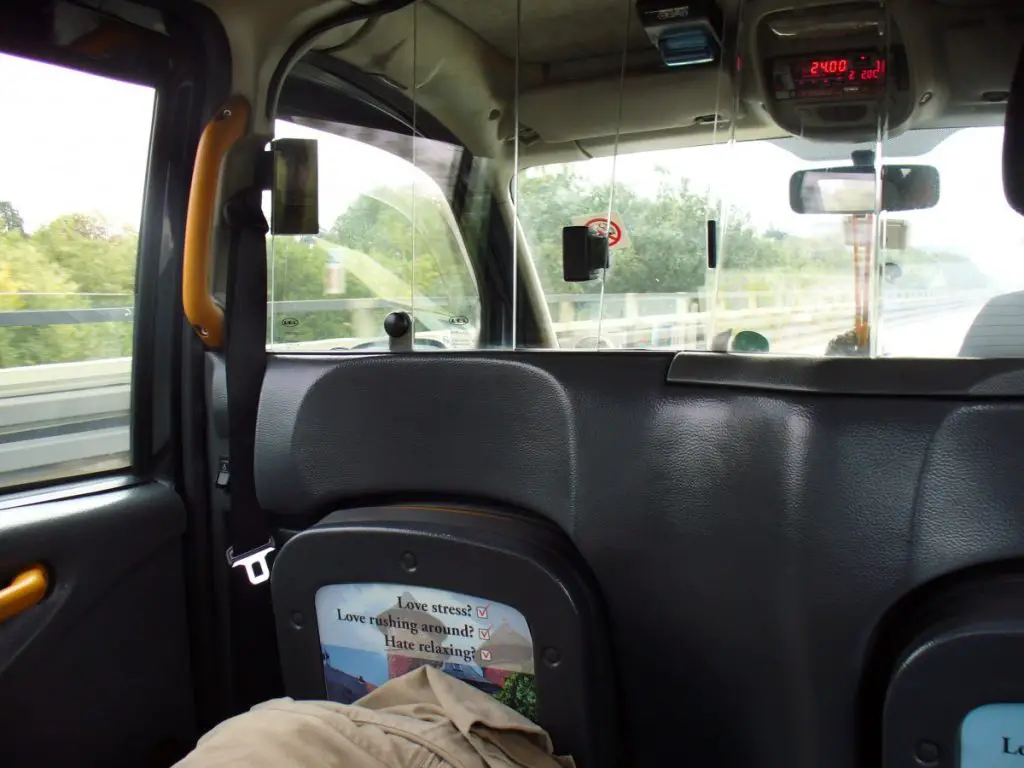 I hope you have a wonderful visit to London!  If you have improvements or additions to my suggestions, please let me know.  You might also be interested in these links:
Where to Sit with Kids on a Long Haul Flight