Parents are always asking what is the best age to take kids on a particular trip.  Europe, like the United States, is full of a variety of climates and environments.  Making the leap to leave the continent for the first time can be intimidating.  I'll suggest a handful of activities that make a particular country a great destination for different age groups.  Of course, each country, has the calmer or more active side of what I'm suggesting as well.
The Northern most point of Europe (in Norway) is on the same parallel as Alaska and the Southern most point of Greece shares the same parallel as Tennessee.  The large majority of Europe experiences similar temperature ranges and seasons as the United States so it is safe to say that summer (due to temperatures and school breaks) is busiest for most, that Spring and Fall are the shoulder seasons with pleasant, but sometimes cooler, wet weather, and Winter is the coldest and least busy (outside of holidays) for most European countries.  It is noted if this is substantially different for one of these countries mentioned.
There are just some European experiences that may be easier with children of a particular age group:
European Travel with Babies and Toddlers
England & Ireland
England and Ireland make the perfect choice for a first visit to Ireland for English speakers.  Eliminate the concern completely of navigating conversations and signage.  If you haven't been to Europe before taking your new little ones, choose one or both of these destinations.
Whether you choose the countryside, large cities, or a mixture, there are so many options. Consider using London or Dublin as your direct flight from the United States for the most options and flight and price efficiency.  If you start off your trip in London, conquer that jet lag by staying on London's West End with walking proximity to many of the main tourist destinations.  You can even take a quick snooze on a double decker bus (maybe we did this once upon a time) while taking in an introduction to the city.  This location also gives you access to a lot of transit possibilities.
Since London can be pricey, choose between the English countryside or hopping over to Ireland.  If you choose to stay in English, I love this roadtrip itinerary of Southern England.  Doesn't the idea of being able to get out and wander the beautiful cliffs, historic castles and churches, and beaches seem like a romantic way for a young family to move about?  If you've wanted to visit Ireland, I recommend taking a short flight from London to Cork. You can use this road trip itinerary to continue from Cork toward the West or start in Dublin as they did.  If you began in London, you can cross Ireland to Dublin for a visit.  There are many direct flights to the U.S. from Dublin or you can choose to continue to Galway and fly from Shannon which has several direct flights to the Eastern United States.  I recommend including Kenmare in your route as I just LOVE this adorable town.
If you prefer another form of transit than driving yourself, consider Ireland's rail system.  For information on this, consult the Man in Seat 61.  You will not have the access to the smaller cities that driving can provide, but your family can relax and take in the scenery.
Both of these countries have a family friendly culture.  Whichever direction you choose, you will be charmed by the history, peacefulness, and lush surroundings.
Italy
Italy's iconic tourist destinations, delicious food, and generally romanticized culture make it an easy leap for young families to visit.  As a family oriented culture, families with children are appreciated and welcome almost everywhere.   Although babies are welcome most places, you shouldn't expect to find changing tables or specialty kid menus.  This means preparing ahead with foods (or ordering something simple you can share), bringing a changing pad, and being flexible.  Some travelers may choose to avoid eating dinner in a restaurant since Europeans eat later than we are accustomed to for young children's schedules.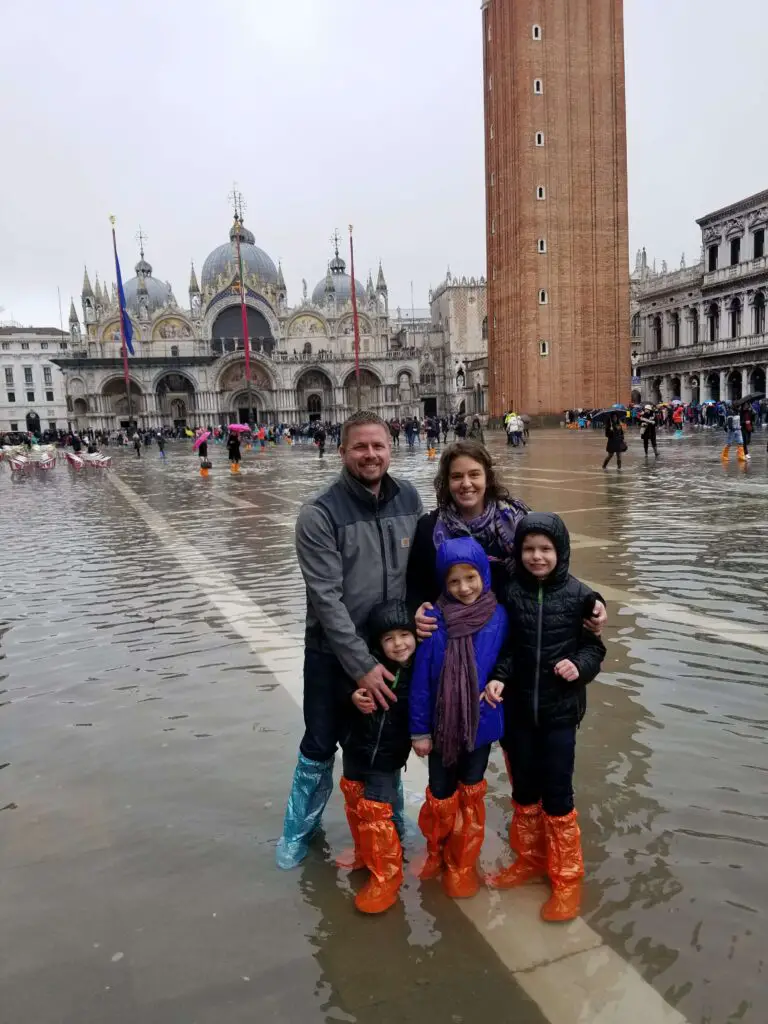 You can take in the many museums and tourist destinations in the larger cities without a ticket for your little one.  At this young age, it's easier to navigate much of Italy with a child who will fit in a carrier.  Lots of cobblestone streets and stairways make many strollers difficult.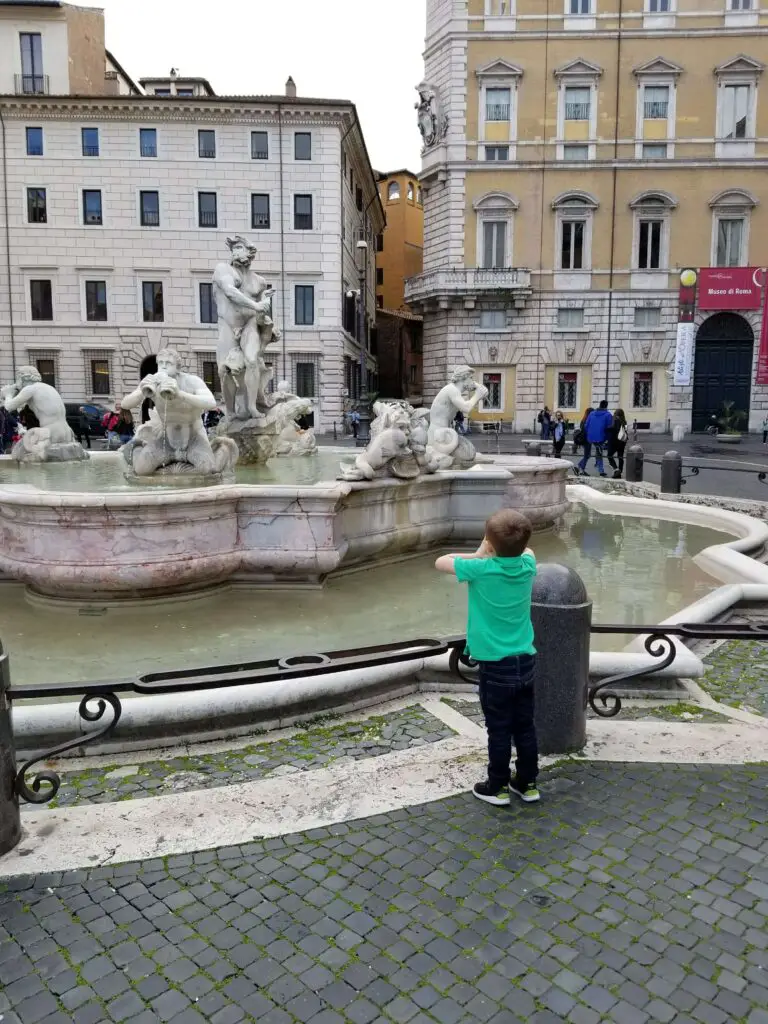 We used the GB Pockit Stroller throughout Italy when needed because it is so lightweight and folds down so small.  In Venice, this meant carrying it up and over stairs for a sleeping preschooler, but it's effective.  Visiting Venice while baby is still in the carrier means free hands and easy navigation.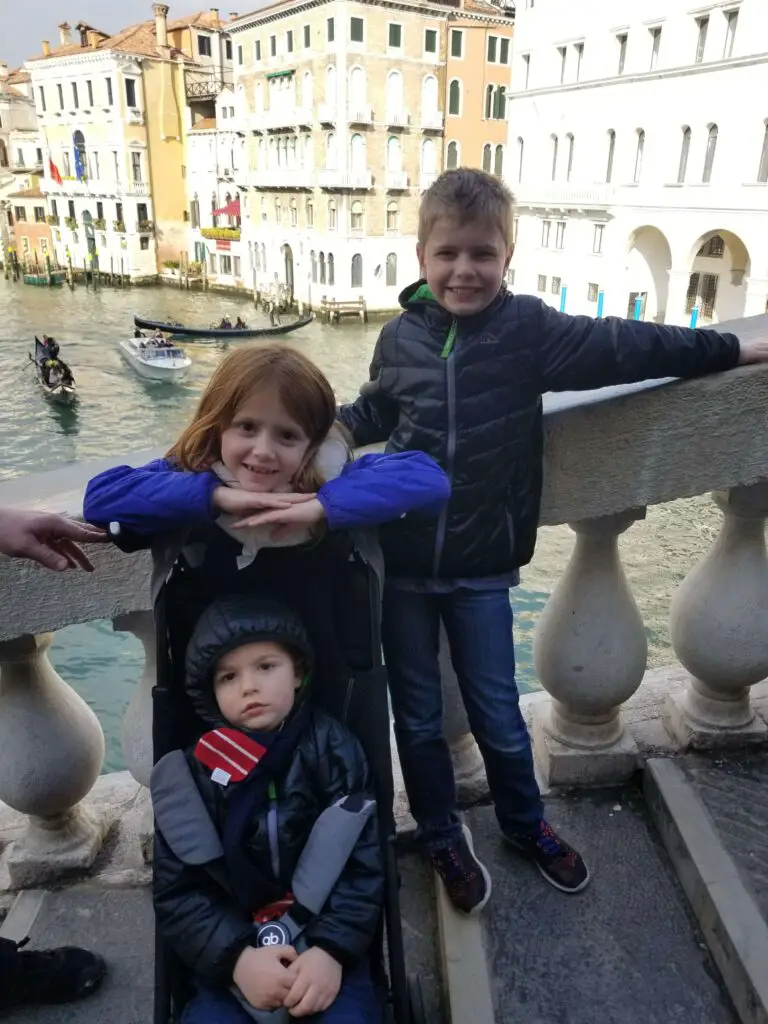 Make time in your visit to any Italian city to plop down in a cafe or in the piazza to let your little one toddle freely.  Or maybe when you dream of Italy, you see a laid back family vacation on the Amalfi Coast.  Check out this blog with suggested cities and packing details for baby on the Amalfi Coast.
Preschoolers
France
Although France certainly has a reputation for being a bit more particular than maybe Italy, traveling with preschool age children still allows parents many opportunities.  From free tickets to museums and activities, to playgrounds found in many neighborhoods (even along the Seine), and easy foods (hello, pastries and pomme frites), Paris is for every age.  With two international airports, Paris, is within reach from many U.S. destinations.  Charles de Gaulle has many, many direct flight options.  I suggest landing in Paris to conquer the jet lag and take in the big sites.  Check out my itinerary for the perfect day in Paris for specific suggestions.
The day trips or multi-day trips accessible from Paris are many.  For the day, you can wander Versailles or even visit Disneyland Paris.  For multi-day trips, consider the Cote d'Azur (French Riviera), Alsace, or Languedoc-Roussillon regions.
Cote d'Azure: View this guide with activities and accommodation suggestions in the French Riviera for families.  There are several destinations for which a train trip from Paris might make for an exciting transition.  Consult Man in Seat 61 for more information.  Because the French Riviera has some very luxurious destinations, consider one of the smaller beach-side communities for lodging and car rental if you plan to move around.
Alsace: Take a two hour train ride, rent a car or grab cheap flights to the region.  This area on the German French border is full of completely fairy tale villages.  Take a look at this itinerary to find places to stay and how to navigate the region.
Languedoc-Roussillon: This lesser known wine region is a country getaway with the idyllic vineyard setting you may have envisioned. Country Kids Resort is a truly special place designed to give little ones the chance to enjoy the county while parents can take advantage of the child care and access to wine country.  A short flight is your best bet from Paris.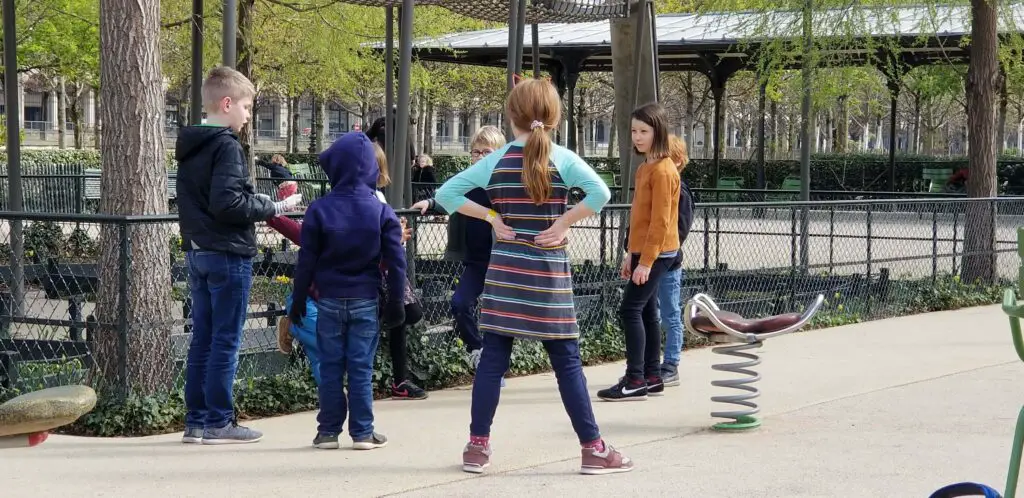 Don't forget that French culture, like many other European countries, revolves around beautiful plazas and parks.  In particular, Paris is full of beautiful jardines (gardens), some with playgrounds, carousels, concessions, and more.  These are the perfect spot for a little one to move around and for parents to breathe in that Parisian experience.
Germany
Already by preschool age in the US, parents have been feeling the pressure to proactively guide their children in the right direction without being overtly helicopter parents.  It's an exhausting balance, especially for first time parents.  Germany offers a fresh perspective that might make you feel more at ease.  The German parenting philosophy is to give children space to make mistakes and sort things out, to not hover closely, to spend time outdoors all times of year and let them entertainment themselves.  As a country with a low birth rate, Germany cherishes children while giving them the chance to be independent.
Germany offers a variety of landscapes including forest, beaches, mountains, and large cities.  North American visitors can feel confident that English is widely spoken in cities and also tourist oriented areas of the countryside.  The major metropolitan cities provide a lot of interesting history and culture for parents to meander with strollers or baby carriers.  I would choose Frankfurt for its impressive skyline, big city tourist opportunities, and easy day trips. Choose Munich for its beauty, historic cathedrals, impressive beers gardens and proximity to the countryside and Germany's origins.
If a dreamy trip through the countryside filled with mountains and castles is what you envision, check out this 10 day itinerary through Bavaria. The emphasis on train travel allows preschool age kids to move around more and eases the travel stress for parents.  Look for the family compartment where kids can be themselves and you can enjoy the view.
There are many direct flights from the United States to Frankfurt, Munich and Berlin which make for simplified travel.
Elementary Age
Spain
With both Madrid and Barcelona both boasting international airports, it's easy to make the trip with elementary age kids to visit Spain.  Both of these large cities, which lie 6.5 hours apart by car, offer may museums, galleries, and markets to explore.  Culturally, they are quite different.  Citizens of Barcelona identify as Catalonians where Madrid is the capital of Spain.  Madrid is more traditionally Spanish whereas Barcelona, a more often visited tourism destination, is influenced by neighbors, Basque Country, Andorra and France as well.
Personally, I love the feel of Barcelona.  The amazing architecture, so greatly influenced by Gaudi, is so fun that even small children can appreciate its magnificence.  The small bites, pinchos and tapas, found in many little bars offer the perfect taste testing snack for all ages.  You can view the details of our Barcelona trip here.
Other areas of Spain that are perfect for families with elementary age kids include Seville and Valencia.  It's important to remember that in some of the smaller communities and less touristy locations, knowing a bit of Spanish can be helpful.   To imagine Seville, hear the sound of horses pulling carriages over cobblestone, impressive Gothic buildings, and the smell of blooming orange trees in Spring.  This area gets very hot in the summer so an off season visit might be the perfect time for a boat trip by the Plaza de Espana. You can take the high speed train from Barcelona to Seville in just over five hours. Here are a list of activities to include on your itinerary.
Valencia, located on the Costa Brava, and only three hours from Barcelona by train.  This is a great pairing with a visit to Barcelona if you want an ocean front experience.  You can find tons of family oriented activities or just spend your time at the beach.  Check out this list of family fun in Valencia.  Although Valencia is sunny nearly year-round, the idea time to visit is late Spring when the weather is warm, but the crowds are still smaller.
Croatia
This picturesque country has been popping up on "most beautiful" lists in recent years for a reason.  Beyond the first destinations you may consider for Europe, Croatia is vying to be the one you will most remember with gorgeous blue waters along the Dalmatian Coast, rich culture in small sea front communities, bustling metropolitan city of Zagreb, and the seemingly Italian region of Istria.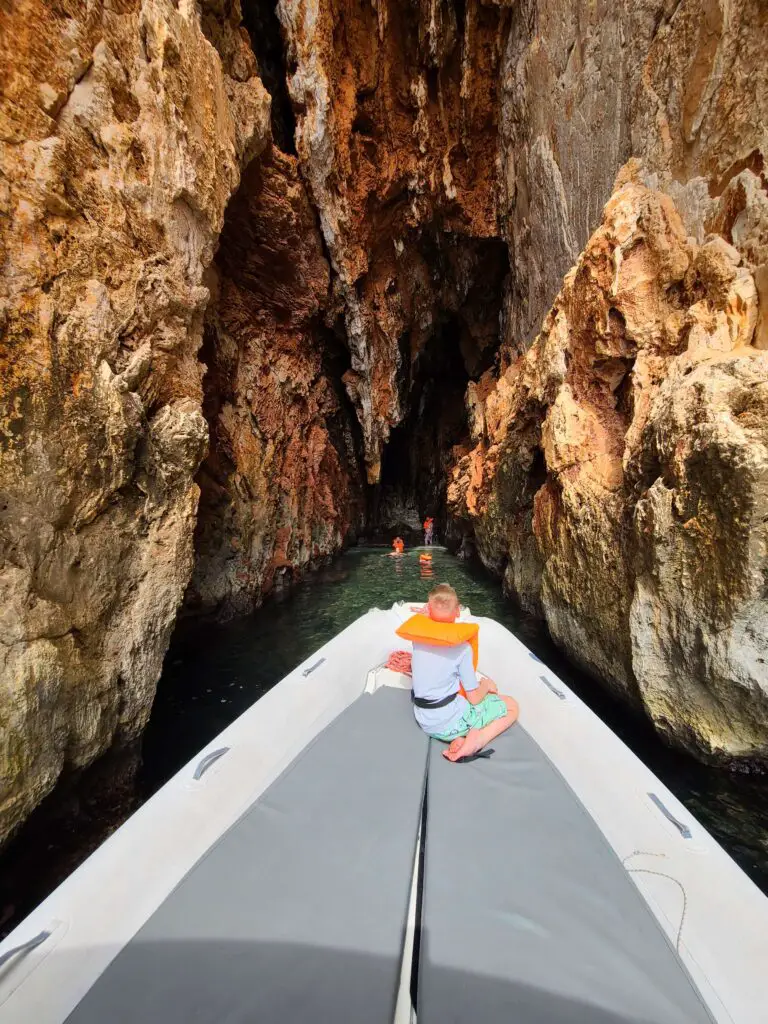 My love for this country is detailed in a two part itinerary (Here and Here) from our nearly three week trip to the Dalmatian Coast.  I included links to some of the most amazing rentals and tours we enjoyed.  We visited in August which is so very hot.  I would highly recommend June or September if traveling in the summer months.  Otherwise, stay hydrated and close to the water.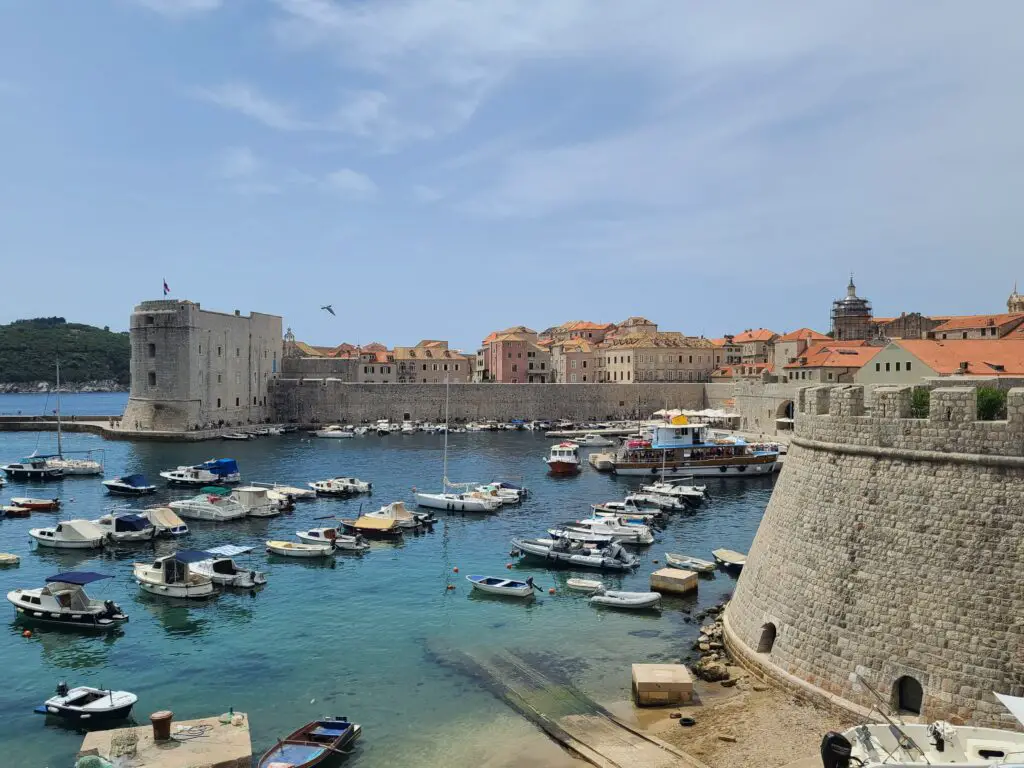 The water is exactly why I recommend Croatia for elementary age kids.  All of the communities along the Adriatic Sea are full of people who depend on and understand the sea.  It was easy to follow their lead on how to enjoy the water and all of the delicious seafood it produces.  The salty water seems to make you more buoyant as you snorkel around the beautiful inlets around Croatia's more than 1200 islands.  The iridescent fish and sea urchins float along in the blue and green clear waters which provide the perfect spot to appreciate the gorgeous coastline.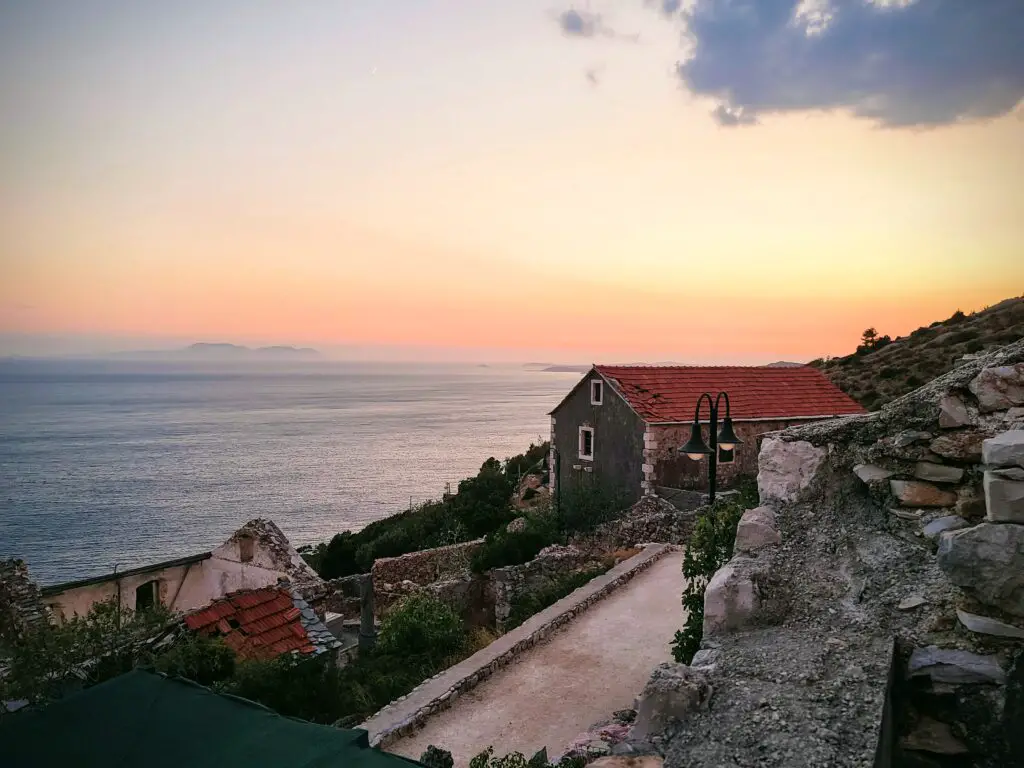 Elementary age children are also a great age to take in a bit of history you can follow in Dubrovnik or Split.  Walk the Walls of Dubrovnik or tour Diocletian's Palace to understand how Croatia's history relates to ours.  The grandure of these historic sites is very palatable at this age; they know they are seeing something special.  Croatians are very inviting to kids and you will find kids laughing and playing all around the large and small cities.
Middle Schoolers
The Netherlands
One of the coolest parts of The Netherlands, and what makes it especially fun for middle schoolers, is their bike centric culture.  The streets of both Amsterdam are just full of bicyclists making their way to work, school, running errands, etc.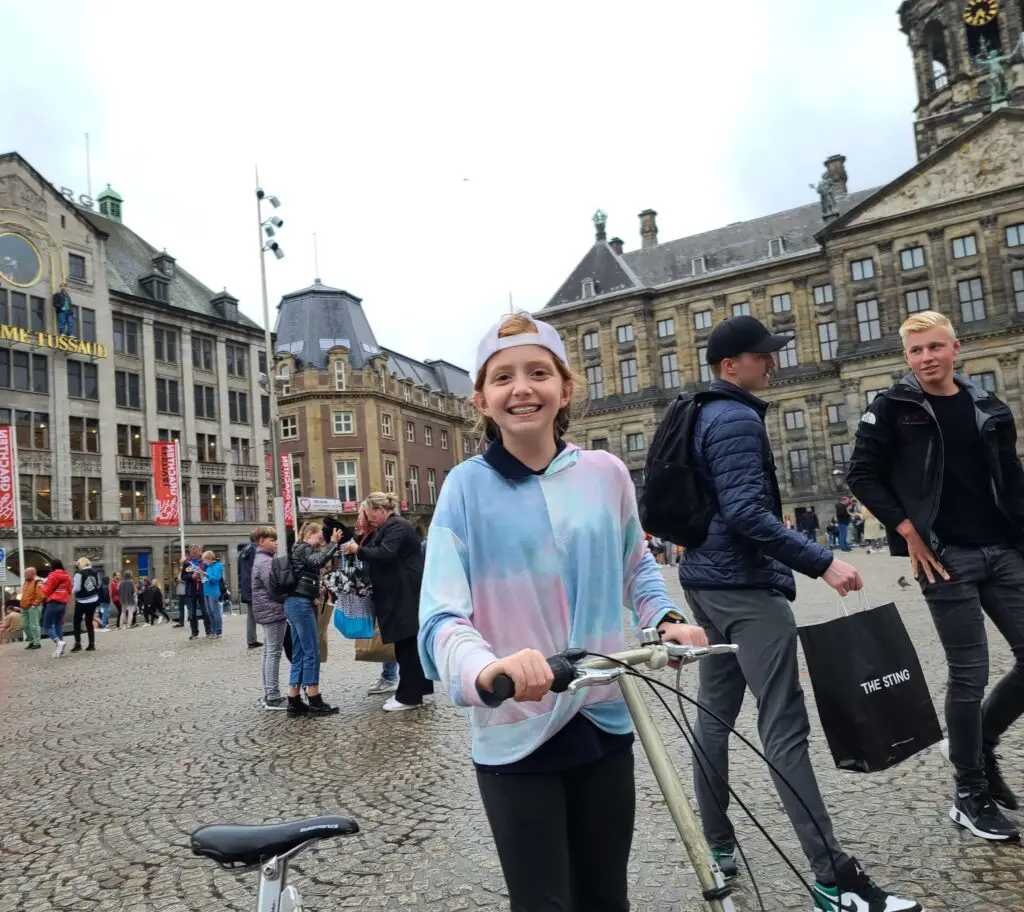 Unlike in the larger U.S. cities where cycling is used by many more cost or environmentally friendly, biking is truly the way of life for everyone including families.
Although Dutch is the official length of The Netherlands, English is widely spoken; it's estimated at over 90% are English speakers.  The Netherland is among the rank highest in happiness for nearly all groups including teens.  The philosophy espoused by many parents is "Play, Authenticity, Reframing, Empathy, No ultimatums and Togetherness".  Any opportunity to interact with other young people in these cities might be a refreshing perspective for middle schoolers.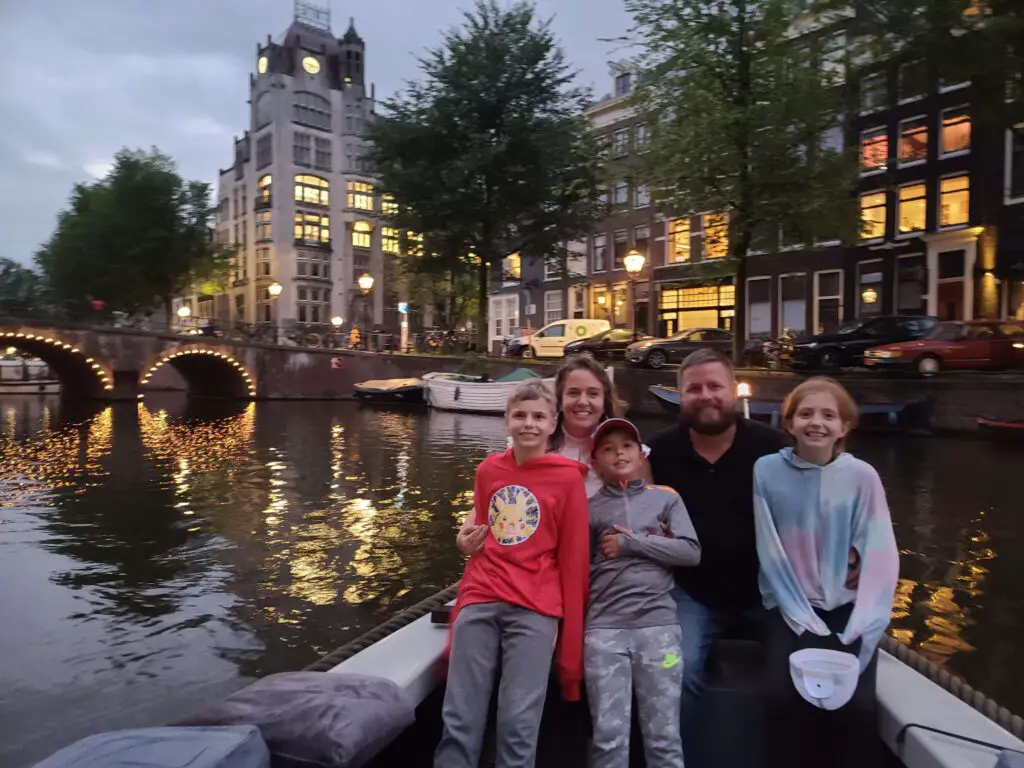 Amsterdam has several direct flights from the United States, making it easy to fly efficiently.  I would recommend getting over your jet lag in the city while getting a taste of Dutch life.  We had a truly amazing (I am talking top 5) experience with Local Layover.  They will organize a tour that introduces you to biking around town and removes all of the learning curve attached with being in a new city.  Amsterdam is also a great city for Middle Schoolers because most have some knowledge of the Holocaust and can appreciate the Anne Frank House and Shadow Wall that remind visitors of the atrocities of this horrible period of history.
Holland Bike Tours has biking routes for various lengths, some designed for families with children, to allow you to indulge in the region via bike.  This particular linked tour starts just 15 minutes outside of Amsterdam by car.  E-bikes are common for those prefer a bit less strenuous ride.  Another option is a combination of bike and "barge" where participants can cycle during the day and cruise to the next day's destination overnight.  The Netherlands make a great mix of history, culture and active trip for families of middle schoolers.
Portugal & the Azores
Yet another destination for a mix of history, culture, food and adventure is a visit to Portugal which specifically includes Lisbon and the autonomous region of the Azores.  The Azores are an archipelago made of nine volcanic islands nearly 900 miles west of Lisbon.  It is only a two hour flight from Lisbon to the Azores that flies several times per day.
Depending why you are flying from, you may be able to find a direct flight to Joao Paulo Airport (PDL) in Ponta Delgada, the capital city of the Azores.  Otherwise, I recommend flying to Lisbon as directly as possible.
What makes this a great trip for middle schoolers is the mixture of cultures that collide in Lisbon.  Since it was ruled by the Moors and the Romans and shares a border with Spain, so many have influenced the food, language, and the people.  The Azores is great for pre-teen/teen group to enjoy the water activities (snorkeling, stand up paddle boarding, hot springs, whale watching) and be intrigued by the legends and culture.  There are many stories of how the Azores came to be founded in the 1400s and the wide variety of cultures from which the settlers came.  In addition to beautiful beaches, the Azores boasts geothermal features, beautiful nature preserves with jungle like settings, beautiful botanical gardens, and street art.
Deciding amongst the islands can be challenging as they offer different experiences, but this description might help you decide.  To design the perfect family adventure in the Azores, check out this family's experience or this island hopping itinerary for first timers.
High Schoolers
Switzerland
What does the average North American think of as Switzerland – the Alps, chocolate, beautiful chalets? Switzerland is great for adventurous hikers and outdoorsy families, but also full of refined beauty as well for the less daring.
It's important to consider if you're wanting to visit for cold or warm weather activities as high altitude locations will not transition until true summer.  Also consider that Switzerland can be quite expensive, but you can see some cost savings ideas here.
You will most likely fly into Zurich or Geneva to begin your trip.  If you can book a trip that begins in one city and leaves the other, this creates a scenic route without backtracking.  Consider booking a Swiss Travel Pass allows you to use one ticket for the whole country and will take you from these larger cities to the mountainous regions your family will enjoy.
The Bernese Oberland is likely the most famed region of Switzerland with postcard mountains, crystal blue lakes, and railways that will take you places to which you cannot hike.  This area also boasts an ice castle called Jungfraujoch that is the highest point in Europe.  You can enjoy a wide variety of outdoor activities (all bookable here) in all seasons of the year.  Check out this link (https://www.earthtrekkers.com/bernese-oberland-travel-guide-jungfrau-region/) to get a better understanding of the geography of the area and decide what idyllic town and historic hotel you might enjoy.  Plan your visit to this region using this itinerary.
Don't forget to incorporate the train from Montreaux to Gruyeres to visit the chocolate and cheese factories.  Both Geneva and Zurich a worthy of a couple days on your itinerary for history, art, and the culture of grand European cities.  
Iceland
You may have noticed Iceland making a big splash pre-pandemic in making more flights available and enticing people to make stopovers.  You can still find direct flights from many U.S. cities to Keflavik (KEF).  If you're like me, Reykjavik, its capital, was the only city I knew in Iceland and I was surprised to find out the primary international airport is about 45 minutes drive from the capital so be sure to note those airport call letters.
The reason it's a great pick for high school age kids is that they will likely appreciate the Northern Lights from a scientific perspective, will be able to manage their safety crossing volcanoes, glaciers, and fjords, and they will tolerate the cool temperatures for longer.  I mention Iceland as a great adventure family destination in my article here.
Use Reykjavik to manage your jet lag, which should be less than other European destinations as it is a bit closer to North America.  Introduce the teens to Iceland's largest city and have your first experience with Aurora Borealis if you're visiting between October and April.  You can book a private Northern Lights tour such as this one and learn all there is to know about the Northern Lights at Aurora Reykjavik.
If you're visiting in the warmer half of the year, consider horse riding along black sand beaches, visit a puffin colony, research the many festivals held in summer months, or hike the Westfjords.
To plan your a road trip route, take a look at this Ring Road itinerary.  If you would like a guide to hike you near glaciers, volcanoes, waterfalls, and more, visit the multi-day tours offered by Nordic Visitor with options for all seasons.
Last, but not least, you have likely heard of the hot springs found throughout Iceland.  Be sure to include one or two on your itinerary to cozily enjoy the scenery.
Where else?
Have you traveled somewhere else in Europe with kids at a particular stage of life that was absolutely perfect?  Tell me about it!  I would love to hear what other countries make the perfect environment for each age.