Just as parenting evolves with growing kids, so does family travel.  The early concerns of what essentials to pack and the stress of how to navigate an airport with little ones are replaced with the acknowledgement of fleeting time as little kids become big kids.  I have had "adventures" in mundane experiences around the world and also life changing moments when plans did not work out or a special opportunity was presented. One way to assure big memory making is by planning an adventure-oriented trip that pushes limits, provides thrills, and relies on your family bonds.  Most of these trips would be ideal for children no younger than six to eight years old depending on maturity and ability.
None of these suggestions are advertisements.  They are simply awesome adventures by well reviewed service providers. Here are 20 great adventure trips for your family:
1. Grand Canyon: Rafting, Hiking, Camping, and Ranch Visit
Arizona River Runners has devised an awesome three day adventure in the Grand Canyon to give your family a completely unique view.  This adventure could be tacked onto a longer visit to the Grand Canyon or Las Vegas. Their exciting video itinerary will have you excited to get booked:
The package includes transportation, a ranch experience that includes horseback riding and option ATV riding, rafting and camping in the canyon (accessed by helicopter), waterfalls, and a jet boat ride. So much fun packed into just a few days.  Participants must be at least eight years old.  Arizona River Runners and Bar 10 Ranch offer other longer packages as well.
2. Hiking Iceland: Land of Fire & Ice
The Southern Coast of Iceland is full of gorgeous natural wonders.  Iceland flights have been consistently more affordable than many other European destinations in recent years so flying into Reykjavik is a great way to start, conquer the jet lag and take in the capital's historic sites. Whether you book a fully guided tour like what is offered by Backroads Tour Company or choose to self-drive and incorporate day tours, the Southern Coast is truly breathtaking.
It is hard to fathom that a region can be home to glaciers, waterfalls, volcanoes, geothermal features, beaches of black sand, and more.  During winter months, you can also experience Aurora Borealis (Northern Lights).  Iceland travel requires packing warm as temperatures will likely hover around 35-40 Fahrenheit, completely worth it.
3. Everglades Paddle Trip
Are you intrigued by the "wild" nature of the Everglades National Park?  Does the idea of interacting with dolphins, manatees and giant sea turtles excite you?  Florida Outdoor Adventures offers a 3 day adventure to show you the maze of islands that make up the "real" Everglades.
Expertly trained guides lead families on this "easy active" adventure by kayak.  This all-inclusive experience includes kayaks, camping gear and food, but is limited to those ten years and older.  Enjoy beautiful sunsets from your sandy beach campsite and spend the days on both the open water and inside mangrove tunnels.  Tag this adventure onto a fun and relaxing visit to Miami!
4. Volcano Exploring in Hawaii
If you want to do more than sit on a beach when visiting Hawaii, there are so many activities to keep you moving.  Exploring volcanoes in a tropical setting is certainly one thing you won't do elsewhere in the United States.  Visit Volcanoes National Park on the island of Hawaii to see the Thurston Lava Tube left from where lava once flowed. There are scenic drives and plenty of day hike options within the park.
You can hire a guide for a wide variety of tours.  These vary considerably in their difficulty and duration so be sure to read these details.  This tour from Wasabi Tours provides a day trip with a visit to a coffee farm and is considered easy with minimal hiking.  You can also take a tour with a geologist that focuses exclusively on the volcanoes.  Or if you like to have fun while you hike, book this scavenger hunt tour.
5. Maine Trail Adventures: Winter Hiking or Fat Tire Biking
The Maine Huts are off the grid, eco friendly lodging along an 80 mile trail system.  Activities along this trail system are endless for both winter and summer weather.  You can book private bunkrooms in advance or share larger bunk spaces with other adventurers.  Choose to move along the trails or establish a headquarters from which to make your daily adventures.  The Flagstaff Hut is the recommended choice for families.
The solar powered life cycle is an adventure for most city dwelling families, but the process of getting to the huts is also part of the fun.  Since there are no roads to drive beyond the trailheads, you will need to use your preferred method of transport (feet, skis, bikes, etc.) to arrive at the hut of your choice.  They offer detailed information to plan your route and parking.
6.  Cenotes of the Yucatan, Mexico
For most Americans, flights to the Yucatan peninsula are affordable and direct from a nearest hub.  As a family, utilize those great fares to get to the history and beauty held in this area.  You can enjoy beach accommodations in Cancun, Playa del Carmen, or Rivera Maya, but venture out on your cenote adventure.
Cenotes are created when limestone bedrock collapses and results in a natural swimming hole.  Often the surface of the "pool" is far below the surface creating a magic cave like feeling where light filters in beautifully.  The water can be both fresh and salt water.  Choose a full day tour to visit several cenotes in a single day like this 8 hours trip with Travelezza or a combination of climbing the ruins and cliff jumping  as with this tour from Yucatan Cenote tours.
7. Adventures with Elephants – Thailand
Traveling to Thailand is an adventure within itself with its rich culture, history, food and people.  You can read about my suggestion for a full itinerary to Thailand here.  If you have an elephant enthusiast in your family or maybe like most people, your family is in awe at the size of these beautiful creatures, Thailand is the best place to learn more.  As with all animal oriented travel, it's crucial to choose tour operators whose goal is the preservation of the animals.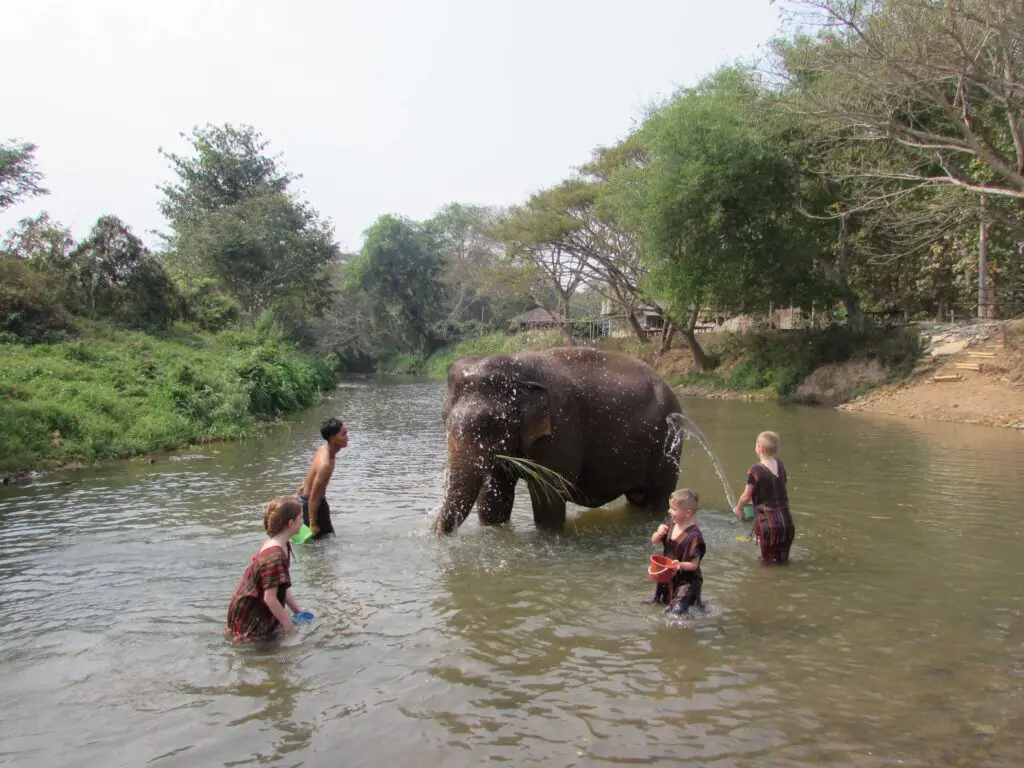 I can recommend two different experiences with elephants that also combine cultural understanding.  The Tuk Tuk Club offers several trip lengths.  We enjoyed the one day trip and had the most free and beautiful walk and swim with elephants. This tour leaves and returns to Chiang Mai, but longer trips may vary.  In another part of Thailand, Phuket, is the completely magical Elephant Hills Tented Camp and Overwater Bungalows.  The experience with elephants here is more limited to feeding, washing and observing the elephants, but the whole stay offers an amazing jungle experience that can't be matched.
8. New Mexico – High Over Albuquerque
Albuquerque hosts an annual International Balloon Fiesta in October which offers several days of entertainment, food, and seeing balloons.  Guests can set up a ride if observing balloons is your primary interest.  However, if a private adventure is more your style, book a ride with Rainbow Ryders in the hot air balloon capital of the world.  To keep with the theme of staying high, hike La Luz Trail, considered to be a moderate to strenuous hike with stunning views from the Sandia Mountains.
Complete your day in the clouds with a visit to Ten 3 located at the top of your hike.  Enjoy the gorgeous views and shop at the gift shop before taking the Sandia Tramway back down.  There is so much more to do in Albuquerque, but these activities are sure to get you on an adventurous start.
9. Costa Rice – Zip Lining, Animals, and Water Adventures
Costa Rica is known for its lush environment and adventure activities, but choose a tour company that can offer you unique access and cultivated mixture of experiences.  Tachiz Travel has several itineraries, but consider this family oriented plan. With options to include zip lining, cross hanging bridges, horseback riding, safari float, or volcano float, your family can cultivate the perfect adventure for you.
What I love most about this trip is mixing in the animal volunteer experience, cloud canopy walks, coffee and chocolate growers, and other not action adventure specific activities.  There are no shortage of opportunities to incorporate adventures into this eight day itinerary.
10. Atlas Mountain and Sahara Desert Trekking – Morocco
If making the journey to Marrakesh isn't enough of an adventure on it's own, plan to trek to Morocco's beautiful Atlas Mountains and experience the Sahara Desert.  There are many companies offering a variety of treks in length and difficulty.  Some include many hours of walking while others are camels or vehicle driven.
Trekking in Morocco is a highly rated company offering four different family friendly trekking options.  You can choose an itinerary that features more time in Berber villages to meet the people and sample the food.  You can spend more time in the desert, crossing invisible borders.  Some tours are only available certain parts of the year.  This adventure is certain to challenge an delight everyone in the family!
To Your Next Adventure!
If you have another adventure destination that you loved to visit, let me know.  As always, I hope your next family adventure is full of memory making experiences.