Have you heard what a special destination Thailand is for families?  Thailand is the perfect country for your first visit to Asia or anytime.  Thai people are friendly, grateful for your tourism, and proud to share their rich culture. There are so many elements of Thai culture that are delightfully different from our own as Americans especially religion, language, food, and architecture.  Our itinerary provides a taste of all of this and features time in the city, country, beach, and forest.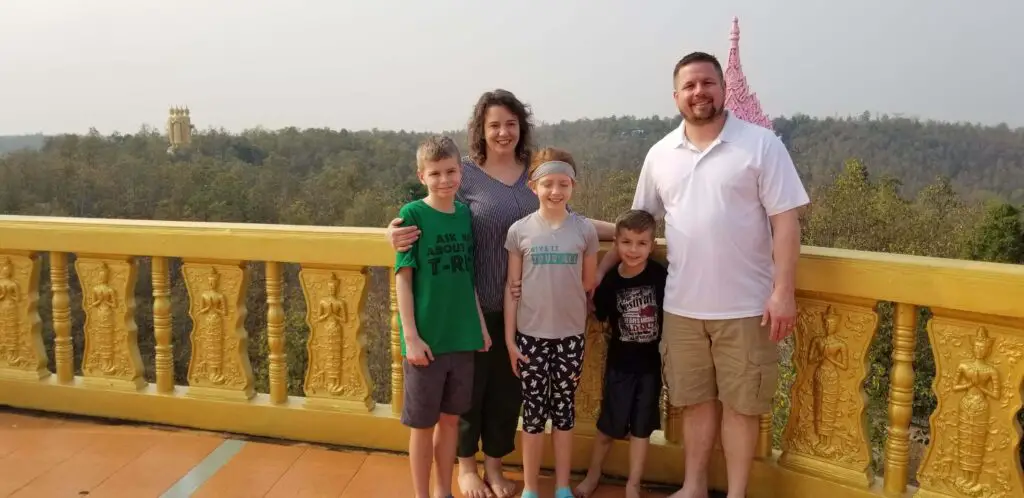 This trip could be used by families of most ages, but we took this itinerary when our children were 6, 9 and 11 years old.  This was a great age for our family to participate and enjoy the elements of this trip.  As always, we incorporated down time and tried to have enough time in each place to get a strong understanding of what we encountered.
The Route
Because we were flying from the US and trying to optimize the number and duration of flights, we flew into Suvarnabhumi International Airport (BKK) in Bangkok.  There are six international airports in Thailand, but BKK is the largest with multiple flights coming from further destinations.  For our itinerary we flew All Nippon Airways (ANA) which is a Japanese airline and thus our layovers were in Tokyo (at two different airports) arriving and departing our Thailand trip.  We really enjoyed this airline and would recommend it as an option.  I completed detailed reviews of these flights if you are considering flying ANA which can be read here – Chicago to Toyko and Tokyo to Bangkok.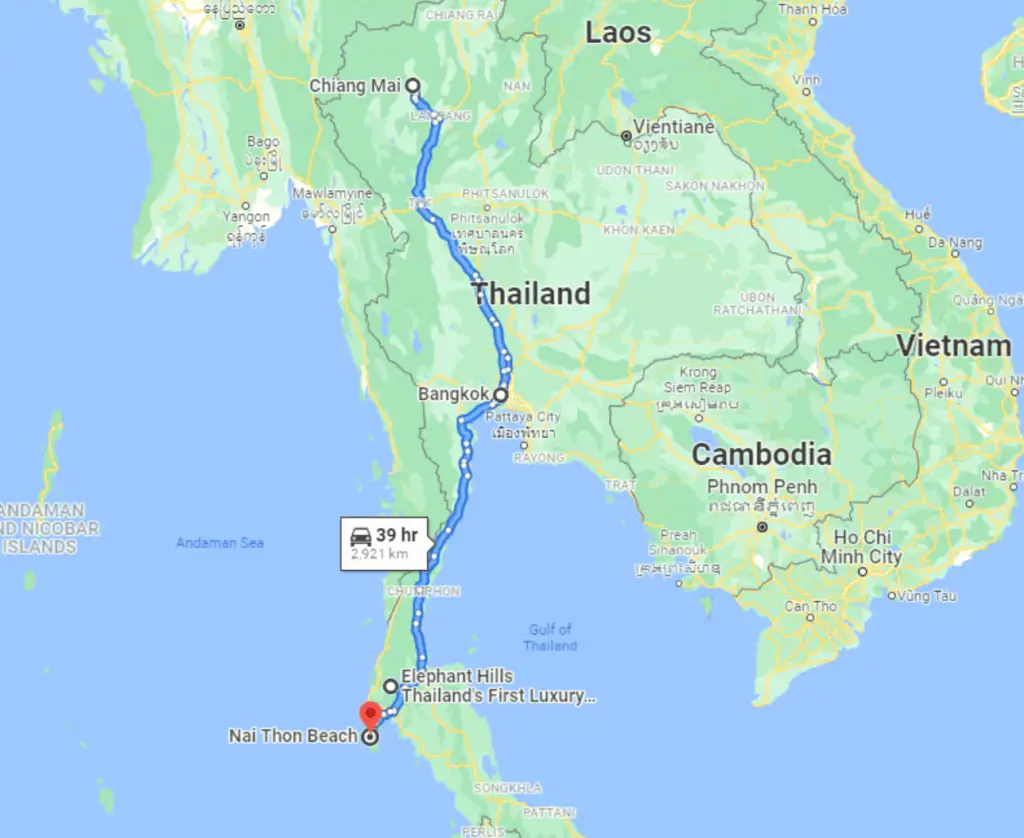 Our route within Thailand began in Bangkok to get accustomed to the time difference.  We flew from Bangkok to Chang Mai on Nok Air which took about 70 minutes.  We then flew from Chang Mai to Phuket on Thai Lion Airlines which required a stop in Bangkok to switch planes and the journey was about 4-5 hours.  Our final domestic flight was from Phuket to Bangkok on Thai Airlines and took 1.5 hours.  If you are comparing airlines, you can see my comparison of these three domestic Thai airlines by clicking here.
If you are traveling on to another location in Asia, I would recommend more time in Bangkok at the beginning and tailoring the direction of your trip to point you in the best direction to fly on.  Both Chiang Mai and Phuket airports fly to several destinations in Asia and beyond.
Days 1-4: Travel and Bangkok
Our journey began in the afternoon on a Thursday with a thirteen hour flight to Toyko.  After a few hours in Toyko Haneda Airport, we flew seven hours to Bangkok.  Our arrival time in Bangkok was at five in the morning which posed a small challenge.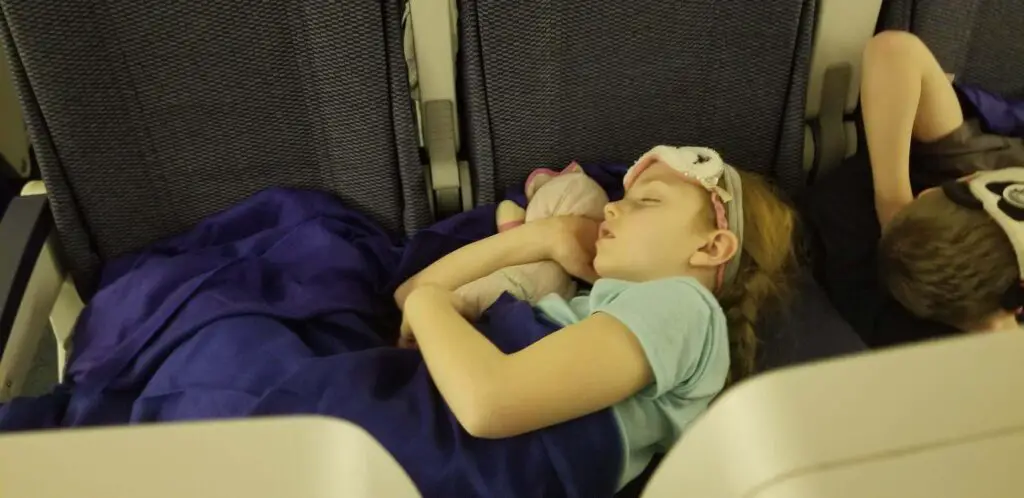 Our prearranged driver from Transfer BKK took us to Hyatt Place Bangkok Sukhumvit so we could store our bags.  In order to push against the jet lag, I booked an Introduction to Bangkok Tour with City Unscripted.  I love this company because they are completely flexible to your preferences and family needs.  You will find suggestions on their site, but when I've booked a tour with them, I always tell them what works best for us.  Our guide for this visit helped us come up with a good plan and even made some suggestions that modified our plans during our visit.  We met Chatchai, our guide, at the hotel lobby at nine in the morning.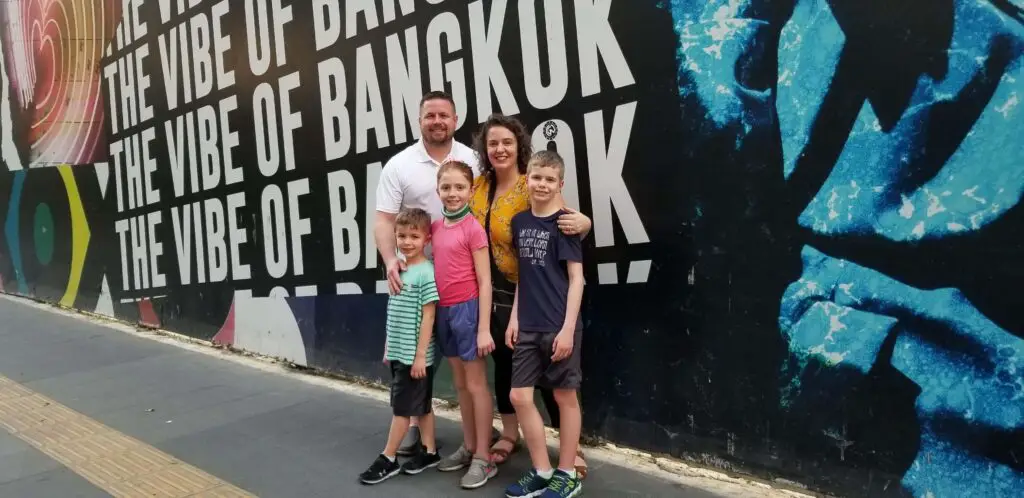 As part of the welcome tour, Chatchai showed us how to purchase our metro tickets and tricks about riding and entering in the right place.  We first rode the metro to the old town part of Bangkok.  Our heads were already spinning with the excitement of city noises, street food, and whizzing motorbikes.  He wanted to show us the way locals cheaply move around so we made our way to the Khlong Canal Taxi.
This video is a good summary of the experience which is cheap, but maybe slightly intimidating for foreigners.  You will need cash and be able to step up and down from the dock into the boat, but will be rewarded by speeding through the canals to beat the traffic and by adding another adventure to your memories.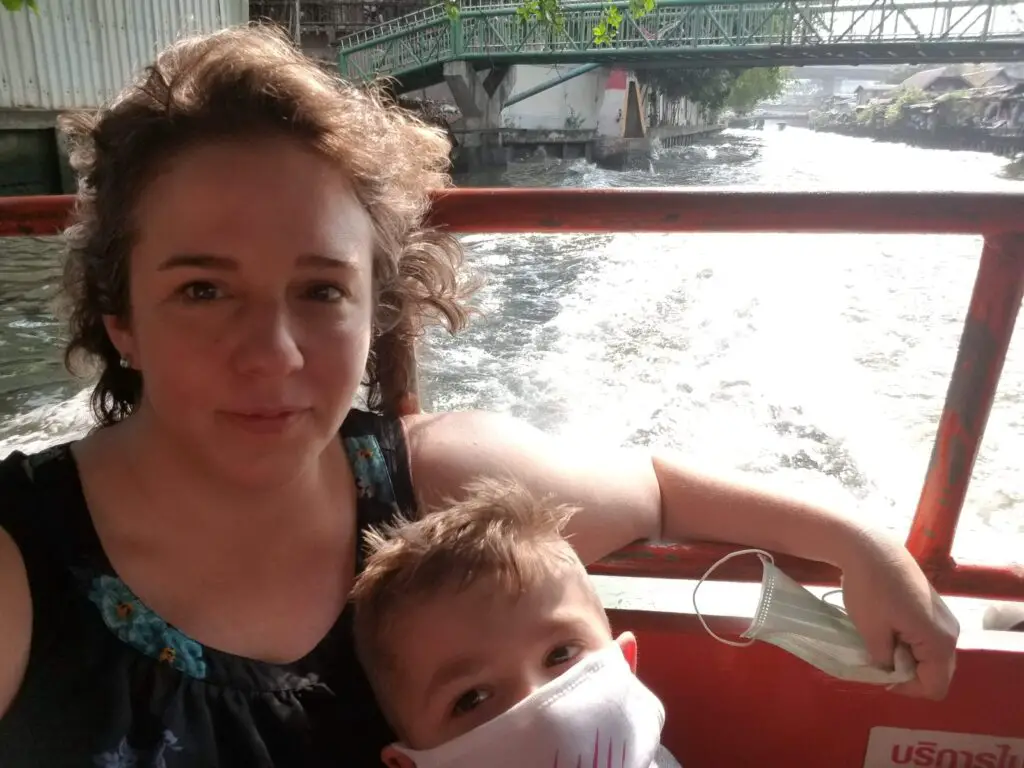 We took the canal boat to visit our first wat of the day.  Wat means temple in Thai so it is a word you see often on signage.  We learned quickly that there are traditions to be observed out of respect.  The first is to remove your shoes outside of the temple and to be properly covered (typically from shoulders to knee for adults) for entrance.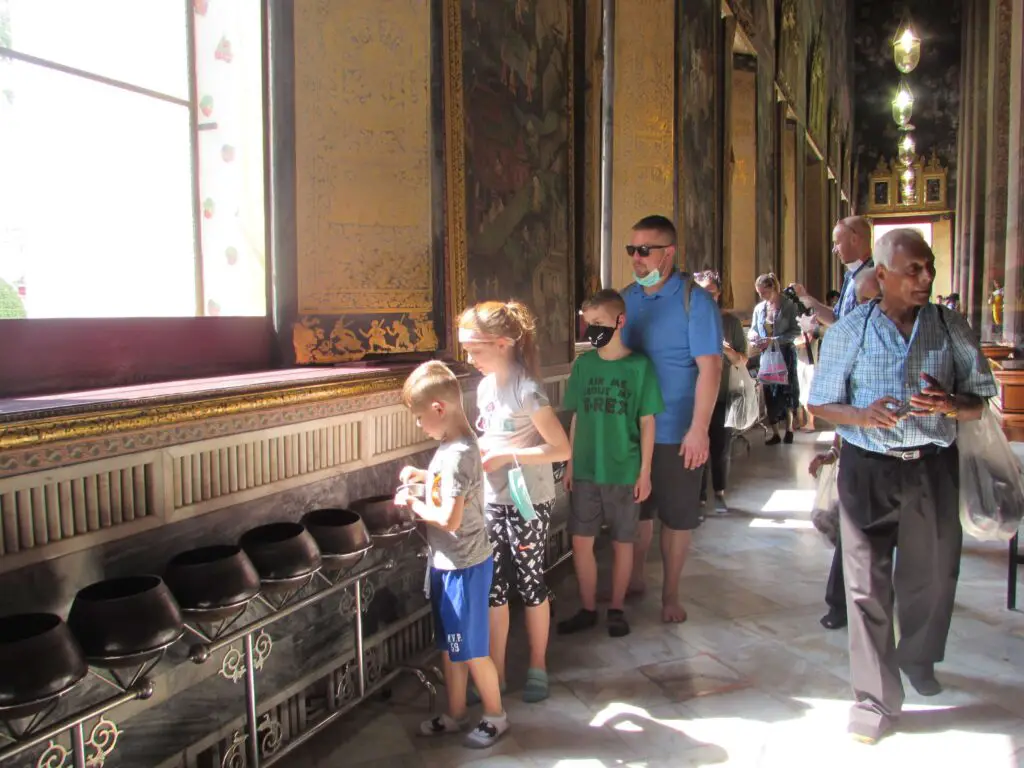 I carried a scarf to cover my shoulders throughout this trip.  In the areas where prayer or meditation are taking place and visitors are quietly observing, we were told to face your toes away from the Buddha so that your dirty feet are not seen as disrespectfully pointing toward Buddha.  Similarly pointing at Buddha, turning your back to the Buddha, or disrupting monks or worshipers is considered disrespectful.
The primary attraction at Wat Pho for tourists is the massive Reclining Buddha which is nearly 150 feet long and 45 feet tall.  It is truly impressive in size.  Interestingly, this temple is also home to the original Thai massage school.
We took two tuk tuks (to accommodate our group of six) and fed turtles next to Wat Prayun. This is a quiet spot to rest and let the kids be entertained by the turtles.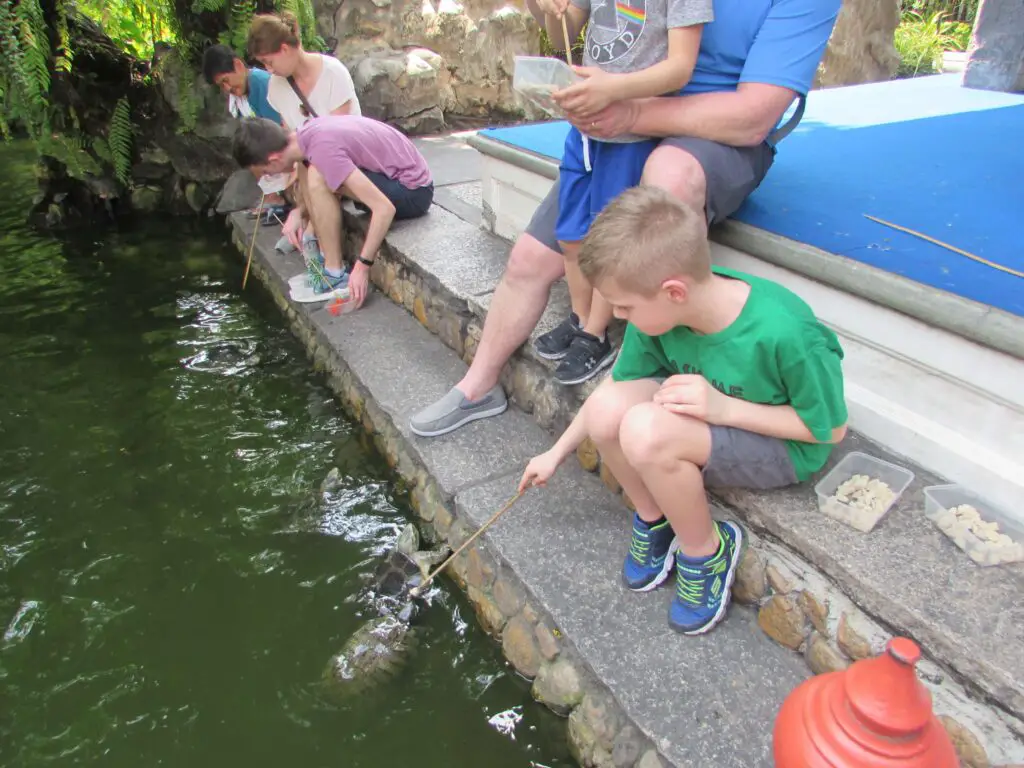 The tuk tuk rides were fun for all as we dashed through Bangkok traffic.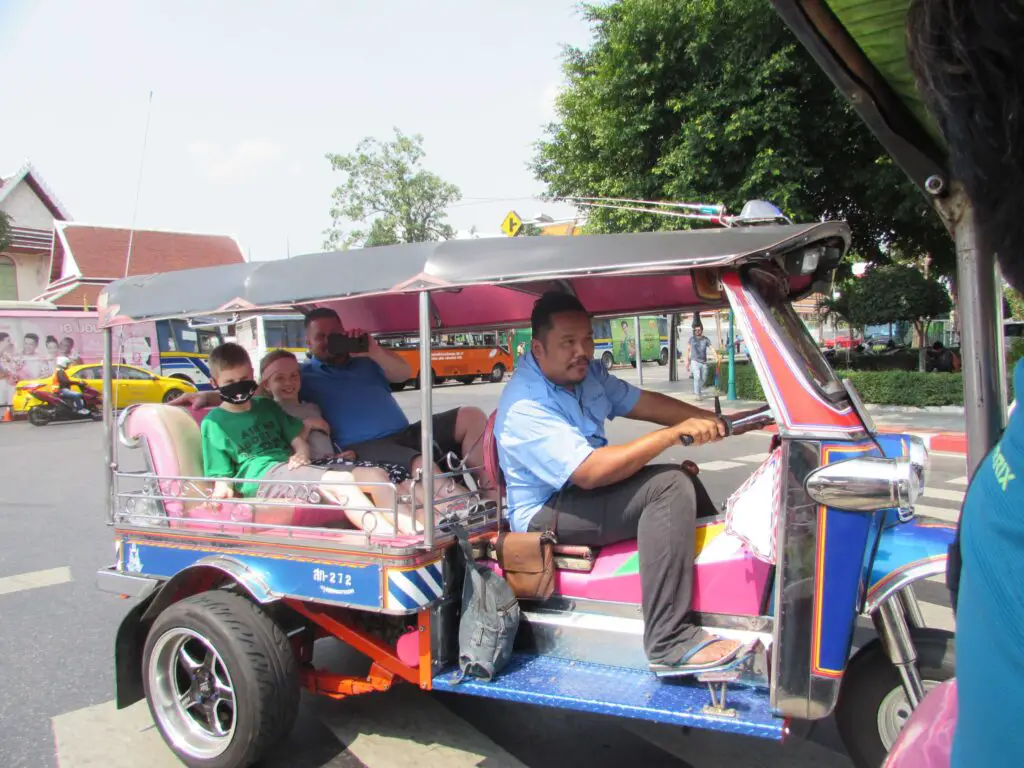 Our guide took us to a lunch spot that was very delicious, inexpensive and certainly a place we wouldn't have found on our own.  The kids also loved all the flavors of soda that we found throughout Thailand.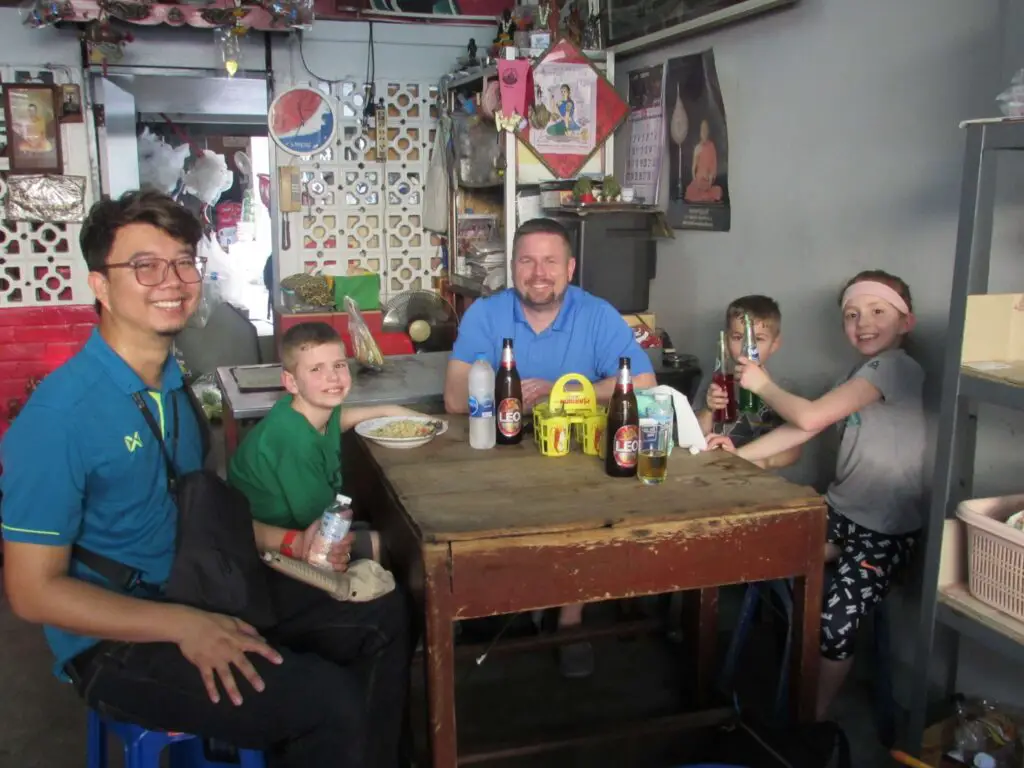 We finished our morning and time with our guide at Museum Siam. Although Thailand has held its current name since the 1930s, the people who settled in the area formerly called Siam have referred to this name for over 1000 years.  This museum is really fun and interactive with displays designed for kids as well as more traditional historical displays.  There is a truly impressive visual timeline of Thai history that fills an entire room and evolves dynamically.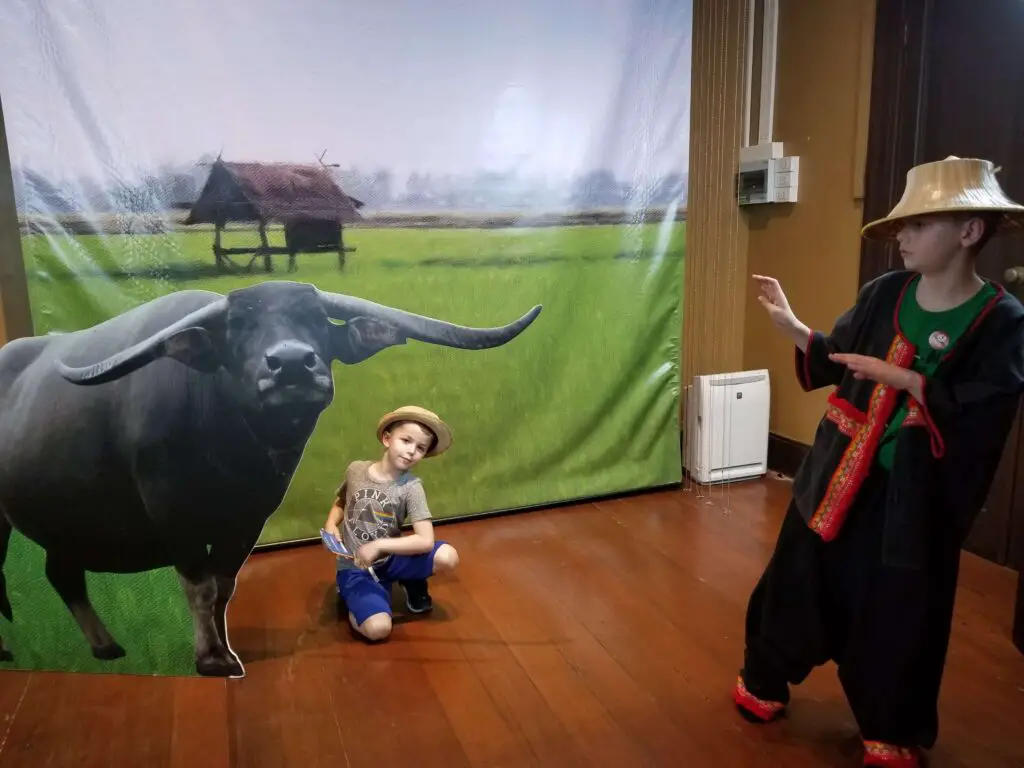 We were too tired to continue at this point so we returned to our hotel with Chatchai's (our guide) help getting a taxi.  Jet lag was really starting to hit the kids so we let our youngest take a nap and encouraged the others to hold out.  After a quick rest, we hit the pool and went out for an early dinner since we knew we wouldn't quite make it to normal bed time.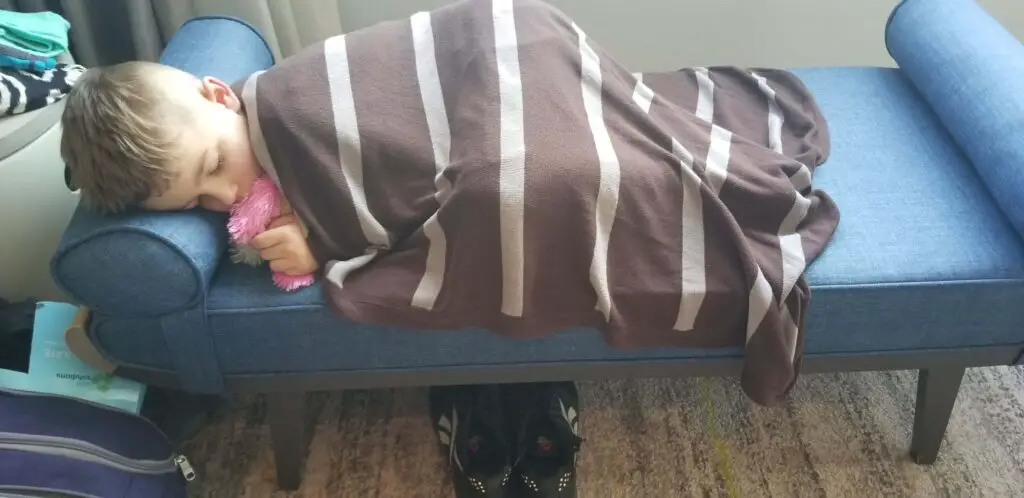 After a long night of sleep and trying to get everyone to rest until normal breakfast time, we took in our first Thai breakfast. We were pleasantly surprised by the variety of Western and Asian foods available at Hyatt Place Bangkok.  Everyone was happy, but I was particularly pleased to be able to customize a bowl of congee each morning.
We gave ourselves one more day in Bangkok to learn and conquer our jet lag.  We decided this second day, our tour would be food focused.  Before we got on the train to meet our guide, we stopped to play at a park located between the hotel and train platform.  It's always fun to get to interact with other local kids.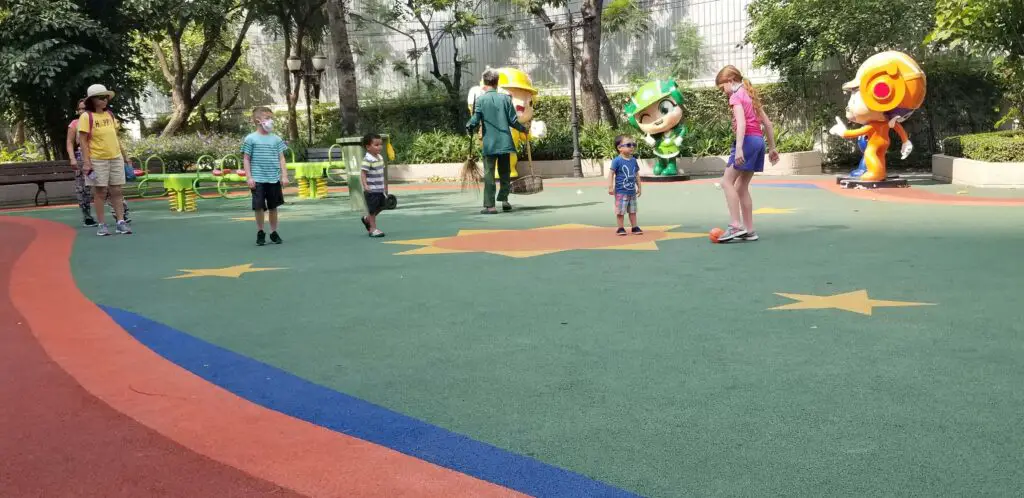 Our tour was with a favorite company, With Locals, which wound us around various neighborhoods and introduced us to several foods we had not previously tried.  Papaya Salad was our first course – it was fresh, sweet and spicy.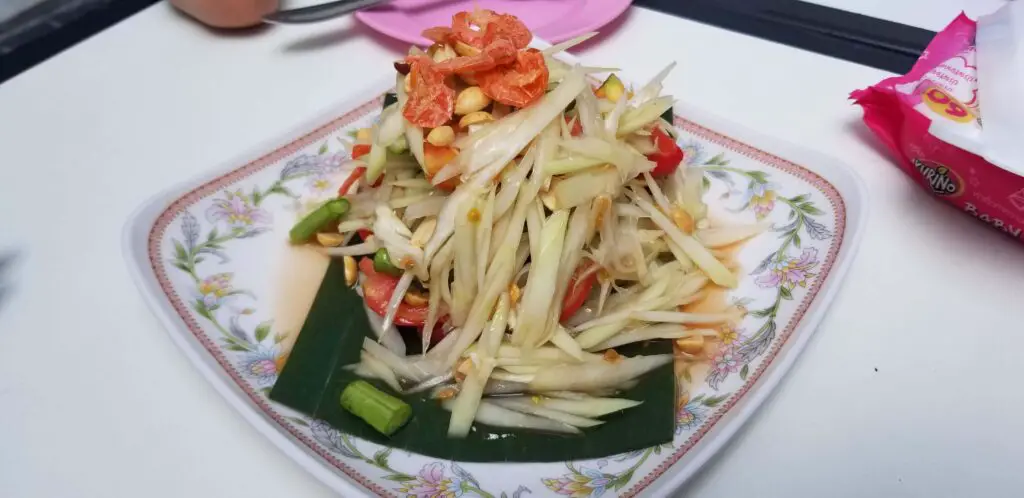 We visited food carts and tried fried bananas, marzipan fruits, and delicious kanom krok (coconut pancakes with savory fillings).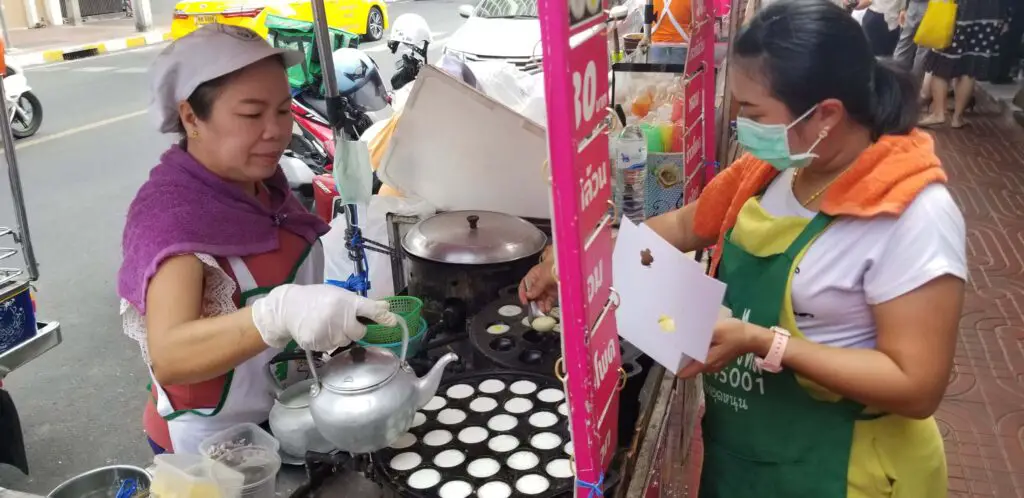 We traveled to Or Tor Kor (OTK) Market where we enjoyed rose apples, scallion pancakes, mango with sticky rice, sate with peanut sauce, saw our first durian, and smelled, saw, and tasted much more.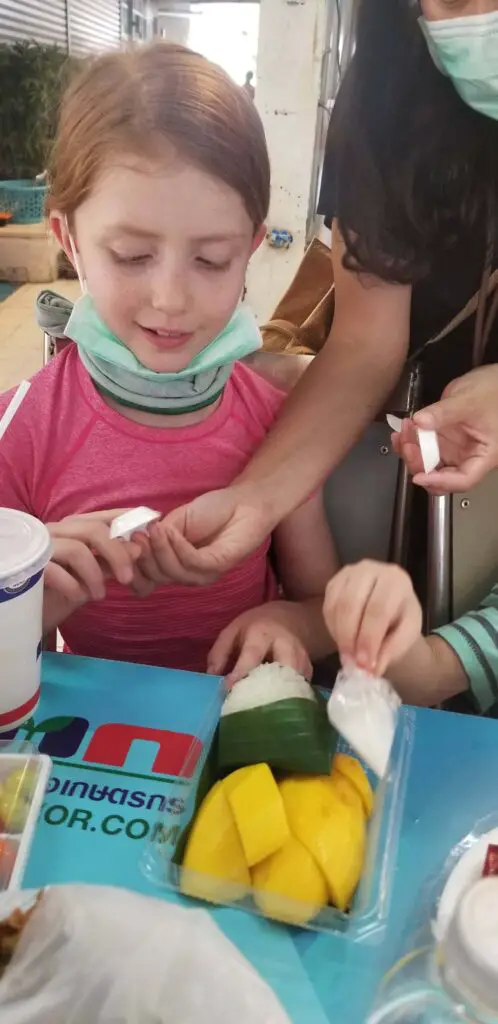 We again let the tour be our main activity of the day and enjoyed swimming and a dinner in our neighborhood.
Chiang Mai – Days 4-8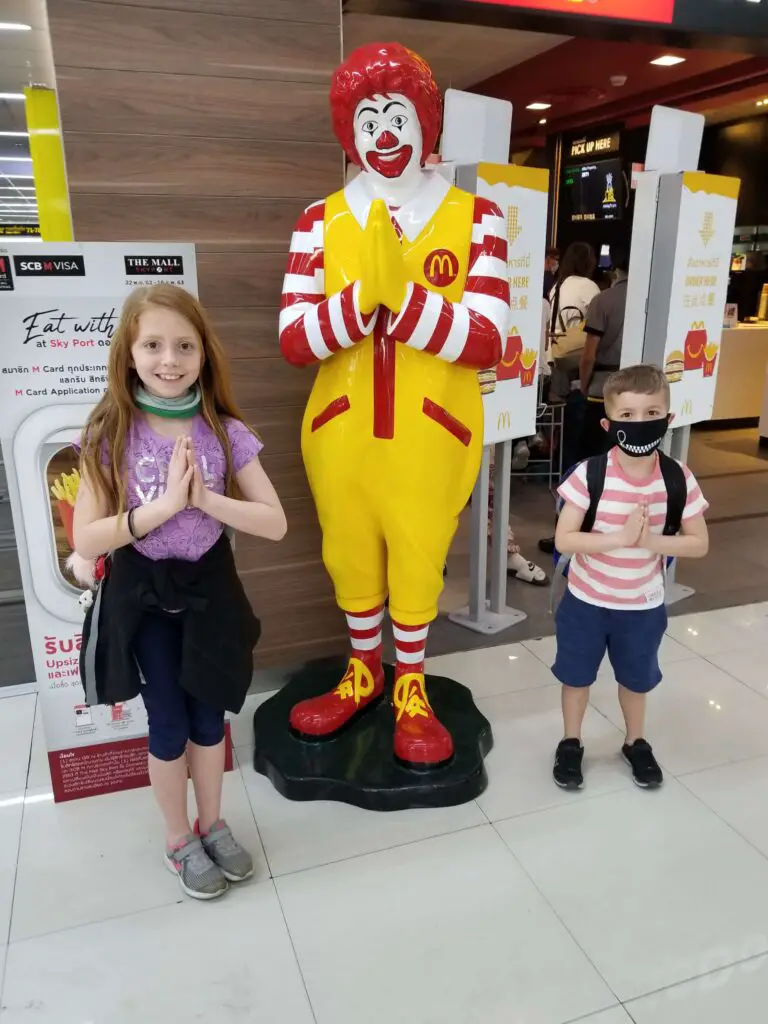 Our early afternoon flight from Don Mueang airport meant a driver picking us up at eleven. The kids were tickled by the Ronald McDonald at the airport.  We arrived in Chiang Mai and were picked up by the owner's taxi driving friend at the airport.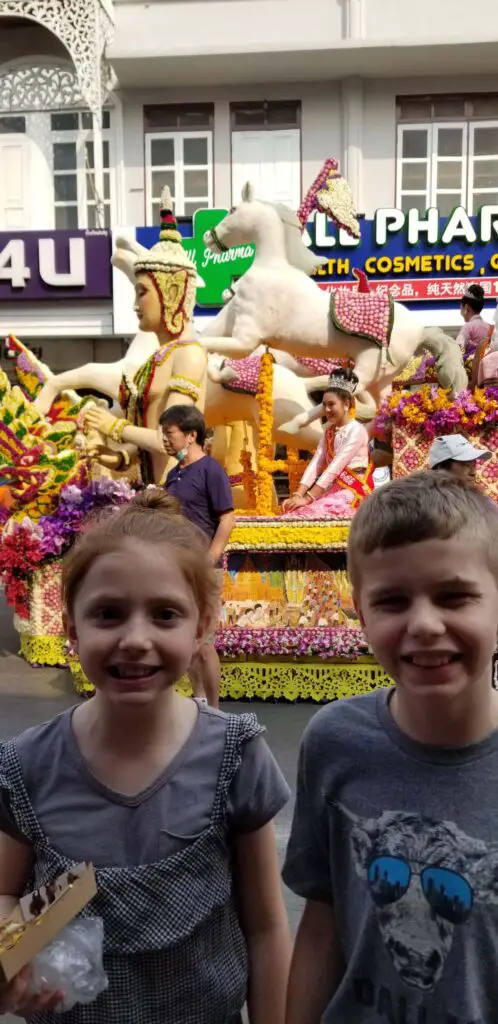 The home we rented in Chiang Mai was a simple, family home with the best host.  I would highly recommend staying here for an affordable option in a neighborhood yet close to grocery, restaurants, etc.  We happened to be in Chiang Mai during the Flower Festival which consisted of an impressive parade, floral displays, and special events.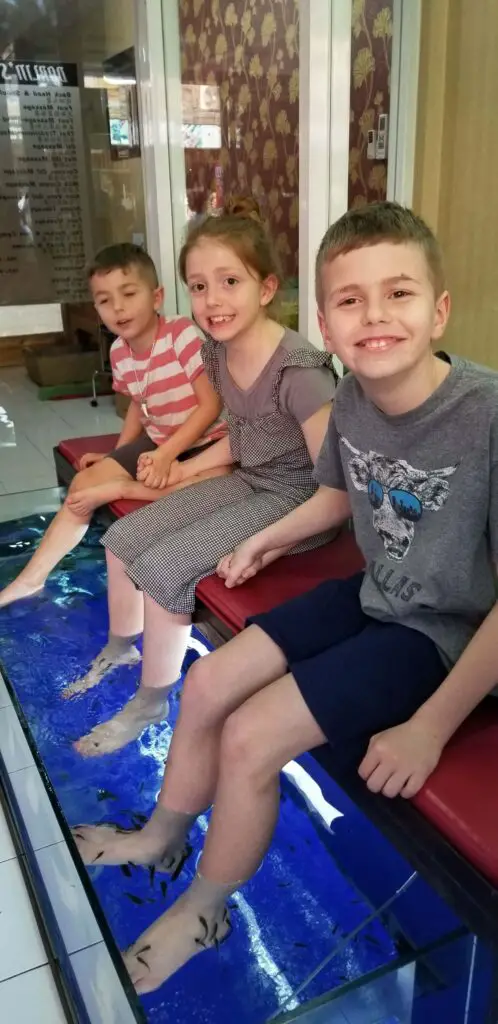 The crowds of people made for a festive experience and we took in a lot of Thai culture. The kids tried the fish pedicures while the parade passed the windows.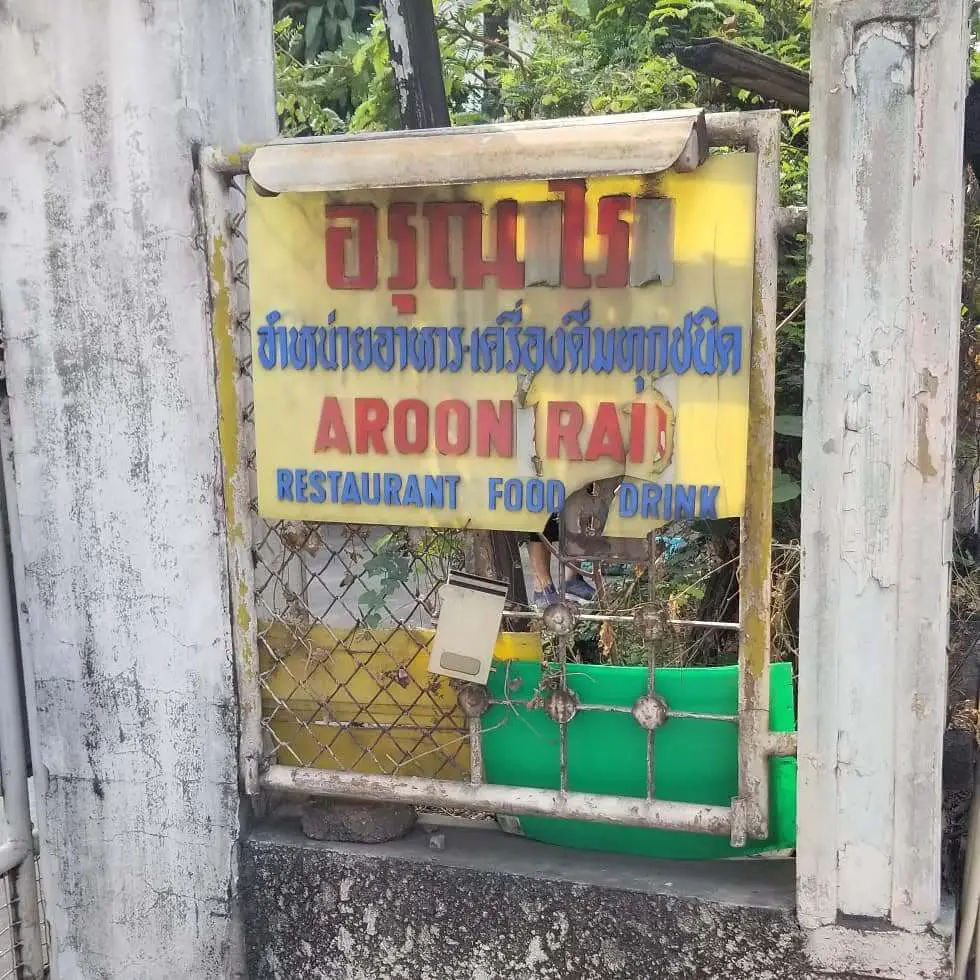 We met a friendly Ex-pat along the parade route who recommended a particular restaurant for lunch, Aroon Rai.  It was still early so we enjoyed smoothies and coffees waiting for it to open and taking in green spaces in Chiang Mai.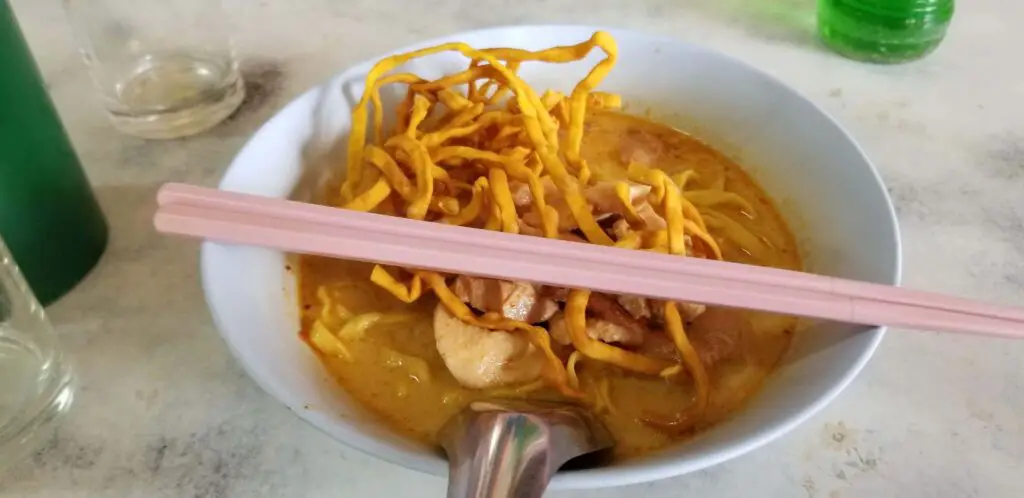 Aroon Rai was a treasure for sure.  It's an open air restaurant serving a wide variety of Thai dishes.  We enjoyed the Khao Soi, rice dishes, mango sticky rice and homemade ice cream.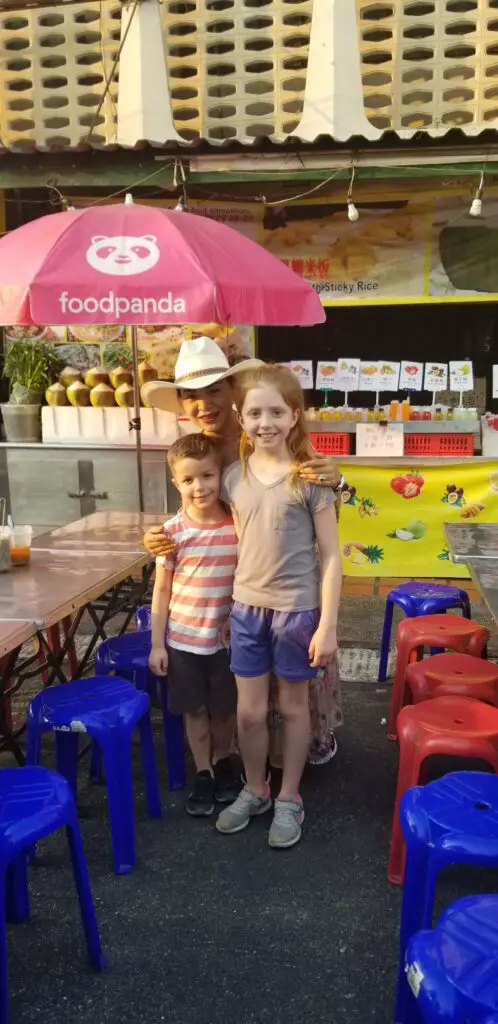 After a rest back at our AirBnB, we went on a food tour in the evening.  This particular tour has disappeared as a result of the pandemic, but I recommend looking for tours that include Khao Soi, Sai Oua (Thai sausage), Khae Kha Moo (braised pork), sweet fruit desserts wrapped in banana leaves, and Larb (various types of meat salad, usually quite spicy).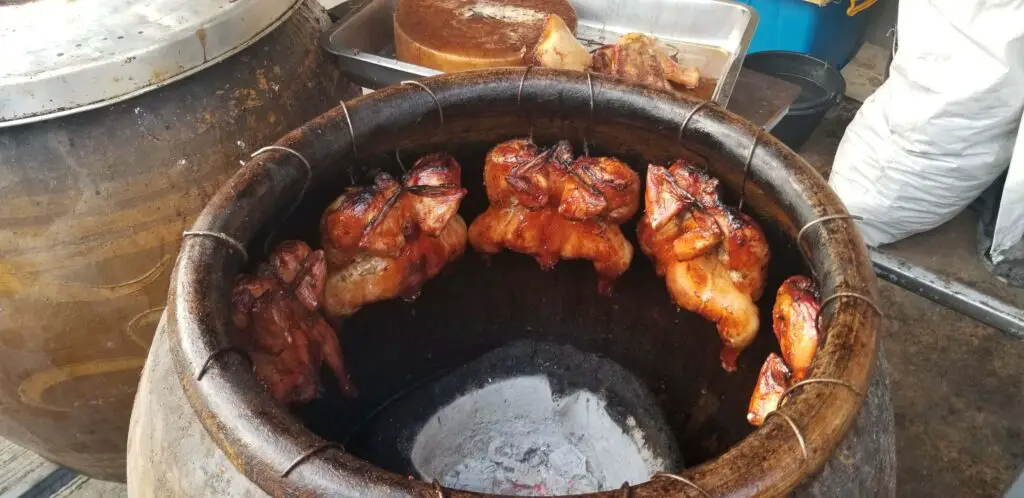 A great tour in Chiang Mai includes markets with both cooked foods and raw ingredients and favorite local spots.  There is so much culture to take in through food – it's my favorite way to learn about people.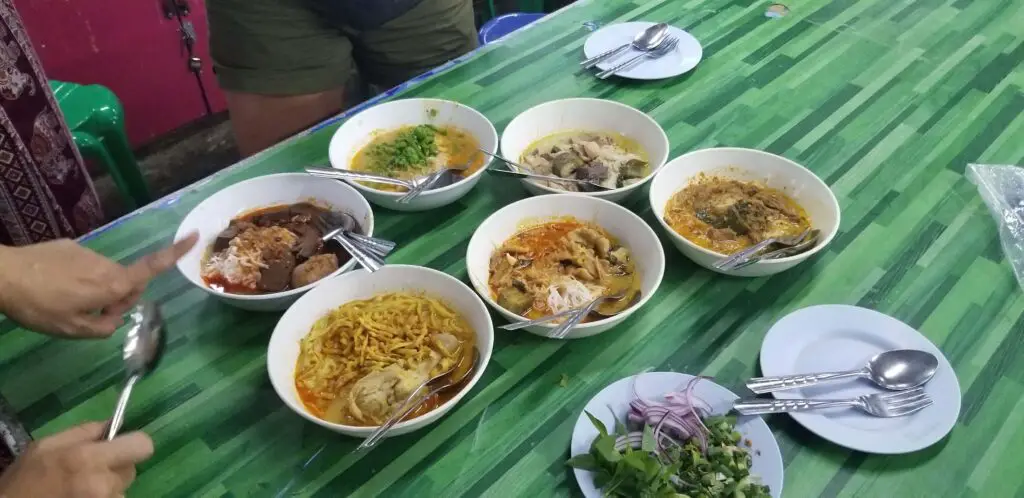 This particular tour was four hours which proved a bit longer than our youngest could handle as he ended up asleep before we were finished.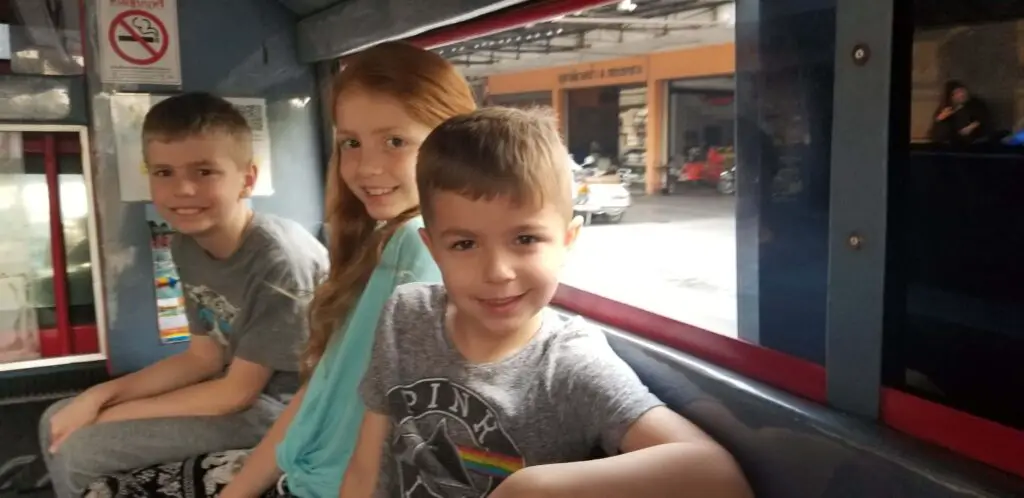 It's also exciting to ride in a songthaew while in Chiang Mai.  They are red in color with a truck cab and a fully or partially enclosed back.  These are used on several group tours in Chiang Mai, but you can also catch a ride on one if you are confident communicating where you want to go and track the route to know where to get off (by pressing stop button or knocking).  This is one of the cheapest ways to move around Thailand.  If you don't feel confident, a group tour is a good way to get the experience with an experience guide giving the directions.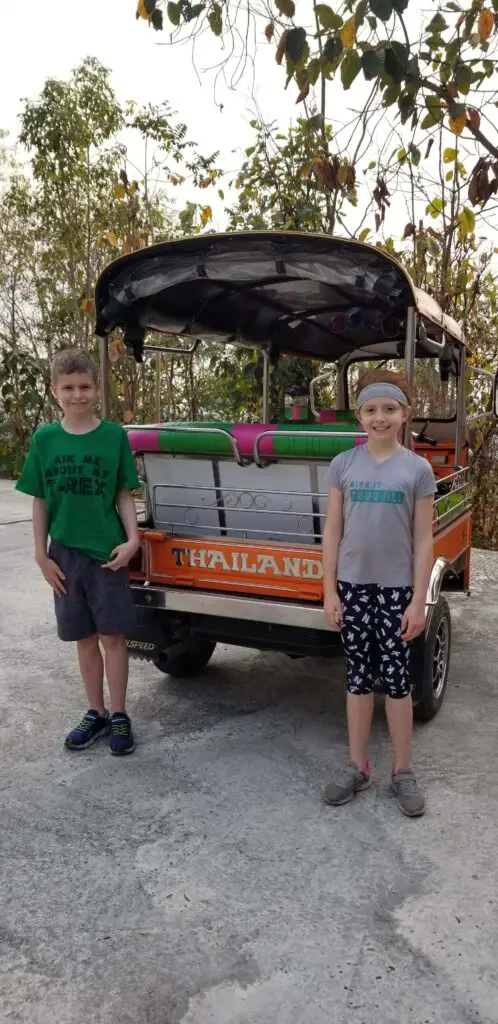 We also incorporated a full day tuk tuk tour into our time in Chiang Mai.  Check out The Tuk Tuk Club for this experience.  It was about ten hours full of new adventures.  I would highly recommend this host and outing.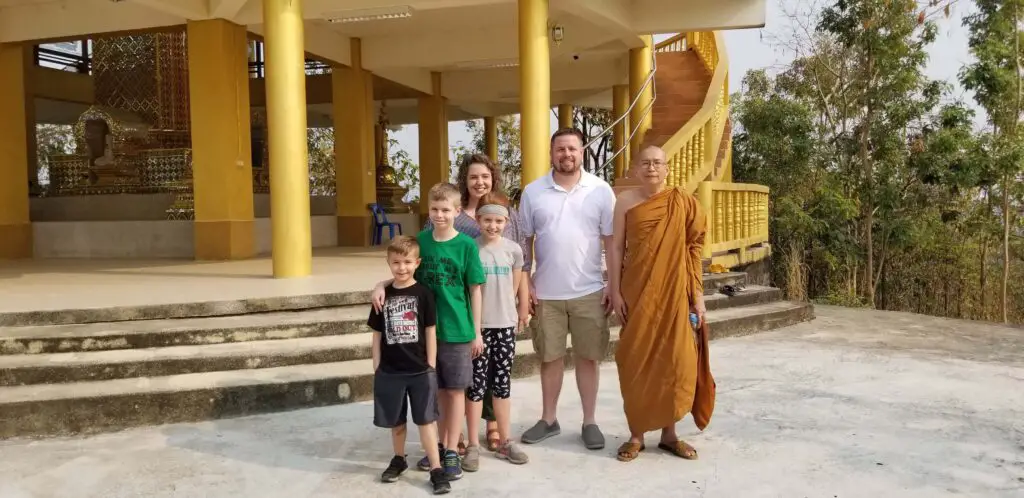 Our next day began by being picked up at our rental house in a van and driven sixty miles through the country to meet the tuk tuks and drivers.  Driving further through the Mae Wang valley, the tuk tuks took us to a beautiful temple located on the ground of a school for monks.  We saw several monks, spoke with one and observed their simple living conditions.  The temple was gorgeous and offered panoramic views of the valley from the top.  Yet another experience where the guidance of our tour director assured us we were respecting customs and bypassing our language shortfall.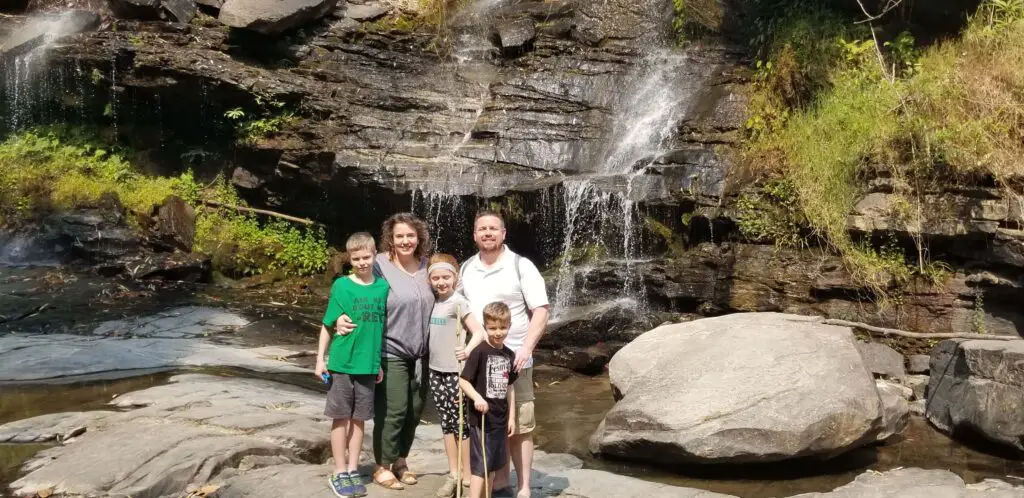 On our drive from the temple to our elephant experience, we went on a short hike through the forest to a waterfall.  It was very approachable and great transition experience for all ages.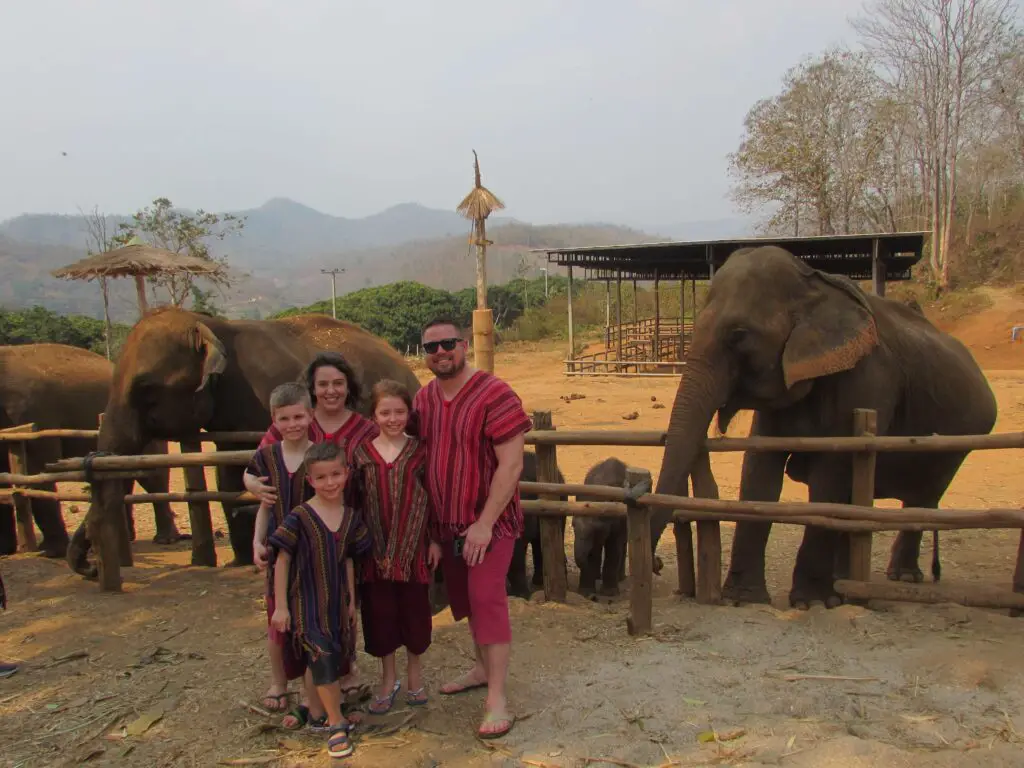 The next portion of the day was a visit to an elephant home that included a delicious lunch, feeding the elephants, walking with their mahouts (elephant tenders) to the water and a bamboo raft float. The level of access especially during the walk was astounding.  We were repeatedly reminded of how impossible any of this would be in a country like the U.S. with safety standards and liability concerns.  This was a dream for our elephant loving daughter to have such close interaction.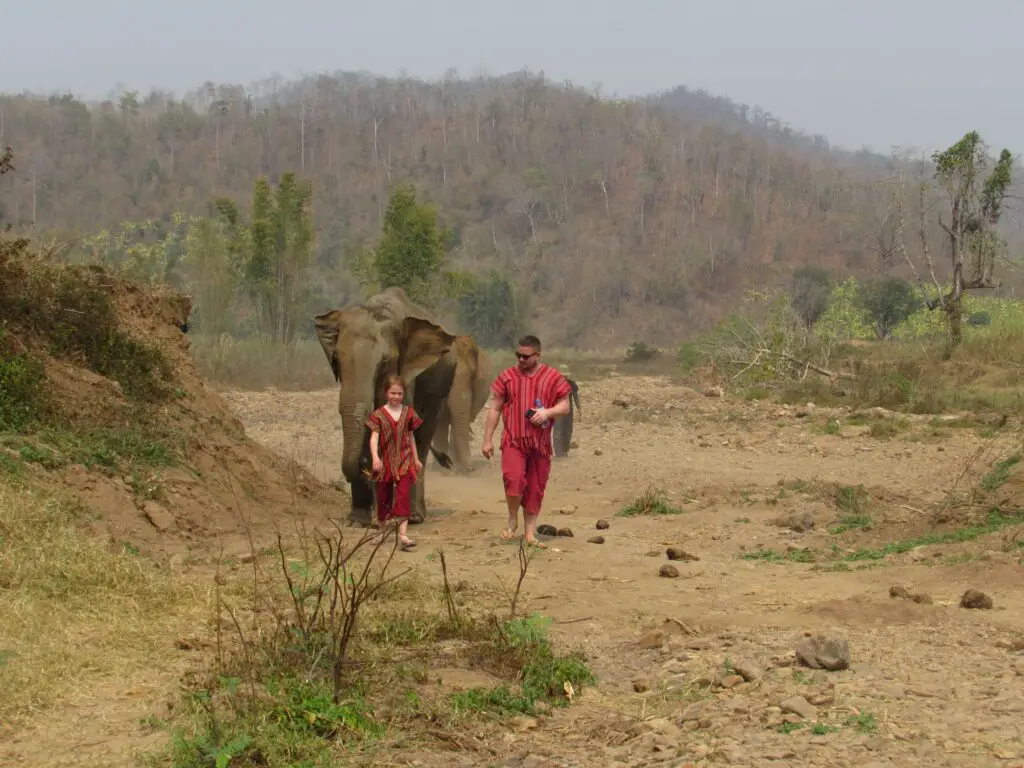 There are many places in the area that offer elephant interaction that is not in the best interest of the elephants.  We had chosen another experience later in our trip because we wanted to be sure we were being supportive of the elephants and not taking advantage of them.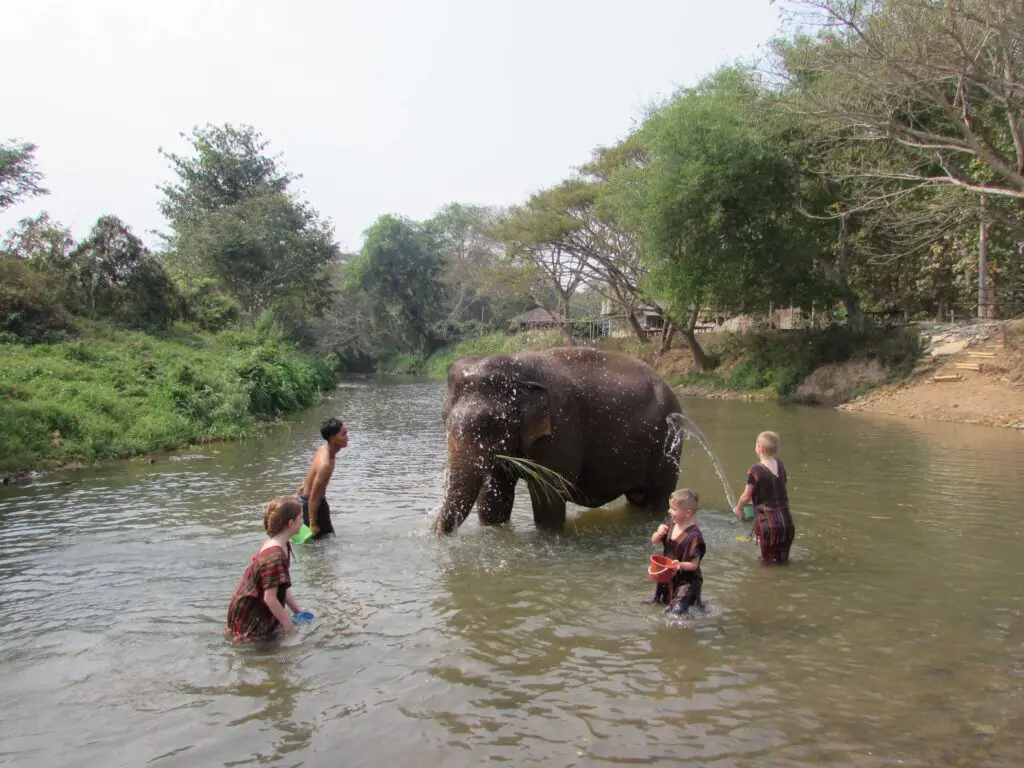 We were assured that this elephant home, Maevang Elephant Home,  had good intentions, but since it was part of another tour, we didn't have the opportunity to do much of our own research.  There was no elephant riding or forcing them to do anything.  Elephants freely came and went, but it is still something that requires trust in the tour company.
It's also important to realize that some elephants are still used by some farmers/loggers in Thailand to do manual labor and many of these homes are raising the elephants abandoned when they can't do this work or their offspring.  Be on the lookout for practices that don't seem in the animals best interest.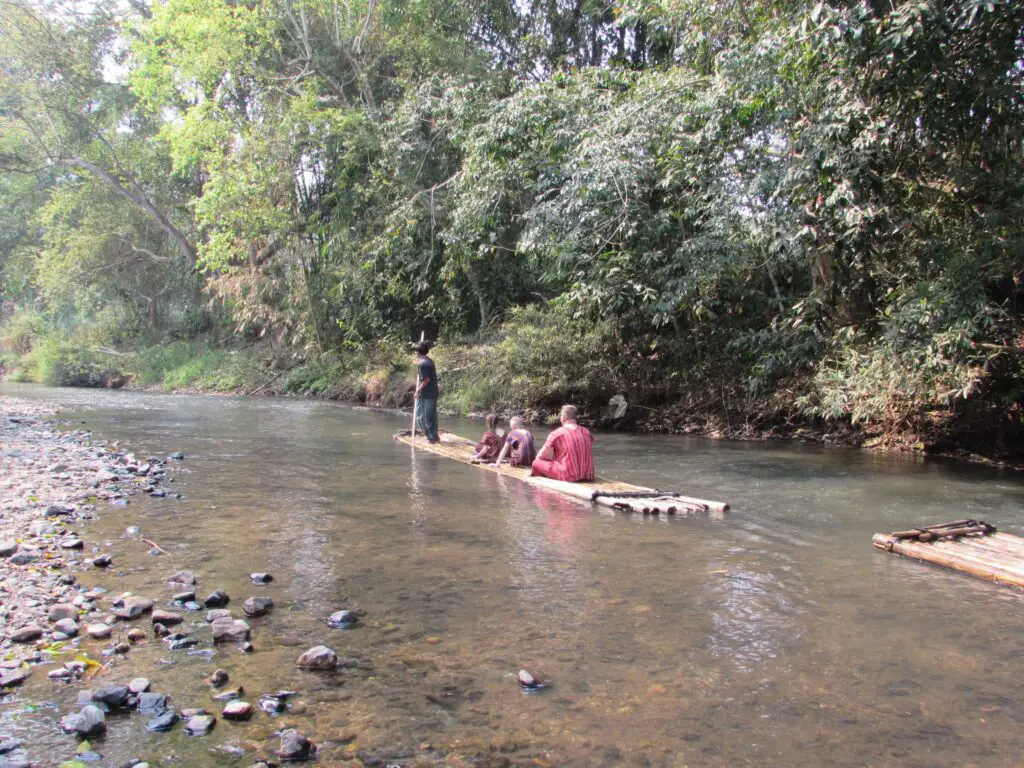 The bamboo raft experience was something unique we would not have pursued independently and provided a lot of laid back fun.  Remember your sun screen in Thailand!
We broke up the trip back by visiting a road side restaurant and lodging which are common getaways for locals.  A cold drink and ice cream treats were the perfect way to prepare for the next hour back to our rental.  We arrived home tired, but with huge smiles on our faces.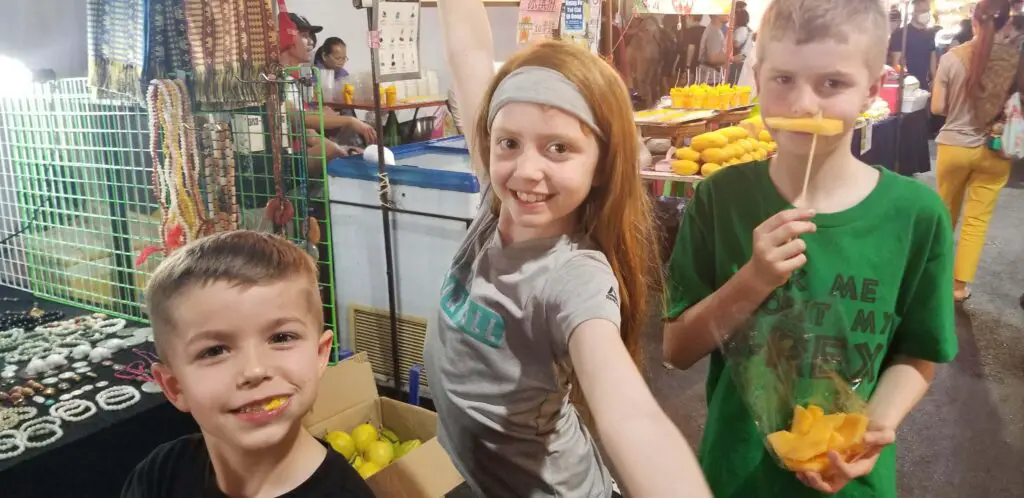 We used our remaining energy to visit the famous Sunday night walking market in Rachadamnoen Road near the Thae Pae Gate.  You can try almost anything to eat here and find any sort of trinket or souvenir you desire.  We enjoyed great khao soi (again), grilled squid, papaya salad, fresh fruits and more.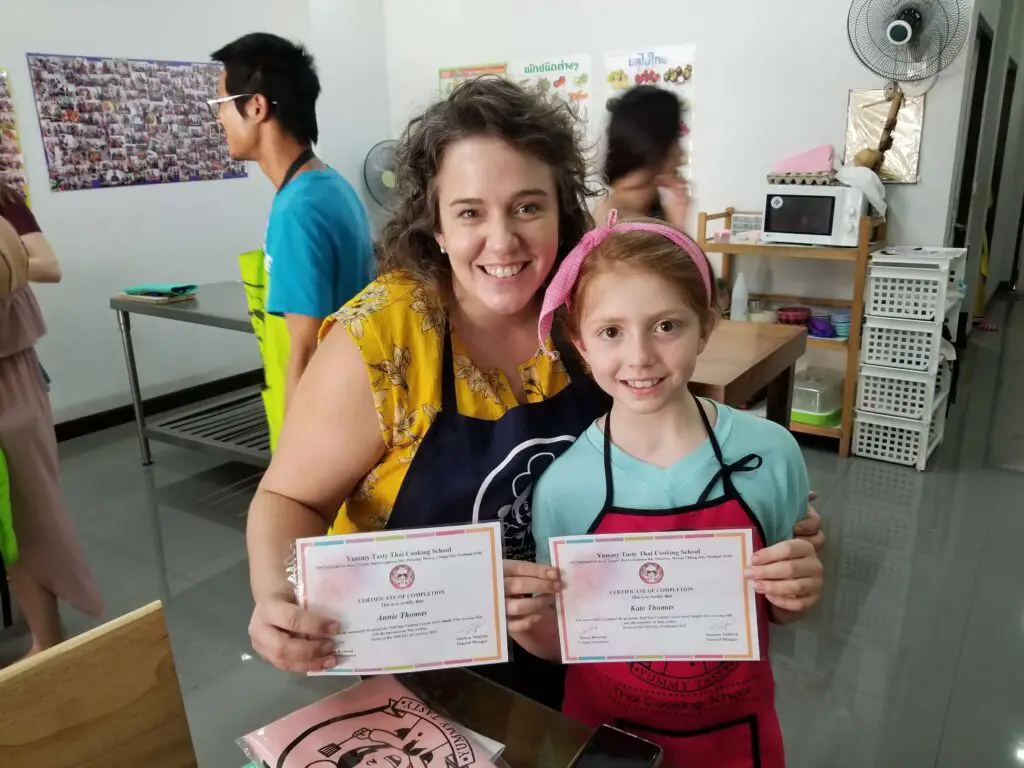 Our final full day in Chiang Mai was about what else, but food! My daughter and I participated in a cooking class at Yummy Thai Cooking School, but they had an option for all five of us to go to the market and for the boys to just be tasters while we prepared several dishes throughout the half day experience.  It was a blast and we made so much in a short time.  If you have trouble reaching them through a web presence, try this email (yummytasty2017@gmail.com​)​.
The tours organized by Yummy Thai Cooking School also allow you to ride in a songthaew to the market and back to the school.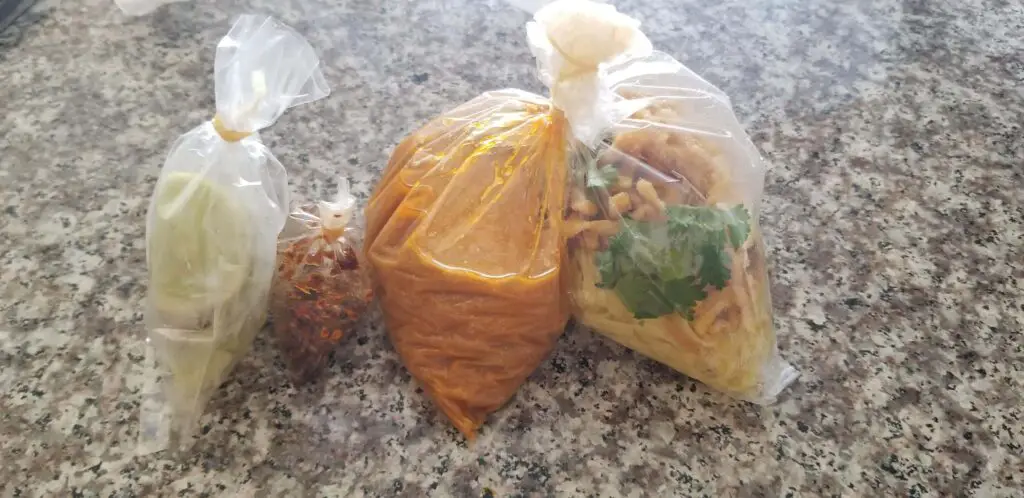 We spent the afternoon with downtime preparing to leave on our next stop.  In the meantime, my husband went on his own adventure collecting yet another Khao Soi to try and a screw driver to fix our host's outdoor sign.  This was an entire adventure in itself for another time. I love that all the to go items are in little baggies versus big Styrofoam containers – although neither are great for the environment.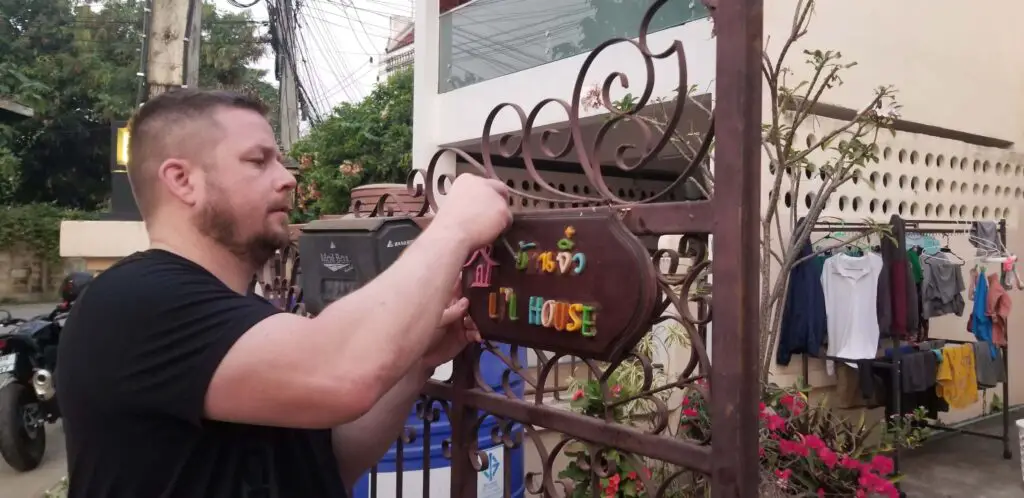 Our final outing in Chiang Mai was dinner at Huen Phen which had been recommended by a couple people.  The food was good.  Service is a little disjointed, but I think this is mostly because they have all of these cute "rooms" that divide the crowd from quick observation.
Phuket – Days 8-14
Taking private transfer from our rental in Chiang Mai, we took two flights with a layover in Bangkok on our way to Phuket International Airport.  We wanted to visit Phuket to get a taste of this beach vacation region and more importantly to visit Elephant Hills Luxury Tent Camp.  Because the transportation to Elephant Hills would come for us in the morning, we needed to find accommodations near the airport.  We chose the Holiday Inn Mai Khao.  We were delayed in our layover in Bangkok and thus spent far fewer hours here than intended.  They offer cute family suites with a bunk room for kids.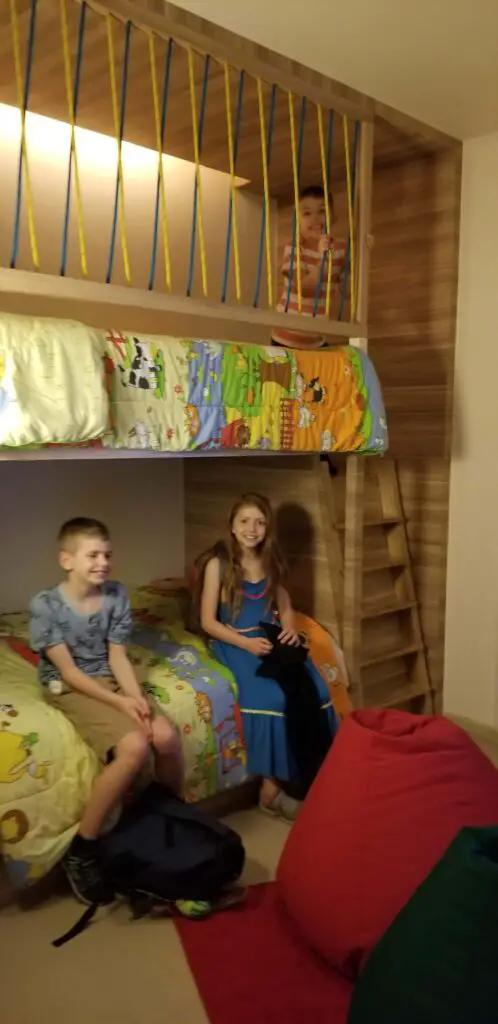 In the morning we had a little time to walk the property around the pools, visit the beach, etc.  If I could change a single thing about this wonderful trip, I would have stayed one more night here for the kids to enjoy the beach resort environment. Sadly, this resort has closed due to the pandemic, but there are others in the vicinity of the airport that would make a good stop before heading to Elephant Hills.   Nonetheless, our driver from Elephant Hills picked us and a few other guests up for a three hour ride the next morning beginning the most magical two days at this jungle retreat.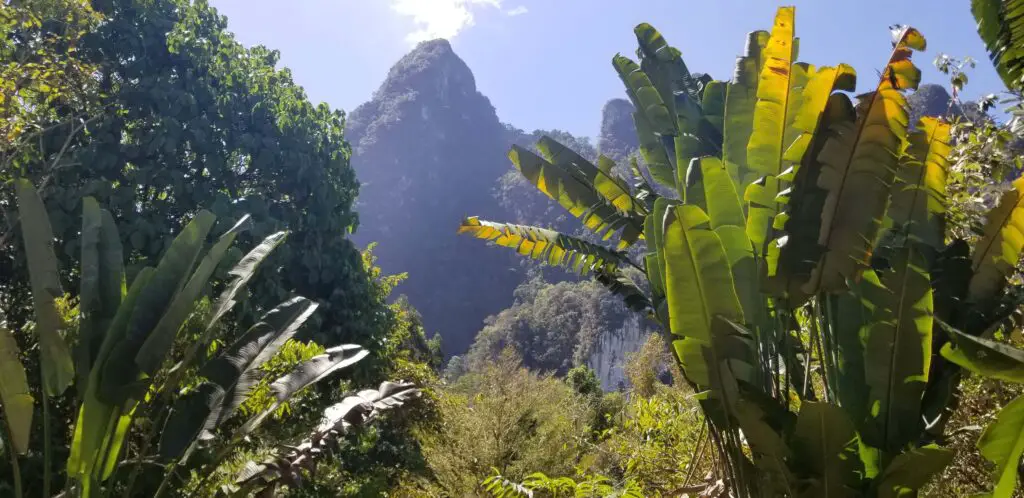 We chose to stay here for their commitment to elephant conversation, but we were also stunned by the luxury tents and activities.  Upon checking in at Elephant Hills, we were assigned our tent, our guide, and given an itinerary.  Because we had five people, we had an over and under tent which are essentially a two story wooden cabins with a tent awning and quite modern bathrooms.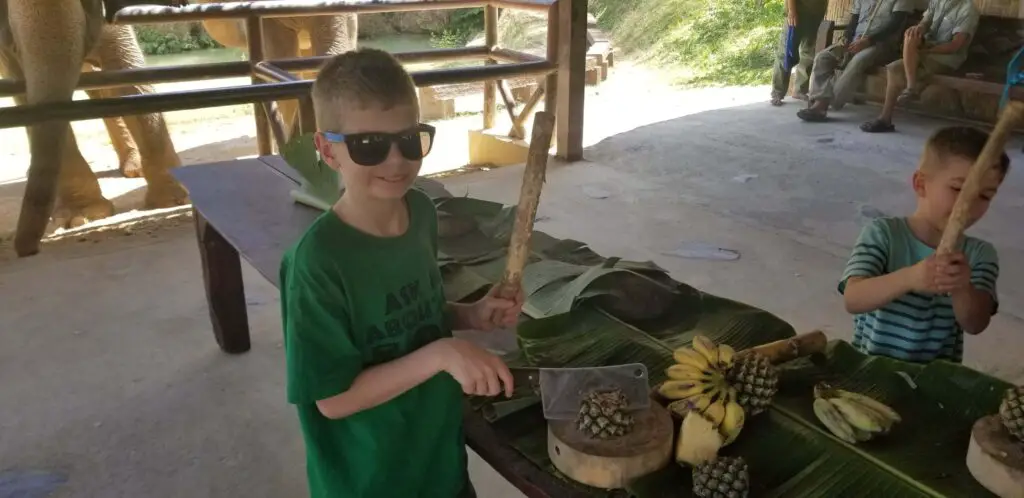 The first activity of stay was to visit the elephants.  This included cutting their food and feeding them.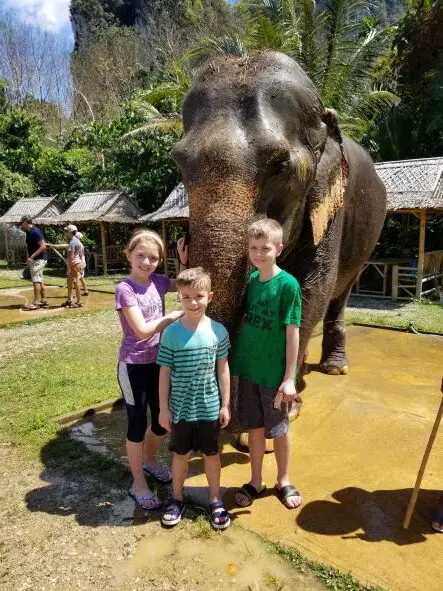 We watched as they swam around in a pool. And finally we washed them with hoses, buckets and brushes.  It was fun and amazing, but most importantly very laid back and nothing felt forced.  Elephants freely walked away and moved on when they desired.  We had a short presentation and snack before heading back to the camp.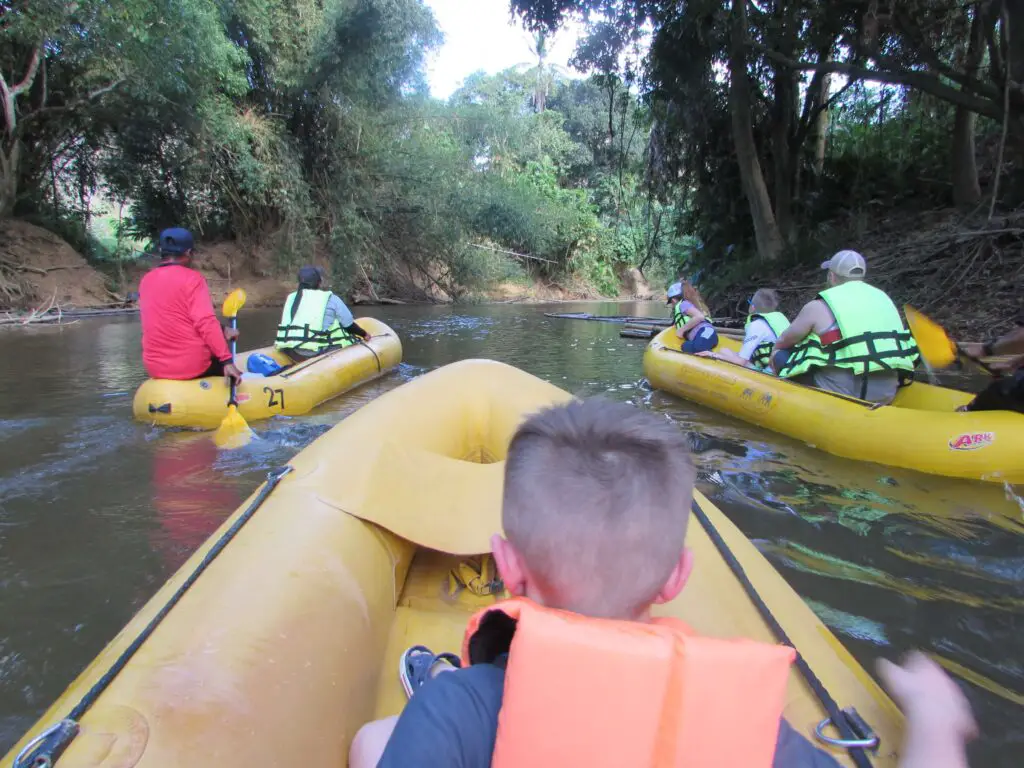 They were more than accommodating as even our pickiest eater was able to find his favorites from the delicious lunch buffet.  The kids enjoyed a swim in the pool before we ventured to take a guided float down the river observing a variety of wildlife flying and hopping around the jungle.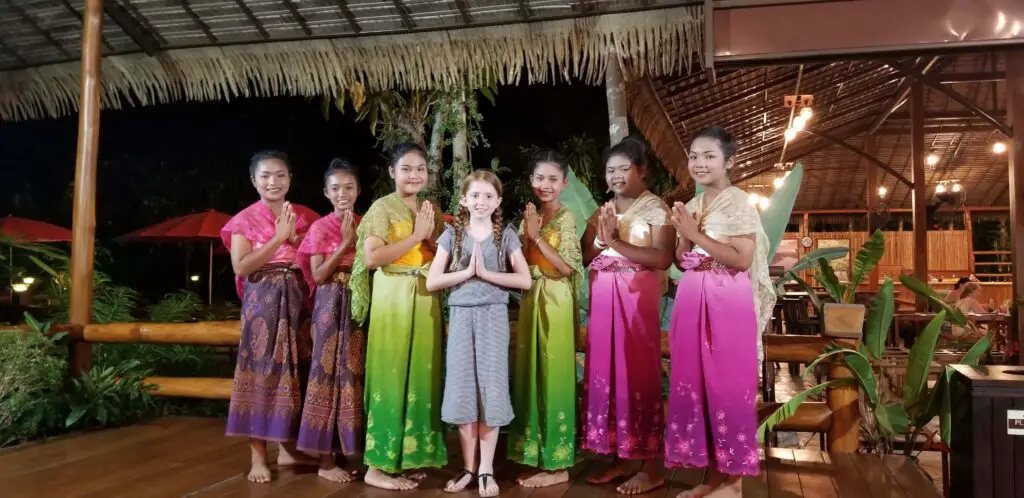 Both evenings at Elephant Hills featured a beautiful buffet and entertainment including local students from a school supported by the resort and cooking demonstrations.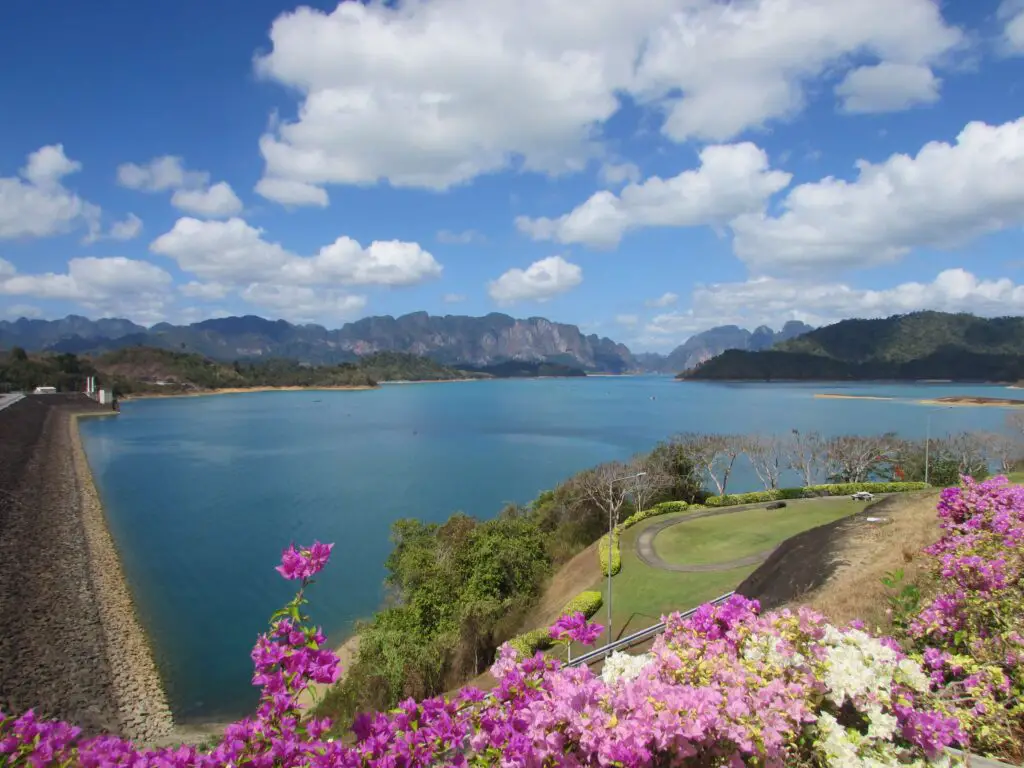 The only full day of our stay started off with a breakfast buffet and a songthaew trip for a visit to the second water front tent camp.  We stopped at an overlook park outside Khao Soi National Park.  The views were gorgeous and great foreshadowing of what we would find at the only over water camp located within the park.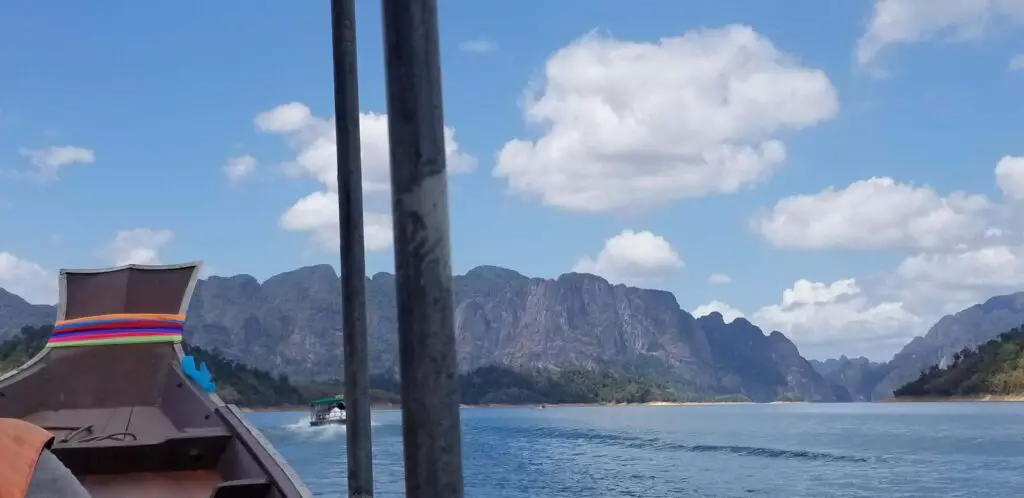 We were then put in groups on rua hang yao (Thai long boats) to travel to the over water camp.  The scenery was absolutely breathtaking throughout the hour long ride.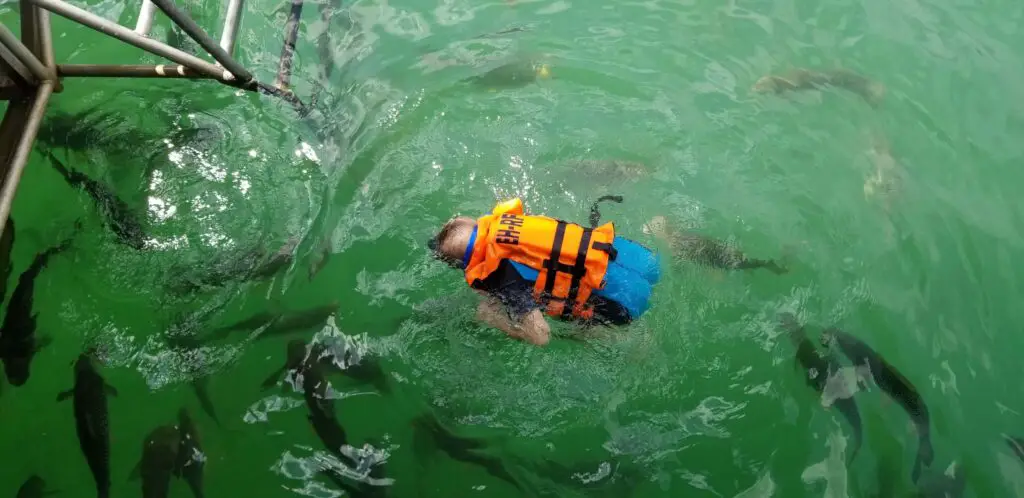 We arrived at camp where the kids swam with fish right off the dock, we kayaked around the bay, and snacks and drinks were offered.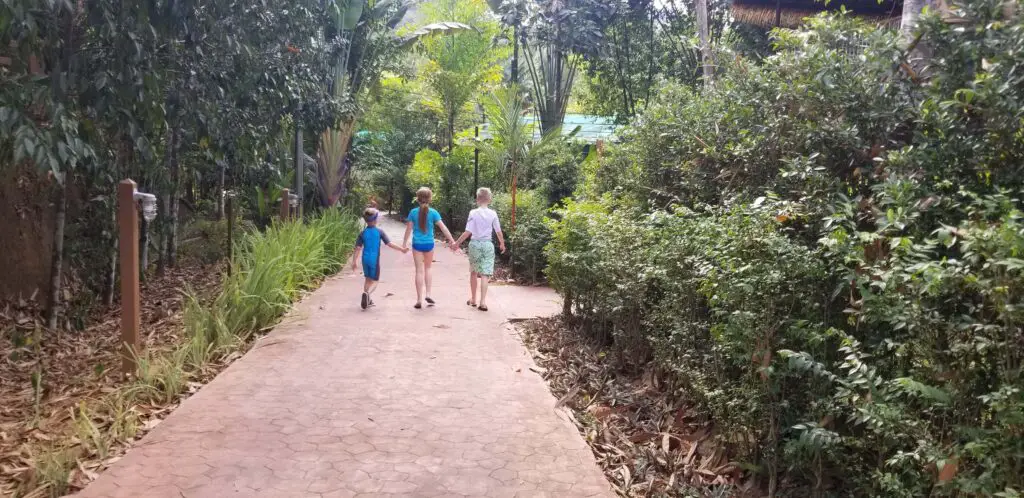 After the fun, we lazily returned by long boat for our return ride to Elephant Hills.  We spent the rest of the day swimming and enjoying the evening buffet and entertainment.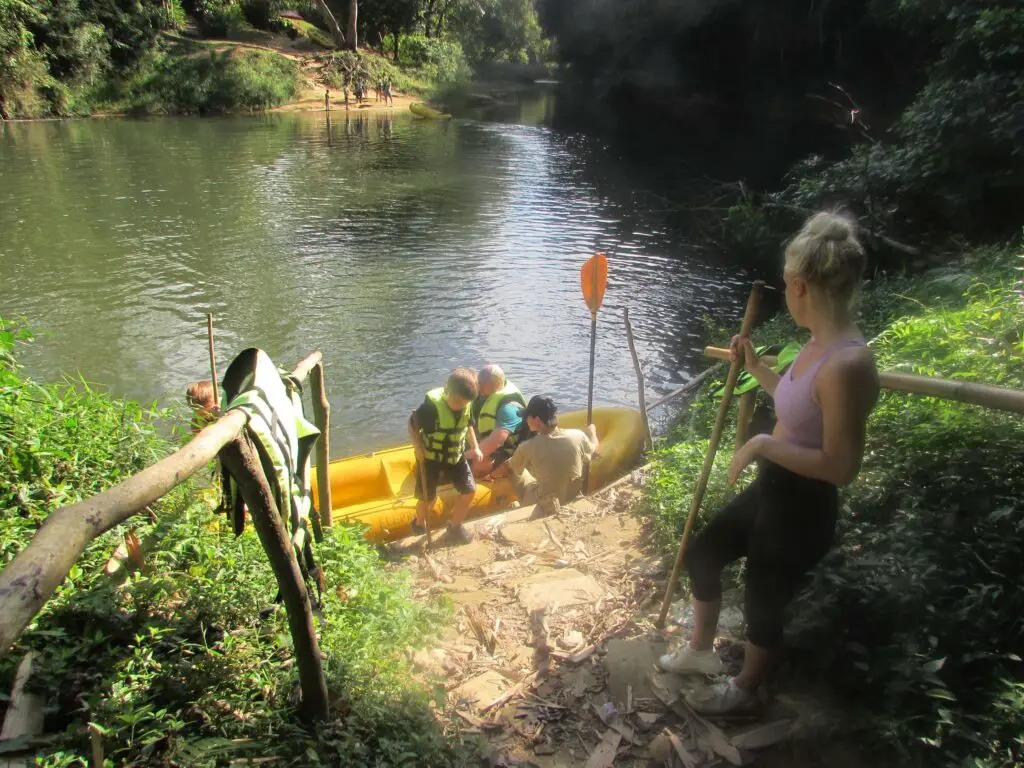 The final morning of our stay included a jungle hike which began with a small boat ride.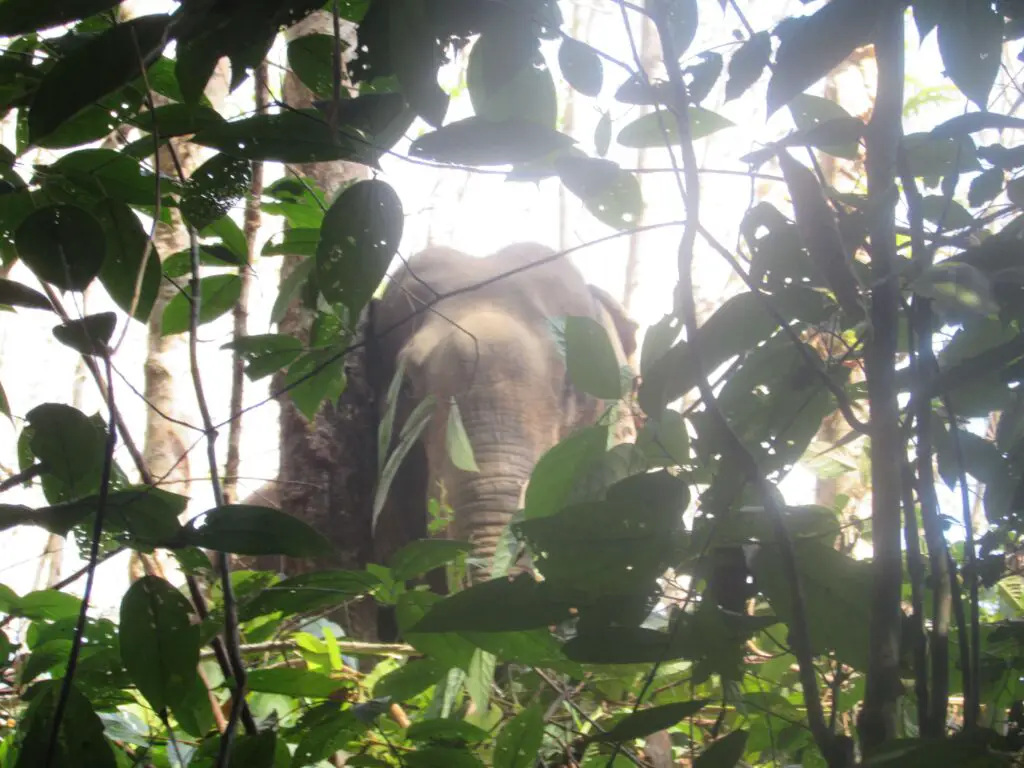 We took our walking sticks through the jungle, even spotting an elephant working in the forest with a local family. Our guide taught us a great deal about wildlife and plants.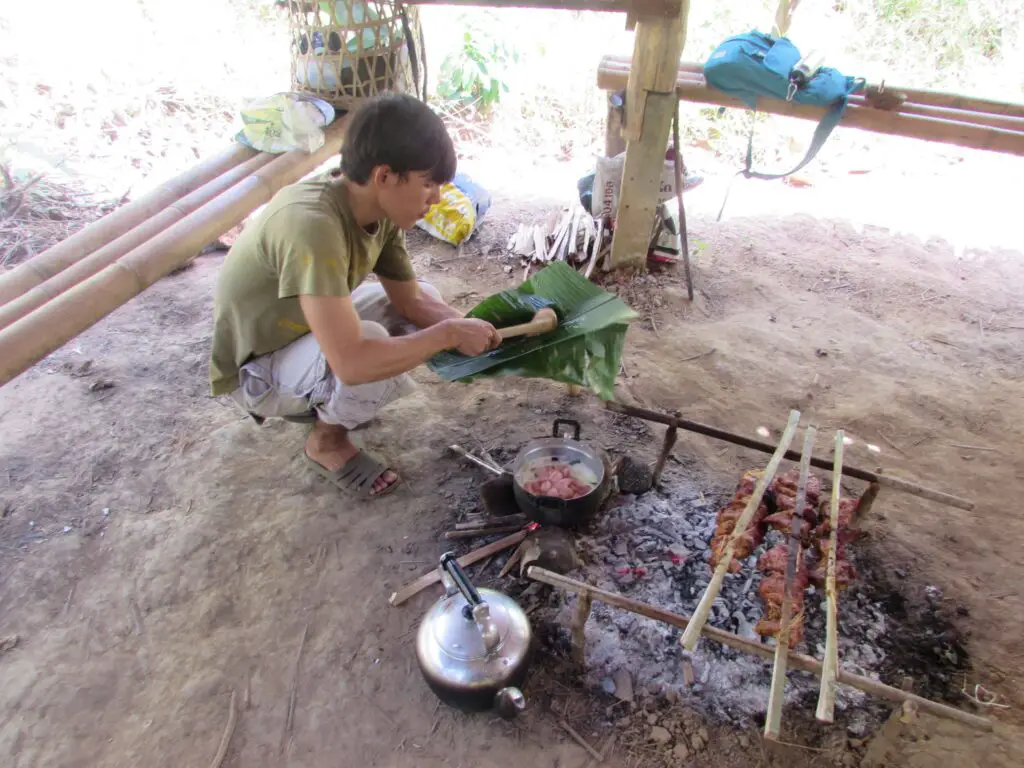 Near the end of the hike, we met in a hut to cook our lunch meal.  We learned how to prepare Thai dishes over the fire.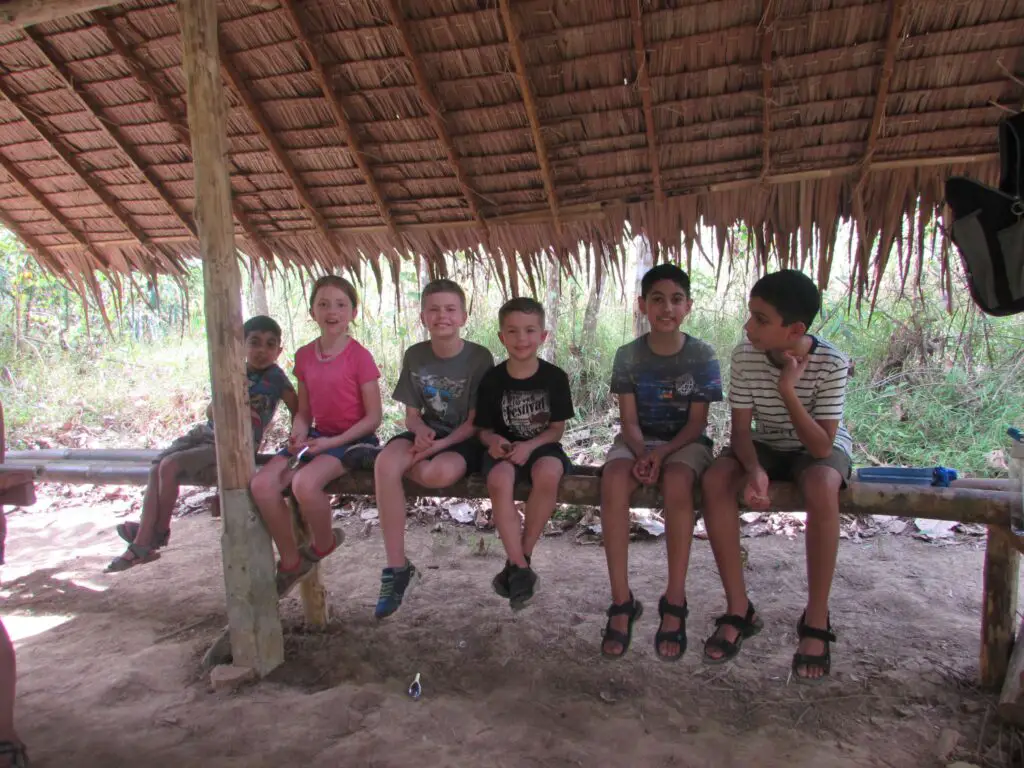 Our kids gathered with another family of kids they had shared time with over the couple days of our stay.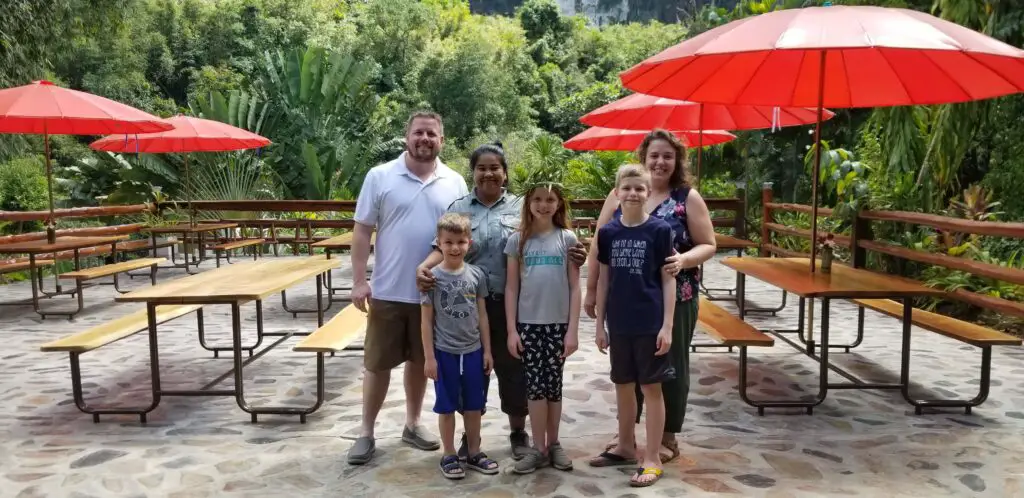 We returned to the camp to clean up and pack up.  We said goodbye to our guide, "Bamboo" and sadly left this magical place on our journey to Nai Thon, where we had rented at home.  We were still in Phuket, just closer to the resort communities.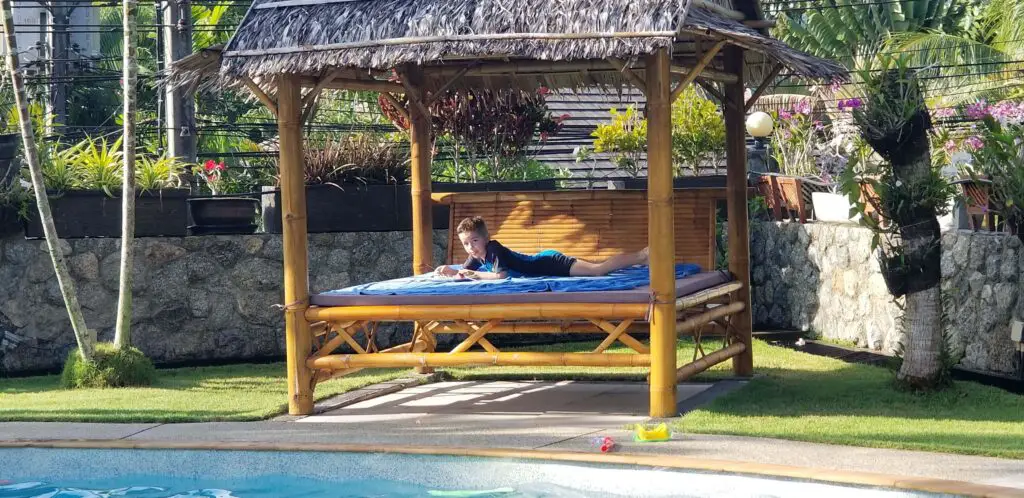 We rented a home through AirBnB in a gated community.  The home came with a car rental option for which an International Driver's License was required.  (It's not hard to get one; just don't wait too long before your trip.) The home also came with a housekeeper who cleaned, grocery shopped, cooked, and did laundry for us.  This was a new and different experience for us to have someone working for us while we lounged.  Others have pointed out this is not uncommon or strange for the person providing the service and that the same things are happening at resorts, just outside of our living quarters.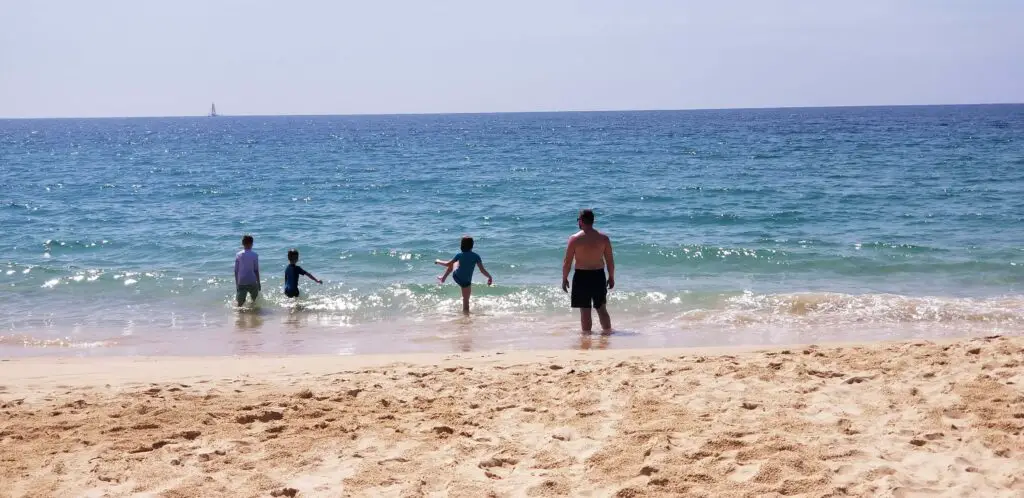 It was a very luxurious time spent lounging in the pool, visiting Nai Yang beach, tracking the geckos around the property, and just enjoying the Thai weather after having moved around the country so much.
Bangkok – Days 14-17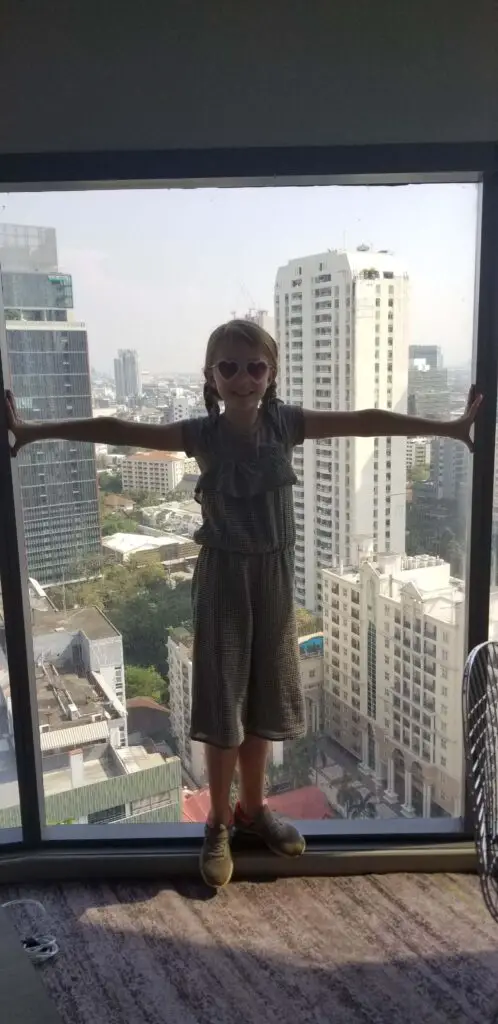 The most effective way to fly back to Chicago was by returning to Bangkok.  We designed this itinerary to optimize a couple full days in and around Bangkok when we were fully over our jet lag and ready to explore.  We returned to the Hyatt Place Bangkok and were so glad to have a familiar and preferred place to return.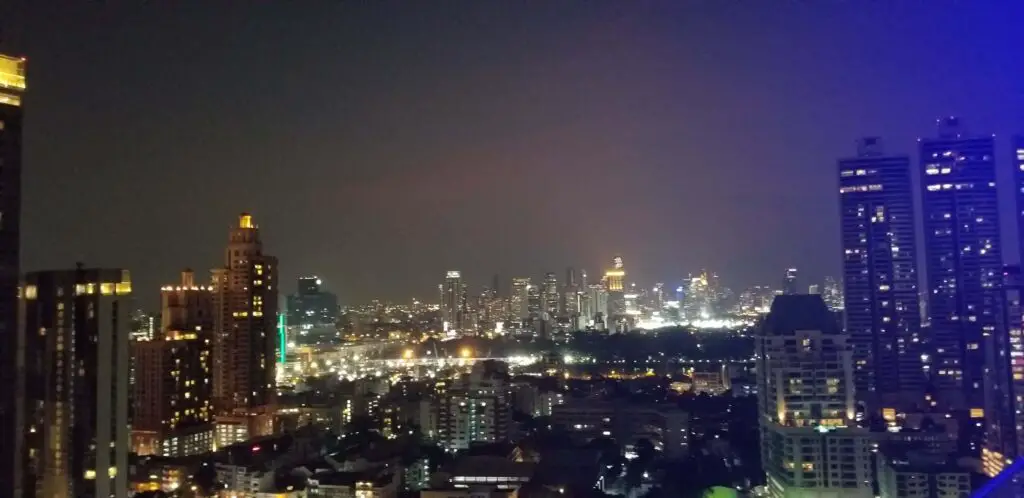 We arrived back in Bangkok mid-day and explored the neighborhood more, walking around shopping areas, food courts, and parks.  We ate dinner on the rooftop of our hotel and watched the sun go down.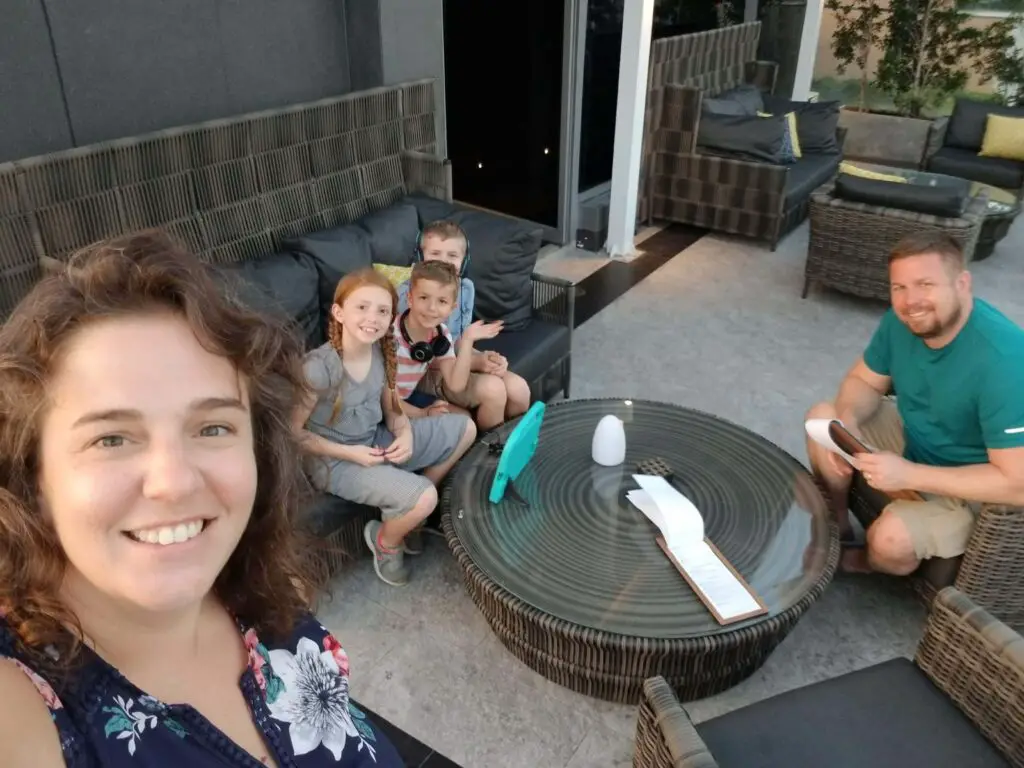 Our next full day started with a delicious hotel breakfast. We proceeded to the Thai Red Cross Society and Queen Saovabha Memorial Institute Snake Farm  On the site, you can tour an interior and exterior museum of various snakes.  The most fascinating part of the visit is a presentation showing how they extract venom from poisonous snakes for the purpose of combatting venomous snake bites.  This venom extraction presentation happens at 11am every weekday. Tickets are very modest in cost.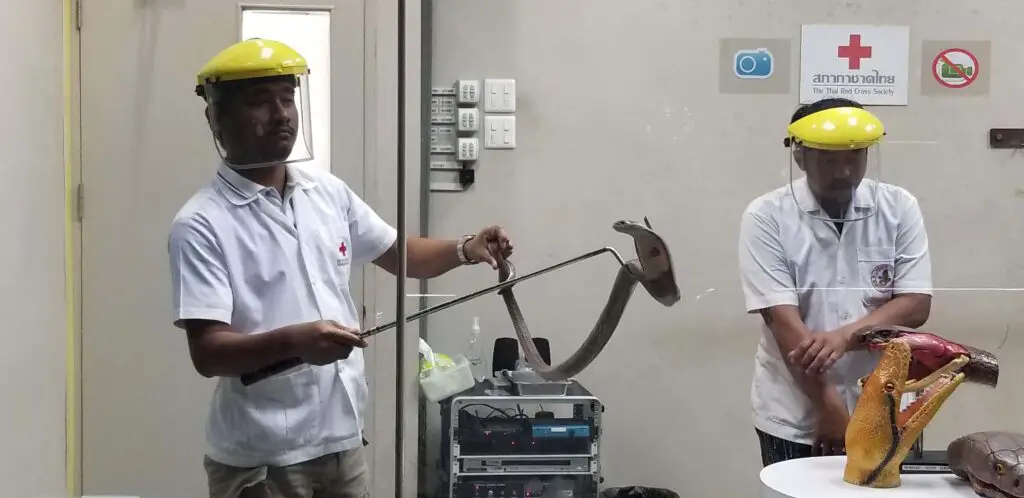 After our visit to the snake farm, we walked a little over a mile to Lumphini Park.  This park is spacious with playgrounds and a lake where you can rent paddle boats.  One of the most exciting things about being on the water is that you can come close to huge water monitors.  We had seen one of these in a zoo before, but it was really fun to be so close to several monitors.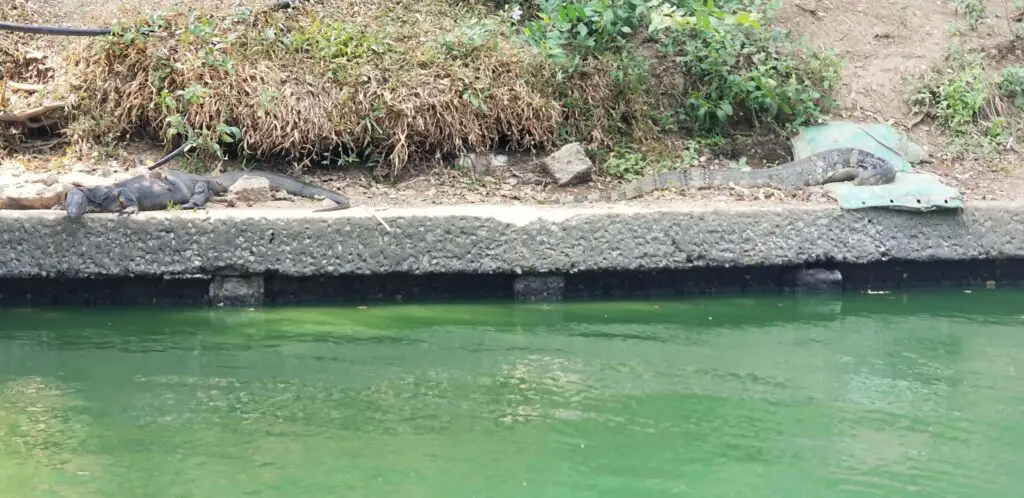 To walk between the Snake Farm and park, we crossed a hospital campus.  Between the hospital and the park was a very busy road with no natural crossing.  We tried to find an opening for several minutes. A Thai grandfather didn't say a word, but gave us a wave and walked out to stop traffic for us to cross.  He didn't look back after we crossed.  This is representative of the kindness of Thai people we experienced throughout our trip.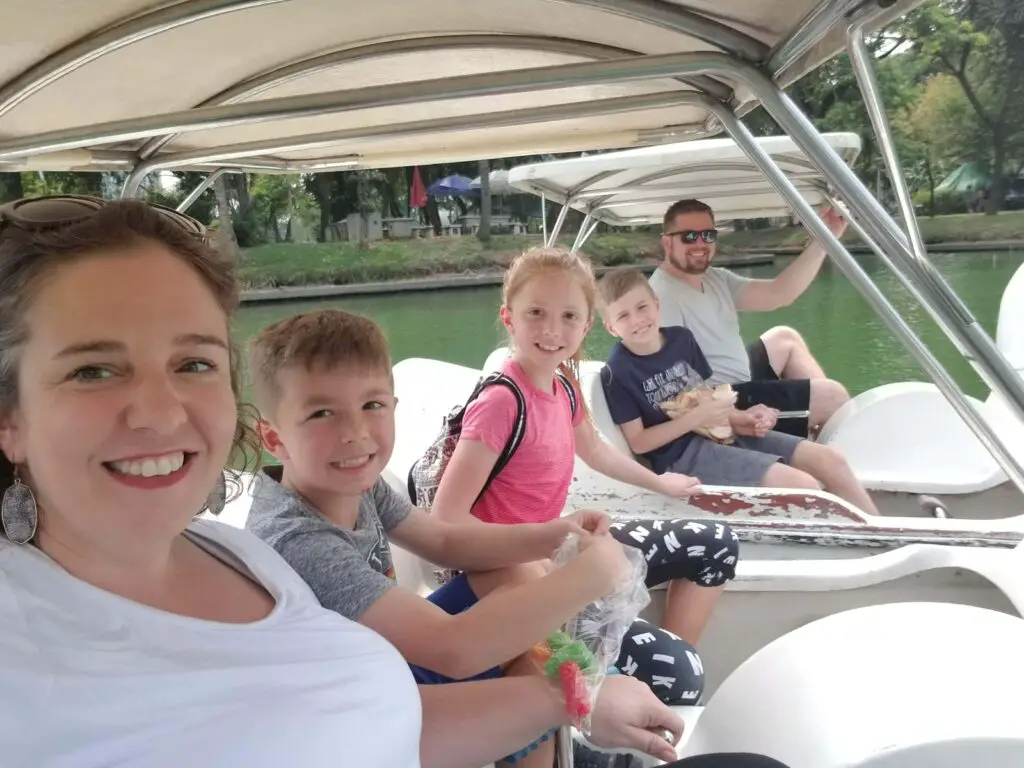 After a day around Bangkok, we ended our day with a lovely Italian dinner at Scalini at the Hilton near our hotel.  We decided we were allowed to have something other than Thai food after two weeks.
Our final full day, we took a day trip tour.  This specific tour is no longer available, but there are several comparable options.  We met our guide and driver at a hostel in Bangkok and rode about an hour out of the city.  Our first stop was Maeklong Railway Market.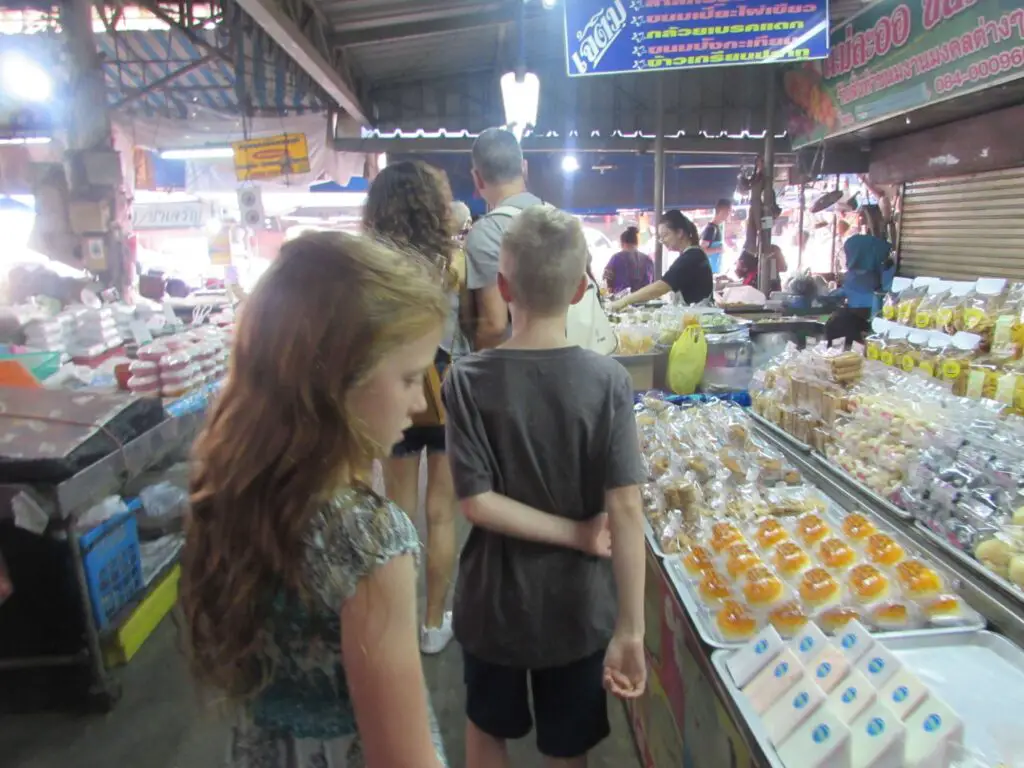 This historic market was established in 1905.  Entering the market, you would have no idea what you are about to encounter.  Even inside the main market building, you will dodge motorbikes.  You wind through the building to arrive at store front located all along a railroad, mere feet from where the train will pass.  Vendors will pull in their awning and cases of foods set upon the track as the train comes through.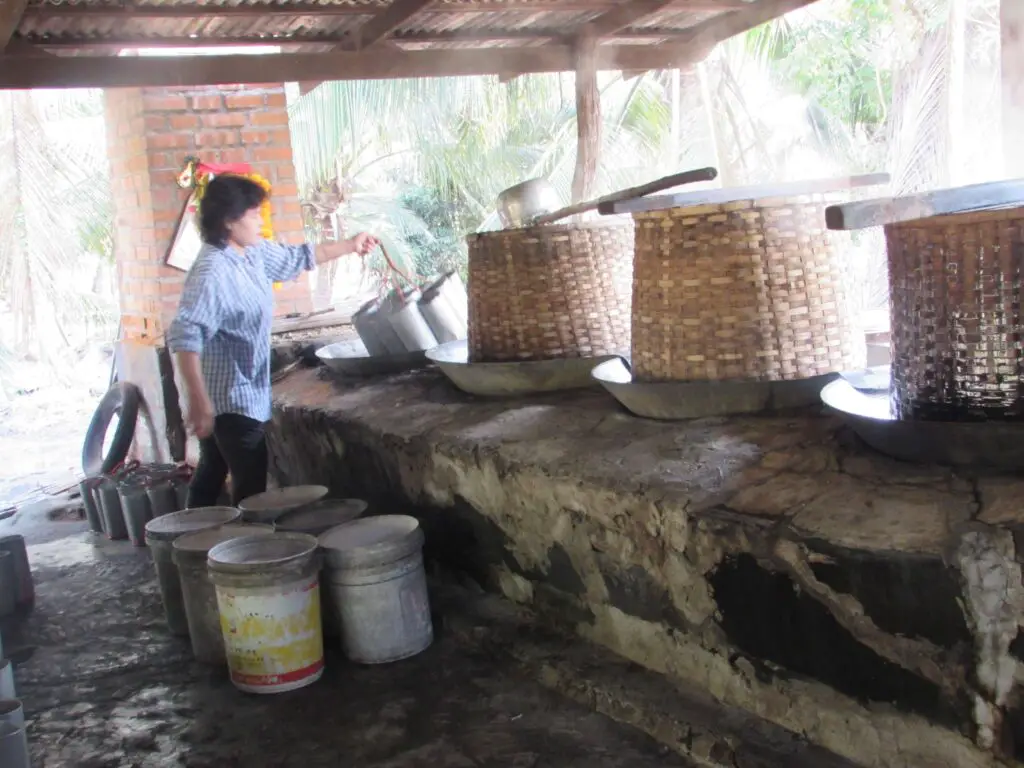 Our next stop was a sugar plantation.  This is a family property where Thai palm sugar is produced in a traditional way from coconuts or palm flower.  The product is similar to brown sugar and has more flavor than granulated sugar.  This is a hard job, but the family was very proud of their tradition.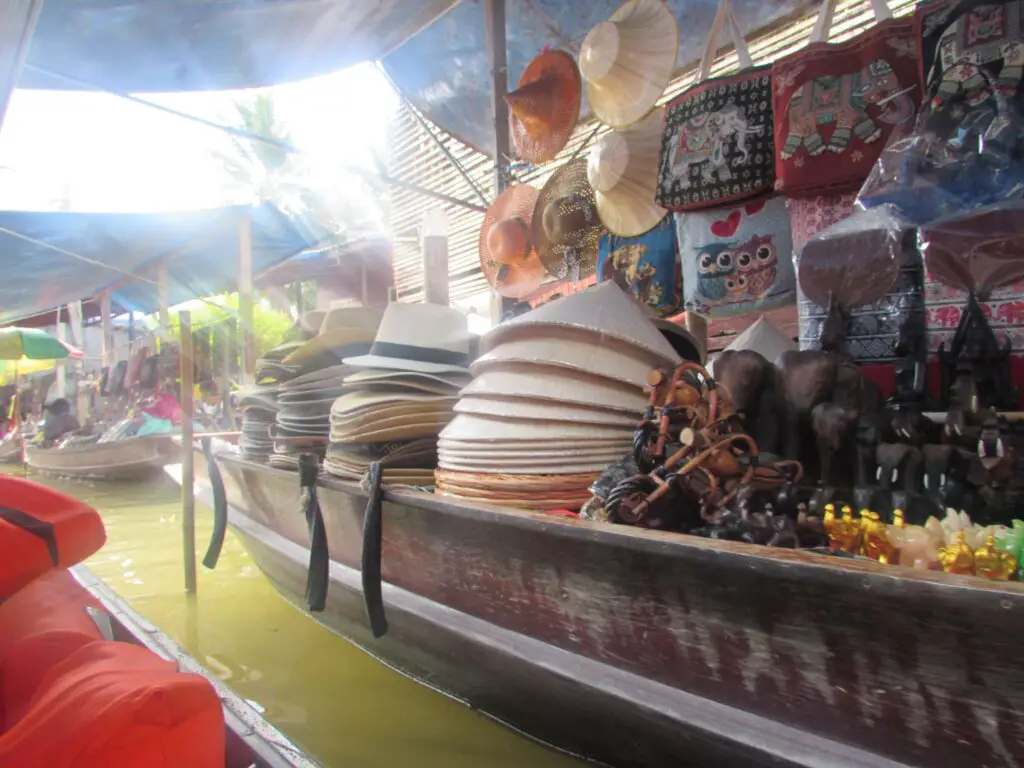 Our final stop of the day was the Damnoen Saduak floating market.  Our guide gave us some background and then set us off in our own guided boats.  We weaved through canals between people's homes, by individuals who had set up a stand outside the market and then finally through the market itself.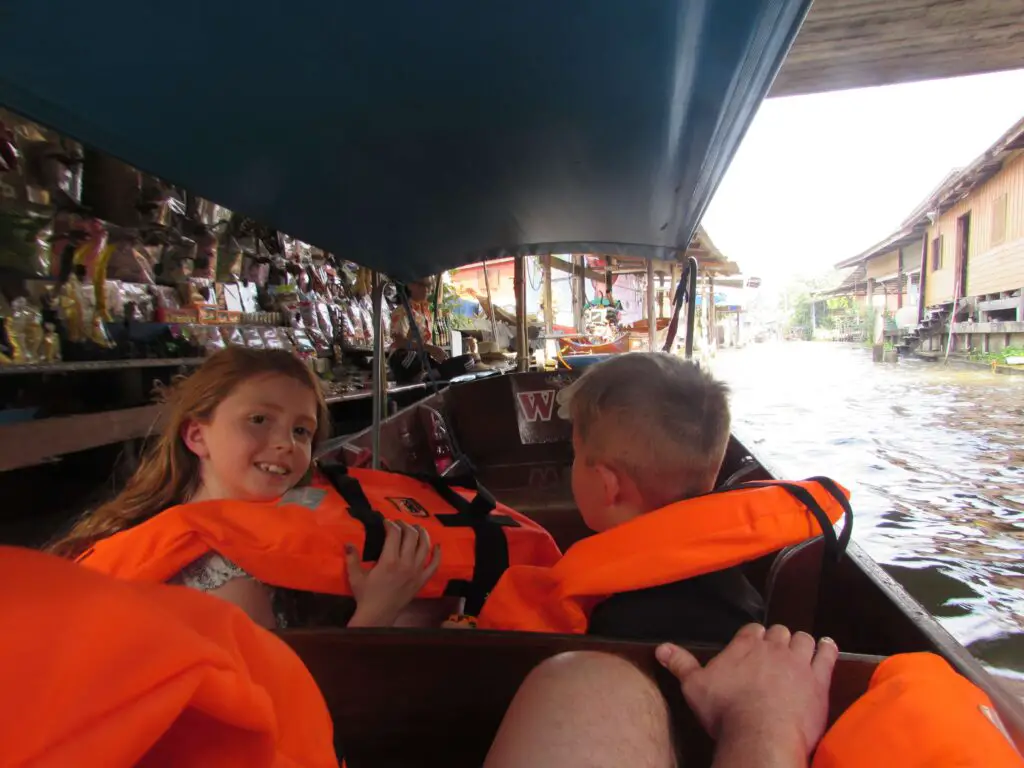 You can buy most anything from vendors in boats or on floating stands.  There are tons of souvenirs, clothing and delicious foods.  Our kids loved the coconut ice cream.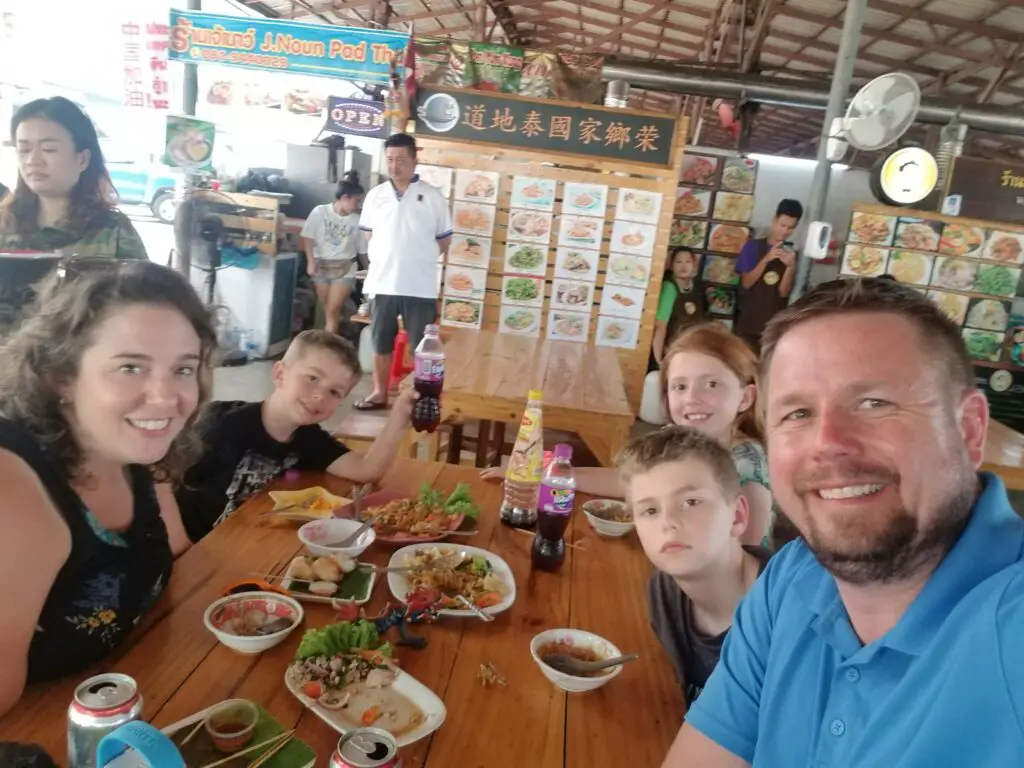 Upon disembarking, there is also a market on land with a sort of food court full of vendors.  After a full day of markets and food, we journeyed back into Bangkok for a final swim and room service before an early morning journeying home.
Returning Home – Days 17-18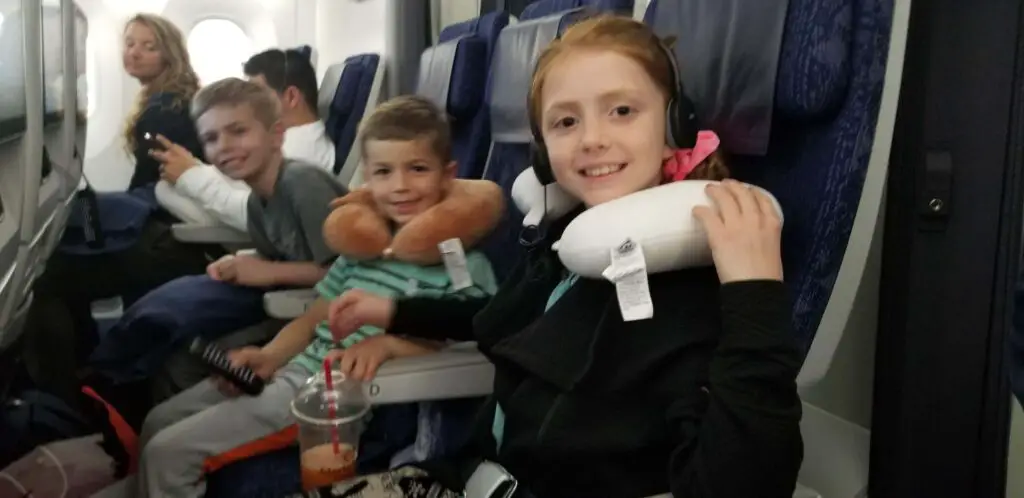 We departed at just after seven in the morning, tracing our steps back to Tokyo with a six hour flight.  Our layover was supposed to be 3.5 hours and ended up being closer to seven which was slightly painful, but eventually our final flight boarded and twelve hours later we arrived in Chicago.