Choosing a domestic airline when you have no experience with a part of the world or anyone who has flown domestically can be a challenge! I break down all the details on three different domestic Thai airlines to make your job easier.
On our recent trip to Thailand, we flew domestically between three Thai cities, Bangkok, Chiang Mai, and Phuket. I took the opportunity to book with three different airlines for comparison, Nok Air, Thai Lion, and Thai Airways. I found Thai Airways to be the best airline of the three based on cost and service.
Flight Details
Flight #1 Nok Air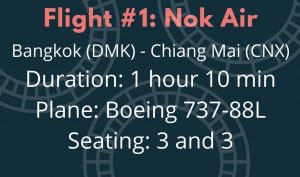 Our first domestic flight was from Bangkok's Don Mueang International Airport, which was a different airport from which we arrived in Bangkok, to Chiang Mai International Airport.  It's a quick flight of just over an hour, the type of flight you barely are able to put your tray table down before it's time to put it back up.  The flight experience was easy and smooth.  It boarded and left, and arrived on time.  The Boeing 737-88L has a 3 seats on each side of the aisle layout and 189 standard seats in total.
Flight #2 Thai Lion Air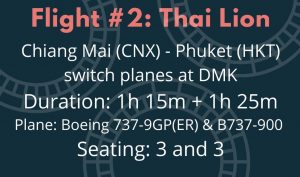 Our second domestic flying experience was with Thai Lion Air.  In order to find a flight from Chiang Mai to Phuket that didn't leave early in the morning or late at night, we had to connect in Bangkok.  I wasn't excited to spend so much our day traveling within the relatively small country, but hated to add more stress with odd times.  The second flight in this journey was delayed over an hour due to the arriving plane not coming in as scheduled.  There was no reason given to us, but there were no weather issues.  The portion of DMK where the connecting gate is located was packed with people and required transport by bus to board.
Flight #3 Thai Airways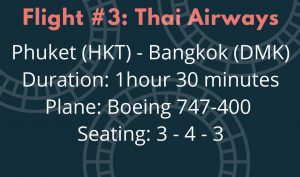 We were surprised to board such a massive plane for this short journey.  The 747-400 has three classes, a 3-4-3 seat layout and an upstairs section.  The kids deeply wanted to go upstairs where several of their business class (Silk) seats are located.  The flight was quick and easy, boarded, left and arrived on time.

Cost Comparison
Since different airlines have a variety of fare types which include or do not include baggage, seat selection, cancelation and change fees, it can be difficult to compare.  I have attempted to neutralize those differences in the chart below to compare the cost experience.  Please note that the Thai Lion flight was two separate planes with a connection so a direct flight would have been less miles.
These numbers are based on what we paid for each flight approximately 50-60 days before flights.  If you search these exact flights right now, there is a some variation as demand seems to be lower in the upcoming month.  For cost comparison, purchasing these about the same distance from departure day gives a fair comparison.  It also appears that we overpaid (compared to current pricing) for the Nok Air flight.  I can't know why, but it some reviews report there is a difference in price based on your location of purchase (in my case, the United States).

Rank by based on Cost:
1. Thai Airways 2. Thai Lion 3. Nok Air
Our Nok Air rate was their "X-tra" rate which included a 20kg checked bag for each person and a seat selection.  Based on current rate information, we could have saved about $33 if we gave up the seat selection option, but would have had to pay about $11/bag for 15 kg bags.  For us, the "X-tra" rate made the most sense as we value ensuring we will sit with all together.
The Thai Lion rate did not include the seating or baggage which is listed under the additional cost category.  More about that in booking below.
Our Thai Airways tickets were their Super Save rate which included a 20 kg checked bag, but no seat selections.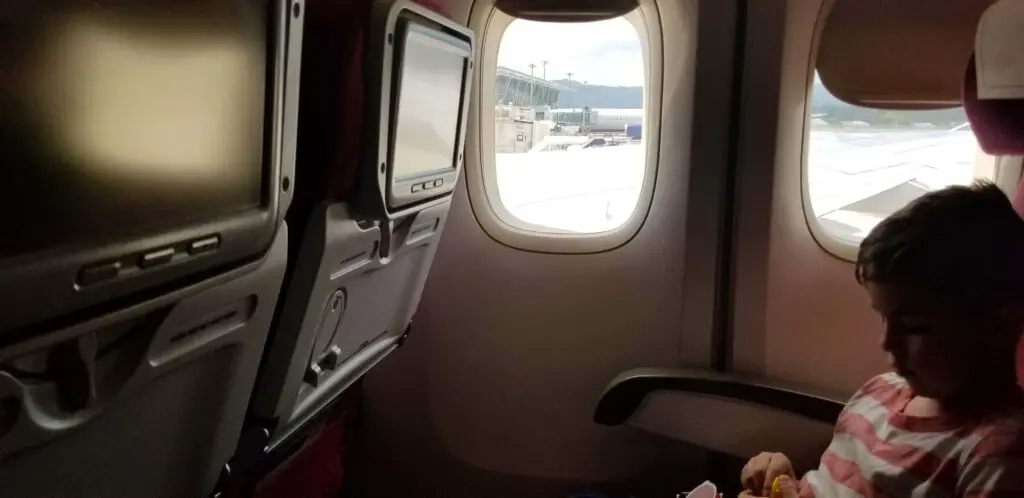 Booking Experience
Nok Air's website interface is easy to use.  It's clear where to switch to English and gives you all the normal booking options.  Once the price comes up, you are choosing between rate levels (Lite, X-tra, and Max) which comes down to whether you want to pay for 20kg checked bag and seat selection (X-tra) or in addition include a meal (Max).  As stated before, I chose X-tra based on our baggage and my desire to be seated together.  Once you select your flight, you will notice your rate immediately jumps up.  You need to scroll down and select or unselect the add-ons Nok Air automatically adds to your cost.
Thai Lion's website is fine, but they have a major functionality issue as it pertains to foreign travelers booking through their website.  They don't take cards that are not issued in Thailand.  I didn't see this policy anywhere.  In trying to book, my card was denied.  My credit card assured me they weren't blocking the transaction.  I booked the flight through Expedia not realizing I would not be able to add seat selection or baggage to the flight.  I spent about 20 minutes on the phone with a Thai Lion customer service agent helping me pick my seats, etc until the end when they told me I couldn't use my US issued credit card.  The customer service agent was great, but this is obviously a major challenge.  I booked my luggage and seats through a third party website which I will discuss below.  The TripAdvisor reviews for Thai Lion are very negative and a lot of it is about this issue.
Thai Airways website is easy to use and straight forward.  I didn't feel they were trying to stack on any extras and I knew what I was committing to while making selections.  The cheapest rate included the checked bags so that made me more willing to select my seats at the 24 hour online check in period.
Rank by based on Booking
1. Thai Airways 2. Nok Air 3. Thai Lion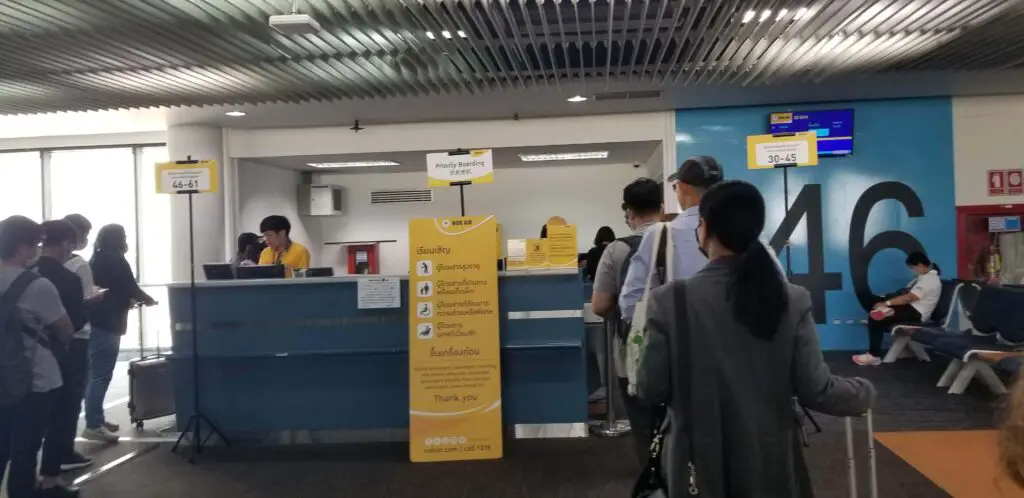 Baggage
It should be noted that all of these airlines claim to have a 7kg (about 15 lb) carry on weight limit which makes taking the typical carry on rolling suitcase carry on you would see on big airlines against their policy.  You would need to treat these as check bags and it will save you money to add that cost when booking.  I had read that I could expect to have my carry on bag weighed or measured as well.  That didn't happen with any airline.  Each child and my husband carried a standard size school backpack.  I carried a cross-body travel purse and my Away Everyday Bag for each flight.  We carried a tote bag of snacks as well.
As I previously mentioned, Thai Lion didn't allow me to book any seat selections or add bags directly.  In reading reviews, I saw mention of BuyBaggage.com.  This third party site exists because of Thai Lion's limitations in payment.  I found my experience with Buy Baggage to be great!  I emailed them with questions before I booked and they were extremely helpful.
The fact that Thai Airways just includes a carry on with even their cheapest ticket makes for a very straight forward system.  If you packed VERY light and only had a 7kg carry on, I could see valuing other options, but I don't like to stress about whether I've overpacked.
Rank by based on Baggage Policy
1. Thai Airways 2. Nok Air 3. Thai Lion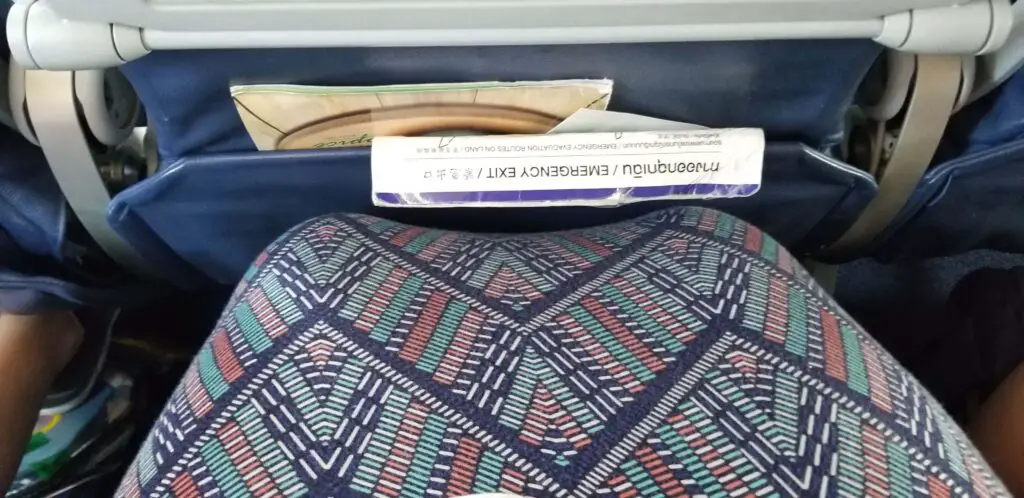 Seating
I mentioned paying extra for selected seat on both the Nok Air and Thai Lion flights.  I decided to give a shot with choosing the cheapest rate for Thai Airways since I didn't require any other upgrades and just select seats upon online check in.  I actually forgot to check in until about five hours ahead and Thai Airways had already given us five seats together – three on the window side of the plane and two across the aisle.  I could have changed them while checking in, but they were in good position.
We found that both Nok Air and Thai Airways standard/economy seating began at row 32.  I haven't been able to discover why this is, but it might make you question whether seats are further back than they actually are placed.
In a rather embarrassing surprise, I found that the seat belt wasn't large enough for me on the Nok Air flight.  I'm a plus size person, but I have never had any trouble with any airline seat belt on any other flight including the 7 other flights on this trip alone.  It was an easy fix to ask for an extender which was maybe a demonstration seat belt and could not be tightened to actually fit.  I'm not sure there was any value in wearing it.  I mention this mostly to prepare anyone in a similar situation for this uncomfortable experience.
In regard to the seats themselves, the sizing was as following:
Nok Air: Seat Pitch 31″     Seat Width 17.2″
Thai Lion: Seat Pitch 29″    Seat Width 17″
Thai Airways: Seat Pitch 32″   Seat Width 17
The Thai Lion seat pitch was very noticeable immediately.  My knees never touch the chair in front of me, but they were and my 11 year old son was also nearly touching.  My husband sat at a slight angle to not press into the seat in front of him.
The Thai Airways seats also provided for individual TV screens with movies, TV and games, making them far superior to the TV-less flights of the other two smaller aircrafts.  We also had foot rests at each seat.
Rank by based on Seat Experience
1. Thai Airways       Tie for 2. Nok Air & Thai Lion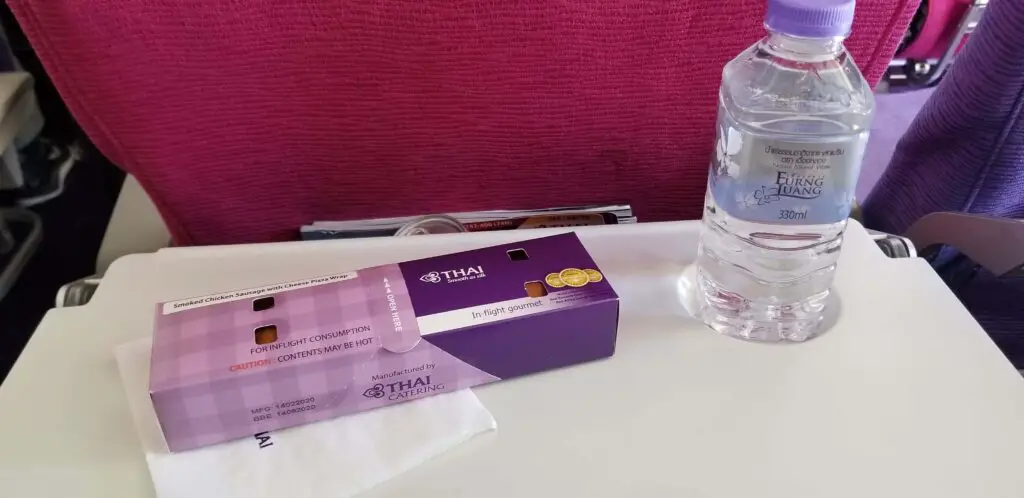 Service Experience
All three airlines provided good service at the check in counter.  We found them all to be welcoming and helpful even with out limited Thai.  In purchasing the 60kg (which I understood to be three 20kg bags for Thai Lion), the customer service agent was willing to check more bags to "use" the amount we purchased.  We chose not to do so.
All three airlines offered all announcement in English as well as Thai.
Nok Air made a point of mentioning that they were doing a special cabin disinfecting between flights due to the current coronavirus outbreak.
Nok Air offered a small water to each passenger and additional items (food, drink, or duty free shopping) for purchase.  Thai Lion offered no services for free, but did have a for pay cart that went through one time each flight.  Thai Airways provided a drink service (including coffee, tea, soda, and juice), a hot snack (chicken sausage in a cheese pizza roll) and water bottle to everyone.  I also noticed Thai Airways delivering specialty dietary options to certain passengers who assumably requested it in advance.
Rank by based on Service Experience
1. Thai Airways   2. Nok Air  3. Thai Lion

Overall Ranking
Taking into account the cost, booking, baggage, seating and service experience, Thai Airways was the clear winner over the other two airlines.  I hope this information is helpful for you in comparing your options.  Don't hesitate to share your first hand experience with these and other domestic Thai airlines.