A beautiful opportunity to taste two similar, but unique cultures within Europe is to include both Barcelona and Paris in the same trip.  I would consider this a priority trip for early European exploration as both cities are very comfortable for English speakers and also explore cultures very different from the US and other English speaking countries.
This itinerary could be reduced down to priorities and/or could pack activities together for older kids.  Our children were ages 10, 8 and 5 years at the time we took on this itinerary.  I would consider this itinerary an introduction to both cities with multiple neighborhoods involved while checking off cultural and tourist landmarks along the way.  The best way to customize is to infuse more of your interests.  I love to learn about the culture through food and often find tours that involve it (you usually save the cost of a meal too).  Feel free to change the focus to history, active tours (like cycling or hiking), language immersion, religion, shopping and artisan classes, or even supernatural interests.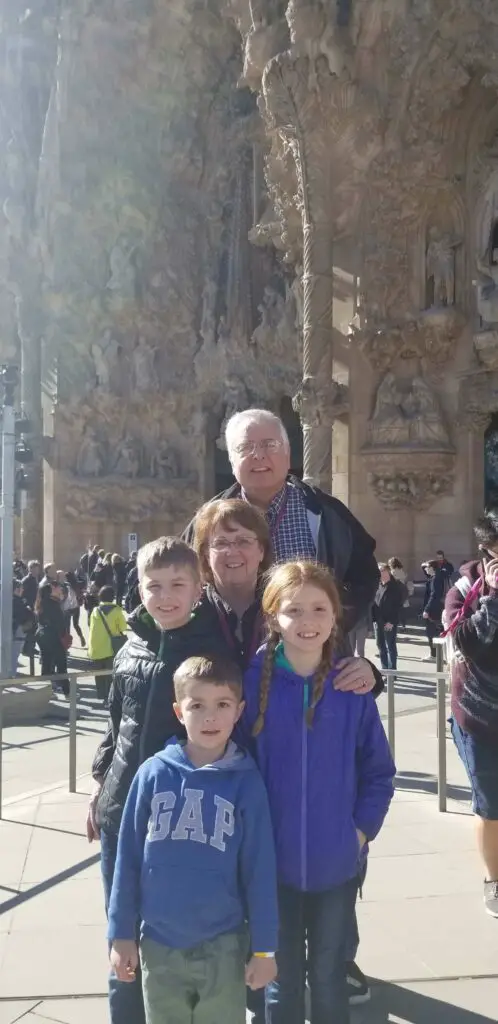 This trip was also a multi-generational trip which means my parents came along.  With younger kids, this has so many benefits and truly the activities, restaurants, etc. that I chose accommodated both older adults and young children well.  If multi-generational travel is an idea you are on the fence about, read Take Your Parents on Your Family Vacation.
The Itinerary: Barcelona to Paris
Travel Day
We flew from Chicago O'Hare (ORD) to Barcelona (BCN) through Munich (MUC) on Lufthansa.  This route is about thirteen hours travel time with a three hour layover in Munich.  It felt quite efficient with a 3-3-3 configuration in coach where we traveled with our group of seven.  Luckily, we scored two extra seats which allowed the adults a bit more space.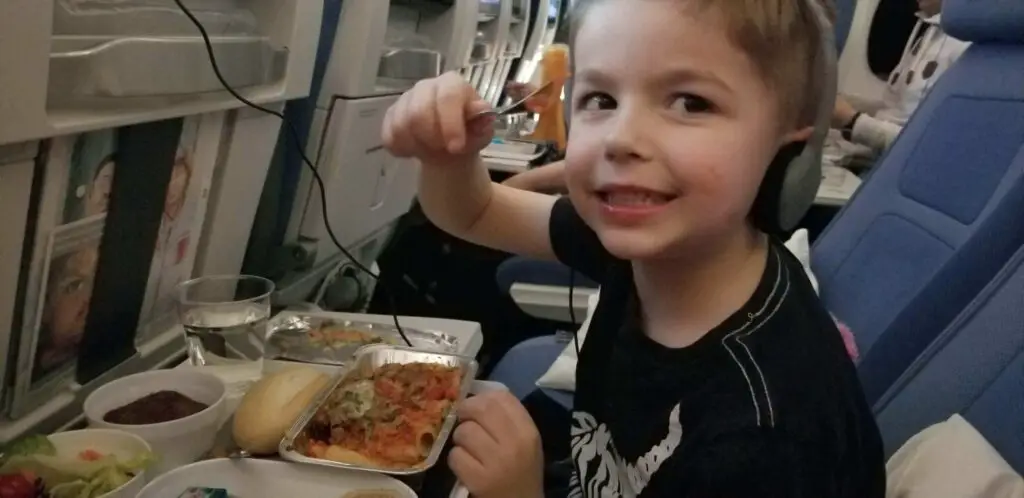 This flight arrangement had us arriving at 5:45 pm and we utilized private transfer provided by Press i Car Barcelona.  Our drivers could not have been better – very informational and friendly. We chose to be near the Gracia area of the city for its access to transportation and notable sights, but more importantly, it offered a true neighborhood feel.  We booked our accommodations through Stay U-nique and were happy with their responsiveness, condition of our apartments, and service.  Hopefully you can find an apartment with a cute balcony like we enjoyed to take in the sites and sounds of city.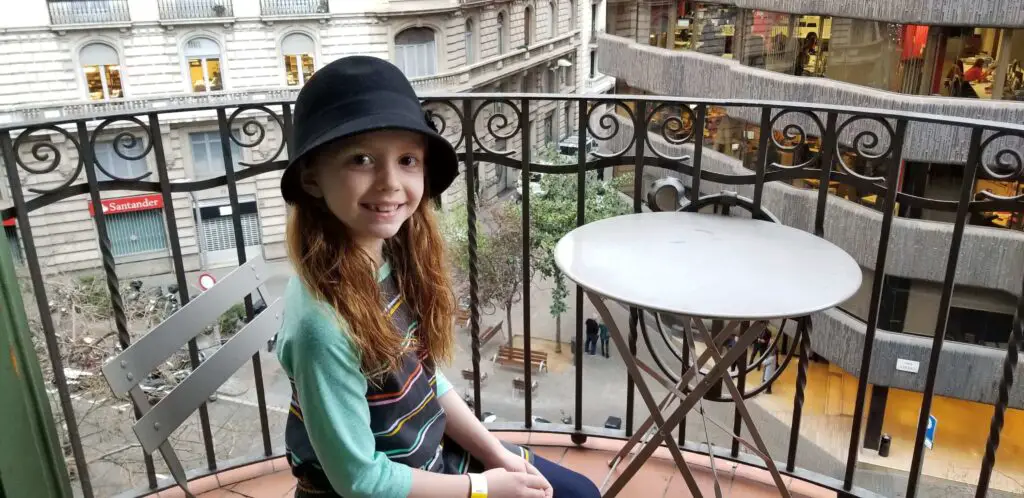 Our first evening was used to settle in and stop into a local market to grab groceries for dinner/breakfast.  I love this step of travel – navigating a grocery store – trying to figure out what is sold in grocery stores versus other types of stores and what foods are "normal" to that area.
Day One: Barcelona – Hola Tour and Zoo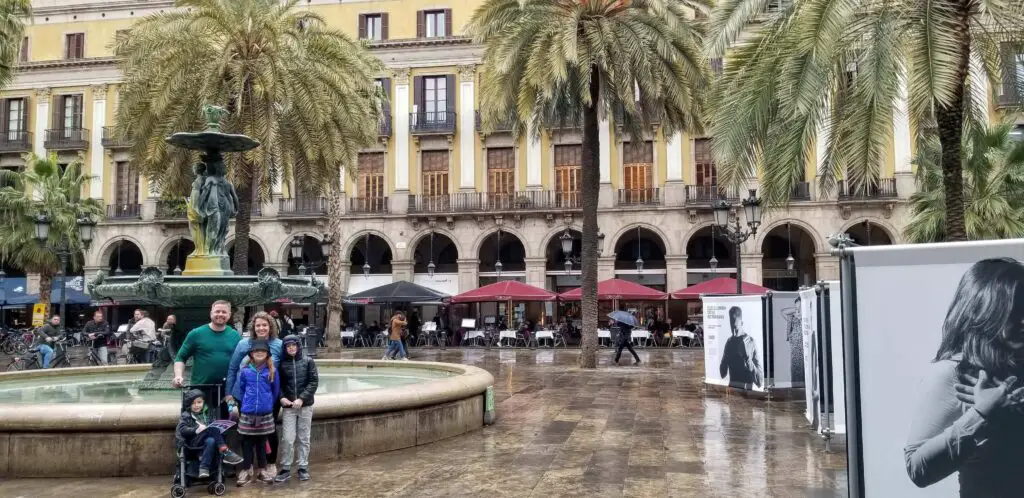 We chose to kick off our time with a With Locals tour, which is one of favorite tour companies for traveling with kids.  In the cities they serve, they often have family-oriented tours where kids are free.  Our first tour was Hola Barcelona with guide Jordi.  We saw some of the better known and photographed sights of Barcelona and got a local perspective and recommendations.  Our tour ended at Parc de la Ciutadella.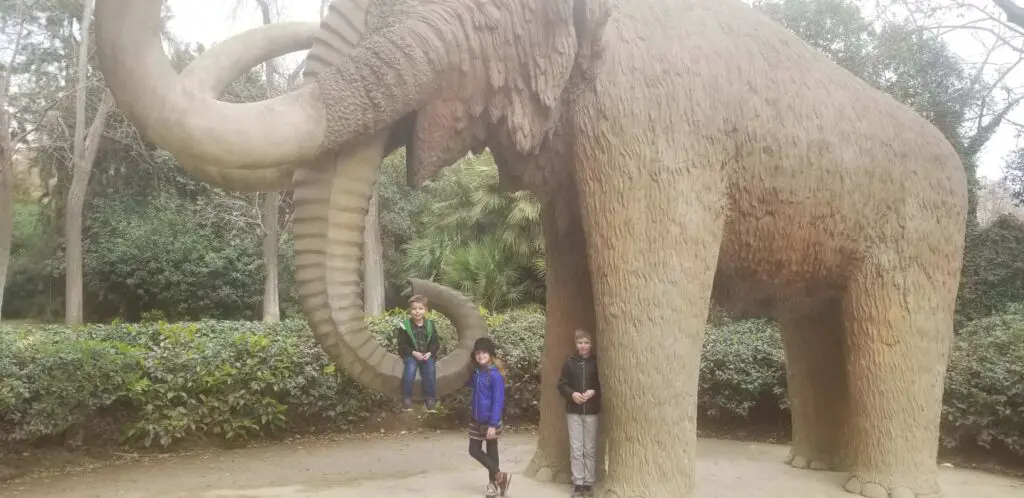 This park is substantial in size with several opportunities to wander, relax, and find entertainment.  We grabbed a quick snack near the fountain and snapped photos with our guide before he took off at the amazing trees and full size mammoth statue.  We followed our tour with a trip to the Barcelona Zoo which is also found within the park.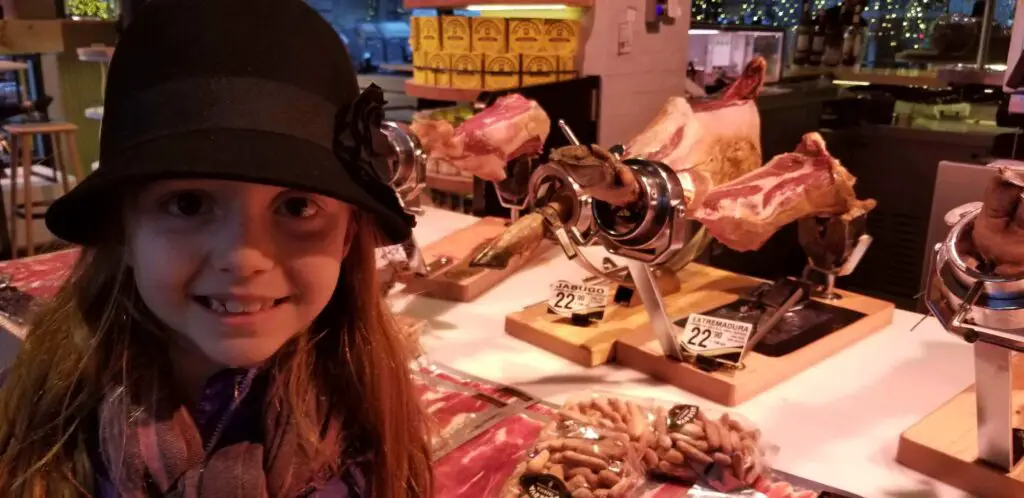 We were rather worn out between jet lag and our full day so we returned to our apartment after stopping at a ham shop where we could purchase jamon serrano and iberico along with cheese and crackers to enjoy for the evening.  Families of means will often purchase a whole ham bone, keeping it on a dedicated base and slicing from it with specialty knives during special occasions. There is a huge range in quality and price based on the pig's diet, origin and purity.
Day Two – Sagrada Familia and Paella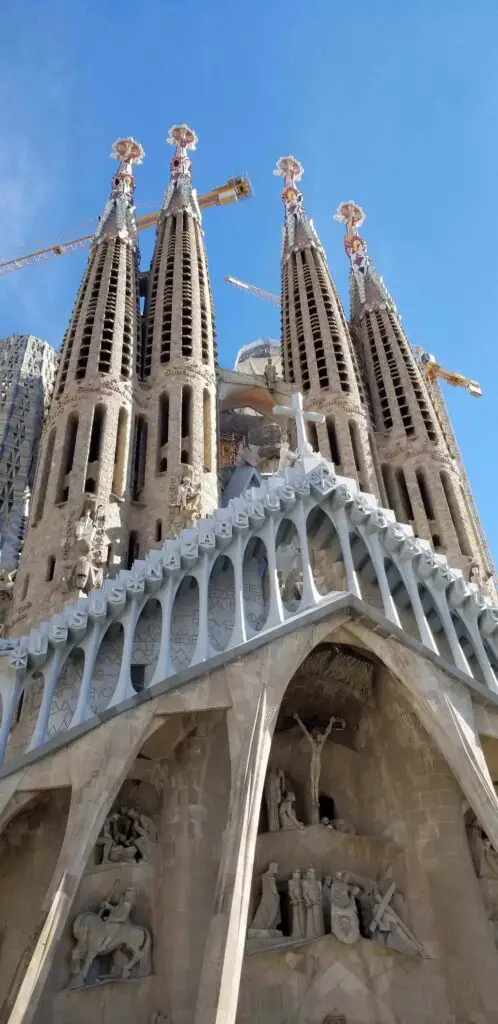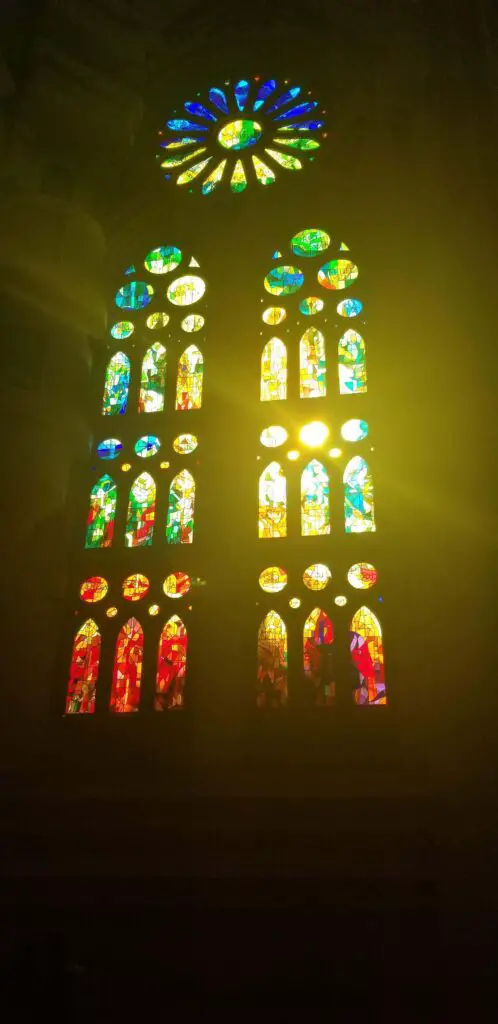 This morning we chose to tour Sagrada Familia to understand the grandeur of Gaudi's design.  Be sure to purchase your tickets in advance and arrive on time.  You are required to choose a time – both early and late times are recommended if you want a smaller crowd. We took a taxi to assure we would arrive on time and we still had challenges with traffic.  You will also want to purchase the English audio tour to make the most of your visit.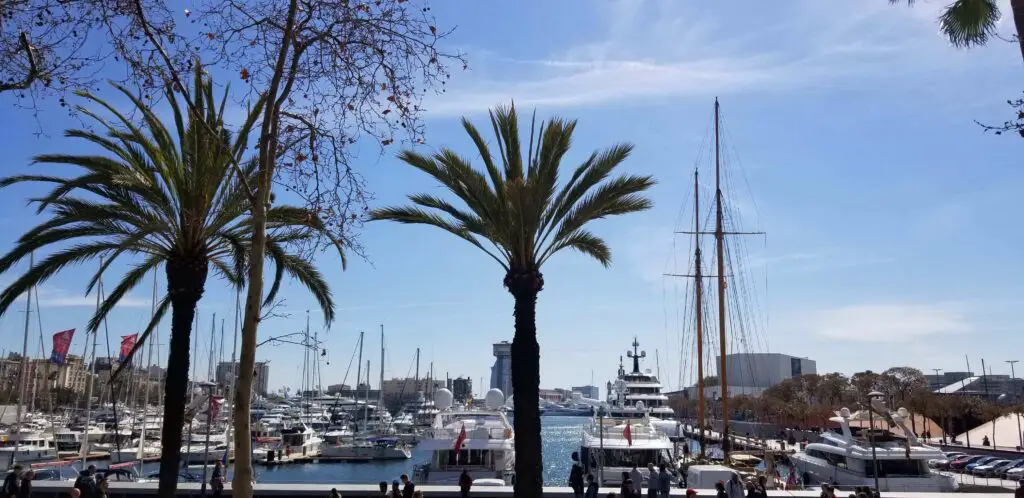 We chose to use hop on, hop off buses after visiting Sagrada Familia because they all have a stop nearby.  We rested when we needed to and hopped off when we were ready for more.  In large cities, I appreciate this opportunity to take in details on several tourist destinations while everyone in the family can choose their level of participation.  We chose to hop off at Barceloneta.  This area can be quite touristy, but it's also a reminder that this beautiful city is right on the ocean.  Take a stroll, enjoy the sunshine and grab a seafood lunch.
We finished riding the hop on, hop off bus until we were near our apartment neighborhood.  We took an afternoon rest before some of the adults in our party visited Paella Club for an evening well spent!  This cozy, lovely space warmly invites guests to learn how to make a variety of paella and also hosts other types of cooking classes.  After learning to craft your different paella selections, you have the privilege to be served your food with great wine and dessert.
Day Three – Cava Country and Montserrat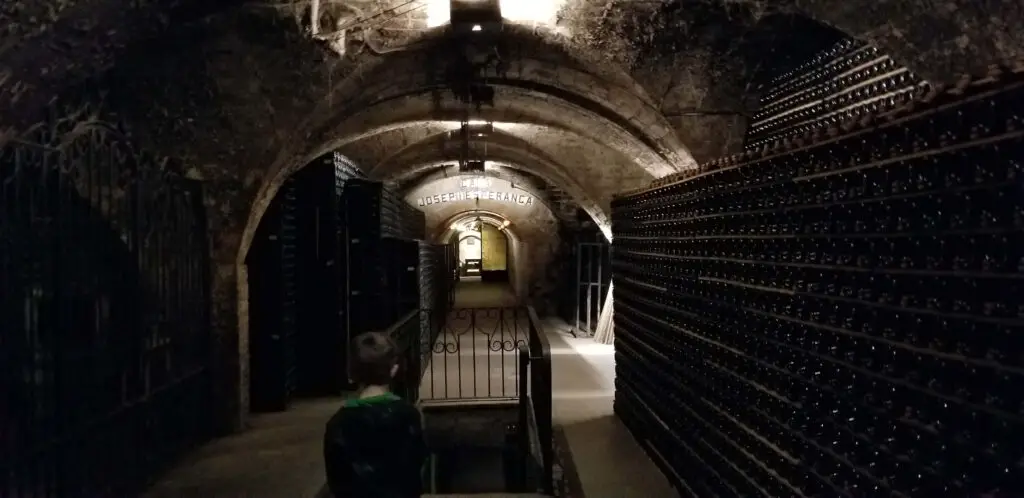 If you have the time in your trip to venture outside of Barcelona, consider a private trip to wine country and to visit Montserrat.  We used Press i Car Barcelona (look at all those five star ratings) again for this trip. The wine region is actually known for making cava.  Cava is to Spain as champagne is to France – made in a specific region and only able to be produced in a particular way.  Cava is a sparkling, white wine as well.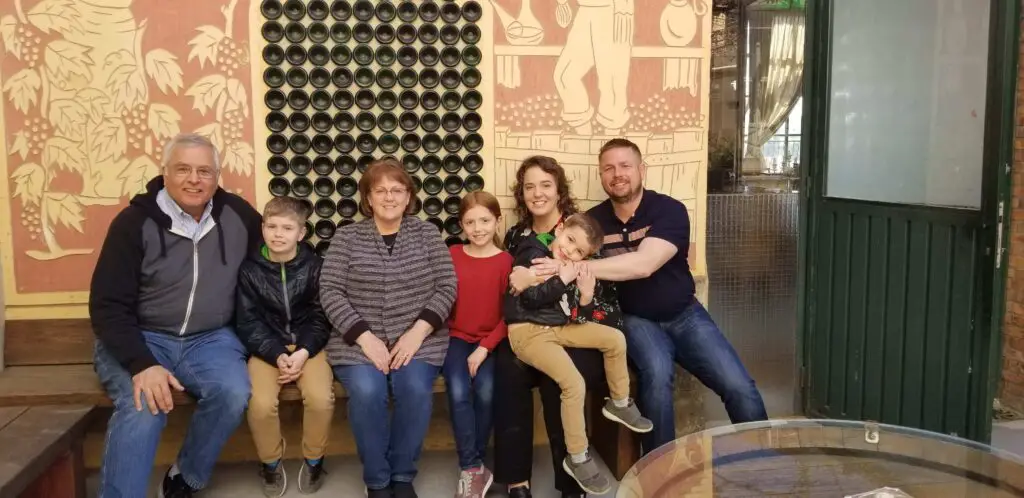 The first leg of the trip takes about two hours to the small city of Sant Sadurní d'Anoia.  We enjoyed a private tasting at Gramona.  The experience was great for the whole family with the kids receiving waters and crackers along with coloring activities to occupy them before running around in the courtyard.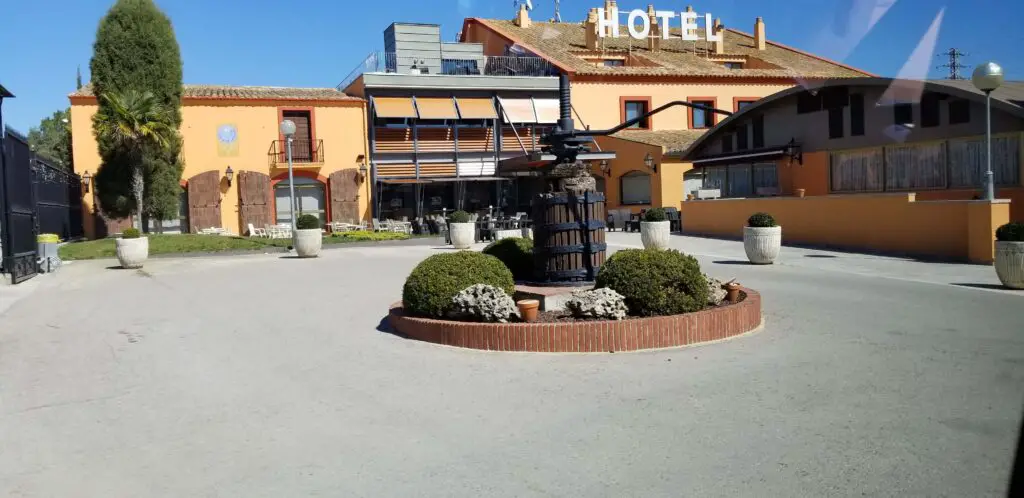 Just ten minutes down the road, we ate lunch at Sol i Vi, a local restaurant and hotel featuring many local specialties.  The service and presentation was entertaining and relaxing.  On our visit only a few tables of locals were in the restaurant, but we got the full (no doubt tourist) presentation of seafood, dessert cabinet, etc.  We had calcots as it was the correct season (and one of my goals of this visit), fish truly encrusted in salt, lobster risotto, and much more.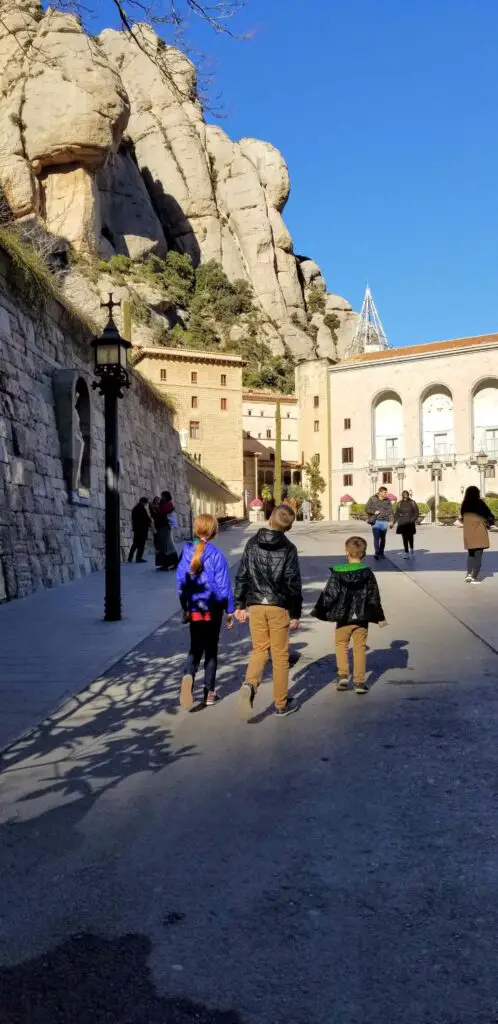 From here we traveled about forty-five minutes to Montserrat.  This mountain range is home to a monastery, park, art museum, restaurant, and shops.  You can arrive by car as we did or hike or visit by cable car.  We spent a couple hours taking it in, visiting the buildings, lighting a candle in the grotto, and taking photos before heading back toward Barcelona.
Day Four – More Food and Exploring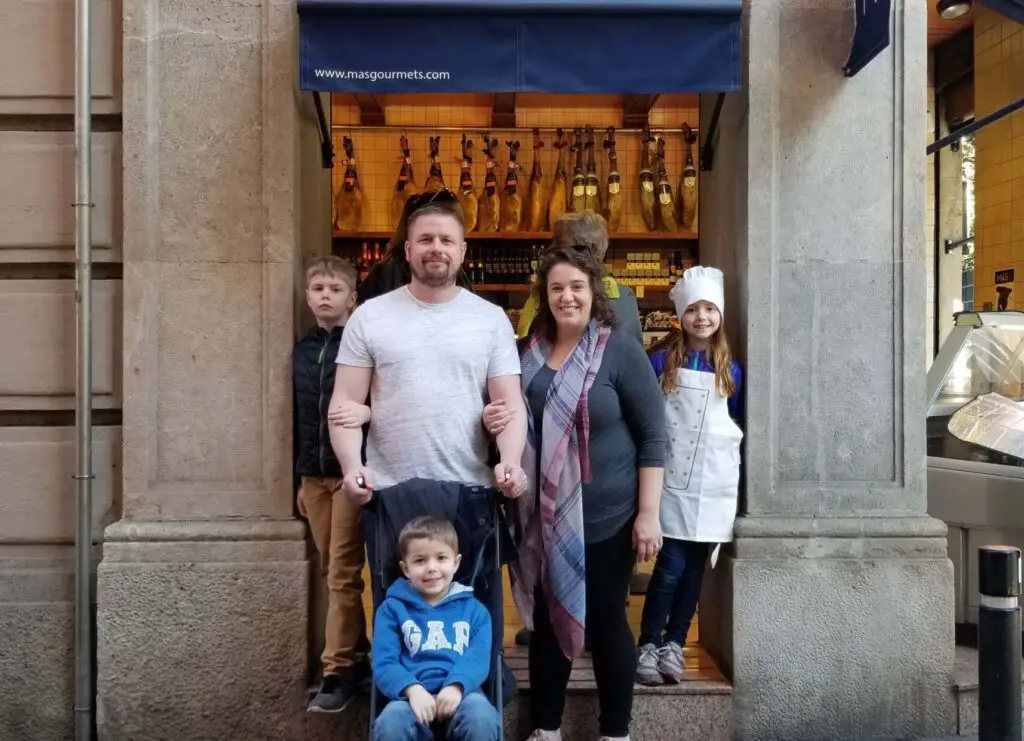 Our last, full day in Barcelona centered on our favorite travel focus, food.  We spent the late morning and early afternoon on another With Locals Tour Little Chef's Tour , which has been renamed.  It allowed us to visit a ham shop, walk around the market and see all the seafood, make pan con tomate (which continues to be a favorite at home), eat churro with chocolate and finish off enjoying a park and a cold beverage.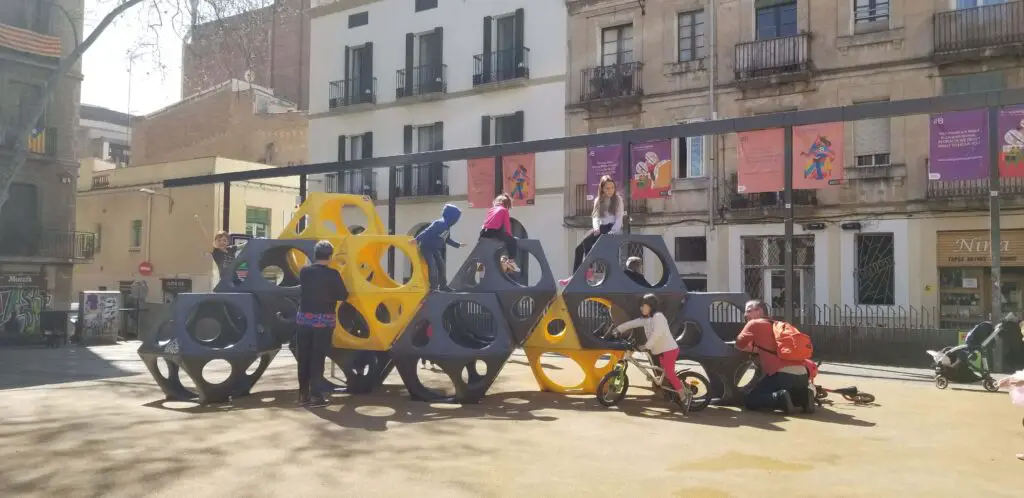 We always try to include playgrounds as the kids get to speak with local kids and sometime other tourists from around the world.  We pre-purchased tickets to Parc Guell, another of Gaudi's great works, to follow our tour.  It was not a long walk from our finishing spot, but was almost entirely uphill.  We send the grandparents and boys in a taxi while the rest of us hiked up.
You can learn from our mistake that there are several entrance points at Parc Guell and you will need to be sure your party is all at the same one at the correct time.  There is a demand for entry and with our miscalculation, we missed ours.  You can walk around the exterior of the park and see many features.  There are also picnic spots and playgrounds around the ticketed area.  We cut our losses and let the kids enjoy the playground.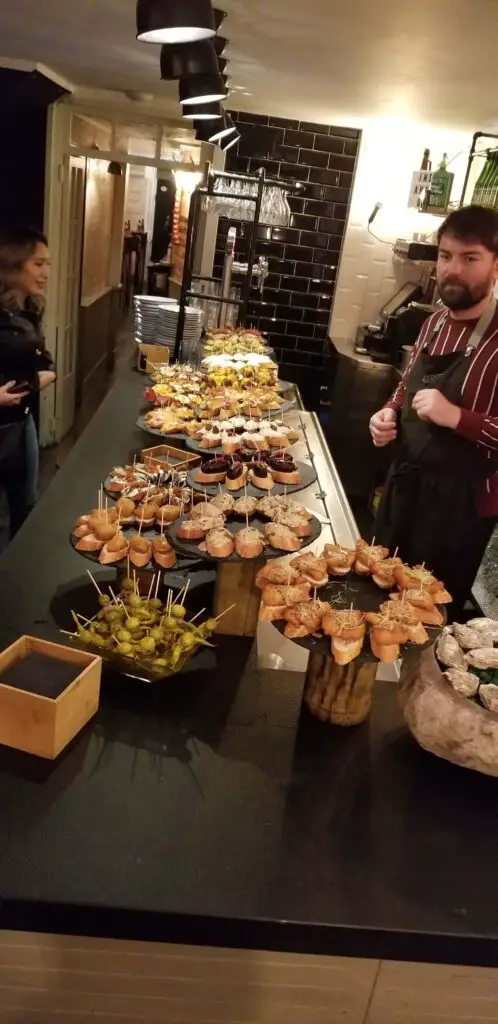 After everyone had some time to shop around and settle in for the night.  (This may have involved a Lego store and McDonald's), my husband and I went on a Tapas Crawl.  This was so fun and delicious!  Our favorite spot served pinchos which are traditional to San Sebastian and the Basque culture found about 5.5 hours Northwest of Barcelona.
Days Five & Six – Travel Day – Trains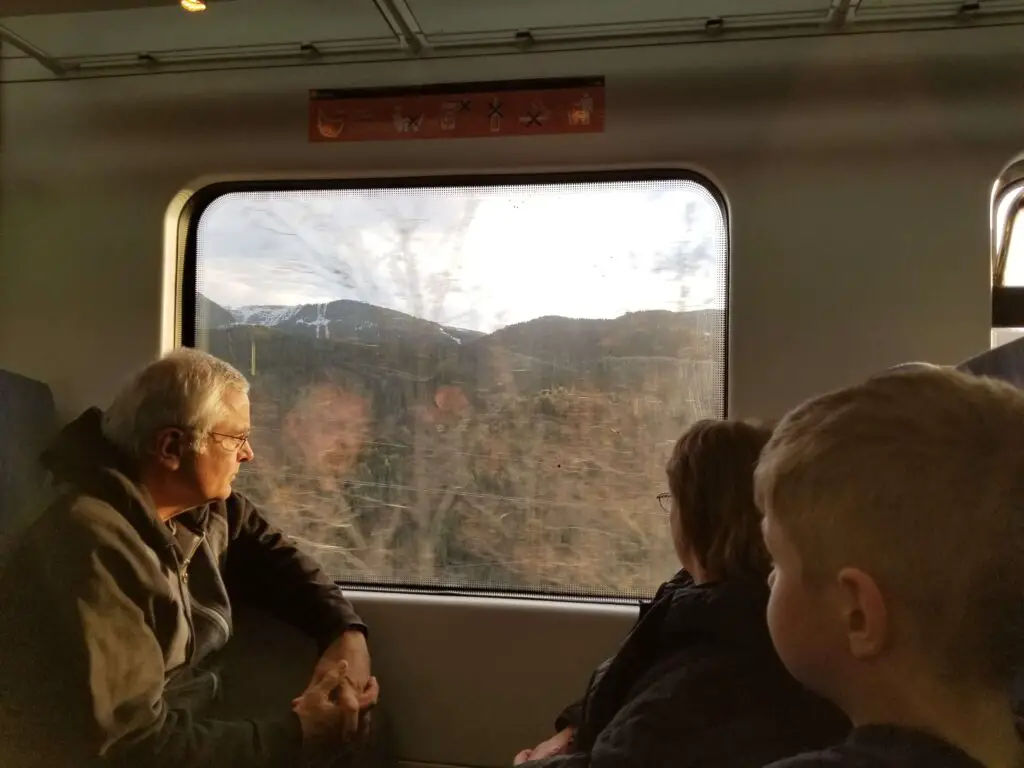 We chose to travel from Barcelona to Paris by train.  Our route left from Barcelona Sant to Latour de Carol (just across the French border) on a style of commuter train that took approximately three hours.  Our overnight train left from Latour de Carol less than an hour after arriving. Traveling by train is enjoyable because we got to see several small cities and more rural lifestyles.  Our short stop in Latour de Carol was the only place on our entire trip that I felt it was helpful to speak Spanish (even in limited capacity).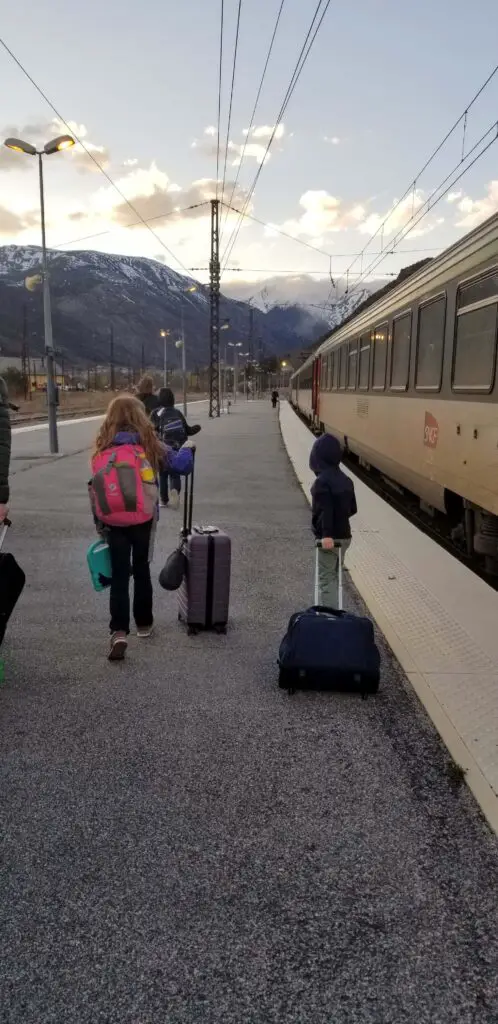 The overnight rooms included four bunks per roomette and traveled through the Pyrenees mountains and several tunnels.  If you're curious about train travel and specific route, Man in Seat 61 is a very valuable resource to visit.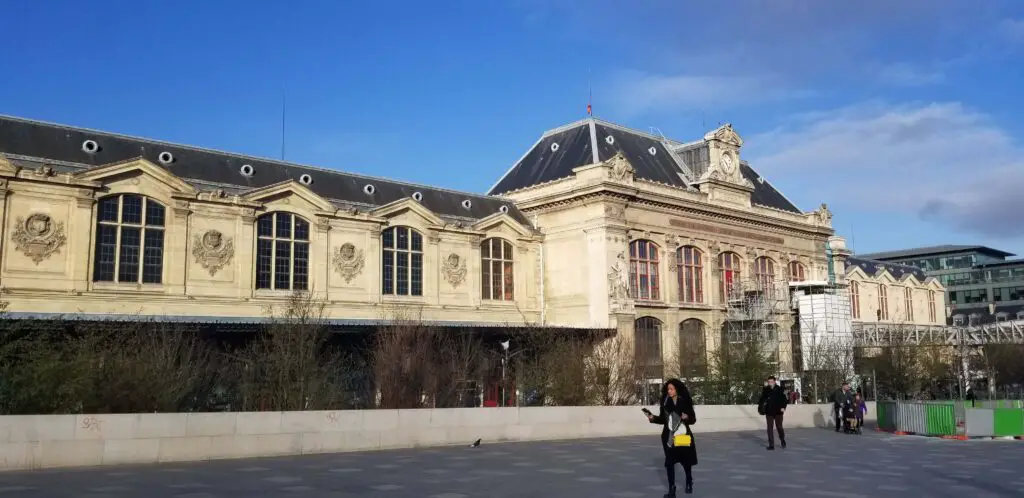 We arrived at Paris Austerlitz just before seven in the morning.  This train station allowed us to pick up our Passe Navigo to simplify our travel throughout stay.  Read more about how these work to decide if they are best for you and bring along extra passport photo copies to speed up the process.  It was good for us because we arrived on a Monday and could use it for our trip to Disneyland Paris!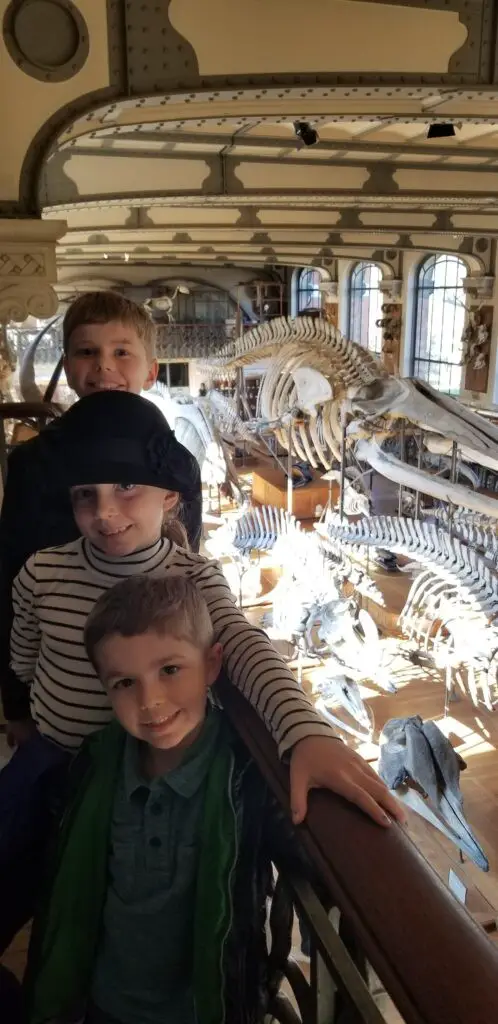 From here we walked around the Jardin des Plantes visiting Galerie de l'Evolucion and Galerie de Paleontologie et d'Anatomie.  There are several other museums and small zoo within this park.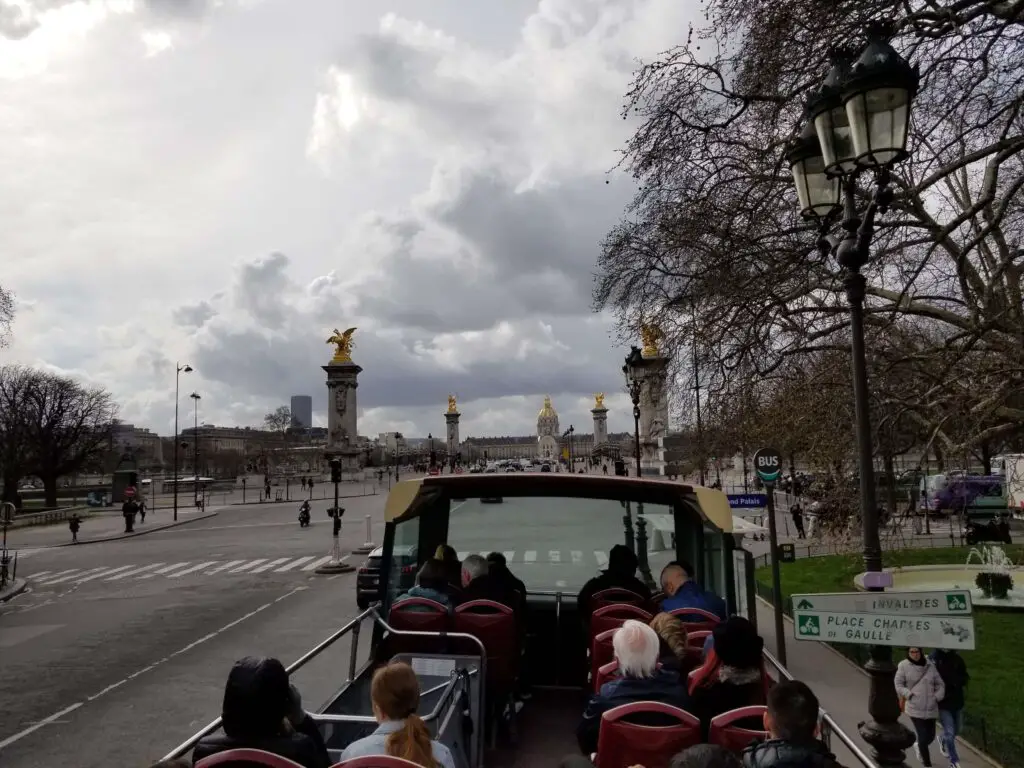 After our museum visits, we walked along the Seine taking in the sights of Paris.  We stopped at the square by Notre Dame, which is sadly under repair after its great fire in 2019.  We took another hop on, hop off bus from this area to get our first glimpses of Paris. This is also a great way to decide at the beginning of your visit if you've left something out you would like to visit.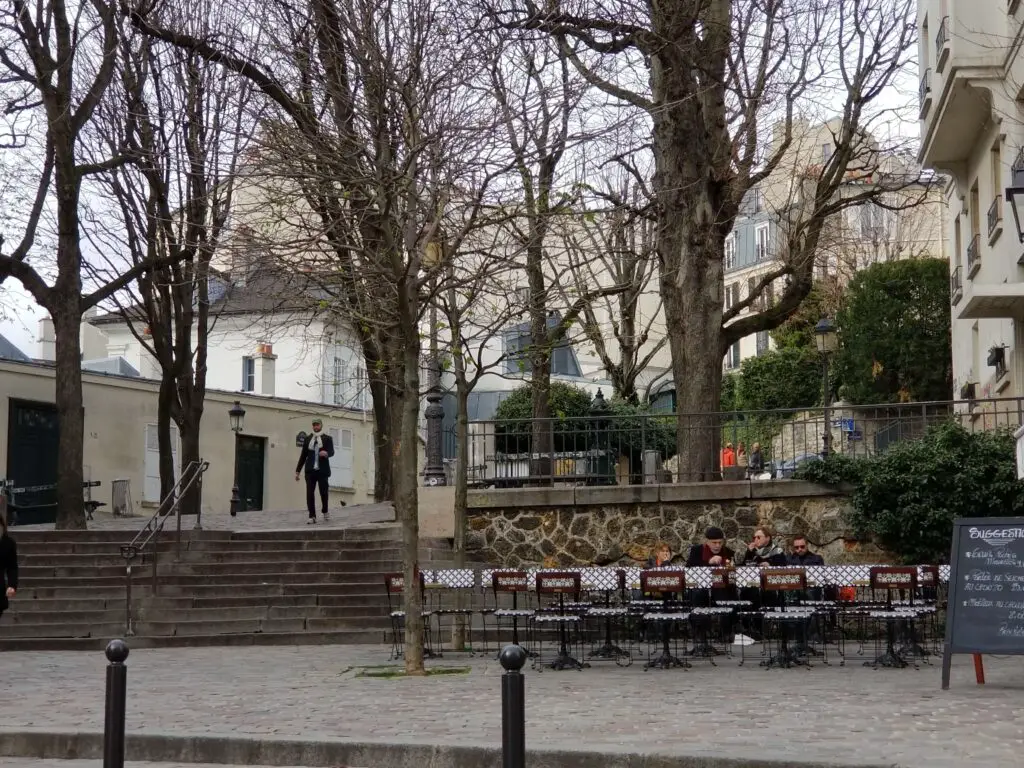 We continued to walk and eventually took the subway to Montmartre district where we stayed.  After checking in to our apartment, we explored our neighborhood, ate a late lunch and gathered a few groceries.  We were happy to crash in our beautiful new accommodations after a long overnight travel.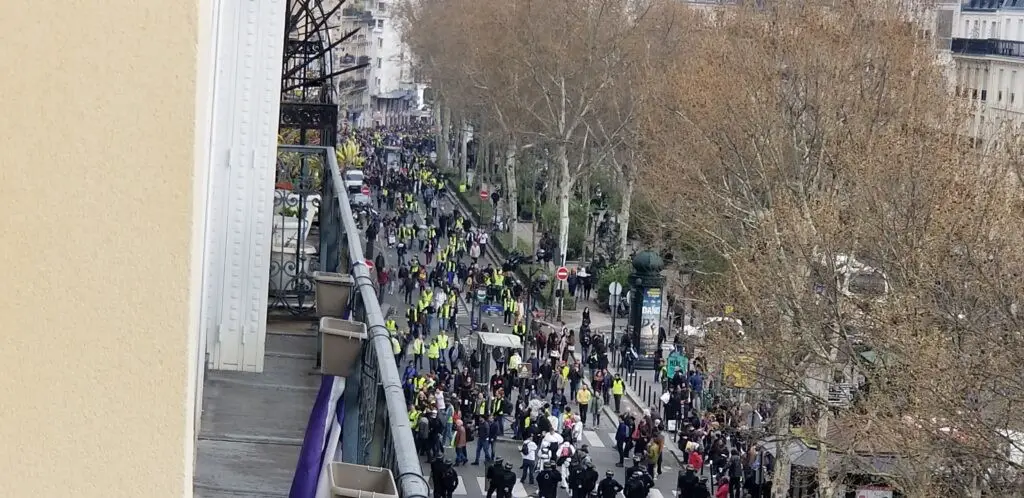 It should also be noted that during our visit there were some protests happening.  This can affect subway stations, road closures, etc.  Be sure to pay attention to the news while visiting a large city, especially in France where it is not uncommon to see protesting.
Day Seven – Jardin des Tuileries and Sacre Coeur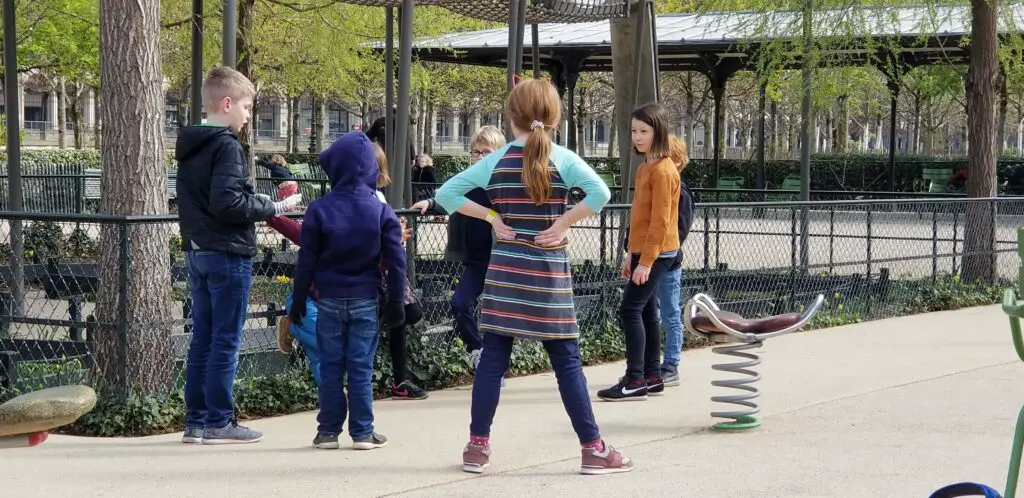 Our effort to spend more time outdoors and in beautiful parks, led us to Jardin des Tuileries.  This park offers families the opportunity to run and explore.  Smaller kids will enjoy playgrounds and carousels, maybe even meeting new French playmates.  The park borders the Louvre for those with energy and time left to spare to combine the two sites.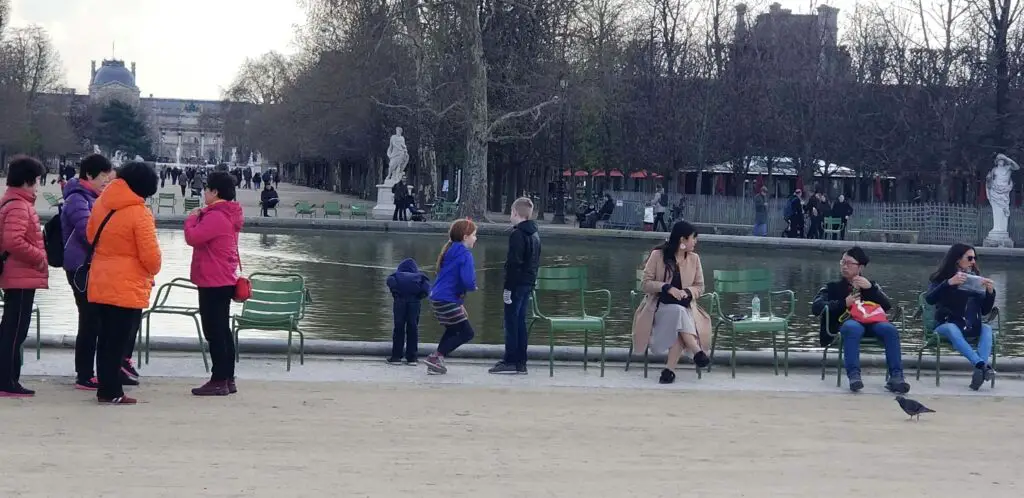 Grab one of the hundred of green metal chairs and enjoy the fountains and gardens.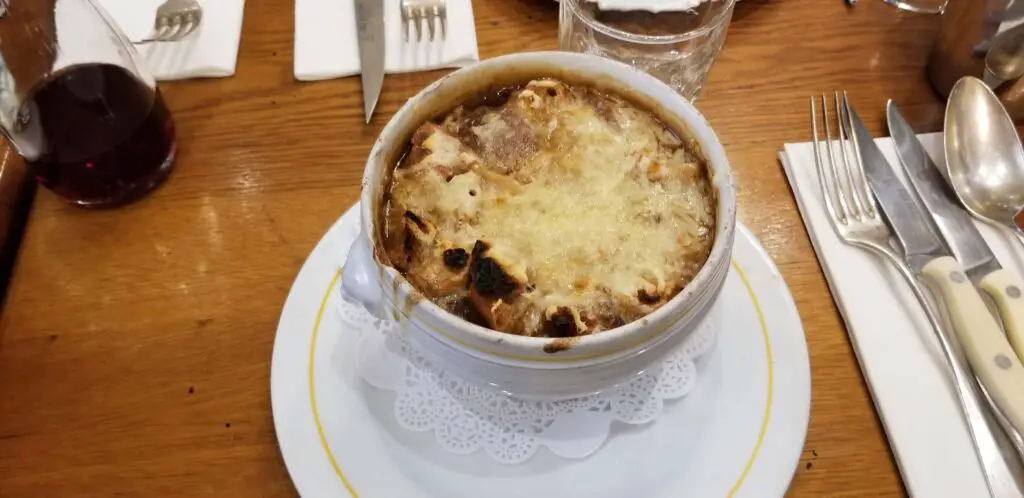 From here, head straight to lunch at Bistro Richelieu for the best soup a l'oignon maison gratinee you will find.  They have an offering of entree du jour + plat du jour + dessert du jour for the full French bistro experience or you can easily customize to whatever you desire from their menu.  The lively environment and mix of guests makes it a comfortable visit for patrons of any age.
We headed back toward Montmartre and straight to Sacre Coeur.  The station located below Sacre Couer is for the Funicular, a short railway from the base of the hill to the location of Sacre Coeur.  You can use your metro card to board the Funicular as well.  We used Passe Navigo for our visit.  You can join the line to enter the church or just take in the view – both are incredible.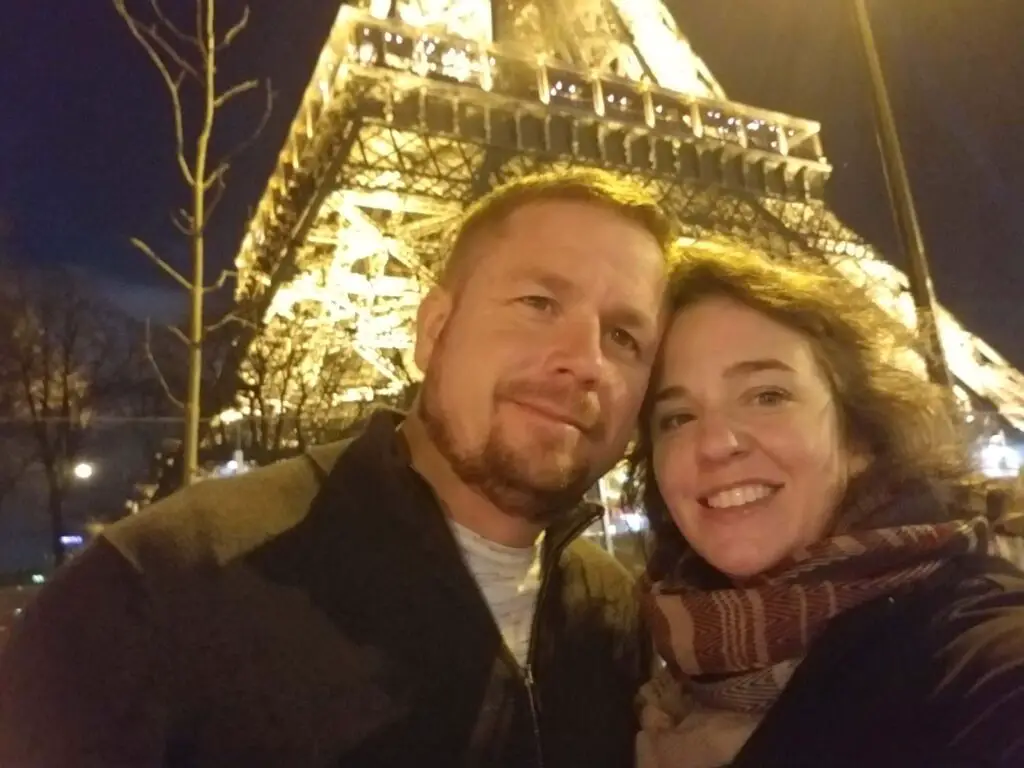 We again snuck in a date night here to walk by the Eiffel Tower at night and eat dinner in Montmartre.
Day Eight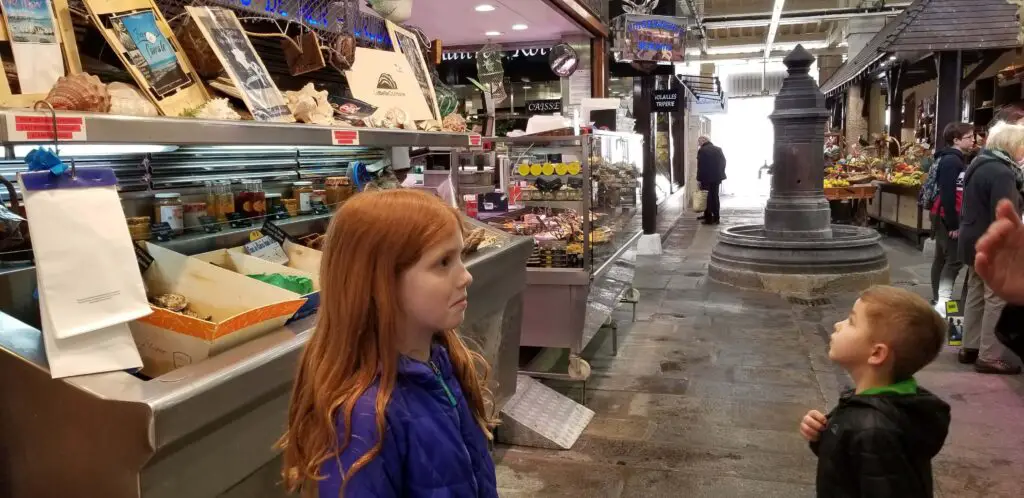 We started off our third day in Paris with yet another With Locals tour.  The With Locals Family Food Tour started off with a walk long an elevated park to discuss some Paris history and culture and leads to a market for exploring various spreads, cheese, olives, and much more.  We gathered delicious bread, dips, and pastries while learning more about French food.  Our tour concluded in a little wine bar for a tasting.  Our experience was delightful and felt very local.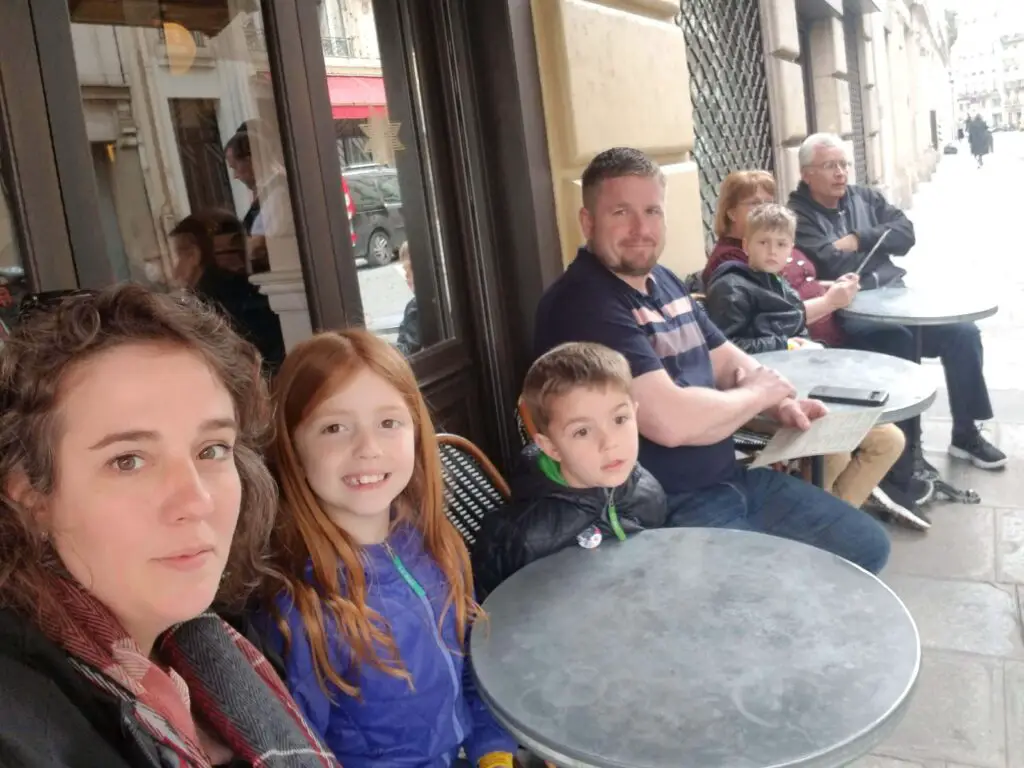 After our tour, we rushed over the starting spot of canal based Seine Cruise.  With a little time to spare, we had drinks at a sidewalk bistro.  We did this a number of times since the outward facing bistro tables feel so quintessentially Parisian.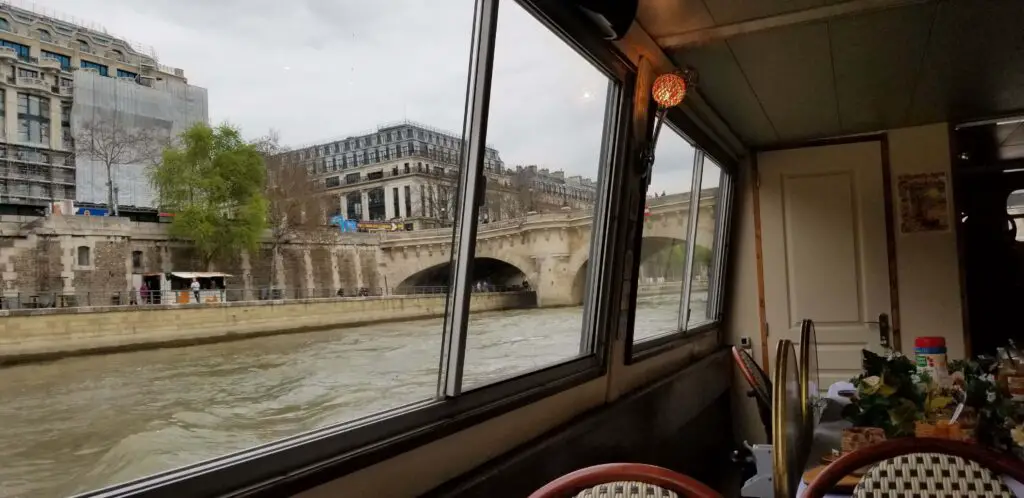 We chose this cruise because it wasn't large scale and felt less touristy.  In addition to starting in Canal St. Martin before making its way to the Seine, guests also enjoy crepes and drinks from bistro tables while cruising.  This was a very approachable way to tour the Seine with kids.
Dinner this evening was back in Montmartre for escargot, French onion soup, and cheese fondue at another sidewalk cafe – the perfect ending to a day in Paris.
Day Nine – Disneyland Paris
An optional day on your family trip is to visit Disneyland Paris.  We again used our Passe Navigo to travel by train to Europe's part of the Magic Kingdom.  During our visit, prices were reduced as many rides were under construction.  This suited us fine as we knew it would make a quicker trip before we had to make our return to Paris.  The trip is less than an hour by train and you arrive right at the park.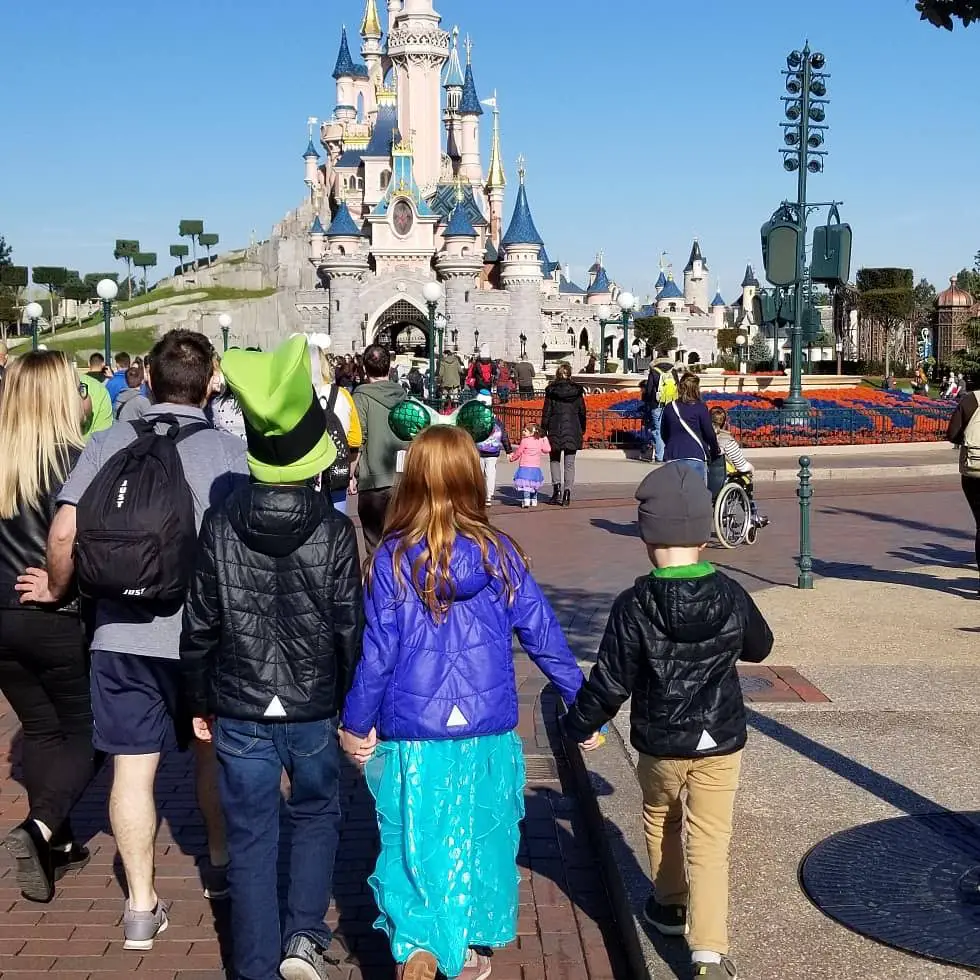 Disneyland Paris is much smaller than Magic Kingdom in Orlando.  I would reserve this option only if you have the extra time to spare or are big Disney fanatics.  My favorite part was sitting in the Old West style saloon with American accents used in the recordings and by actors while sitting outside of Paris; just ironic to take in.
Day Ten – Louvre and Montmartre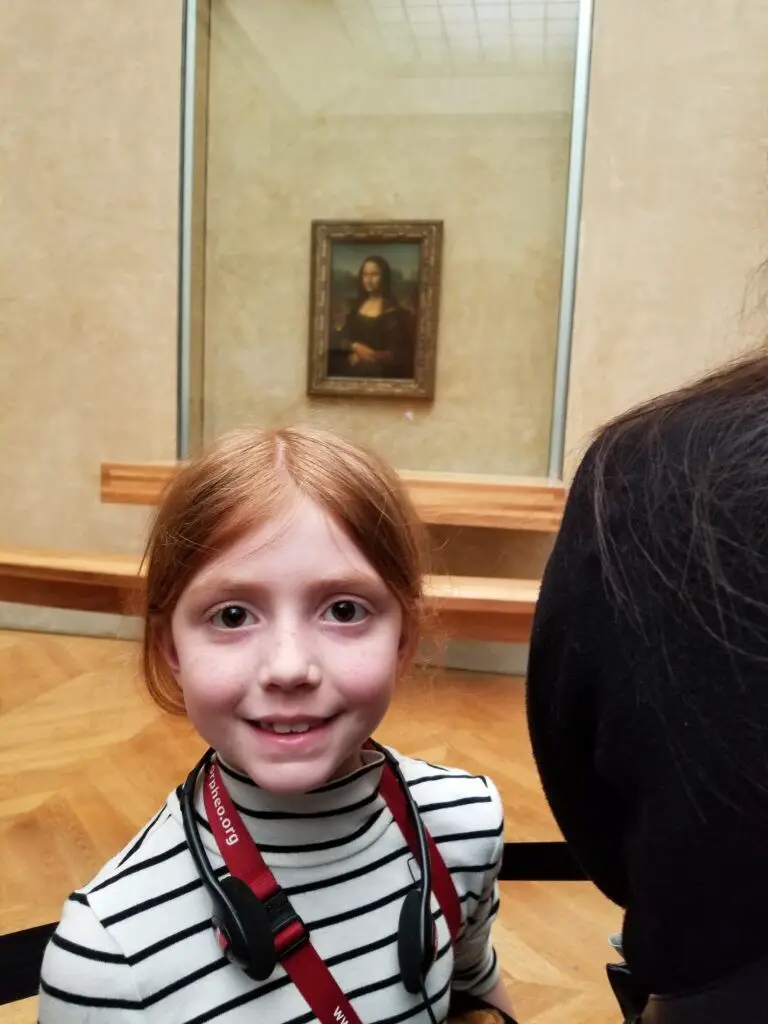 Mid-morning of this day, we scheduled a Louvre Tour. This type of tour is a medium size group with an English-speaking guide.  This worked well for our family with smaller children because we were unsure of their interest level.  We also had audio guides that allowed us to hear more about what we were seeing.  In this way, we could get up close when we wanted to, but also fade away as a kiddo got upset or bored.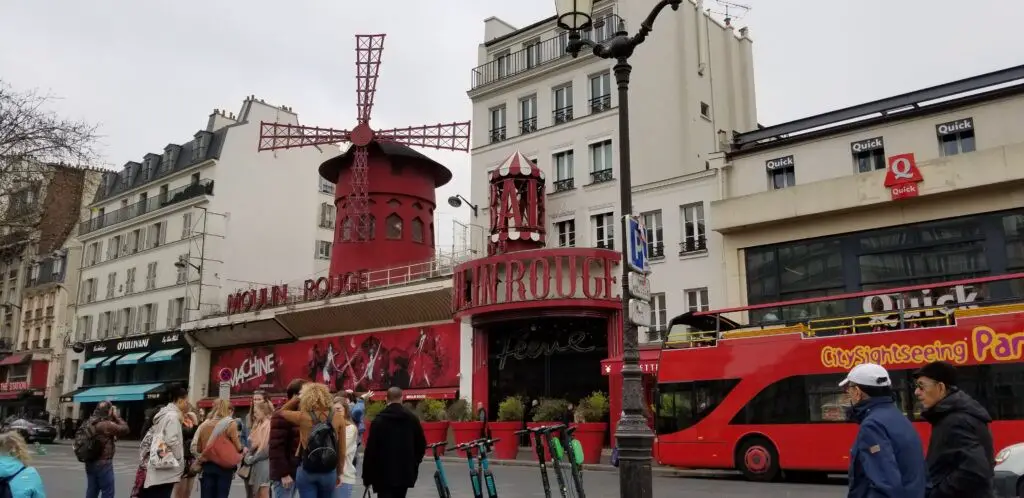 Afterward, we grabbed lunch at a bistro a walk away (always a good idea to move away from the tourist attractions).  We then took the Metro to Pigalle station on the southern boundary of the Montmartre neighborhood.  Walking west from here will take you through the "red light" area including Moulin Rouge.  (This is limited to shop windows with provocative displays.  Depending on the age of kids, this may welcome some discussion.)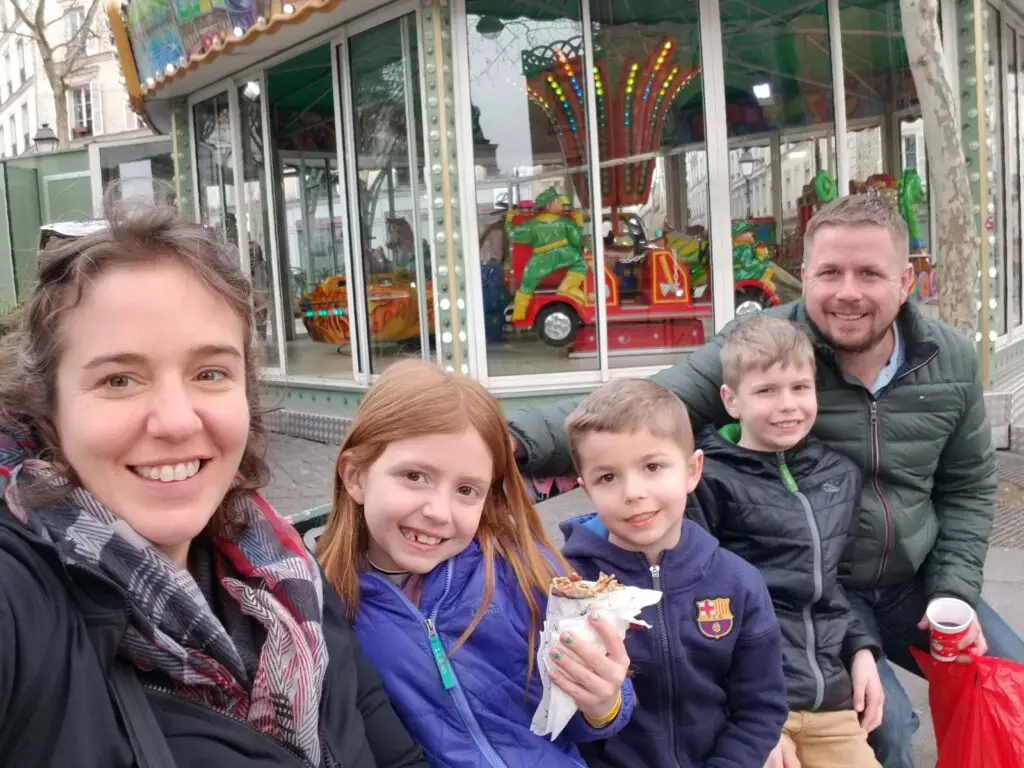 An alternative or addition to the train ride is to proceed about 4 minutes walk North from Pigalle station to the area near Abbesses station.  This is a park with a carousel, vendors selling crepes and the famous "Love Wall".  We fit both in at different times while exploring Montmartre.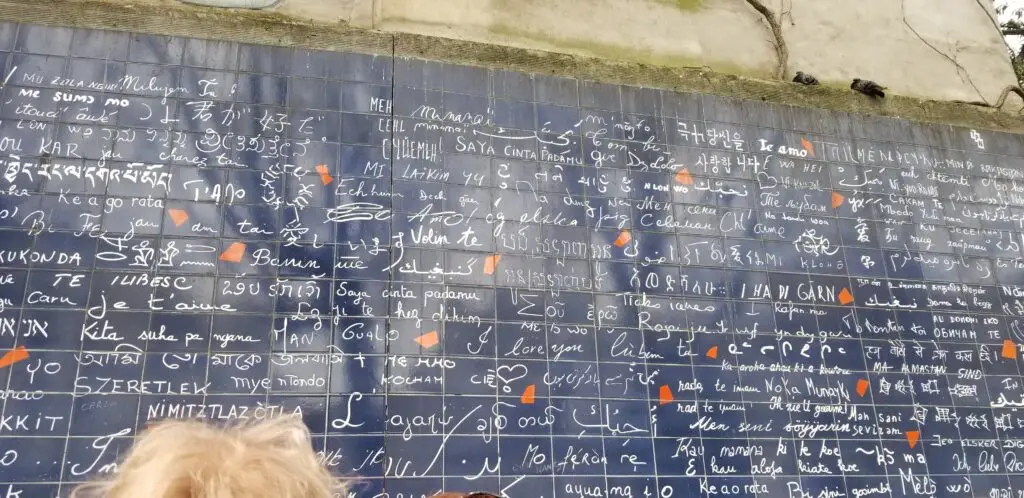 Day 11 – Normandy OR Montmartre
On this day, we decided to divide our group.  My parents were interested in making the day trip to Normandy and we felt confident our little ones would not be amused by this trip.  They had a great tour booked through this link.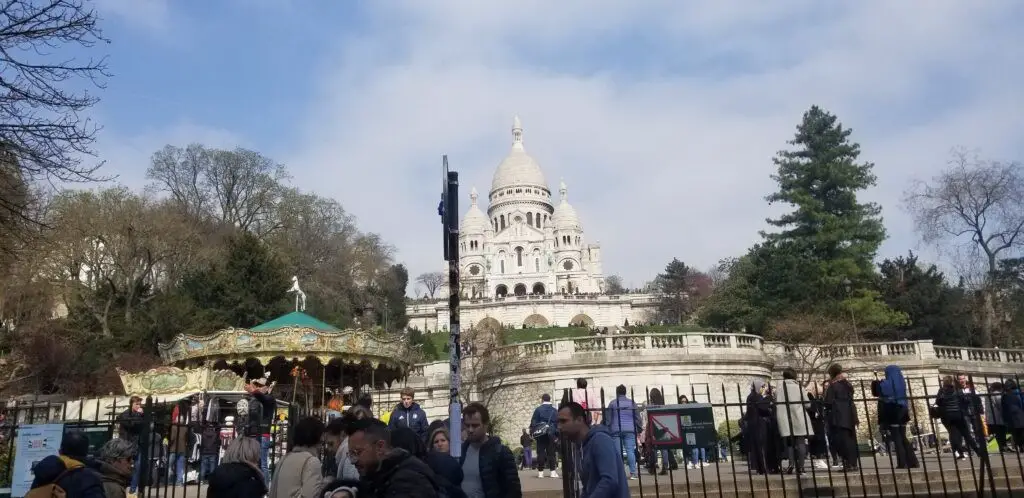 We had plans to move around the city all morning and continue to enjoy Montmartre for the afternoon.  However, protests inhibited this and the afternoon protest was in our neighborhood.  We decided to stay close to the apartment for the morning and be sure we were out of the way for the afternoon.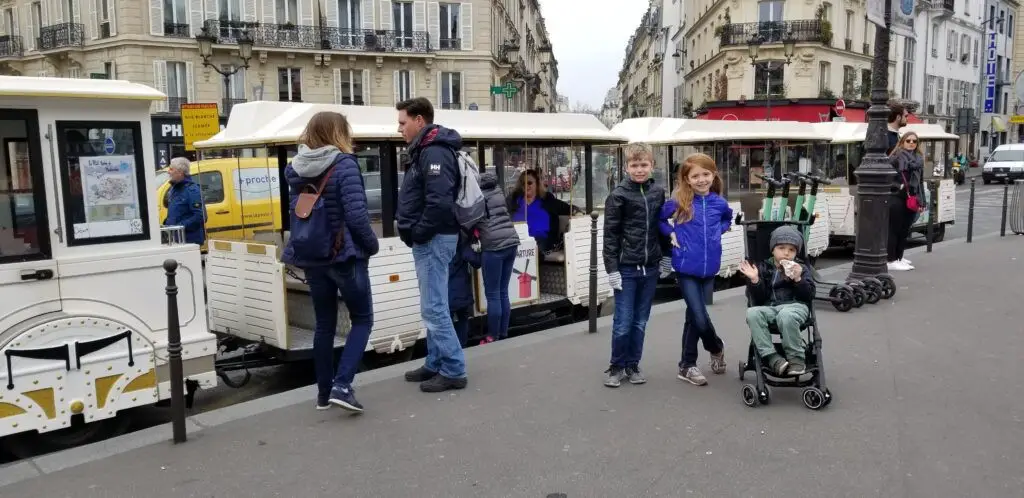 We started out with beautiful pastries in the morning.  We made our way back to an area across from Moulin Rouge where there is a little train that runs most day until 6 pm or later in the summer.  It's a 40 minute ride cycle for 6 euros per adult.  It stops by Sacre Coeur where you can get off and re-board after your visit.  We rode without getting off since we had already visited.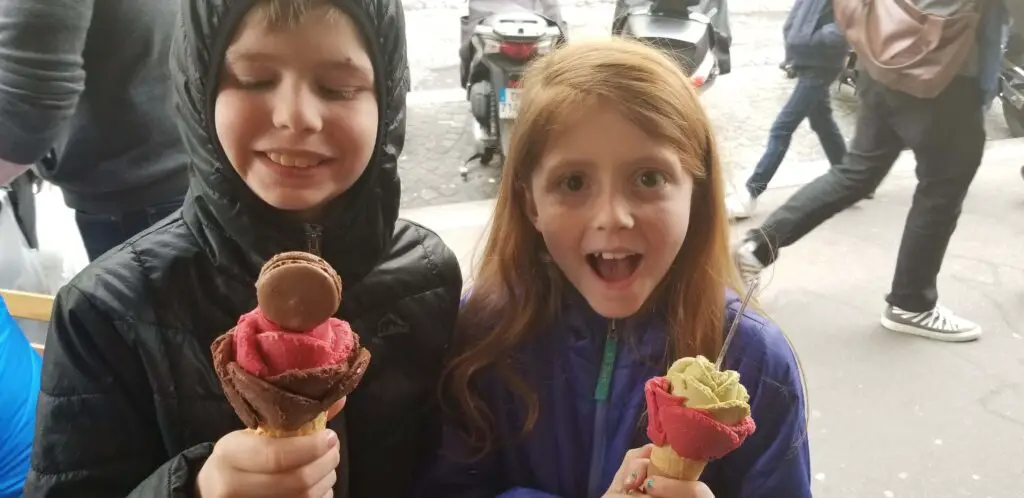 We ate lunch at La Sancerre and got beautiful rose shaped ice cream nearby before returning and observing the protest from our apartment windows/small balconies.
After everything calmed down and my parents returned from their tour, we had dinner in the neighborhood including raclette – so delicious.
Day 12 – Eiffel Tower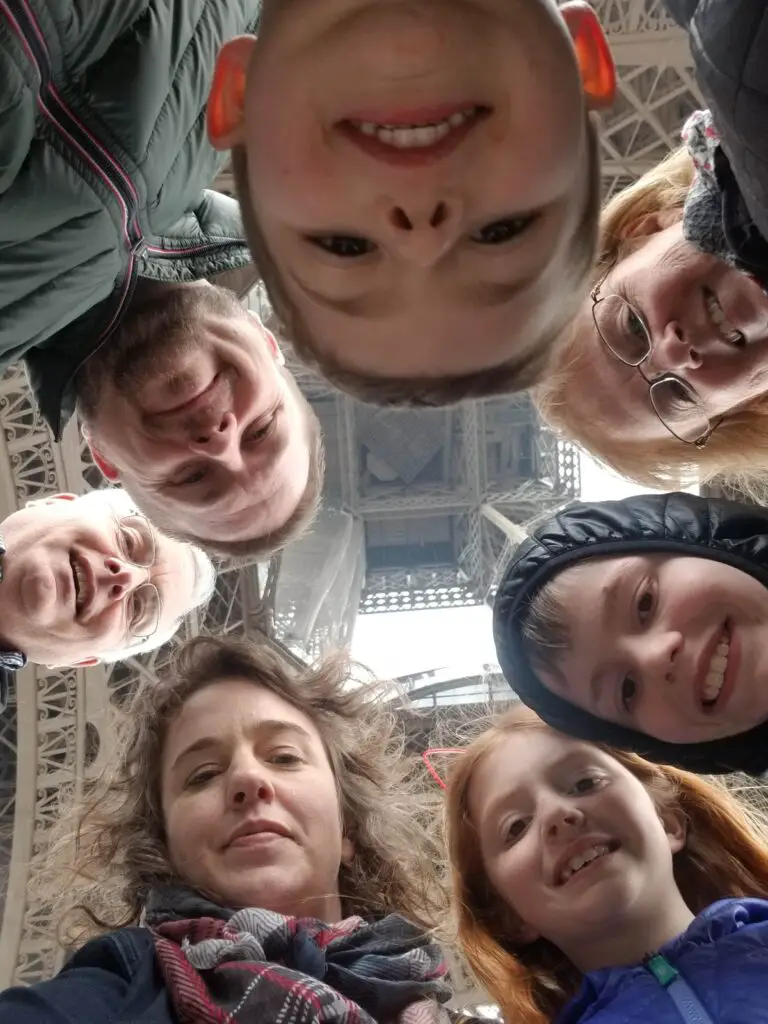 It seemed fitting that we devote our last full day in Paris to its most iconic landmark.  We had passed it by bus, walking, and had seen it from a distance several times, but this morning we bought tickets (in advance) to visit its middle decks.  We did not want to go to the very top.  We waited in line and rode the elevators to our stop.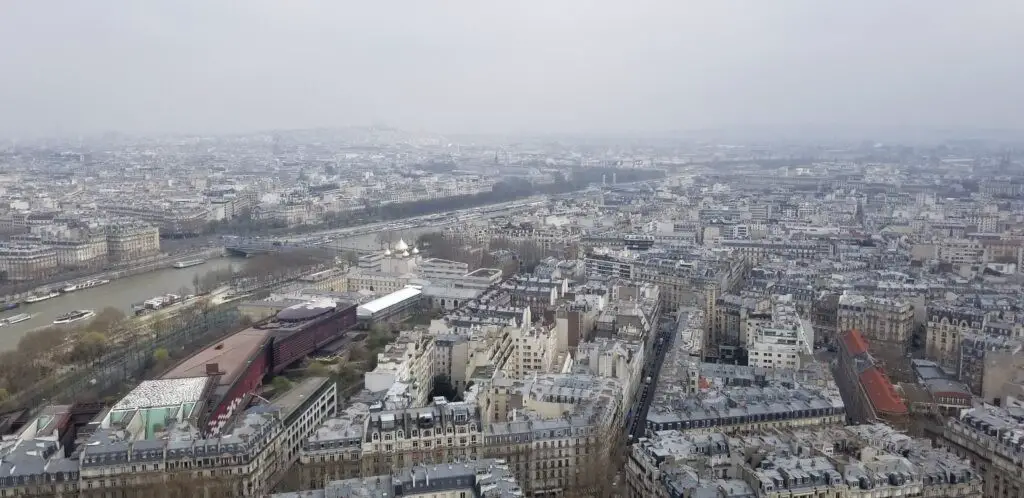 We got snacks (seems like a theme) and took photos of the views with ourselves inserted.  You have an arrival time, but can stay as long as you like.  When you're ready, you just get back in line to ride down.  The grounds around the tower are mostly closed so the idea of picnicking below the tower is an obsolete concept.  There are many vendor selling trinkets and many restaurants in walking distance.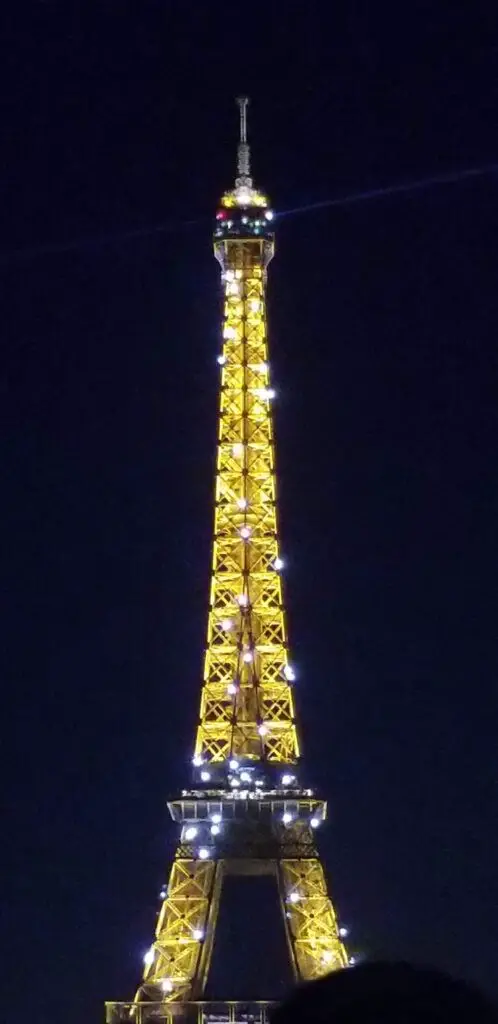 We spent our afternoon preparing for our trip home, but decided to visit a restaurant that would afford a nighttime view of the Eiffel Tower.  We chose Cafe du Trocadero which has some tables with a view and allows you to easily go out when the tower sparkles every hours.
Day 13 – Travel Home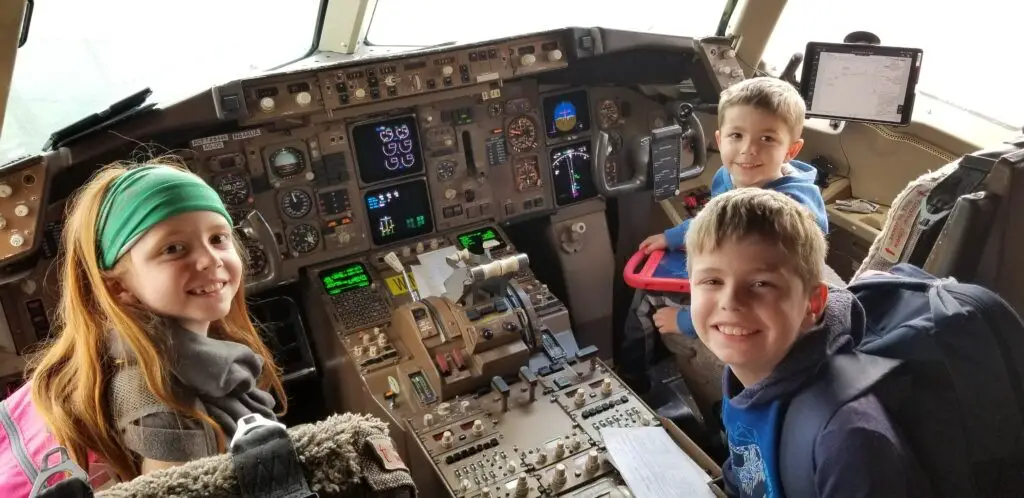 This last morning, we needed to arrive at the airport around 8:30 am so we were on the move early using private transfer.  We used BT Transfer which was reliable and easy to book.  The kids had one final surprise as the pilots invited them into the cockpit on our flight.