If you haven't already read the first half of my Croatian Southern Dalmatian Coast itinerary, check it out here.  This itinerary included three primary destinations and some stops along the way.  When I left off in Part One, we were on the island of Hvar in an abandoned village that is slowly being renovated.  It is so charming and unique and one of the most beautiful places I have seen.  That AirBnB rental can be found here.
Let's pick up the itinerary with my favorite day of this entire Croatian stay:
Day 10 – On the Water
I highly recommend taking to the water to fully appreciate the island of Hvar.  Just as when you arrive in Hvar Town, there are lots of people there to party, there are island coves filled with party boats, and there are people on week long yacht trips (particularly in the summer).  However, this is not representative of the beauty you can find around Hvar.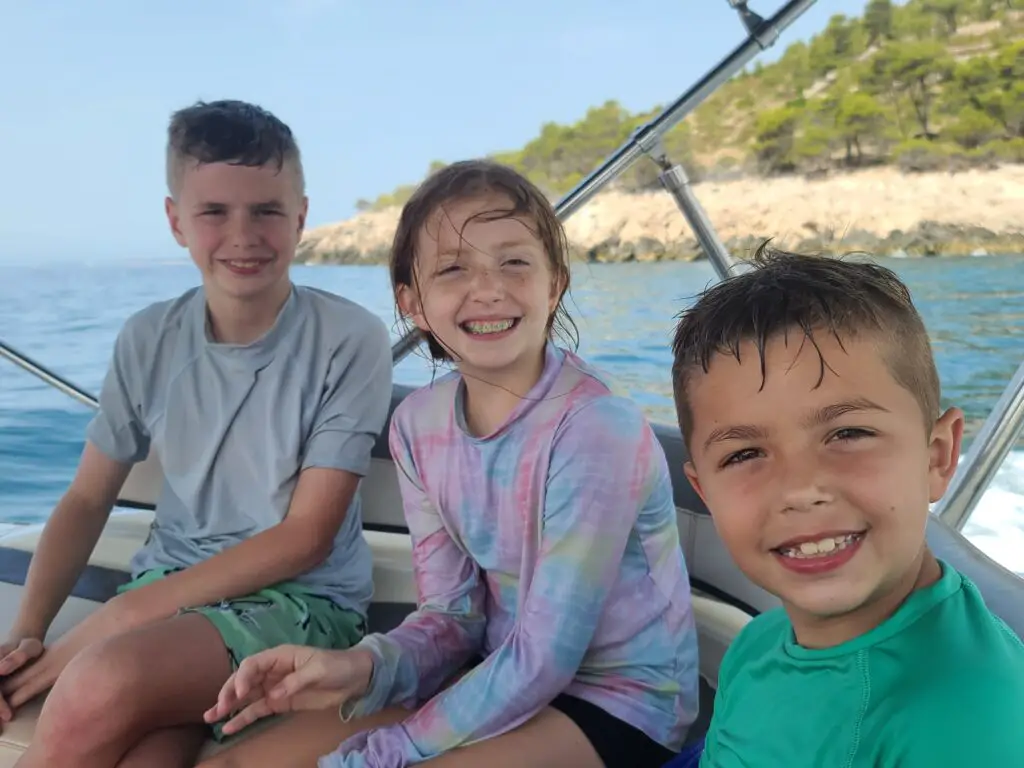 We chose a tour from Viator (you can find it here) at the mercy of reviews and our best understanding.  I would say this description was mostly a suggestion and that our captain really customized the tour to work best for us and what he knew we would enjoy.  Because we were staying in Zarace, we parked at our rental owner's spot near the beach and boarded the boat off of the beach.  I will admit at first I was unsure if this was the right tour as I'd been communicating with someone else via email and our captain didn't seem to know my name.  We sorted it out and everything worked fine.  I had asked about kids life jackets and there were the life saving bright orange type so we used them more as floatation devices until we were comfortable everyone was handling the water fine.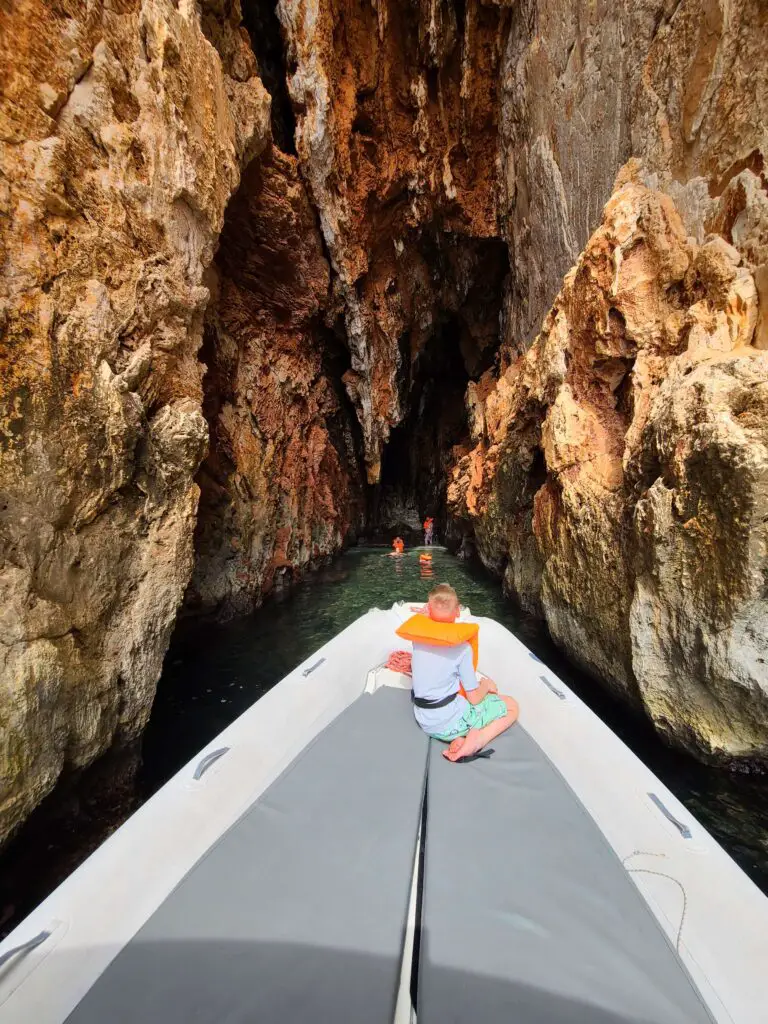 Our first stop was at Crvene stijene (known as "red rocks"), which are a limestone cliffs colored red tones from the sea and water.  They are small natural inlets where you can snorkel and stand in the absolutely clear blue water.  You will want your water shoes as there are many sea urchins.  We had water shoes, but didn't know we would be able to stand so we had not yet put them on.  Our youngest learned this the hard way.  It was painful and is a lot of work to remove the spines.  The Croatians we discussed this with were not very concerned as it was commonplace, but the internet is full of scary info about sea urchins.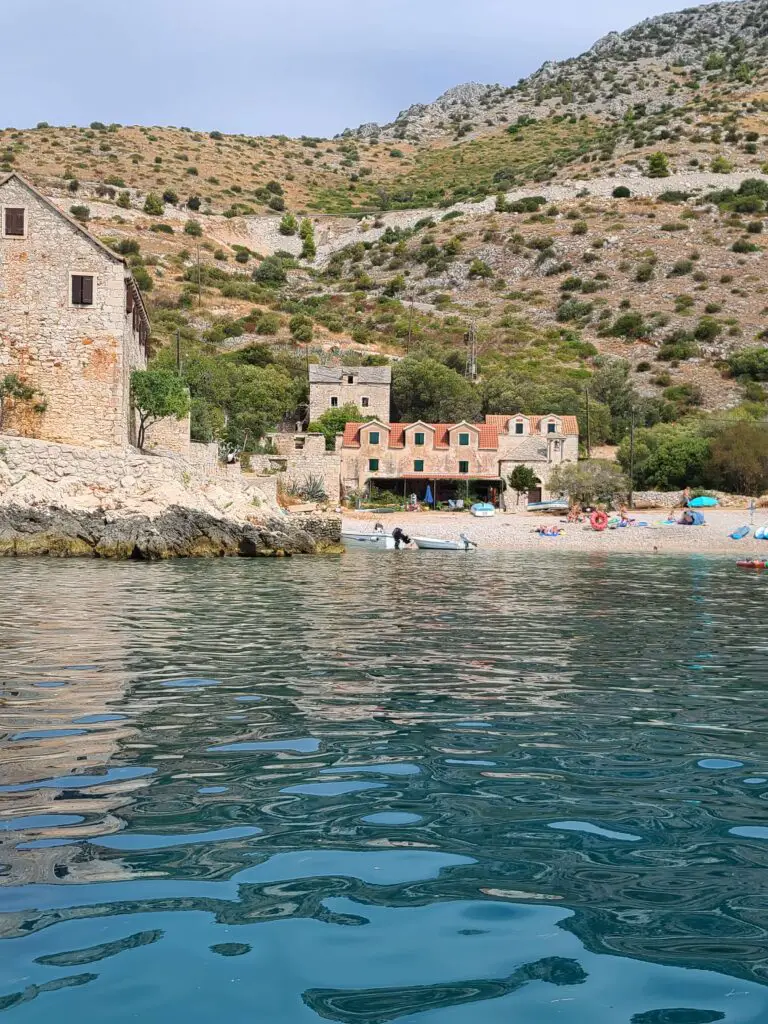 From here, we rode to Dubovica Bay, listed by many travel sites as one of Croatia's most beautiful beaches.  We had seen cars parked precariously along the road above this beach and were not interested in the 10-15 minute climb down the hill to get there so arriving by boat was the way to see it.  We anchored and swam in.  There are some older buildings here including a beautiful home which had their windows opening playing classical music, really enhancing the scene.  There is some food available here, but I've read mixed reviews.  Our kids enjoyed playing on the pebble beach while we just took in the beauty.  Snorkeling here is fun and you will find all types of small fish.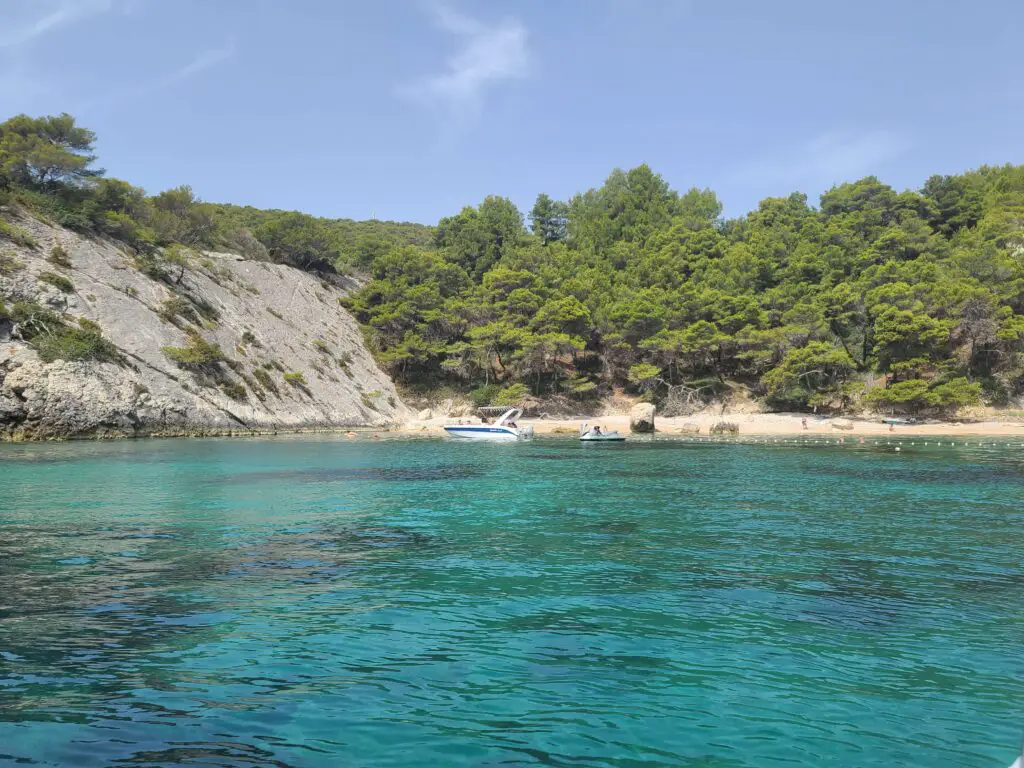 Our next stop was a quiet cove called Velo Borce near the town of Milna.  There were only handful of swimmers and people on the beach.  There were more boats than people in the water.  There is a roped off area for swimming and the water is a beautiful sea green and clear to the sea floor.  There were a couple of topless bathers, which we encountered at another location as well.  I share this for the cultural recognition since we, Americans, tend to be bashful about this and I wanted to make sure our kids were prepared to respond appropriately.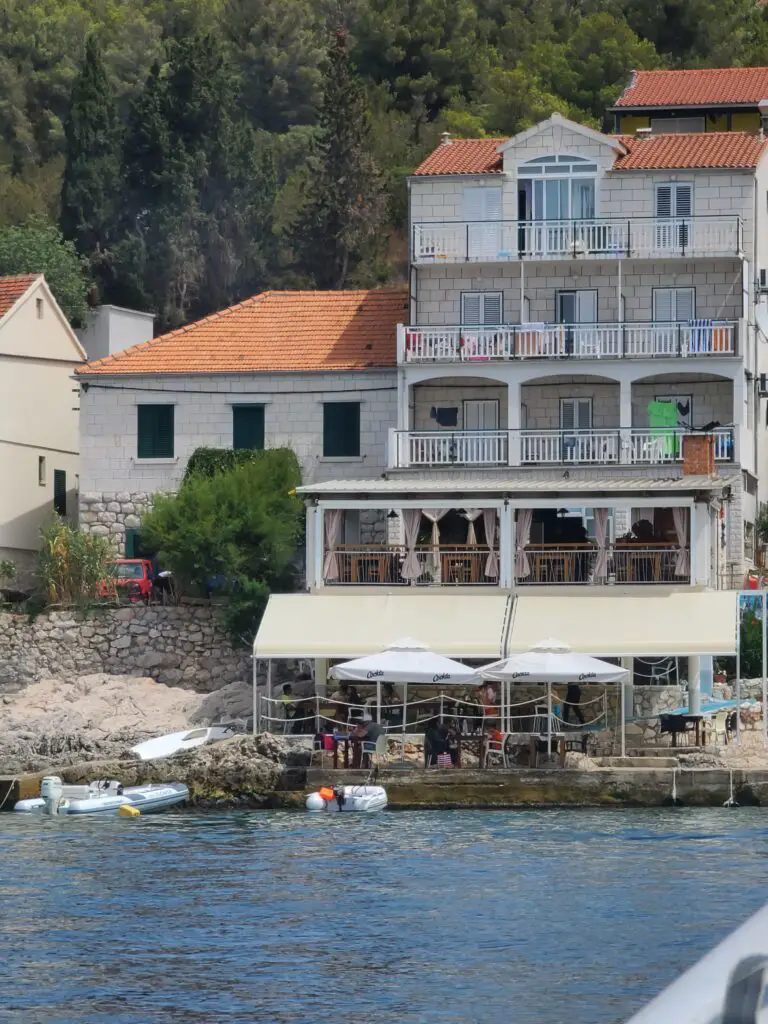 After our swim here, our captain took us to a restaurant in Milna, Konoba Smrceva, where he knew the family.  It was a busy spot with many tourists, but the food was good and the view was tremendous.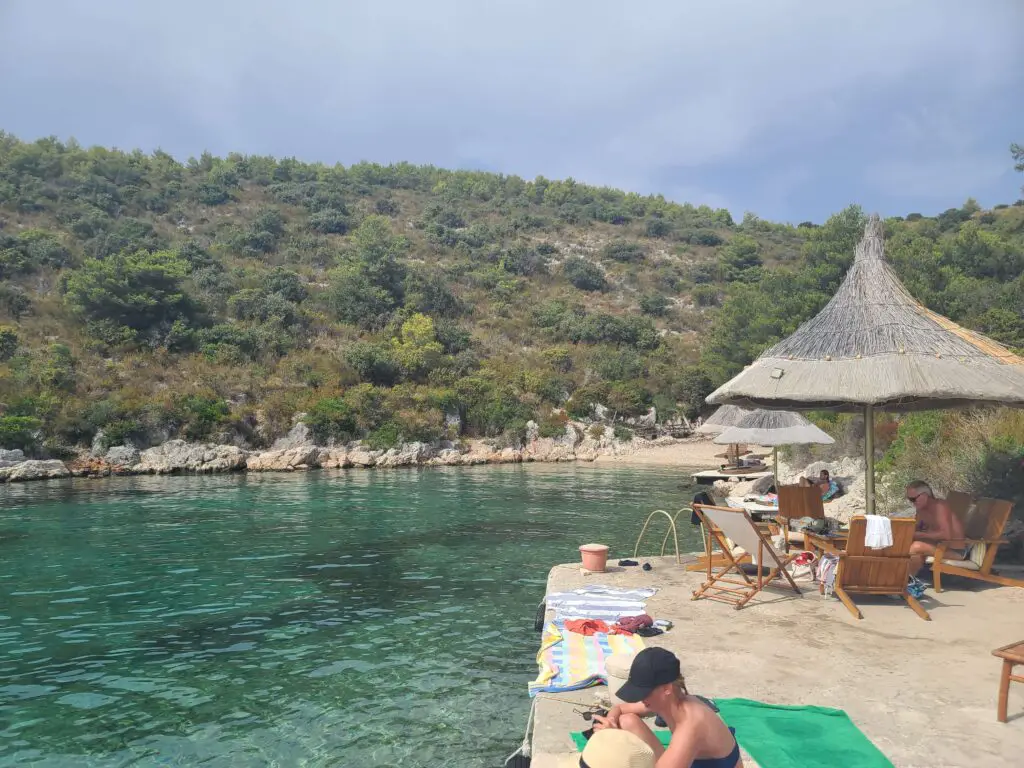 Our final stop of the day was a private beach bar called Calma. Again, our captain knew the employee working and instructed us we only needed to buy a drink in order to have a table and enjoy the cove.  There were only a handful of boats and maybe twenty people lounging.  The kids were able to enjoy the beach and the natural "tide pool" our son discovered while we cooled off in the water and relaxed.  It was absolutely perfect.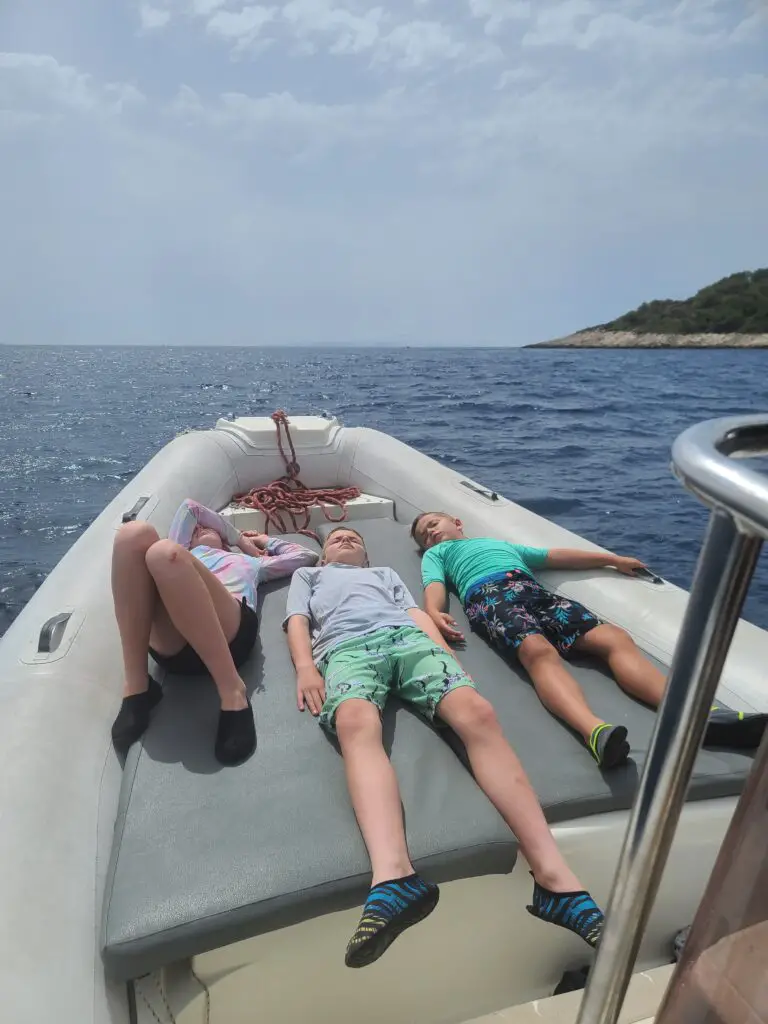 We could have stopped at more places but chose to tour around.  Our captain took us to several more coves and the Pakleni islands.  Some of these destinations seemed local and unknown and others were full of people and boats.  We were tired and just appreciated the scenery.  My husband drove for a bit on our return from this great day.  We all agreed this day was a favorite for all of us.
Day 11 – Last Day in Hvar
For our final full day on Hvar, we chose to visit the other side of the Zarace two horned bay, Beach Velo Zarace.  We didn't realize initially, but this beach has a handful of rentals along with a restaurant so you could truly spend your holiday at this isolated beach.
There were quite a few people there when we arrived but the span of the beach offers lots of space to spread out.  The water here is blue and quite clear until you get out further.  There are massive boulders the kids (and some adults) explore and climb.  One in particular is located away from shore and has a ladder attached for jumping off into the water.  Our kids really enjoyed this.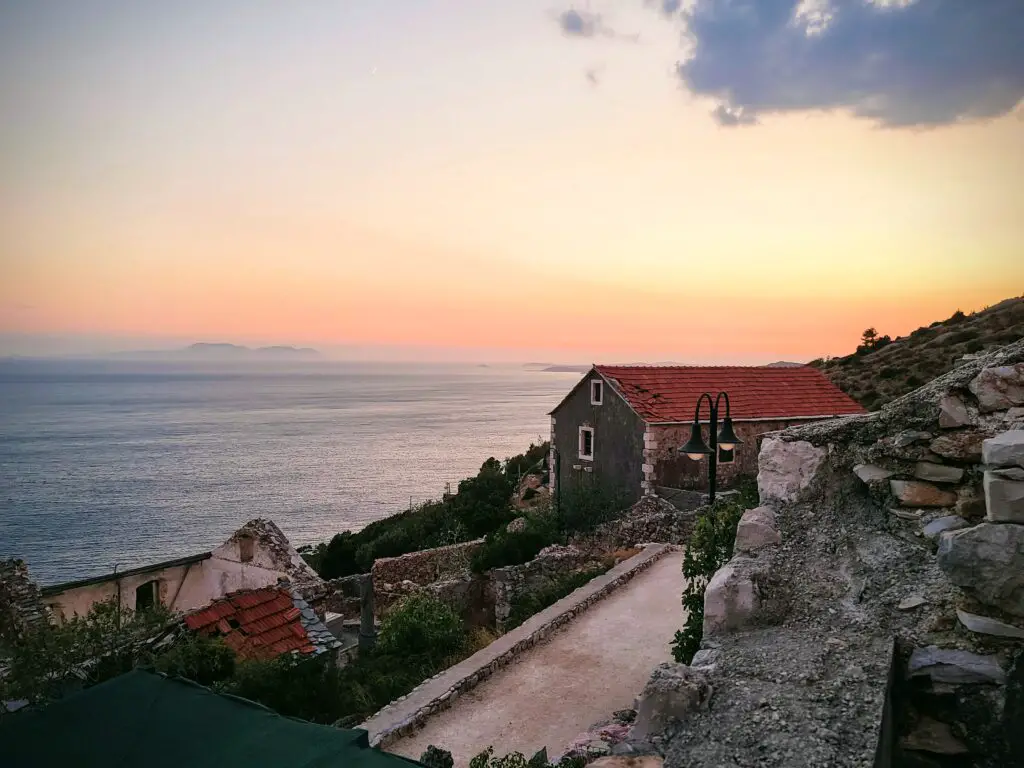 The remainder of this day was spent taking in our beautiful sunset view one last time and packing for our next stop.  We spoke a great deal about what an adventure the island of Hvar was for us and how it expanded us staying in this unique spot and all of the wild driving and parking experiences.
Day 12 – Ferry to Split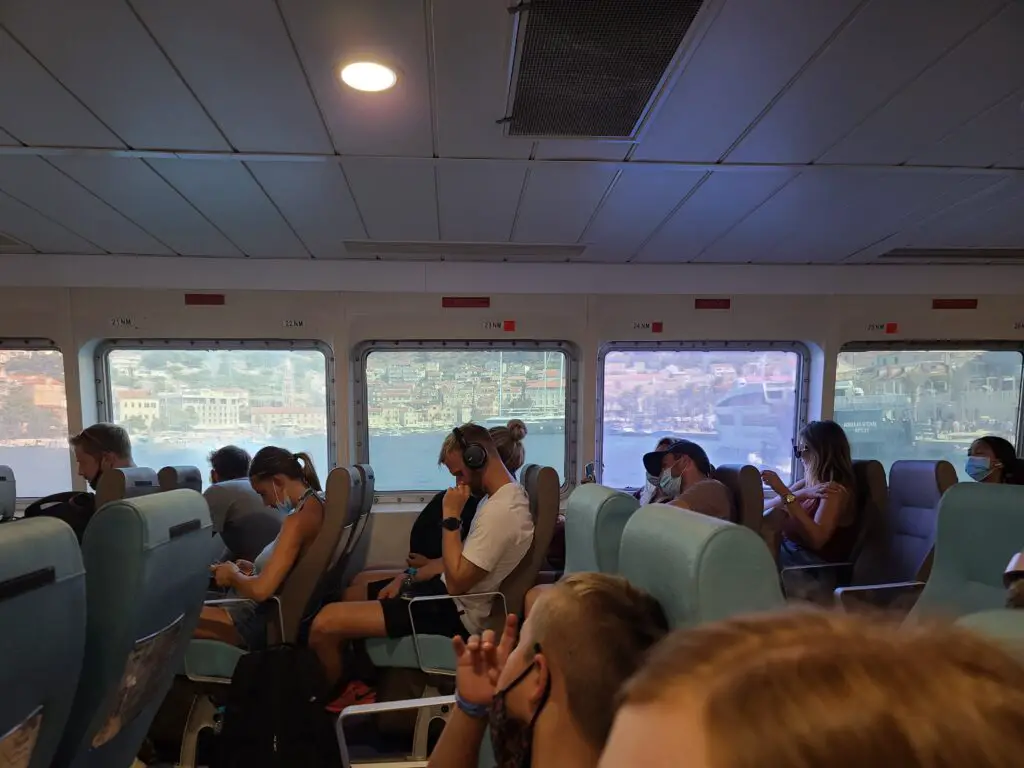 After cleaning up our rental, we returned to Hvar Town to turn in our car at Sun City Hvar.  Our check out experience was really easy and they were friendly.  We proceeded down the promenade where we had disembarked.  We were scheduled for the 10:50 ferry, but realized there was an earlier (10am) option which cost us just a few dollars to switch our tickets in order to leave sooner.  The Jardrolinija ferry was again a large vessel with many seats and a snack counter.  It was prompt and everyone was friendly.  We didn't realize the difference between our original ferry and the one we took was that the earlier would be quicker with less stops.  Unlike our first ferry of the trip, there were no announcements and it wasn't until nearly everyone had exited we figured out we were already in Split, just 90 minutes later versus the two plus hours we expected.  Thankfully everyone was kind to the foolish Americans who didn't know where we had docked.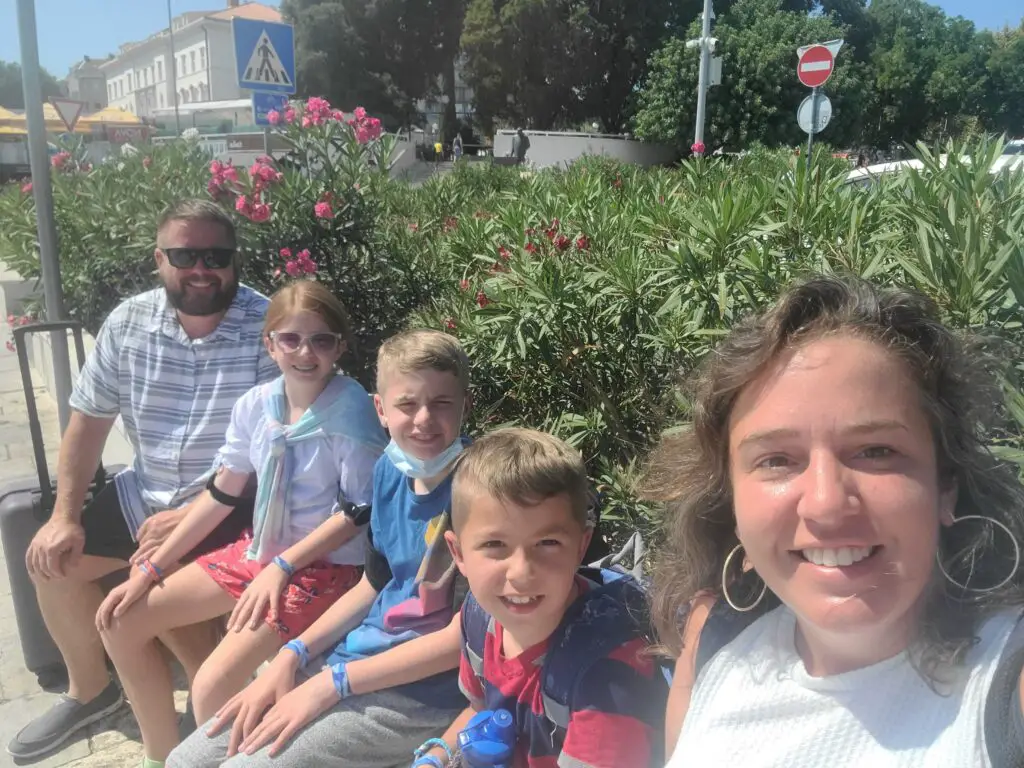 The heat of August led us to find a restaurant in the shade with misting fans on the Riva (meaning waterfront in Croatian). Most restaurants along this promenade seem to have similar offerings and all are targeting tourists with their photo boards and price tags.  You can also find ice cream in several spots along here and east of the restaurant, there is a large market of tents.  In front you will find trinkets, toys, and souvenirs, but behind those rows of tents is the Green Market which is a farmer's market full of local produce, cheese, and homemade specialties varying by the day.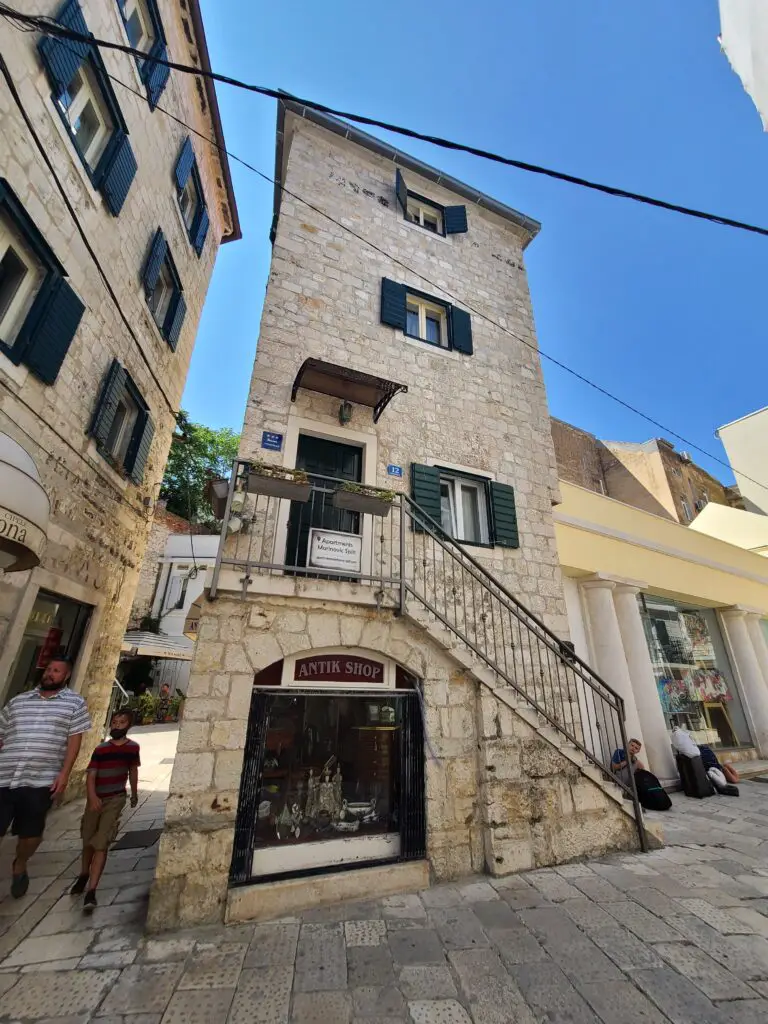 Using wifi only (versus getting a local phone or SIM card) can provide challenges.  This afternoon our rental house was not going to be available for a couple more hours and I couldn't be sure my messages were finding our way to the host.  Most tourist cities like Split have some form of public wifi, but it can vary by where you are in the city.  We decided to find a little shade at the benches along the waterfront park, play some games, and wait.  Our rental was ready right on time and very convenient within the Old City, a few minutes walk from the Riva.  We liked this location for proximity to everything, but also that somehow our little alley was quiet even though it was close to everything.  One night we did hear people finding their way home very early in the morning, but otherwise, it was a great spot and very charming.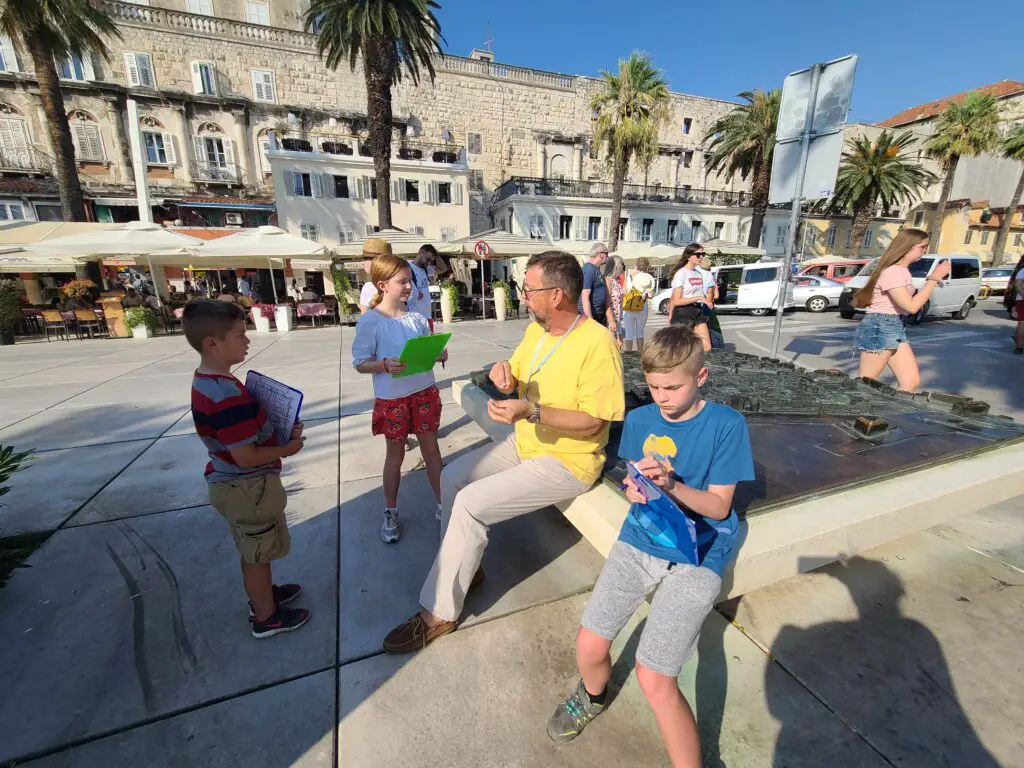 After briefly settling in our accommodations, we met our welcoming tour guide, Ivica, for a family friendly introduction to the history of Split, focusing on the Diocletian's Palace.  He was absolutely excellent with our kids and tailored the tour to them with a scavenger hunt while still engaging the adults.  We shared we enjoyed Game of Thrones so he included info about the filming sites within the palace walls.  After our lovely tour, he recommended a restaurant a bit off the promenade that was not quite as touristy, but still very friendly and approachable, Tinel.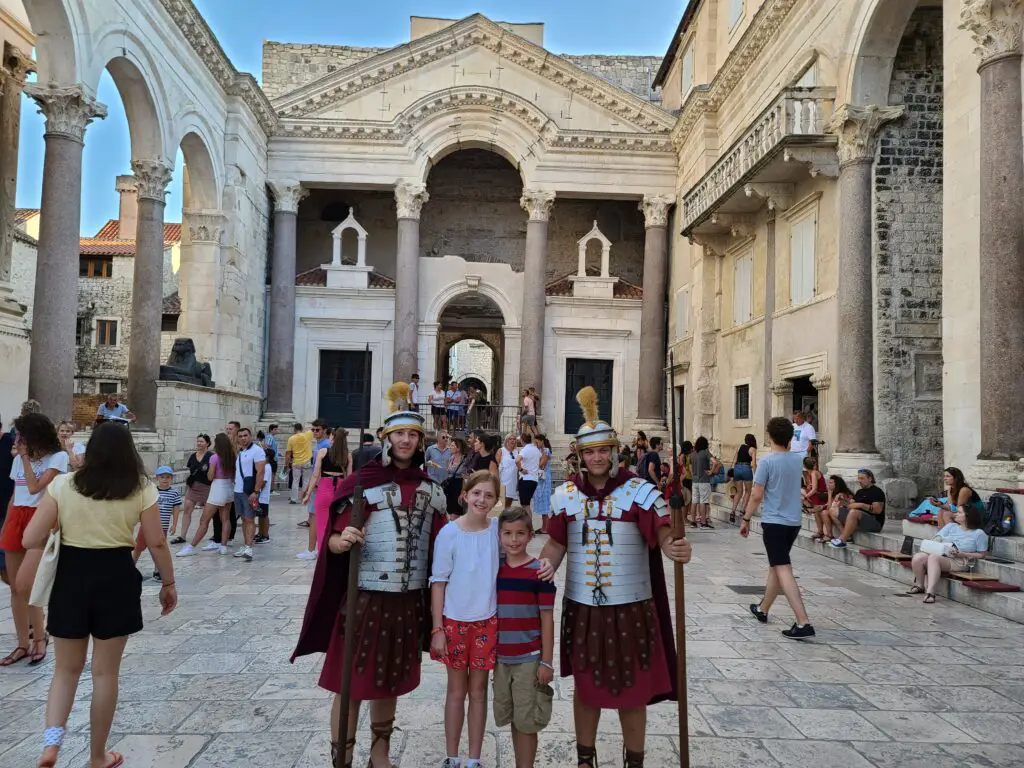 Day 13 – Swimming and Exploring Split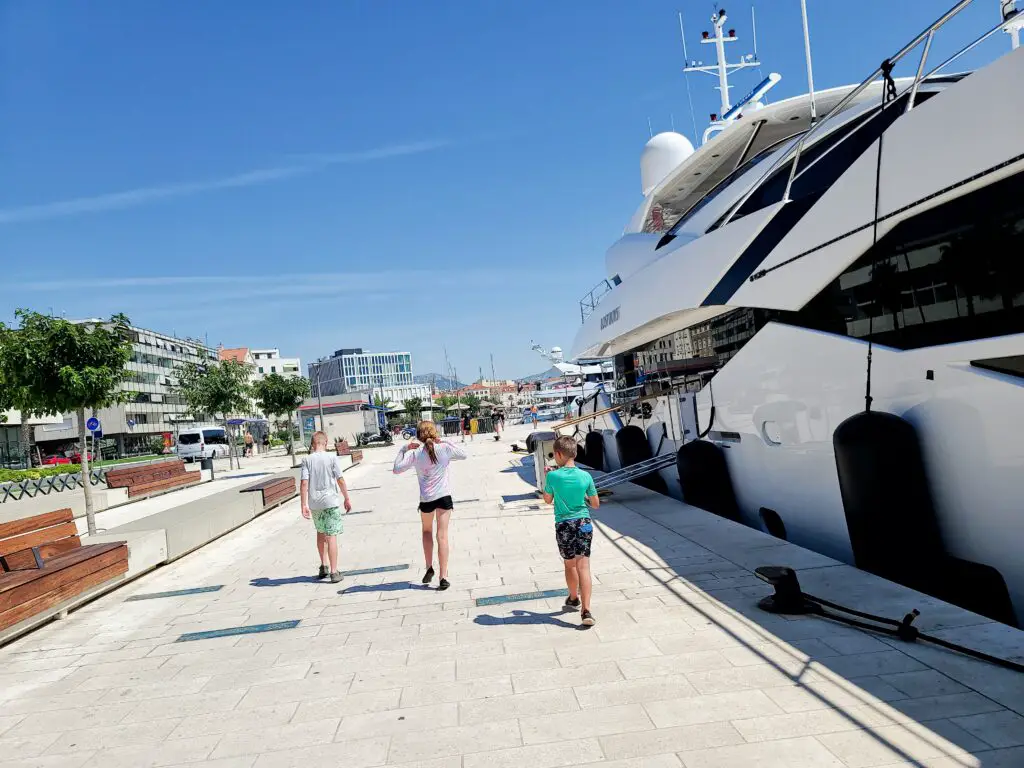 We kept our time in Split focused on the Old City and the coastline. On this morning, we ventured West from the Old City following the walkway along the port.  There are some cafes and in the warmer months, many yachts docking along this route.  It is truly amazing to take in.  The route turned to the right at a park called Park ze psa, which has big lawns and a playground.  If you cross the park toward the sea, there is a public beach club and a larger cove.  The area is identified as Uvala Zvoncac.  You can get snacks at the beach club and swim in a roped off area.  If you continue to follow the footpath around this cove, there is a rocky swimming area and even further is a pebble beach to enjoy.  The rocky area does have its own showers and the beach called Obojena has parking available if you have access to a car or want to take a taxi.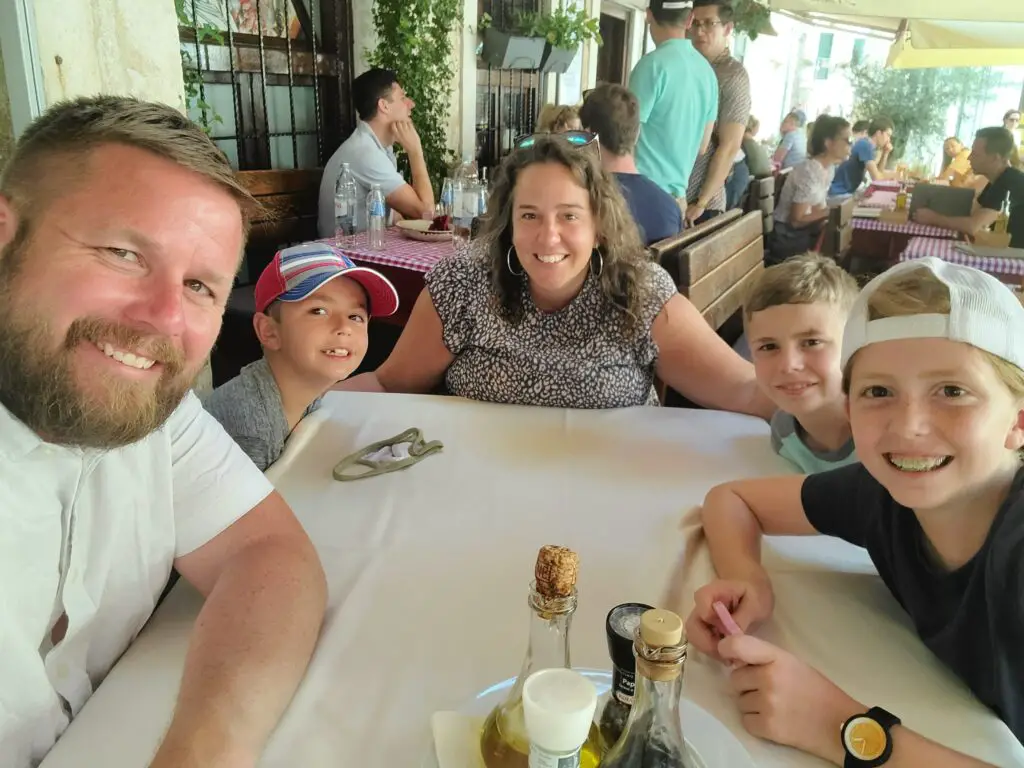 After our swim we returned to our rental to clean up for a late lunch at a restaurant near our home and began exploring.  Our kids found a store where you could weigh your candy selections – careful here, we were $100 USD in before we knew it.  We just wound around the streets in amazement for the beautiful old architecture and finding ourselves in spots we learned of the night before during our tour.  This lasted until everyone was too hot and tired so we returned back to our rental and stayed in for the night cooking our own meal.
Day 14 – More Split Perspective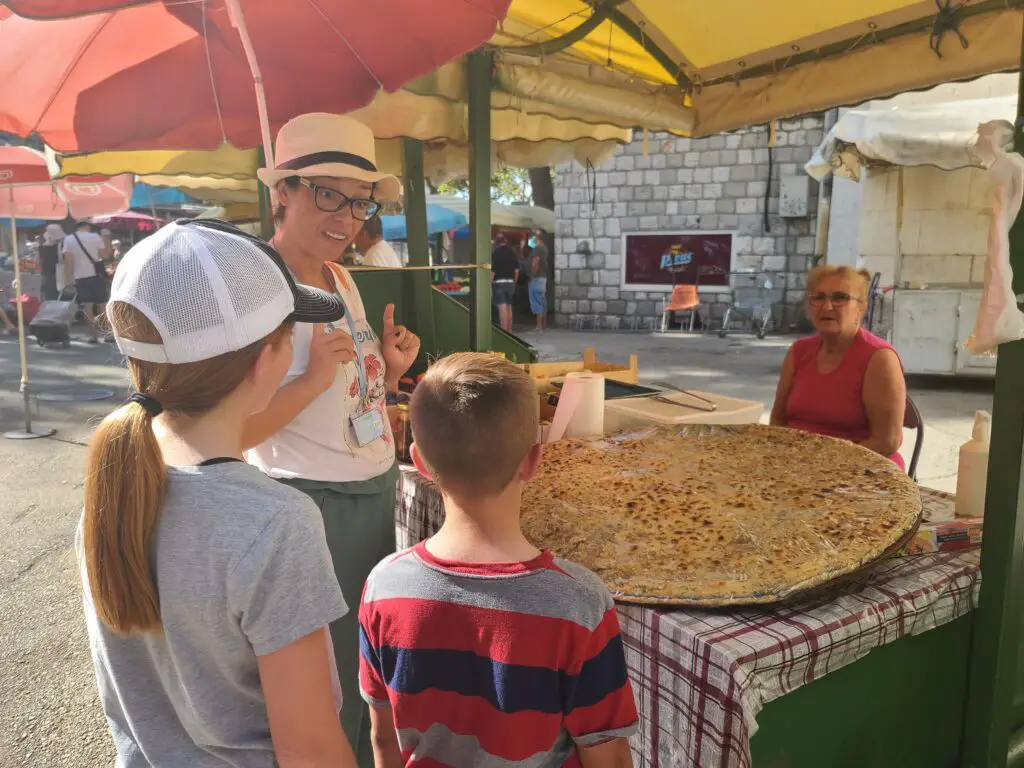 Feeling that we had a pretty good understanding of the Old City, we challenged ourselves to find a tour that would offer a new perspective.  We learned more about the Old City and surrounding area through the Sweet and Savory Split Secrets Tour by Jasenka.  I highly recommend any of her tours! Jasenka is so thoughtful, passionate and caring – especially great with our kids!  We began in the Green Market (also called Pazar on the map).  Our tour was ideally on a Saturday morning when local vendors come offering their homemade and homegrown goods.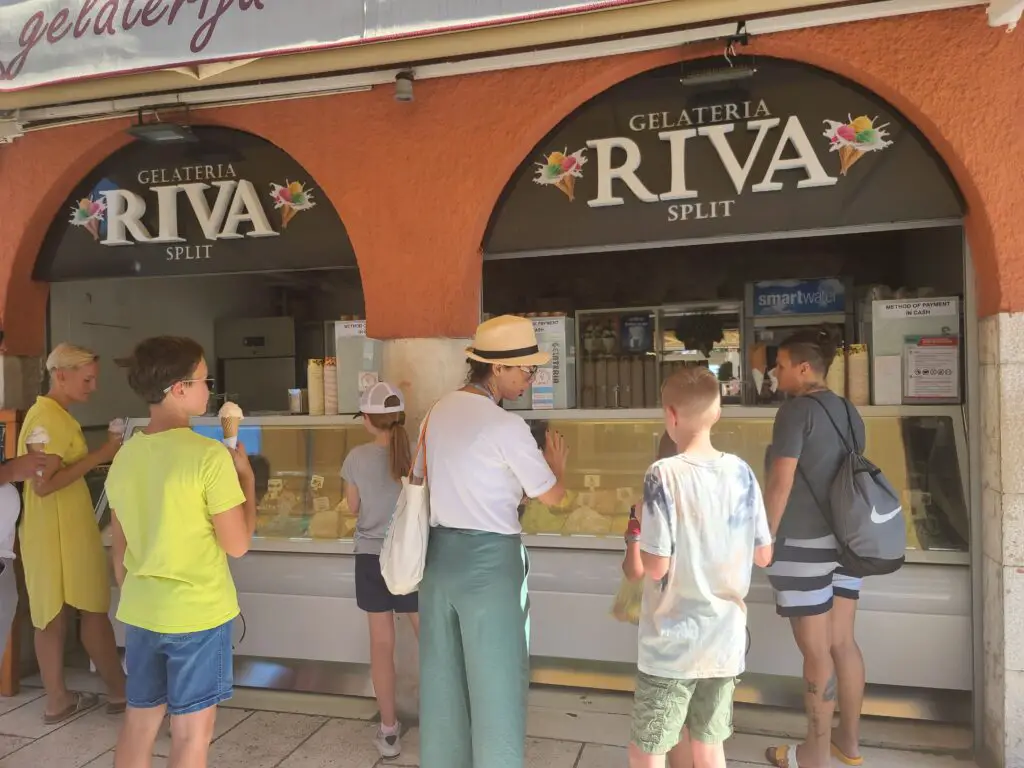 Jasenka's knowledge of where to try the best things allowed us to sample strukli (a thin pastry with layer of cheese, greens and lots of garlic in between), fresh and aged cheeses, and a wide variety of fresh fruits.  From here we stopped to cool down with gelato from Gelato Riva Split.  We wandered through some of the same streets we had begun to recognize, but this time with new insights.  We stopped for delicious chocolate at Nadalina (try the olive oil truffle!) and my personal favorite, a shop serving delicious meats and cheeses.  Jasenka offered some of her father's tomatoes with this last stop and the whole experience was delicious!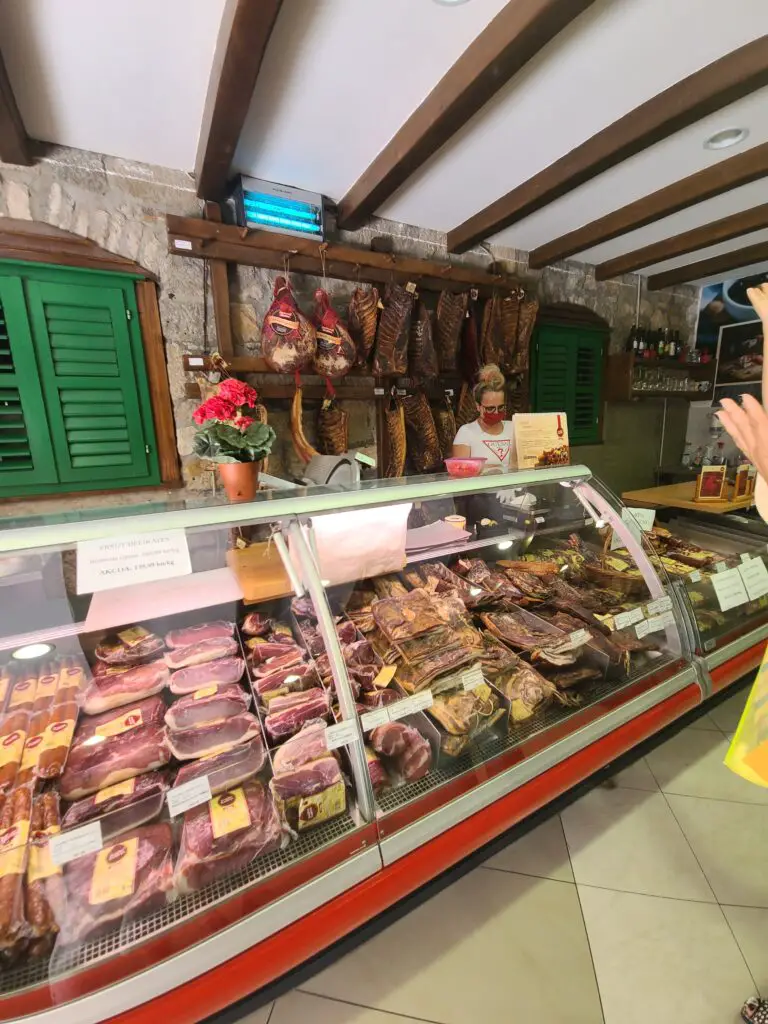 Post tour, we returned to our house to cool off before dinner at a restaurant that has unfortunately since closed.
Day 15 – Final Day in Split
We find when we are on longer trips that the last couple days can slow down quite a bit.  We get our packing and laundry in order, use up food that we will have to toss, etc.  This is especially true on a trip like this in very hot weather.  If we were staying at one of the resorts with a pool, I'm sure it would have included more swimming, but since we would have had to work harder to include that, we were comfortable staying in and getting things in order.  In less hot weather and a focus on the Old City, I would recommend cutting the stay in Split by a night.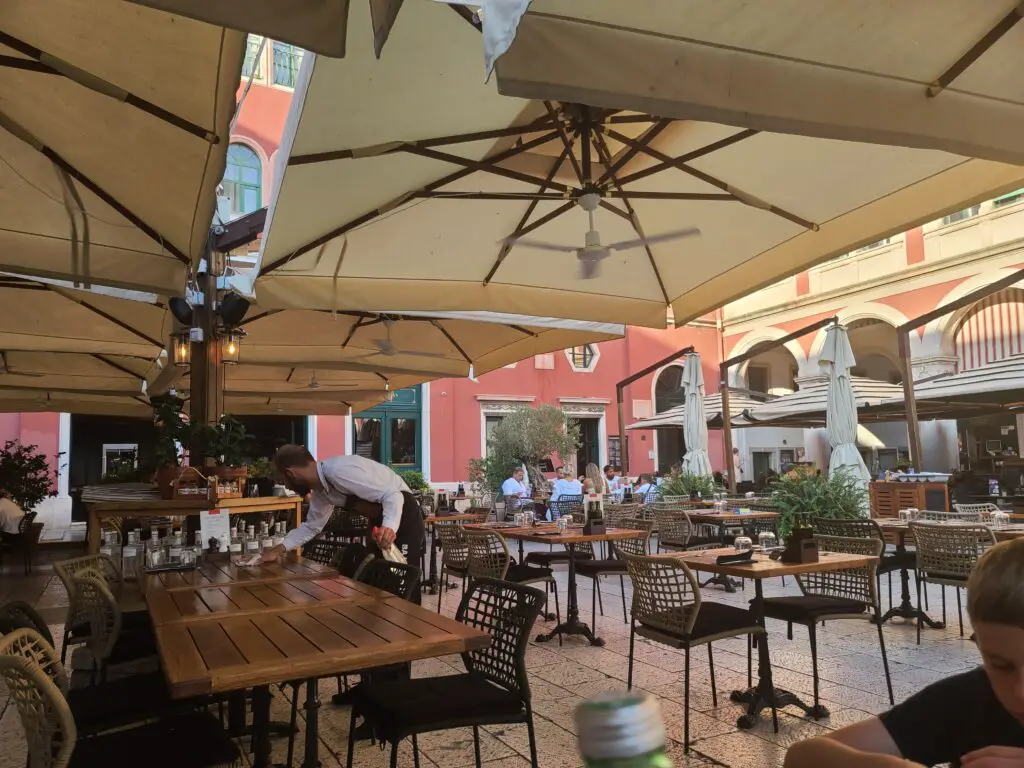 Our final meal out in the Old City was at Restaurant Bajamonti.  With a reservation, you can presume, you will enjoy a great seat and view.  We very much enjoyed our meal of burrata, pastas and meats with a view out onto the Adriatic Sea and returned home to prepare for our early morning pick up.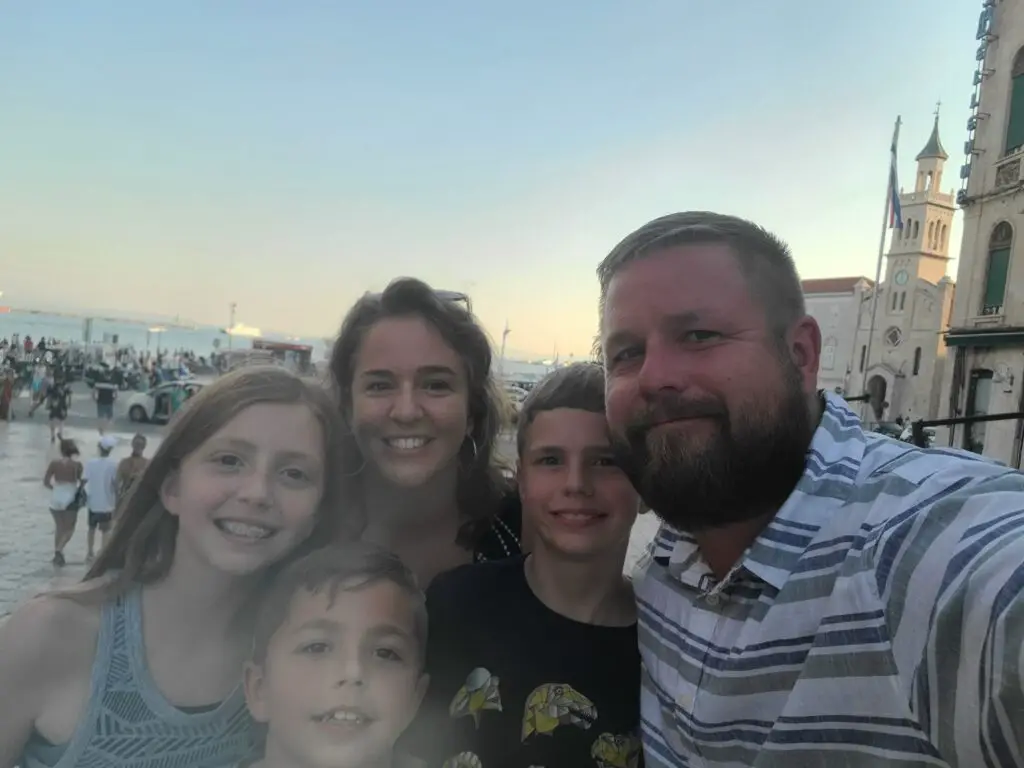 Day 16 – Transfer through Bosnia
If you are not familiar with geography of this area, it may surprise you to find out you cannot easily get from Split to Dubrovnik (or vice versa) without a boat or visiting Bosnia.  We chose the latter since we had experienced the ferries on the front end of our trip.  Since we traveled during a time when the pandemic was still a factor, we had to carefully consider Covid testing.  We did this in our apartment on the last full day in Split and were asked to show them at border crossings.  This allowed for us, as US citizens, to travel through Bosnia without further documentation than our passports.  Of course, you always want to double check this and hopefully your tour provider will be helpful if the information is confusing.
We booked our transfer through Croatia Private Tours and were extremely pleased with the communication and experience.  We were picked up very close to our apartment (as close as possible in a walled city) early in the morning to get on the road.  We had initially planned to visit Kravice Falls on our journey (which is quite possible), but decided against it when the company explained (and saved us from) temperatures of nearly 110 degrees Fahrenheit along the walk to the Falls.  We focused on Mostar and loved our visit.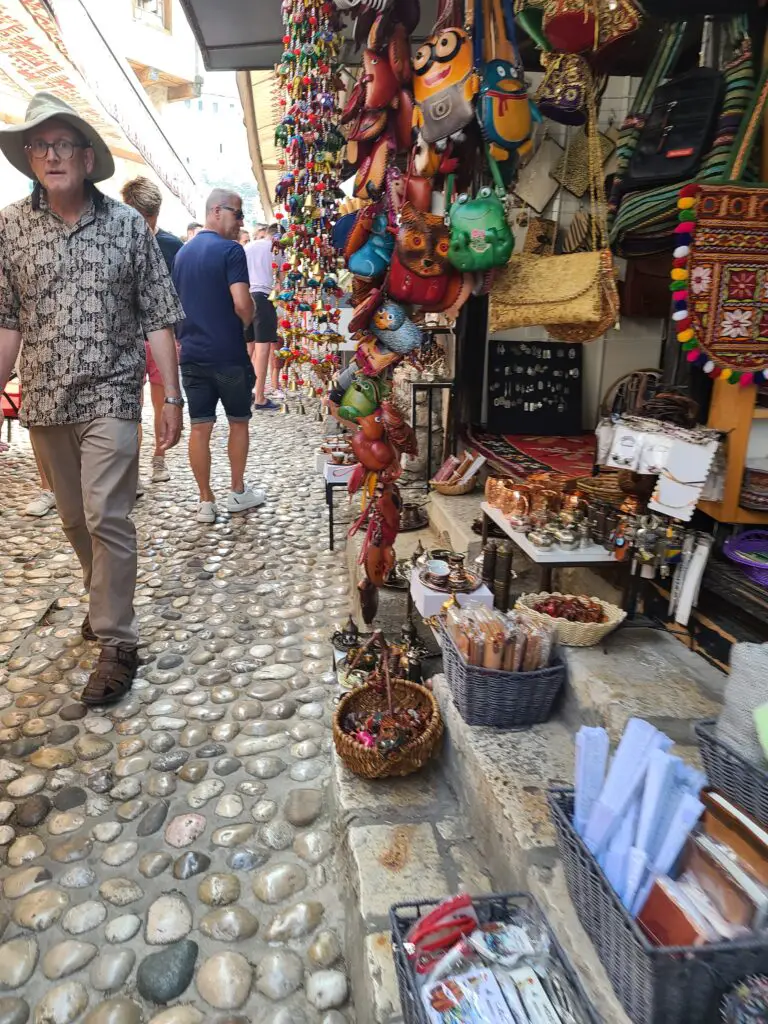 Our driver, Matko, was friendly, pleasant, and open with us about Croatia and what to expect in Mostar.  He advised us on a restaurant to visit as well. He complimented how little luggage we carried (2 carry on suitcases total and a backpack each) which made me feel good about the effort that goes into keeping things simple.  It took around 2.5 hours to arrive in Mostar at approximately 11 a.m.  We called the restaurant Matko suggested for a lunch reservation and began touring around the city center.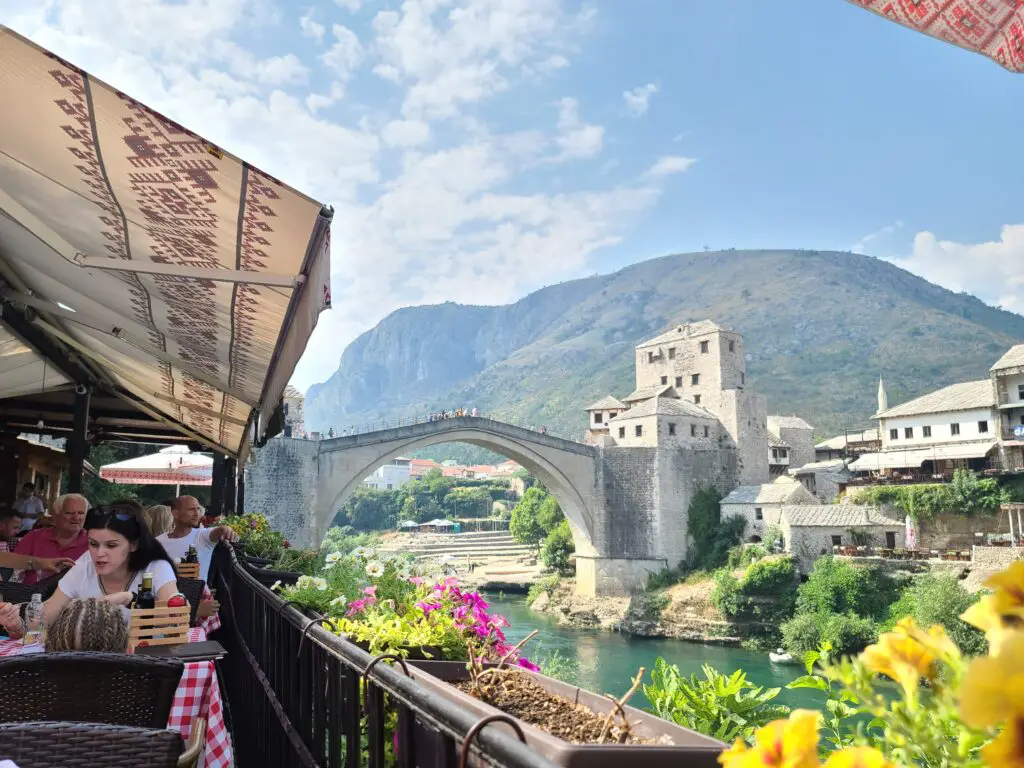 Mostar is most famous for the beautiful bridge called Stari Most (old bridge) which spans the Neretva River.  The bridge and many surrounding buildings have been named UNESCO World Heritage sites.  Both sides of the bridge are dense with restaurants and cafes that offer views of the beautiful bridge and river.  There are endless souvenirs as well.  The beauty of the area tied with the recent (1990s) conflict that afflicted the people of Bosnia and Herzegovina make this visit meaningful and awe inspiring.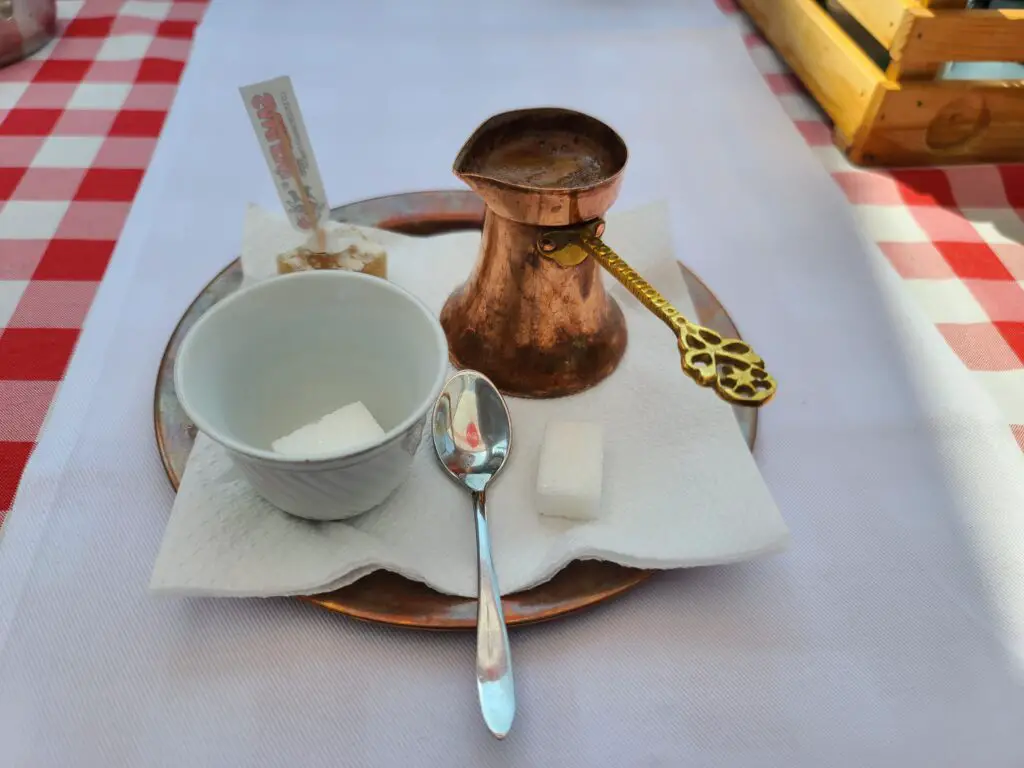 We enjoyed a Turkish coffee  from a cafe overlooking the river and bridge, took photos and collected a few souvenirs before our lunch.  We wanted to get as authentic of an experience as possible of a dining experience, which Restaurant Sadrvan fulfilled. We ordered the larger platter and it was far more than three of us could eat.  We also tried the stuffed peppers and were able to accommodate our picky eater with grilled meat and French fries.  Of course we grabbed ice cream before we ventured back to our driver.  The remainder of our trip to Dubrovnik took another 2.5-3 hours with time on the road and border crossings.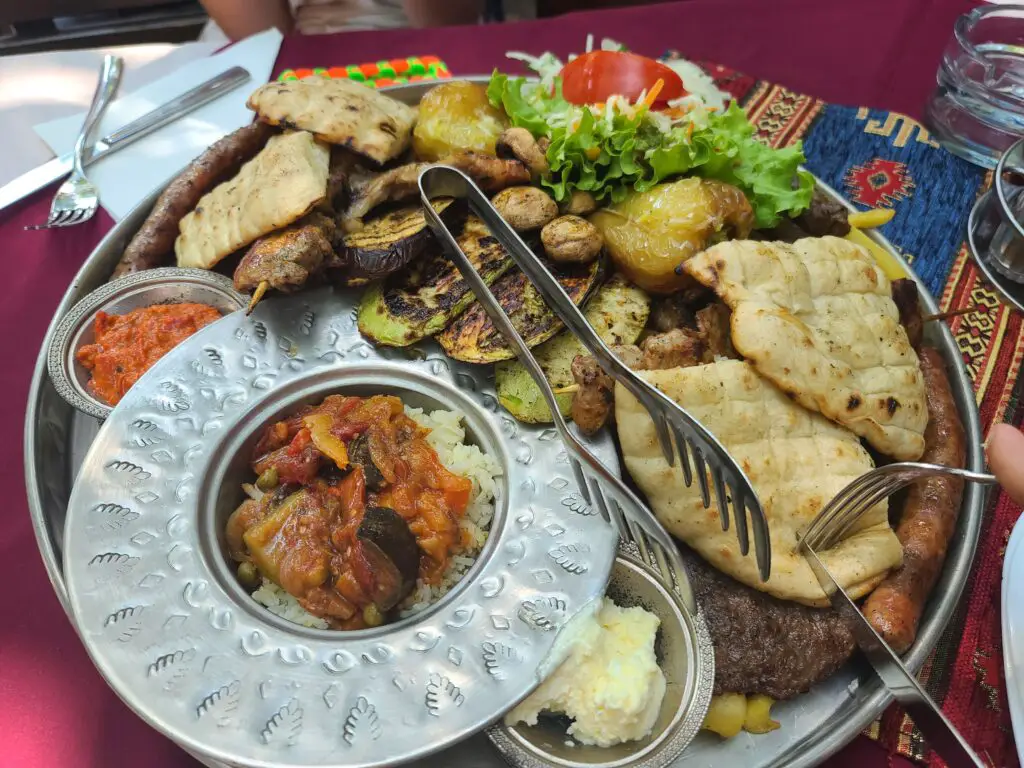 We spent our final evening in Croatia in a tiny, underwhelming apartment in the Old City of Dubrovnik, which gave us one more visit in this truly impressive city.  One more delicious pasta meal, one more view of the Old Port, one more view of the Game of Thrones backdrops, and one more chance to wind the streets of Dubrovnik.  We left early the next morning for our flight home with a stop over in Amsterdam.  You can find out more about this in an upcoming post.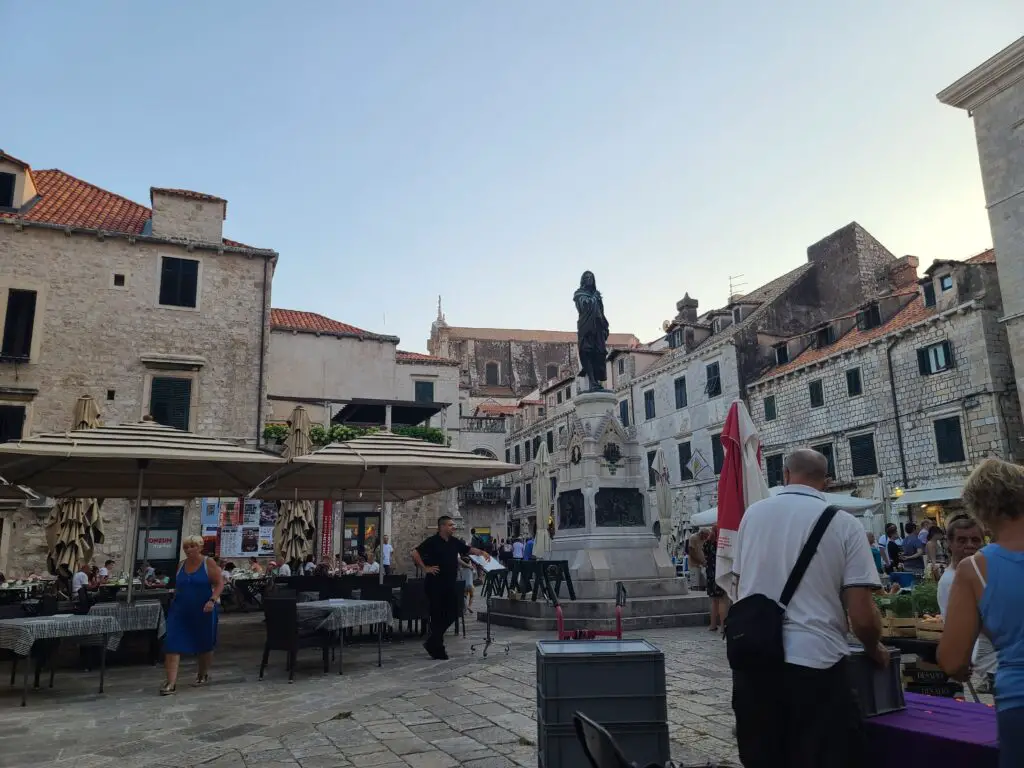 Final Thoughts
I would love to hear from others who have enjoyed these destinations at other times of year or have had different experiences with these cities.  I'm happy to answer questions about the cost of different activities at the time that we enjoyed them.
Thanks for taking the time to read our Dalmatian Coast experience!