Perhaps you share similarities with our family in that you have traveled a bit in Europe.  You've checked off a few top tourist's sites and are ready to see what's beyond the most popular destinations.  Croatia has been gaining popularity for many years (especially in 2021 for Americans), but there is also mystery for many of us in its history, food, culture, language and absolutely beautiful scenery.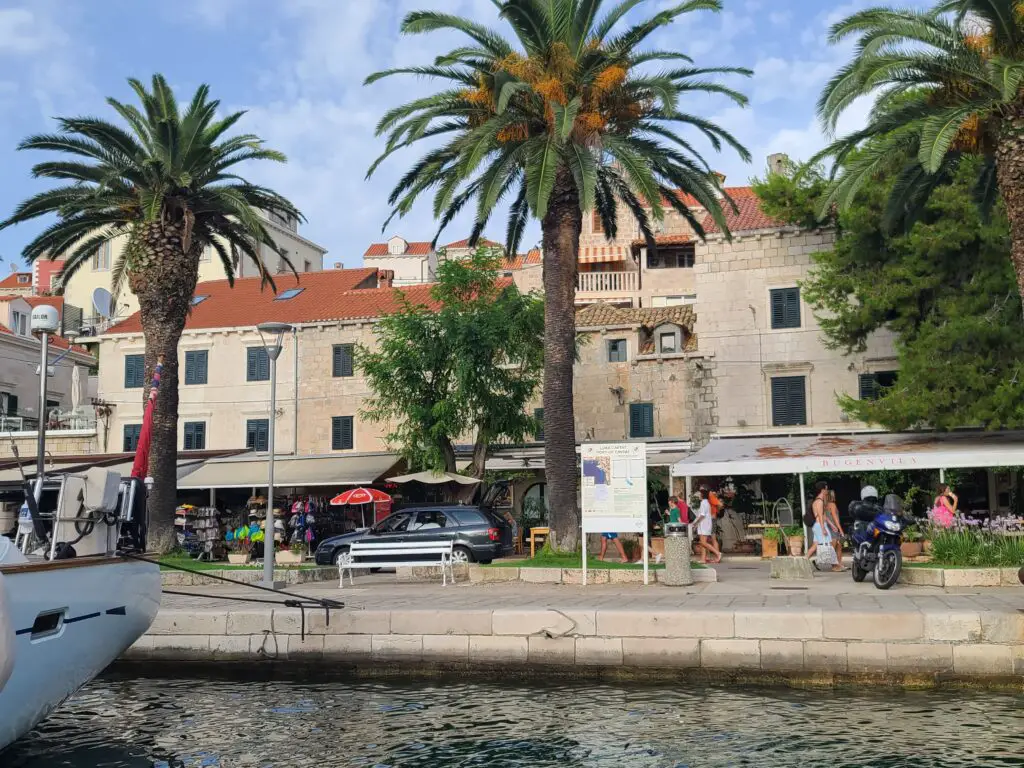 I cannot recommend highly enough a visit to this stunning country boasting 3900 miles of coastline (comprised on mainland and islands) on the Adriatic Sea.  This visual illustrates how Croatia is oriented to its coastline.  The country is divided into five major regions with the sea portion making up three regions and the two inland regions containing the capital and largest city, Zagreb.  It's neighbor to the West, across the Adriatic, is Italy.  Otherwise, many of its surrounding neighbors were part of the former Yugoslavia (along with Croatia) including Slovenia, Bosnia and Herzegovina, Montenegro, Serbia and Hungary (not part of Yugoslavia).  You will find elements of quaint European cities, history of war and struggle, and a rich tradition and proud people.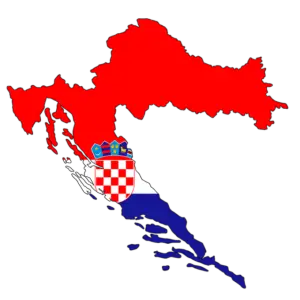 Let's dig into planning your family's first visit to Croatia with these categories:
Where To Start
Tips for Traveling with Kids
Dalmatian Coast Itinerary
Final Thoughts
Where To Start
To start let's divide Croatia by the type of vacation you desire.  Do you want to spend time in the bigger cities and experience how these cities compare to others you know?  Their largest city and capital, Zagreb, is just under 800,000, and where you can have the metropolitan experience.  The next largest city, Split, is only 170,000 population and located on the Adriatic Sea, providing a very different experience.  Do you want to include national parks and more rugged accommodations – maybe even camping?  The Northern region of Istria is known for being most like Italy and proudly boasts their own variety of truffles.  For our itinerary, I will focus on the Dalmatian region of Croatia.
Dalmatia covers from the Southern tip of Croatia on the border with Montenegro and stretches to the island of Rab, over 300 miles of mainland coastline.  This area boasts some of the most photographed destinations, yachting for the world's most wealthy, filming locations of Game of Thrones, and endless adventure opportunities for any visitor.  One important detail about this area is that a strip of land belonging to Bosnia divides the Southern part of the region.  For planning purposes, this means you will have to incorporate crossing borders if you travel by car (including whatever visas – not required for US Citizens – or testing is required).  Ferries are also a commonly used and a viable option for travel between cities and islands.
Tips for Traveling with Kids in Croatia
Attitude Toward Children
We found the culture to be welcoming of children.  In the 86% Catholic country, you can expect a focus on family and faith.  Like most modern countries, the culture is evolving with an increase in later child-bearing, divorce, and childless couples affecting this traditional life style.   Croatians are proud of their history and traditions and put a high value on honoring the family.
Parenting Lifestyle
Kids in Croatia, especially in more rural areas, enjoy more freedom than American children.  Parents we spoke with described a current childhood experience similar to the 1950s in the U.S.  Kids are allowed to roam freely and explore independently.  There were also many times we acknowledged conditions would not be considered safe in America, but none of that led us to feel overly vigilant.  For smaller children, these areas of drop offs and jagged rocks would just require a regular hand to hold.  Overall, a more laid back parenting style was widely observed.
Safety
We found tourist areas had life jackets for kids, but local children weren't wearing floatation devices unless they were maybe preschool age.  All the kids we encountered were very accustomed to living by the sea.  It should also be noted (to avoid surprise or awkward child responses) that both boys and girls below puberty age are often swimming in just bottoms.  Babies and toddlers often wear nothing when swimming.  Topless optional and nude beaches do exist throughout the country, but we did not encounter this at busy tourists spots; just more isolated beaches.
Food
You can expect many similarities in food in Croatia to Italy, which helps immensely if you have a picky eater.  In larger cities, you will find all types of food, but if you choose a Croatian restaurant or cafe, you can expect to find pasta.  They make a gnocchi that is a larger, more cylindrical shape.  Truffles and cream sauce are common as well.  There was often pasta with cheese (macaroni and cheese type sauce), red sauce or even butter noodles in restaurants we visited.  If plain chicken breast, fried pork tenderloin, or steak works for your little one, these were also prevalent.  Worst case scenario, you will find French fries everywhere as a side dish and fresh baked bread is widely available.
Dalmatian Coast Itinerary
When visiting a country for the first time, I will almost agonize over which area to prioritize.  Sometimes it is determined by a singular goal or type of vacation we are pursuing. In the case of our first trip to Croatia, we were taking a summer vacation and wanted to take advantage of some of the most beautiful hot weather destinations in the country.  We were also familiar with the historical buildings found in Dubrovnik and Split due to watching Game of Thrones.  Since we didn't have any aspirations toward specific tourist sites, we felt comfortable focusing on what would flow most naturally without a lot of movement between accommodations.  What is considered too much movement is certainly an individual decision.
Day 1 – 2 Travel (depending from where you are traveling)
We arrived to Dubrovnik Airport and chose to stay in the small community of Cavtat (pronounced with a soft c).  We chose Cavtat because it was only ten minutes from the airport (closer than Dubrovnik), it was very small and walkable, and the beach/promenade size and layout gave us easy access to play, relax, and enjoy.  Even though Cavtat's full time population is only 2,000 people, all of the little coastal communities along the Adriatic Sea seem to run together as they lay in and around jetting cliffsides and natural pebble beaches. We used our arrival day (Day 2 for us) to gather groceries, settle into our apartment and make dinner before enjoying a sunset with a beautiful view from our balcony.  On an arrival day that we know will end with fighting jet lag, we seek to keep moving to get our bed time as late as possible.  If we can avoid it, we do not nap.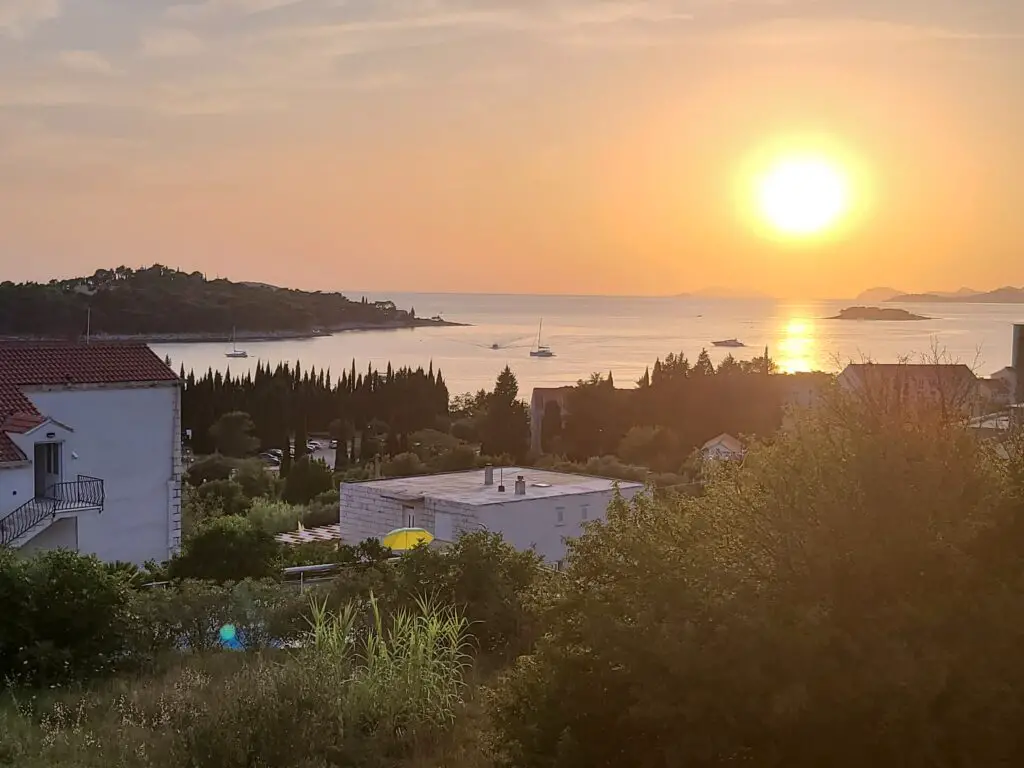 We chose to stay in a cute apartment situated up the hill from the beach with an excellent host, Antonia. One of the best features is the chalkboard wall with tons of suggestions and contacts for anything you might want to do during your stay.
Day 3
From our apartment, we were able to follow the hill downward to Beach Zal (link) in less than 10 minutes walk. After some free time and exercise time for the parents, we made our first trip into town.  This beachfront is excellent for families as there is a wide sea front with chairs, umbrellas and much more for rent and purchase.  Children can buy an hourly or day pass for the Aquapark Cavtat while parents rest or swim.  There are a handful of waterfront restaurants and bars catering to those lounging.  There are other "beaches" as you continue to follow the seashore, but they are smaller.  Some are near restaurants that offer lounges and rocky areas from which to swim.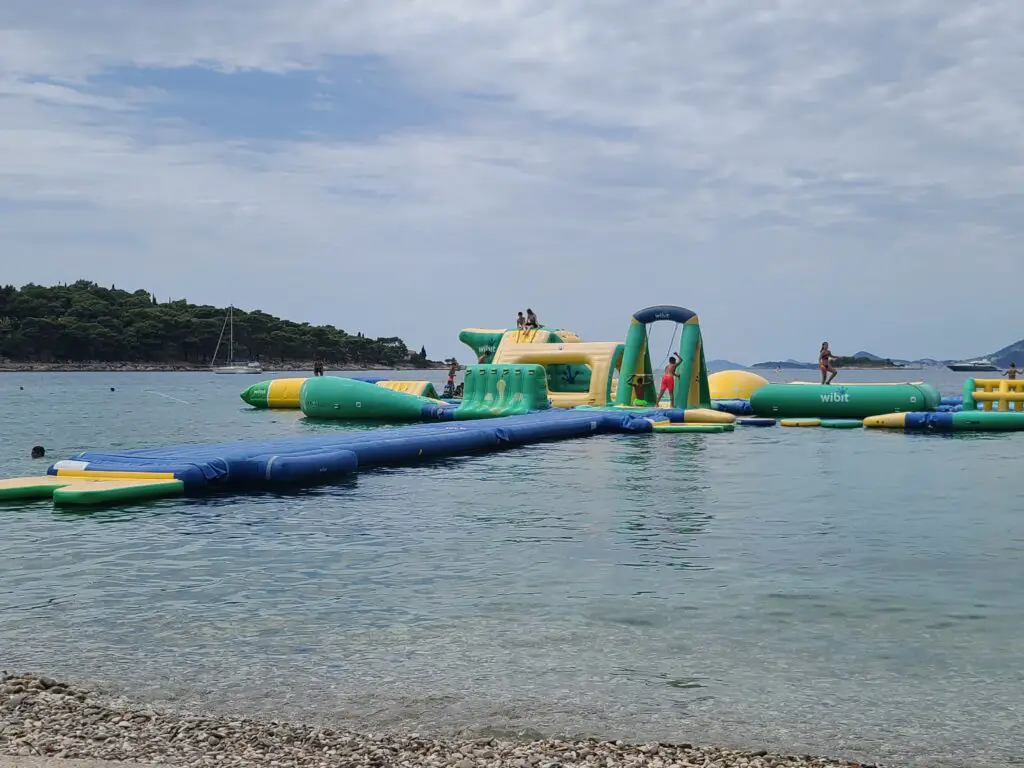 Our first day we headed for a walk along the sea wall to the promenade.  Especially during the warmest months, you will find beautiful yachts lining the "harbor" of Cavtat.  With restaurants, shops, grocery and pharmacy all available alongside the gorgeous clear blue waters, it's easy to see why those staying on land and water gather in this area.  Our first meal, we dined at La Boehme and were introduced to Mussels Buzara, a style of cooking seafood involving olive oil, garlic, and white wine and likely tomatoes, chili, and a few other ingredients.  We ate this several times and this was our favorite – it was salty and bold, but also our first!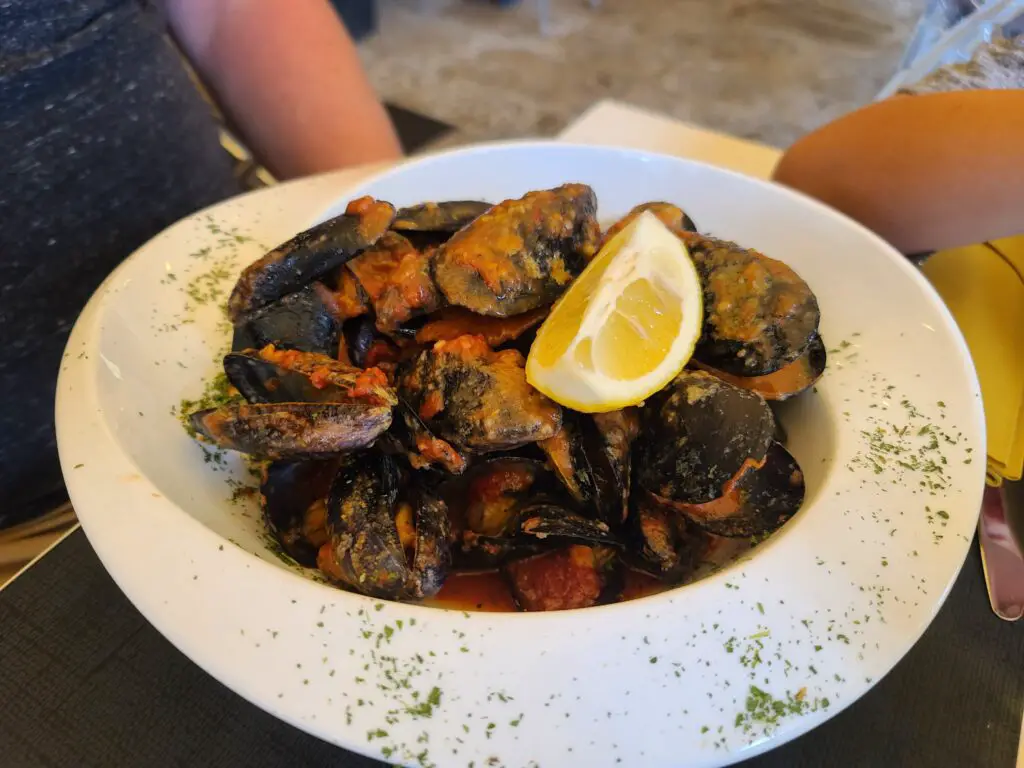 After our walk around, we returned to the Aquapark where the kids signed up for a one hour pass.  Life jackets were available and included which made myself and my seven year old more comfortable.  We changed in the bathrooms, but learned most Croatians know how to slip in and out of their bathing suit by just wrapping a towel around their bodies.  The kids loved the Aquapark and swam for a bit longer after their time expired.  As jet lag began to set in, we spent our evening again in the apartment vegging out, eating, and enjoying the sunset.
Day 4
Yet another wonderful reason to stay in Cavtat and the apartment we chose, is the taxi boat leaves several times per day from the same beach front where we played the previous afternoon.  The boat takes just less than an hour to arrive in Dubrovnik's Old Town Port and costs about $12-13/round trip.  Although our youngest was a bit older than child pricing, several vendors offered a ticket for free or counted two versus three children.  Again, affirming that Croatians are a family friendly culture.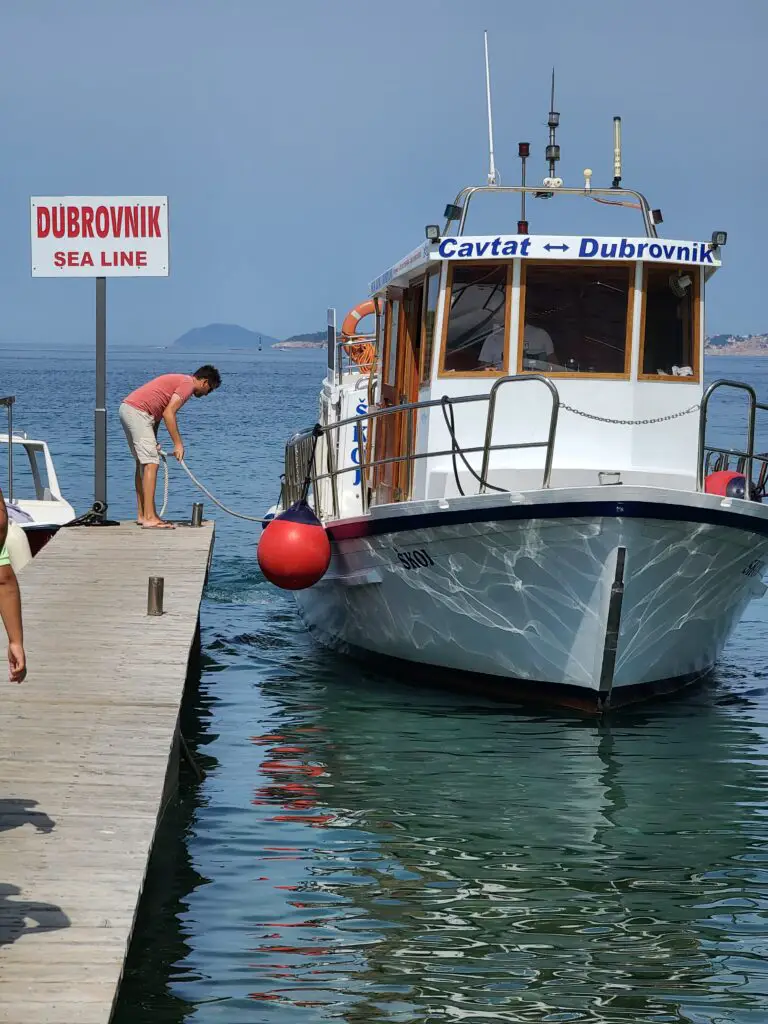 Before our visit, I was a little intimidated not to be able to study the times, etc, but you will quickly see the ticket stand next to the dock with a list of prices.  You can purchase your tickets the day before to assure that time does not fill up completely.  You will also see there are several other stands throughout Cavtat selling boat trips and excursions.  These are either private or offering more services than the boat taxi.  The choice is yours.  The taxi also stops at Lokrum which is another great spot to spend a few hours or the day exploring and lounging.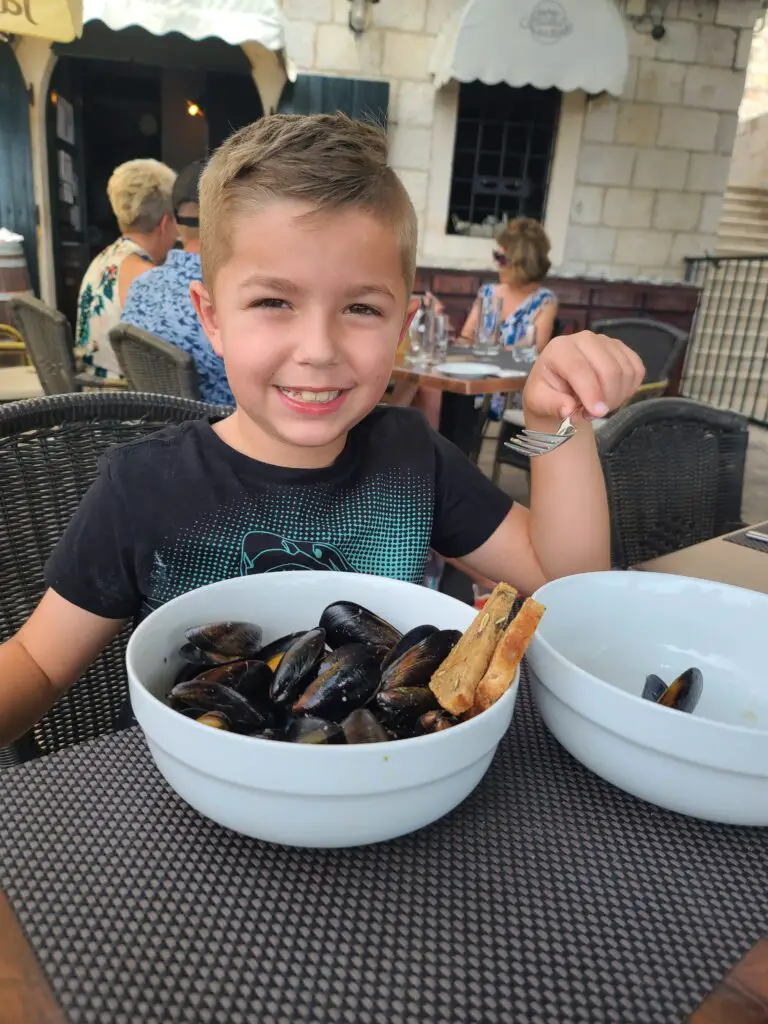 We had previously arranged for a History of Dubrovnik tour, which allowed us time to walk a short amount and find a restaurant near the meeting point.  We ate at Bistro Revelin overlooking the harbor with a shaded spot and great view.  They provide very accommodating children's options including nuggets and mac n cheese. For the rest of us, it was mussels again and a prawn risotto.  You can expect portion sizes to be realistic, but we found the heat while visiting in August kept us from being hungry enough to finish our meals on many occasions.  The kids enjoyed the glass soda bottles found in most restaurants and, of course, drinking water from wine glasses.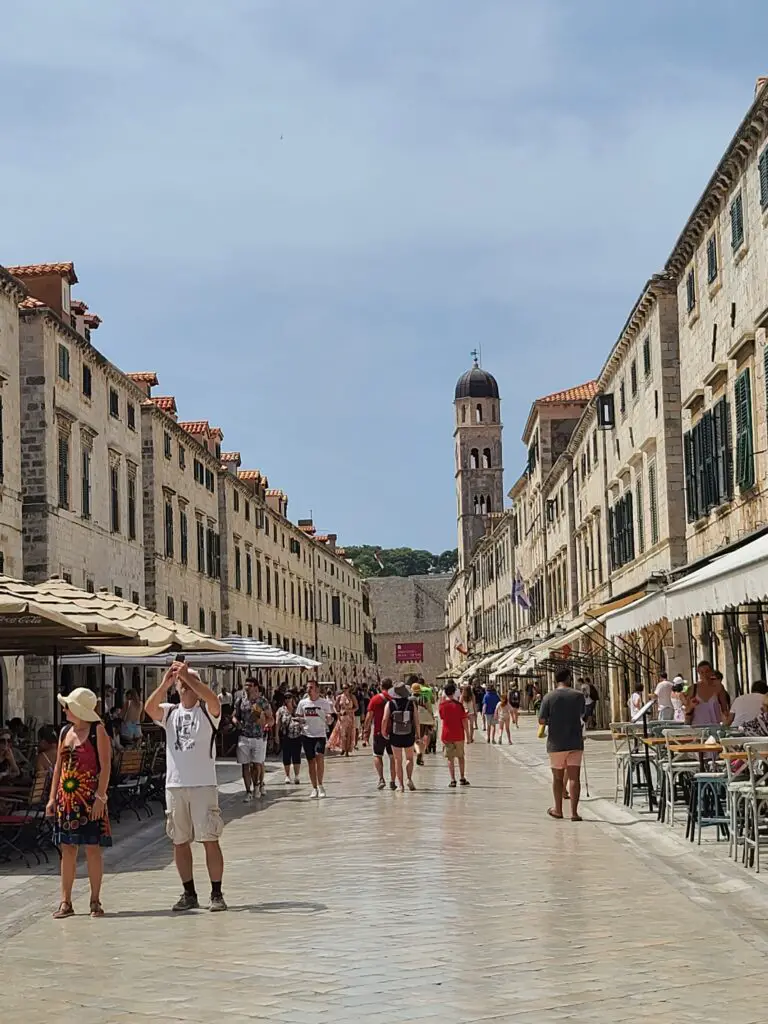 Our tour was offered by With Locals, a favorite company of ours.  They offer several tours with different focuses and the ones most family oriented offer free tours for children.  The tour we chose was called The History of Dubrovnik: The Break of Yugoslavia which was admittedly not organized to purely entertain the children.  Nonetheless, our guide, Vlaho, included them and provided a fascinating understanding of the history of this unique city.  Although we love food tours and were even tempted by the GOT tours, this informative view changed our lens on all of Croatia and surrounding countries for the rest of our stay and we were so glad we chose it.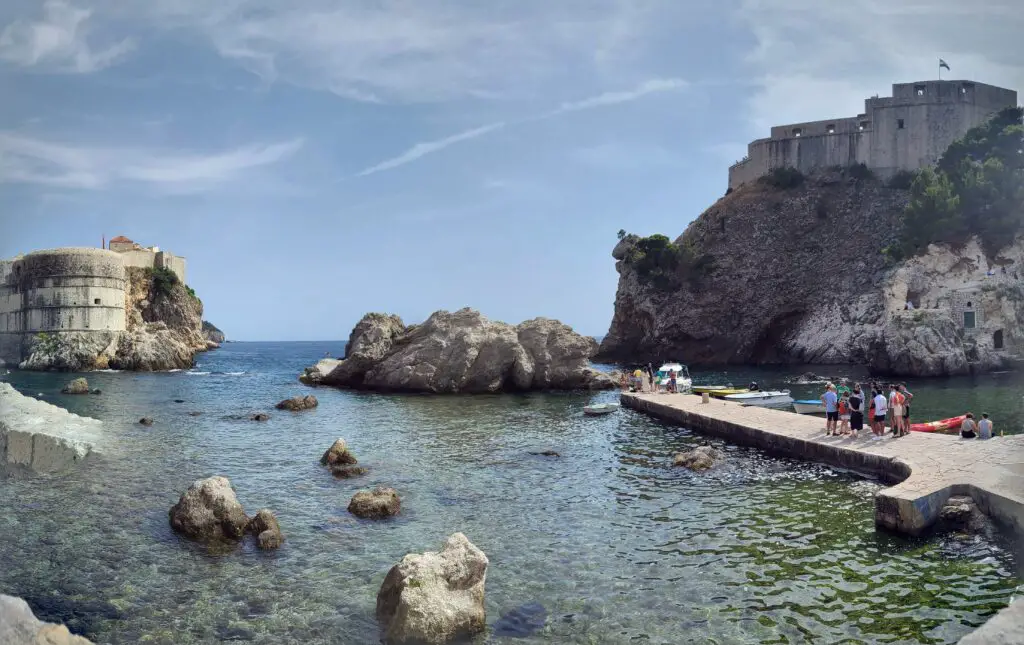 After a tour is a nice time to do a bit more discovering in the Old City and perhaps stay for dinner before taking the water taxi home.  We chose to return to have dinner back at our apartment.
Day 5
We rented a car, which was costly, (reflective of rental cars being high everywhere and making a last minute reservation during high season) and could be improved with proper planning.  We rented from Mack which was very convenient as they are based at the airport just ten minutes away and provided transportation to pick up and return the car from our apartment.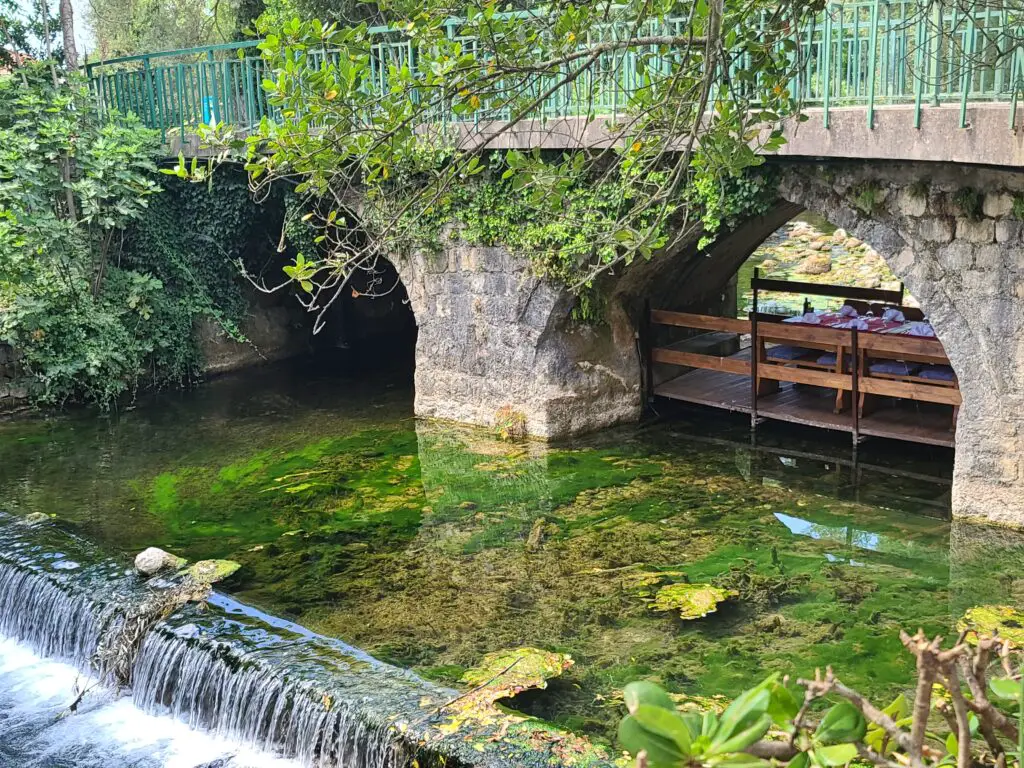 We used our car to enjoy a lunch at Konoba Vinica Monkovic featuring cuisine representative of the Konavle region, of which Cavtat is the town further North.  This quaint tavern (which is how konoba translates) is situated in the small village of Ljuta along the River Ljuta.  The whole restaurant is inviting, but if you can book ahead an outdoor table along the water, your experience will be even more special.  We devoured their homemade bread and pastacada among other dishes.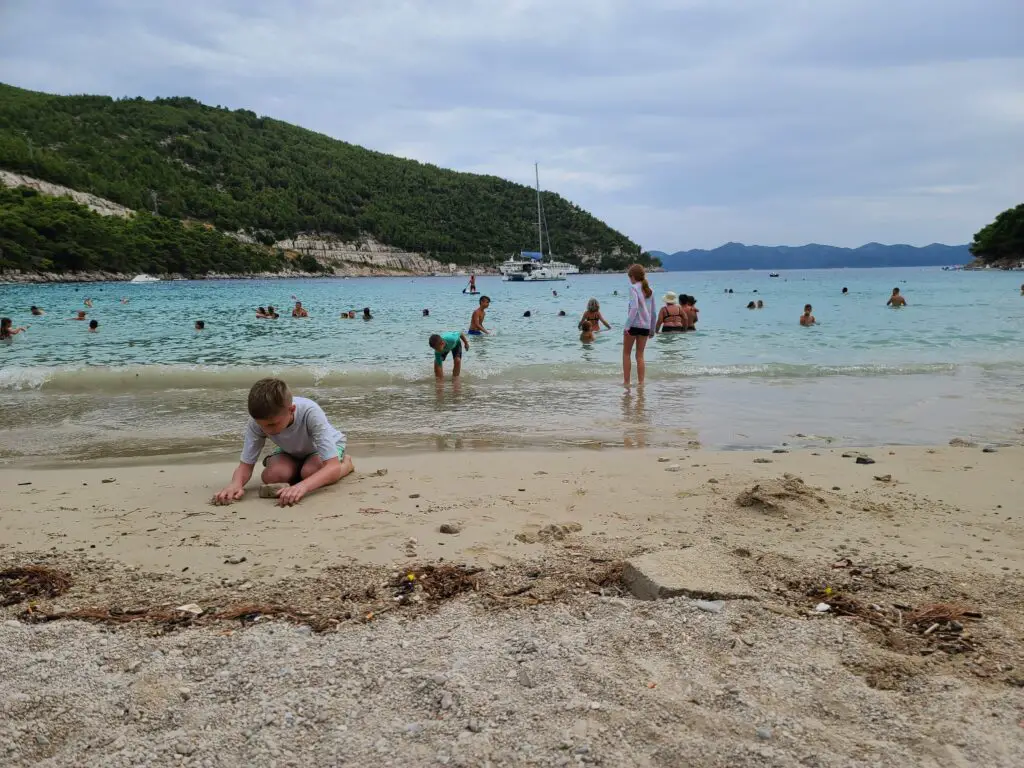 The rest of the afternoon we drove along the coast and visited small towns.  We enjoyed time at a beach attended by a more local crowd called Pratprano with new friends of friends with which we connected.  We walked around the city of Ston, famous for its salt collection, and ate dinner among the historic walls.  There are a couple parks with playgrounds (I like this one), beautiful staircases leading to the old fortress walls, and many options for a tasty snack or meal.  Ston is worth a visit.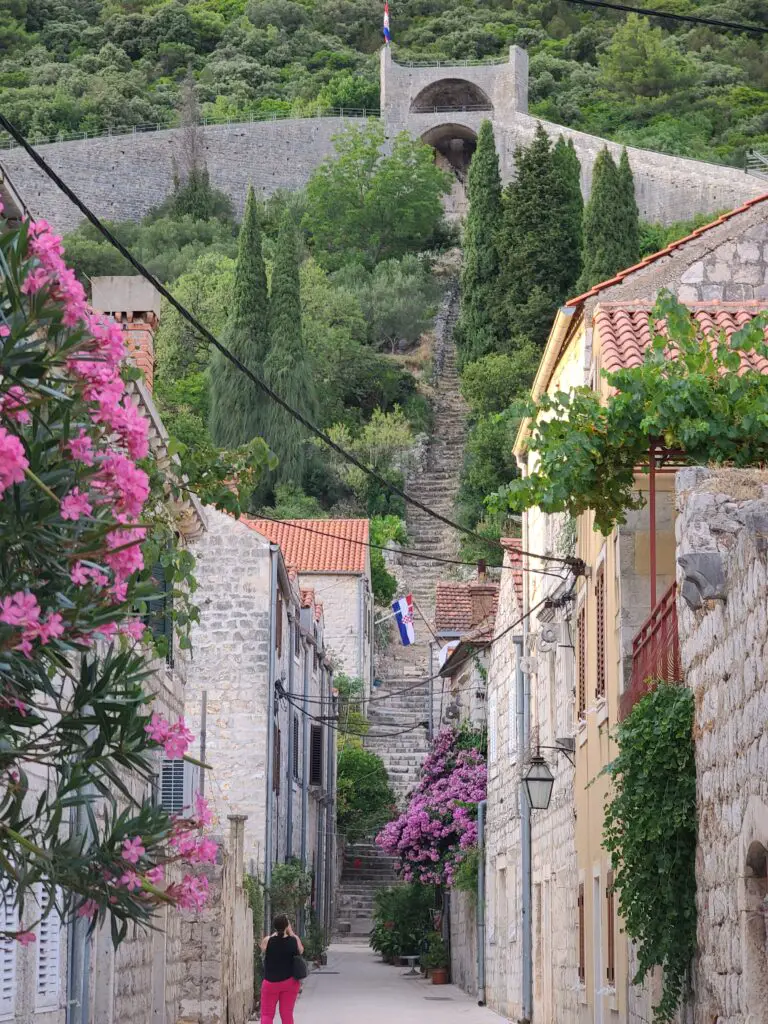 Day 6
This was our final full day in Cavtat. The kids agreed that the Aqua Park deserved more time and I knew I wanted to explore more of the seaside.  I took time to walk the full coastline within Cavtat from our apartment early in the day.  Just exploring and seeing how people of different ages come to the sea at different times of day was fascinating in itself.  After my walk, we all went into the downtown area of Cavtat and started with gelato and a light lunch.  It's easy to gather groceries at the many small grocery stores in this area.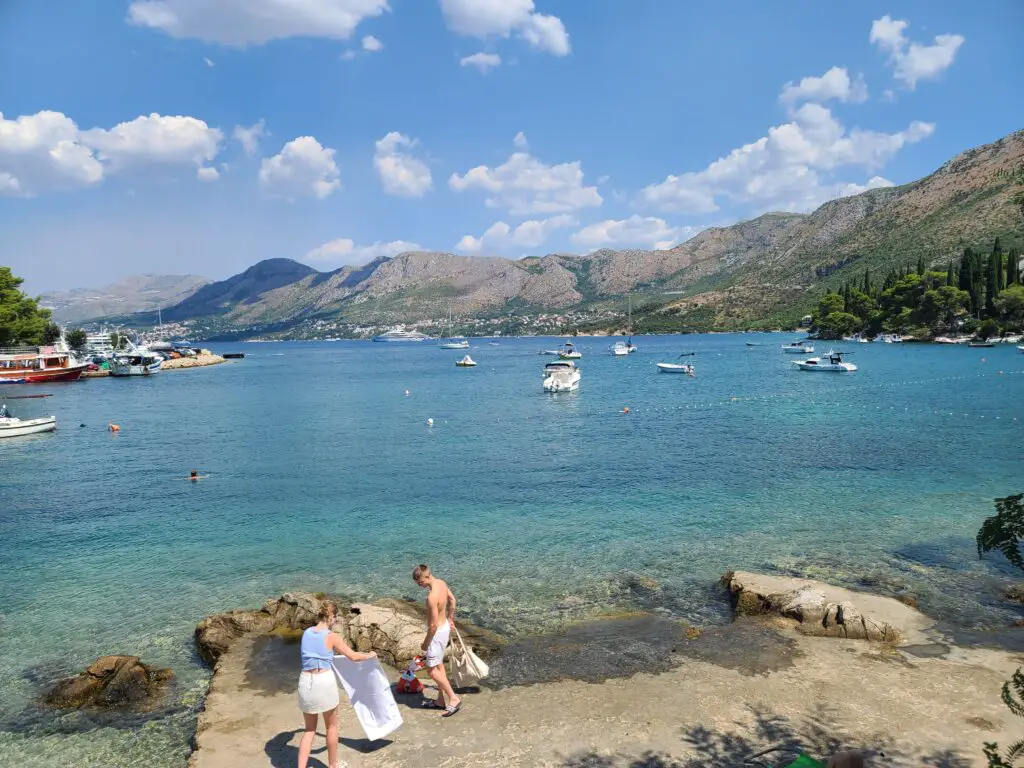 We chose all day passes at the Aqua Park and the kids had a great time.  Through our time, we learned there can be great variations in the choppiness of the water.  On our first visit to the Aqua Park, the water was calm, clear and gorgeous all the way to the beach.  On this full day of swimming, it was choppy, carrying more junk from the sea inward, and cloudier.  The choppy water made the Aqua Park far more work for the kids to enjoy and they were fully worn out within a few hours.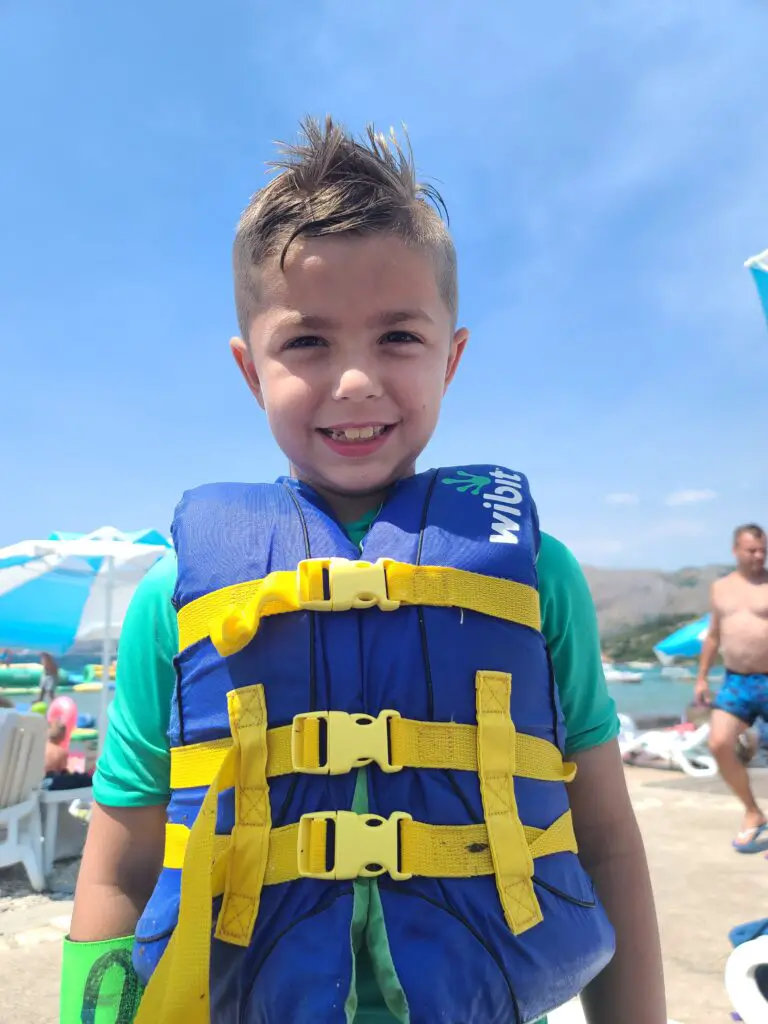 We took advantage of the waterfront dining options before heading up to pack up, clean up and prepare to leave Cavtat early the next morning. It was a great summer vacation day.
Day 7
We chose to visit the island of Hvar next.  You will likely hear about the "party island" or how Hvar attracts the rich and is overpriced.  Some of this is true, but if you get out of Hvar Town, you can have an entirely different experience.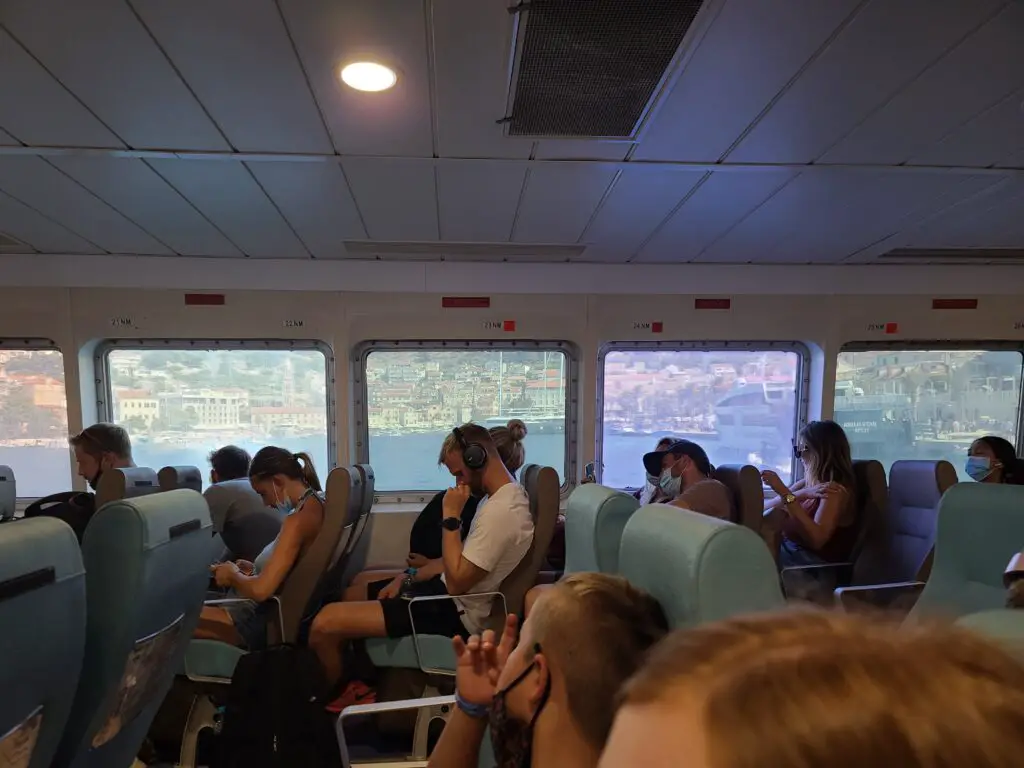 During the high season a ferry runs from Dubrovnik early in the morning and takes about 2.5-3 hours to arrive at Hvar.  There are multiple companies, but I found these two to be easiest to navigate as an English speaker: Jadrolinija and Krilo.  We ended up choosing the former because of preferred times to sail and felt the boat was spacious and clean.  Both times we rode, we could purchase coffee and basic snacks (croissant or chips).  We took a very early taxi from Cavtat (5:50 am) and arrived at the ferry port in the new harbor (opposite of Old City where we landed previously) to get in line that was already fairly long at 6:30am.  The boat left at 7:00 am and we had a great choice of seats even though we weren't first in line.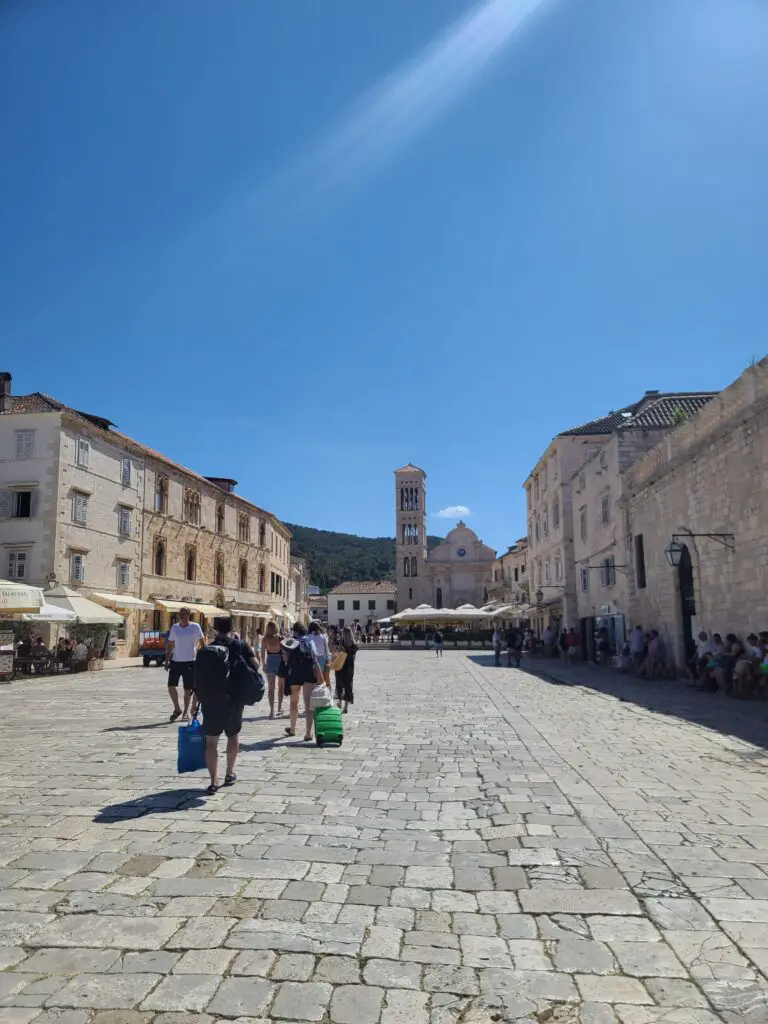 When we landed in Hvar, I was overwhelmed by the hoards of people lined up to board our ship and the vibe of a young, party crowd.  It confirmed what I had heard of Hvar Town. We rented a vehicle from Sun City Hvar and had a great experience picking up and returning.  Their location is near the arrival point (5-10 minute walk) of the ferry with several restaurants in between to grab a quick bite.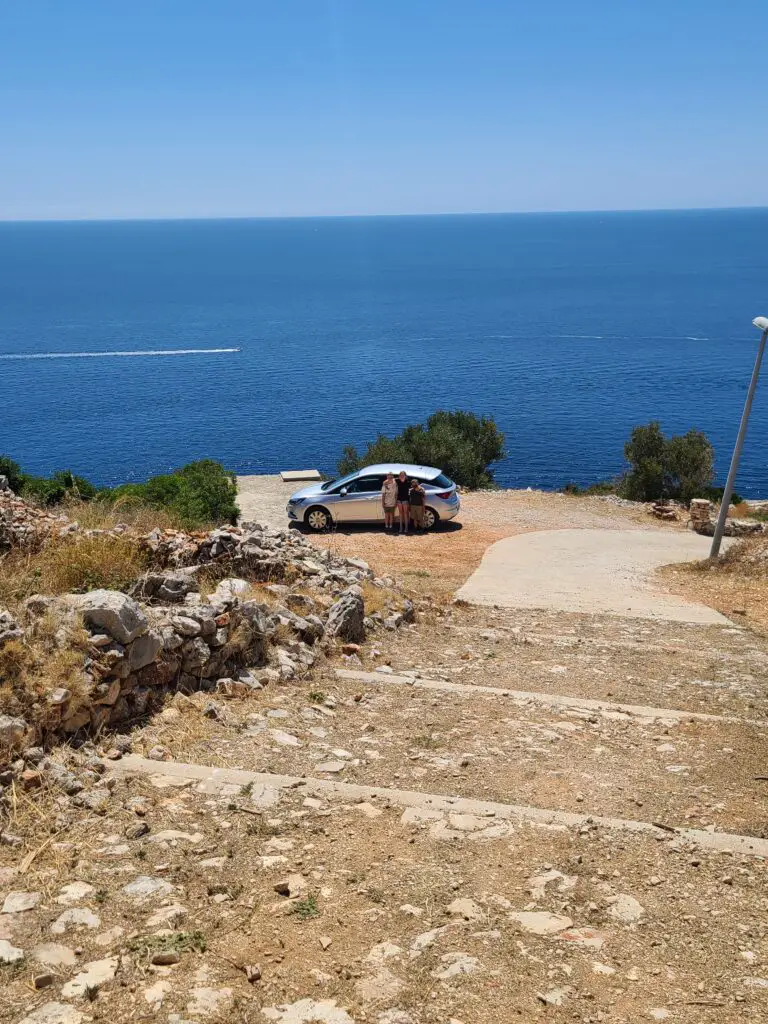 We chose to stay in a more isolated spot away from the island towns and think this was the most exciting adventurous choice we made during our trip.  Our AirBnB, hosted by Andrea, was located in an abandoned village being slowly restored.  It is homes built around each other high on the hills in an area called Zarace.  If you are considering this AirBnB, I would love to share more details.  It provided the most beautiful views of our vacation and we definitely left part of our hearts here.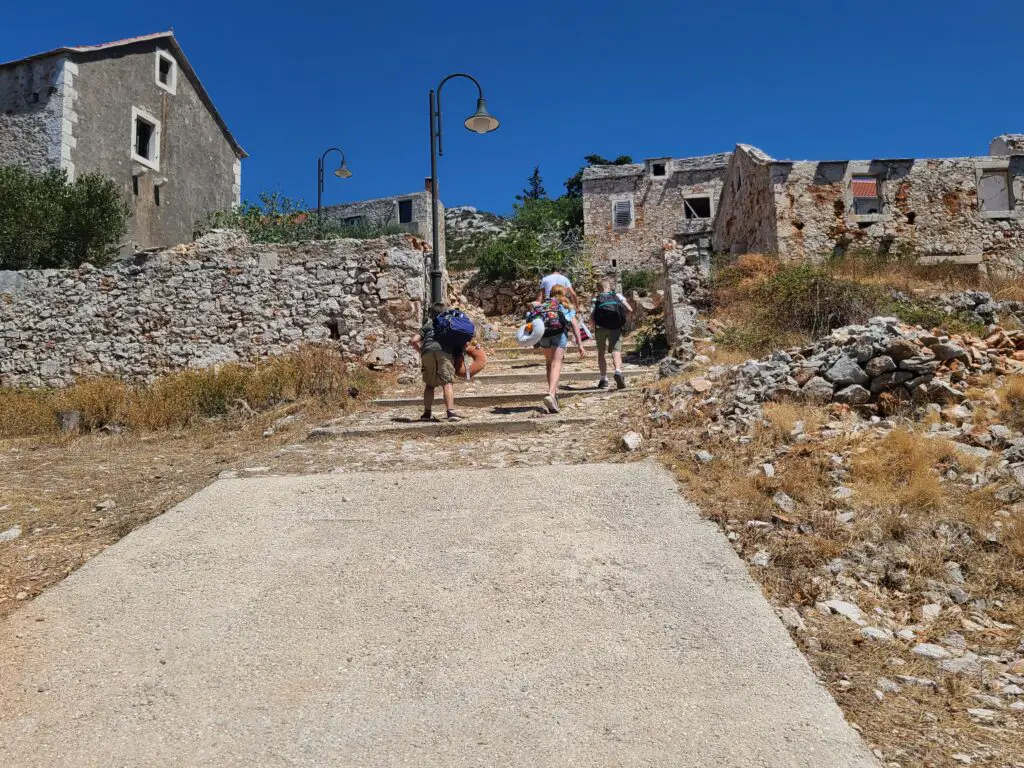 After getting settled at our home, we took advantage of our car and gathered groceries.  We were very pleasantly surprised a market that included not only a grocery store, but a pharmacy, a clothing store and more was close by.  This came in very handy multiple times for us and we found pricing to be fair. They even give you a discount on your next visit.  From here we drove further to Stari Grad, the second largest town on the island, and noted we wanted to visit again and explore.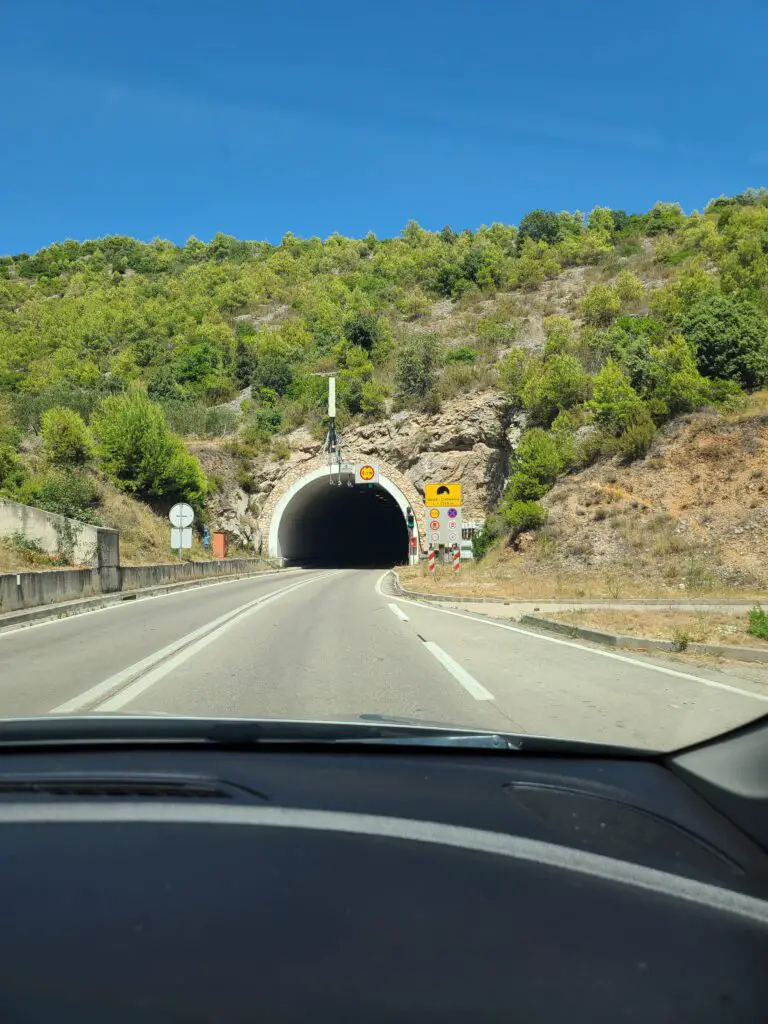 We finished the night settling in, cooking dinner, and discovering the most beautiful view you might ever see from the patio of our rental home.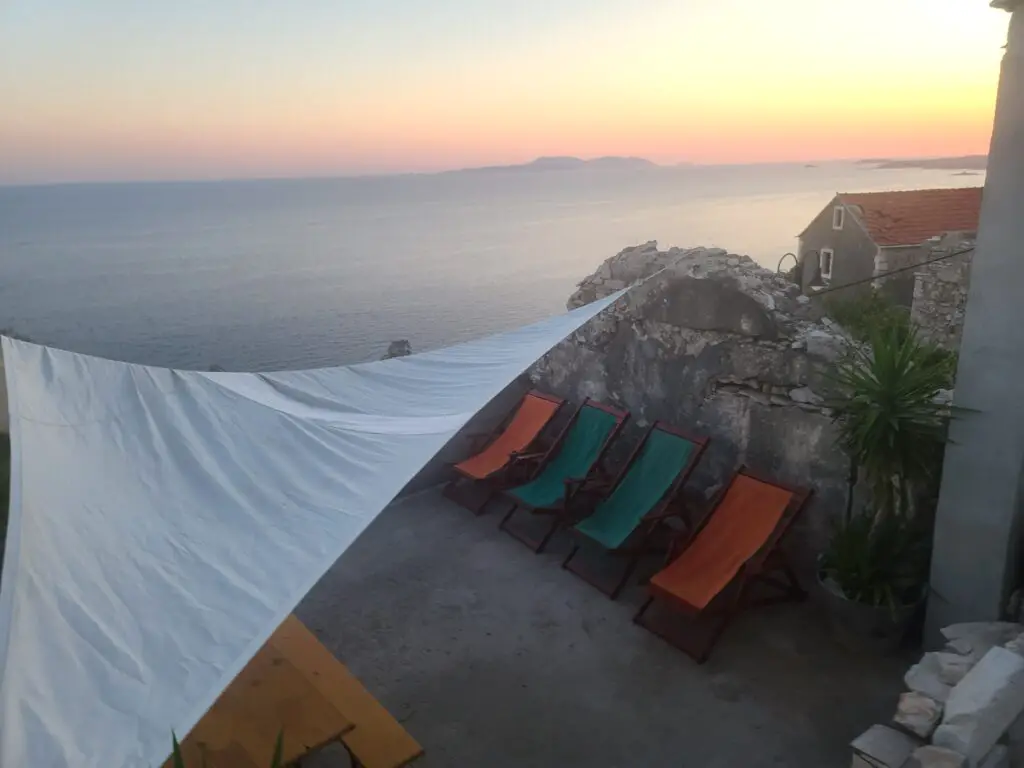 Day 8
One of the great benefits of our AirBnB was the ability for the kids to "explore" with no concern from us.  They could visit "cat alley" as they named it and just follow the stone paths to see more of the little village.  They were so enthralled by the small adventures they could take on their own.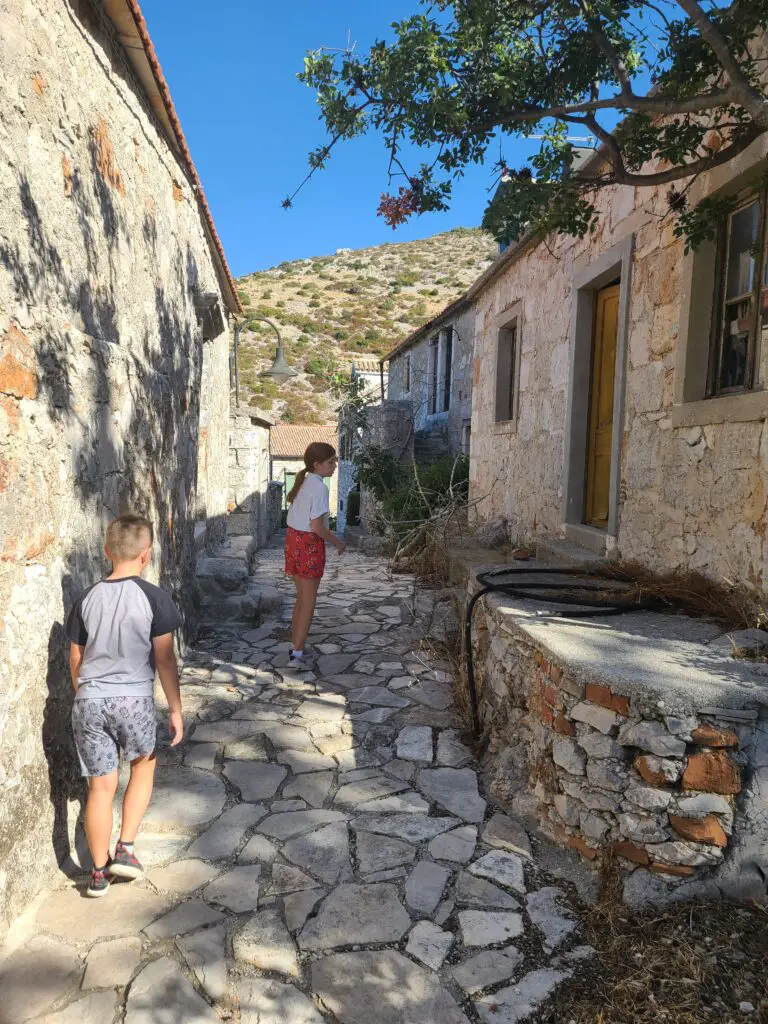 In an effort to explore further ends of the island, I suggested we go to lunch in the little village of Zavala.  I had no idea that driving there would require a one way single lane cave tunnel followed by single lane roads meant for two cars to navigate.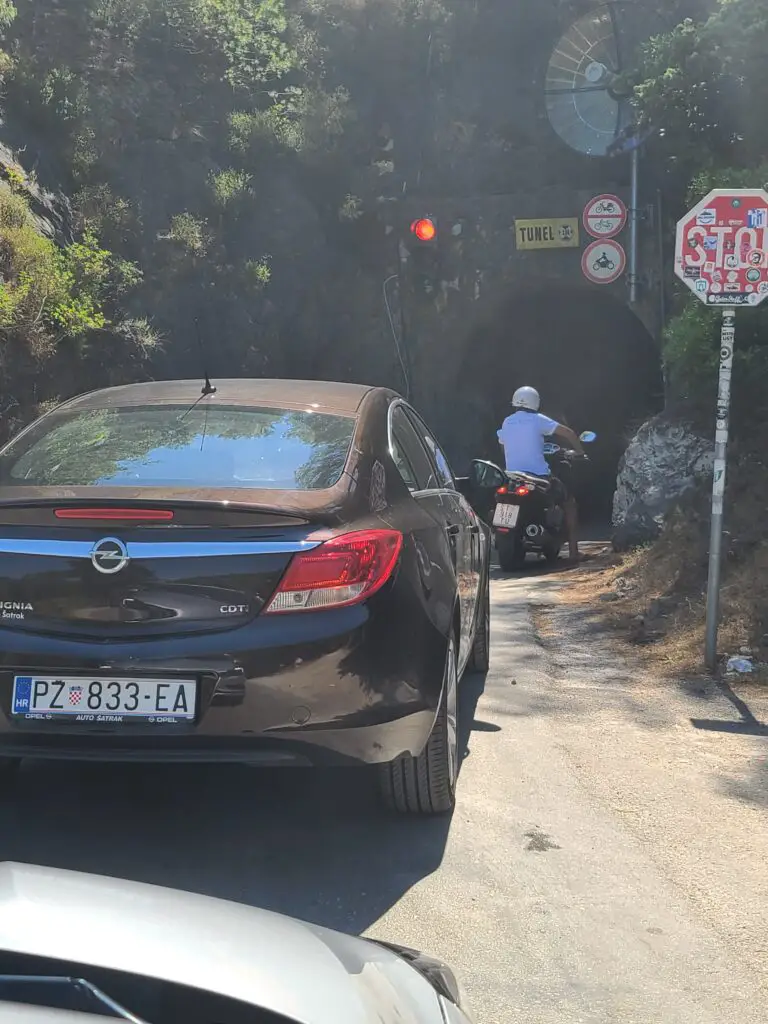 The tunnel has actually been documented as a dangerous road.  My husband is a confident driver, but driving on Hvar was a test and expansion of his skills. I was more than happy to stand down on driving on the island.  We ate at a beautiful lunch at Restaurant Davor overlooking the sea.  This area would be a great spot to enjoy beach time with multiple restaurants and limited parking.  Since we only planned for lunch, we returned on the crazy drive back.  Our next goal was to visit the beach for the first time on Hvar.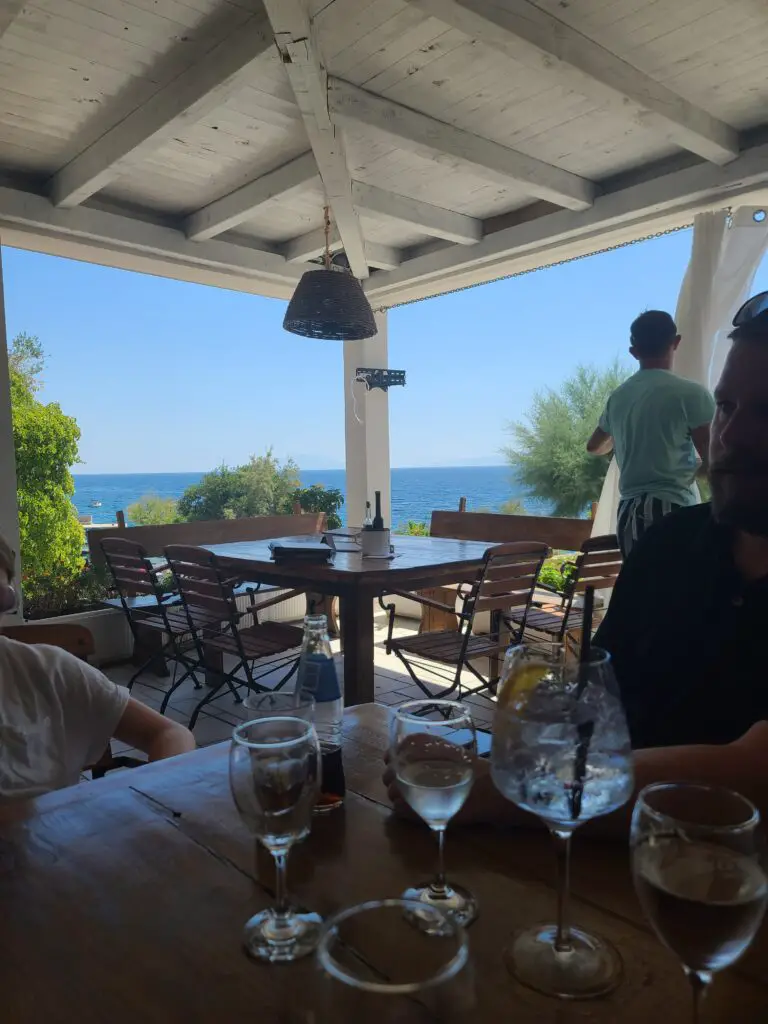 Yet another perk of our particular AirBnB was our host's private parking spot near two beaches.  To continue the driving education, the road from the highway (just in front of home) begins zig zagging on another one lane, two way road where meeting traffic must maneuver out of the way for passing vehicles at a rather steep decline.  The first time was shocking, but we honestly got used to it.  People park almost anywhere and walk to the beach.  The spot allowed us to park as close to the beach as possible.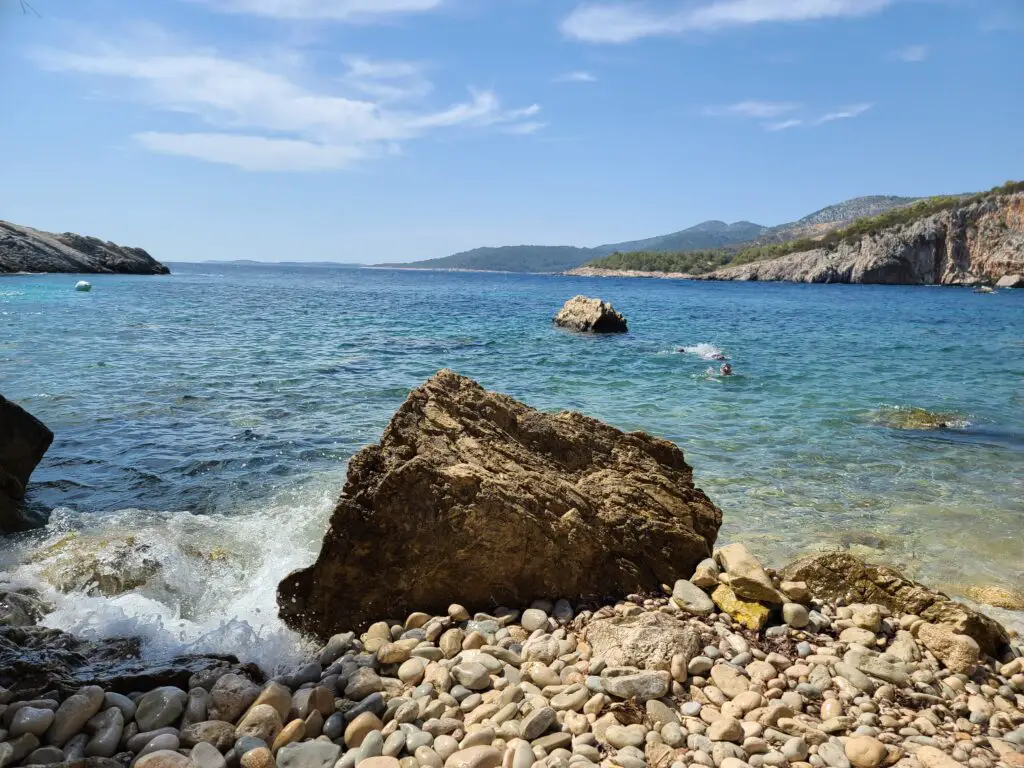 On this day, we visited Malo Beach Zarace, malo meaning small in Croatian.  It is the smaller of the two beaches accessible in Zarace.  Visitors claim a spot along the pebble beach and enjoy the beautiful, clear water.  We saw some rock jumping here, but didn't find anyone sunbathing topless.  There were families and couples.  There are no facilities or restaurants on this side so you would need to bring anything along that you need.
We finished the evening grilling on the patio and enjoying the beautiful views.
Day 9
We found ourselves lingering at our AirBnB because it was special, but mid-day we ventured back to Stari Grad.  It's so quaint and lovely.  We parked in a paid parking lot and honestly could not figure out how to pay. It seems you can pay at news stands or shops too, but we tried that and only confused the lady working at the stand.  Our rental company is supposed to charge you if there are any fees, but we haven't received them to date.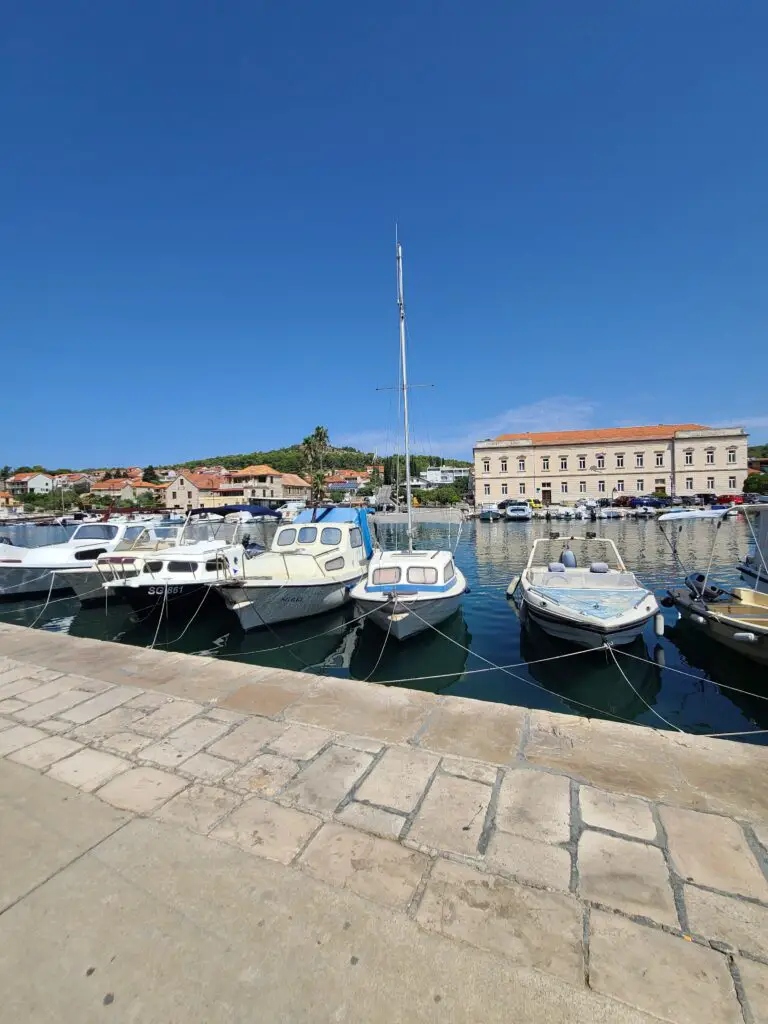 The very walkable town allowed us to visit a small playground on our way to the harbor.  It seems that playgrounds make our kids feel really comfortable due to familiarity.  It's always a great triumph when they visit with local kids.  After they played, we walked along the harbor and happened to choose Kod Barba Luke.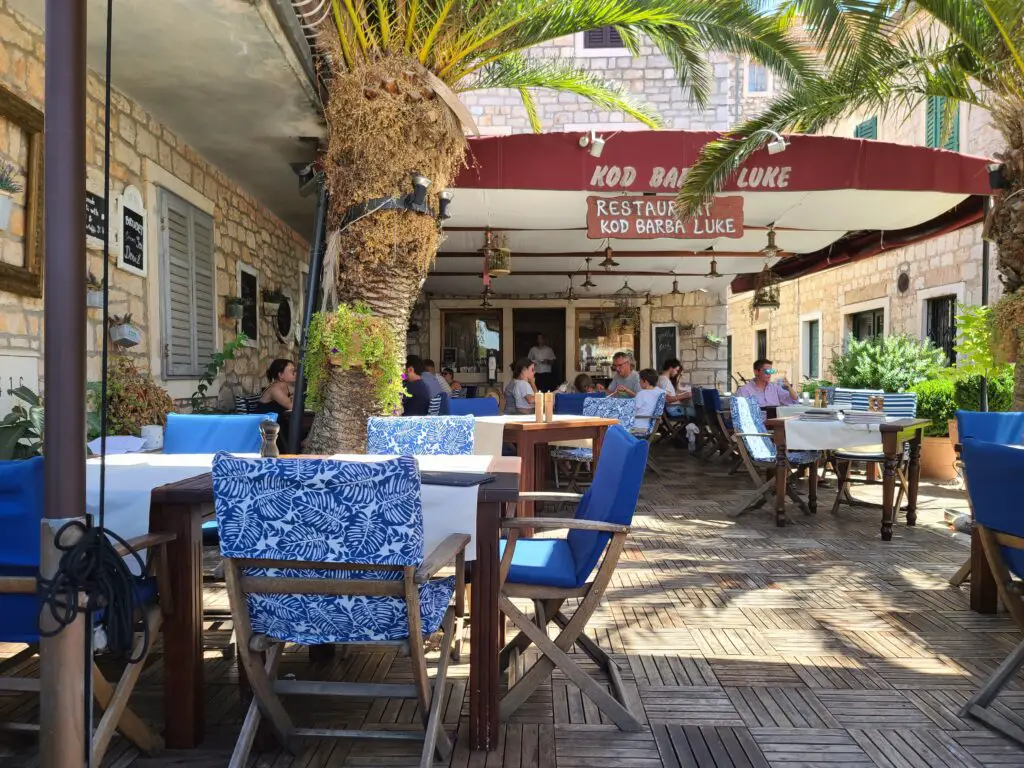 This was a great spot to enjoy fresh fish, delivered by fishermen just before you consume it.  They also offer a variety of pasta dishes.  We followed lunch with homemade ice cream with wild flavors like "Facebook".  There are several spots selling ice cream along the harbor.  With more time, walking over to the beach would be a great plan for a visit to Stari Grad.  Because of the heat and our evening plans, we headed back.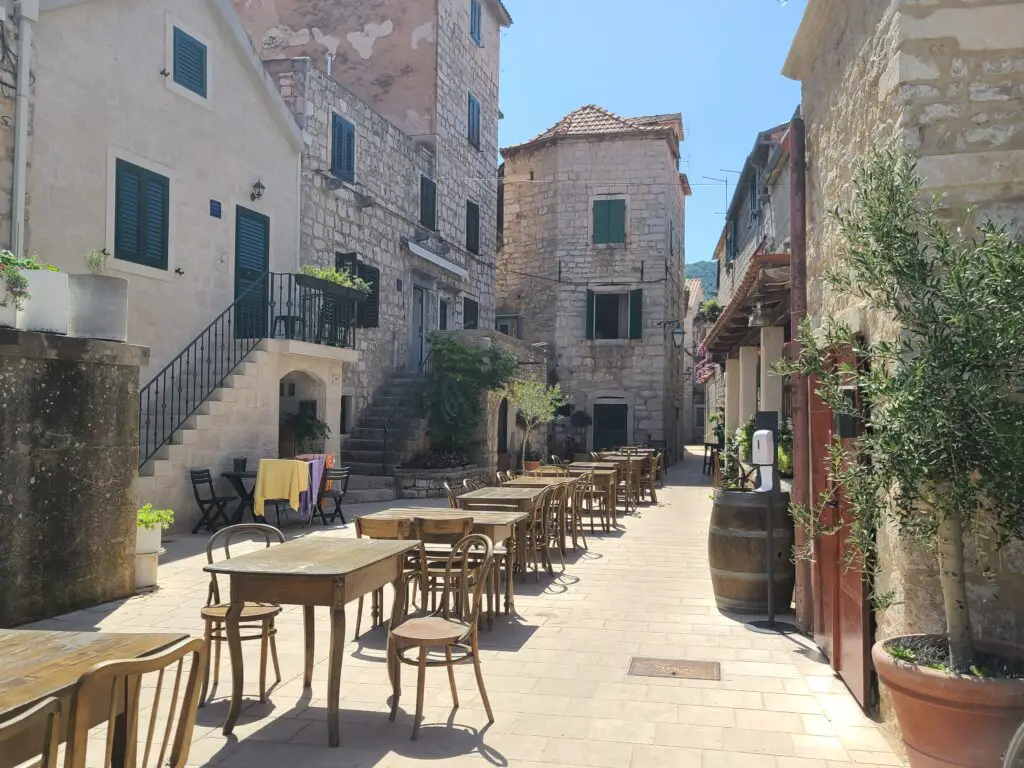 I happened along a review of Family Farm kod Kucera within our rental and reached out within an hour of arriving to set up our visit.  Like every other situation, I looked at the time and distance, but took on no other information about what the drive would entail.  The 45 minute drive from our rental continued from the main highway to a narrowing and winding highway leading up hill.  When we arrived, our turn was down a rocky drive to a few buildings housing the restaurant/kitchen building and a couple other farm buildings.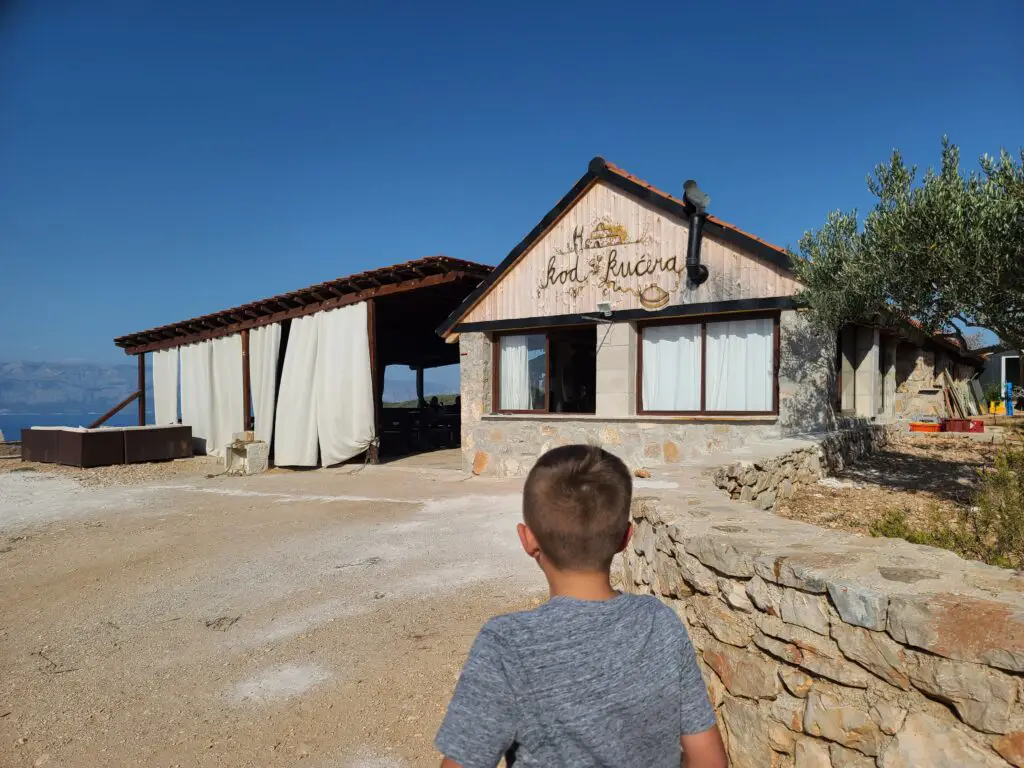 They serve a family style meal of courses which were pre-approved via our planning communication. Everything was delicious and enthralling – the meal, the service, the panoramic views, the animals.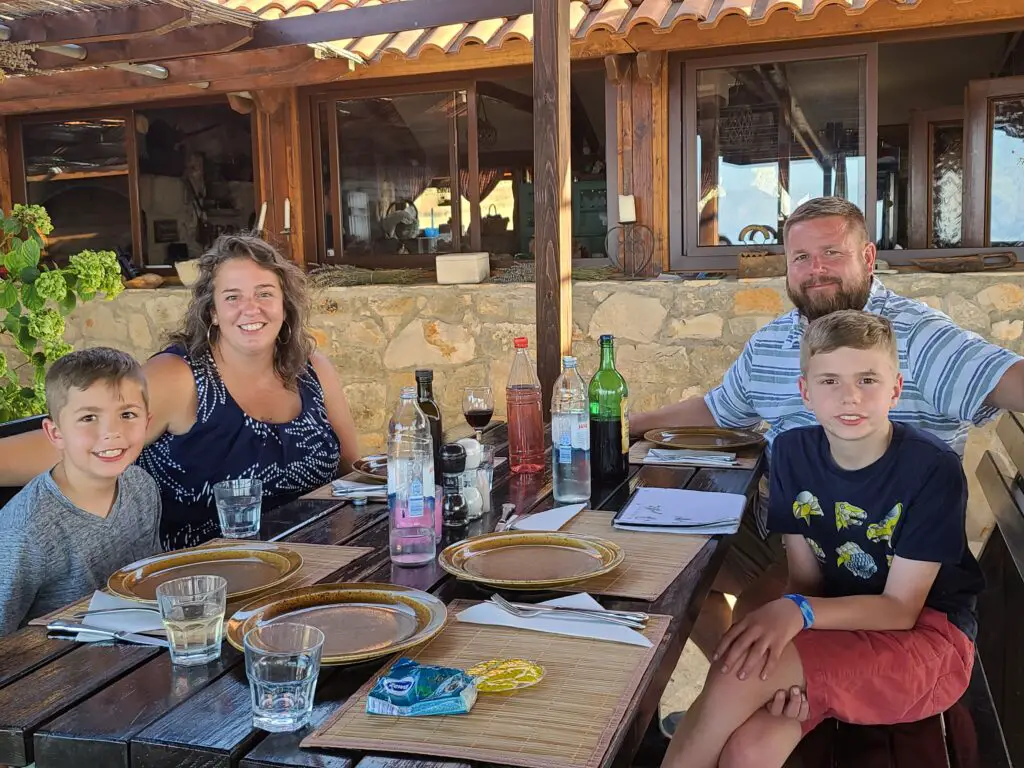 We all loved the experience and even enjoyed the winding drive home.  Most patrons visit later in the evening in a typical European dinner, but we asked to come early (for less dark driving) and they were accommodating.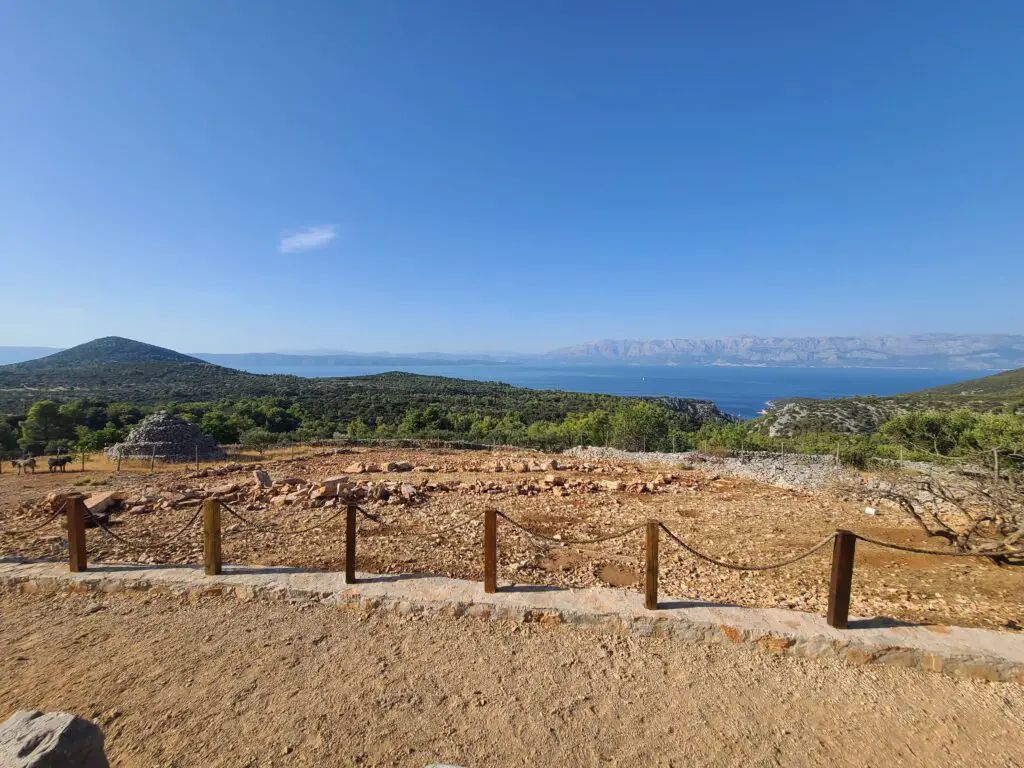 View my Itinerary Part Two! https://wheretoadventure.com/croatia-family-itinerary-part-2/