If you have only a short time or just want to plan the perfect day within your larger itinerary, consider visiting a few lesser known Parisian attractions.  My family visited these locations when our children were ages 10, 8 and 5 years old.  It was a perfect day!
One Day Itinerary in Paris: Perfect for Families
Jardin des Plantes
Walk along the Seine
Lunch at Bistro Richileu
Jardin des Tuileries
Montmartre Neighborhood
The City of Love is a wonderfully romantic getaway, but is it also a magical place for families.  Let's imagine one perfect day for you and your little ones in France's most iconic destination.
Start your Day Off Right: Jardin des Plantes
Start your day with a breakfast of croissants or pain au chocolat and cafe au lait.  I recommend Maison Cocherel located at 6 Rue Linne, the Northwest corner of the Jardin des Plantes.  Just note it is closed on weekend.  Beginning at Jardin des Plantes, you are just 200 feet from Gare Austerlitz should you need to come in by metro or taxi.  This substantial park is home to several interesting sites.  The grounds contain several gardens and expansive strolling paths.  In addition to the museum listen below, it is also home to a small zoo (Menagerie) that opens daily at 9 am and children's museum that can be packaged with other museum tickets.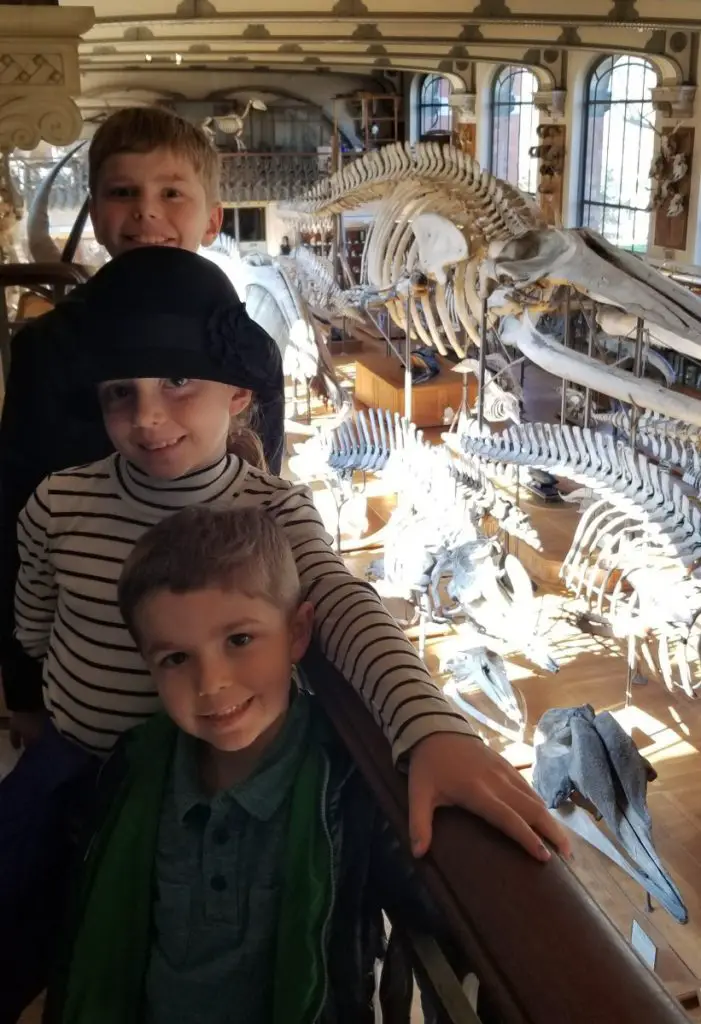 We recommend the Galerie de l'Evolucion and Galerie de Paleontologie et d'Anatomie compree. Kids and parents will be impressed bye the scale and variety of animal species and skeletons on display within these two buildings.  The Evolution Museum features over 7,000 taxidermed species including large animals like an elephant, hippo and giraffe.  Our children were amazed at being so close to these creatures and with the ability to appreciate their scale.  The Paleontology Museum (also called Natural History Museum in some English translations) features skeletons of dinosaurs, early mammals, and many other species.  This is a must visit if you have a dinosaur enthusiast in your group.  Notes they are both closed on Tuesday and open at 10 am on other days.
To fit everything in, you may want to choose just one of the park's attractions and keep moving.
Walk Along the Seine
A walk along the Seine provides great scenery and an opportunity for children to move around and enjoy the little playgrounds tucked along the river.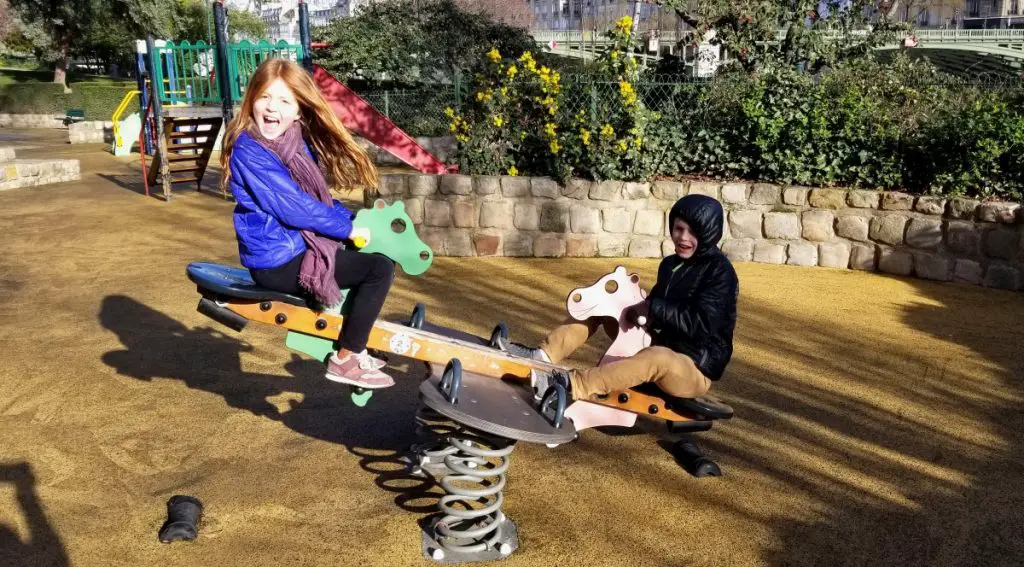 I felt as though I could hear French music as we took our stroll down the iconic Paris waterway. This video isn't mine, but gives you the experience from many angles along the Seine.
The Cathedral of Notre Dame is just less than one mile along the Seine from the Jardin des Plantes.  The Cathedral has been closed since the devastating fire, but is still a sigh to behold from the exterior.  Although this most visited monument in Europe is not currently open to tourists, you can view the still intact twin bell towers from the plaza next to the cathedral.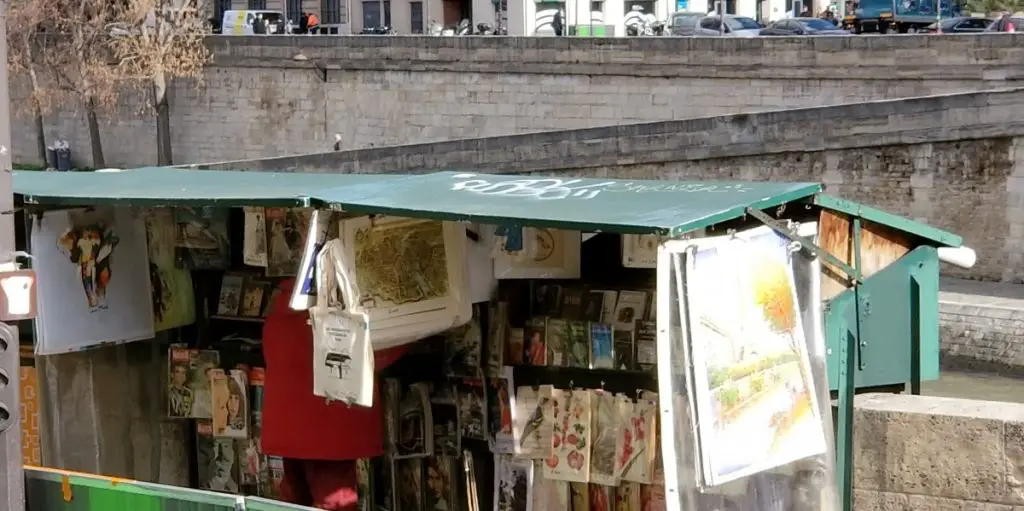 Along this walk, you will also encounter the bouquinstes or "book sellers' with their easily collapsible green stands selling books and tourist collectibles.  These stands are often passed down within families.  Finding your souvenirs from these small stands supports local businesses and adds to your Paris experience.
Lunch at Bistro Richileu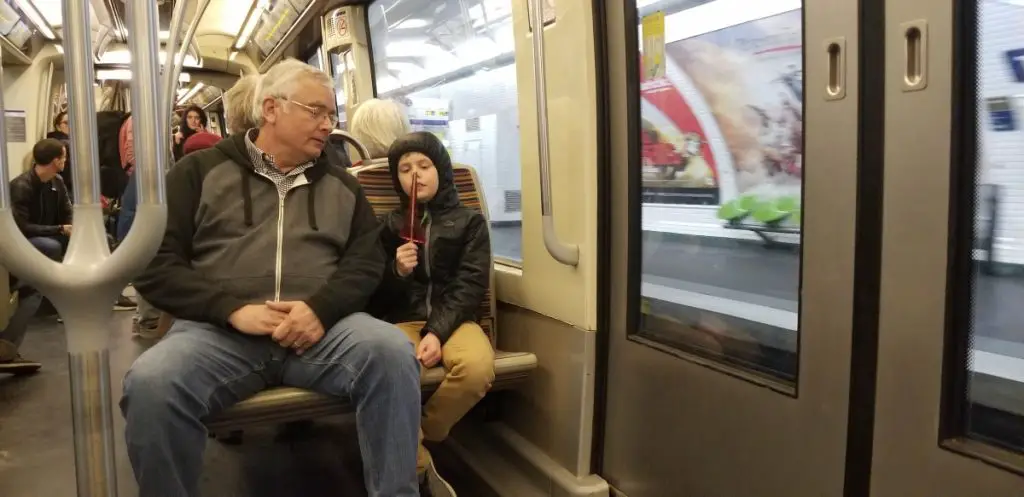 Grab a taxi to head directly or make your way across the river to ride Metro Line 1 from Hotel de Ville to Palais Royal Musee du Louvre.  From this metro stop, you are less than .25 mile to your lunch recommendation.  Depending on the duration of time spent browsing during the morning, head straight to lunch at Bistro Richileu for the best soup a l'oignon maison gratinee you will find.  They have an offering of entree du jour + plat du jour + dessert du jour for the full French bistro experience or you can easily customize to whatever you desire from their menu.  The lively environment and mix of guests makes it a comfortable visit for patrons of any age.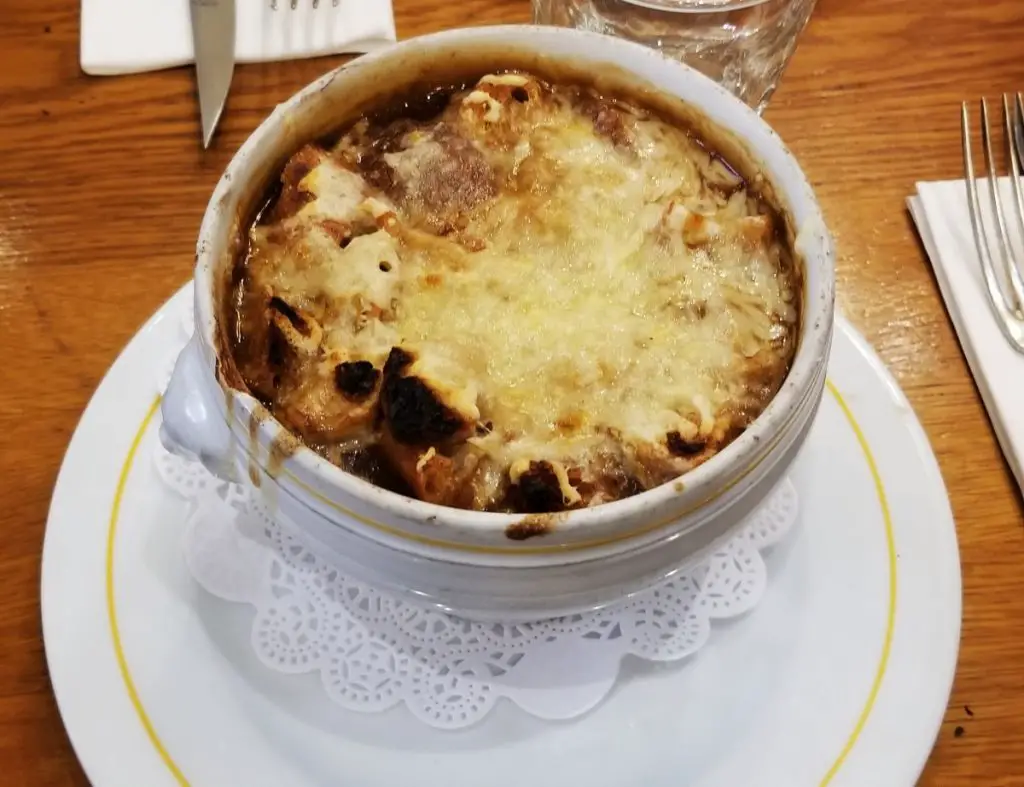 Jardin des Tuileries
Before or after lunch, a visit to the Jardin de Tuileries offers families the opportunity to run and explore.  Smaller kids will enjoy playgrounds and carousels, maybe even meeting new French playmates.  The park borders the Louvre for those with energy and time left to spare.
Grab one of the hundred of green metal chairs and enjoy the fountains and gardens.  This is a great time frame for a break at the park or to head back to your hotel or apartment for young families to rest.
Montmartre
For those ready to continue on, take a taxi or the Metro to Pigalle station on the southern boundary of the Monmartre neighborhood.  Walking west from here will take you through the "red light" area including Moulin Rouge.  (This is limited to shop windows with provocative displays.  Depending on the age of kids, this may welcome some discussion.)
Across from Moulin Rouge is a little train that runs most day until 6 pm or later in the summer.  It's a 40 minute ride cycle for 6 euros per adult.  It stops by Sacre Coeur where you can get off and re-board after your visit.  We rode without getting off and visited Sacre Coeur by another method.
An alternative or addition to the train ride is to proceed about 4 minutes walk North from Pigalle station to the area near Abbesses station.  This is a park with a carousel, vendors selling crepes and the famous "Love Wall".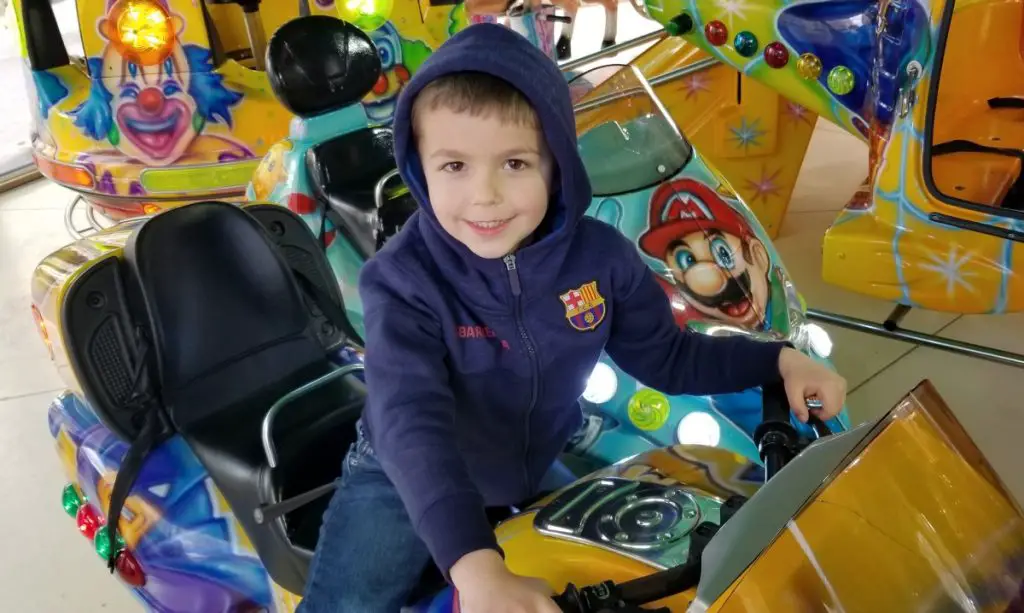 From here, it is a quick 5 minute walk to the bottom station of the Funicular, a short railway from the base of the hill to the location of Sacre Coeur.  You can use your metro card to board the Funicular as well.  We used Passe Navigo for our visit which I highly recommend if you are in Paris for long enough to make use of it.  This second method offers more time and access to the winding cobblestone streets, shops and character that is uniquely Montmartre.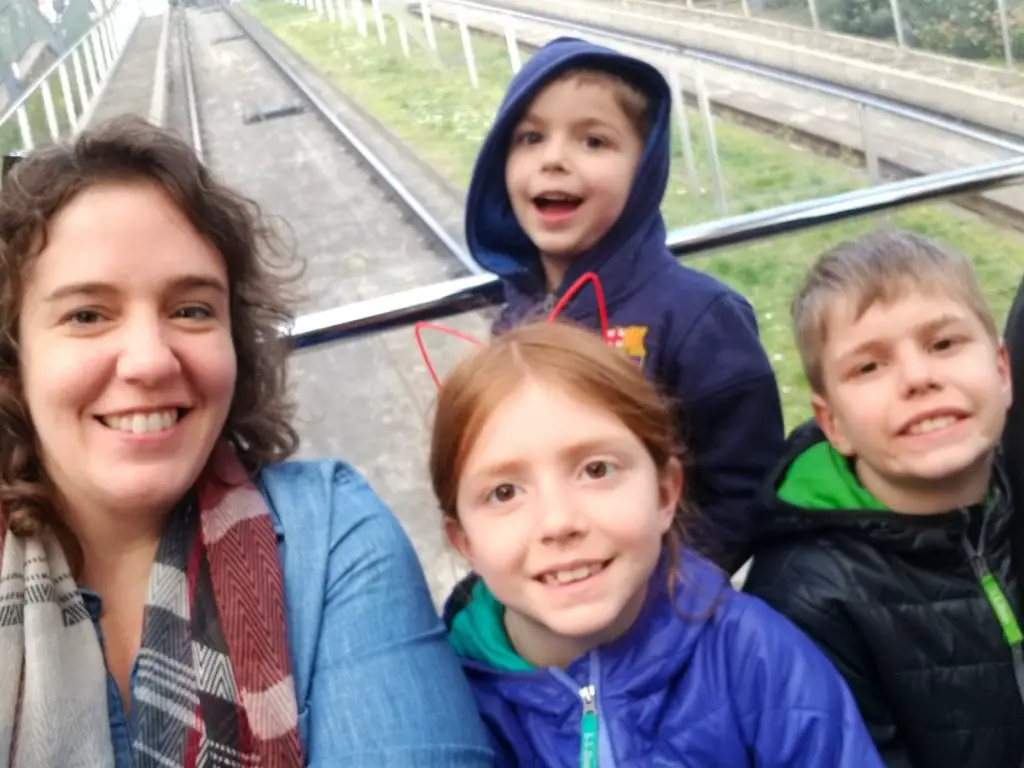 If you are still in Montmartre when it is time for dinner, there are endless bistros from which to choose.  We had a lovely quiet dinner at Aux Trois Pet Cochons.  We also had a luch at the lovely La Sancerre.  There is a rolled ice cream shop just down the block from here.
This full day of sightseeing should leave even the most energetic youngster ready to "dormez bien".