Quad City families, those school breaks come up quicker than you expect. Wanting to getaway with your family and planning it out are two very separate things. For all of my Quad City people who find themselves asking where should we go within a few hours for our long weekend, here are some suggestions. There are obvious choices and not so obvious choices with suggestions for places to stay, eat, and enjoy:
Wisconsin Dells, Wisconsin
Milwaukee, Wisconsin
Lake Geneva, Wisconsin
Peoria, Illinois
Starved Rock State Park, Illinois
Cedar Falls/Waterloo, Iowa
Wisconsin Dells, Wisconsin
The Dells is a place built for families like yours. There are endless activities and things on which to spend your money and fill your time. Here are my suggestions for a great Dells experience.
Where to Stay: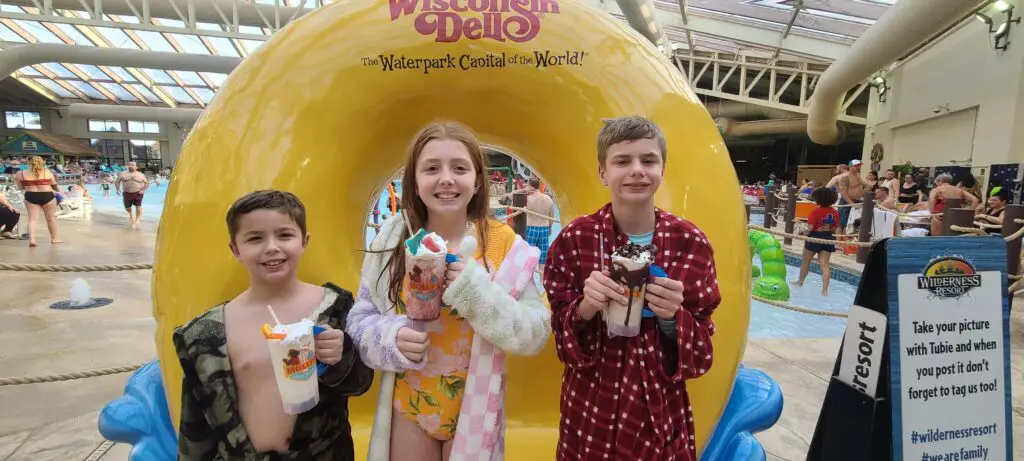 There are several waterpark hotels and waterpark adjacent hotels, truly options for every budget. If you are budget focused and traveling in the summer, consider staying at a motel or waterpark adjacent option like the Blackhawk Motel with its own pool, playground, and suite options or Natura Treescape Resort with its lagoon and fun treehouse rooms. This strategy works for the summer since you won't need to pay for indoor waterpark access with your own pool and so many outdoor activities to enjoy. In the winter (or anytime of year), I recommend The Wilderness Resort.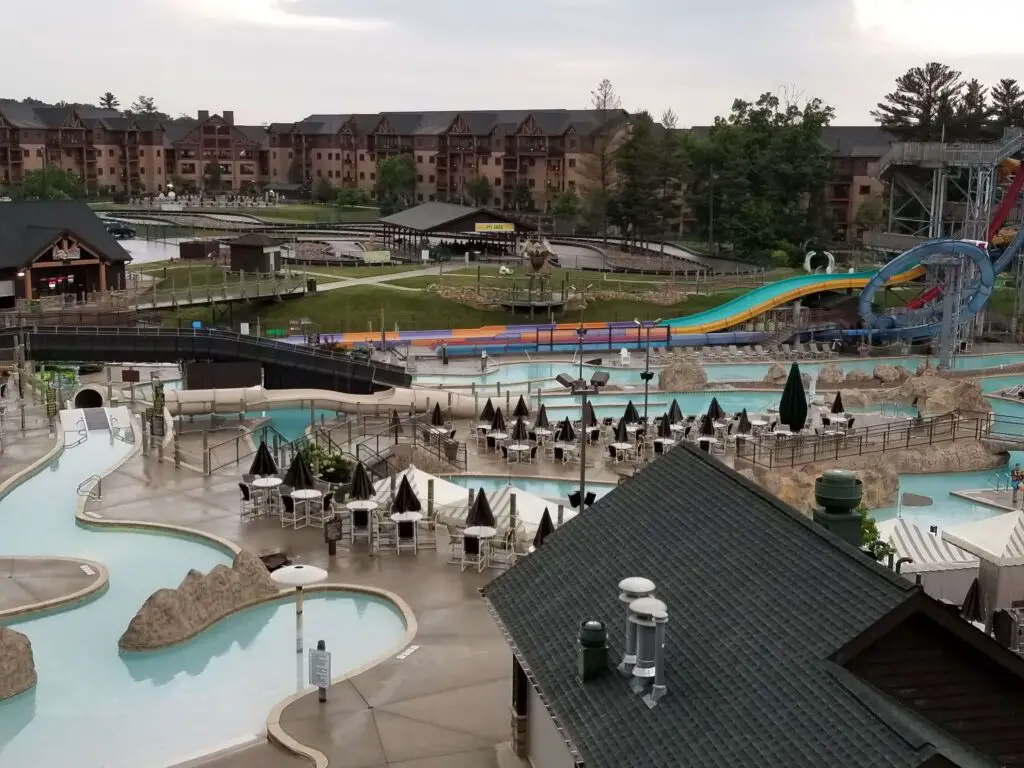 The resort is made up of multiple types of lodging from hotel rooms, suites, condo layouts, and an off site lake hotel. In 2022, they updated most of the hotel rooms and some of the indoor waterpark features. You never have to step out into the cold to traverse between the three indoor park, arcades, activities, and many dining options. You can make The Wilderness as budget friendly as you like as rooms include at least a microwave and large junior fridge. For our most recent visit, the kids just wanted to eat in the room often and veg out after playing hard in the waterparks.
What to Do:
Again, the winter, I suggest an indoor waterpark where the main attraction is playing in the waterparks. At The Wilderness, there is a nice variety of waterpark attractions for every age and interest. If you are visiting in the summer, The Wilderness will offer you more options in their three outdoor waterparks as well.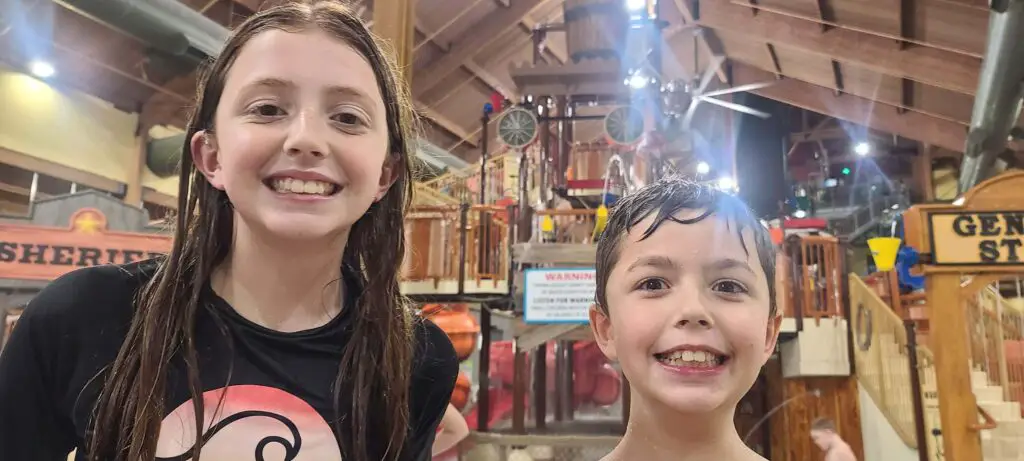 In the warmer months, it is more comfortable to explore the attractions sprinkled throughout the Dells. There is the downtown area filled with tshirt shops and attractions to explore. If your children enjoy interacting with wildlife, consider visiting Timbavati Wildlife Park and the Wisconsin Deer Park. Parents may enjoy a stroll on the short River Walk while kids run off some energy using the game tables. Taking a Dells Boat Tour reminds you why this beautiful area became the travel haven it is today.
Where to Eat:
If you are staying at The Wilderness property and have a "babysitter" in your group, parents should check at the 4-6 pm menu at Field's at the Wilderness. The steakhouse is just across the parking lot from the main Wilderness lobby. The small plates and drink specials are a great respite from the waterpark noise. There are lots of tasty options sprinkled throughout the resort for pizza, burgers, ice cream, and much more. Kids will also love the candy shops tucked around the resort.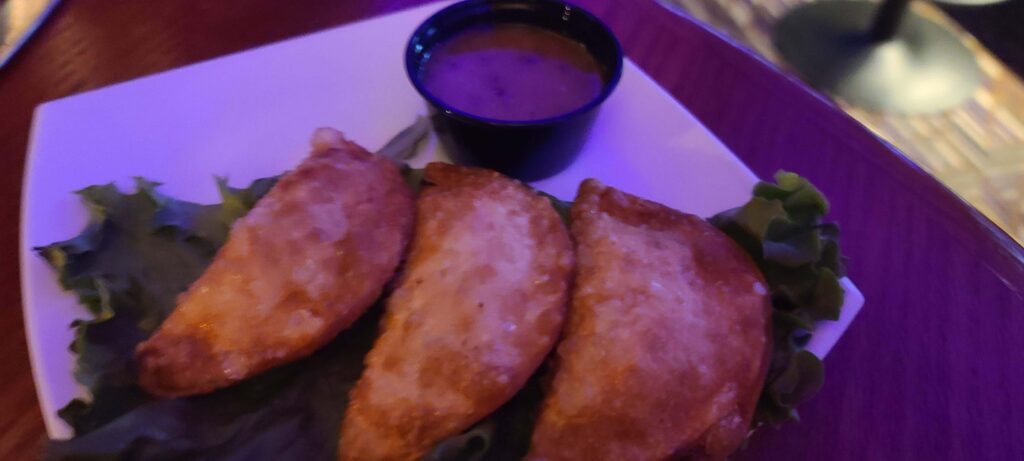 If you are exploring the area, here are a few suggestions. Go to Huckleberry's Ice Cream and Bakery for your sweet treat fix. In downtown Wisconsin Dells, visit Dells Bistro for three meals each day. Everyone will enjoy the pizzas, sandwiches and bubble waffles. Indulge in all the melty, gooey-ness at the Mac and Cheese Shop. They feature sandwiches, salads and various styles of mac and cheese. Moosejaw Pizza & Brewing Company is a Wisconsin Dells favorite. The basement is home to a big arcade that the kids will love.
Milwaukee, Wisconsin
Where to Stay:
I recommend staying downtown Milwaukee to get the best feel for the city. My favorite downtown hotel is The Brewhouse Inn & Suites. What initially makes this historic hotel special is that it was once part of the largest brewery in the world.  Turning this piece of history from one of America's Beer City into a hotel lets us all be part of the magic.  The interior is inviting and described as "steampunk and Victorian-revisionist".  The hotel features multiple room configurations from studio (which features well lit work space and a kitchenette) to the Baron Two Bedroom (14 foot window arches mixed with modern conveniences).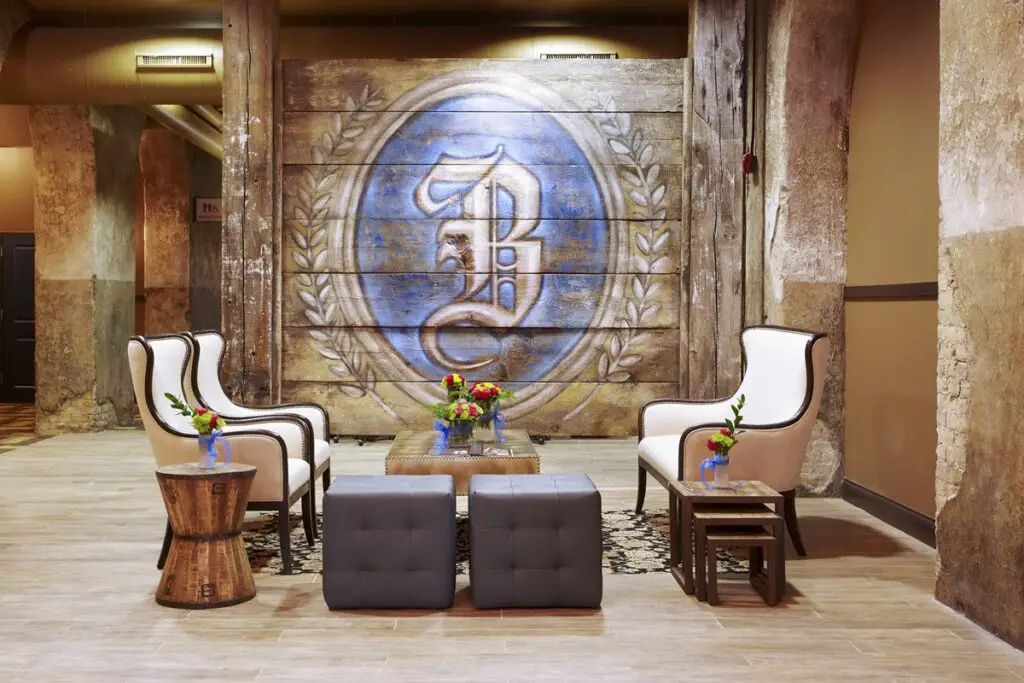 If The Brewhouse doesn't meet your needs, the Courtyard Milwaukee Downtown is another great option. This works well for families with their two queen, sofa bed configuration, indoor pool and free breakfast. Our family enjoyed a stay here overlooking Zeilder Union Square Park.
What to Do:
Milwaukee's downtown is built along the Milwaukee River. Pedestrians can easily follow the river along the RiverWalk between attractions. Don't miss the Bronze Fonz statue for a quick photo opp. The Milwaukee Public Museum is a favorite of our family and not far from the river. The museum is home to a diverse variety of collections.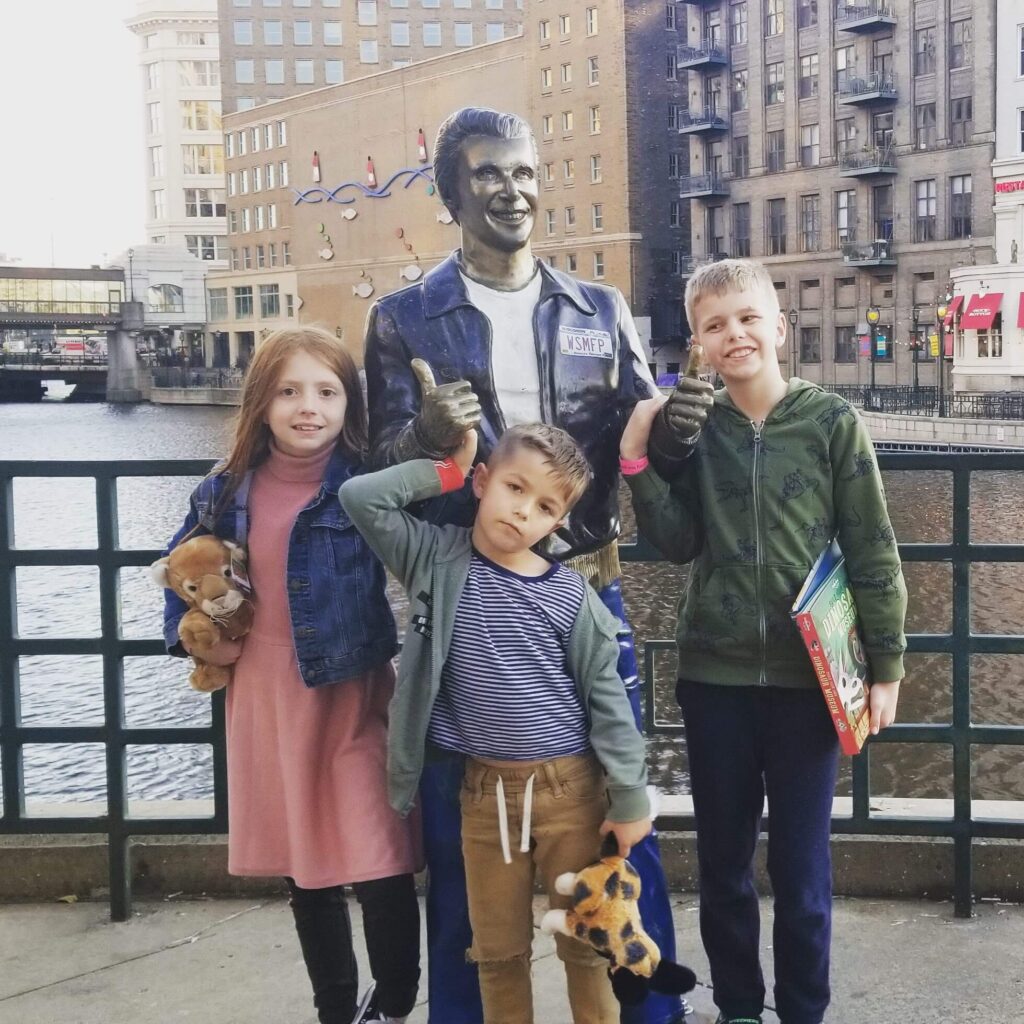 If you are visiting the Public Market (mentioned below), you will be in the Historic Third Ward and near several restaurants and art galleries.
Not far from here are a few great waterfront museums including the Milwaukee Art Museum and Discovery World. Both are worthy of your time based on your family's interests.
The Milwaukee Bucks play at the Fiserv Forum downtown and near lots of restaurants along the Riverwalk. If you love baseball, American Family Park is truly one of the country's best and worth checking out rain or shine with their retractable roof.
Where to Eat:
Good City Brewing, just off the Riverwalk and near the Buck's arena, offers snacks, sandwiches, pizzas and more kids options.
The Milwaukee Public Market is both a place for great food and fun thing to do. Whether you visit for coffee and pastries, diverse lunch and dinner options, or just to shop around, the market has something for everyone. Located just off the interstate and many mentioned downtown spots, you may decide to drive according to your home base of choice.
Take a drive away from downtown along the Milwaukee Bay and its beautiful homes for a meal at Barlotta's Lake Park Bistro. We chose it for their escargot as we have a young connoisseur, but the ambiance is great and the food was delicious.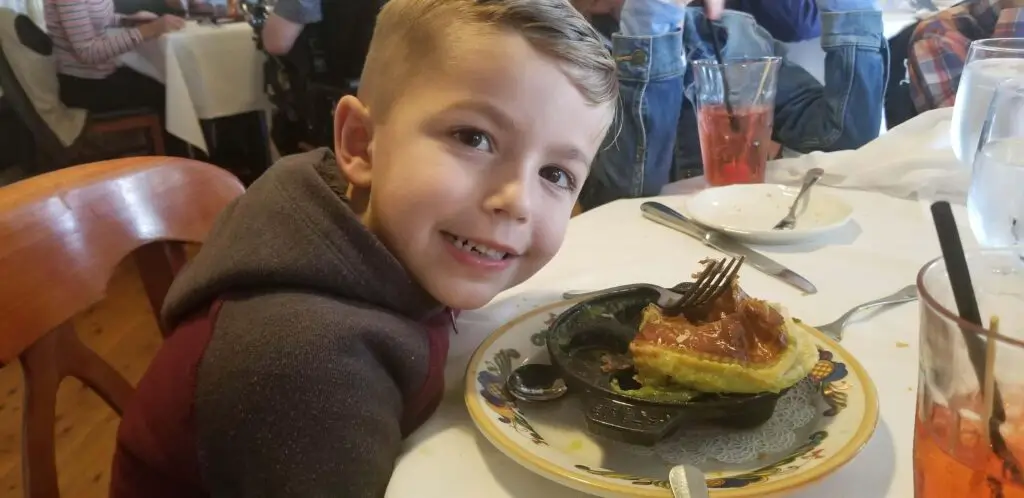 Try a Wisconsin original, the kringle was introduced in Racine (south of Milwaukee) by Danish bakers in the late 1800s. This thin, crispy pastry is baked in an oval shape and can be filled with fruits, nuts or chocolate and usually topped with icing.  You can pick one up at one of these suggested locations. Be on the lookout for Milwaukee's own Sprecher Root Beer while you are dining.
Lake Geneva, Wisconsin
Where to Stay:
If you are looking to stay somewhere with onsite entertainment, delicious food, and beautiful accommodations, stay at Grand Geneva Resort and Spa. Although Grand Geneva is located less than ten minutes from downtown Lake Geneva, it is an opportunity to have a full resort experience and choose to enjoy downtown and the waterfront as you like. The kids will love the access to Timber Ridge Waterpark as well.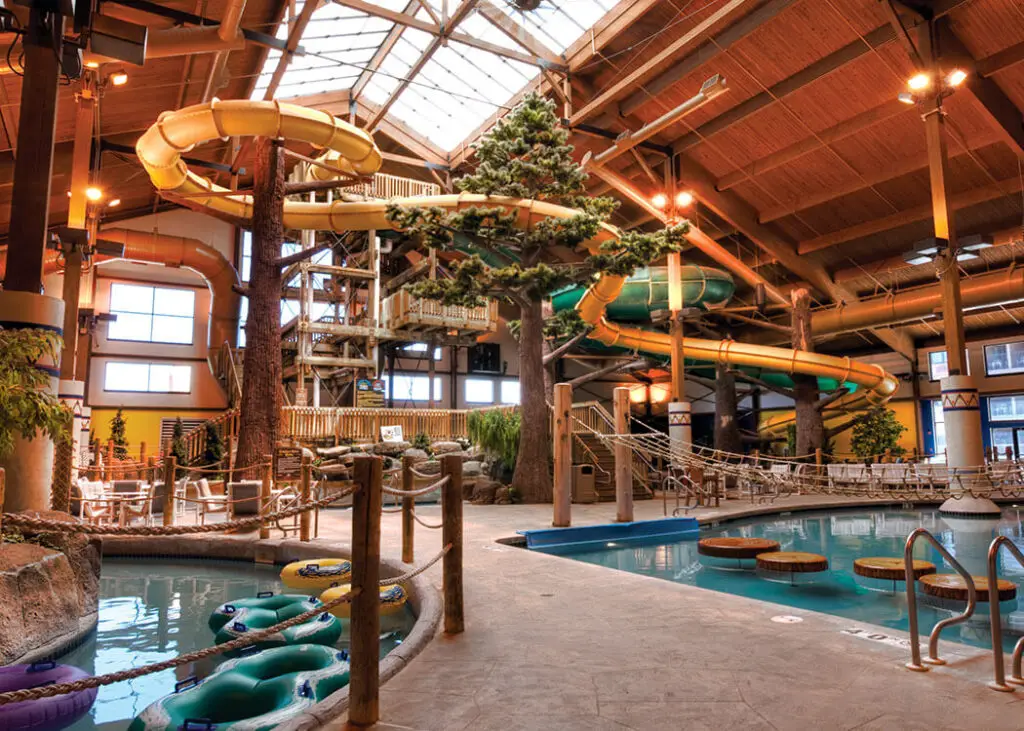 If it is most important to stay in the middle of Lake Geneva, by the water, choose Harbor Shores. In the warmer months, this hotel gives you a prime location and a beautiful view. Enjoy the pool, the waterfront, and in room kitchenette.
What to Do:
Who doesn't enjoy some time by the water? Brisk temperatures and rolling water framed by Fall colors sound like the perfect way to relax over a long weekend. Follow part of the 21 mile path surrounding Geneva Lake. And, of course, warm weather means the opportunity to play on the water. From the shore, enjoy Riviera Beach for relaxing or swimming. To get out on the water, rent a pontoon or ski boat from Marina Bay Boat Rentals.
Take in the views from the water on an Ice Cream Social Boat Tour. Take in an illusionist show and be amazed. Stroll around downtown Lake Geneva to enjoy some shopping. Have an adventure with Lake Geneva Zipline.
What to Eat: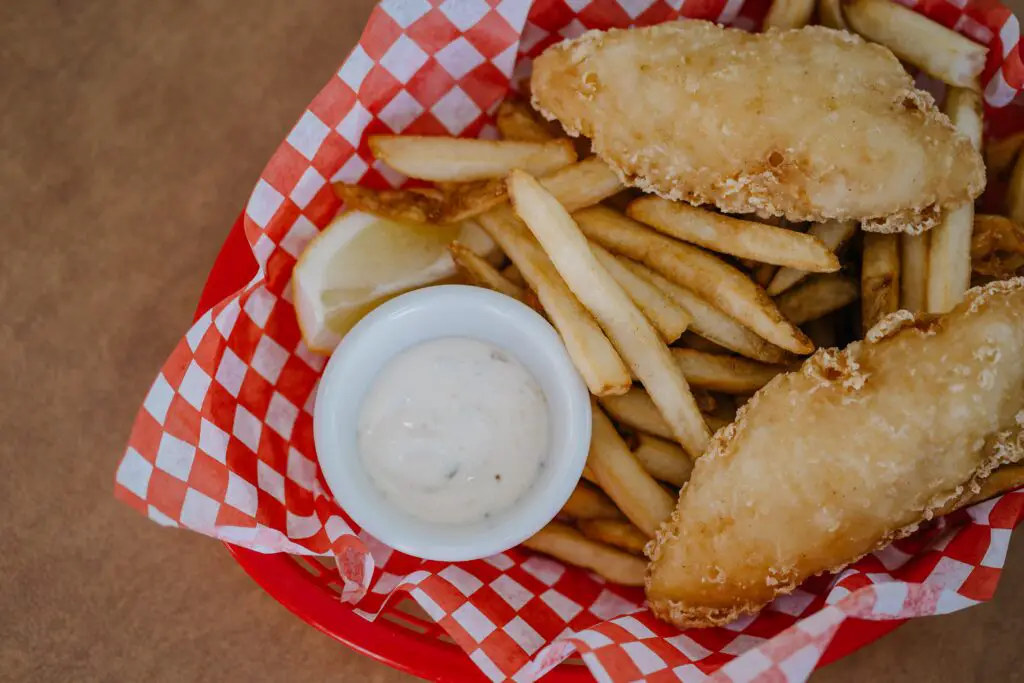 Grab a pie for lunch or dinner at Next Door Pub. Enjoy a Friday night Fish Fry Hawk's View Golf Club. Don't worry they also offer burgers. Enjoy a supper club experience at Mars Resort. For a tasty breakfast before your day on the water, visit Simple Lake Geneva for locally sourced ingredients.
Peoria, Illinois
Where to Stay: 
There are some great hotels in great locations in Peoria. The Stoney Creek Inn is located near the Illinois River and still convenient to the highway. They are a great choice for the fun, themed hotel rooms and indoor/outdoor pool. The Embassy Suites East Peoria Riverfront is waterfront and perfect for families who need a bit more space.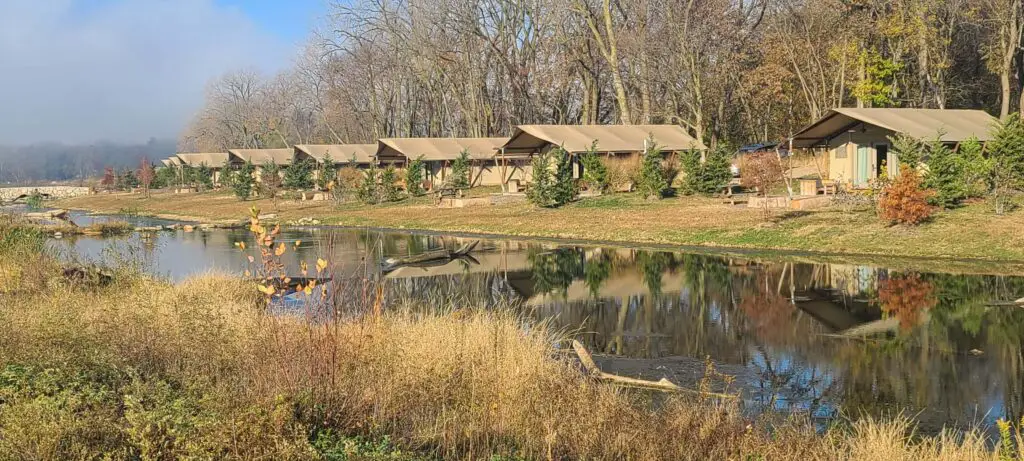 If you are willing to drive a little bit, consider staying at Sankoty Lakes, a glamping resort, open to RV camping, glamping tents, and cabins. It is beautiful for a stay three seasons per year and full of opportunities.
What to Do:
We love the Peoria Riverfront Museum. It full of beautiful art, displayed in a way that is interesting to all ages, STEM opportunities and a planetarium. Check their calendar as they often host fun events. You will also want to check the Peoria Convention Center's schedule for family friendly events.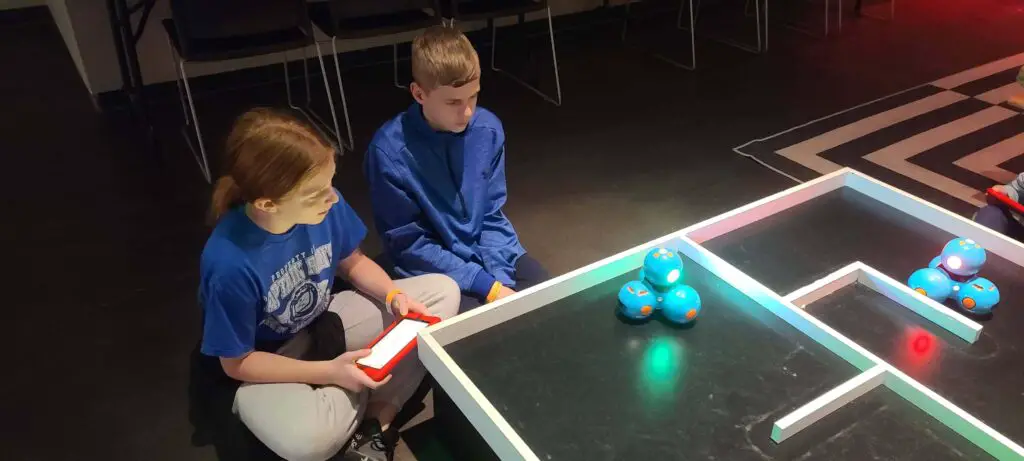 If you choose to stay at Sankoty Lake, much of your weekend will naturally unveil itself. They rent golf carts which makes it fun to tour the property and even the Illinois River if the water is low. Depending on the weather, you can rent canoes and kayaks, swim on the beach, listen to live music on the restaurant patio, or just enjoy the beautiful scenery.
If you happen to visit in the late Fall/Winter, check out the award winning East Peoria Festival of Lights. This drive through display attract thousands of visitor each year.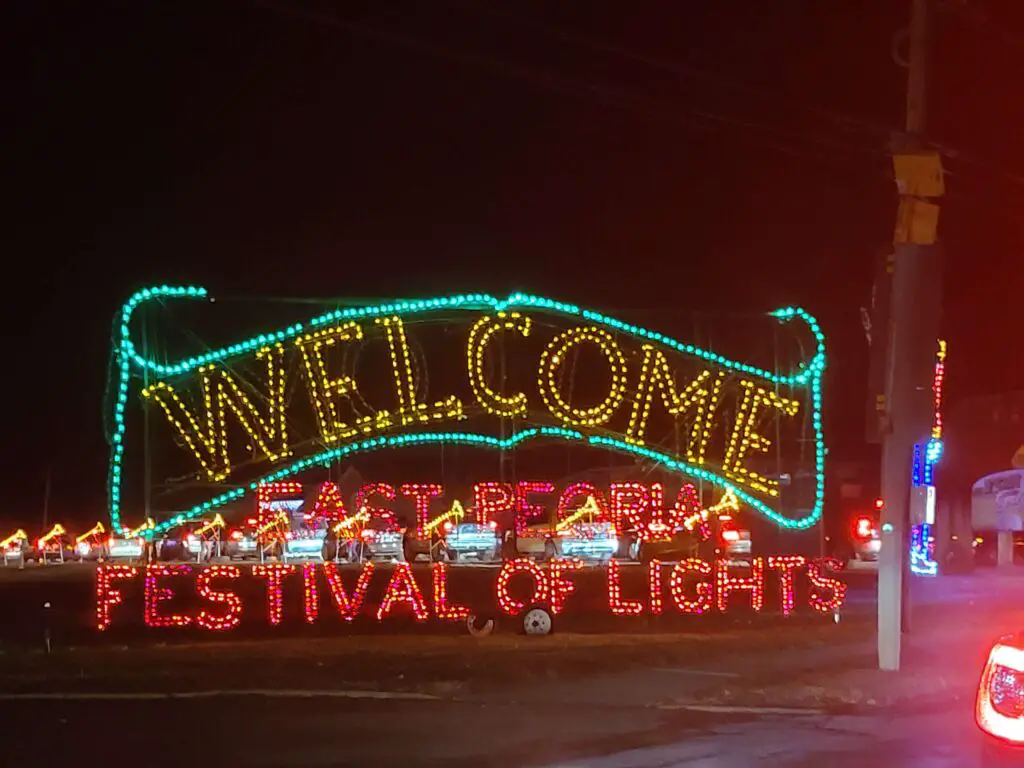 The Peoria Zoo is a smaller zoo located within a larger park that kids will enjoy before or after your visit. The zoo is well laid out and easy to navigate with a lot to offer.
Where to Eat:
One of the old-school regional favorites is Avanti's, known for their pastas, bread, and gondola sandwiches.
Obed and Issac's Restaurant is a fun place to hang out with delicious food. In warmer months, enjoy the patio which holds several outdoor games for the whole family to enjoy.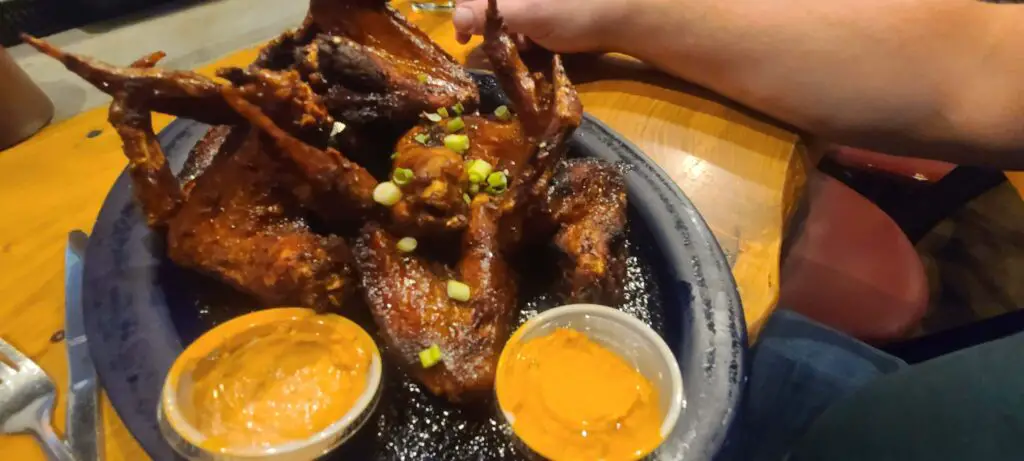 Blue Duck BBQ Tavern is located downtown on Water Street. The space is smaller and they do not reservations, but the food is worth it, even if there is a short wait.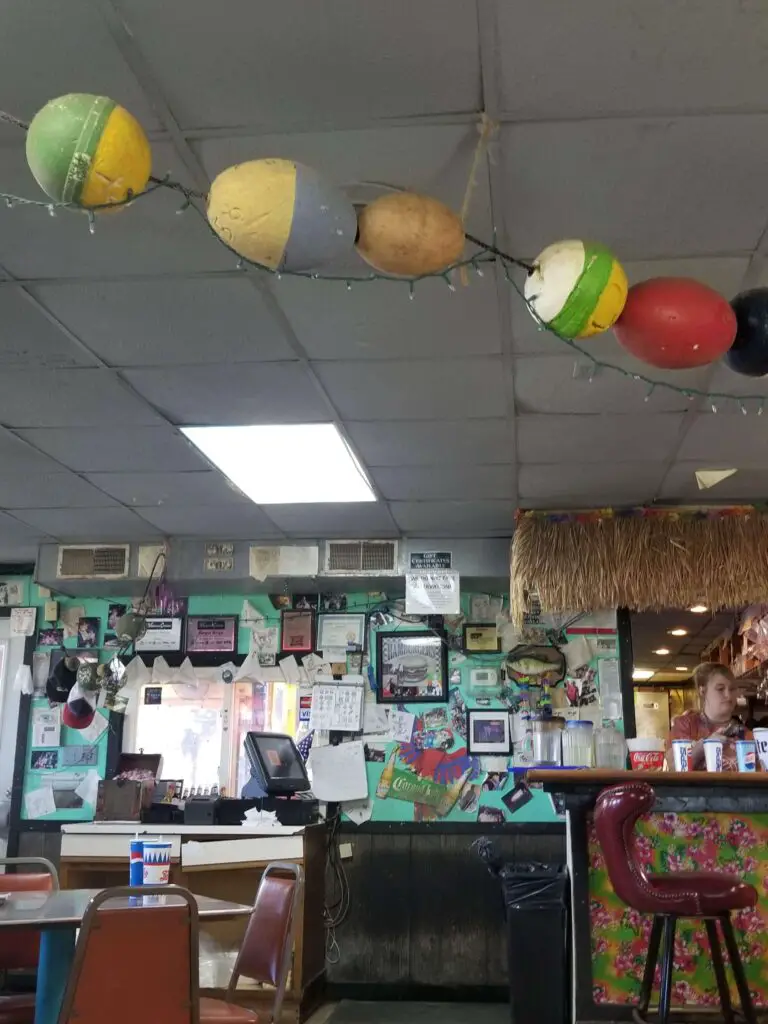 Burger Barge provides a little escape from the day to day with its fun beach themed interior. Kids will love all of the fun specialty drinks and everyone will enjoy their juicy burger options.
Starved Rock State Park, Illinois
Beautiful sandstone rock formations make a great background for beautiful hikes in this approachable state park. For a long weekend connecting with the outdoors, Starved Rock offers lots of canyons, cliffs and waterfalls to explore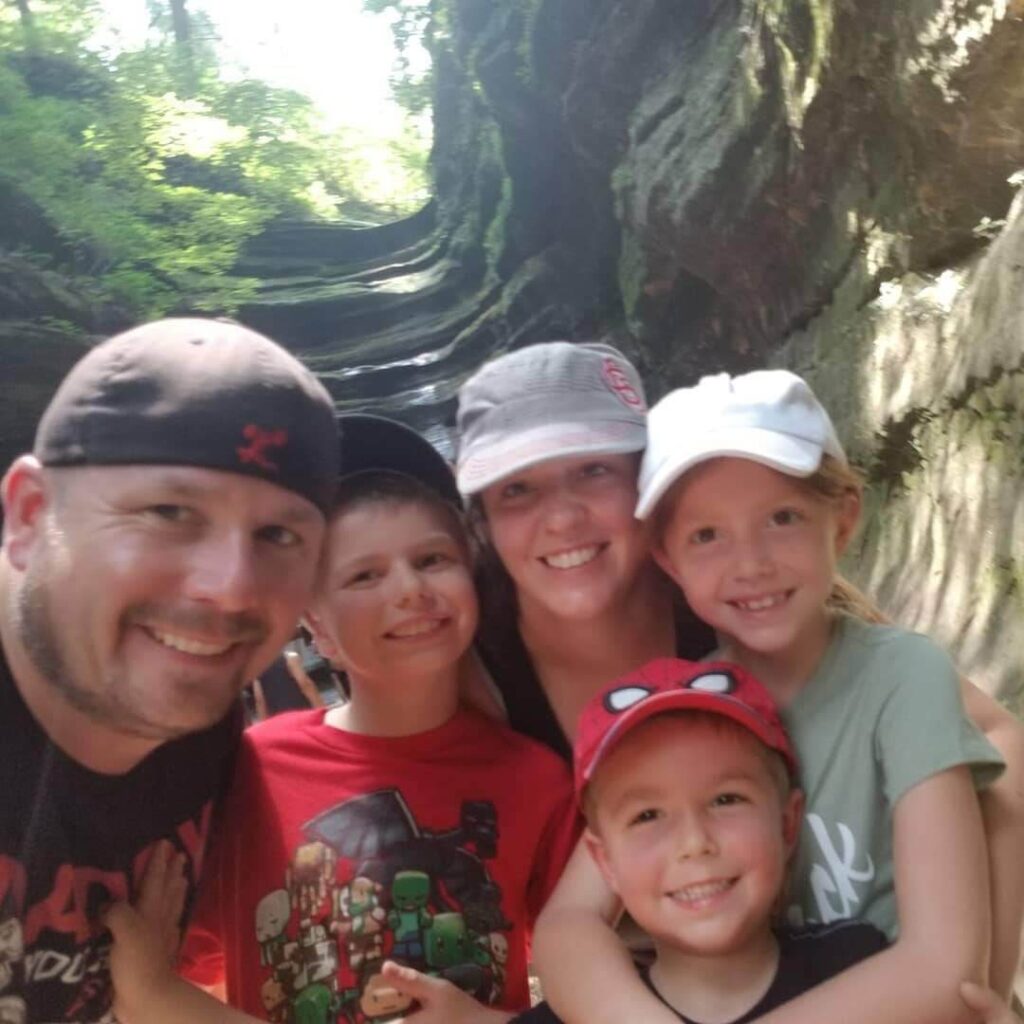 Where to Stay: Located on the park grounds is a beautiful, historic lodge is Starved Rock Lodge. In addition to lodge rooms are cabins that accommodate larger families.  The Grand Bear Resort is also located at Starved Rock offering rooms, suites and villas. Grand Bear is home to a small indoor waterpark, arcade and mini golf. A stay here can be a nice combo with all of our outdoor fun, especially for smaller kids.
Landers House is a bed and breakfast, but the whole home is available for rent, perfect for a larger group. It is located in Utica, just a few minutes from an entrance to the park. There are several chain hotels located within 15 minutes of the park in Ottawa.
What to Do:
Hiking is the easy answer for what to do. There are many great trails and I personally enjoy using the AllTrails app to keep track of where I am on a trail and customize my search. You can also stop at the Visitors Center for a trail map.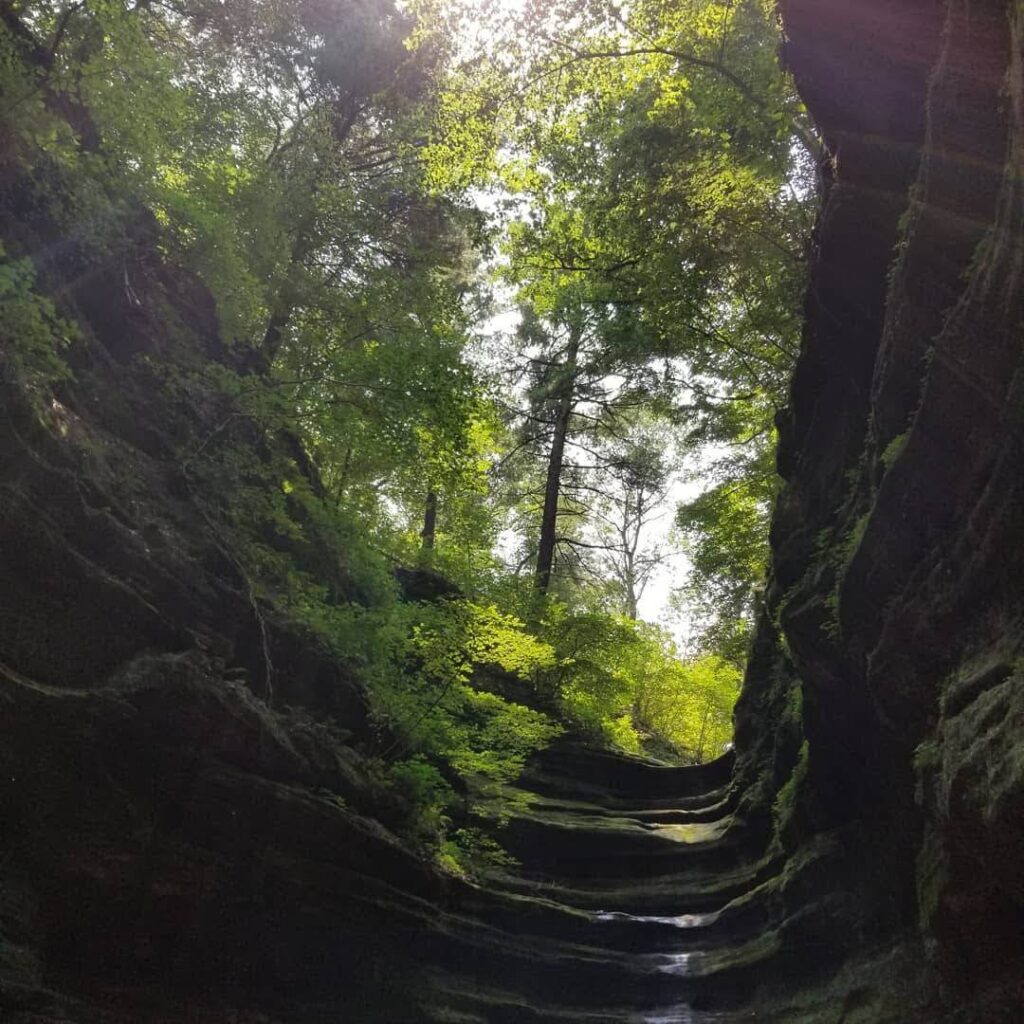 Here are a couple family friendly trails:
You will find a listing of several short trails and YouTube videos here.
Only five minutes drive from Starved Rock is Matthiessen State Park. There are more trails that feature beautiful waterfalls much like you will find in Starved Rock State Park. Both parks are great for picnicking and relaxing between hikes.'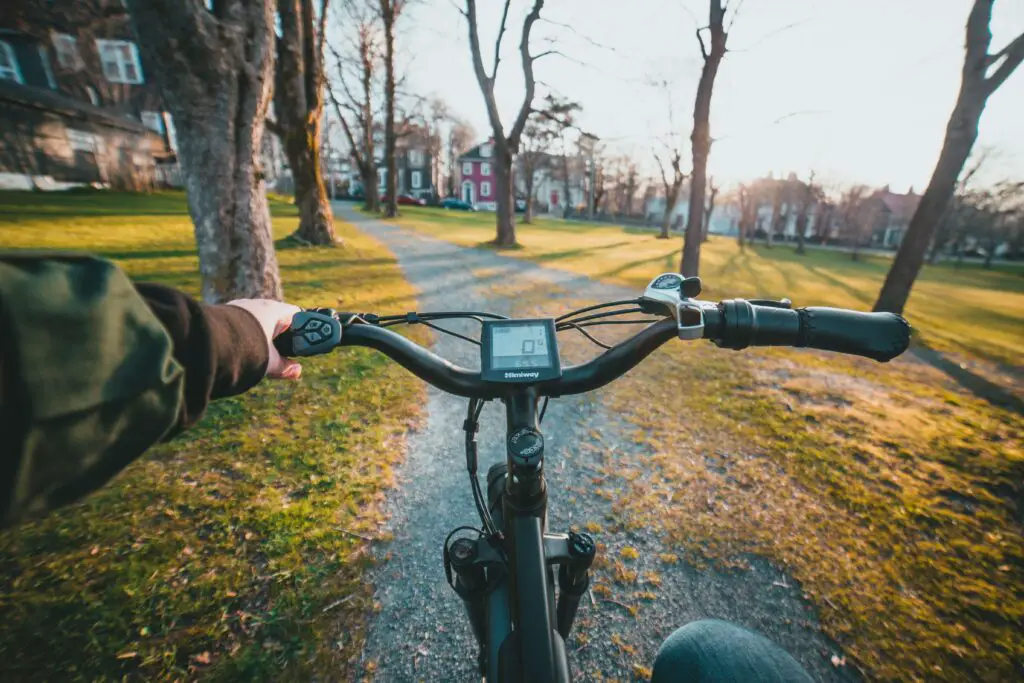 Rent an e-bike to explore the area at Utica Bikes.
Where to Eat: A variety of dining options are available in the Lodge and Park. Enjoy all three meals served in the Main Dining Hall. Meals and snacks are also available on The Veranda, Cafe and concession stand.  If you slip away from the park, check out Nonie's Bakery & Cafe, a beloved local restaurant serving breakfast, lunch, and sweet treats. For an old fashioned supper club experience, Garzanelli's welcomes families for a great nice out. Don't forget the Rootbeer Stand, a traditional car hope served diner.
Cedar Falls/Waterloo, Iowa
Like many other communities in our region, these two communities share a border, but each have their own vibe.
Where to Stay:
The Blackhawk Hotel, in Cedar Falls, has the distinction as the oldest continually operating hotel in the country with its original opening in 1853 and operating under its current name since 1914.  The 43 rooms, a mix of original and modern, are filled with charm, soft, period furnishings.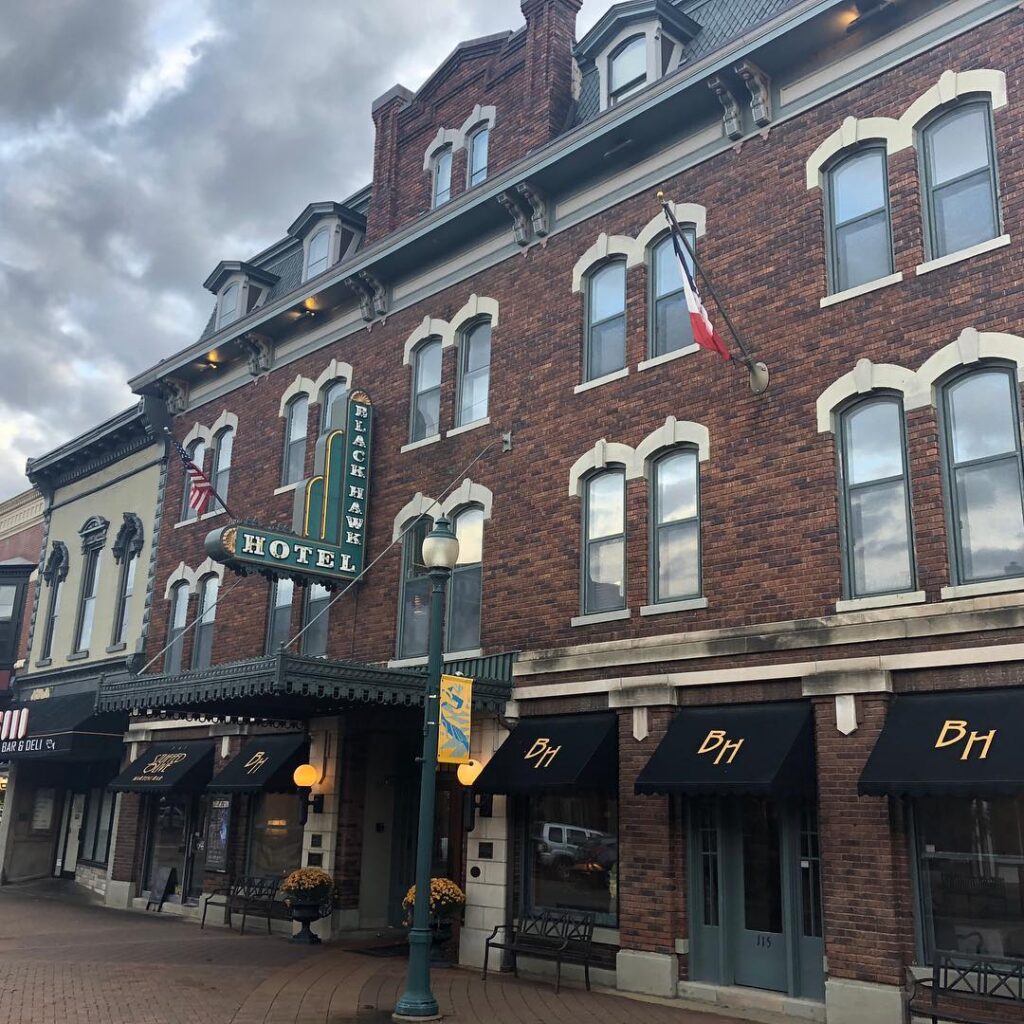 Also in downtown, the Hampton Inn Cedar Falls Downtown, offers a convenient location with a nod to the modern. The hotel offers an indoor pool, free breakfast, and variety of room configurations.
If you plan to enjoy the water and theme park (mentioned below), you might consider the Waterloo/Lost Island KOA. They have many RV camp sites, but also have some simple cabins onsite that host 4-8 guests. The location is convenient to the park, but also has many amenities of its own including swimming beach and snack bar.
What to Do:
The Lost Island Waterpark has been open for several years now, but the theme park opened recently. You can buy tickets to one or both. When our kids were smaller, we really enjoyed how some of the cabanas at the waterpark were raised above the park grounds so our youngest could rest while the older ones continued to play.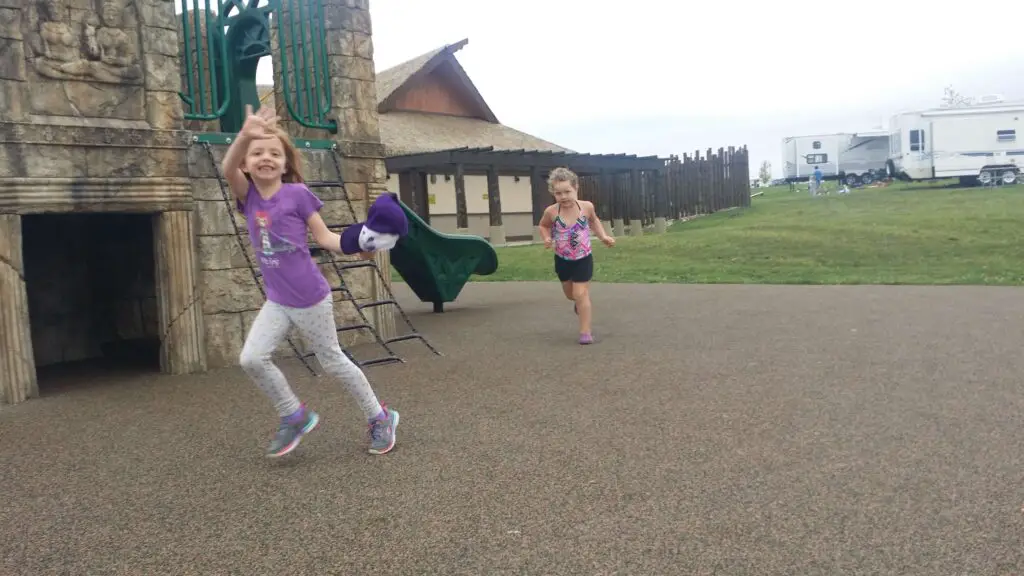 I always have a soft spot for a college town. While visiting the area, stop by the UNI Campus to explore. I love the idea of introducing collegiate life to our kids (whether or not they choose not) since it was such a special time in our lives. Use the map of your preference to enhance your visit and know what you are seeing. You can also check the events calendar to see if any sports or other activities are planned during your visit.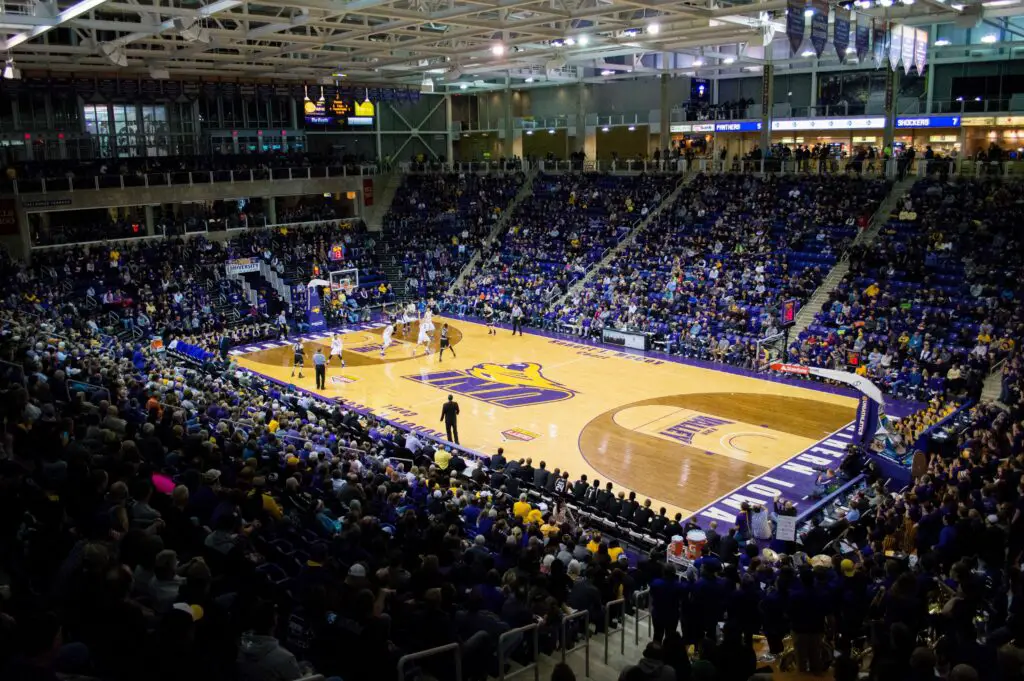 My home community is home to the John Deere headquarters, but Cedar Falls/Waterloo is also home to many John Deere employees. Enjoy the history and the interactive play available at the free John Deere Tractor & Engine Museum.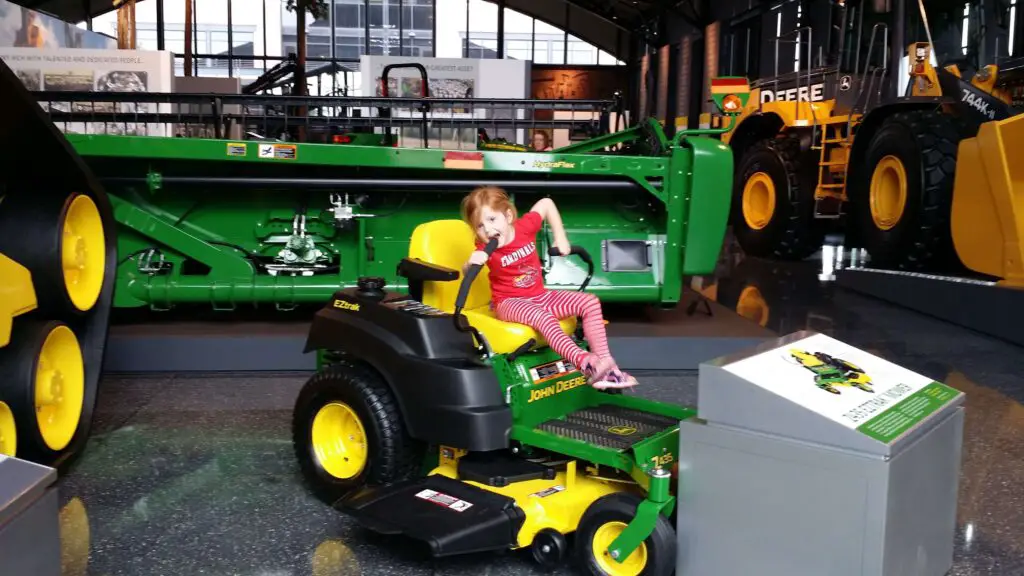 Waterloo is the hometown of Iowa wrestling great, Dan Gable. If you are a wrestling enthusiast, like we are, visit the National Wrestling Hall of Fame Dan Gable Museum during your stay. You will enjoy displays on the history of wrestling and a gift shop of wrestling items.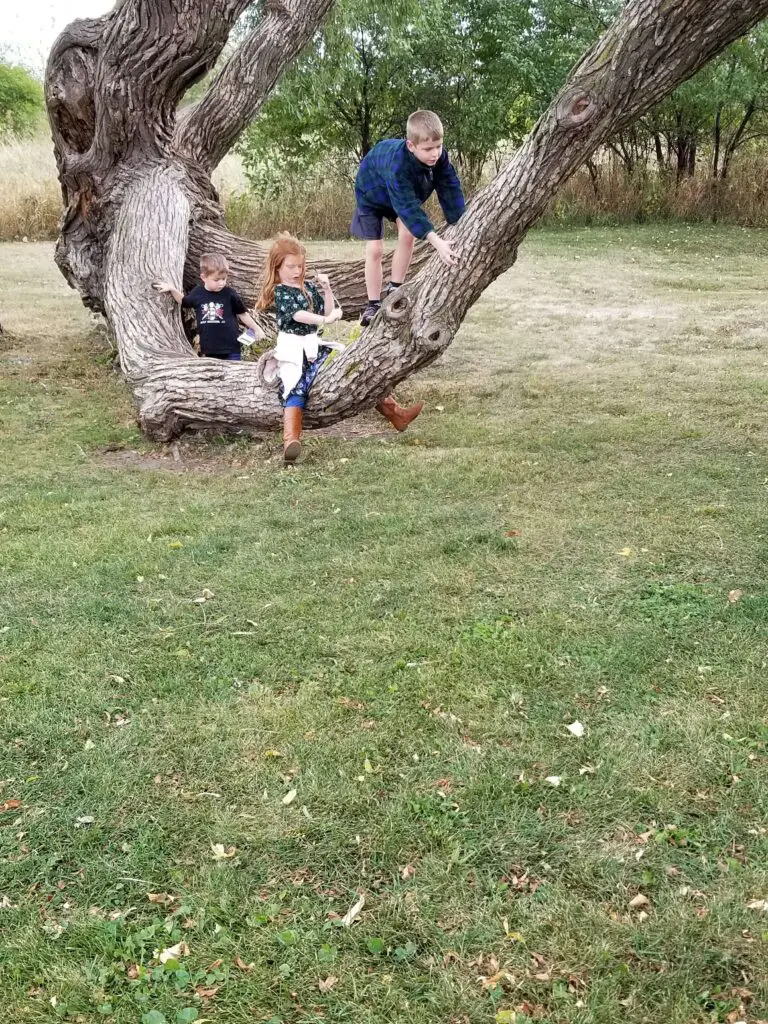 For some outdoor time and an easy walk for all ages, visit Cedar Falls Prairie Lakes Park. You can find an interactive map here. The trails surrounding the ponds are paved and fun to explore. There is also a visitor center in this location to gather more ideas for your stay.
Where to Eat:
Our very favorite place to eat here is Singlespeed Brewing Taprooms. They actually have a location in both cities. The spacious Waterloo location also has a play nook area for kids. The beer is good and the food does not disappoint. They offer several kids menu items as well.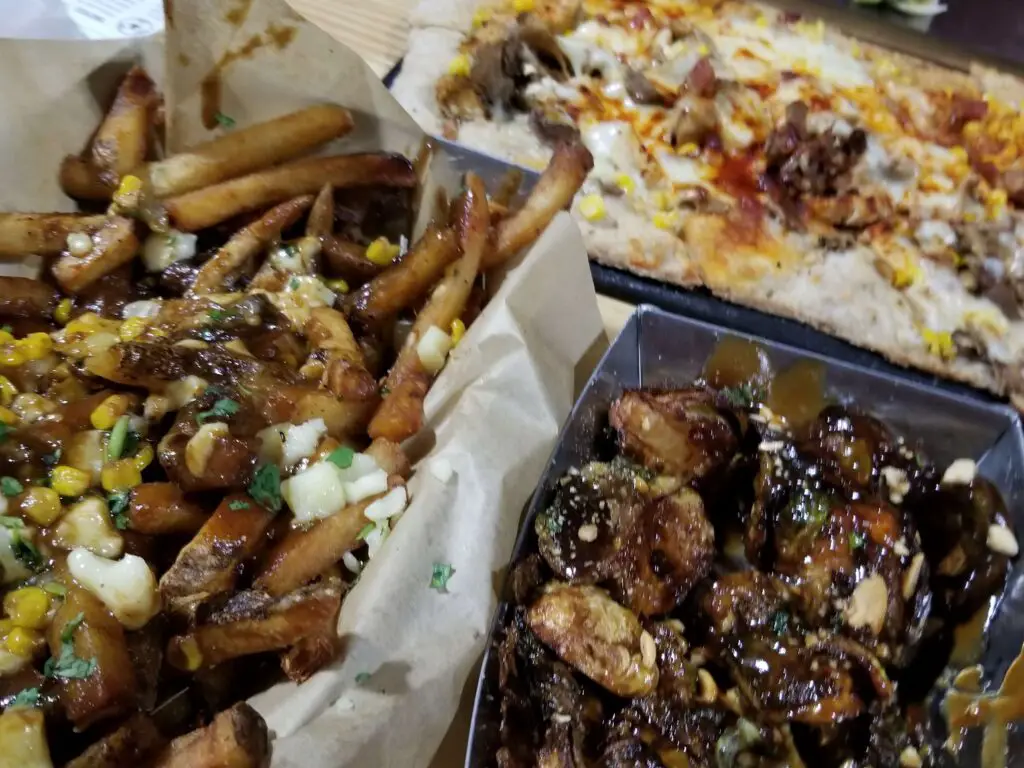 Kids (and grown ups alike) love Hurts Donuts, an Iowa regional favorite. You can get all varieties of sugary favorites like Cookie Monster and Red Velvet.
The Brown Bottle is a great option for dinner. They feature pasta favorites and delicious pizza. Take advantage of this delicious option for the whole family.
Chad's Pizza is a regional favorite. Stop into their Cedar Falls location to enjoy one of their over 60 specialty pizzas, wings, and other favorite appetizers.
So Many Options
If none of these have you excited, don't miss my many suggestions for Iowa City (including Things to Do with Kids in Iowa City,  Unexpected Midwest Spring Break), Midwest Hotels Not to Miss, Midwest Foodie Road Trip, and more.