The Midwest boasts many foods that are either uniquely found only in the Midwest or copied without success in other places.  You can enjoy many of these food items year round, but summer through harvest season will yield the widest availability.  Since the Midwest covers a wide variety of people and cultures, food influences come from many different places in the world only to be optimized for the weather of each area.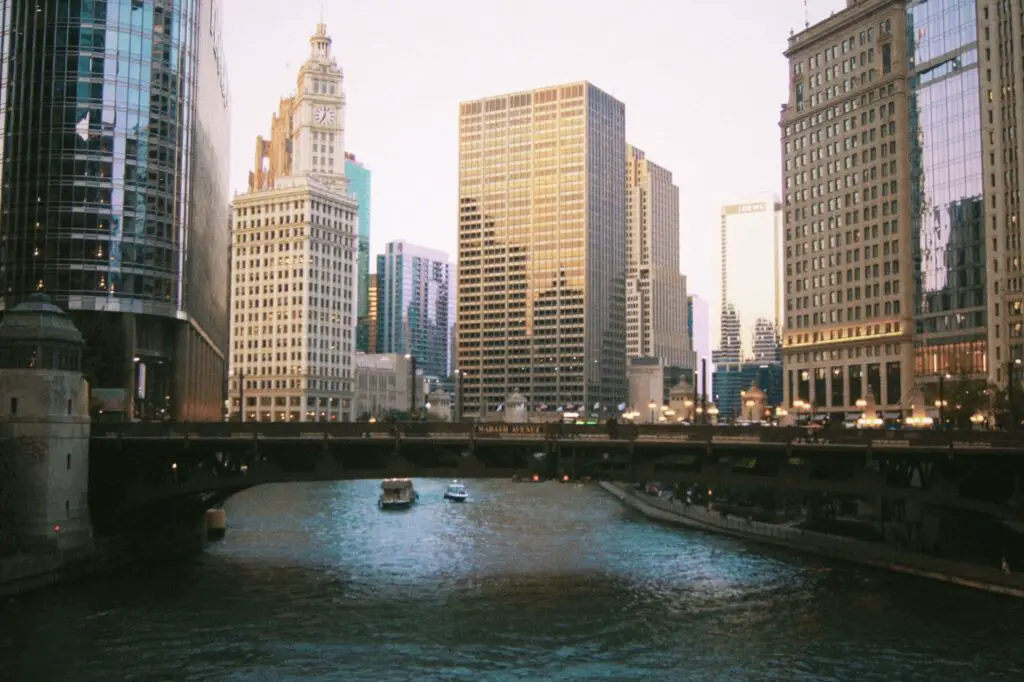 This itinerary allows you to fly into Chicago if you are from out of the area to join the trail or start from anywhere in the Midwest.  The main itinerary could be accomplished in a long weekend, but certainly could be stretched into enjoying additional time in some of these great cities.
The Route:
Chicago, Illinois
Wisconsin
Minnesota
Iowa
Missouri
Indiana
Optional: Urban Bourbon Trail
Destination 1: Chicago
Whether you are starting, ending or both with Chicago, food is only the beginning of how you can be entertained.  I've written many articles about how to enjoy the less obvious tourist destinations and neighborhoods (Spring Break Chicago, Neighborhoods Chicago, Fall Visit), but if you're visiting for food, there are a couple items you absolutely must include: Pizza, Popcorn, Chicago Dogs, and Italian Beef Sandwiches.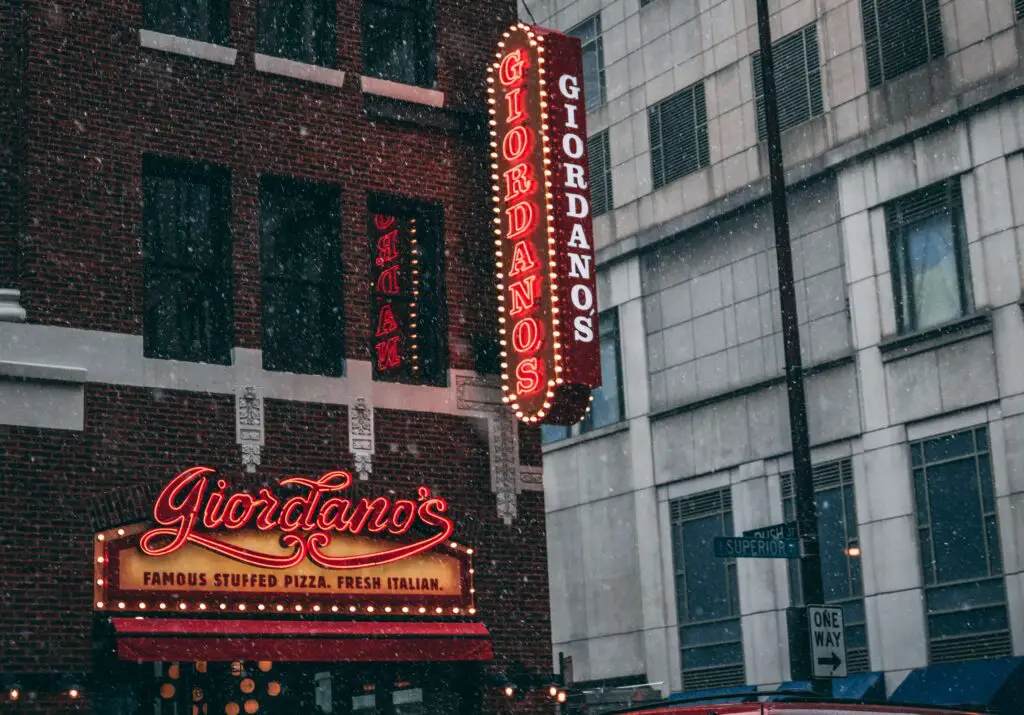 The pizza debate runs deep in Chicago, no pun intended.  Chicago is best known for the deep dish style, but there is a great tradition of "tavern style" cracker crust pizza.  They are essentially two completely different eating experiences.  Choosing who has the best is a very person choice in either variety.  Deep dish favorites often include Lou Malnati's (since 1971), Pizzeria Uno (the original, since 1943), Gino's East (since 1966), Pequod's, Bartolli's https://www.bartolispizzeria.com/(grandson of Gino's proprietor), and Giordano's.  Of the thin crust variety, the favorites include Vito & Nick's (pizza since 1945), Candlelite (pizza since 1950), Pizano's, Piece Brewery and Pizzeria, and Marie's Pizza and Liquors (since 1950s).  There are so many other great pizzerias and if you ask a local, you'll surely hear of more than this list.  Having eaten many of these, my best suggestion is to take a look at their websites and see what makes you drool.  How can you go wrong?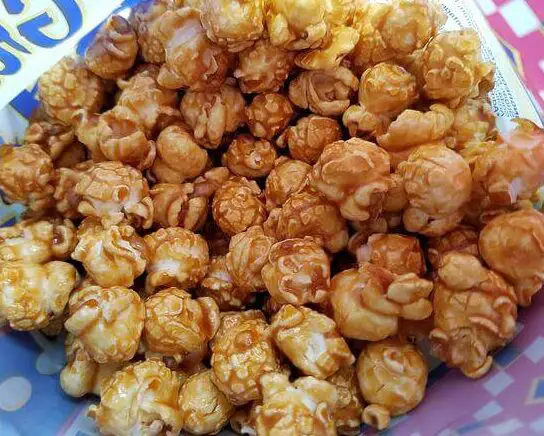 There are a lot of popcorn shops across the country, but Garrett's Popcorn, has been producing multiple flavors of delicious popcorn since 1949.  In 1977, they created the now famous Chicago Mix (caramel and cheese corn).  The company boasts many long-time employees.  They have been mailing out beautiful gift tins of popcorn since the early 1990s and are going strong seventy plus years later as Chicago's favorite popcorn.  There are several Garrett shops and stands at stadiums and even O'Hare airport.
The Chicago Dog is often found at hot dog stands, but did you know that a real Chicago Dog is an all beef dog? The concept originated with Jewish settlers whose Kosher produced beef dog was seen as a cleaner, more safely produced product. Austrian-Hungarian immigrants established the Vienna Beef company and introduced their product at the World's Fair in Chicago in 1893.  A Polish baker, Sam Rosen, introduced the poppy seed bun which became the required foundation of the Chicago Dog.  Add the Great Depression, the essential need for inexpensive meat, and toppings coming from the garden (peppers, tomato, onion, and pickle relish), plus a dash of celery salt, and the Chicago Dog took its place as a staple. A few spots to grab a Chicago Dog include Dave's Red Hots (since 1938), Byron's Chicago , Lulu's, and Vienna Beef Factory Store (3847 S. Morgan Street).
The final food that is synonymous with Chicago is the Italian Beef sandwich.  It's unanimously agreed that the juicy thinly sliced layers of roast beef originated with Anthony Ferrari, a street vendor who aided in extending a beef roast at a wedding reception by cutting it thinner and soaking it in the seasoned juices.  Anthony's son, daughter, son-in-law, and partner, Chris Pacelli Sr. opened the first stand in 1938 which led a boom of beef shops around the city.  Read the full story here. Today you'll find Italian Beef (sometimes just listed as Beef Sandwiches or Chicago Beef) sold alongside Chicago pizza and dogs throughout the city and suburbs.  Visit the original Al's #1 Italian Beef for the nostalgia or you can find both dogs and sandwiches at the rapidly growing chain, Portillo's.
As one of America's largest cities, Chicago offers any style or origin of food of which you could dream.  These are simply the iconic Chicago foods.  There is also no obvious place to stay in Chicago to try all of these foods as they are spread across the city.  Choose your favorite view and neighborhood and let Uber take you to these hot spots.  There are also tours designed to showcase some of these food like these: Secret Foods Chicago and Chicago Food Tours.
Destination 2: Wisconsin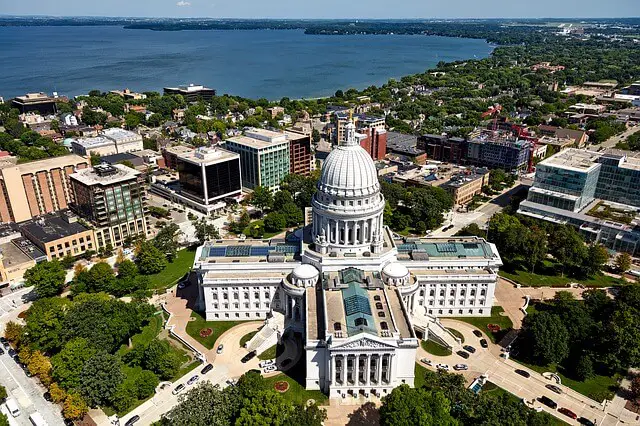 An optional detour on the way to Madison for beer drinkers is to visit the small town of New Glarus, Wisconsin.  New Glarus beer is only distributed in the state of Wisconsin which keeps those in the know, but just over the border, running across to pick up their Spotted Cow Ale.  There is a pizzeria along with the brewery to visit for a quick bite and tasting.
Less than 2.5 hours up the road from Chicago, you will find Wisconsin's capital city.  Madison is a bustling city of over 250,000, a university town, culturally energetic, and uniquely situated on an isthmus between Lake Mendota and Lake Monona.  If you have the time, Madison is a city to bike, hike or jog what you enjoyed in Chicago to make room for Wisconsin's own delicacies.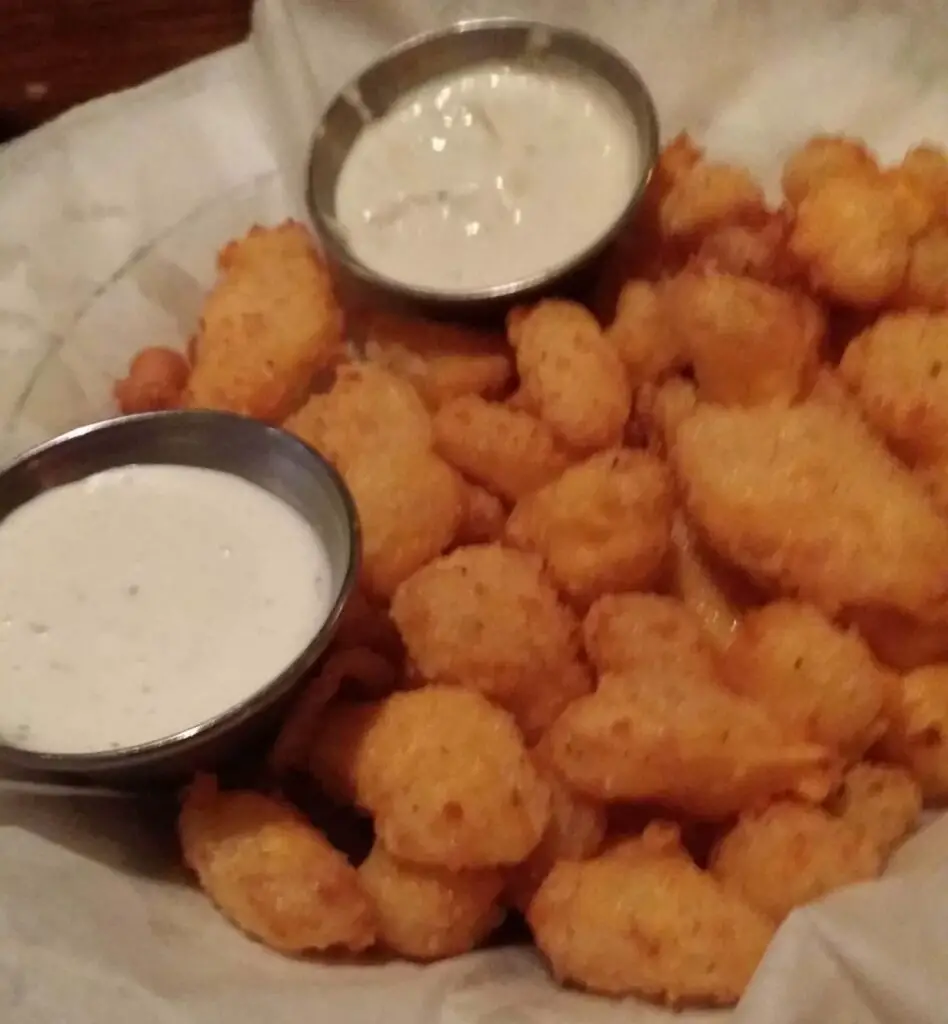 We're going to check off two Wisconsin favorites by visiting The Old Fashioned in downtown Madison.  Wisconsin is very proud of their cheese production which leads to finding cheese curds in many restaurants and even gas stations.  You will find them "fresh" which means straight out of a cheese production batch with bite size pieces that squeak against your teeth.  You'll sometimes hear them called "squeaky cheese".  These are what you'll find in convenience stores and gift shops.  The Old Fashioned has perfected the fried cheese curd with the perfectly light breading, not to be missed.  They are best dipped in ranch in my opinion.
As the name implies, this establishment specializes in another Wisconsin specialty, the Old Fashioned cocktail, which you can order as a classic or with Door County (NE Wisconsin) cherry juice.  The origin of the cocktail dates back to the early 1800s in Kentucky, but Wisconsin bartenders make theirs with Korbel brandy.  This variation is tied to the introduction of Korbel at the same 1893 World's Fair in Chicago mentioned above.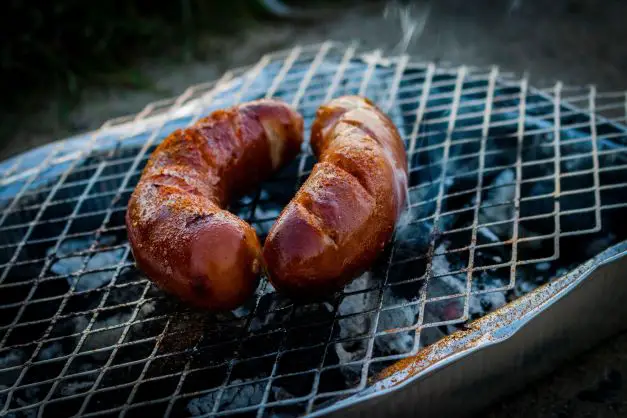 The German immigrants contributed to the Wisconsin food culture by introducing a variety of sausages (wurst).  Make a stop at Essen Haus to enjoy pretzels, potato pancakes, schnitzel, and a variety of wurst.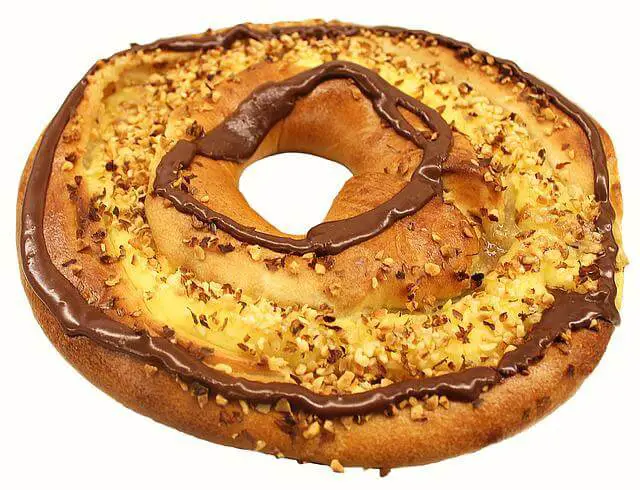 Before leaving Madison, you will want to make a stop at Lane's Bakery for a kringle.  This thin, crispy pastry is baked in an oval shape and can be filled with fruits, nuts or chocolate and usually topped with icing.  Pick up a slice or a whole kringle for the road.  The kringle was introduced to Wisconsin by Danish bakers in Racine (South of Milwaukee) in the late 1800s.
Heading Northeast on Highway 90, make a quick stop at Carr Valley Highway Cheese Store  (Mauston location) to shop for some of those Wisconsin made cheeses.  If you happen to be traveling in late September to early October, take a trip on the Cranberry Highway to see the cranberry beds coming to harvest.  Any other time, you can still visit the Cranberry Discovery Center to learn more about Wisconsin's top crop.  Alternatively, continue to Dorset Valley Schoolhouse Restaurant, a restaurant set in an old school in Amish country and serving home cooking.
Wisconsin is also well known for supper clubs which are known for their low lighting, wood paneled walls, and serving prime rib, heavy sides, fried fish and more.  There is a rich collection of these locations throughout the state and this website can help you find the perfect one to include on your route.
One final Wisconsin product to look for is Sprecher Root Beer, made in Milwaukee.  Served in a brown bottle with a brown label, the sweet soda is a treat for all ages.
Destination Three: Minnesota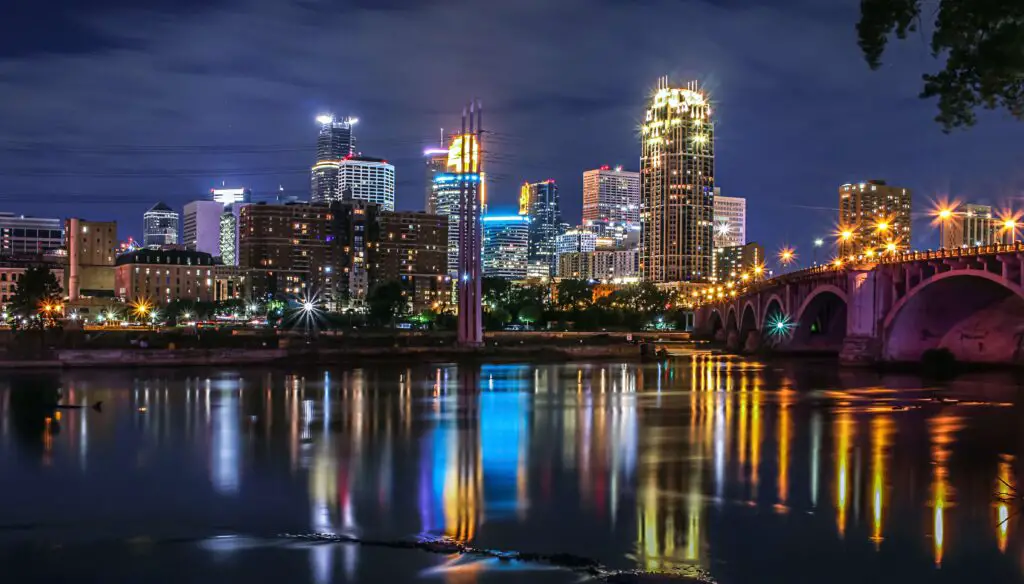 You may have heard the unofficial Minnesota nickname "Land of 10,000 Lakes" due to the its several more than 10,000 bodies of water created by glaciers in the Ice Age.  This Northern state's most famous foods come both from its great fishing opportunities and its colder climate.
For the foodie road trip route, you will want to head to the Minneapolis area to sample several favorites.  Our Minnesota list includes the fried Walleye, a few untraditional "salads", Minnesota cheese and apple creations, a casserole, and an original burger concept.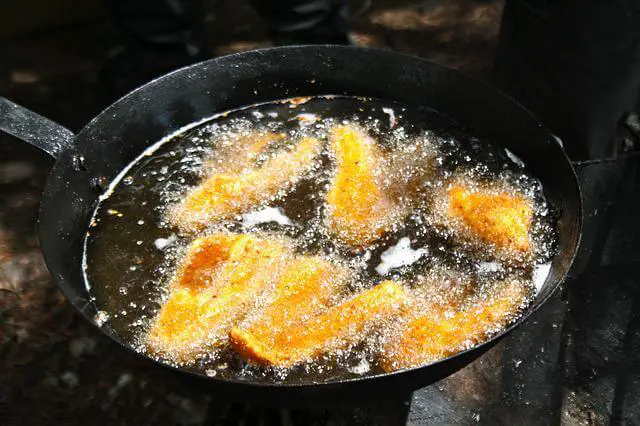 Walleye has been the official fish of the state of Minnesota since 1965.  If you grew up in the Midwest, Fridays during Lent (varying dates between late February and April) may have included Fish Fry advertised by local restaurants and churches.  Those events are typically using cod, a salt water fish.  The walleye is different as it comes from fresh waters, like those in Minnesota, and has a light or golden brown color. The walleye filet is typically battered in a cracker crust and served with lemon wedges and French fries or onion rings. While in Minneapolis, stop at the Tavern on Grand for a wide variety of walleye options including sampler, cakes, tacos, hot honey in addition to the famous sandwich and dinner.  Canadian Honker Restaurant in Rochester offers both a sandwich and a filet entrée prepared five different ways.
Far better to explain the salad recipes found most often at family get togethers and church functions in Minnesota (and some surrounding states) is Midwestern Mom whose Tik Tok videos have gone viral in educating other Americans that you can indeed include cookies, candy bars, marshmallows, fruit, nuts, Jell-O gelatin and pudding mixes into dishes with "salad" in their title.  Their origin combines the immigrant groups who settled in Minnesota with the desire to feed large groups, the need for hardier side dishes, and in some cases the convenience culture of the 1950s and 60s.  Your best chance (unless you get invited to a potluck by a Minnesotan) is to check out a local deli within a grocery store to sample Cookie Salad, Glorified Rice Salad, or Strawberry Delight.  You'll also want to sample some savory options like potato salad or ham salad at whatever deli you choose.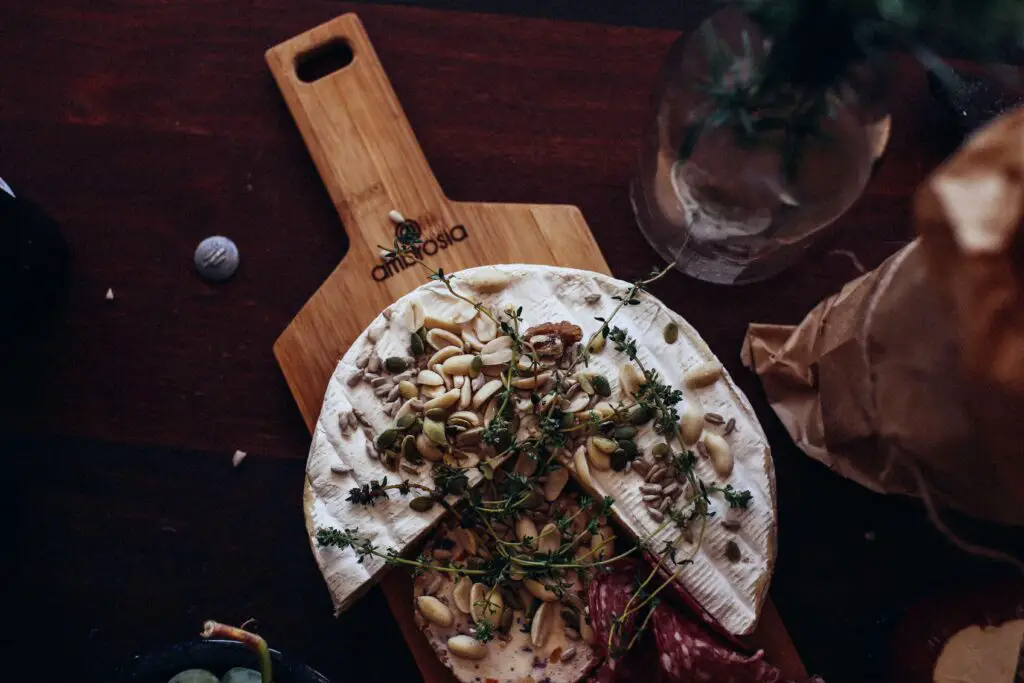 Another couple of food errands would be to grab some Honeycrisp apples at the store or a farm stand.  This apple variety was created at the University of Minnesota purely for eating enjoyment (not baking or canning) and boast a sweet, but slightly tart flavor.  You might also like to enjoy Bent River Camembert created by Alemar Cheese in Mankato.  You can pick up a wheel at their Minneapolis shop.
Even though burgers are found everywhere, two Minneapolis bar and restaurants claim to have created the "Jucy Lucy" or "Juicy Lucy", a burger patty with cheese melted inside.  Some agree that Matt's Bar and Grill originated the idea, but the 5-8 Club is just down the street and claims a very similar timeframe.  There are claims that if it's spelled one way or the other, it's the original. Stop at Matt's for a cash only, keep it simple vibe and the 5-8 Club to try variation of the burger with different cheeses and toppings.
The final item on your Minnesota foodie checklist is Hot Dish.  Above, I referenced a casserole, which is the word most of us outside of Minnesota and North Dakota use.  If you didn't grow up eating casserole or hot dish, this is the moment to give it a try.  Tater Tot Hot Dish is the most famous variety with a cream soup base typically including ground beef and choice of vegetables, topped with a layer of tater tots.  If you're intrigued by this concept, you can even enjoy a short documentary on the topic.
Between the 1930s to 50s the configuration of the a cream soup based single pan meal and then the introduction of the commercial shredded potato product has evolved.  You can give Hot Dish a try at Mason Jar in Minneapolis where they keep the tater tot version on the menu.
Destination Four: Iowa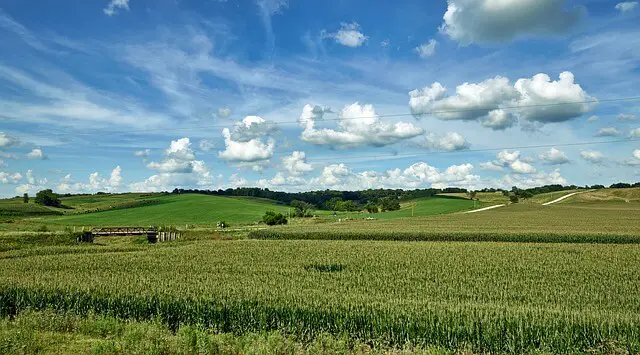 This is my home state and our best known foods reflect the beautiful farm landscape.  This is not to diminish the innovative chefs that fill our large and smallest cities with experience for all over the world and grown right here in Iowa.  Passing from Minnesota through Iowa, experiencing a farm to table meal, sweet corn, Iowa pork, and hopefully a farm stand or two connects you to our land.  There are a few other Iowa food accomplishments you should include on your route: Toppling Goliath beer, Quad City style pizza, and loose meat sandwiches.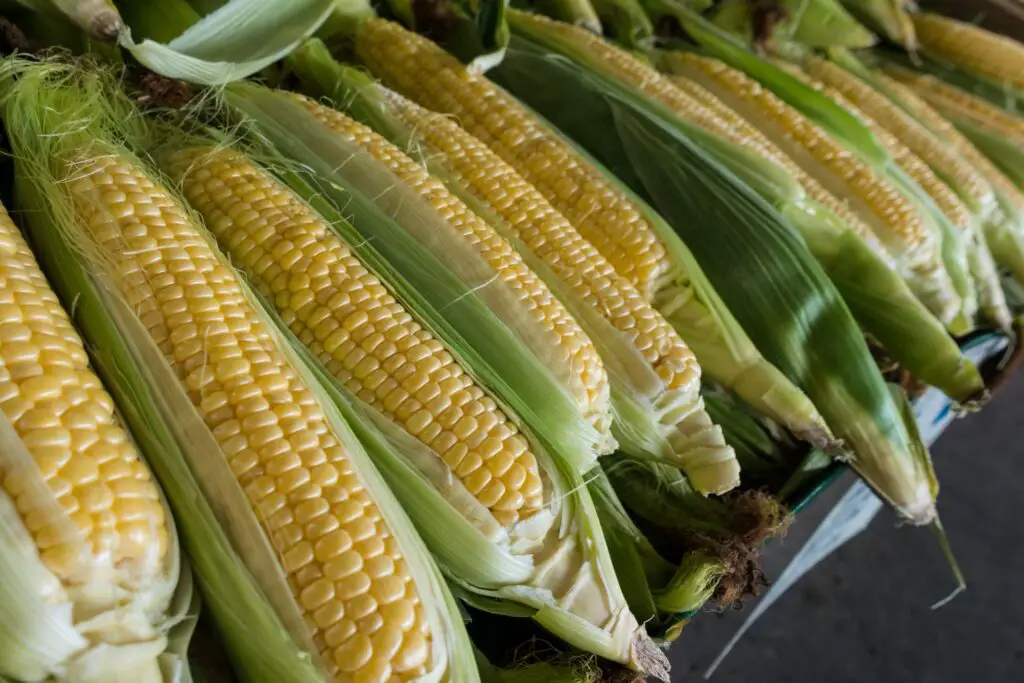 Achieving the farm to table experience can be as awesome as participating in special events that actually occur in the fields of a farm or even on the street.  Check these sites for upcoming events or to visit ongoing restaurants/farms: Harvestville Farms (Donnellson), Downtown Iowa City, Bloomsbury Farm (Atkins).  If a farm stand is more of interest, you can often see signs along smaller highways pointing to fruit or corn stands depending on the season.  Although you've probably seen Red Delicious apples many places, they were first discovered in Iowa in 1880 and actually called Hawkeye apples originally.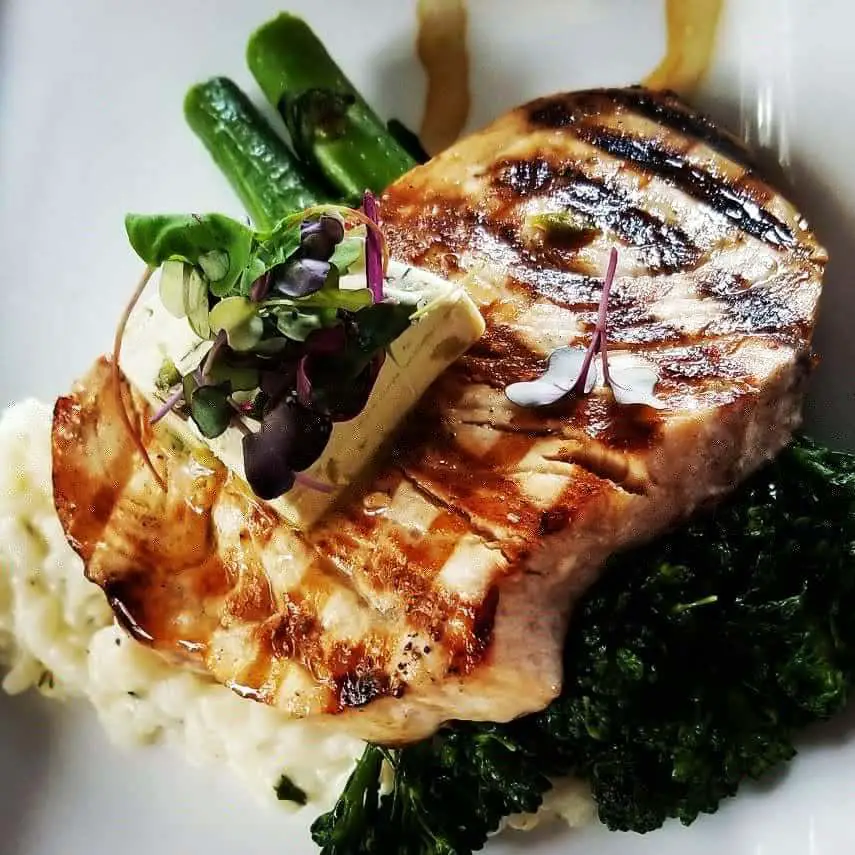 Also don't be surprised to find an Iowa pork chop being grilled outside of a grocery store during after work or weekend lunch hours for a few dollars each. To find an Iowa chop experience any day, visit the Iowa Machine Shed (Davenport), Breitbach's Country Dining Room (Sherrill), or Hawkeye Restaurant (Keokuk).   All of these are great ways to get the farm to table experience.  If sweet corn is in season, you can expect to find it at all of these restaurants as well.  Sweet corn is boiled, buttered and salted for the perfect sweet and savory crunch.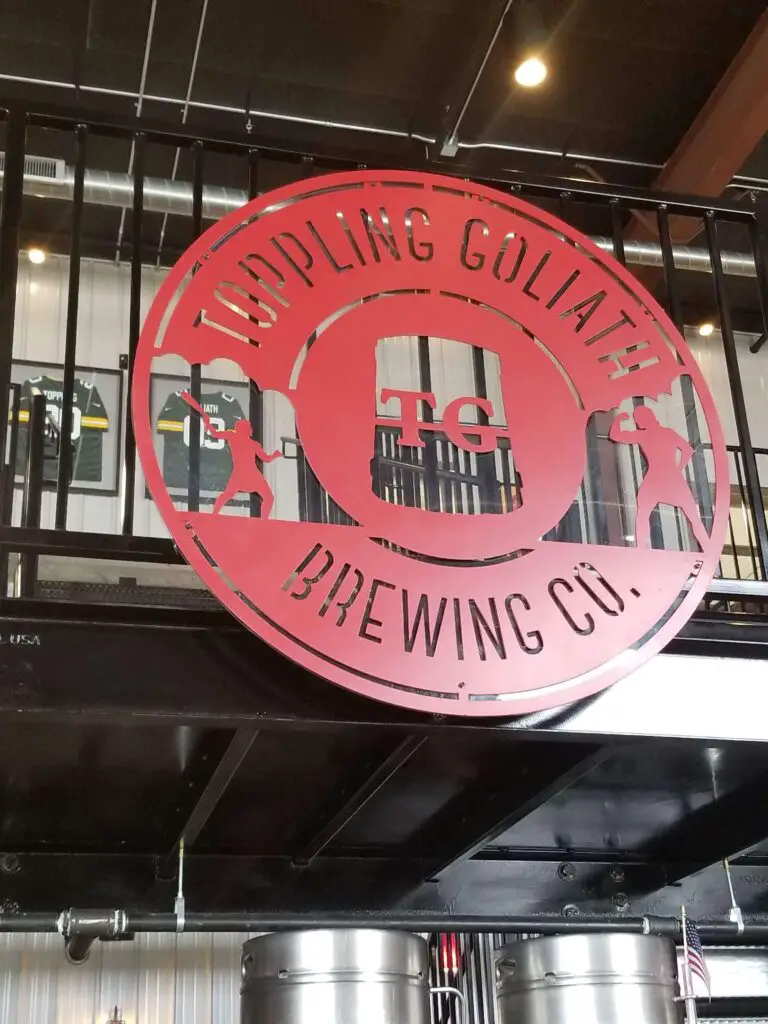 Toppling Goliath brewery put themselves on the map in 2015 when their barrel aged stout won the title of #1 beer in the world.  They have been producing highly sought after beers since 2009 and have expanded to a full scale brewery and taproom that is worth the visit.  Their hometown of Decorah is also worth a visit.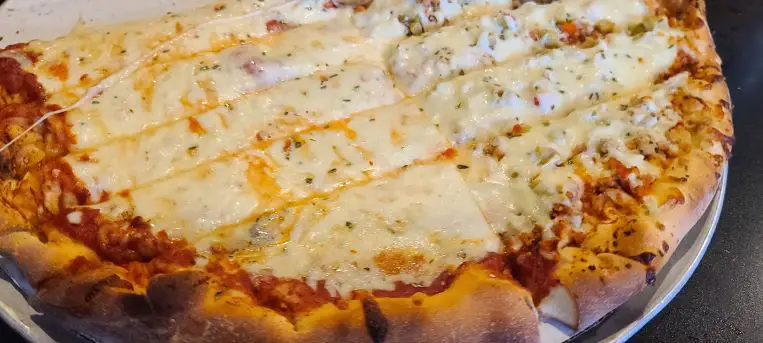 Quad City style pizza is named for the four city community located each fifty percent on either side of the Mississippi River.  The style has become defined as a malt crust, slightly spicy/slightly sweet tomato sauce pizza cut into long strips rather than traditional pizza pie shape.  The style has expanded and can be found outside of the Quad Cities, but the debate for the best QC style pizza is still hot in Davenport.  Harris Pizza is most consistent to this original style and found on both sides of the river.  You'll have to cross into Illinois to try Frank's which is considered the original in Silvis, Illinois.  A variation, but true Quad Cities original is Happy Joe's Pizza which boasts the creation of the Taco Pizza.
The loose meat sandwich or "Maid-Rite" as it has become known was first sold in a restaurant in Muscatine.  The headquarters of this now franchised restaurant are located outside of Des Moines and you'll find new stores and several "mom and pop" versions of Maid-Rite stores across Iowa.  Although there is debate, most often the loose meat sandwich found at Canteen Lunch in the Alley (located in Ottumwa) is sited as the best one available.  You might have to work to find this "dive" style counter restaurant, but you're stomach will be pleased to try the steamed loose ground beef sandwich – I suggest with cheese and onions!
Destination Five: Missouri
From Southern Iowa, you will be heading for St. Louis, Missouri where you can taste several well known Missouri favorites.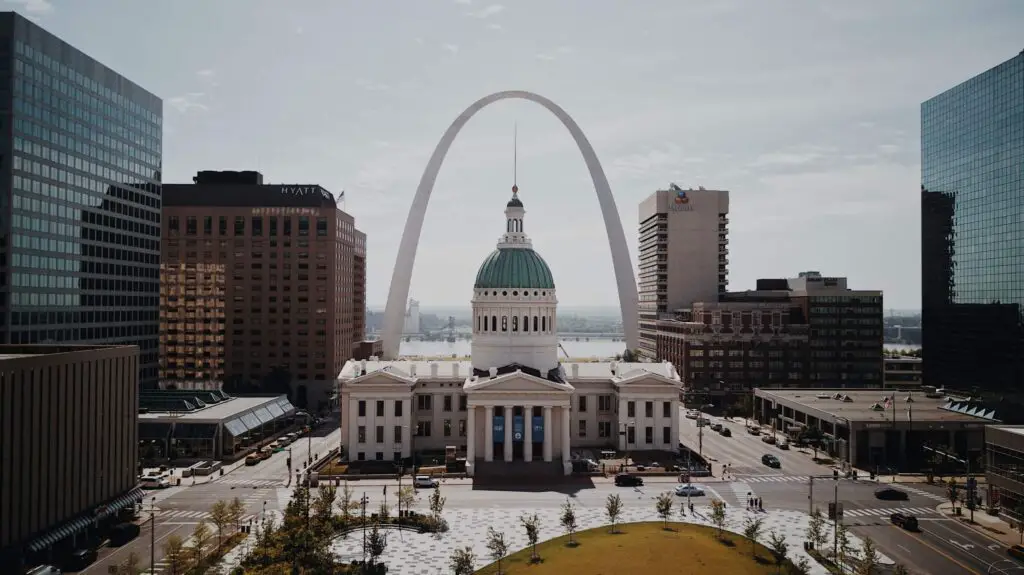 The neighborhood known as The Hill was named for its location near the highest point in the city. Its reputation for great Italian food originated with Italian immigrants who settled here in the late 19th century.  Today there are very few Italian born residents in the neighborhood, but the food culture remains strong.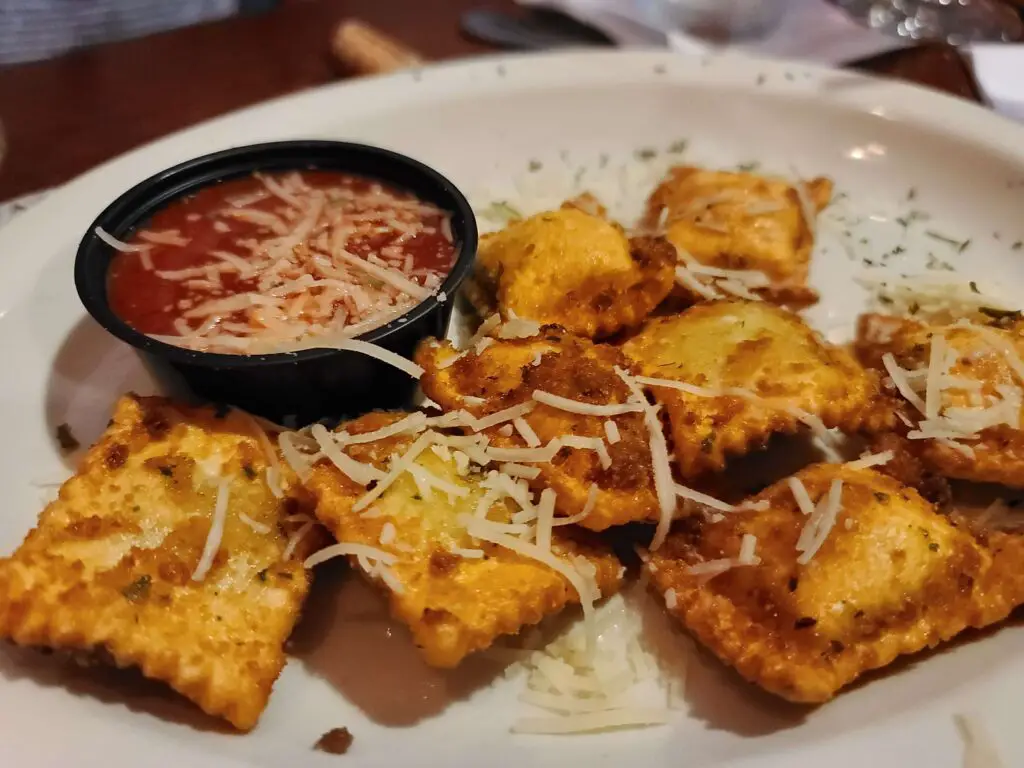 The toasted ravioli was created in The Hill.  The appetizer is a lightly breaded and deep fried beef ravioli accompanied with marinara sauce.  A few different restaurants claim to have created this tasty snack, but you can try it several places including Charlie Gitto's, Mama's on the Hill, Lombardo's, and even a Burnt Ends variation at Salt and Smoke.
While still in The Hill, visit Guido's to try St. Louis style pizza.  This style is also available widely around the state and a couple surrounding states at the popular Imo's chain.  The pizza is characterized by a thin, crispy crust, cut into squares and topped with Provel cheese (a blend of Provolone, Cheddar, and Swiss cheeses).  
Another St. Louis specialty is found nearby at Missouri Baking Company – the Gooey Butter Cake.  It's a dense, super sweet, bar like cake typically dusted with powder sugar.  Other favorite spots from which you can order this dessert is Gooey Louie.
Although Kansas City (on the state's Western side) is well known for its own barbeque style, St. Louis has a variety all its own.  St. Louis barbeque is most often associate with spare ribs that are heavily sauced in a sweet and tangy sauce.  Some say, St. Louis ribs are grilled then sauced and other still use a slow cooking technique.  You will also find a variety of barbeque restaurants smoking brisket, pork and more.  Some of the best options to try include Bogart's Smokehouse, Salt & Smoke, or Hendrick's BBQ in Kirkwood.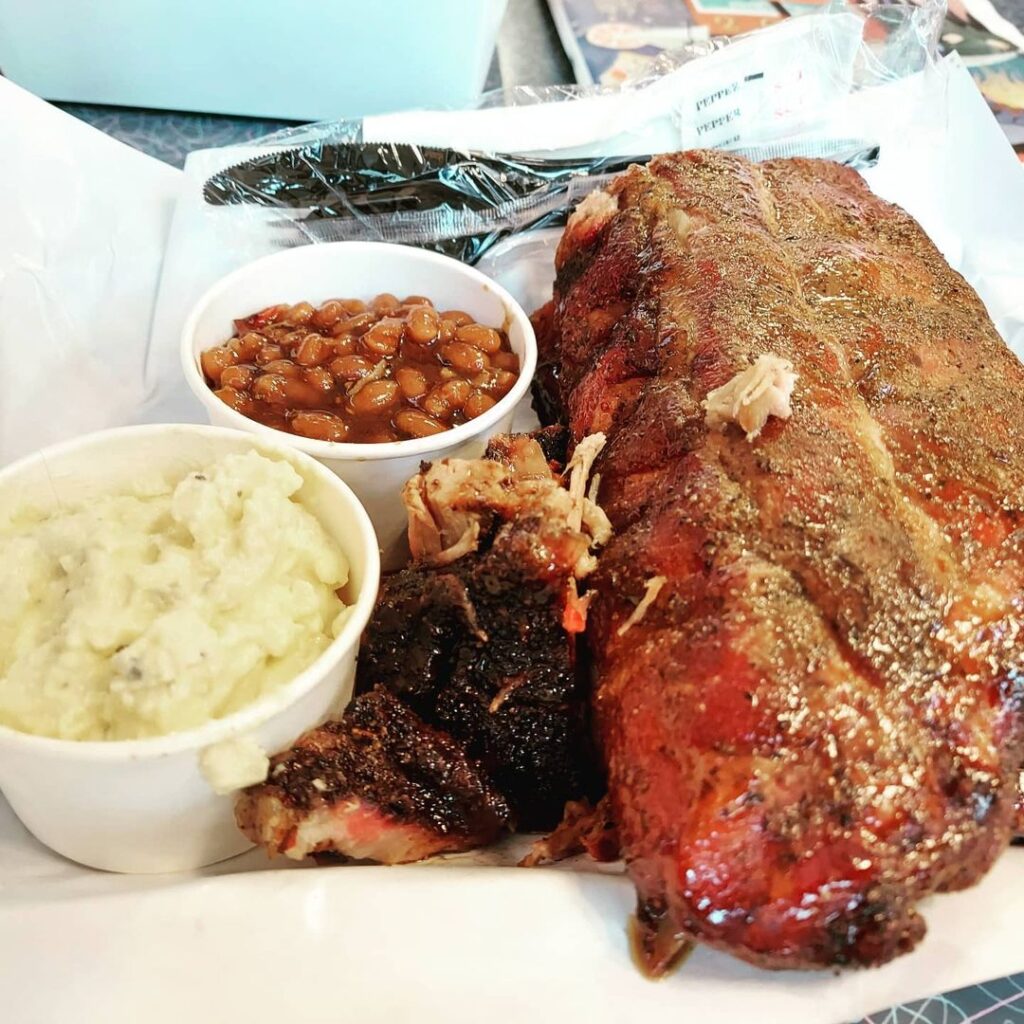 St. Louis also has a long history with two soda companies: Fitz's Root Beer and Vess Soda.  Vess is now owned by a Florida based company, but still produces the brand known for fruity flavors in Missouri.  You'll find Vess in many supermarkets and a few St. Louis area restaurants.  You can visit Fitz's for a meal as they have a full menu and most importantly serve a variety of floats and shakes so you can taste their signature root beer and other fun flavors.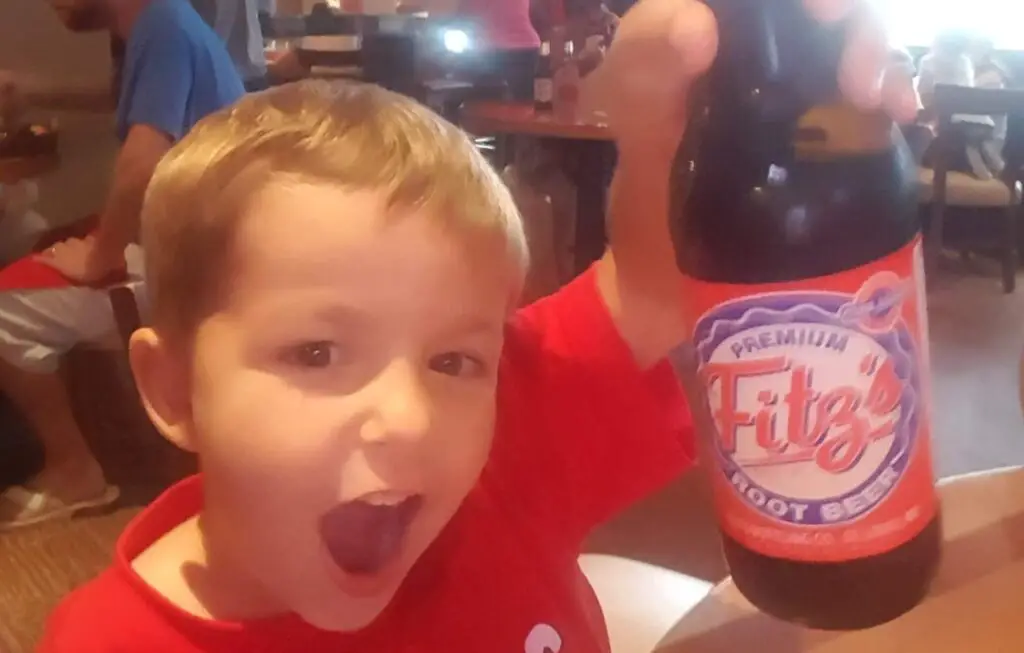 One final St. Louis staple is Ted Drewe's frozen custard which has been serving their famous frozen treat for over 80 years.  Along with their famous hot fudge sundae, they also proudly serve "concretes", shakes so thick they can be turned upside down.
Destination Six: Indiana
After filling up on smoky meats, savory Italian and sweet treats in Missouri, it's time to start to close the loop on this foodie roadtrip.  On your way to Indianapolis, you'll cross Central Illinois. One detour to consider is for the horseshoe sandwich which originated in Springfield, Illinois.  The open faced sandwich is your meat of choice (originally ham) served on toast, piled with fries and doused with warm cheese sauce.  If you make this stop, try Charlie Parker's Diner or D'Arcy's Pint. 
Indiana, Illinois and Iowa all boast similar crops so you will find an abundance of pork and corn products in all three.  Indiana has a few specialties that may have spread to neighboring states, but stake their claim in the Hoosier state.  The breaded pork tenderloin sandwich is the state's pride and joy, even garnering the creation of the Tenderloin Trail which offers several great places to taste the tenderloin, how to eat it, and even tourism information if you want to stay in the area to enjoy several tenderloins.  You'll also notice that most breaded tenderloins are so large, they could easily feed a small family. What is also consistent is the thin pork cutlet is somewhat heavily breaded and fried and then served on a hamburger bun.  What you put on your tenderloin is completely subjective.  Just know that Indiana residents have been enjoying these super sandwiches since the early 1900s when a German immigrant combined the winter schnitzel and hamburgers he was serving on a cart.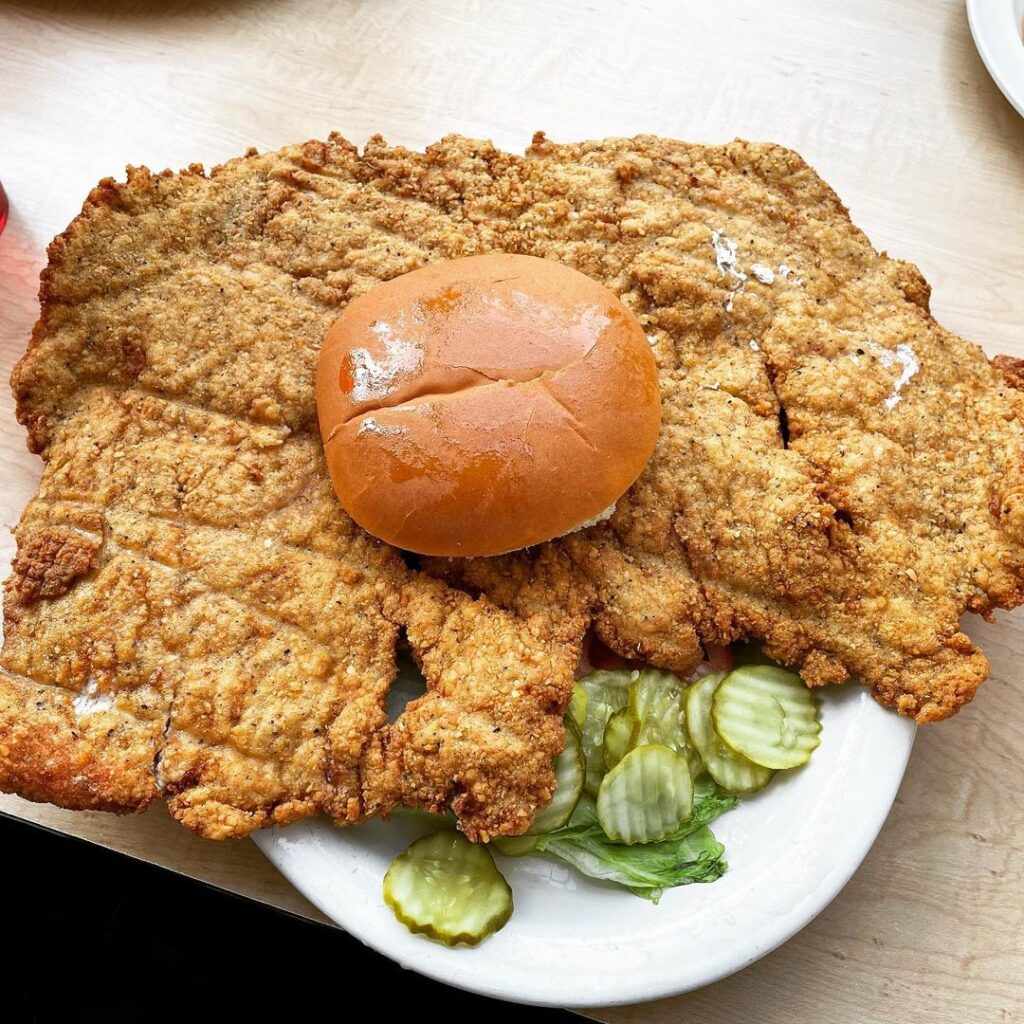 Have you heard of a Hoosier Pie? That nickname refers to the sugar cream pie that dates back to the Shaker/Amish communities since the 1850s. When the apple harvest was all utilized, women make this dessert with cream off the fresh milk and sugar.  You can try it for yourself at Wick's Pie or My Sugar Pie. 
Another dessert that is original to Indiana is persimmon pudding which is more cake like in texture.  The persimmon has a sweet and rich flavor that pairs well with spices, sugar, eggs, butter and milk to make this pudding.   Mitchell, Indiana is home to the annual Persimmon Festival and is also your best bet to taste this unique sweet treat.  Visit Millstone Dining Room at Spring Mill State Park. If you plan to incorporate this, come here directly from St. Louis before heading North to Indianapolis.
If you're heading back to Chicago from here, consider a stop at 3 Floyds Brewing just before you cross from Indiana to Illinois. They have been brewing since before craft beer was cool, 1996 in fact.  
If you are dedicated enough to the pursuit of original foods and new food experiences to have made this trip, please let me know your favorites and what I may have missed.  There are several parts that can be incorporated into a visit to any of these larger cities.  I always love to learn about a place through its food and the Midwest is no different in telling our story through what we eat.