We love Chicago in every season, but fall is especially great as the temperatures cool and the scenery changes.  Chicago is the perfect destination for families on a long Fall weekend.  Avoid the crowds at waterparks and pumpkin patches; instead take in the Midwest's largest city.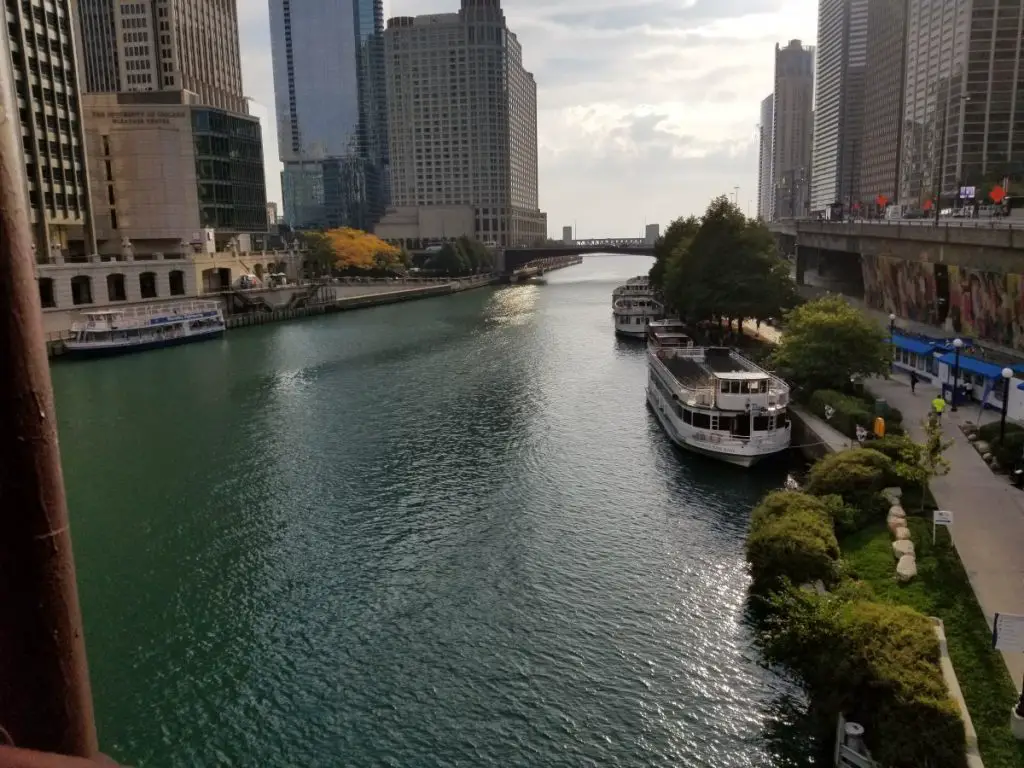 What makes Chicago so great to visit in the Fall?  Chicago is home to several areas with beautiful foliage, comfort inducing foods, and family friendly fun.
Long Autumn Weekend in Chicago for Families
Day One: Arrival & Lincoln Park
Day Two: Downtown – Millennium Park & Logan Square
Day Three: Brunch & Downtown
Day Four: University of Chicago area
Day One: Arrival & Lincoln Park
Start your trip to Chicago in its largest park, Lincoln Park.  Located north of downtown, Lincoln Park neighborhood borders Lake Michigan on the East and includes many desirable residences, great restaurants and over 1200 acres of park.  This is a nice neighborhood to stay.  There are few options for hotels, but I recommend Hotel Lincoln.  The hotel offers suites with a king bed and pullout sofa as well as multiple dining options and a great mixture of modern and vintage vibe.  The service has always been exceptional!  The hotel overlooks Lincoln Park which offers a beautiful Fall view.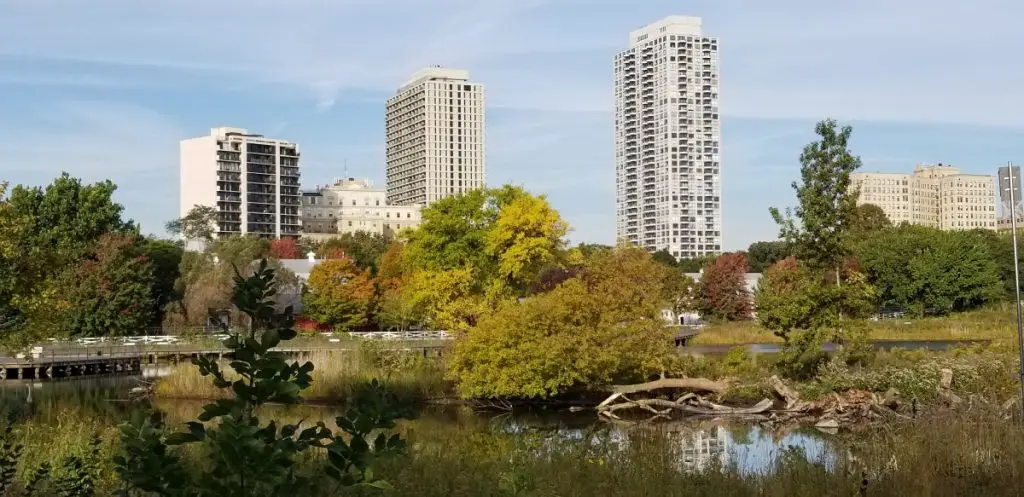 There is something for everyone in Lincoln Park, but families particularly enjoy the completely free Lincoln Park Zoo.  Fall is a great time to visit because of the mild temperatures.  In both summer and winter, the animals are less active or less likely to be outside.  The concept of a free zoo might imply there is less to enjoy, but that is not the case.  Lincoln Park Zoo boasts a wide variety of animals large and small.  Some of my favorite exhibits are the Primate House and Center for Apes.  The zoo is also one of the country's largest zoo-based conservation and science programs.  It's easy to wind around the zoo as it naturally meanders and has multiple exits into the rest of Lincoln Park.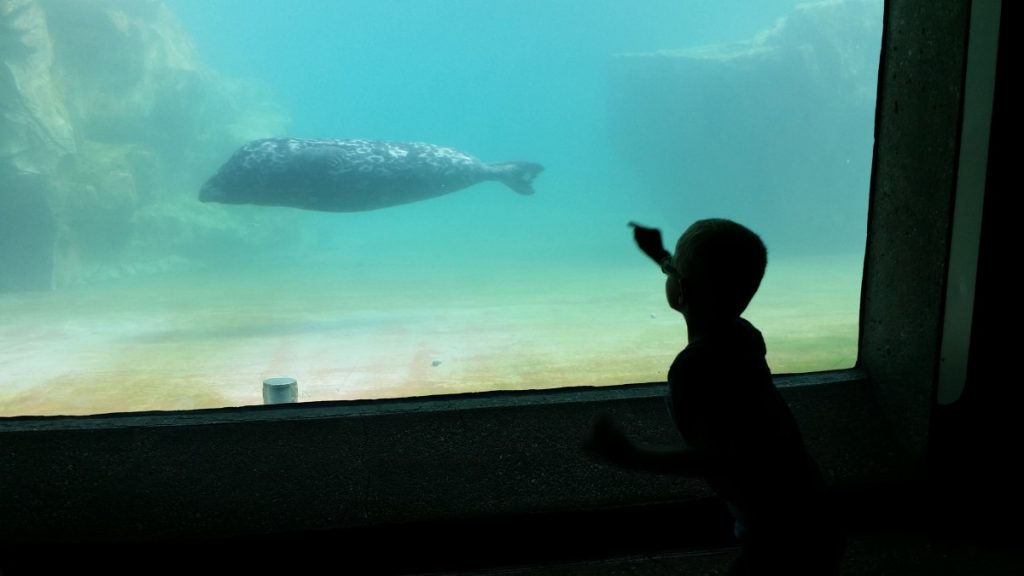 If you choose to stay outside of the neighborhood and are driving, there are multiple parking garages and lots in the area.  I find the Chicago History Museum parking lot (2391 N. Stockton) typically has availability.  This lot is also in proximity to Hotel Lincoln if you wanted to self-park and works for larger vehicles as it is an open lot.  There is parking within the park, but it can be difficult to find a spot.
For a family friendly dinner spot near Lincoln Park, try RJ Grunts.  They feature delicious hamburgers, a salad bar, and hand-dipped shakes.  They also have a variety dinner entrees and are proud of their chicken wings as well.  The laid back environment makes it a good choice for families.  RJ Grunts is open for lunch, dinner and brunch, but the kitchen closes at 8 or 8:30 (depending on the day) each night so don't arrive too late.
Day Two: Downtown – Millennium Park & Logan Square
Start off your day with a delicious breakfast near Millennium Park at Goddess and the Baker.  Goddess and the Baker is perfect if you get excited by a Bourbon Praline Latte or a section (yes I said section) of the drink menu called "Liquid Chocolate".  The food is equally special with fresh, healthful ingredients packed into delicious dishes like "Bacado Omelet" or a "Smoked Salmon Tzatziki Toast".
After breakfast, enter Millennium Park on Monroe Street.  Lurie Garden will be on your left and the Art Institute of Chicago will be on the right.  The Lurie Garden is an "urban oasis" meant to change with the seasons.  Since it was installed in 2005, the garden changes seasonally and is a beautiful place within the city to see the colors of Fall.  Follow the boardwalks and use the downloadable Plant Finder to identify the current plantings.
Depending on the time you started the day and your child's age and interest, this may be a great opportunity to visit the Art Institute of Chicago.  The Institute offers free entry for children under 14 and hosts a Learning Center focused on the child's art experience.  You will also find a very cool tool called the Journey Maker. This tool allows you to choose five pieces you want to include on your path through the museum.  Once selected, you can download a custom guide to use for your visit.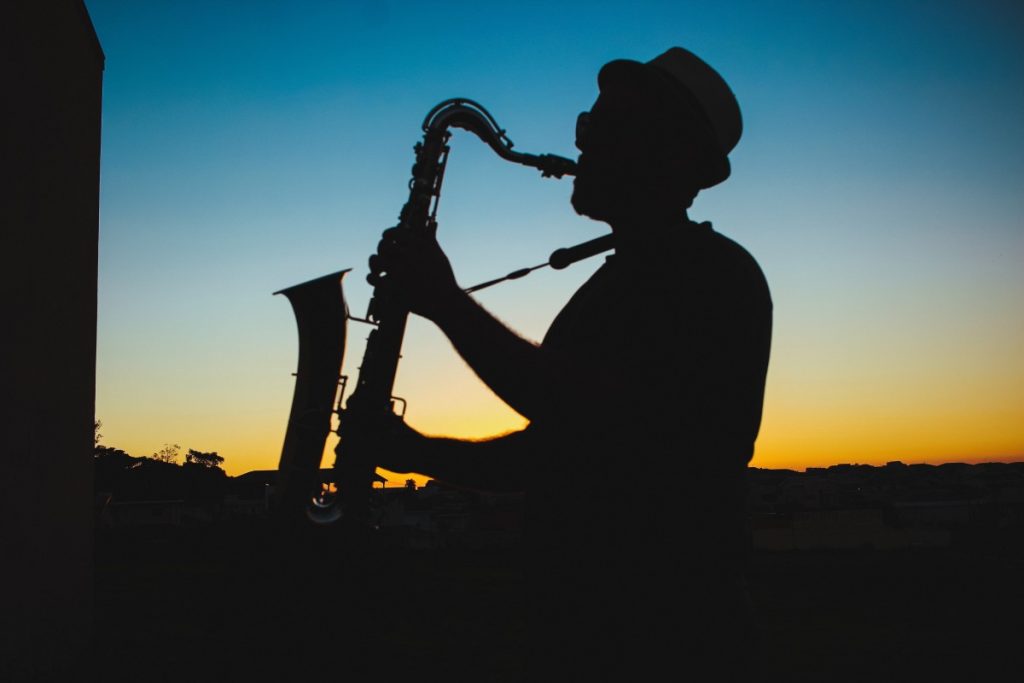 Lunch comes next and here is an opportunity to combine Chicago Blues with a tasty Louisiana style Cajun meal.  Buddy Guy's Legends offers an all ages acoustic lunch show Friday through Sunday beginning at noon.  The restaurant and club is located under 3/4 of a mile from Lurie Garden.  Let the kids enjoy some delicious food and dance around a bit.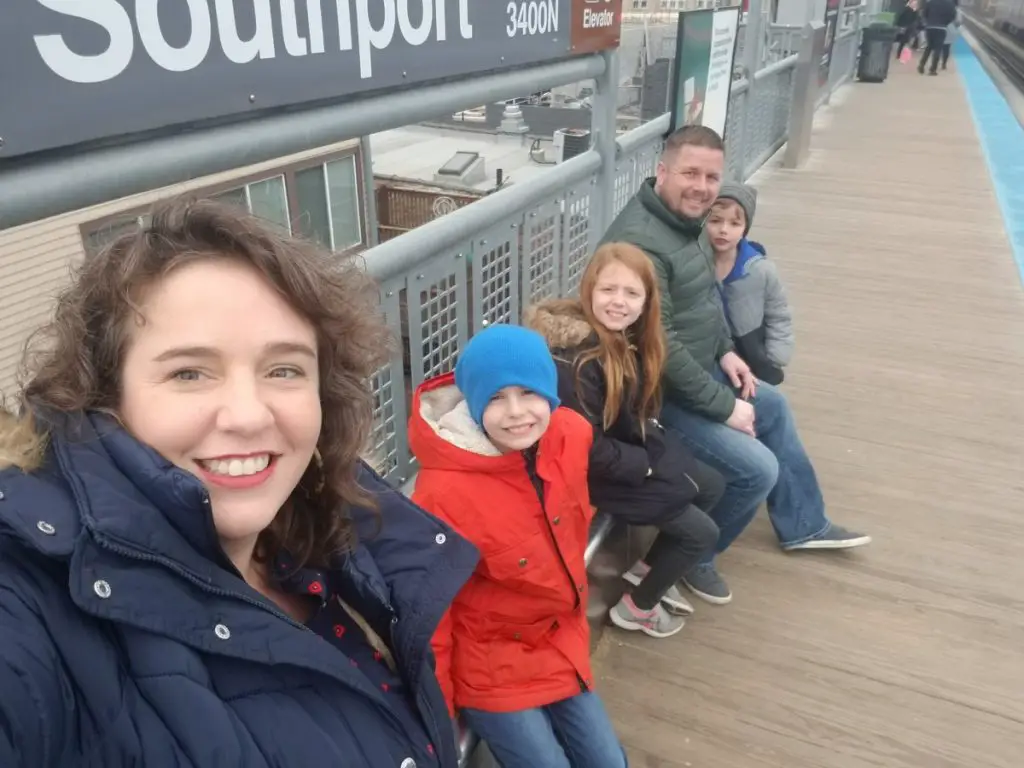 After lunch, make your way to Logan Square neighborhood by car or take the Blue Line (from LaSalle to Logan Square).  Take a brief walk to New Wave Coffee for a drink before your neighborhood tour.  Begin at Logan Square Park, next to the coffee shop, and make your way down the substantial park boulevard.  As you travel south down Kedzie Boulevard, you will find City Lit Books. offers a great selection for both adults and kids.  Continue down the boulevard a half mile to Palmer Square Park.
Palmer Square Park features a walking track around the perimeter as well as a playground designed with a Velveteen Rabbit theme for small children.  This park was created in 1870 along with the historic boulevard system and was extended in the next couple decades as bicycles became more popular.  Bicycle related rides, events and parades became popular in the neighborhood which was home to the inventor of Schwinn Bicycles during this 1910s. On a Fall afternoon, Palmer Square Park is a great spot to enjoy your new books and play.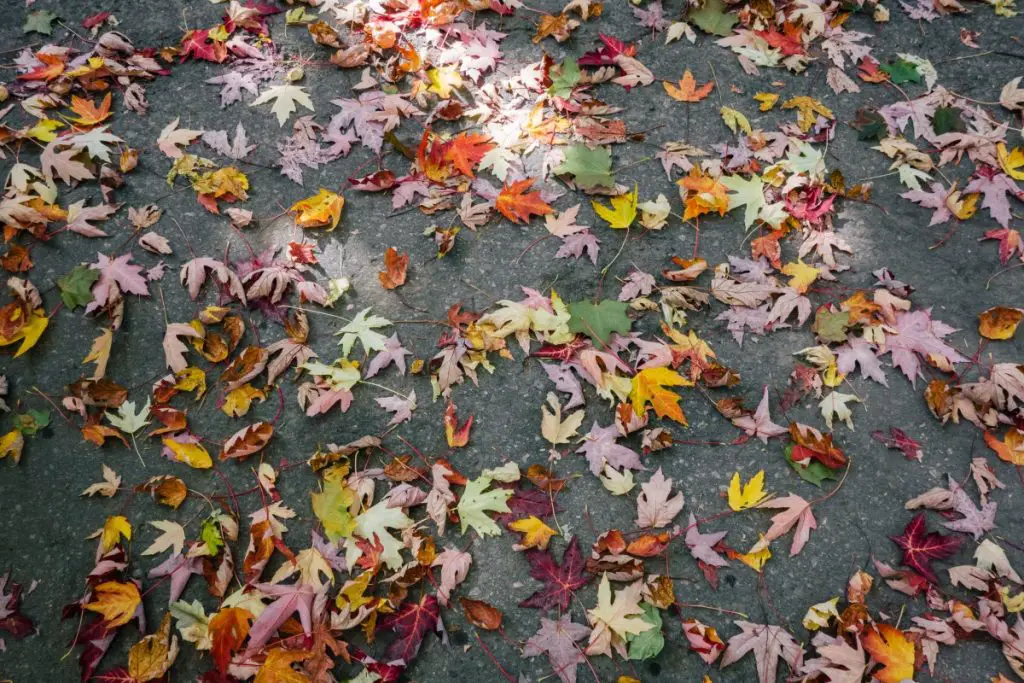 Seasonal favorite food and beverage are not far away.  Revolution Brewing is a half mile from the park.  They offer their Oktoberfest seasonal beer in September and October as well as a full menu including kids items.  The brewpub location on 2323 N. Milwaukee is a family friendly spot to enjoy a beer or a meal.  If a sweet (or savory) treat is what sounds best, make your way to Bang Bang Pie & Biscuit Company, also located half a mile from the park.  Bang Bang offers slices of classic flavors and their own creations.
Day Three: Brunch & Downtown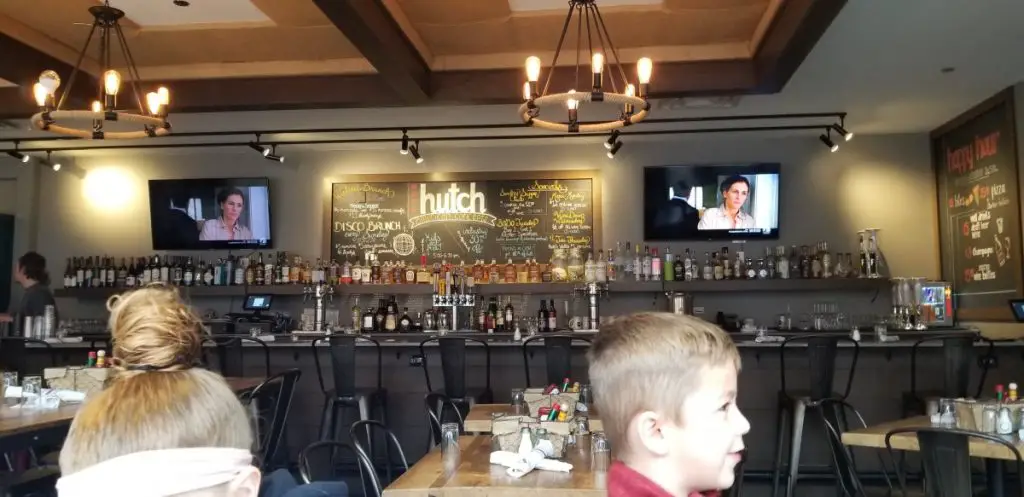 Maybe you already know this, but Chicago knows how to brunch.  You will find several restaurants serving both Saturday and Sunday brunch and some serving a daily brunch.  To me, brunch any day is what I'm looking for in a vacation!  One of our favorite spots to brunch with kids is Hutch.  They have three locations: River North (closest to downtown), Lakeview, and Andersonville.  You may choose by where you are staying, but I would recommend a reservation as they do fill up early.  For this itinerary, let's assume you visit Andersonville, which is a cute restaurant and neighborhood.  Hutch's menu is great for everyone, but kids will especially love the variety of options with fun names like "I want to go to McDonalds" or "I don't care".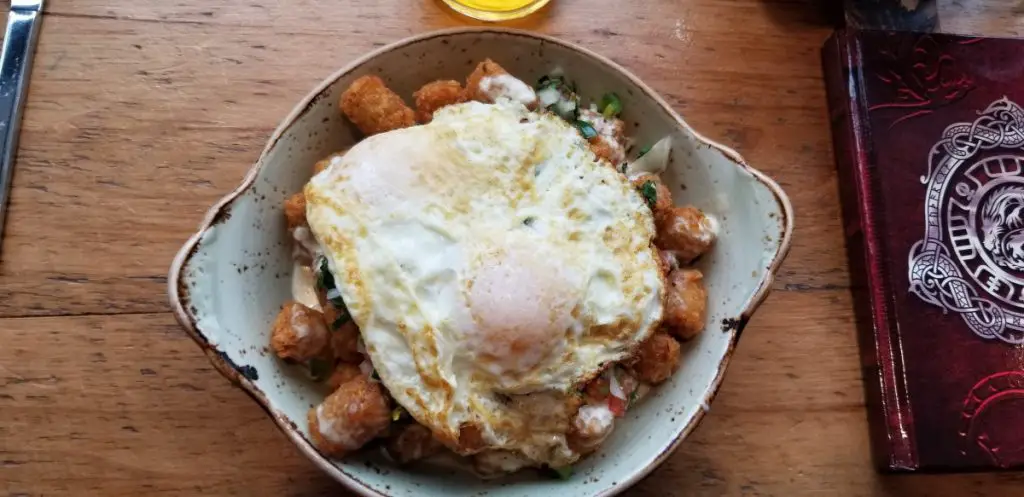 After brunch, visit the comic book store across Clark Street, Graham Crackers Comics.  I'm honestly not much a comic person, but they have comics featuring all of your kids favorite cartoon/movie characters as well.  They are clearly passionate about comics!
A few more options for families in Andersonville:
This video gives you a feel for the Andersonville neighborhood shops and restaurants:
After your visit to Andersonville is complete, make your way back toward downtown. You will want to take the Red Line (about 40 min) from Argyle to Jackson OR travel by car or taxi (about 20 min).  I suggest a visit to the Museum of Broadcast Communications (360 N. State Street) which is open from 10-6 everyday but Monday (til 8 on Thursday).  It's a great stop for families because it is both historical and entertaining. The admission is $15 per adult, but is free for 12 and under with a paid adult.  Their massive memorabilia collection is a chance to enjoy some memories and explain how TV "used to be" to your kiddos.  If you grew up in the Midwest, you will enjoy the look back to the kids shows played by the Chicago networks.
Make your way south along State Street.  You can visit the historic Marshall Fields department store (now Macy's), grab some Garrett's Popcorn (26 W Randolph location), and peak into an alley most Chicagoans miss everyday.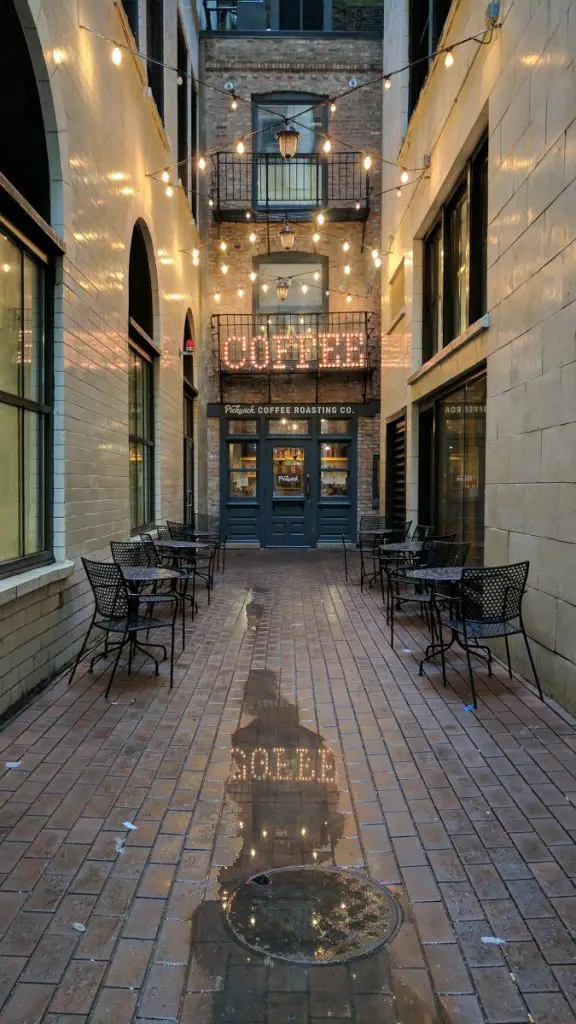 Hidden in plain sight, take a visit to perhaps Chicago's smallest and most storied alley, Pickwick Alley.  Located at 22 East Jackson Boulevard, this 9 foot wide alley was first recorded as owned by a private homeowner, sitting between the house and stable in 1857.  Since that time, the small building at the end of the alley has been home to several businesses and is currently Hero Coffee Bar.  This location is open 6 days each week (excluding Sunday which means you can get some great photos here if that's when you're visiting).
Maybe your mid-morning meal followed by lots of sightseeing has made you ready for a late afternoon meal.  If you're in Chicago, Fall comfort foods should include deep dish Chicago style pizza.  You're close to Gino's East, South Loop location (521 S. Dearborn) which is cozy with wooden tables and comfy booths.  I don't have a favorite deep dish pizza (they are all good), but If you ask around, there are some strong feelings about which is best in Chicago! (See the video below.)
Day Four:
Before you take off on your last day, be sure to take in another unexpected spot for seeing the fall colors appear, the University of Chicago campus.  The University of Chicago is located on the South side of Chicago (Hyde Park area) and has been home to many students and professors who have accomplished impressive feats.  I don't know about you, but I remember feeling the special vibe of a college campus when I visited one as a kid.  There's something different in the air, maybe it's hope or excitement.  The University of Chicago campus also boasts the type of ivy covered buildings that I imagine in East Coast Ivy League Schools.  You can check out a Visitor's map here.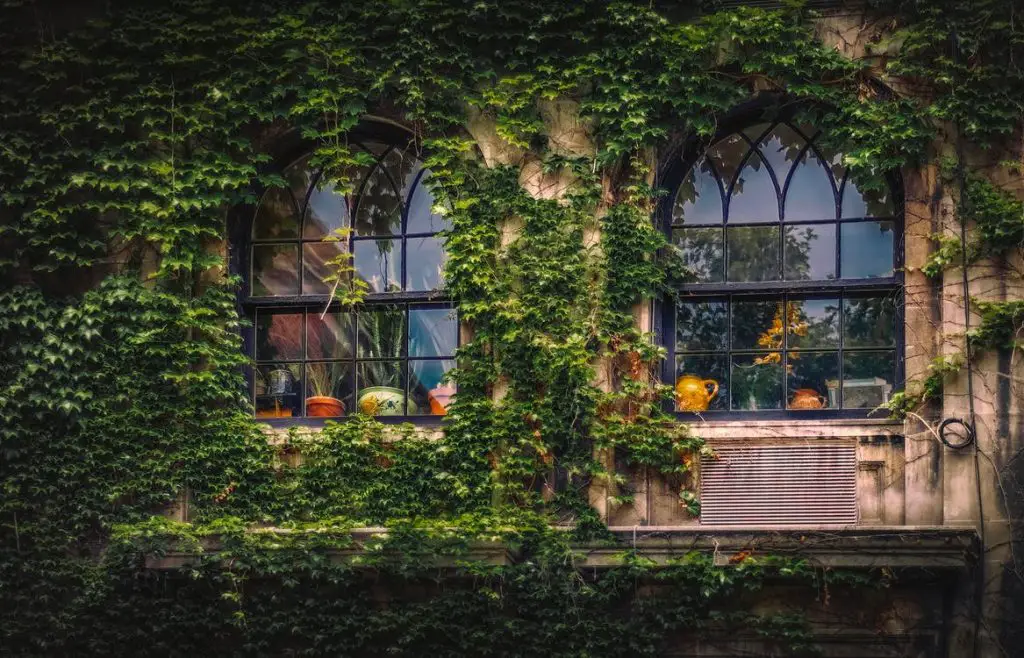 One highlight of your walk through the University of Chicago is the Harper Memorial Library.  The building brings Hogwarts Castle to mind?  With its stories high ceilings, a walk through may give you all the college study feels. Check out this 360 degree video (be sure to move the view around) of the Harper Memorial Library!
Before you head out of the city, grab a delicious lunch at Nella Pizza e Pasta, located on the North side of the University of Chicago campus.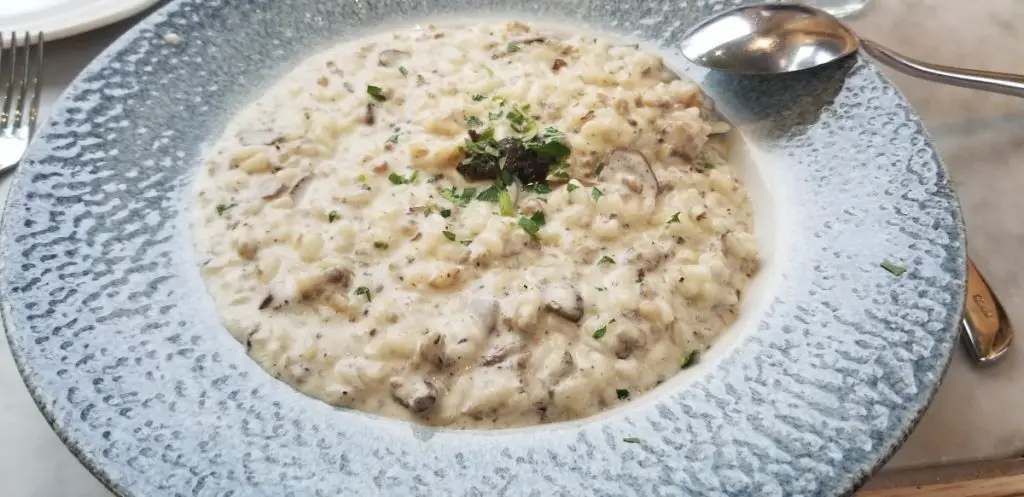 Nella is a cute spot featuring booths and white tile lined walls.  They don't have a children's menu, but it should be fairly easy to find something delicious between the selections of pizza and pastas.  The service is great and the food is amazing!
Enjoy Your Visit!
If you follow any of this itinerary, I would love to hear your experiences!  If you have any other favorites for Fall time in Chicago, please share below.  Have a great time in Chicago this Fall!