Having grown up just ninety minutes from Iowa City, I had no idea what a special gem was in close proximity.  It wasn't until my teens that I visited for the first time and eventually led to spending my college years in this Eastern Iowa community.  Every time we visit, I love both the nostalgia of my years there and the way the city is evolving.  The energy of a college town is always refreshing and makes for a great visit.  I am in favor of introducing kids early to the college town experience and this list of fun things to do will help you introduce your kids to my favorite college town.
University of Iowa Campus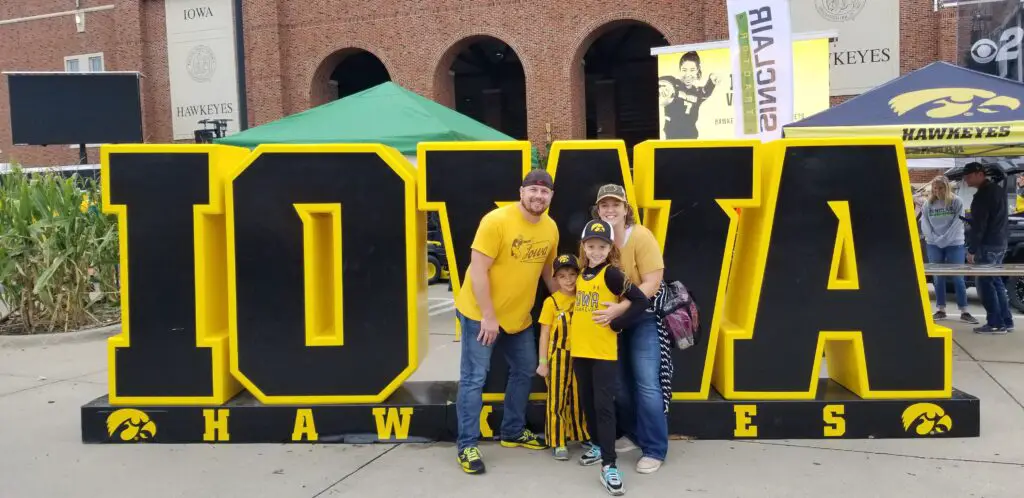 The University of Iowa campus is divided by the Iowa River which means there are several bridges (both for vehicles and pedestrian) crossing back and forth across the river.  The West side of campus is more familiar to most visitors as it is home to the University of Iowa Hospitals and Clinic, Kinnick Stadium (football), Carver Hawkeye Arena (wrestling and basketball) and several other University facilities.  The University of Iowa offers a very cool Virtual Tour website that allows you to feel you are walking the campus and maybe decide where you would like to visit. On the East side of the campus is the Pentacrest (a group of four classroom buildings and the former capitol building), a row of residence halls, several other education buildings and the main library.  Downtown Iowa City wraps around the outskirts of the East side of campus.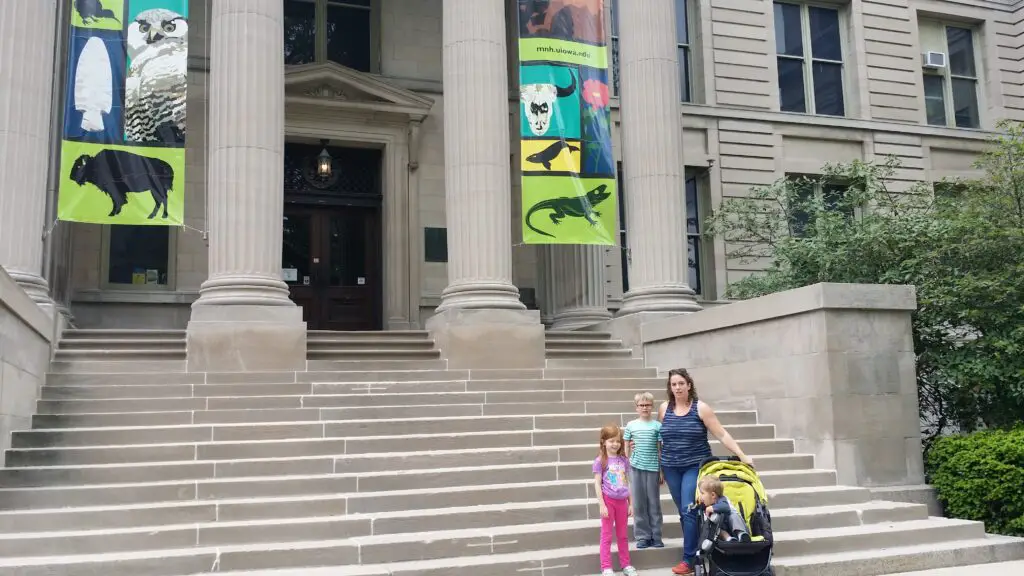 There are three museums on campus with three unique purposes.  My kids love the University of Iowa Natural History Museum.  Three floors of exhibits wind through MacBride Hall (home to one of the largest lecture halls on campus) featuring the scientific evolution of Iowa, many species of animal specimens and more.  Check out the all new University of Iowa Stanley Museum of Art in its beautiful new home.  The Old Capitol Museum pays tribute to Iowa's 18 year stay as the capitol of Iowa, the buildings seven years as the home of the entire University, and Humanities displays.  Admission is free at all three museums.
If you're visiting for an athletic event, you will absolutely get the feel of what it means to be a Hawkeye.  If you're a fan, but not visiting for an event, check out the UI Bookstore in the basement of the Iowa Memorial Union.  The River Terrace and Amphitheatre are open to the public for casual dining and relaxing along the Iowa River.  Next to the IMU is Hubbard Park which often has activities, a food truck, or just provides a nice spot to relax.  This video gives a fun outlook on a few of the spots I've mentioned and more.
As mentioned above, the Pentacrest serves as a central hub of the campus.  This is a great spot for a snack or picnic with lawns stretching around all sides of the classroom buildings.  To make sure you don't miss anything while on campus, visit the calendar of online campus events.
Coralville Lake & Lake MacBride State Park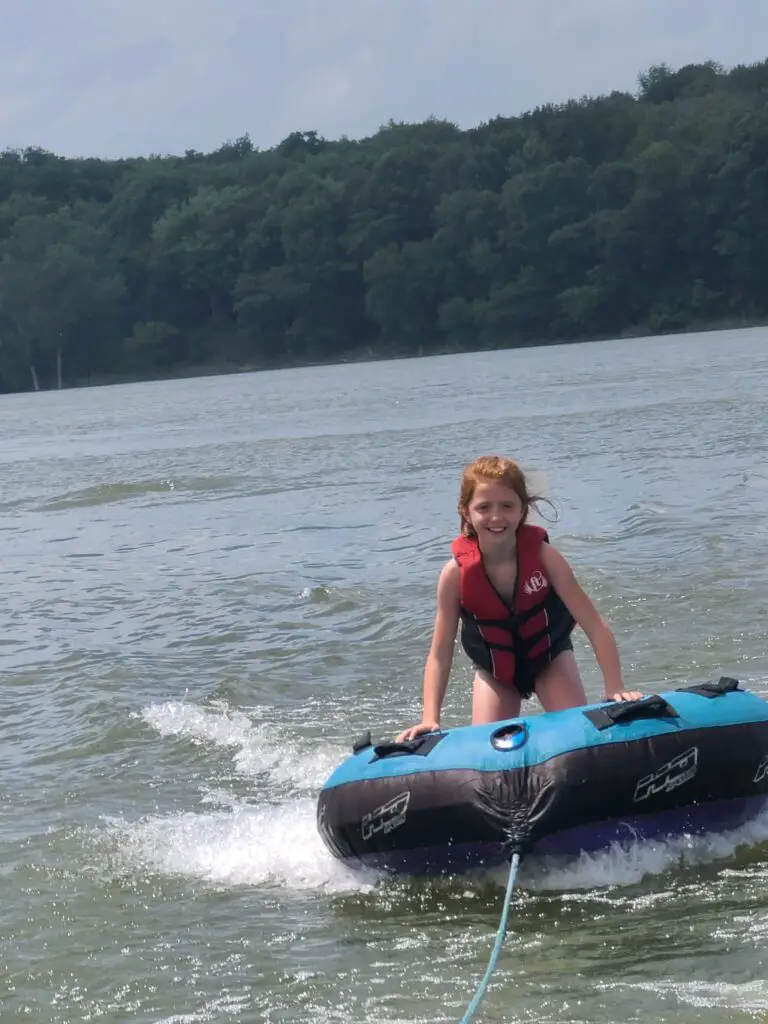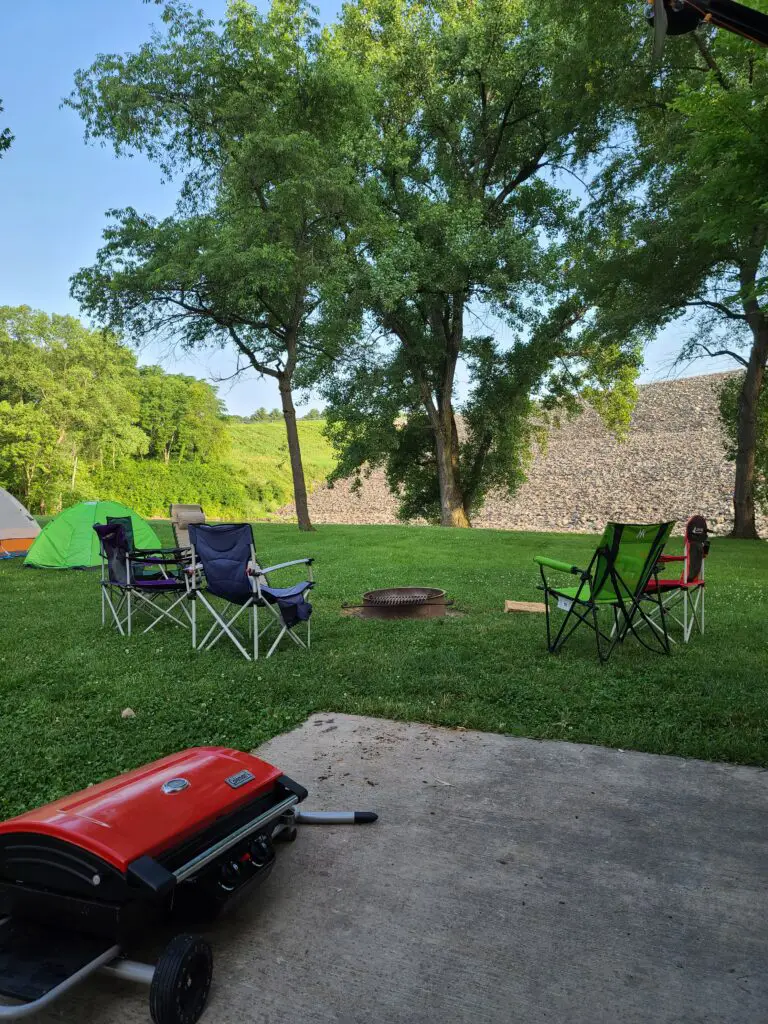 Coralville Lake and Lake MacBride are neighbors located just outside of Iowa City.  By land, the various destinations within the two facilities are between 15-40 minutes from downtown Iowa City.  Both parks include campgrounds, swimming beaches, hiking trails, shelters, fishing, and playgrounds.  Visitors can also rent pontoons, ski boats, kayaks, and more from a few different companies.  We have rented a pontoon from Rez Adventures with success.  Our favorite spot to camp is Tailwater West which is next to the Dam and with water near several spots.  This little campground has nice restroom facilities, a cleaning pavilion for fisherman and a playground.
One of the biggest hits for our family is the Devonian Fossil Gorge.  This free and outdoor activity is great for just playing outside, but a big hit for dinosaur lovers.  You can use the call in audio tour to find all of the numbered treasures throughout the gorge.  With bigger kids, hike from one end to the other and right out to the road.  Disc golf enthusiasts should check out the Turkey Creek Disc Golf Course, not far from the Coralville Lake Visitors Center.  For day use visitors, entrance is $5/vehicle at Coralville Lake complex.
Pedestrian Mall & Downtown Iowa City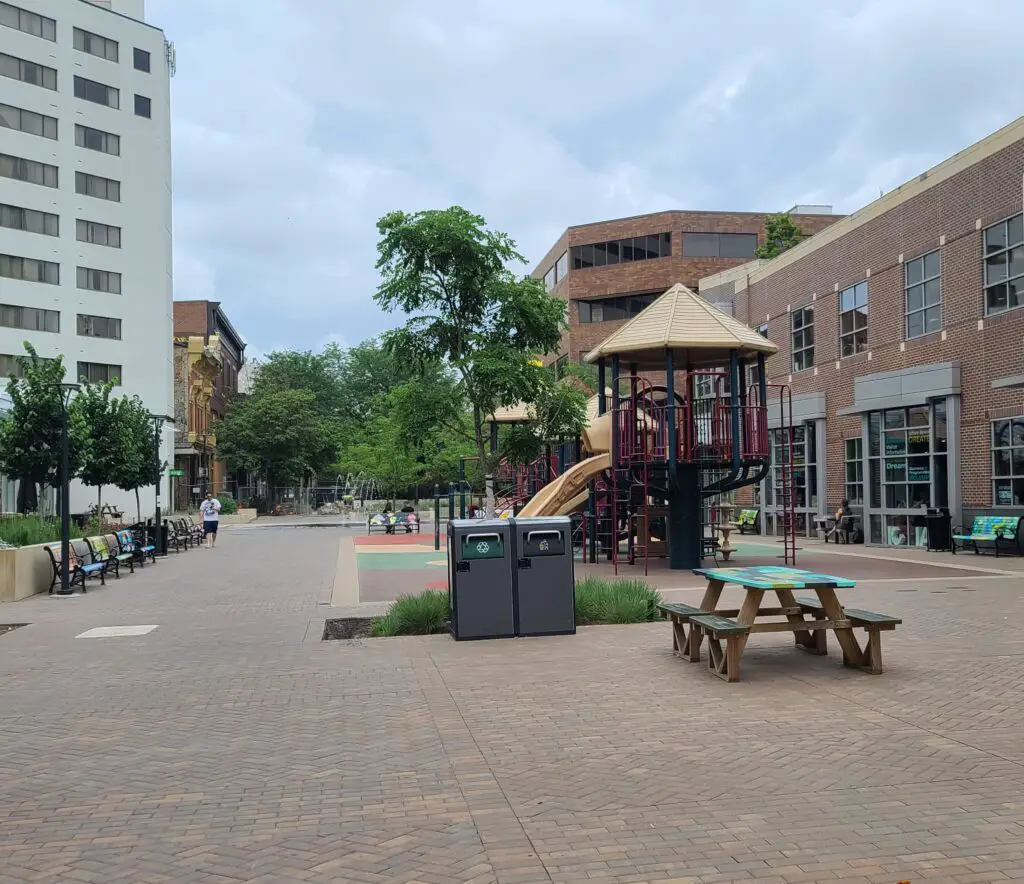 Stretching from Clinton to Linn on College Street and Dubuque to Washington is the downtown Iowa City Pedestrian Mall.  Downtown Iowa City extends in every direction from the "Ped Mall."  You will find cute shops and restaurants throughout this area.  The Iowa City Public Library is located on the Ped Mall and offers great children, tween and teen programming during the year.  You will also find a playground and splash water feature at the intersection of College and Dubuque within the Ped Mall, a lively spot in warm months.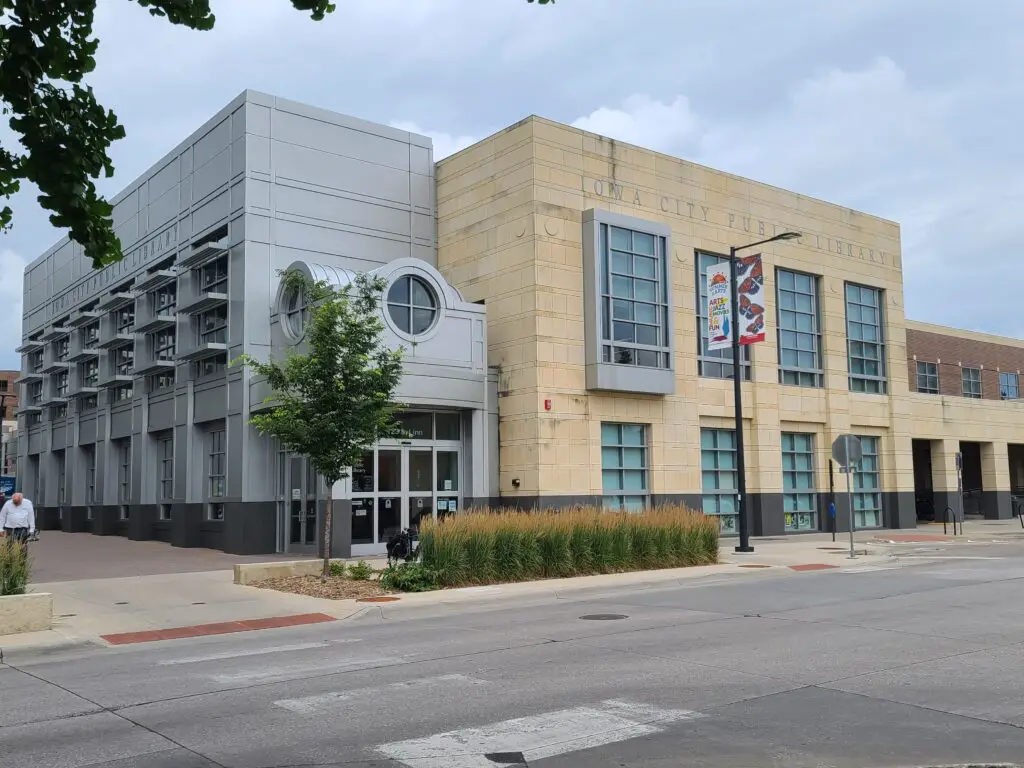 Visit the Downtown Iowa City calendar to view a wide variety of festivals, markets, and events held in downtown primarily in the summer and shoulder seasons.  There are two locations for FilmScene in downtown, showing major motion pictures and lesser circulated films as well as hosting camps and special events for kids and teens. Another treasure of downtown is the store, Beadology, offering a wide variety of jewelry making products including kits and offering classes to students of all ages.  If you haven't already got your fill of Iowa apparel, stop by Iowa Book, with every Hawkeye item upstairs and a great book store and kids section downstairs.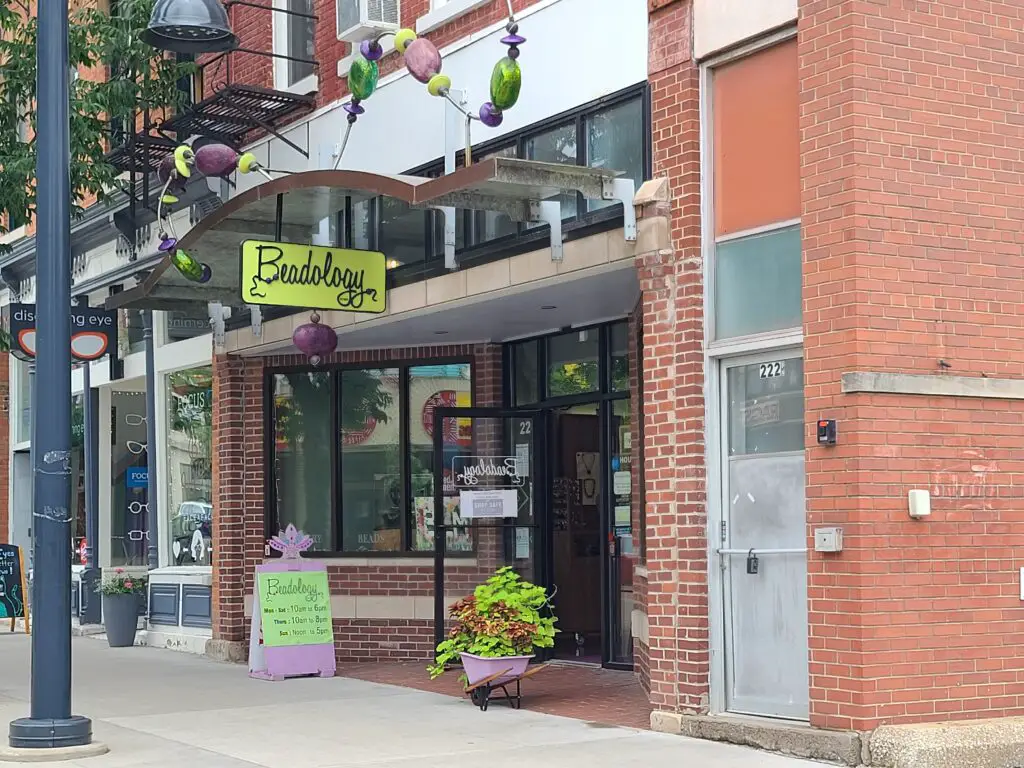 Don't visit downtown without a visit to Prairie Lights, an independent book store with something for everyone.  Their knowledgeable staff will be happy to offer parents and kids suggestions for what might interest you.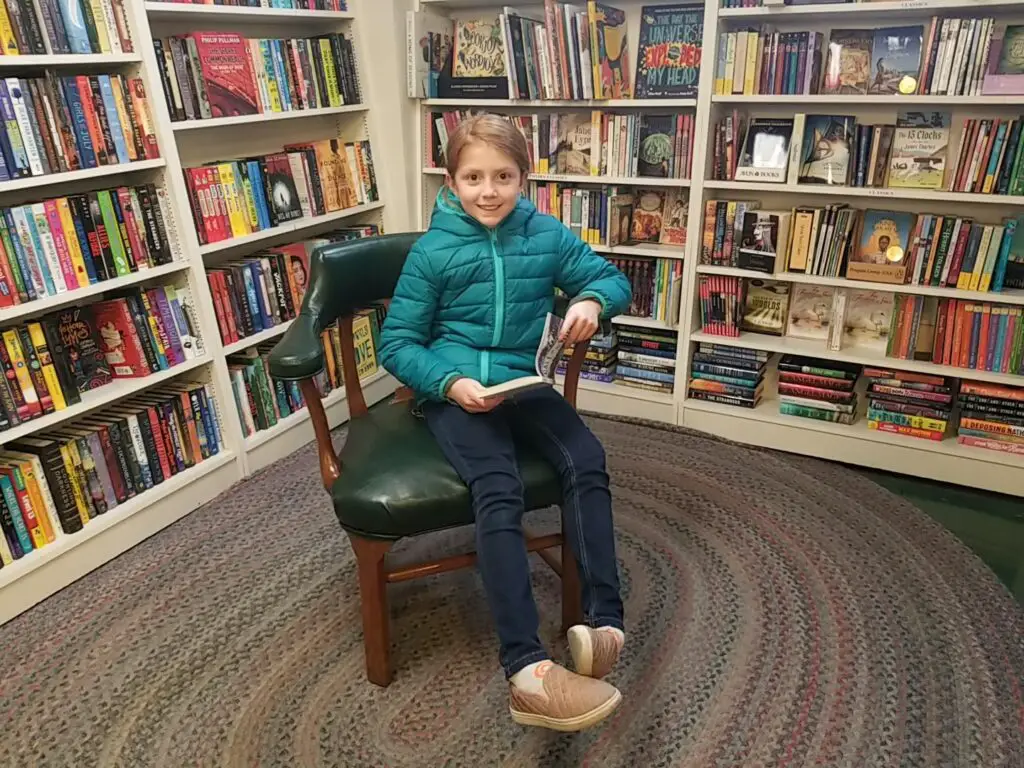 The University of Iowa is a great school for writers and this is reflected in the Iowa City Unesco City of Literature designation and shown through the Literary Walk.  The Literary Walk is a series of bronze panels placed into the sidewalk representing the work of 49 writers who have ties to Iowa.  View the map and list on their website.
City Parks
Iowa City and neighboring Coralville boast a lot of truly great parks that give kids more open spaces to roam.  If your focus is playgrounds, check out this article on the best of those in the Iowa City area.  Here is a run down of those you might want to visit based on your interests: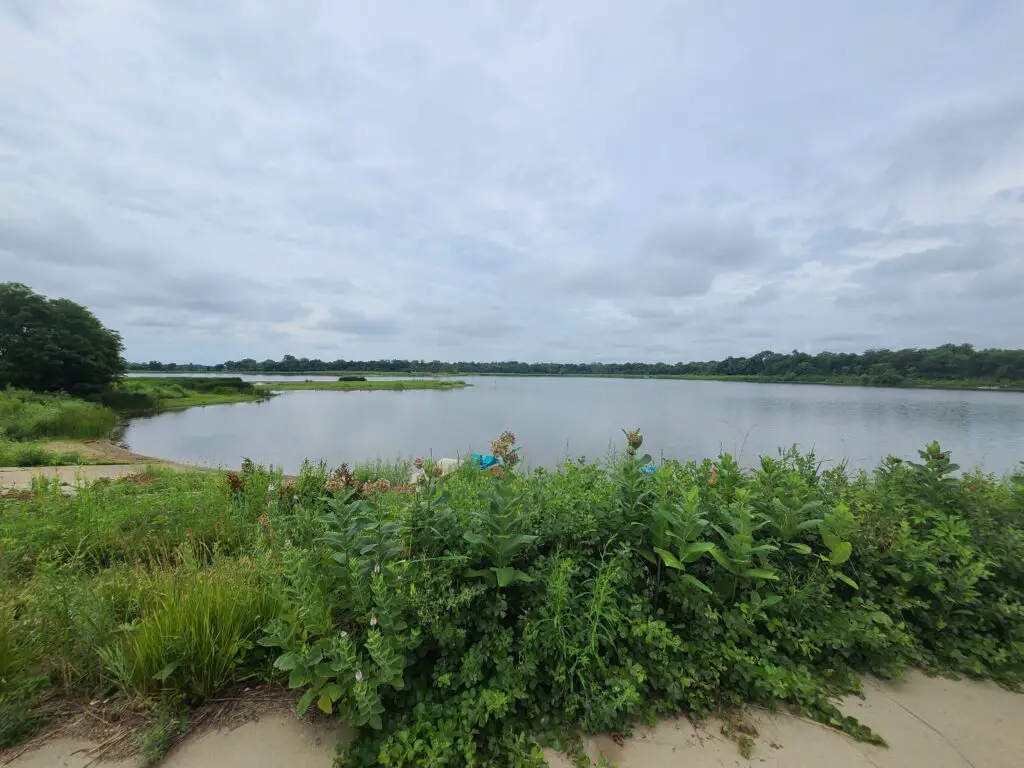 Terry Trueblood Recreation Area – Located on the far South of Iowa City, this park is centered around Sand Lake.  The lake is surrounded by a two mile trail that connects you at several points to benches, picnic tables, shelters, playground and grills.  In warmer months, kayak and paddle board rental and concessions are available.  Terry Trueblood Recreation Area only just opened to the public in 2013 after fascinating history most recently as a quarry and prominence as a Native American trading route.  Fishing and bird watching are also popular activities at this park.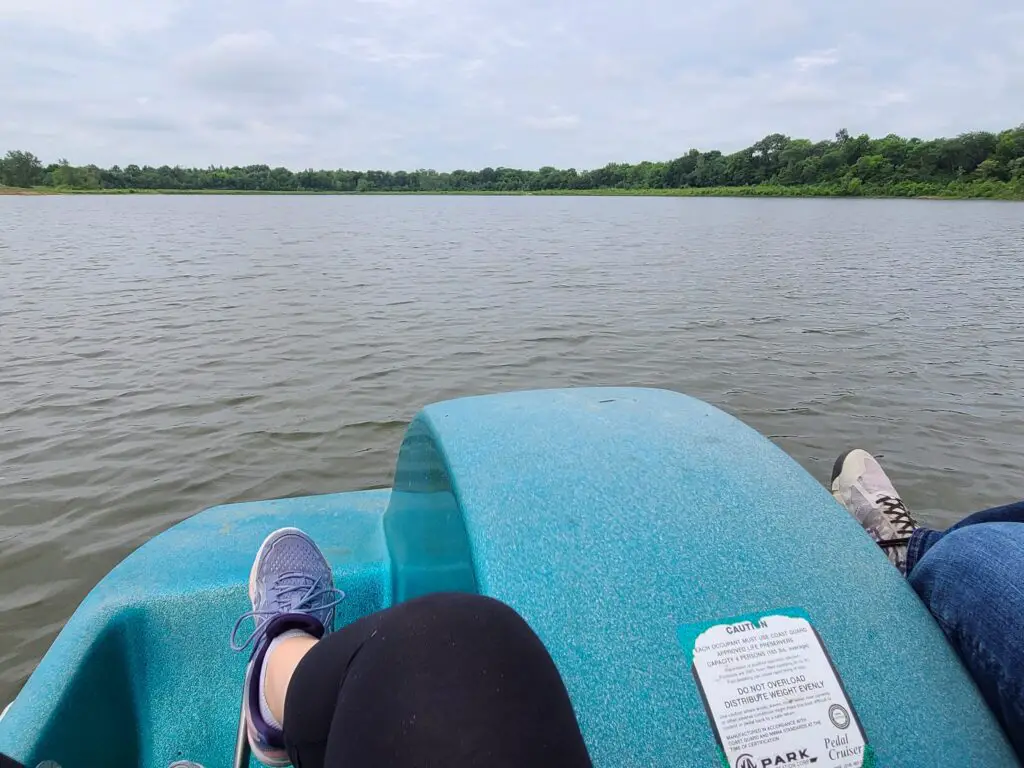 Waterworks Prairie Park – Located on the North side of Iowa City, this park is also fairly new to the Iowa City  Parks Department.  This is a great spot to enjoy nature, likely spot a variety of wildlife and fish or enjoy the view from the fishing pier.  There are trails circling the ponds within the park and the Iowa River bends around the entirety of Waterworks Prairie Park. If you like roadside oddities, you will find the World's Largest Wooden Nickel just a third of a mile from the park.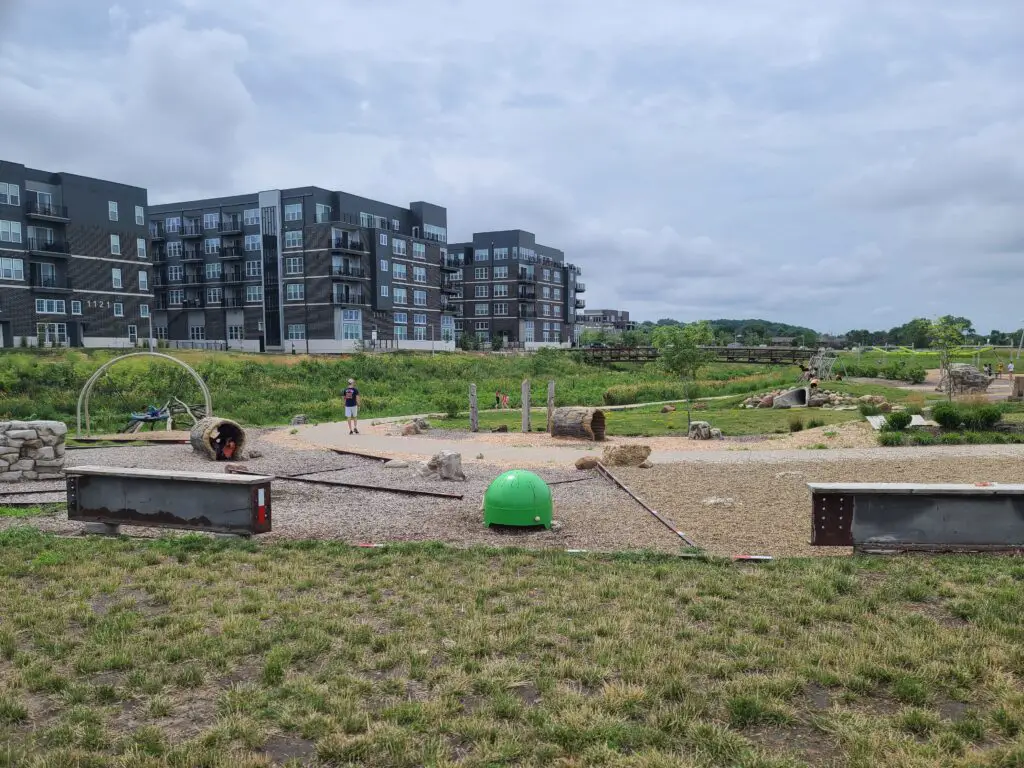 Riverfront Crossings Park – Set along the bank of the Iowa River, this is a truly cool park.  It connects to bike and walking paths extending in multiple directions from the park.  Awesome and unique play features are built into the circling trails that are fun even for the biggest kids.  Kids will especially love the zip line feature – safe and fun!  If you bring the bikes, incorporate a stop here to play or head to Riverfront Crossings directly.  I recommend grabbing lunch at Big Grove, located very near by.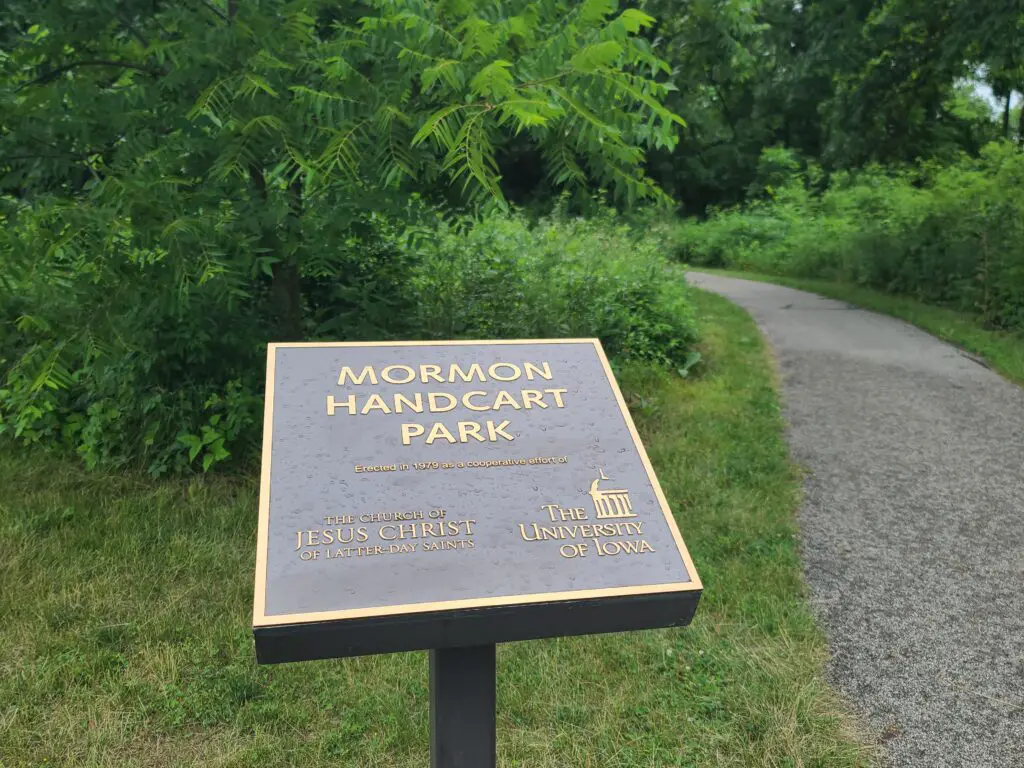 Mormon Handcart Park – Located on University of Iowa property, visitors can access the site from a small parking lot. Check out the trail and plaques commemorating the 2500 Mormon settlers who made their way through this property on their trek to Utah. It's a great opportunity for a walk through the woods while learning about the commitment of the LDS settlers.  Iowa City was the initial camp for these travelers because it was the end of the train lines in 1856.   Be on the watch for some steep drop off near the trail if you have smaller kids.  You can read more about the significance from the history of the LDS Church as well.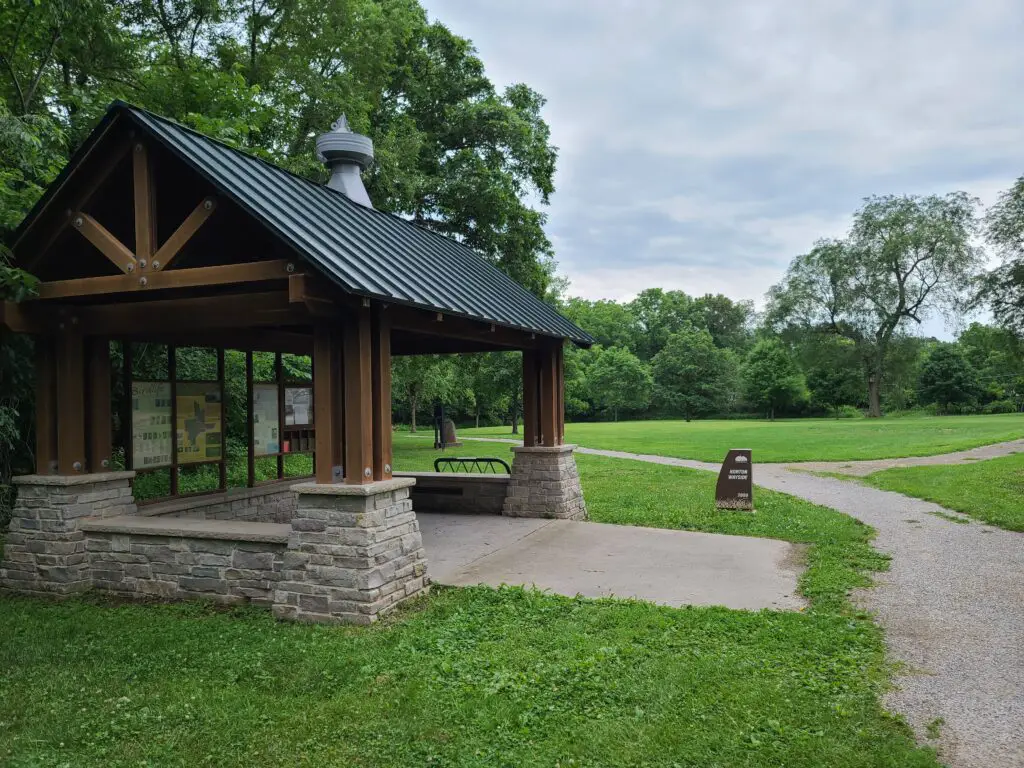 Hickory Hill Park – Hickory Hill Park encompasses 185 acres and has two separate entrances.  This expansive park is not far from downtown and near Mercy Hospital.  It's lots of wide open spaces, prairies, and trails.  The park is supported by the Friends of Hickory Hills Park and you can see the wide variety of wildlife spotted within the park on their page.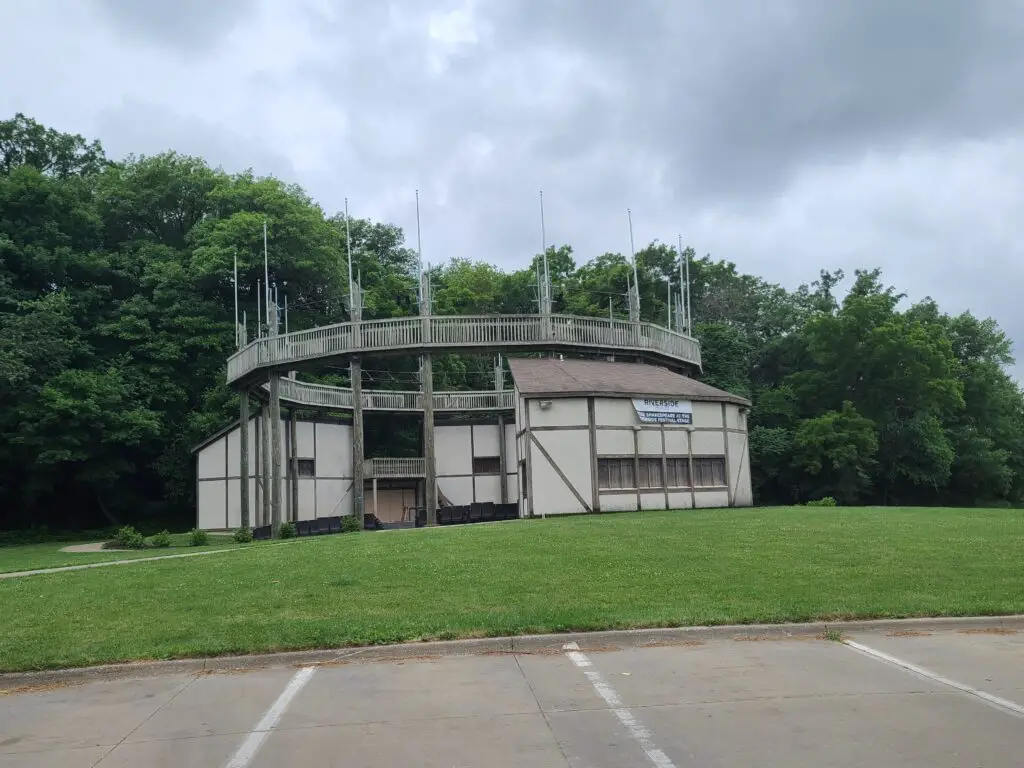 City Park – Located on the bank of the Iowa River and bordering significant University campus properties, City Park always felt like part of the University to me.  Lower City Park offers a new adventure playground which replace the long running amusement rides and was part of a recent redevelopment project.  The lower part of the park is subject to flooding in the summer so be aware and enter from Park Place if you are unsure.  City Park boasts several baseball field, tennis courts, a volleyball court, bocce courts, a basketball court, and three playgrounds.  In the warmer seasons, visitors can take in live theatre productions at the park's Riverside Theatre.
Altmaier Family Park and Disc Course – A truly unique park, opened in 2018 to the public, this former family farm is now home to a disc golf course and archery range.  You can also bring a picnic and enjoy the spaciousness. Altmaier Family Park is located not far from the Coralridge Mall in Coralville.
North Ridge Park – Just across I-80 from Coralridge Mall is this Coralville city park.  It's a great place to get outside if you're visiting the shopping area.  North Ridge Park has trails around a fishing pond where you can picnic off the North Ridge Center's beautiful deck.  There is also a playground.
Splash Pads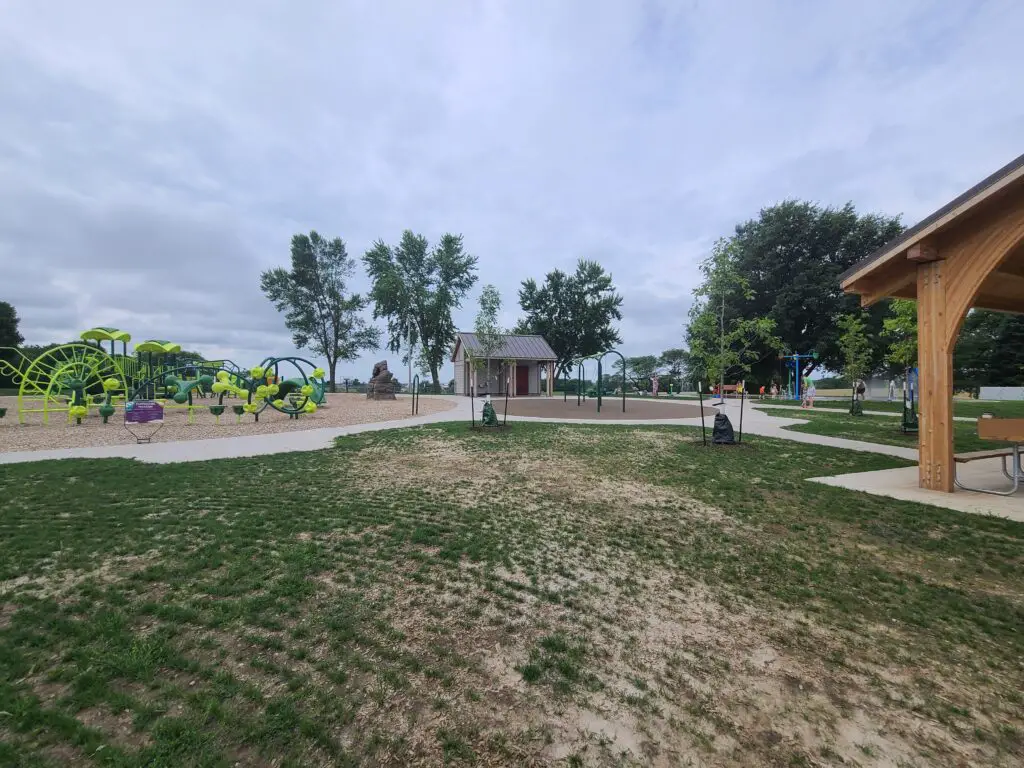 Iowa City has three splash pads in three different city park locations in addition to the water feature found in the Pedestrian Mall.  We have always loved splash pads for a free way to cool off on a hot day.  You will find the splash pads at Fairmeadows Park, Wetherby Park, and Tower Court Park.  Fairmeadows Park, located on the South side of town, also has a playground and restroom facilities. Wetherby Park, located not far from Fairmeadows and a larger park, has a playground, changing stations, and trails.  Tower Court Park, located not far from the University of Iowa Hospitals and Clinics and tucked into a neighborhood, offers a playground, plenty of benches and shade.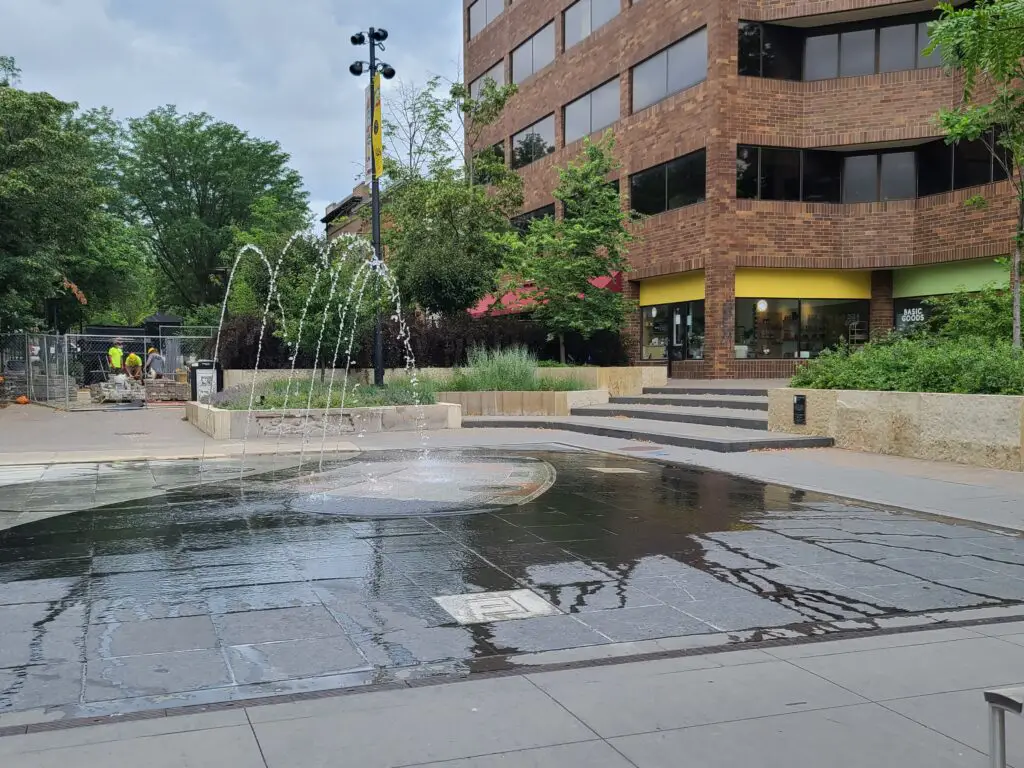 Harvest Fun
Colony Pumpkin Patch is located in North Liberty, just North of Coralville and is open August through October.  Their sunflower season covers the first part of these dates and pumpkin season is the last half.  They offer games, rides, a corn maze and more fun for a ticketed admission.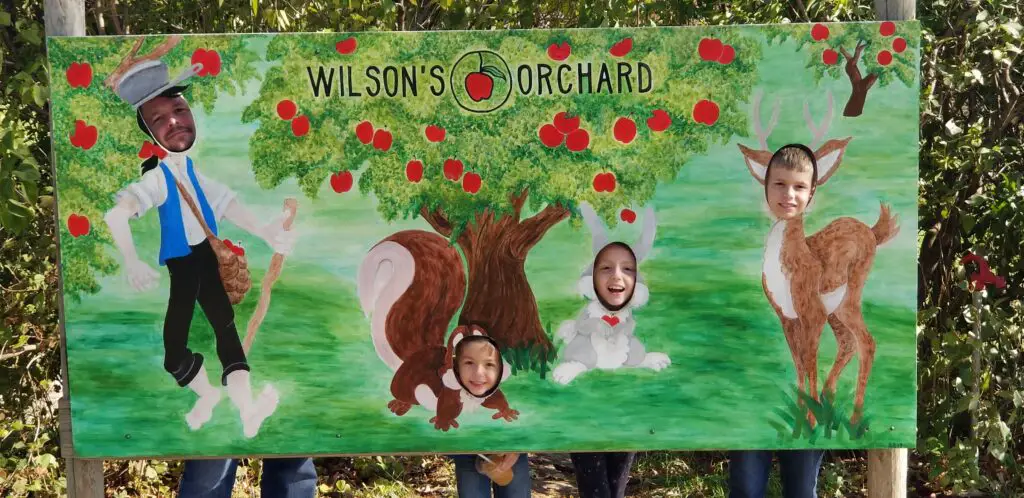 Wilson's Orchard and Farm has always been part of our visits to Iowa City in the Fall, but they are now open year round with various crops harvested between June to October, some available for "u pick" and others are pre-picked.  The bar shop offers a wide variety of delicious pies, tarts and other goodies.  With the addition of Rapid Creek Cidery and Smokehouse, you can make your visit an event year round.
Getting Physical
U of I Rec and Wellness Center – Built in 2010 and open to the public for a daily use fee, the climbing wall is the big draw for families.  They offer a "try climb" for new climbers who want the support of staff to assure they are safely using the equipment.  You can also set up a private lesson to learn more about climbing the 50 foot wall.  There are multiple swimming facilities, but families will enjoy the Rec Pool which offers some lap swim and water features for younger kids.
Sweet Feet Yoga – Started in 2006, this yoga studio now offers classes for all ages and specifically tailors to kids by age group.  There are also yoga camps offered by age group during the summer months.  Register to check out a class and introduce the kids to yoga or extend their knowledge.
University of Iowa Athletics Hall of Fame and Museum – You won't work up a sweat here, but you can appreciate the many athletes who have accomplishment impressive fetes during their time at the University of Iowa.  Admission is free and there are good photo opportunities for your little Hawkeyes.  The museum is open daily.
The Rink at Coralridge Mall – You will want to check their schedule for public skate, but if you are visiting on such a day, you can rent skates and take a spin on the ice.  This indoor rink is available year round and holds camps in the summer for those who want to learn more about skating or ice hockey.
Coralridge Mall Play Place – For smaller kids, this indoor play area allows parents a chance to relax and sip on something tasty while kids explore the play options, make friends, and get out their wiggles.
Take in a Show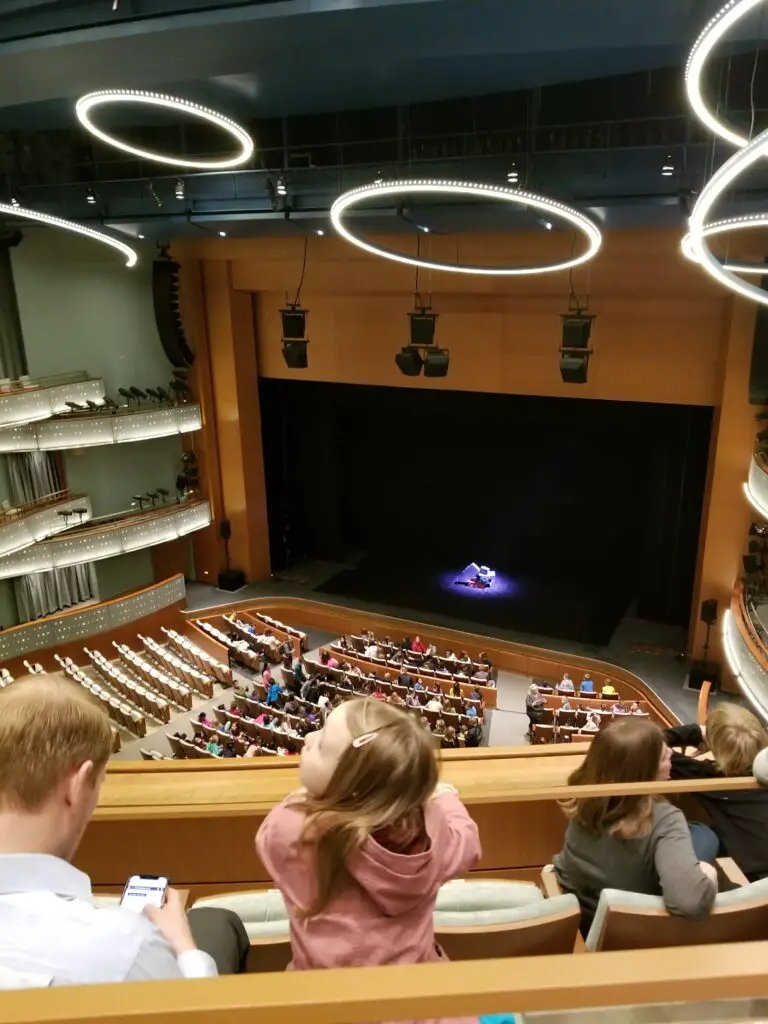 Depending on the age and interest of your family members, there are several theatre and film options to enjoy in Iowa City.  The Riverside Theatre operates in City Park and in a 118 seat location in downtown Iowa City.  They offer shows year round.  Hancher Auditorium hosts a wide array of events in dance, music, lectures, theatre, and more experiences, often hosting world renowned talent.  During the school year, check the schedule for the University Theatre Department to see what productions are upcoming.  The Coralville Center for the Performing Arts hosts family friendly productions and hosts summer camps.  If you are a family who enjoys live music, The Englert Theatre brings a wide variety of artists and performances throughout the year.
If a movie is your preference, Marcus Theatres at Coralridge showing mainstream current releases.  FilmScene offers two downtown locations that show 300 films each year exposing the Iowa City community to a wide variety of independent and smaller release films than found in most communities.
Other Spots to Visit
Iowa Children's Museum – Also located at the Coral Ridge Mall, the Iowa Children's Museum is a fun visit for most age groups.  If your child loves pretend play, they can act out their role in the mini children's hospital.  The music room allows visitors to sample instruments and perform a sound experiment.  They can also learn about aviation and play on kid size simulators.
Renee's Ceramic Cafe – Take your little artists to make a masterpiece at Renee's Ceramic Cafe.  They take walk ins and will also put together an Art To Go kit if you want to work on your project elsewhere.
Johnson County Historic Society Museum – Recently moved into its new home at the Iowa River Landing, this museum fills in the story of the Mormon Handcart Trail as well as other historically significant happenings in the Iowa City/Coralville area.  Visitors pay $4 and children under 12 are free.  Both this museum and the one below are located in the Xtream Arena at Iowa River Landing.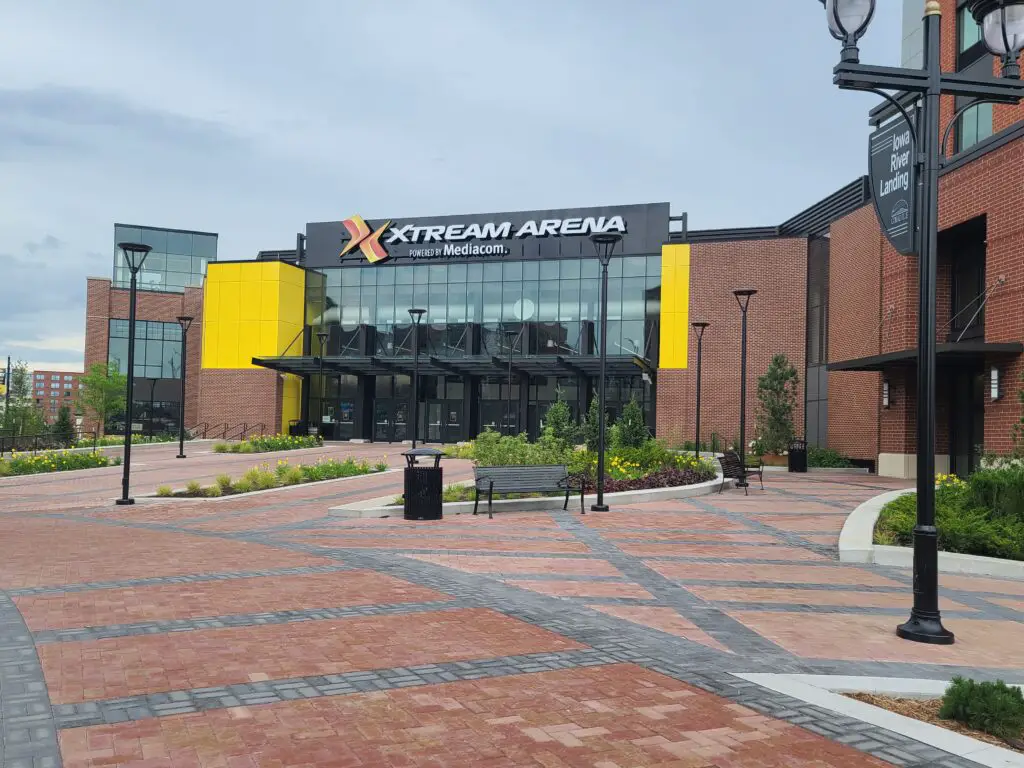 Antique Car Museum of Iowa – Like the Historic Society Museum, the Antique Car Museum is located at the Xtream Arena on Iowa River Landing.  If you have vehicle enthusiast in your group, they will enjoy viewing over 80 antique vehicles dating back to 1899.
Farmer's Market – Held on Wednesday evenings and Saturday mornings from May through October, the market is based in a parking garage with vendors tents extending out onto the street.  Vendors include fresh fruits and vegetables as well as handmade goods and prepared foods.  If you aren't visiting on one of these days, check out this guide for other farmer's markets in the area.
Where To Eat: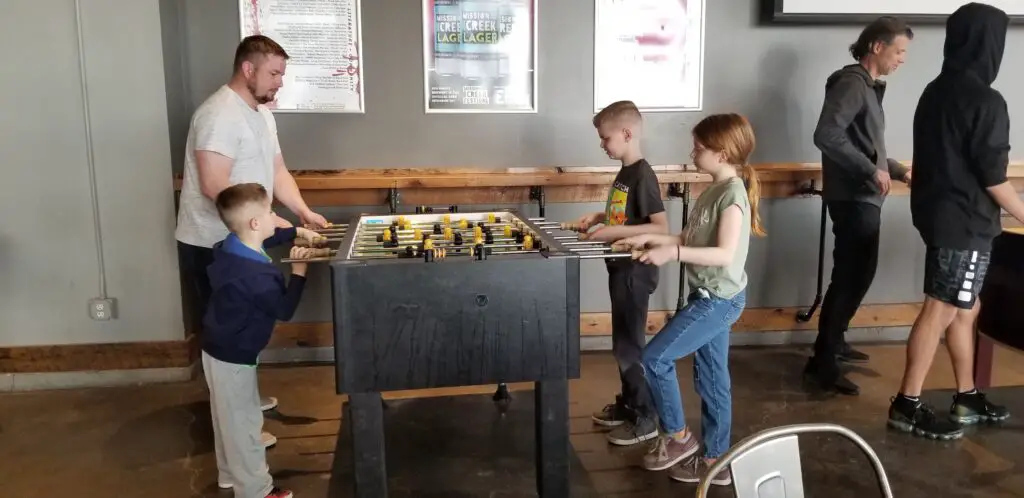 Big Grove – What do parents love more than a restaurant with good food and a kid friendly environment? At Big Grove's Iowa City location, there is a lot of beautiful outside space with room to roam and an equally great inside space with games for supervised kids to play.  The laid back, order at the corner, environment is big on great flavors with options for every type of eater.
Pagliai's Pizza – Located just off of the central downtown and blocks from the East Side dorms, this little family operated pizza joint has been sharing the same Northern Italian pizza for over 60 years.  The menu is simple and the pizza is delicious.
Walker Homestead – This farm event space is also open to the public on Sundays with a limited menu of small plates and pizzas.  What a beautiful way to spend your Sunday afternoon.
Dodge Street Coffeehouse – For a morning or afternoon pick me up that's perfect for adults and kids, stop in to Dodge Street Coffehouse.  Their menu is full of sweet treats, coffee creations, sandwiches, juices, and more.  The best part for parents of young children is the built in play corner with a little kitchen and toys.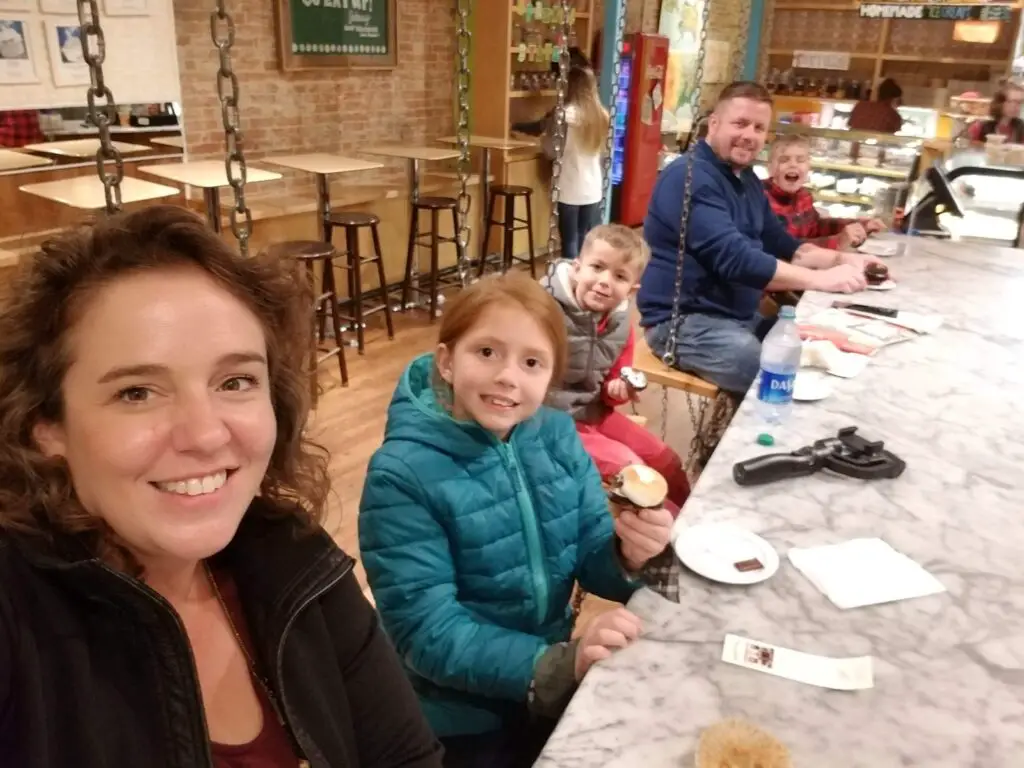 There are two great spots (maybe more) for cupcakes – depending on where you are spending your time.  Downtown, visit Molly's Cupcakes to sit on the counter swings and enjoy one of their dozens of flavors.  If you're spending your time in Coralville, stop into Scratch Cupcakery in the Iowa River Landing in Coralville where cupcakes are serious business.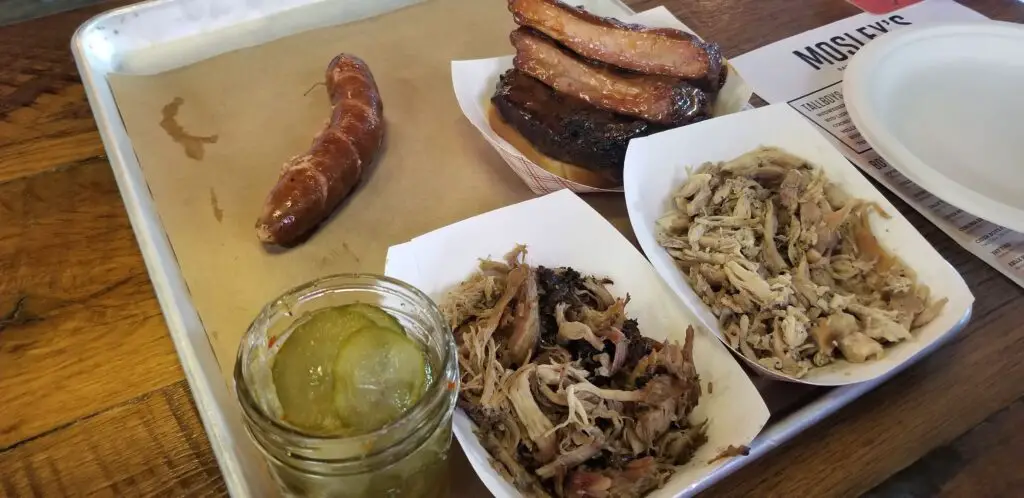 Moseley's Barbeque – Located originally in Iowa City on South Gilbert and now additionally in North Liberty, visit Moseley's for great barbeque.  The two locations offer slightly different menus.  Wherever you go, don't forget to order a jar of bacon to get your taste buds ready.
If you're choosing a breakfast menu, you can't lose between Bluebird Diner (also serving lunch and dinner) with it's modern take on traditional breakfast items, Hamburg Inn No. 2, an old school greasy spoon with tons of history, and Crepes De Luxe Cafe for sweet and savory crepes.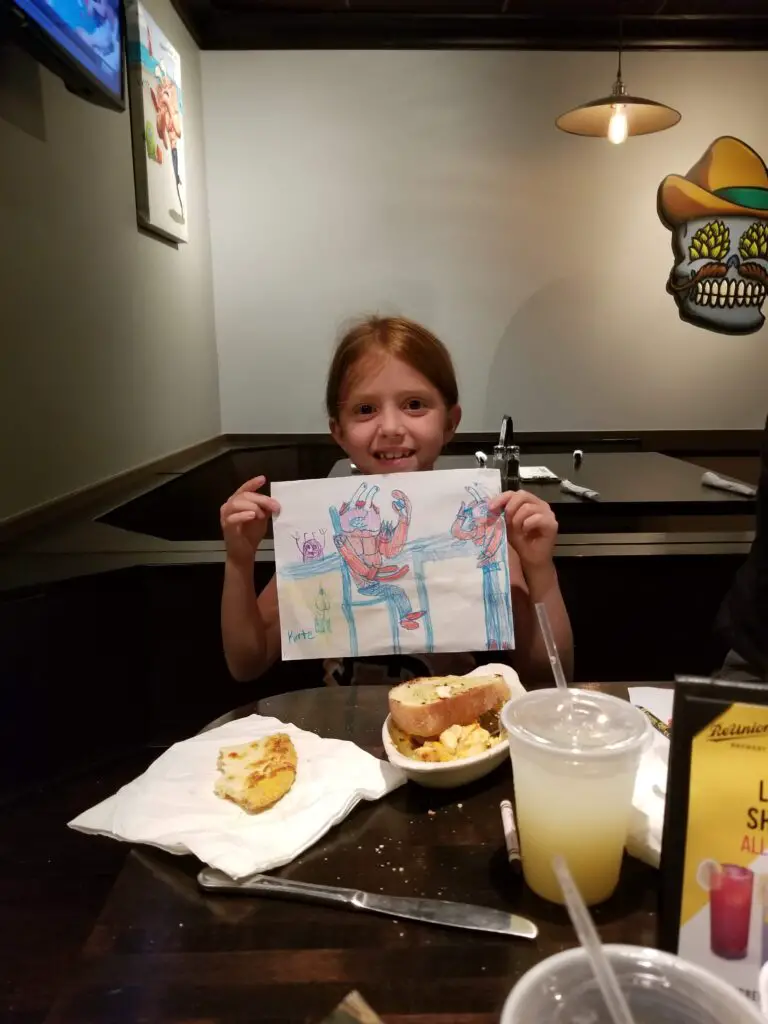 Reunion Brewery – Located on the Coralville strip, we love this restaurant for its quirky wall art and menu of modern pub food mixed with tacos and pizza.  In its former life, it was the site of our rehearsal dinner so we might be slightly biased.
Where to Stay: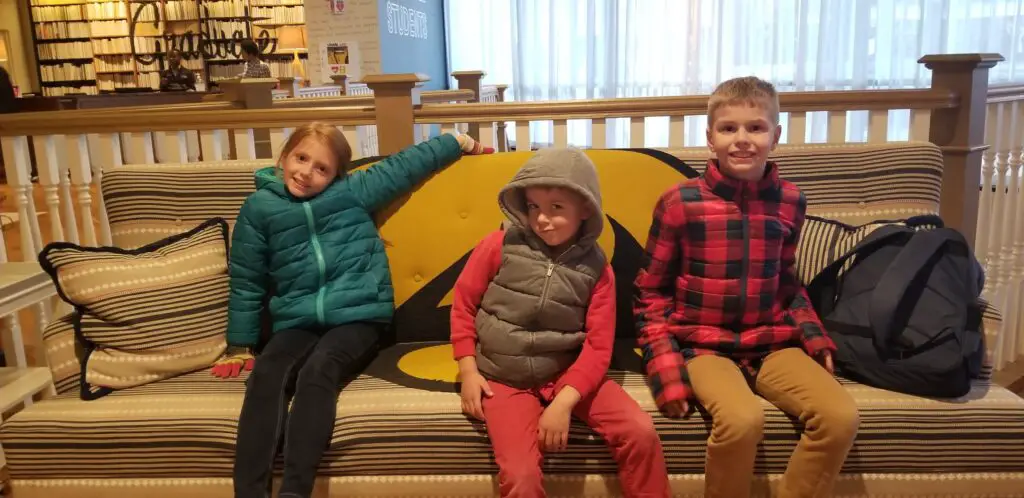 There are many great hotels in Iowa City, but our favorite room for our family of five is at The Graduate Hotel.  The hotel is conveniently located on the Pedestrian Mall for a true Iowa City experience.  This chain also does an awesome job of celebrating its location with a library themed lobby, Iowa corn and pigs wall paper, tons of University of Iowa sports memorabilia, and an awesome vintage theme throughout.  The room we choose is their family suite which is actually two adjoined rooms with two restrooms.  One room offers a king bed and the other offers a set of bunk beds and a sofa bed.  No fighting over the TV or who sleeps where – perfect for us!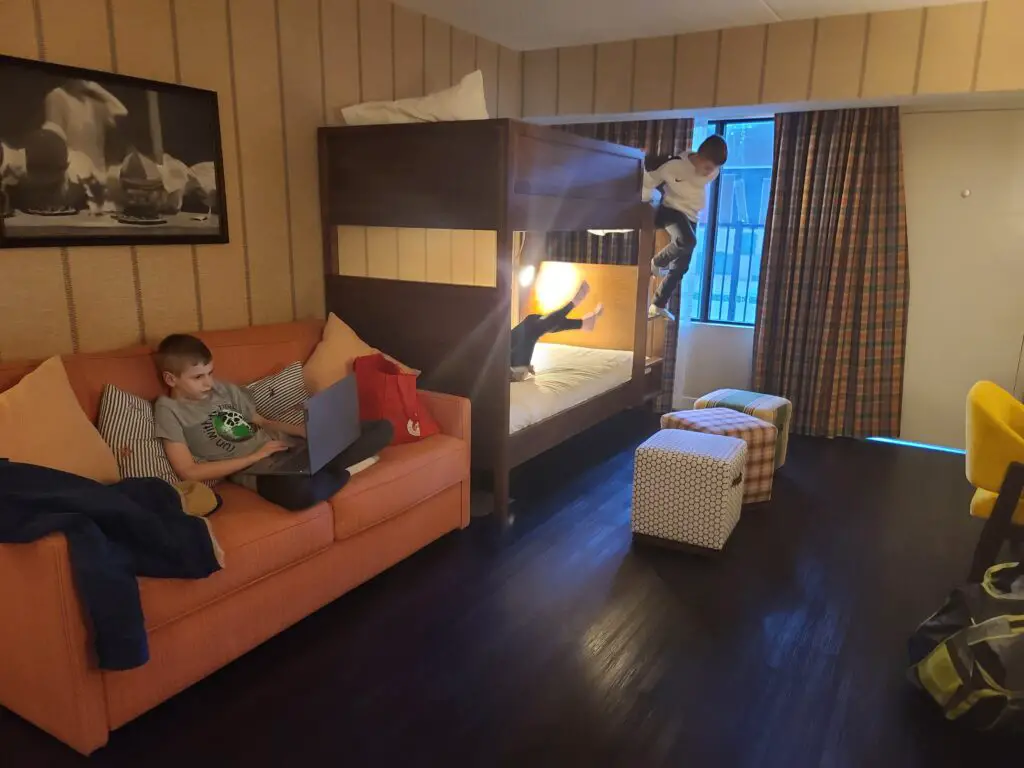 Enjoy your visit to one of my favorite cities!