Preparing to fly with any child can cause hesitance and anxiety for parents, but when your child faces additional challenges, concerns can prevent families from even considering flying.
Is it worth it to fly with your child with autism?  Absolutely! Flying with your child with autism can be made easier with some additional preparation.  Let my tips and those I have learned from other veteran autism parents ease your airplane travel fears.  Let's consider the flight process step by step:
Booking
Preparing
Arriving & Check In
Security & Waiting
Boarding
In Flight
Deplaning
Booking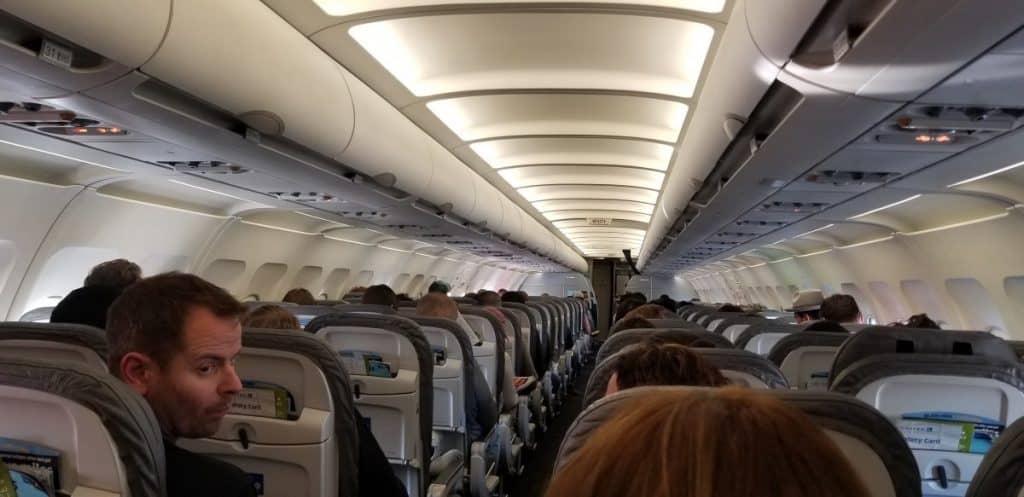 Choosing Flights – Each journey will have its pros and cons.  Consider whether driving farther to a major airport versus flying from a smaller connecting airport might be easier for your child.  Only book flights with sufficient connection time, no less than two hours in order to have time for bathroom, moving around, traveling between terminals or getting something to eat.  Consider what time you will need to arrive and get up in order to make a flight and how substantially different that will be from the expected routine.
Where to Sit – Since seat selection will likely cost you an additional fee, it helps to carefully consider what will work best for your child.  I'm an advocate of sitting in the back (read about that here) because there is usually more space, fees are less, and it's easy access to services (restroom, attendants).  If your child needs more leg space or if your child will likely kick or hit the seat in front of them, you may want to consider the bulkhead seats.  You will give up the storage space, but will not have to worry about passengers in front of you and have additional room to spread out.  Do not book emergency row seats as children are not allowed and people with disabilities may not be able to perform requested functions and be moved.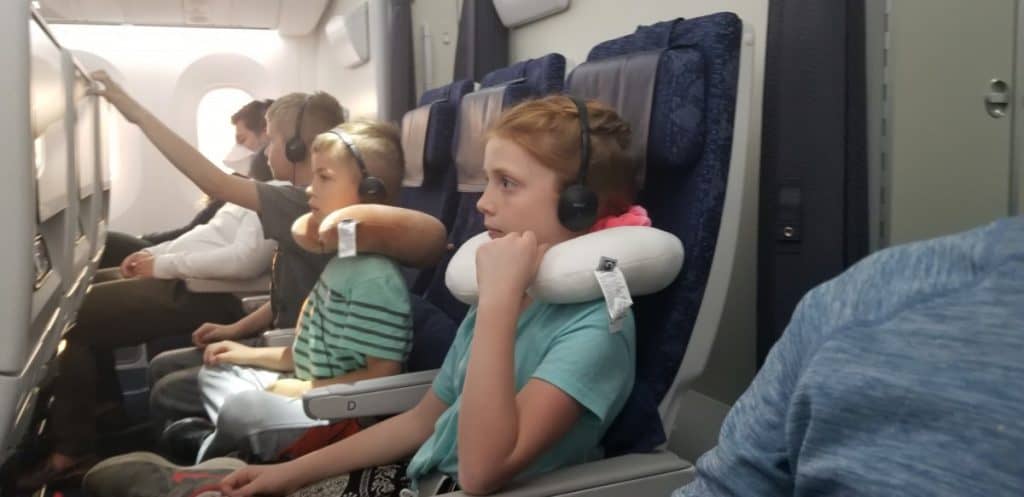 Seat Selection – Middle seats are great for younger children who are traveling with two companions or children who are nervous and might be afraid to see out the window.  Window seats are great for some kids especially those that love looking at things from different angles.  I do not recommend the aisle seat for kids who may be prone to getting up or cannot keep their arms and legs inside the row.  You can use Seat Guru to better understand the layout of the plane and any notes about particular seats passengers have made.
Preparing
Any caregiver of a child with autism knows that preparation is key to success.  There are a few resources available for families of children with autism to better prepare for flying.
Flight Rehearsals – There are a couple different programs and airports offering this type of service.  Wings for Autism, Blue Horizons (Jet Blue), and It's Cool to Fly AA Events (American Airlines) offer a practice option for families of children with autism and other disabilities.  These events are held throughout the United States.  The event allows each family to go through the airport process from check in through boarding the plane.  The video below shows the impact these events can have for families:
Social Stories – If social stories work well for your child, there are several apps you can use to create and modify them such as I Create Social Skills Stories and Social Story Creator and Library.  When my son was younger and social stories were very useful, I created my own story, printed and laminated it.  I used one large ring hook and he went through that story over and over before we traveled and especially during the process of flying.  Here are a two free printables from Option #1and Option #2.
Visualization Aids – Your child may appreciate this video series to help visualize the experience, Autism in the Air YouTube Series.You can also use the Seat Guru site mentioned above to show them what the specific plane you will travel on looks like in layout form.
Countdown – Many children with autism like to see a measurement of time to anticipate an upcoming experience.  Create a countdown on a chalkboard or paper chain to let you child mark off the days until their flight.
Documentation – If it will make you feel more confident, bring along a letter from doctor or diagnosis.  You can print a TSA disability card here.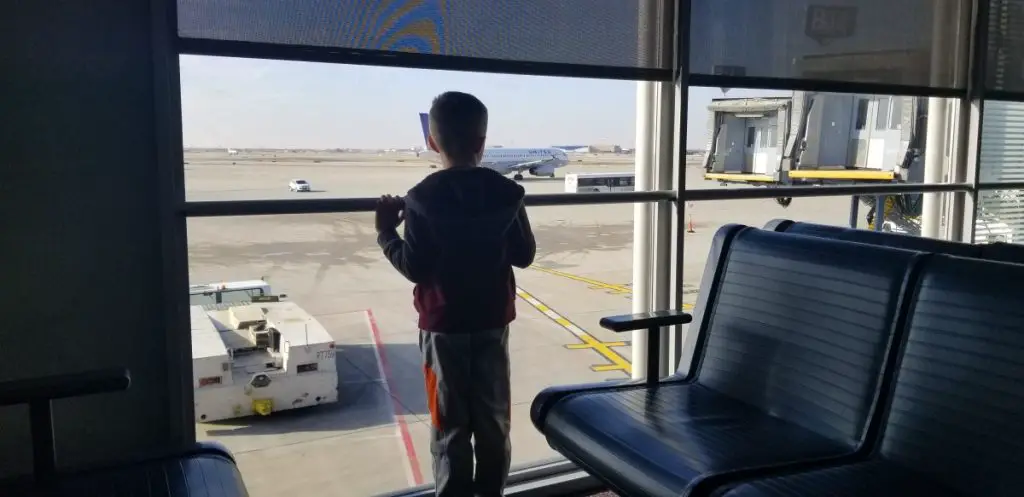 Books – You may want to order these reading and coloring books to talk more about the flight experience.  The Noisy Airplane Ride and My Plane Trip.
TSA Cares – We have not personally used this service, but have heard/read several great reviews.  Anytime you fly, the TSA invites you to inform the TSA agent at the security point verbally and/or using the printable card above that you are traveling with a child with autism.  Other countries and airports have programs of their own too.  TSA Cares is a program that allows you to notify TSA 72hours in advance of your flight that you will be traveling.  They may meet you at check in and take you through the security process.  This allows individuals who are unable to tolerate excessive waiting to minimize that time.  It can also reduce stress for parents dealing with travel gear knowing that their TSA Cares representative is there to help.
Safety Products – When my son was younger, I was very concerned about his wandering or getting lost due to minimal communication skills.  We used the Project Lifesaver Program (radio wave monitored device) and later as my kids got a bit older, I began using disposable Travel ID bracelets so I could put the information about our accommodations on the inside.
Packing – If this is your first time flying with your child with autism, you may feel most comfortable packing more than you think you will need.  You may want to pack new toys/surprises for the flight, download new apps and movies on tablets, and definitely any comfort items.
Eating – Since people with ASD have varying relationships with food, it's important to consider what your child needs and will tolerate.  When my son was small, he followed a gluten free casein free diet for a period.  This was incredibly difficult to maintain during travel.  This article describes how one mom prepares for travel on the GFCF diet.  If allergies to nuts or other products are a concern, this study from the World Allergy Journal indicates that notifying an airline of the allergy in advance is the top way to reduce allergic reactions.  For most kids, stocking their favorite foods in your carry on will be the way to head off being stuck without food they will eat.  My son loves peanut butter and the individual serving PBs fit the TSA guideline for 3-1-1 on liquids.  I know that in a pinch, I can usually get a piece of bread and add PB to it for him.
Arriving & Check In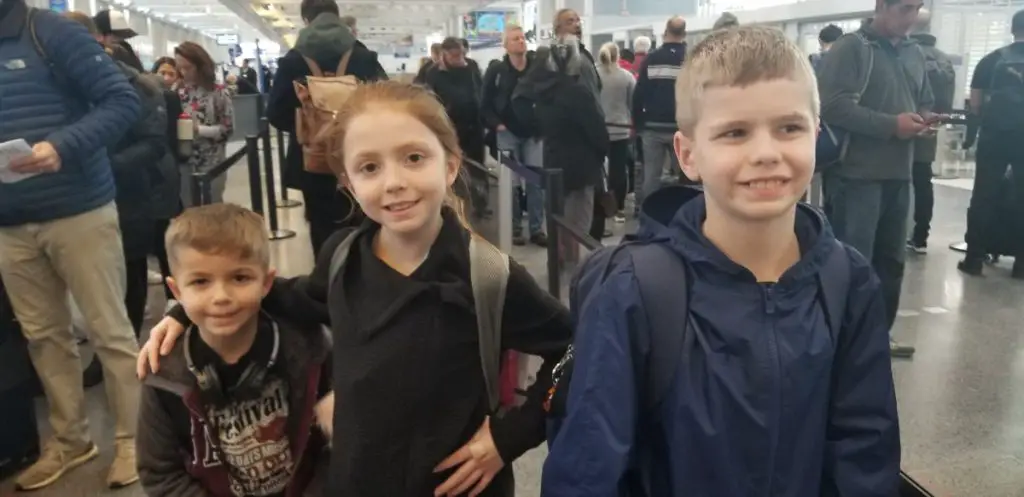 Transfer – If you will be parking offsite from the airport, do a little research in the reviews of companies offering parking and transfer.  For traveling to Chicago O'Hare, we really like PreFlight Parking.  Their rates are reasonable, they offer scales to check your bag weight, free water, and most importantly really friendly, good service.  They are also located in several other major markets.  We never have to wait very long on our return either.  If you are using a park and fly hotel, be sure to check the reviews in regard to the timeliness of their return shuttle.  Some hotels have you call upon arrival and others may come on an interval.  When waiting is hard, this can be important.  If the shuffle of parking or transfer will be a major problem, you may want to consider having someone drop you off or taking a taxi/Uber to speed up the transition.
Timing – This can be tough.  If you haven't flown a lot yourself, the stress of uncertainty about how long the airport processes will take can make your doubt yourself.  If you follow the airline guidelines or arriving two hours before your flight, you should have PLENTY of time.
Check in online – I recommend ALWAYS checking in online as soon as you can after it opens 24 hours in advance.  This is your chance to let the airline know that you will be there.  If you have opted not to select seats, this is the point where some airlines allow you to select seats for free or a fee.  You might find more flexibility in open seats than you booked on some occasions.  You can print your boarding passes or download your airline's app to access them on your phone.  Even if you don't print passes, check in online to confirm your plans to show up.  If you are handling a lot of baggage on your own, you could consider using curb side check in as well (where available).  This way you just hand over bags and proceed to security.
Headphones – If it's appropriate for your child's age and independence level, you may want to consider noise cancelling headphones begging when you enter the airport.  Airports are bright with lots of announcements, people shuffling, maybe new smells.  Headphones may help your child control one of the sensory inputs to able to take in the rest.
Security & Waiting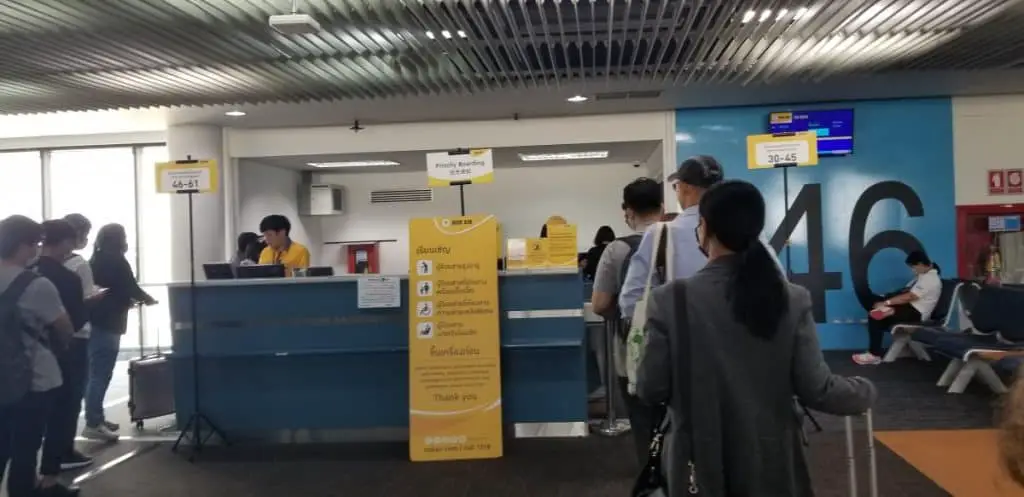 Security Screening – According to TSA's website (and assuming you are not being guided by TSA Cares), any child 12 and under should be allowed to keep their shoes, light jacket and headwear.   I would not expect to wear noise cancelling headphones as they will need to scanned and will prevent your child from hearing instruction potentially.  Children should be removed from their parents for further screening.  I recommend that one parent go ahead of your child with autism to show how to be scanned and wait for them to come through the scanner.
Minimize – I completely understand if you feel you need to travel with a lot of options for toys, snacks, etc.  However, if you know what you need, I recommend doing what you can to streamline as much as possible to make the security transition easy.  I like to wear slip on shoes.  I carry a single bag and now that my kids are bigger, they carry a backpack of their own.  Any food that is being carried is in it's own plastic sack to remove it from my larger bag so I'm not asked to remove it after scanning.  My quart size liquids bag is ready to pull.  I have an empty water bottled hooked to my bag for filling after security.  My son's tablet is ready to pull and my laptop if I have to carry it.  It's always the same list of what needs to come out.  The faster I get myself back together, the faster we transition out of security.
Walking – Finding a way to be mobile just before the flight might be helpful for some kids who will find it challenging to sit for a long period of time.  Just going for a walk in a less busy area of the airport might be the best option.
Bathroom – Don't forget to make a bathroom pitstop before boarding to minimize trips or the possibility your child will need to go when passengers are not allowed to remove their seatbelts.
Shopping – Is there a small special item that will put your child in a good mood?  Are there food items you couldn't carry through security, but would help your child?
Elopement – If you are worried about keeping your child with you and safe, I would consider a stroller that is comfortable and will last until they are at least 6 years old.  I'm a fan of the GP Pockit Stroller (see my review) for travel.  I have also used a small backpack (some may like a weighted pack) with a "safety harness" (aka leash) attached.  Did I see myself doing this before I was a parent, no, but the list of those realizations is too long to consider.  There are certainly time when you're trying to decipher a screen, take out payment, etc and there is enough time for a child who wanders to get away.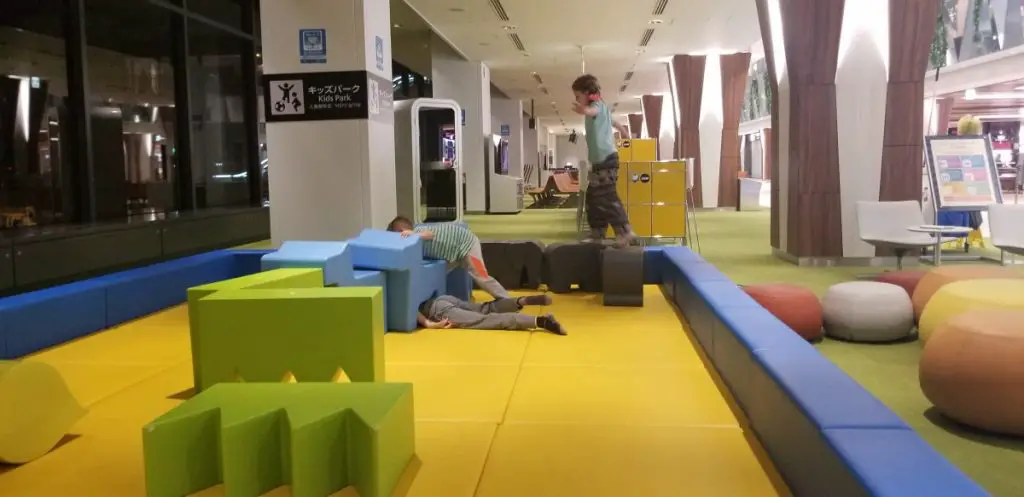 Quiet Area – If you find yourself with extra time and need somewhere quiet, you can start with an empty gate near yours.  If that isn't available or sufficiently quiet, try mother's rooms (if you have a small child), green spaces, chapels, calming rooms, etc.  You can of course also pay for a day pass in a lounge which will be about $35-60 per person.  Here are a few examples of other quiet spots for the US's busiest airports:
 Atlanta Hartsfield Jackson (ATL)

Forest Canopy between Concourse A&B (simulates forest with bird sounds, good for some kids, not all)
Calming Room in Concourse F with mini ball pit and other tactile activities
Minute Suites in Concourse B for rental of small room with daybed/desk by the hour over overnight if flight cancellation

Chicago O'Hare (ORD)
Dallas Fort Worth (DFW)

Minute Suites in Concourse B for rental of small room with daybed/desk by the hour over overnight if flight cancellation
 Yoga Studios in both Terminal D & E
Boarding – For my family, boarding late in the process makes the most sense.  We avoid standing in line (I'm not sure why people do that, we all have tickets) and shorten the time waiting on the plane too.  If you are installing a car seat or think your family would adjust better with early boarding, be sure to talk to the gate staff to request early boarding.  If you have a young child (2 and younger), this will likely be announced prior to boarding.
In Flight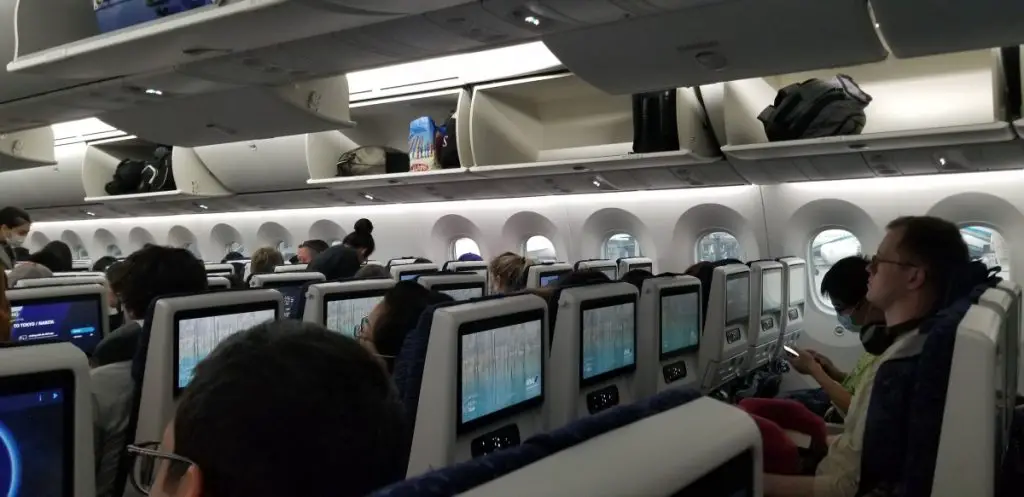 Check your seat plug ins – Check the headphone jacks for the seat in which you plan to place your child
Pressure changes – Determine what will work best for your child to handle the pressure changes – sucking on a candy, chewing gum, or drinking something.  The goal is just to swallow regularly.  When my kids were very small, I would hold off on a bottle or drink until we were on the plane so we would have a method to handle the pressure change.
ID cards – If you feel you might need to inform passengers that your child may have difficulties during the flight, you can purchase pre-printed information cards about autism from NAA or create your own on websites like ID Creator. 
In Flight Food – I've addressed restricted diets above, but wanted to note here that my child who still doesn't like foods with sauces, most soft/messy foods, etc. has successfully found something to eat on every flight we have taken in the last year by picking around what he didn't want or even eating the fruit and roll.  If you're reading this right now, it gets better!
Packed Must Haves – I like to include plastic grocery bags for collecting whatever gross things are generated.  I always have an extra outfit for all of my kids, but this was crucial when my oldest was younger.  Wipes are the third item I would not leave home without and use them to clean the seat area and of course ongoing face and hand cleaning.
Clocks and maps – Since many children with autism like to see how much time is remaining, be sure to make use of your seatback screen's (if you have one) map and time remaining count downs.
Toilet Use – If using an usual toilet seat (shape, size, material) can cause trouble, consider packing a Foldable Travel Toilet Seat.
Car seat – If your child is comfortable riding in the car with a car seat and it is FAA approved, don't hesitate to bring it.  That seat can represent something known for a little flyer who is taking in so many new things.
Charging/Battery Packs – If using a tablet is crucial to pacifying your child, consider packing an extra power source.  You never know when the in seat charger will malfunction or be nonexistent.
Deplaning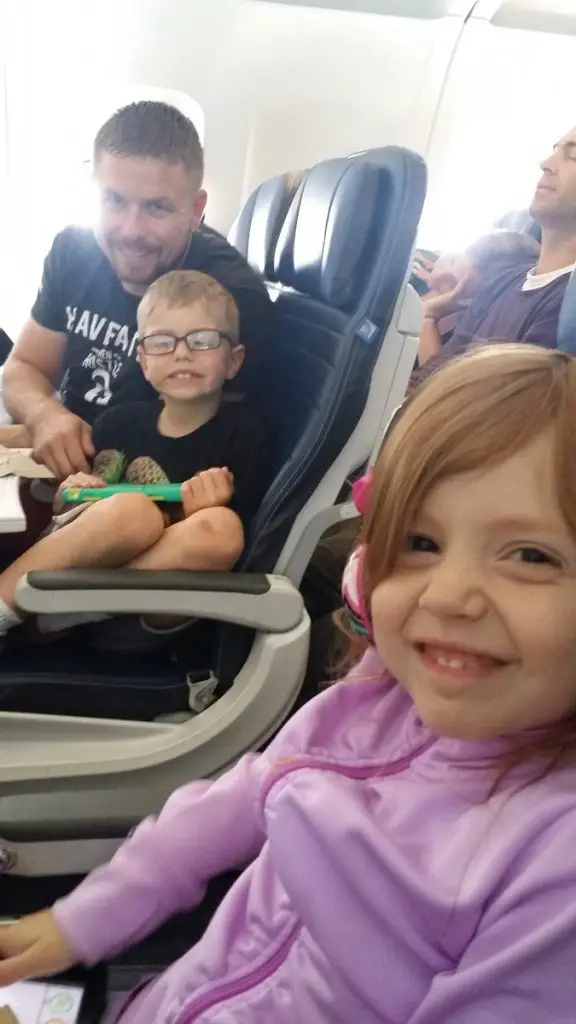 Stay Calm – There is something about air travel where people unnecessarily anxious making lines and exhibiting tension while waiting to deplane.  If you plan your trip with at least two hours between connecting flights and don't join in with the crowd waiting for several minutes for the doors to open upon landing, I think the back of the plane allows space for calm waiting.  Sometimes you can even continue to enjoy the on flight entertainment and distract from the waiting.
Hopefully you've enjoyed a fairly stress free flight experience with a little extra planning.  Both you and your extra special kiddo are going to get better and better at this!
Other Resources:
Products & Tools for Special Needs Travel