This is the second phase of an epic U.S. Roadtrip.  Part one of this detailed itinerary can be found here (link).  What is the optimal road trip to visit United States National Parks, Sites, Landmarks, and Monuments?  In 2015, Data Scientist Randall Olson calculated a fifty stop road trip that covers all of the 48 contiguous states for at least one stop (Link).  The goal of the calculation is to show the optimal route seeing all of these sites with the least drive time.  This article suggests the method by which you could make this journey including where to stay and other attractions and dining options to include in your itinerary.  Please note you could begin your itinerary from whichever spot is closest to you and adjust your days accordingly.
If you are lucky enough to have two months to make this journey (and that is still moving nearly daily), wonderful! If you want to visit the expanses of this country, but need to break it up into smaller trips, I will show the two month journey (Full Road Trip) divided into five different Mini Trips.  This article is a continuation of the two month journey along with 3 different shorter road trips.  In every proposed trip, more time would equate to a more enjoyable, relaxed, and informative experience.  Don't hesitate to add in days to a stop of particular interest.
Please note I have changed some destinations as those listed in the original study did not seem to be actual National sites or in favor of what I felt to be a better option.  In order to make the most of visiting so many parks, you will want to purchase a National Parks Pass for free admission for your vehicle into the parks.
50 Stops included in this United States Road Trip:
Grand Canyon National Park, AZ
Bryce Canyon National Park, UT
Craters of the Moon National Monument, ID
Yellowstone National Park, WY
Great Rocky Mountains National Park, CO
Carlsbad Caverns National Park, NM
The Alamo, TX
The Platt Historic District, OK
Hot Springs National Park, AR
Elvis Presley's Graceland, TN
Vicksburg National Military Park, MS
French Quarter, New Orleans, LA
Tuskegee, AL
Kennedy Space Station, FL
Okefenokee Swamp Park, GA
Fort Sumter National Monument, SC
Wright Brothers National Memorial Visitor Center, NC
Mount Vernon, VA
White House, Washington, DC
Harper's Ferry, WV
Assateague Island National Park, MD
First State National Historic Park, Delaware
Cape May Historic District, NJ
Liberty Bell, PA
Statue of Liberty, NY
The Mark Twain House & Museum, CT
The Breakers, RI
USS Constitution, MA
Acadia National Park, ME
Mount Washington Hotel, NH
Shelburne Farms, VT
Fox Theater, Detroit, MI
Spring Grove Cemetery, OH
Mammoth Cave National Park, KY
West Baden Springs Hotel, IN
Abraham Lincoln's Home, IL
Gateway Arch, MO
Brown vs. Board of Education, KS
Effigy Mounds, IA
Taliesin, WI
Fort Snelling, MN
Ashfall Fossil Bed, NE
Mount Rushmore, SD
Fort Union Trading Post, ND
Glacier National Park, MT
Hanford Site, WA
Columbia River Highway, OR
San Francisco Cable Cars, CA
San Andreas Fault, CA
Hoover Dam, NV
Full Road Trip Day 26: Assateague Island Nat'l Park, MD |    Mini Trip # 3 Day 1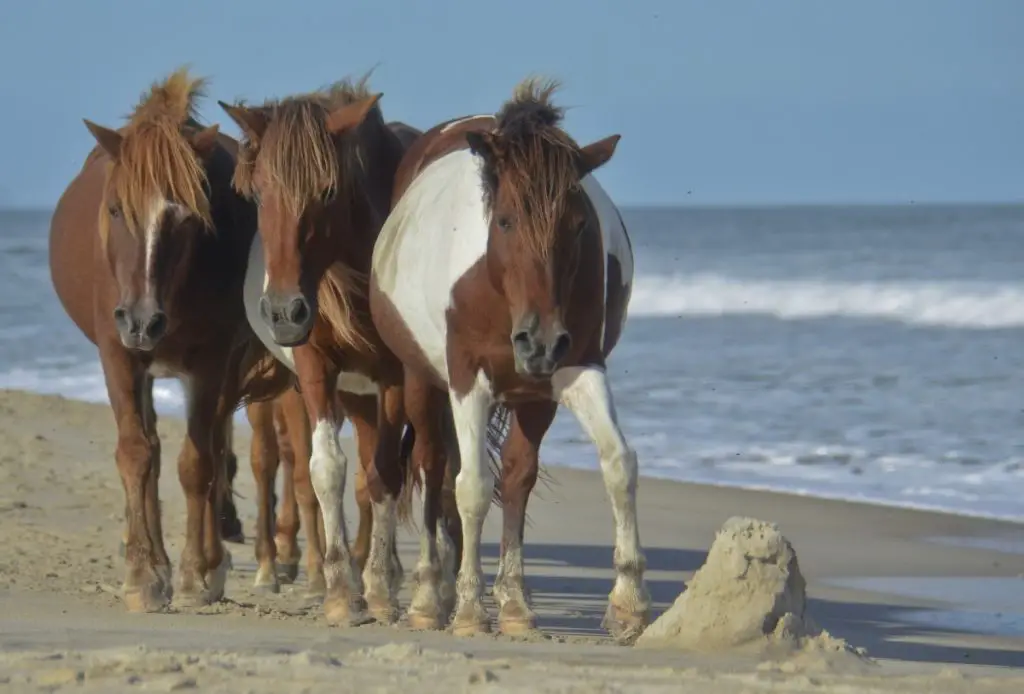 If you are continuing from Harper's Ferry, you will have a drive of about 3.5 hours and access Assateague Island National Park from the North entrance near Ocean City.  This unique destination allows only 145 over sand vehicles at any one time and is home to wild, freely roaming horses.  If you want to drive yourself onto the island, you will need to arrive early in the day during the high season and follow these tips to prepare.  There are parking lots and you can access the beach on foot.  You can enjoy the beach or have a picnic.  Observe the horses from a distance and remember they are wild animals that may act as such if bothered.
Eat: Eat like the locals and enjoy some Maryland soft shell crab and a variety of other seafood at OCM Crabs in Ocean City.
Stay: High season lodging in Ocean City can be expensive.  If you choose to stay, consider Fairfield Inn & Suites Ocean City.  Otherwise, there are several hotels at a fraction of the price on the route to Delaware.  If you want to make the two hour drive and end the day at your next stop, stay at the Best Western Newark/Christiana Inn for affordable rates and proximity to your route.
Operating an RV around New England can be tricky.  There aren't any reputable RV parks in close proximity to our Delaware destination.  You could park in the nearby Wal-Mart for a night or try a park closer to Ocean City like Homestead Campground.
Full Road Trip Day 27: First State National Historic Park, DE & Cape May, NJ | Mini Trip # 3 Day 2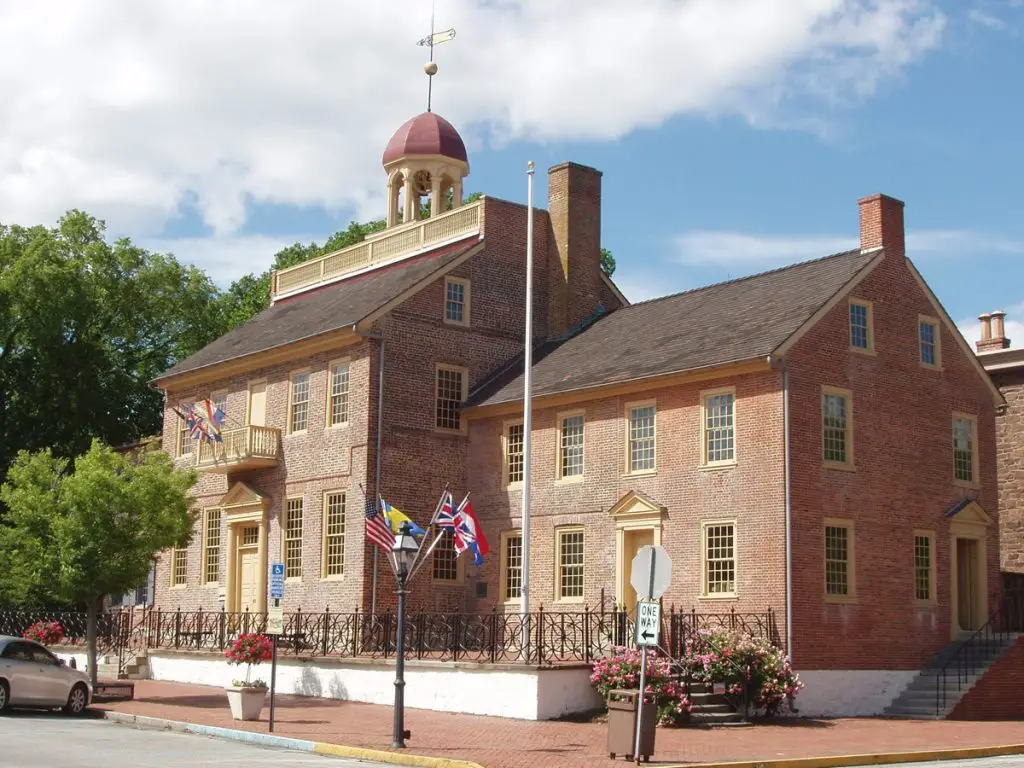 This national park is actually split across seven separate sites in the state of Delaware.  We are visiting the New Castle Court House building which helps to tell the story of how the United State's first state was born.  Visitors can enjoy the museum, take a guided tour, and watch a video about the history.  After our visit, it's time to get on the road again.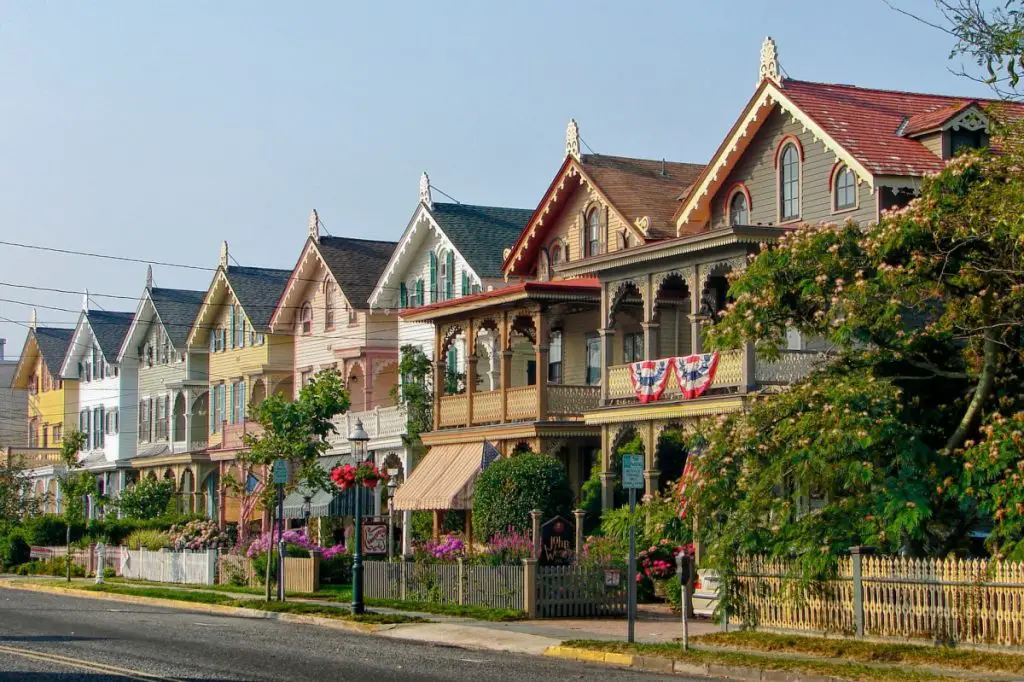 After about 1.75 hours, you will arrive in Cape May, New Jersey.  The national site that qualifies this location is the Cape May National Wildlife Refuge.  Visitors can enjoy the wildlife and scenery in the park as well as ranger led interpretive talks.  It also happens to be located in an adorable sea side town which will be a great place to spend the evening.
Eat:  In the middle of it all, try Mario's of Cape May for authentic Italian food including a variety of pastas, pizzas and a kids menu that will leave everyone happy.
Stay: Like most other oceanfront communities, Cape May is pricey in the high season.  To stay on the beach, I suggest Icona Cape May.  For campers, I recommend Cape May KOA which is convenient to the area amenities.
Full Road Trip Day 28: Liberty Bell, PA | Mini Trip # 3 Day 3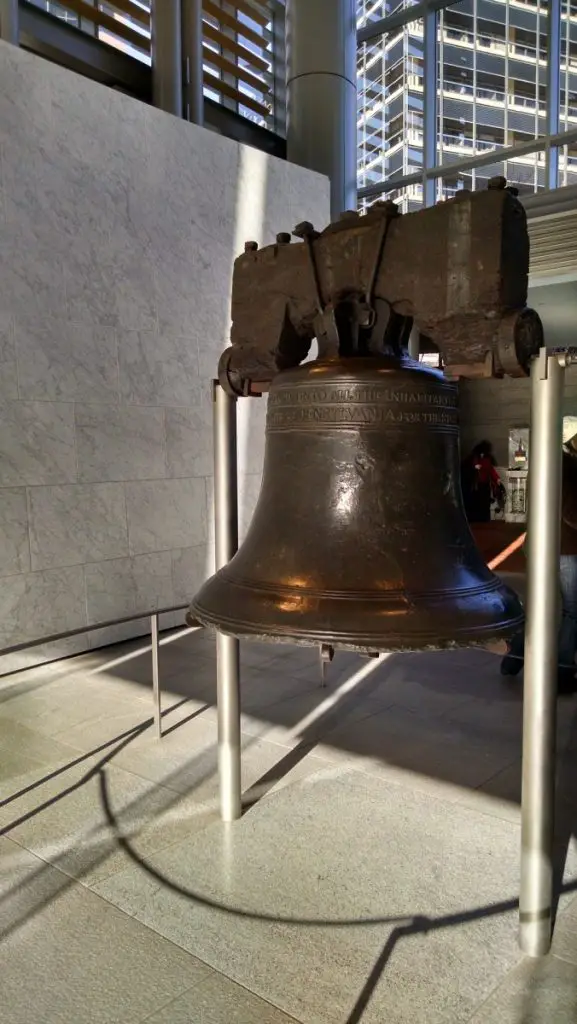 It's time to get on the road for a short trip into Philadelphia.  Depending on traffic this should take you about 1.25-1.75 hours.  The Liberty Bell Center is open nearly everyday at 9am, but I would arrive by 8:30am to get your timed entry tickets at Independence Hall.  Tickets are free; the timing controls the crowds and the wait so you can get a good view and photo of this symbol of freedom.  If you have to wait a bit for entry, enjoy the exhibits and learn a bit of history.
If you are traveling by RV, the Philadelphia Parking Authority garage on 2nd Street between Chestnut & Walnut has a limited number of oversize vehicle spots on the ground level (separate entrance).  You will want to call to ask about availability and if the size of your rig will be compatible.
Eat: Since tourists love to find the best version of foods a particularly city claims as their own, check out Sonny's Cheesesteaks or Gianfranco Pizza Rustica for a great Philly Cheesesteak really close to the Liberty Bell.  Sonny's focuses on cheesesteaks, burgers and grilled cheese, but Gianfranco's might be a good choice if any of your children would prefer a slice of pizza.
After lunch, stay and play in Philly or get back on the road and make your way into New York City.  This is a lot of big city driving for one day.
Stay: For an efficient location, choose the Conrad New York Downtown.  You can come over to Manhattan via the Holland Tunnel and you're 5-10 minutes from the hotel door.  Valet parking solve your vehicle issues as you might as well leave it in the garage for the duration of your stay.  Your location is convenient for an early start on the cruise to Liberty Island.
For RV Campers, your best bet is to stay at Liberty Harbor RV.  This is the closest RV parking option to the city and can accommodate up to 45 foot campers.
Full Road Trip Day 29: Statue of Liberty, NY |                          Mini Trip # 3 Day 4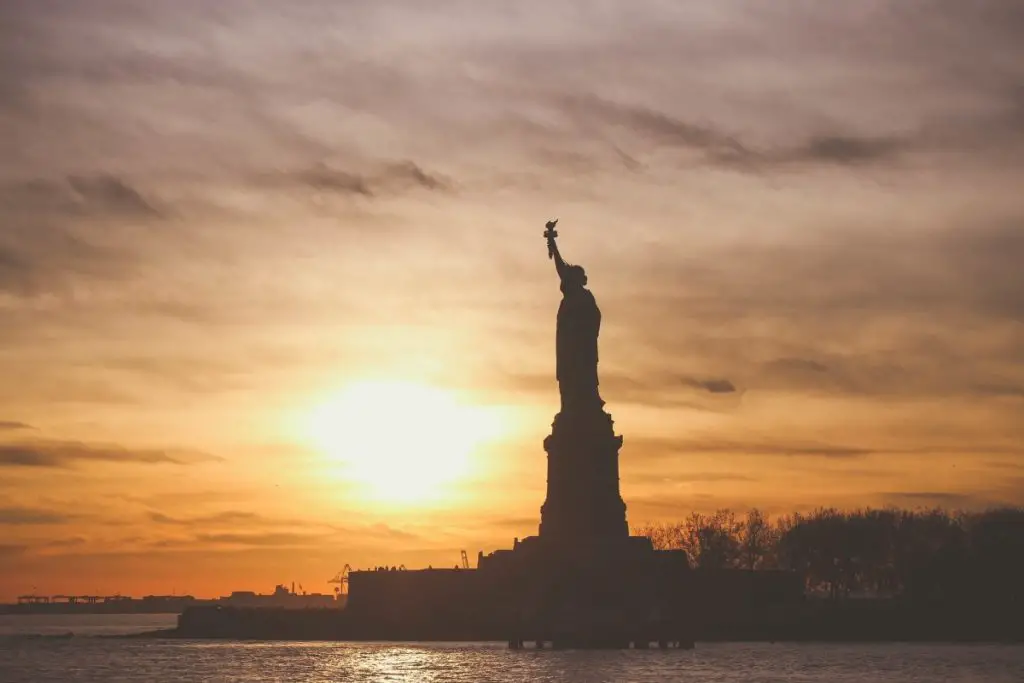 Whether this is your first visit to NYC or your 100th, don't you just love the energy of the city?  If it is your first and you plan to stay longer than today, check out my Guide to New York City for your First Visit.  Our plan for today is to visit the Statue of Liberty National Monument.  The only way to reach the Statue is to purchase cruise tickets from Statue Cruises.  I detail this in my guide, but the best way to make this visit is early in the day.  Pre-order your tickets for the first ride of the day, stay on the boat at Liberty Island and go to Ellis Island first.  This works so well because you will see everyone gets off on Liberty Island.  Enjoy a nice, quiet visit at Ellis Island before re-boarding and riding back to Liberty Island.  You can decide what level of entry ticket you want based on pricing and access.  You can spend as little or as much time as you desire between the two islands and don't forget to take in all of the views of the surrounding city.
For the purpose of this itinerary, we assume you will get on your way again this afternoon.
Eat: Located about half way between Battery Park (where you will board and disembark your cruise) is a fun beer hall with family friendly food called Clinton Hall.  Break up your walk back with lunch before getting on the road.
We are two hours down the road to Hartford next, but it could take slightly longer depending on traffic.  Your route travels up through Manhattan and you can choose your route based on your map app of choice.  If you are coming from the RV park, the directions should lead you to avoid most or all of Manhattan.
Stay: For family friend accommodations, check out the Residence Inn Downtown Hartford.  You'll have room to spread out after your visit to the big city and grab free breakfast before you head out in the morning.
RV travelers consider Nelson's Family Campground.  It's a bit outside of Hartford, but there are limited options near the city.
Full Road Trip Day 30: The Mark Twain House & Museum, CT & The Breakers, RI | Mini Trip # 3 Day 5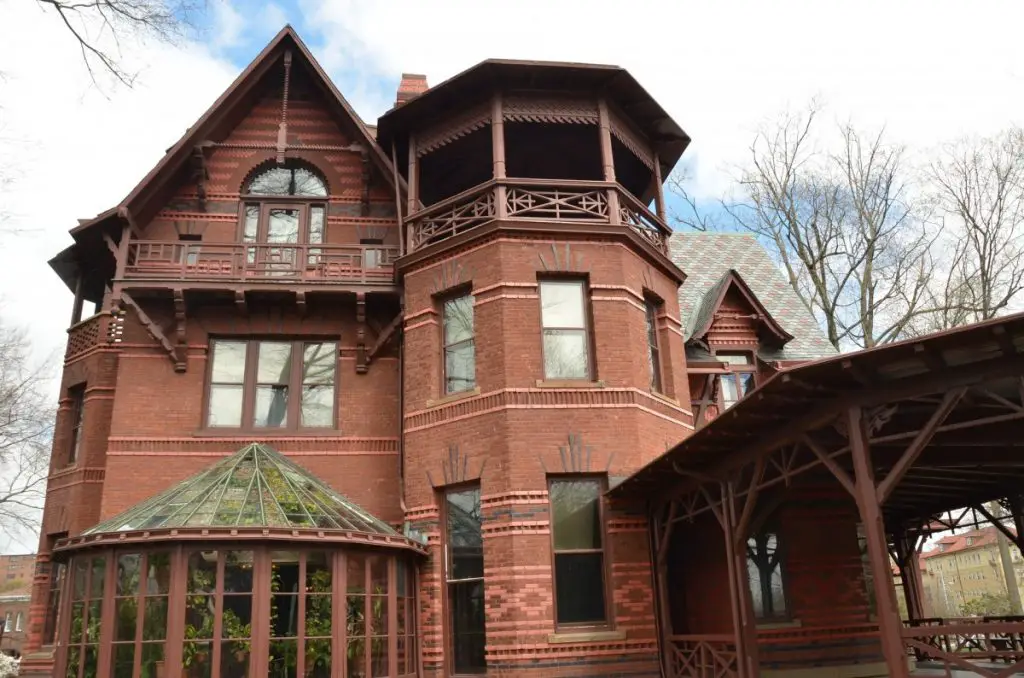 Our Connecticut destination, the Mark Twain House & Museum is a National Historic Landmark.  The site exists today to honor the beloved American author because of a self-organized group that wanted to save the home from becoming irrelevant.  After the Clemens family (Twain's actual last name) sold the property it was resold several times and even served as apartments into the 1960s while the group worked to gain control of the entirety of the home.  The Mark Twain home will be a special visit for those who enjoy his works, most of which were written in this house.  Read their policies as they caution the experience for very young children in the guided tours.
Eat: For lunch, try another Northeastern favorite, chowder, at the Chowder Pot of Hartford.  You can enjoy fresh lobster and a variety of sandwiches as well.
This afternoon, take the drive toward Newport, Rhode Island.  It should be less than two hours.  Our plan is to visit The Breakers, a National Historic Landmark, and former summer home to the Vanderbilt family.  Pre-purchase a late afternoon tour of the home or enjoy the family oriented audio tour.  The tours provide a history and humanity to what created this level of opulence in Newport.  You will find the Breakers is not the only home of this extreme and several properties are managed by the Preservation Society of Newport County.
Stay: Of all the stops on our road trip thus far, the high season prices in Newport are the steepest.  I suggest leaving Newport to stay closer to Boston.  Try out the Courtyard Boston – South Boston for a well-rated, family friendly hotel right off your route on Interstate 93.
Full Road Trip Day 31: USS Constitution, MA |                        Mini Trip #3 Day 6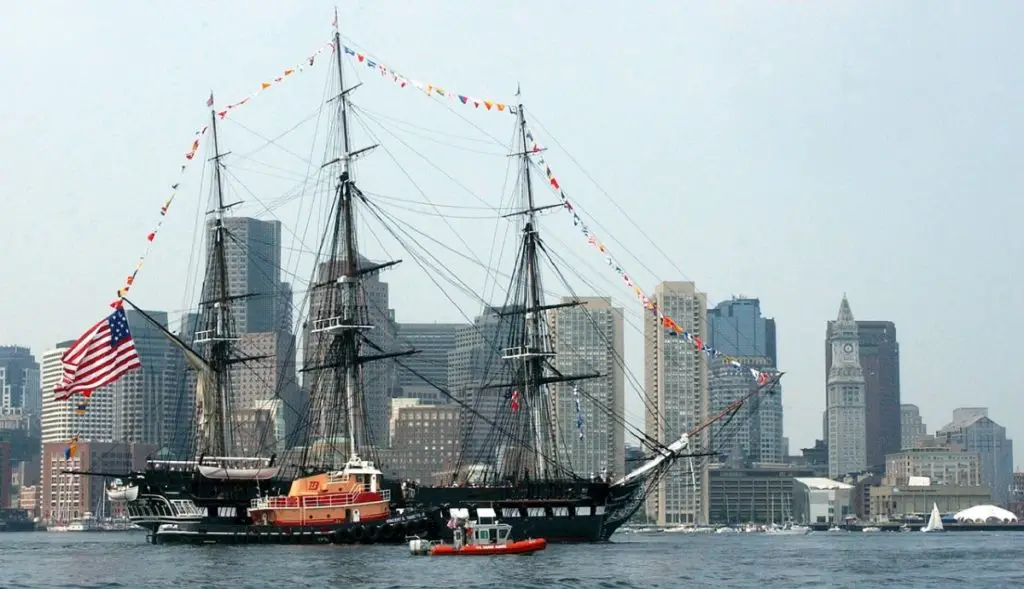 Today, we visit the Boston National Historic Park, home to the USS Constitution and museum within Charlestown Navy Yard and the Bunker Hill Monument.  The park extends to sites located around Boston as well including the Paul Revere home, Old South Meeting Hall, and Faneuil Hall.  Most of these sites have individual admission fees.  The USS Constitution, nicknamed Old Ironsides, was built as one of the first six ships in the US Navy after the Revolution and continued to serve, earning its nickname in the War of 1812.  There are still naval officers commissioned to the USS Constitution today to promote and preserve its history.
There is so much to take in while visiting Boston.  Let's slow down and just be relaxed tourists today and spend one more night in our hotel before heading further North.
Eat: Legal Seafood is a Boston based chain offering all of the best fresh options from the ocean in a family friendly dining experience.  I suggest the location on the waterfront for a great view and lovely area to stroll around after your meal.
Full Road Trip Day 32: Acadia National Park, ME |                  Mini Trip # 3 Day 7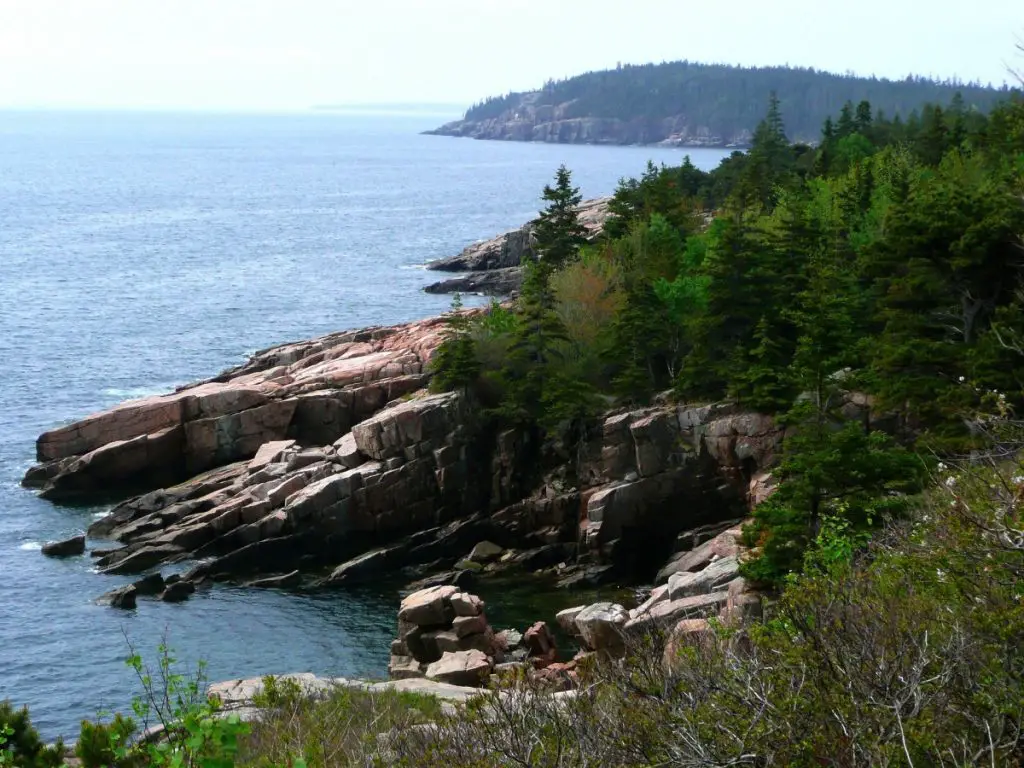 This morning we are headed to Maine for a visit to Acadia National Park.  Acadia is one of the top 10 most visited parks in the country and offers a variety of opportunities year round.  When I think of Acadia, I imagine lakes, coastline, and forests.  You can view trails that feature both water and forest here (link).  Some other favorite activities at Acadia include guided boat trips, fishing, and tidepooling.  After arriving today, take the time to try one of these activities and choose what you want to see tomorrow.
Eat: Close to the suggested hotel is the Colonel's Restaurant and Bakery.  The restaurant focuses on seafood classics like Lobster Rolls and Baked Seafood Casserole along with a variety of sandwiches, burgers, etc.  They are also known for their breakfast pastries you can pick up to go.
Stay:  Located just across the street from the park is the Asticou Inn.  The hotel is kid friendly and has a heated pool for warmer seasons.
There is a variety of camping available in and near Acadia.  I like Smuggler's Den for a two night stay.  It's a 100 site campground that is family owned and operated with Wi-Fi, pool, bordering Acadia and near the beach.
Full Road Trip Day 33: Acadia National Park, ME |                  Mini Trip # 3 Day 8
Spending another half day at Acadia is worthwhile.  Arriving early to any well visited national park is key to parking where you want and getting the best views.  Before you come to the park, check out this link to Acadia Quest, download the app and let the kids choose a quest to conquer.  As always, there are junior ranger options for the kids; just check the website for the Junior Ranger Station information which may vary on the time of the year.
After this adventure in Acadia, it's time to get back on the road toward New Hampshire.  This time we are visiting a national landmark that also happens to be a hotel.  The drive is 4.5 hours, but your lodging will be right at your destination.
Eat: There are several dining opportunities on the Mount Washington hotel campus, but the Main Dining Room is likely the most family friendly.  The several stories high room looks out over the New Hampshire forests.  There are some dress code expectations so please check for current information.  Don't worry about the kids though; the kids menu offers kid favorites like mac and cheese and pizza.
Stay: Make your reservation for Omni Mount Washington Resort.  Be sure to let them know if you have kids to sign up for the Omni Kids Club where they will receive a backpack with games, activity books, and binoculars.  They will even deliver milk and cookies to your room.
If you are traveling by RV and don't want to spring for the hotel room, the nearest RV park is Living Water Campground.  They offer several onsite amenities including a store, rec room, playground, pool, and pizzeria.
Full Road Trip Day 34: Shelburne Farms, VT |                          Mini Trip # 3 Day 9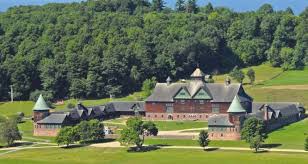 Located in Bretton Woods, New Hampshire's largest ski area, Mount Washington Hotel has been a New Englander favorite for more than a century.  It's perfect for those wanting to get away from the city in both summer and winter.  The hotel's history aligns with the hey day of the railroad in the early 1900s and much of its grandeur is preserved.  Today the hotel boasts many modern improvements including a spa, golf course, fine dining options, and a zip line course.  Take the morning to enjoy your favorite of these hotel amenities before getting back on the road to Vermont.
The drive to Shelburne Farms is just 2.5 hours.  Shelburne Farms today is focused on sustainability and creating hope for future generations through educating people about agricultural practices.  The property is recognized as a National Historic Landmark because of its rich history.  The area was already strong in agricultural production including fruits, grains and sheep by the early 1800s.  In the latter half of the 1800s, one couple consolidated 32 farms into a 3,800 acre agricultural estate.  They focused on horse rearing and creating gardens modeled after NYC's Central Park.  In the 1970s, the family's descendants altered the intention of the property and it grew into the nonprofit it is today.
The property is open seasonally (May-Oct; check with visitor center otherwise) for visitors to enjoy the Children's Farmyard, Walking Trails, Cheese Making, and purchase snacks.
Eat: Don't miss the chance to enjoy the fresh foods available at Shelburne Farms.  The Inn is open for dinner most evenings.
Stay: If this is the last full day of your road trip (end of Road Trip #3), stay at Shelburne and leave from Burlington airport.  If you are continuing the longer version of the road trip, I suggest making a couple hours drive tonight to approximately North Creek, NY.  Take a look at the mountain lodge Alpine Inn which is just less than 2 hours drive from Shelburne.  Certainly consider the time of year and weather conditions for this drive.
If you're looking for to camp, take a look at Shelburne Camping Area very nearby Shelburne Farms.
Full Road Trip Day 35: Driving Day | Mini Trip # 4 Day 1
Today is a long drive day on your way to Detroit.  There are a few different routes, but the quickest one takes you through Canada for the entirety or part of the drive.  With the stop recommended for last night, I suggest crossing into Canada near Buffalo to see more of the scenery on the U.S. side.  There is a third option that keeps you on the U.S. side of the border, but it is almost 1.5 hours longer and goes through Cleveland.
If you are just starting Road Trip #4 at this time, you will fly into Detroit today.
Stay: For family friendliness, consider the Crowne Plaza Detroit Downtown Riverfront.  The hotel has river-view rooms in various configurations to suit your needs.  You should also consider the Shinola Hotel if a unique boutique hotel is more your style.
For an easy park like camping spot for your RV, visit Detroit Greenfield RV Park.
Full Road Trip Day 36: Fox Theater, Detroit, MI |                    Mini Trip # 4 Day 2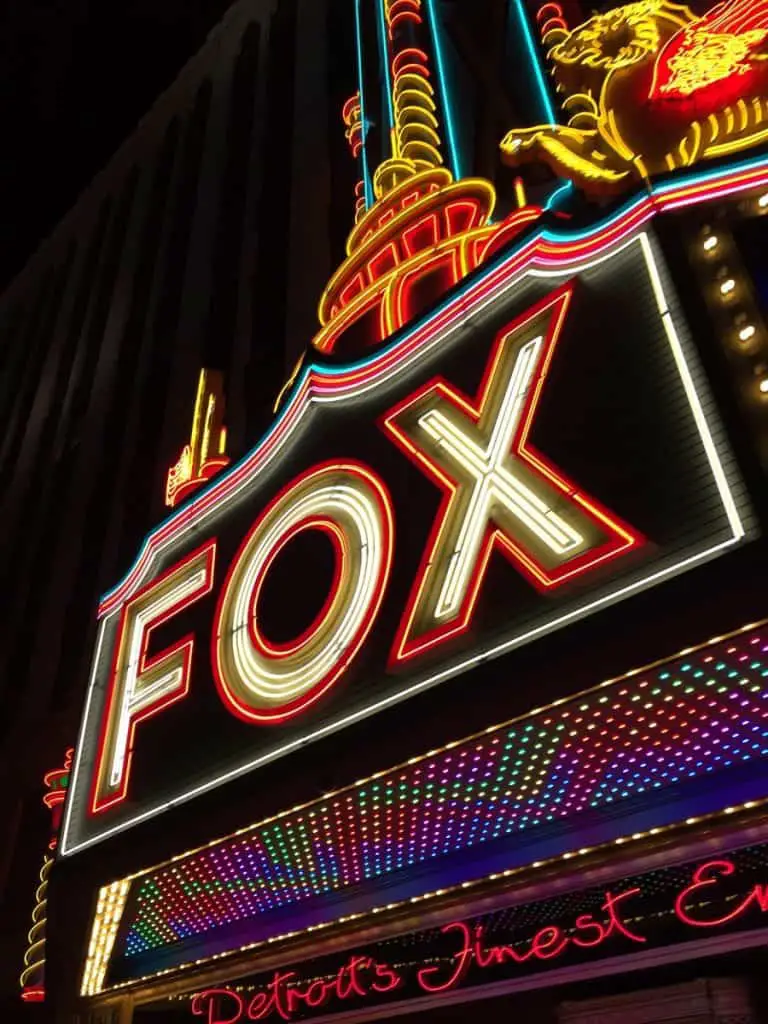 The selection of the Fox Theatre as the National Historic Landmark for Michigan is due to its grandeur in the golden age of movie theatres and its preservation today.  Built originally in the 1920s to replace smaller theatres, the 5,000 seat theatre was meant to host the new popular silent movies. It was completely renovated in the 1980s and today is host to concerts and events.  You can tour the Fox by getting tickets in advance.
Eat: Detroit's food scene is pretty impressive.  If you'd like to taste something that's been a part of Detroit for almost over 70 years, try Buddy's for the original Detroit-style pizza.
After your tour and pizza, get on the road to Cincinnati or add a day to take in the rich history of Detroit through the Detroit Arts Institute, Motown Museum, or take a walking tour to learn about the history of the automobile industry.
Stay: Tonight stay at the Hyatt Regency Cincinnati to enjoy their mix of room configurations, on-site dining, heated indoor pool, and connection to the skywalk system in downtown Cincinnati.
Winton Woods is a country campground with full hook-up sites for RV travelers and is located on the outskirts of the city.
Full Road Trip Day 37: Spring Grove Cemetery, OH |              Mini Trip # 4 Day 3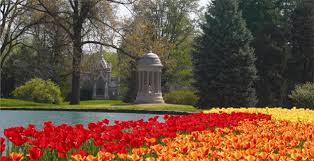 I must admit cemeteries rarely make it onto my travel itinerary, but Spring Grove Cemetery was chosen because it's not your average cemetery.  The creation of the cemetery itself was in response to the cholera epidemic of the 1830s and 40s.  This occurred before large cities had mass amounts of ground dedicated to large cemeteries and the dead were typically buried in small church cemeteries.  The forward thinking Cincinnati Horticulture Society dedicated what started as 200 acres (733 acres today) to be both a cemetery and a place for contemplation, learning and planting gardens that have made the place truly special.  Spring Grove is one of the largest cemeteries in the United States.  Visitors can take in the museum, forest preserve, lakes, and identified plant life throughout the Cemetery and Arboretum.
There is much more to do in the Cincinnati/Covington area for families if you have extended time.
Eat: Skyline Chili is a truly Cincinnati original.  Before you go, take a second to decide if you want your Chili served over a Coney Dog or spaghetti in as a 3-way, 4-way or 5-way.  There are several locations throughout the city.  Incline Public House is an excellent spot to view the city while enjoying a delicious meal on the patio.
After lunch it's time to get on the road again toward Kentucky and get back to playing in a national park.  Mammoth Cave is three hours from Cincinnati.
Stay: Book at room at the Lodge at Mammoth Cave to be right in the action.   You can choose between lodge rooms and cabins in the park. There is also RV camping available in the park, but I recommend reserving a spot in Nolin Lake Campground at the neighboring state park for full hook ups and beautiful amenities.
Full Road Trip Day 38: Mammoth Cave National Park, KY |    Mini Trip # 4 Day 4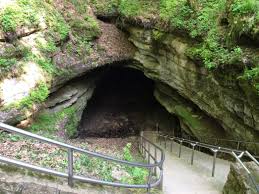 The most amazing part of Mammoth Cave National Park is it feels like two national parks in one. You, of course, have this amazing cave system to tour, but atop of it, is a whole other park full of forest trails, bicycling paths, rivers to enjoy and horseback riding.  Make reservations in advance for cave tours to ensure you will be able to visit when you desire.  You can also reserve a kayak or canoe rental from a few different companies to go on the Green River on your own.
Eat: Mammoth Caves is in a fairly remote area although there are some communities along its borders.  Whether you are staying in the park or not, consider the restaurants located at the Lodge, Green River Grill and Spelunkers Café and Ice Cream.
After a full day of activity in the park, plan to stay another night here.
Full Road Trip Day 39: West Baden Springs Hotel, IN |          Mini Trip # 4 Day 5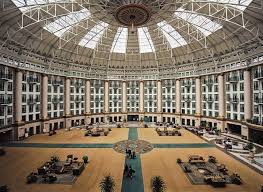 Today's 2.5 hour drive takes us to the West Baden Springs Hotel part of the French Lick Resort in French Lick, Indiana.  The hotel was declared a National Historic Landmark in 1974, but its history before and after is fascinating.  West Baden Springs was built to rival the French Lick Hotel as the great spa hotel at its time in the early 1900s.  It went through several owners, a massive fire, rebuild, use as a college, and collapse of structural walls; until 1994 when a Minnesota based company purchased both of the hotels.  The completion of the West Baden Springs renovation and additions were completed in 2007.
West Baden Springs today still boasts the 200 foot high atrium that was its crown jewel when it was first built.  Today, it also features a multi-color light presentation as a tribute to the original colored dome made of lights and gels.  You can enjoy the old world elegance embodied in the hotel while utilizing the modern spa, golf course, and casino. There is a shuttle and trolley that move guests around the resort.  Kids will enjoy the onsite kids club and pools as well.
Eat: There are several onsite dining options for all hours of the day including the main dining rooms, coffee shops, and pool bars.  The restaurants are for overnight guests only at West Baden Springs.
Stay: If you only want to visit the hotel, consider contacting the hotel to see what events might be going on or other activities open to non-guests.  Otherwise, enjoy the options that feature more exterior and atrium views.
If you are traveling by RV, I would take this opportunity to stay nearby and explore the Hoosier National Forest.  Check out the Woodland Hills Campground.
Full Road Trip Day 40: Abraham Lincoln's Home, IL |              Mini Trip # 4 Day 6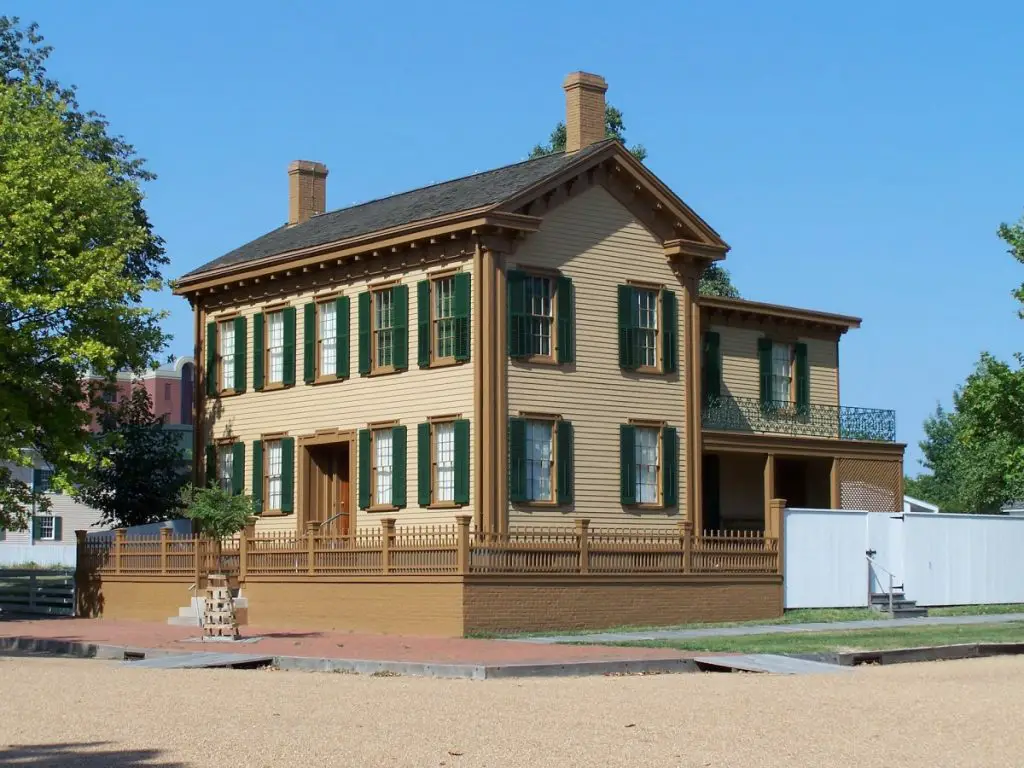 This morning, start early to drive 4.5 hours to Springfield, Illinois the Lincoln Home National Historic Site.  Lincoln lived in this area for 17 years and a four block area contains twelve restored buildings.  You can tour the Lincoln home with a ranger guide and see features in the other buildings including a film about Lincoln's years in Illinois.  This site has no admission, but you will need to get a first come, first serve ticket for the Lincoln home tour.  Set aside 1.5-2 hours for your visit.
Eat:  Charlie Parker's Diner has been featured on Diners, Drive Ins and Dives.  Their slogan is "Eat It & Beat It!" so you know you will get that authentic diner feeling.  When you locate it, don't be surprised to find it's located within a metal Quonset Hut, a building designed for housing troops during World War II.  Breakfast is served all day with a wide selection of sandwiches and hot plates later in the day.
Stay: The President Lincoln Doubletree Inn is just a few blocks from the Lincoln House and Lincoln Library.  Doubletree always has a family friendly configuration to suit your crew.
Full Road Trip Day 41: Gateway Arch, MO | Mini Trip # 4 Day 7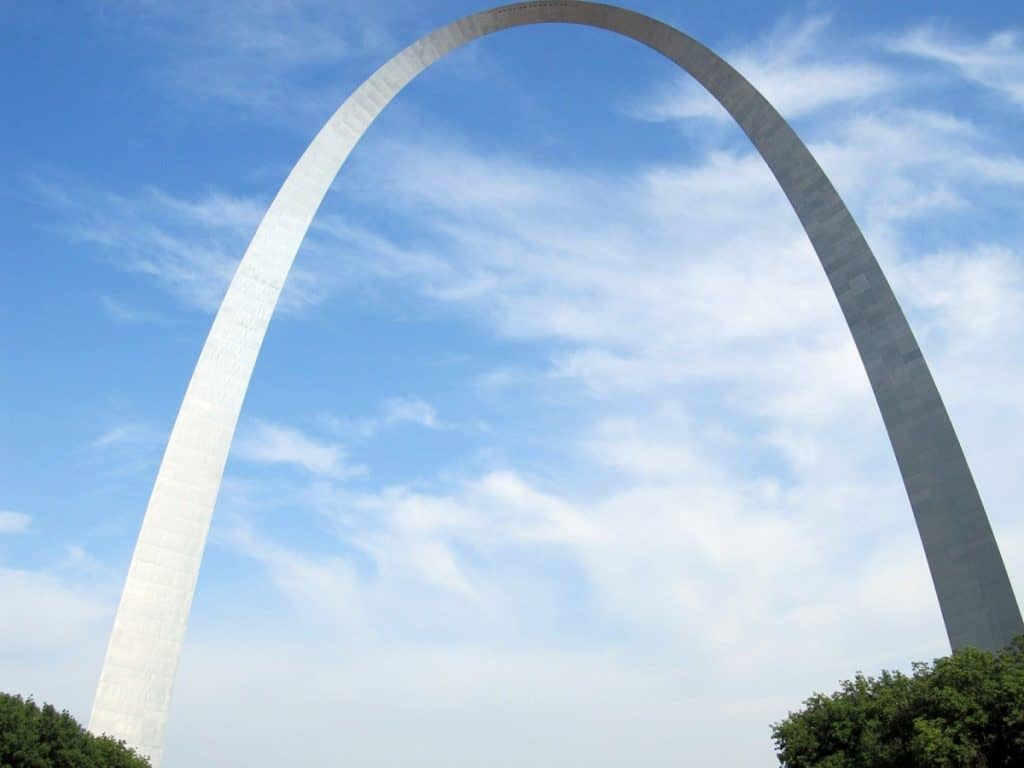 This morning we have a quick 1.5 hours drive to St. Louis, Missouri.  The Gateway Arch National Park is located right in downtown St. Louis on the riverfront.  The substantial lawns around the Arch are perfect for observing the river, having a picnic, or just appreciating the size of the Arch.  In front of the museum is a water feature often filled with kids playing in the water during warmer months.  Parking is located in garages found under the park itself, but it is not recommended for RVs to attempt to park in close proximity.  There are some city of St. Louis parking options and the Casino Queen RV park nearby that may be able to accommodate, but please check in advance.  You can check out the museum within the monument and even purchase tickets to ride 680 feet to the top of the arch for a great view of the Mississippi River and the City of St. Louis.
I love the city of St. Louis and would suggest taking a bit more in with an overnight visit.
Eat:  To taste test the famous toasted ravioli of St. Louis, visit Salt + Smoke and follow up your appetizer with delicious BBQ!  Kids will love the variety of kids menu choices and bottled sodas.
Stay:  My favorite downtown St. Louis hotel is the Hyatt Regency St. Louis, located just across from the Gateway Arch park grounds.  The hotel has a long history in the city's downtown and offers great proximity to the downtown walking area including Busch Stadium and Ballpark Village, home of the St. Louis Cardinals.
As mentioned the Casino Queen RV Park is in close proximity to the downtown area, located just across the river in Illinois.
Full Road Trip Day 42:Brown vs. Board of Education Site, KS | Mini Trip # 4 Day 8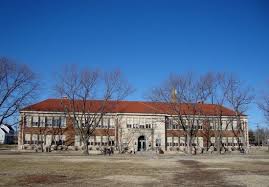 This morning, you will travel 4.5 hours to visit your Kansas site.  This stop is also a deviation from the original plan, but located in the same metropolitan area. The Brown vs. Board of Education National Historic Site is dedicated to one of the most pivotal cases ever heard by the Supreme Court, Brown vs. Board of Education in 1954.  This site is the actual Monroe school house where the Brown Family's daughter should have attended were it not for segregation of schools at the time.  The site offers a free museum, movie, replica school room, and park and picnic grounds to visit.
A short visit here will allow enough time to take in the site's offering and continue on the road to the next stop.  I recommend making the 3.5 hour drive to the Des Moines area where there are plentiful options for lodging and restaurants.
Stay: Choose the Doubletree Des Moines Airport for easy access from the highway in the evening and morning.  As always, Doubletree offers flexible family friendly accommodations.  This location also features a Johnny's Italian Steakhouse, a beloved regional restaurant offering delicious Italian dishes in a warm, supper club like environment.
In the same vicinity is a state park with the ability to reserve full hook up spots, Walnut Woods State Park.  If you choose to stay an extra day in Des Moines, you are near the Blank Park Zoo and don't miss the museums and restaurants available in downtown Des Moines.
Full Road Trip Day 43: Effigy Mounds, IA | Mini Trip # 4 Day 9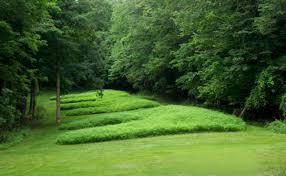 Today we will continue to travel across Iowa from Des Moines to the Effigy Mounds National Monument, another 3.75 hours from our start point.  Kids seem to be fascinated by this sacred place filled with small and large mounds, some taking the shape of animals.  Over twenty tribes of Native Americans have a connection to this area and many legends and historical studies give varying purposes behind the mound construction from burial sites to offerings to dedications.  Located in a truly beautiful portion of the state, this area is a great place to take a hike in neighboring parks like Pikes Peak State Park..  There are also ranger led tours of the grounds.
Stay:  Since this location is just 74 miles to our next stop, I recommend traveling to the Spring Green, WI area for lodging.  To begin getting into the Frank Lloyd Wright mindset, stay at the Spring Valley Inn, which was designed by the Frank Lloyd Wright School of Architecture.  The resort sits on ten acres, offers full service dining and an indoor pool.  It's location is perfect for tomorrow's destination.
RV goers should check out the Trader's Bar & Grill which hosts RV spots and has an on-site restaurant as well as canoe, tubes, and kayak for a little afternoon or morning adventure.
Full Road Trip Day 44: Taliesin, WI | Mini Trip # 4 Day 10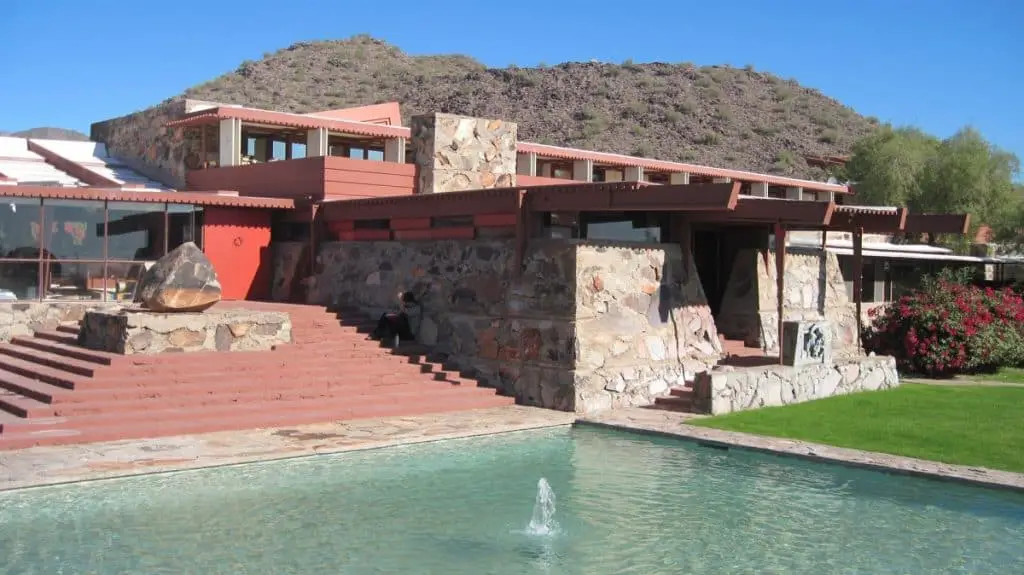 Taliesin, the personal home of Frank Lloyd Wright, a famous American architect, sits on the Wisconsin River, and became a National Historic Landmark in 1976.  Frank Lloyd Wright chose to build this home after leaving his 20 year architecture practice in the area where he had grown up.  Though the property has encountered two disastrous fires, it was rebuilt and made better with his designs.  Frank Lloyd Wright and his wife began adding to and improving the property with additional community oriented buildings.  A variety of guided tours are offered today with some for ages 10 and over and others for all ages.  There are a set of trails between the buildings on the property as well.
Stay: Choose to stay another night at last night's accommodations or begin your trip to Minnesota.  I recommend staying in Eau Claire, Wisconsin, approximately 2.5 hours from Taliesin.  The Fairfield Inn Eau Claire Chippewa Falls is in a good location, has very family friendly room configurations, an indoor pool and a hot breakfast to get your day started well.
For a great RV park choice, visit Stoney Creek RV Resort, which is located about 30 minutes before Eau Claire.  Stoney Creek is a family owned and operated campground with tons of amenities.
Eat: Before heading out of Eau Claire, stop at Roadside Ice Cream and Diner for three meals per day and a huge variety of ice cream treats served in the same location for many years.
Full Road Trip Day 45: Fort Snelling, MN | Mini Trip # 4 Day 11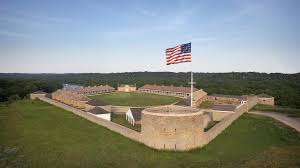 This morning, our 4.5 hour journey will take you to the Historic Fort Snelling which has been a National Historic Landmark since 1960.  At the convergence of the Mississippi and Minnesota Rivers, Fort Snelling was built on land previously owned by the Dakota Indians.  The land was purchased for a small amount and after the War of 1812, a fort was built to represent the interest of the United States in dealing with neighboring people.  An entire community and their slaves lived on this site and sadly, the residents of Fort Snelling did not release their slaves even though they were in free territory.  The Dred Scott Case came as a result of this situation.  Fort Snelling played the background to Dakota Indians put into concentration camps around Fort Snelling, many dying from sickness.  Today a memorial sits in this location and reminds us of the tragic history of the settling of Minnesota and how it devastated the Dakota people.  During your visit, take a tour and hear stories of the history surrounding Fort Snelling.
Since our next destination is a bit further, get back on the road to Mankato, Minnesota.
Eat: For hearty Minnesota goodness, try the Boulder Tap House.  Enjoy giant block cheese curds, tator tot dishes, build your own burgers, hand breaded pickles and chicken wings.
Stay: The Fairfield Inn & Suites Mankato offers free breakfast, indoor pool, business center, laundry facilities, and family friendly room configurations.
For those traveling by camper, stay at Sawmill Campground.  Spots offer easy hook up for a quick overnight visit.
This is the recommended end of the the fourth mini trip.  You can leave from Minneapolis airport to nearly all destinations.
Full Road Trip Day 46: Ashfall Fossil Bed, NE |                      Mini Trip # 5 Day 1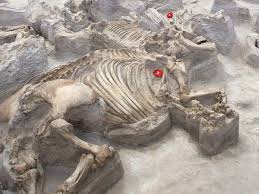 This morning, we have another 4.75 hours to arrive at Ashfall Fossil Bed.  Ashfall Fossil Bed is a U.S. National Natural Landmark, the only fossil bed on our list.  Part of the University of Nebraska Museum, the Fossil Beds include interpretive displays, a fossil prep laboratory, visitors center and an active dig site called the Hubbard Rhino Barn.  Visitors can follow trails throughout the 360 acre property, even picnicking on their path.  Pick up a skeleton map and see where various fossils have been discovered and take a turn asking questions of paleontologists.
Eat: Try out Holt County Grill for a sophisticated country meal.  They offer a variety of sandwich options, entrees and starters that will leave you happy and satisfied.
Stay: Tonight stay at the Holiday Inn Express O'Neill.  The hotel is about 30 minutes from the park.
Also in O'Neill, check out Carney Park, a city camping facility, with 18 water and electric sites, a shower house and a beautiful park to enjoy for RV campers.
Full Road Trip Day 47: Mount Rushmore, SD |                        Mini Trip # 5 Day 2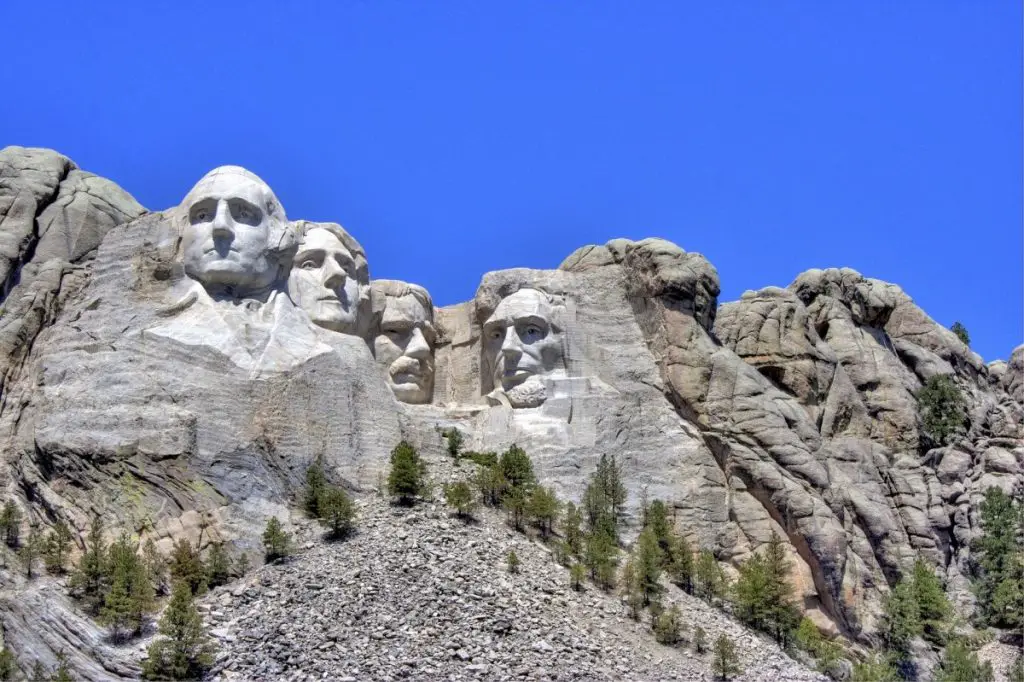 Today, we make the 5.5 hour journey to Mouth Rushmore National Memorial.  The carved rock formation features George Washington, Thomas Jefferson, Theodore Roosevelt and Abraham Lincoln in homage to the birth and growth of the United States.  The Black Hills area has become an outdoor tourist mecca with much more to see than just Mount Rushmore.  Within an hour range of Mount Rushmore, you will find Crazy Horse, Custer State Park, and much more.  If your family is up for a decent hike, try the 6.5 mile ring at Black Elk Peak for a great panorama.  For your viewing of Mount Rushmore, I recommend arriving in the evening around 8pm to grab your seats.  There is still time for the kids to enjoy ice cream from the shop on the property.  At 9pm, enjoy the evening lighting ceremony.  It's also easy to entertain kids by walking up and down the hall of flags from each state and seeing how many you can identify.
Eat & Stay: There are many options for lodging in the Mount Rushmore area.  A fun option for rustic lodging in a small, family friendly environment is the Powder House.  You will find clean, simple accommodations, most with wood paneled walls.  They also rent out cabins.  The property features a restaurant that serves three meals per day and allows for call ahead.  The kids will love the menu with a dozen different options just for them.  The property also has fire pits and an outdoor pool.
My choice for RV campers in this area is Buffalo Ridge Camp Resort in Custer, South Dakota.  The property has been revitalized recently and offers pools, a high quality camp store with quick food options as well as other types of accommodations including yurts and cabins.
Full Road Trip Day 48: Mount Rushmore, SD|                          Mini Trip # 5 Day 3
Stay another day in the Black Hills area to visit Custer State Park and Crazy Horse National Monument.  Custer State Park offers amazing backdrops for your hiking, kayaking, and wildlife viewing.  Visitors often see bison, antelope, groundhogs and sometimes elk driving the Wildlife Loop.
Enjoy another night in the area before heading North in the morning.
Full Road Trip Day 49: Fort Union Trading Post, ND |              Mini Trip # 5 Day 4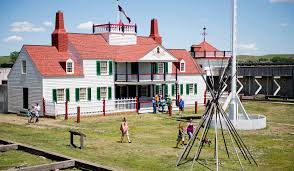 Nearly six hours from the Black Hills area, start this day early to arrive at Fort Union by mid-day.
Fort Union Trading Post National Historic Site has a misleading name as it was not a fort or military related site at all upon its founding.  John Jacob Aster, an American businessman, established the post to trade with the Northern Plains Tribes.  For nearly forty years, it was a peaceful, profitable trade post where the native people were able trade furs for goods from around the world.  In the late 1860s, the government built a military fort nearby and eventually purchased and dismantled the once bustling trading post.  Today's Fort Union is a recreation based on information that has been collected.  Visitors can participate in a self-guided tour, the Junior Trader program, period historical dress programs, and the visitors center and bookstore to learn more.
Although nearby Williston offers several hotels and restaurants, the journey to our next stop is long.  It's best to get on the road tonight and stop in Glasglow, Montana.
Eat: Along your route to tonight's lodging is Rubicon Cookshack, a California and sometimes Island inspired restaurant.  Call ahead to place your order to avoid a wait.  The restaurant in located in Culbertson, Montana.
Stay: Book a room at the Cottonwood Inn & Suites.  Standard rooms can be booked online, but if you would like a larger family style room, give the hotel a call directly.  They offer an indoor pool, on-site restaurant, fitness center and on-site laundry.
For RV campers, stay at Shady Rest RV Park for a quick overnight visit.
Full Road Trip Day 50: Glacier National Park, MT |                  Mini Trip # 5 Day 5

This morning, you will want to get on the road early for the 5.75 hour trip to Glacier National Park.  I don't recommend spending much if any time in the park today as by the time of your arrival, it will likely be quite busy.  It's also important to note Glacier is only easily accessible for about four months each year.  If you are coming outside of the summer season, do your research on how and what you will be able to access.
Eat: Glacier Highland is a small hotel with a family style restaurant serving three meals each day.  They offer Montana favorites like Huckleberry style breakfast dishes and Trout Tacos in addition to dishes you will find across the country.
Stay: Meadow Lake Resort offers both hotel rooms and condos for rent.  It's location is great in proximity to the park so you can get an early start the next morning.  This is not to mention the resort boasts tons of amenities including a pool, game room, private beach and lake, etc.
Camping is plentiful around Glacier and a wide variety of services are available at some sites.  During high season, those campsites can be as much as $80 per night.  I recommend Glacier Campground or West Glacier KOA.
Full Road Trip Day 51: Glacier National Park, MT |                  Mini Trip # 5 Day 6
You will want to get into Glacier National Park as early as possible, ideally at dawn.  Depending on your family's level of hiking skills, you can choose the level of difficulty you desire.  This site has a great list and detail of each hike.  For the purposes of this guide, we will assume small children or inexperienced hikers are part of your group.  Start your morning at the Rocky Point Nature Trail.  The parking for this trail is on a gravel road called North Fork Road.  This trail is 1.9 miles roundtrip and you can take your time at Lake MacDonald taking in the beauty and resting.  The only bathrooms are at the campground near the trailhead.
Schedule an afternoon scenic float or whitewater rafting trip depending on the age of your children.  View the options available from Glacier Raft Company for pricing and age information.
Eat: Dining services are available throughout the park at lodging sites.  Pack your lunch, snacks, and water for your time in the park.  In the evening, North Fork Pizza is a great choice for specialty pizzas named for Glacier National Park popular spots.
Full Road Trip Day 52: Travel | Mini Trip # 5 Day 7
This morning before getting on the road again, find your way into the park for an early, easy hike on the Trail of the Cedars.  This one mile hike is extremely popular and handicap accessible.  This is a great farewell to the beauty of Glacier before getting on the road to Washington for about seven hours.  If you have an extra day, you are traveling through some beautiful territory on this journey.  An extra night in Couer d'Alene, Idaho would be very worthwhile.
Eat: Take a break 4.5 hours into your drive for lunch in Spokane.  The beautiful Riverside Park features the Spokane Falls.  You can actually ride over the fall in the SkyRide or just walk along the Sculpture Walk and enjoy the scenery.  If you happen to be visiting on a Tuesday in the warmer months, you can choose from several food truck options.  Otherwise, visit Anthony's at Spokane Falls for beautiful views and delicious seafood.
Stay: Make your way to the Hampton Inn Richland/Tri-Cities tonight.  The hotel is located on the bank of the Columbia River and next to a beautiful park.  Some rooms offer balconies as well.
There is a lovely RV resort near Hanford called Horn Rapids RV Resort.  You can enjoy their outdoor pool, mini mart, playground, laundry services, on-site deli, and Wi-Fi.
Full Road Trip Day 53: Hanford Site, WA | Mini Trip # 5 Day 8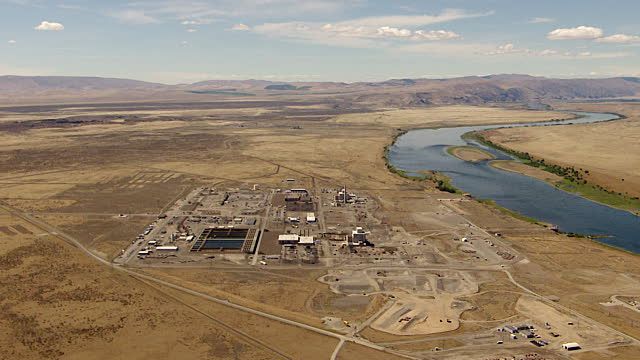 The Hanford Site National Historic Landmark is the Washington location of the Manhattan Project, a site created by the United States government to produce plutonium to create the first atomic bomb.  The property was assembled by capturing land from 1,500 homeowners and Native Americans through eminent domain. The project brought scientists and engineers from all over the country and rebuilt their own city of nearly 1,600 houses for the employees.  The plutonium creation has the side effect of generating much waste and today nearly 8,000 employees have been involved in the ongoing clean up and decontamination process.  There is an on-site visitors center and guests can register ahead for tours.  Be sure to check the website as the days the tours are offered and visitor center is open vary by season.
After visiting, get started on the drive across the Columbia River Highway National Scenic Byway.  You will drive about 2.25 hours to get to The Dalles, the eastern entry point to the Columbia River Highway.  The options for what you can do in The Dalles are unlimited.  Participate in almost any outdoor spot, visit a winery, take in the fascinating history of the area, and eat to your heart's content.
Eat: For a unique experience that honors the history of this area, visit Baldwin Saloon.  This restaurant and other businesses have been operating for over 100 years.  The name comes from the original operators who were successful due to the railroad and river just outside their doors.
Stay: A uniquely country themed hotel property, Cousin's Country Inn, offers a variety of family friendly room configurations.  The property offers an on-site restaurant, outdoor pool, DVD library, and in room Keurig.
For an easy one night stop, visit Columbia Hills RV.  This is an inexpensive place to park for a night with limited services.
Full Road Trip Day 54: Columbia River Highway, OR |            Mini Trip # 5 Day 9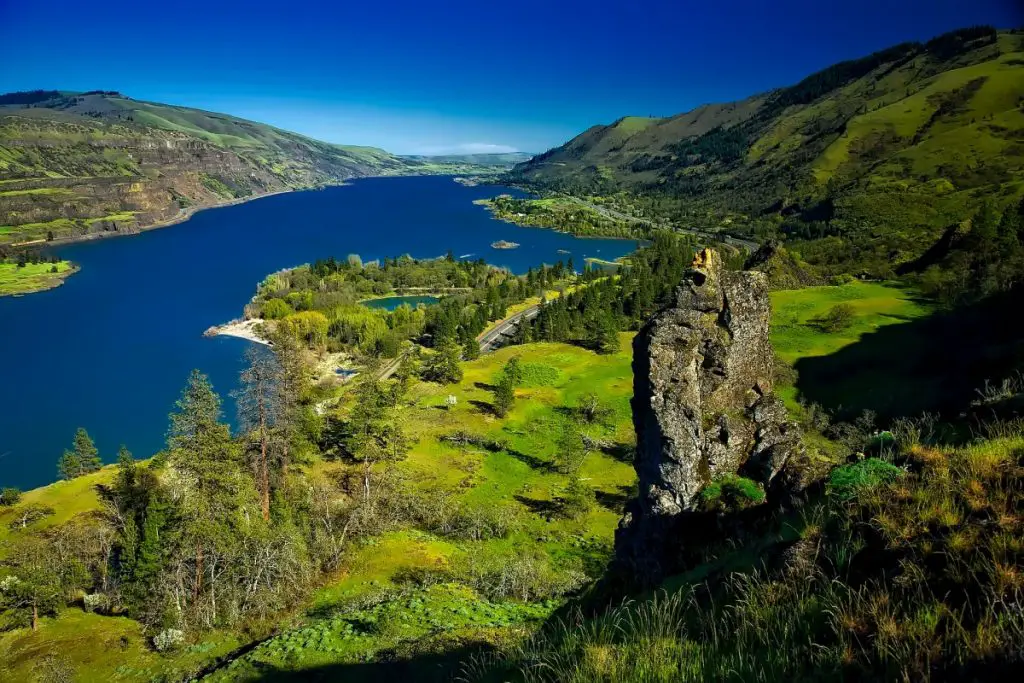 From The Dalles to the end of this highway is an approximately one hour long drive, but there are so many activities to enjoy along the way. Stop at Rowena Crest and take in the scenery, then drive the Rowena Loops, the backdrop for several car commercials.  Cross the Bridge of the Gods, part of the Pacific Crest National Trail, the more than 1,000 mile trail famously shown in the book and movie Wild.  Visit the Bonneville Lock & Dam to look through their underwater window at the fish swimming by.  Try a new sport in Hood River, the windsurfing capital of the world.  There are really endless possibilities for any interest in this beautiful area.
The next stop is a long journey so I recommend continuing on the highway after today's activities.  Depending on how much time you spend, shoot for 3-4 hours on the road.
Eat: On your drive through Eugene, stop for amazing seafood at Fisherman's Market.  The spot is a fish market first and restaurant second with a mission to support local fishing families.
Stay: About 3.5 hours from the Columbia River Highway, you will find Canyonville,  The Holiday Inn Express & Suites Canyonville has family friendly rooms, free breakfast, indoor pool, and fitness center.
RV travelers should consider Tri City RV Park in Myrtle Creek, Oregon.  The paved spots just off the highway make a quick and easy overnight option.
Full Road Trip Day 55: San Francisco Cable Cars, CA |          Mini Trip # 5 Day 10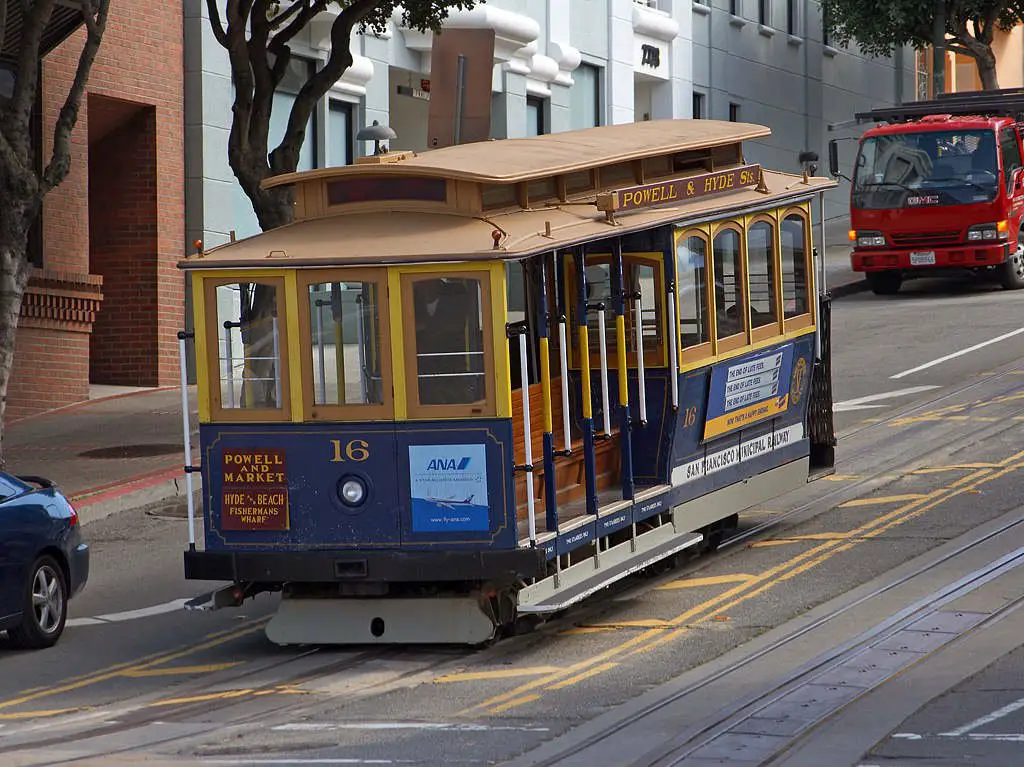 Start out early this morning to make it San Francisco by mid-day.  The San Francisco Cable Cars are the only moving National Monument.  Their advent in 1873 changed travel in big cities where horses had pulled cars previously.  If this is your first time to San Francisco and you want to take full advantage of a cable car route, stay near the end of one line and dine at the other end of the line.  There is even a Cable Car Museum located on the Powell Mason route that you can visit.
There are multiple days worth of activities for families to enjoy in San Francisco and I would recommend adding an extra day onto this plan.
Eat: The Powell & Market area, where the line ends, is in the financial district and restaurants abound.  I recommend going for a bit of a walk to visit Creator.  Many great minds have devoted themselves to creating a burger made by robots – creative custom burgers made from high quality ingredients. The pricing is very accessible even with the entertainment you'll enjoy watching your burger assembled.
Stay: Hyatt Centric Fisherman's Wharf puts you just a block away from the Powell Mason Cable Car Line Turnaround.  The Hyatt Centric lines offers chic, modern hotels and this location is hard to beat for a quick stay in San Francisco.
Marin Park is a great choice for RV campers.  You will have to travel into downtown and find parking (hint: use an app like Spot Hero) to travel the cable cars, but this spot is about 20 minutes out and gives you a chance to see a bit more of San Francisco scenery.
Full Road Trip Day 56:Travel Day | Mini Trip # 5 Day 11
Located just under five hours from San Francisco, The San Andreas Fault at Parkfield is where this route is leading you.  You will actually drive through that area tomorrow.  I've planned for a travel day to take in a bit more of the California coast as you round out the trip.   You could also choose to stay another day in San Francisco and skip this travel day.
Eat: The Madonna Inn is a historic hotel known for its themed guestrooms and beautiful location in San Luis Obispo.  To take in the whimsy of the property without stay, have lunch at the on-site restaurant, the Copper Cafe. The elaborately decorated cafe serves three meals each day with breakfast available all day and boasts a kids menu as well.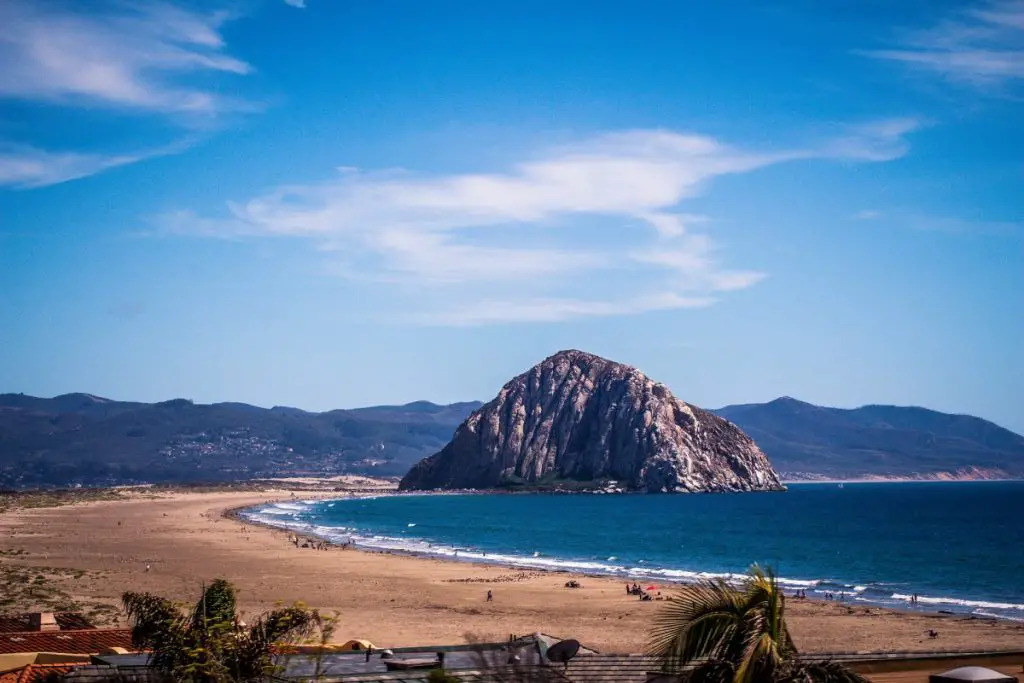 Stay: Beautiful Morro Bay has views that won't quit.  To take in as much of that ocean view, stay at 456 Embarcadero Inn & Suites.  Book a family suite and take in the view of the bay from your balcony.
Full Road Trip Day 57: San Andreas Fault, CA |                      Mini Trip # 5 Day 12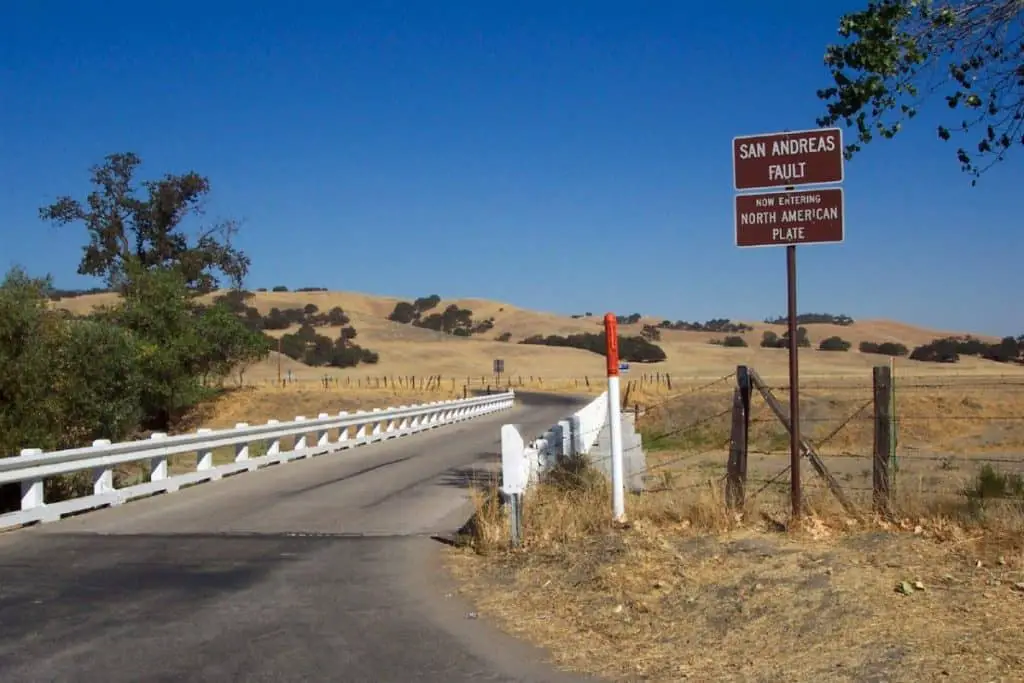 The San Andreas Fault is part of a larger system of faults and its impact can be viewed in several locations in California.  The importance of this fault does not only relate to earthquakes.  It's the meeting of two plates in this location of thousands of years that has led to the geography enjoyed in California today.   You can view the fault zone from the Bear Valley Visitor Center at Point Reyes near San Francisco.  This location is in a quiet area outside of Bakersfield.  You can cross a bridge at the fault line marking which plate is on either side. Like other states, this route doesn't give us the full idea of the state and we are missing more than half of California's coast to take a turn toward our final stop.
This visit won't last too long so let's keep moving toward our final stop of the 48 states visited.  Why not see what we can on our way and stay in Las Vegas tonight.  If you make it in time for a family friendly activity consider Nathan Burton's family friendly comedy show.
Eat: Near by hotel recommend, check out Buddy V's Ristorante.  Who doesn't love Italian?
Stay: I recommend The Mirage for families.  The beautiful pools are perfect for kids in the morning with ample chairs and pool side service.
There are surprisingly many options for RV camping in close proximity to the action in Las Vegas.  Check out the Las Vegas KOA for family friendly options.  The campground offers two pools, a BBQ area, and easy, large pull in spots.
Full Road Trip Day 58: Hoover Dam, NV | Mini Trip # 5 Day 13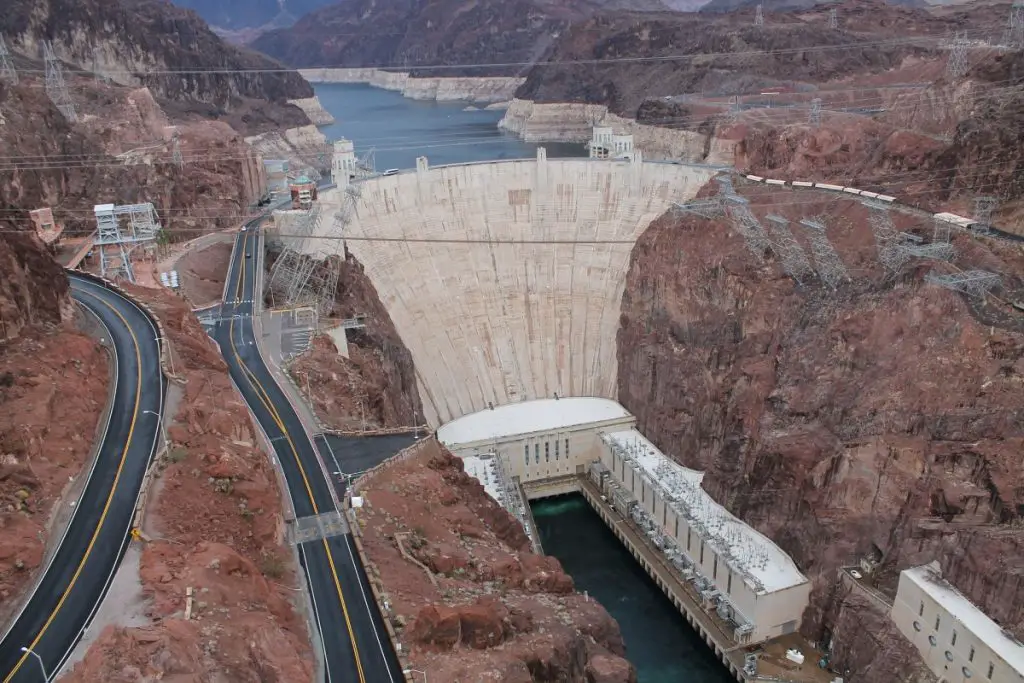 Hoover Dam National Park is location about 45 minutes outside of Las Vegas.  There are many tour options if you want to leave your vehicle behind in Vegas.
The Hoover Dam was built in the first half of the 20th century to control the powerful Colorado River for the purpose of avoiding destruction and utilizing it for irrigation of the area crops.  The construction employees numbered in the thousands, requiring an entire city to be built to support their needs, Boulder City.  The marvel of design and engineering stands 900 feet over the water and is the most visited dam in the world with seven million annual visitors.  There are three types of tours available on-site from self-led to guided tours, some available online and others purchased on-site.
Eat: Grab breakfast or lunch at BC Dam Tacos in Boulder City.  Be ready for some "dam" humor at this food truck with picnic table seating.
If you made it this far and are planning your 48 state adventure, please let me know.  Or if you've already made any of these road trips, share with me your favorites that I might have missed.