What is more iconic than a first trip to the Big Apple?  America's largest city can be daunting to visit, even for Americans.  An action-packed long weekend is the perfect amount of time to introduce your family to New York City.
Long Weekend Itinerary for Families in New York City
New York City is comprised of five boroughs, endless neighborhoods and a rich history.  Let me suggest a four night first visit to New York that is the perfect introduction for your family.
Choosing activities is more complicated than your family's interests. In NYC, location is crucial. There's no quick way to pop across Manhattan, so laying out a thoughtful plan for your long weekend is crucial to making the most of your time and experience.
Where to Stay
I recommend being close to the action for your first visit.  You may be tempted to save a little money and stay outside of Manhattan, but you will spend a considerable amount of time coming and going.  For future visits, I highly recommend choosing a more residential neighborhood or even another borough, but spend your first visit in the heart of it all.  No matter where you choose, the subway system will easily get you where you need to be.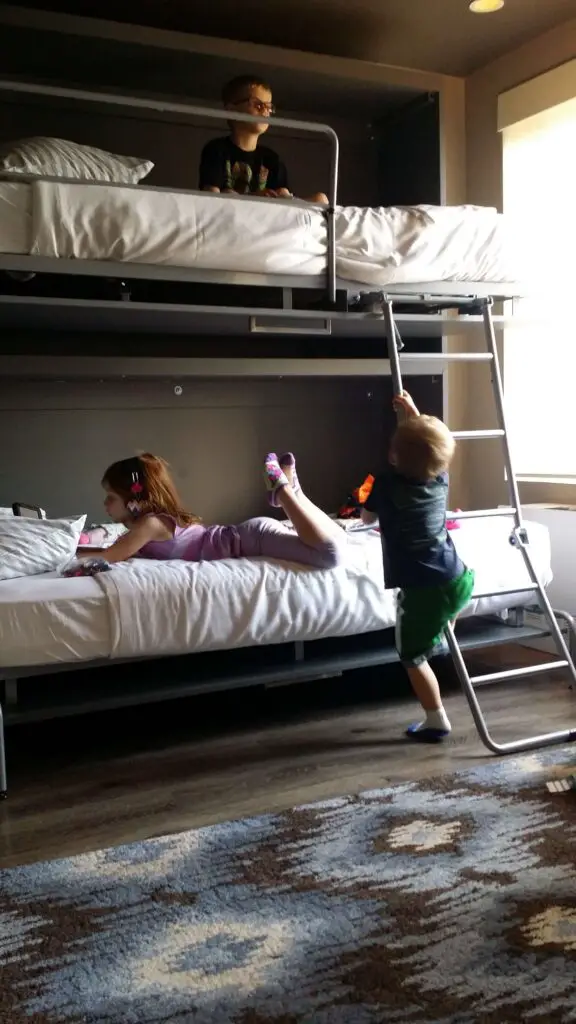 Hotel Recommendations for Families 
The Gallivant Times Square – I love this hotel for the great location (48th and Broadway), its boutique feel, and their family rooms.  They offer rooms with two double beds AND two bunks.  It is one of the few rooms we have stayed in while in New York City that felt spacious for our family.
Hyatt Place New York/Midtown South – Hyatt Place fans will be happy this location is in the center of the action!  They offer room layouts with two beds plus a sofa bed that you will find in other Hyatt Places. You will also enjoy the included breakfast, access to 24/7 dining, and in room workout videos.
Fifty Hotel & Suites by Affinia – This stylish boutique brand offers a few different suite configurations and lots of amenities including free and add on Affinia Junior Program offerings, a complimentary wine hour, pet program, grocery delivery, room service, fitness facilities and more.
Best Western Plus Hospitality House – For a budget brand, this hotel offers families comfortable options in apartment style layouts.  Continental breakfast is available in this Midtown East location.
New York Hilton Midtown – In a rare find, this hotel offers a "Family Connecting Room" you can book directly as well as a variety of other room layouts.  This is a great choice for fitness enthusiasts as they offer a large gym space.  The Hilton offers multiple dining options within the hotel as well.
Day One: Arrival and Times Square and/or Bus Tour
Since you are able to arrive into New York City from three major airports (Newark, John F. Kennedy, and LaGuardia), you will want to take into account the transfer time based on the time of day you will arrive.  Arriving at 3 p.m. to LaGuardia will mean about 45 minutes by taxi or 30 minutes by train.  At the same time, transfer from JFK could mean 75 minutes by car or one hour by train.  Newark, which might seem furthest if unfamiliar with the area, could be just 35 minutes by car or one hour by train.  No matter which you choose, give yourself at least 2 to 3 hours from arrival to starting any activity.
After settling at your hotel or at least checking your bags if you arrive before check-in, I recommend a bus tour to get a full view of Manhattan.  There are several options and types of tickets.  If you have a lot of hours in your day, the top rated Hop On Hop Off Tour is Big Bus  Tours.  This is great if you think you will get off and check out New York's famous sites like the Empire State Building, this may be the way to go.  However, if you have fewer hours or just want to take it all in at a lesser price, you should consider Top View's Single Ride Pass which includes a 2.5 hour Downtown sight seeing ride starting at $16 for kids.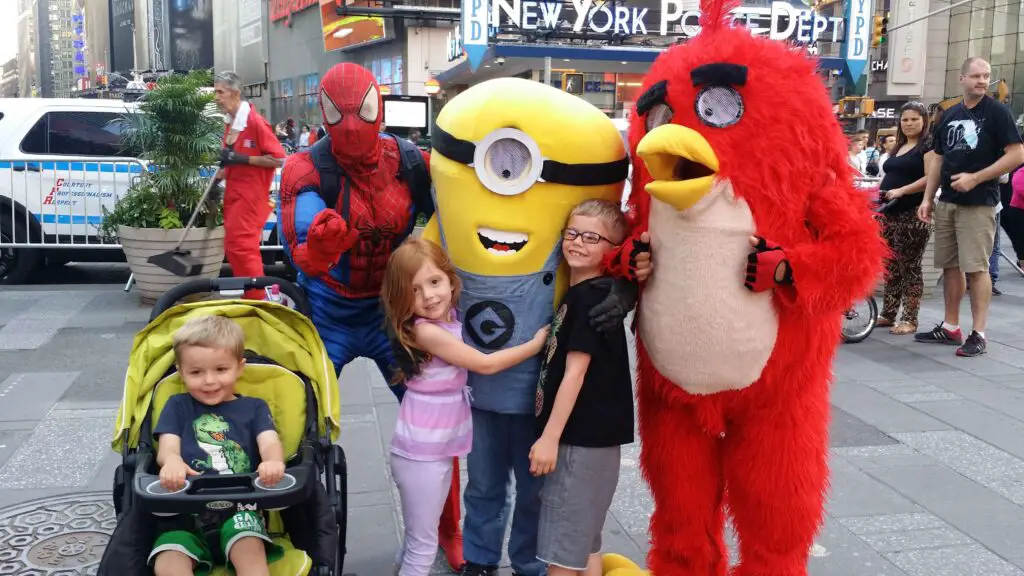 After your bus ride, make your way to Times Square.  Although people either love it or are totally overwhelmed by their Times Square experience, it seems like a great way to take in the hustle and commercialism that defines the world's perspective of NYC.  There are several fun kid-oriented flagship stores in or near Times Square including the M&M World and Hershey's World.  And, of course, you have to get your Times Square photo opportunities in during this visit.
Day Two: Ellis Island, Liberty Island, 9/11 Memorial and Broadway Show
Be sure to pre-purchase your tickets for Ellis and Liberty Island before your trip so as to avoid any risk of being sold out.  Tickets are sold through State Cruises.  This is the official vendor.  You can choose a variety of levels of access related to the Statue of Liberty.  Unless someone in your group is set on getting to a certain height of the statue, my recommendation is to purchase the Reserve tickets which give you access to both islands.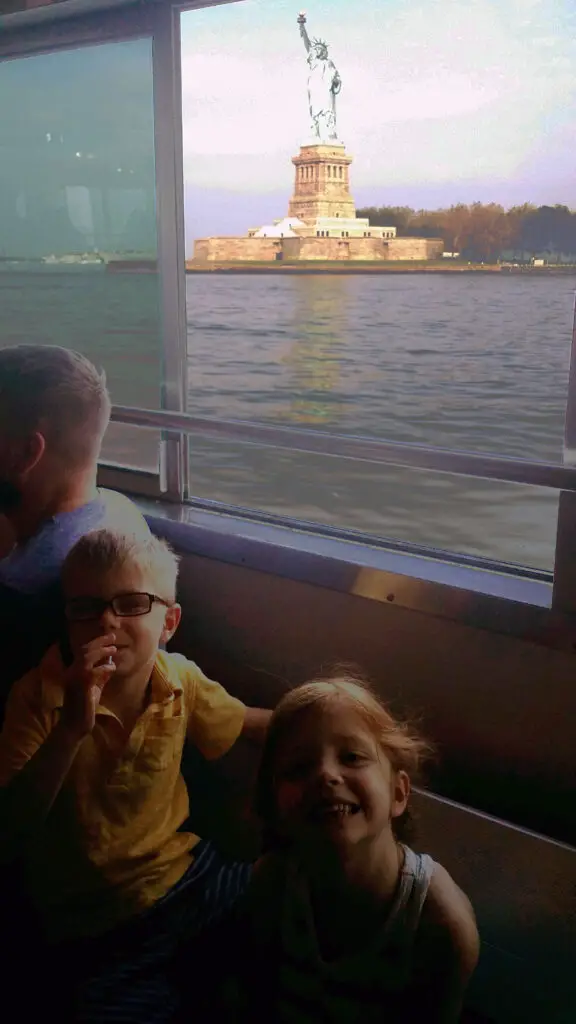 I strongly recommend choosing the first cruise of the day which leaves at 9 a.m.  Instead of exiting the boat with the crowd at Liberty Island, stay on and cruise to Ellis Island.  Very few people know this trick and it will ensure a nearly private experience at Ellis Island.  Our kids loved the kid oriented version of the audio tour.  There is also a Junior Park Ranger program that you can participate in by visiting the Information Desk upon entry.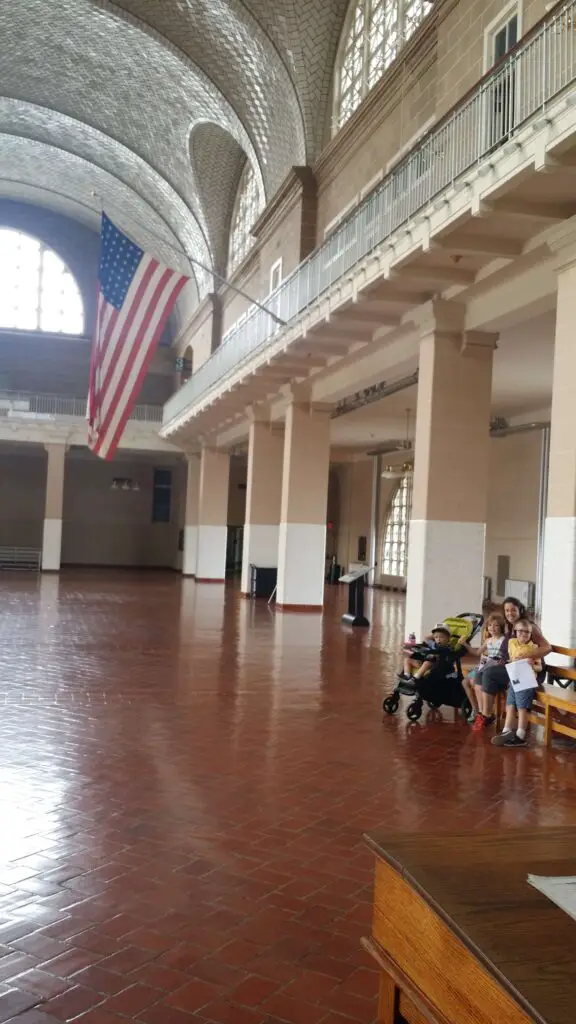 After you enjoy your time at Ellis Island, you can re-board the boat and ride back to Liberty Island and enjoy whatever level of access you have purchased.
Following your visit, you will disembark at Battery Park (same as departure location).  You can walk toward the 9/11 Memorial by heading north.  I recommend a stop at Clinton Hall (Financial District location), a fun beer hall that caters to those in the financial district as well as tourist with their fun burgers, fries, apps and salads.  Clinton Hall is about 5 minutes walking time from Battery Park.
Another 5 minutes north on West Street, you will find the 9/11 Memorial.  Check out the varying ticketing options based on your children's interest and age.
Make your way to your hotel via subway, taxi or Uber for an afternoon rest.  Plan to grab dinner in the area before your Broadway show experience.  Family friendly Broadway and off Broadways shows are recommended for children 6 and older based on the length of time and requirement to be quiet.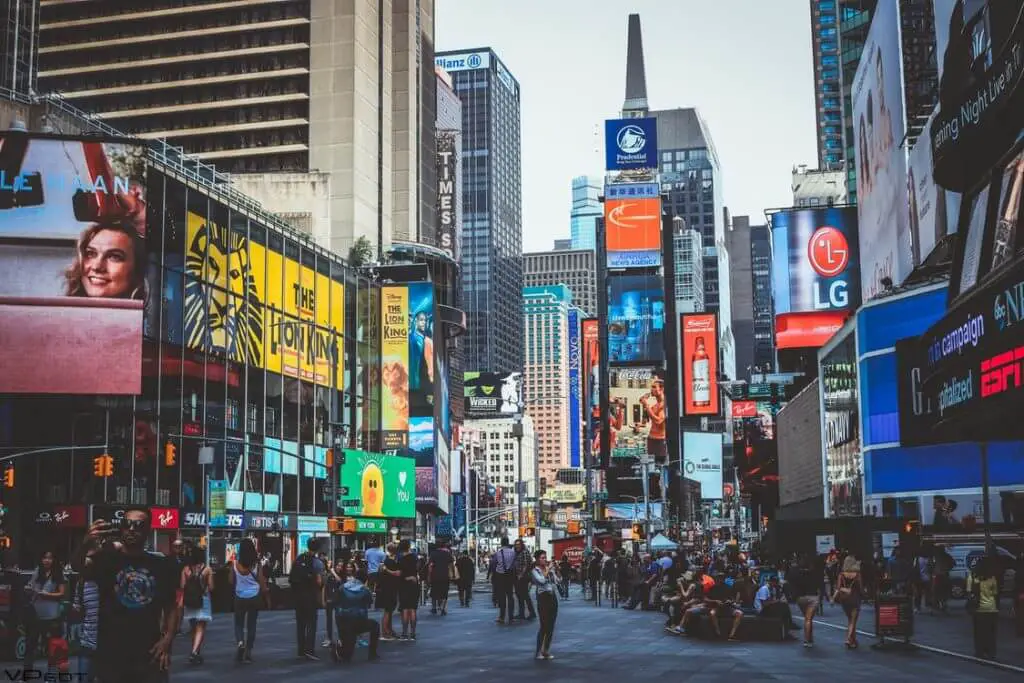 Dinner options:
Show Suggestions for Children:
Day Three: Central Park and American Museum of Natural History
Start off day three using the subway or being dropped off around 5th Avenue and East 79th Street.  This location provides you the opportunity to weave across Central Park, visiting Belvedere Castle on your way to visit the American Museum of Natural History.  Bonus points if you watch Night at the Museum before your visit.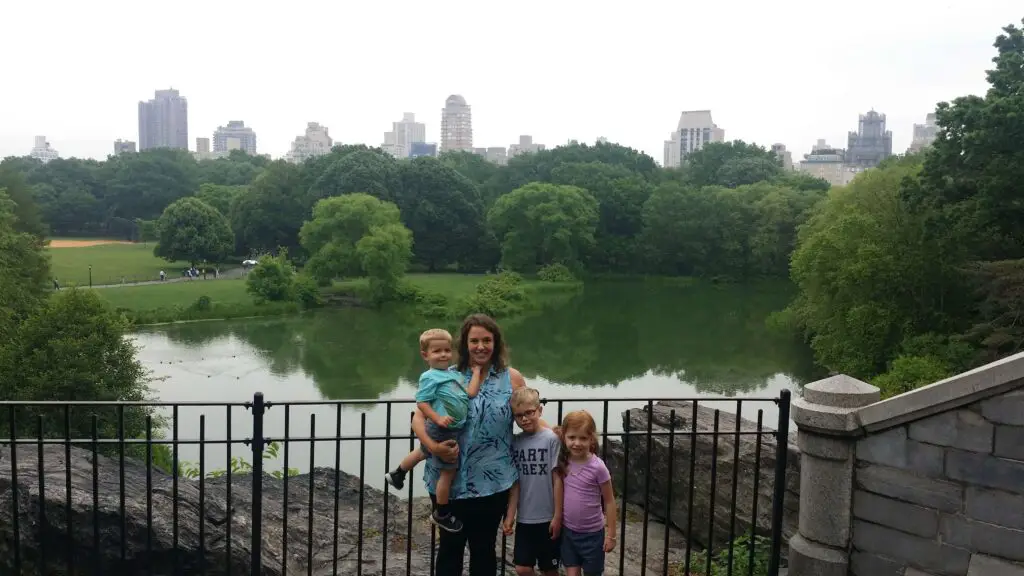 Heading south through the park will provide you the opportunity to view several landmarks including Strawberry Fields and Central Park Zoo. If you prefer, there are several guided or self-guided options for viewing more of the park.  Our kids particularly enjoyed visiting the zoo, although small, because of their love of the cartoon movie, Madagascar.  You can walk or use a pedicab to navigate the park.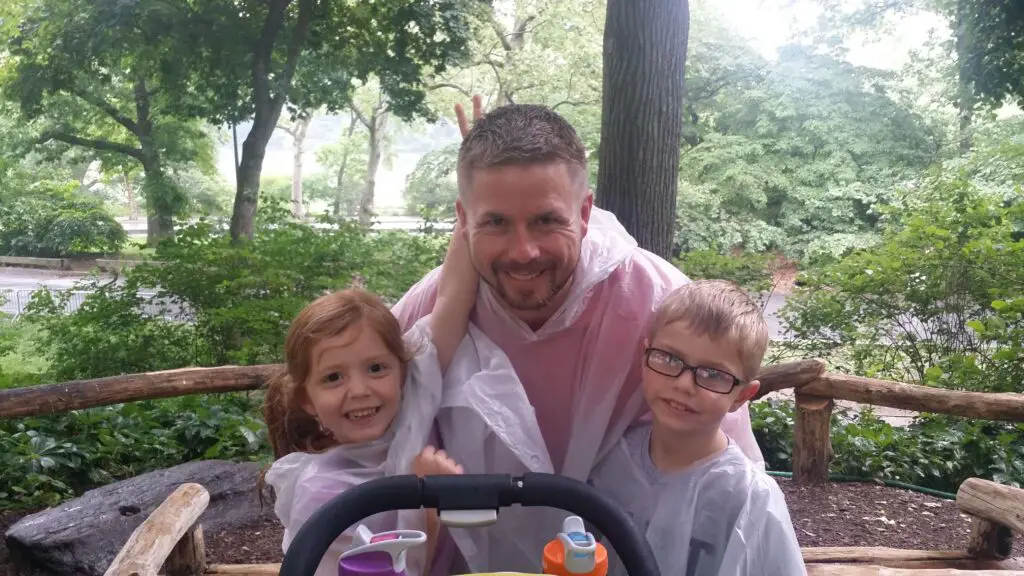 There is truly never enough time in Central Park, but when you have had your fill, it's time to head back to the hotel for a break.  Use this evening to check out some iconic New York experiences like:
Day Four: Brooklyn & Brooklyn Bridge
I recommend taking the subway to DUMBO.  From the suggested hotels, it should be a 30 minute or less trip on the A/C or F train.  Arrive in time for brunch at AlMar or Seamore's.  Take in the various view points and walk along the boardwalk.  We found a pop up beach on one visit and found ourselves with our toes in the sand, drinking fruity cocktails looking over at the Manhattan skyline.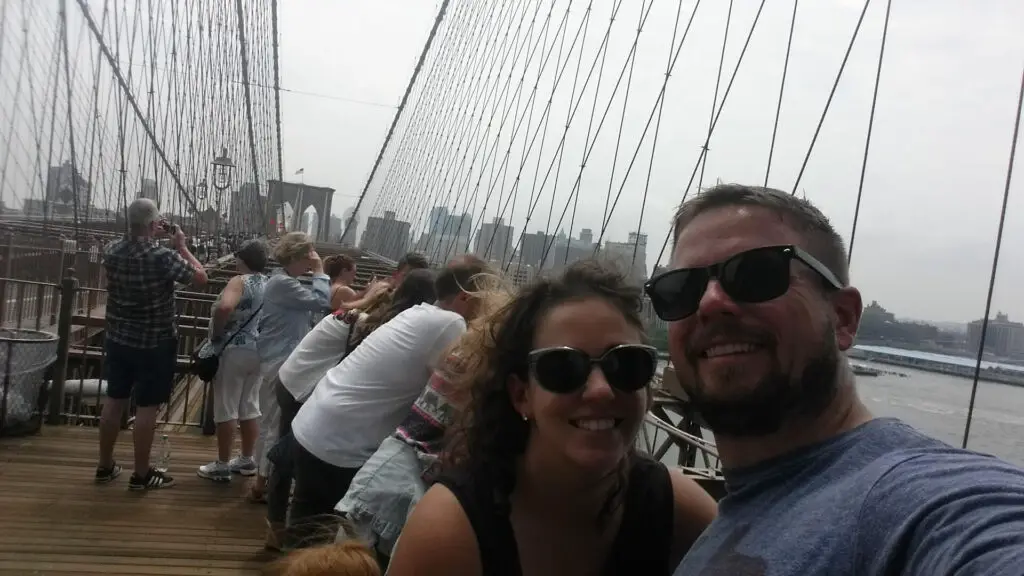 Walking back across the Brooklyn Bridge will conclude your Brooklyn experience.  The walk is about 20 minutes depending on the level of pedestrian and bike traffic.  Grab the train or a cab from the end point and take a break at your hotel.
Spend your last evening in NYC grabbing a slice (try Kiss My Slice or Ray's) and checking out one of the previously mentioned Times Square destinations.  If you have kids age 6 or older, you may want to try out Spyscape which is fun for all ages, including adults!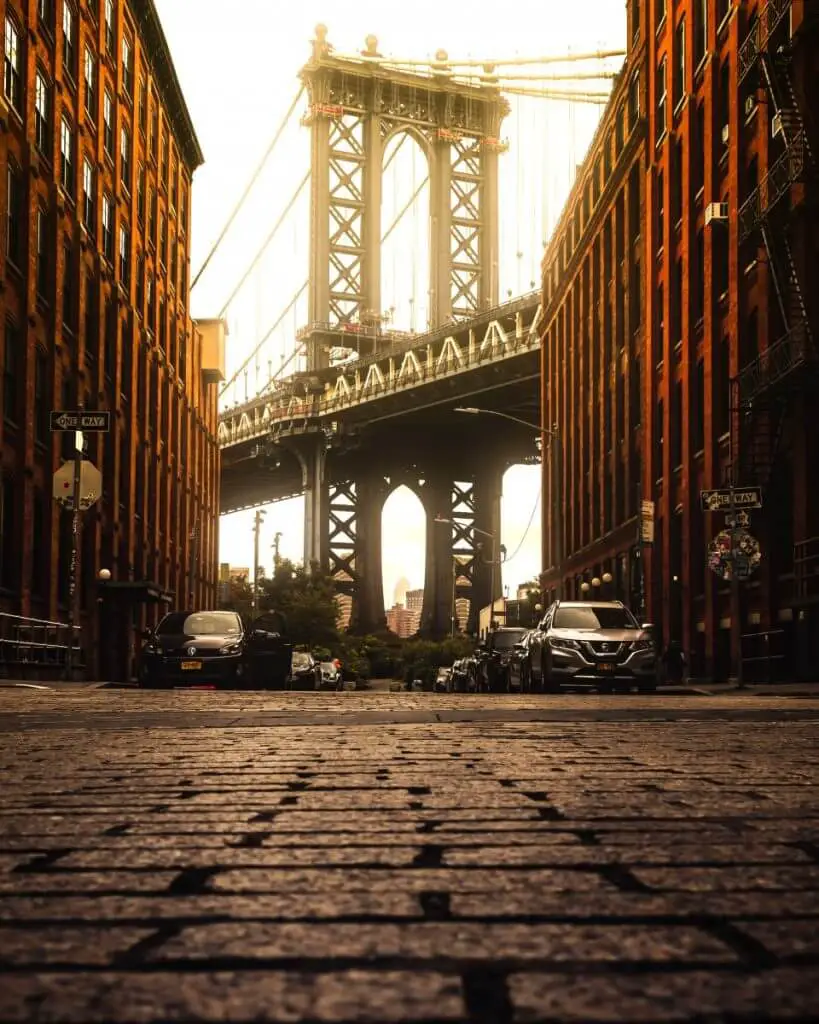 Day Five: Lower East Side Tenement Museum, Little Italy & Departure
Sneak in a bit of NYC history before you go.  The many times awarded Lower East Side Tenement Museum gives a great hands on history of the immigrant groups that settled New York.  Arrive for one of their first tours of the day.  You will want to pre-purchase your tickets as they may sell out.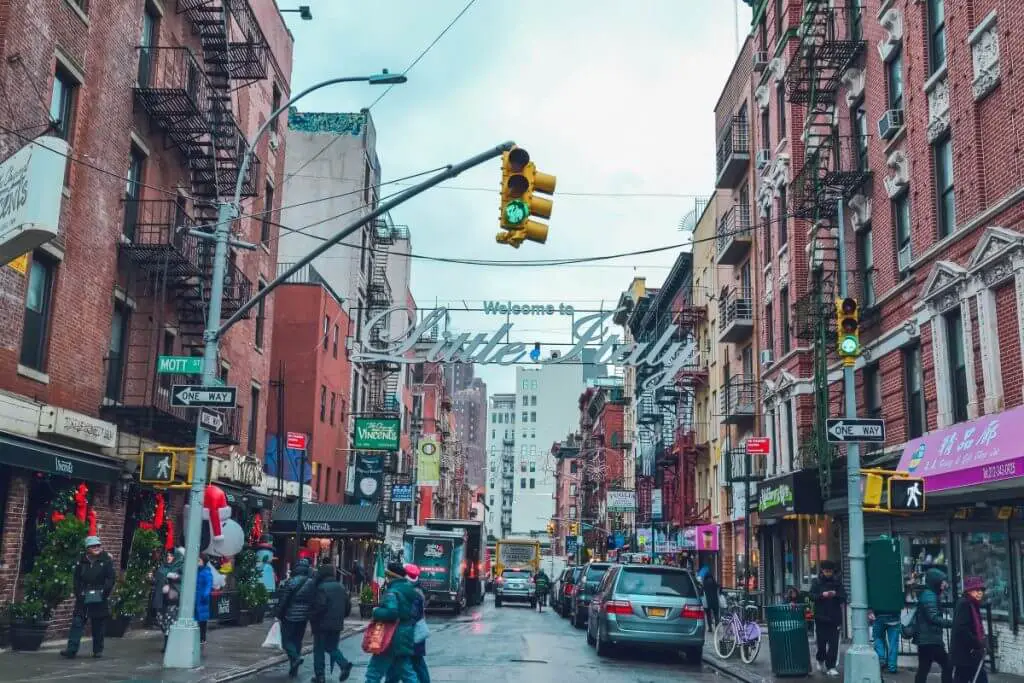 Take a short walk after your tour to Little Italy and try one of the many restaurants with long histories in this neighborhood (like Puglia or La Mela).  If you have extra time, a visit to Chinatown is just around the corner.  Otherwise, it's time to journey back to pick up your bags and head to the airport of your choosing to head home, satisfied with a true New York experience.
Please comment below if you follow any of these suggestions or have others to add to help out families taking their first visit to NYC!