What is the optimal road trip to visit United States National Parks, Sites, Landmarks, and Monuments?  In 2015, Data Scientist Randall Olson calculated a fifty stop road trip that covers all of the 48 contiguous states for at least one stop (Link).  The goal of the calculation is to show the optimal route visiting these sites with the least drive time.  This article suggests the method by which you could make this journey including where to stay and other attractions and dining options to include in your itinerary.  Please note you could begin your itinerary from whichever spot is closest to you and adjust your days accordingly.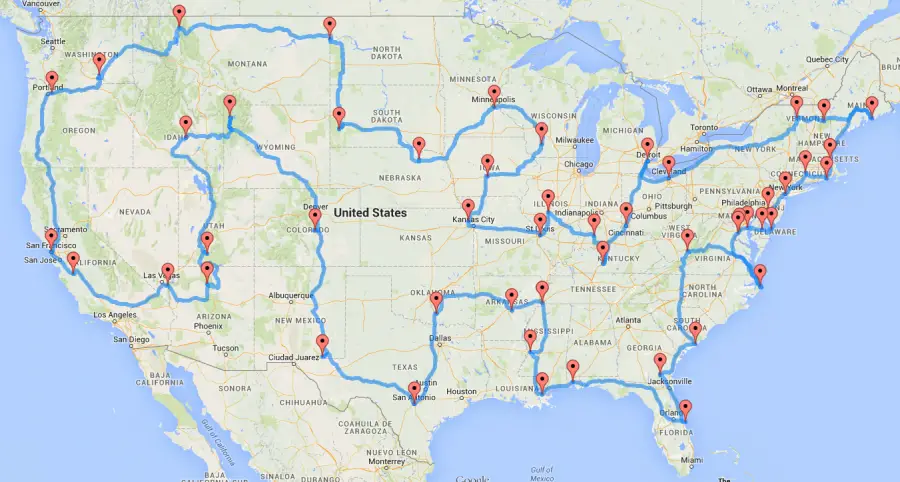 If you are lucky enough to have two months to make this journey (and that is still moving nearly daily), wonderful!  If you want to visit the expanses of this country, but need to break it up into smaller trips, I will show the two month journey (Full Road Trip) divided into five different Mini Trips.  In every proposed trip, more time would equate to a more enjoyable, relaxed, and informative experience.  Don't hesitate to add in days in a stop of particular interest.
Please note that I have changed some destinations as those listed in the original study are not actually National sites.  In order to make the most of visiting so many parks, you will want to purchase a National Parks Pass for free admission for your vehicle into the parks.  The pass is good at over 2,000 locations across the U.S, but does not gain you access to every location on this list.
50 Stops included in this United States Road Trip:
Grand Canyon National Park, AZ
Bryce Canyon National Park, UT
Craters of the Moon National Monument, ID
Yellowstone National Park, WY
Great Rocky Mountains National Park, CO
Carlsbad Caverns National Park, NM
The Alamo, TX
The Platt Historic District, OK
Hot Springs National Park, AR
Elvis Presley's Graceland, TN
Vicksburg National Military Park, MS
French Quarter, New Orleans, LA
Tuskegee, AL
Kennedy Space Station, FL
Okefenokee Swamp Park, GA
Fort Sumter National Monument, SC
Wright Brothers National Memorial Visitor Center, NC
Mount Vernon, VA
White House, Washington, DC
Harper's Ferry, WV
Colonial Annapolis Historic District, MD
New Castle Historic District, Delaware
Cape May Historic District, NJ
Liberty Bell, PA
Statue of Liberty, NY
The Mark Twain House & Museum, CT
The Breakers, RI
USS Constitution, MA
Acadia National Park, ME
Mount Washington Hotel, NH
Shelburne Farms, VT
Fox Theater, Detroit, MI
Spring Grove Cemetery, OH
Mammoth Cave National Park, KY
West Baden Springs Hotel, IN
Abraham Lincoln's Home, IL
Gateway Arch, MO
C. W. Parker Carousel Museum, KS
Terrace Hill Governor's Mansion, IA
Taliesin, WI
Fort Snelling, MN
Ashfall Fossil Bed, NE
Mount Rushmore, SD
Fort Union Trading Post, ND
Glacier National Park, MT
Hanford Site, WA
Columbia River Highway, OR
San Francisco Cable Cars, CA
San Andreas Fault, CA
Hoover Dam, NV
Full Road Trip Day 1: Grand Canyon, Arizona |                       Mini Trip #1 Day 1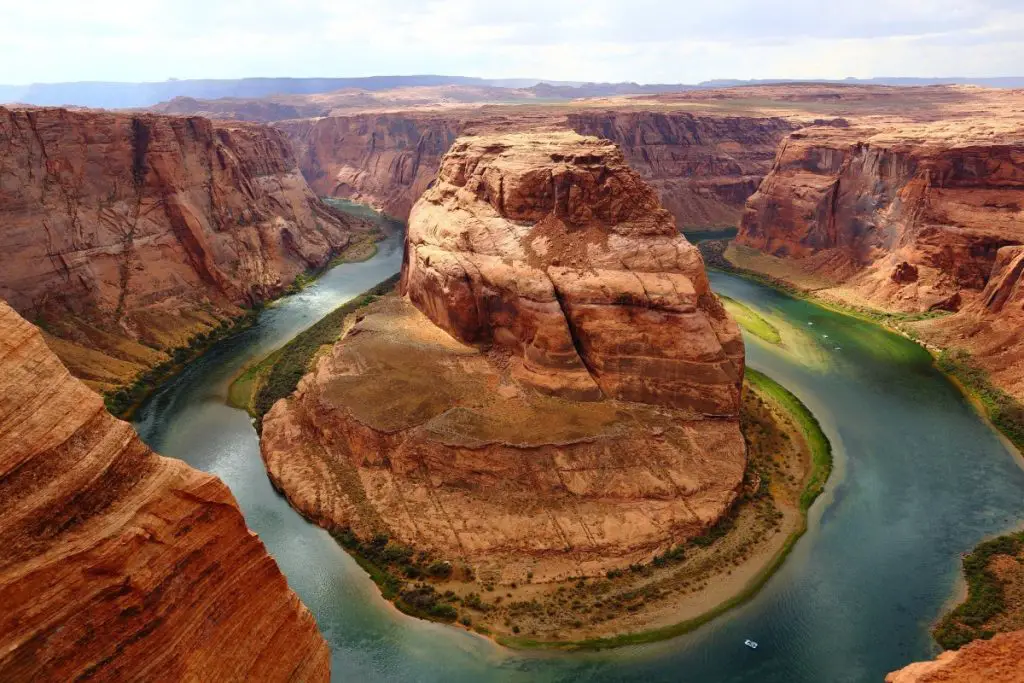 It is possible to experience the Grand Canyon in a day.  There are several suggestions on how to spend a single day at the Canyon depending on the level of adventure your family wants to undertake.  You will also want to check the Visitors Center site in case of wildfire or other closures.
Eat: Pack your own meals and snacks or visit one of several dining options. Pick up locally sourced gourmet sandwiches (and PB & J for the kids) at Bright Angels Bike Shop and Cafe by the South Entrance.  At the end of the day, pick up ice cream from Desert View Trading Post & Ice Cream and watch the sunset (check for hours as they vary seasonally) from their porch rocking chairs.
Stay: For tent or RV campers, advance reservations are accepted at two of the three campgrounds within Grand Canyon National Park.  For full hook up sites, visit Trailer View RV Park or for no hook up sites, visit Mather Campground.  Both campgrounds fill up far in advance and accept bookings up to six months in advance.
There are five hotel properties within the park and numerous outside.  Just a mile from the South Rim entrance, consider Yavapai Lodge East which offers family friendly rooms with a mixture of queen or king beds and twin bunk beds.  It is located near the village facilities including a general store.  For a location outside of the park, consider the Red Feather Lodge, located just 10 minutes from the South Rim Entrance.  The hotel features two queen rooms, an onsite restaurant, guest laundry, business services, exercise room, and heated pool.
Full Road Trip Day 2: Bryce Canyon National Park, Utah |     Mini Trip #1 Day 2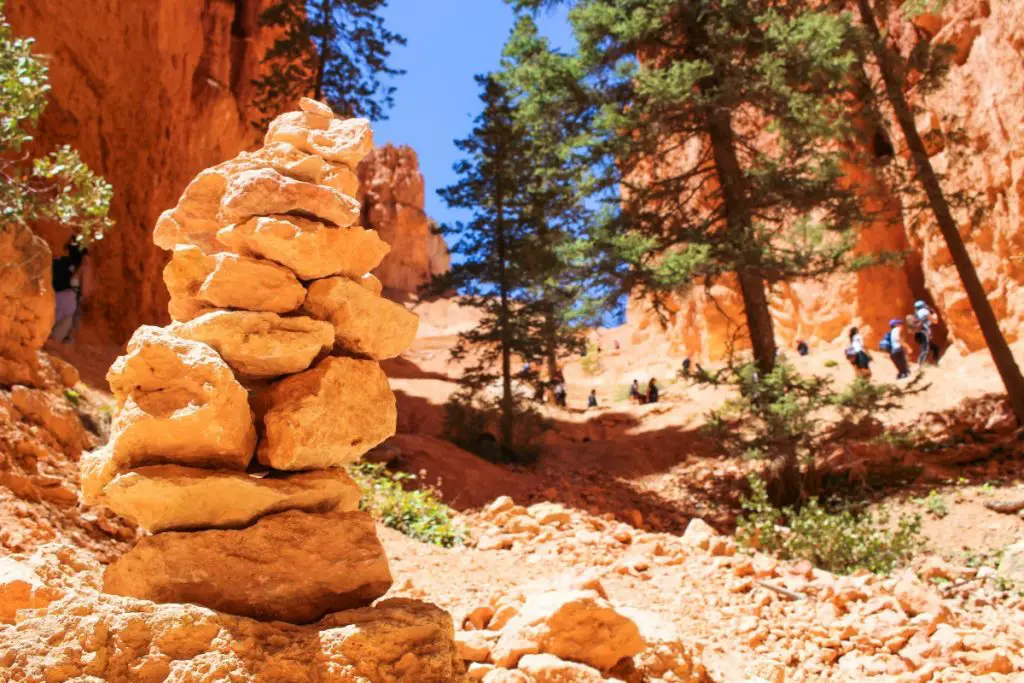 This day will start off with a five hour drive.  Although there may be more to enjoy at Grand Canyon National Park, you will continue to get your canyon fill at Bryce Canyon National Park in Southern Utah.  Arriving mid-day will give you time to take in the beautiful views and the world's largest concentration of hoodoos, irregular rock formations.  To make the most of your time, leave your vehicle behind and use the free shuttle (April through October) to tour the 18 mile road circling through the park.  There are a number of viewpoints at which the shuttle stops for a quick look or to take a hike.  Shuttles come every 15 minutes.
Eat: Even if you're not staying within the park, visit the Lodge at Bryce Canyon's Dining Room offering three meals per day or stop by their General Store for grab and go options.
Stay: There are camping facilities inside and outside of the park, but only Sunset Campground accepts reservations.  There are no hookups.  RVs and tent sites are available.
To stay within the park, consider The Lodge at Bryce Canyon for standard hotel rooms and cabin options.  A great option for near the park is Best Western Plus Bryce Canyon Grand Hotel.  It is located on the shuttle route which makes it easy to get into the park upon your arrival.  The hotel offers a variety of room arrangements, free breakfast, an outdoor pool, and laundry facilities.
Full Road Trip Day 3: Salt Lake City, Utah | Mini Trip #1 Day 3
The next destination is seven hours of driving.  Today, let's travel four hours on your schedule to stay in Salt Lake City.  Hang out in and see the City or visit the Great Salt Lake.  Make your way through the city and stay North in Farmington at the Hyatt Place Salt Lake.
Full Road Trip Day 4: Craters of the Moon Nat'l Monument, ID| MiniTrip #1 Day 4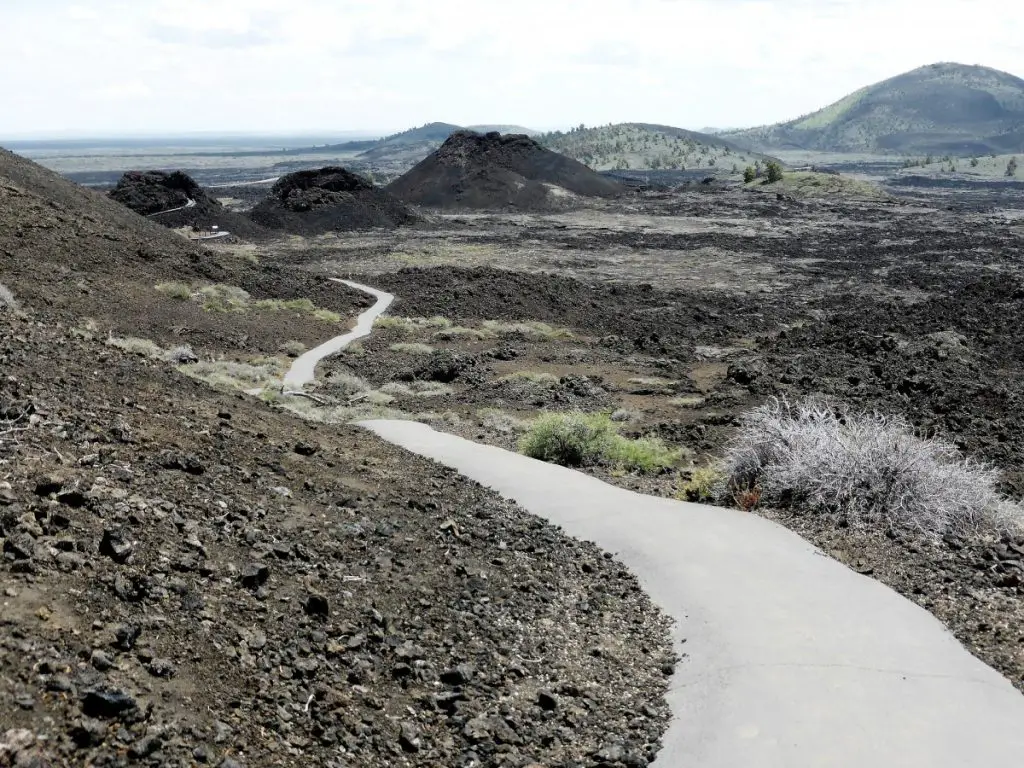 Today we want to get moving early and drive the 3.5 hours to Craters of the Moon in Idaho.  This bizarre landscape is like nothing you have seen in the U.S.  The product of lava flow from thousands of years ago, this national monument still sits atop a future potential eruption.  Spend your visit driving the scenic seven mile loop or hike to Big Craters from the Spatter Cones parking lot in just a couple hours.
After this stop, it's time to get back on the road again.  It's only a three hour drive from here to the Western border of Yellowstone National Park.  Tonight, you will want to stay near West Yellowstone to be close to the nearest park gate for your entry in the morning.
Stay: This area can be pricey during the high season and you won't be spending much time here.  I would recommend the Evergreen Motel for a better rate and simple, clean rooms that are a homage to their Yellowstone connection and history.
Campers should consider Buffalo Crossing RV Park for RV Camping only.  Enjoy their onsite movie theater and laundry facilities.
Full Road Trip Day 5: Yellowstone National Park, Wyoming | Mini Trip #1 Day 5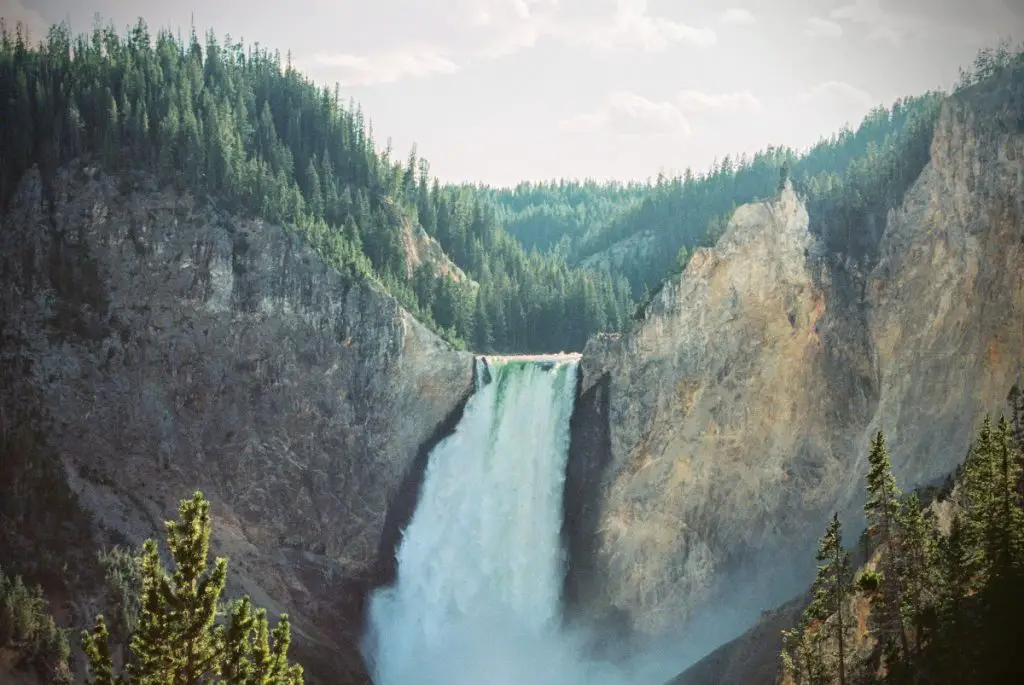 Yellowstone is the iconic American park and it is incredibly vast and slow to traverse. There is never enough time in Yellowstone, but you can see a great deal of the park in two days.  You will have to consider your top priorities.  If seeing wildlife is your goal, being inside the park early in the morning increases your chances.  You can view information on where in the park you are most likely to see certain animals on YNP's wildlife page.
Entering from West Yellowstone, consider a stop at the West Yellowstone Visitors Center to get a map and Junior Ranger information for the kids.  Today, I suggest following the road toward Norris Geyser Basin, through the Canyon Village toward Tower Falls and the Lamar Valley.  You will back track toward the Grand Canyon of Yellowstone for tonight's lodging.  Consider one of the many differing lengths of hikes you can enjoy along this part of the park available on this page. When you arrive back in the Canyon area, you can also visit the Brink of the Upper Falls for breathtaking vistas.
Eat: Refuel in Canyon Village before your journey North for the rest of the day at the various options at Canyon Lodge, the General Store or Washburn Lookout.  These options will also be available to you after your long day of hiking and taking in all of the sites.
Stay: If I were traveling by RV, I would plan to leave my camper at the spot in West Yellowstone rather than pulling through the park for a single night.  You will then have to pull the camper in the park on the second day.  Traffic is slow moving and finding places to stop with an RV is more challenging than if you are in a vehicle.  If you choose to pull through the park, consider Canyon Campground to be centrally located for the next day.  The sites do not offer hook up and are limited to 40 feet in length.  This is a popular campground so reservations made far in advance are required.  RV camping within Yellowstone is best for those with more schedule flexibility.
Likewise, the Canyon Lodge & Cabins are a centrally located choice.  They are in popular demand as well, but with proper planning, your chances are decent to get into this largest lodging in the park.
Full Road Trip Day 6: Yellowstone National Park, Wyoming | Mini Trip #1 Day 6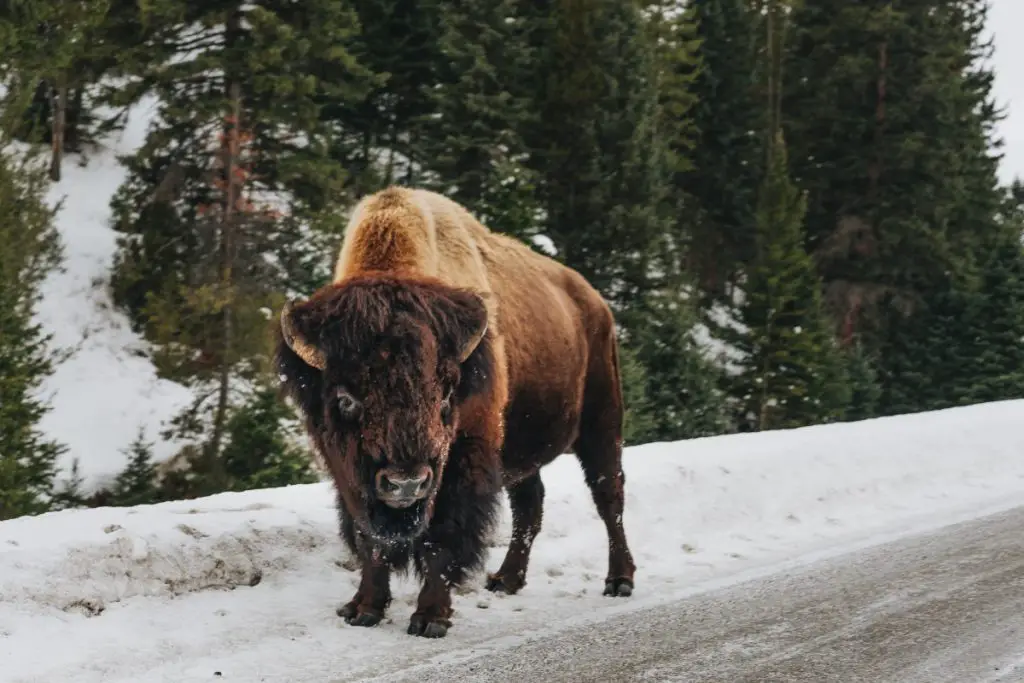 Assuming you are leaving from Canyon Village, you will travel South by Yellowstone Lake, to West Thumb Geyser Basin, and Old Faithful.  If you are interested in getting on the water, boats can be rented for as little as an hour from Bridge Bay Marina along your route.  Along with taking in the awe of Old Faithful, enjoy a meal in the Dining Room at Old Faithful Inn. The lodge feels like the embodiment of the original American national parks.
I recommend driving about four hours this afternoon/evening to get closer to your next destination.  Lander, Wyoming is approximately four hours from Old Faithful.  It's quite the scenic area itself, but since you will likely spend your time sleeping, I suggest simple accommodation and dining options.
Eat: Grab dinner at Gannett Grill in downtown Lander to enjoy burgers, sandwiches, pizzas and a kids menu.
Stay: Holiday Inn Express & Suites Lander is a quick option as you are entering Lander on US 287.  If you are staying in an RV, check out the free Lander City Public Campground.  There are no hook ups, but it's a quick and free option.  If full hook ups are more your style, visit Sleeping Bear RV Park.  They also offer tent camping sites.
Full Road Trip Day 7: Rocky Mountain National Park, CO|     Mini Trip #1 Day 7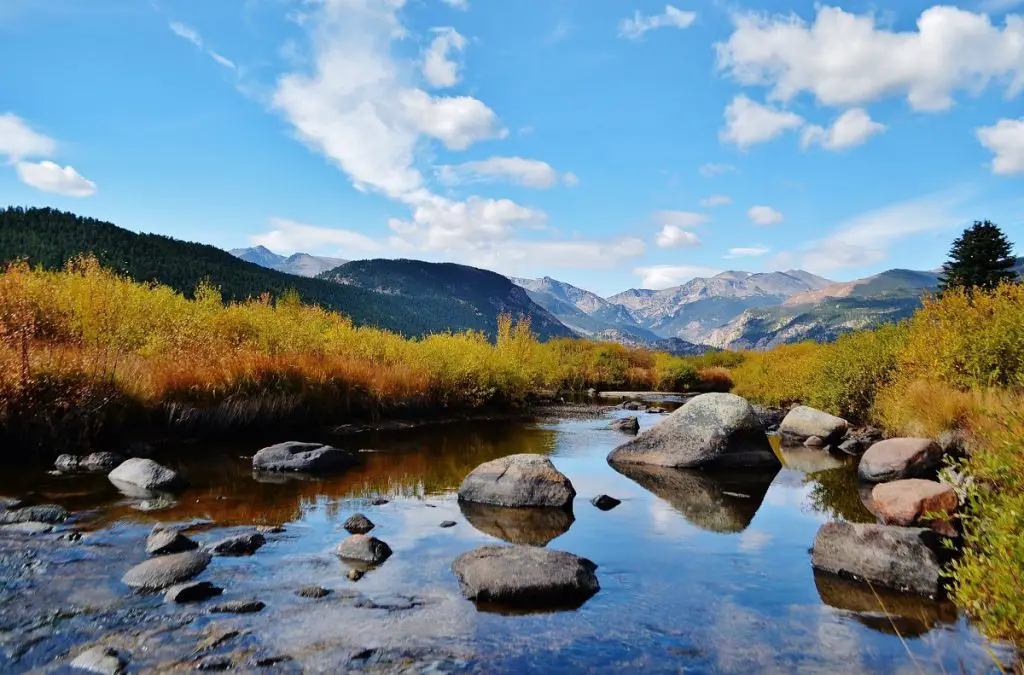 You will want to get on the road early for another five hours of driving to the Rocky Mountain National Park.  Spend the remaining half day getting established at your lodging and consider a shorter hike. This area is known for afternoon storms in the summer time so check the weather information and plan to go before dark but after the storm for a short hike.  There is a list available on the park website, but consider Alberta Falls for an easy and family friendly waterfall hike.  Spend any additional time in the park today exploring on road or at the Visitors Center.
Eat: I suggest staying on the Estes Park side of the park. For a uniquely Rocky Mountain experience, visit Dunraven Inn for dinner.  The menu is broad.  Parents can enjoy a great steak or Italian dish and the kids will also be satisfied with the variety of options as well.
Stay:  There are five campgrounds within the park, four that allow RVs.  Most are reservable, but fill up far in advance.  RVs over 40 feet are not allowed in any campground.
YMCA of the Rockies offers lodge rooms and cabins in a family friendly environment at affordable prices.  The Ridgeline Hotel Estes Park is another great option for families.  The hotel offers fire pits, indoor pool with movie screen, games rooms, and a variety of modern room configurations.
Full Road Trip Day 8: Rocky Mountain National Park, CO |           Mini Trip #1 Day 8
Start this morning early watching the sunrise at Dream Lake or a Sunrise Tour of the park from a number of tour providers.  Deciding how much more time to spend at RMNP and what your family can tolerate, revisit the list of hikes and get everyone active before driving further this afternoon.
I should note I replaced Pikes Peak with Rocky Mountain National Park.  Pikes Peak is not actually a National Park so I am unsure why it was chosen for this original itinerary.  Nonetheless, the area is beautiful and very much worth visiting. If you are visiting to climb Pikes Peak, know that summer is the season it is considered safe to do so.  "American's Mountain" is no easy climb and a challenge for fit adults to complete within a day.  If traveling with kids, there are several alternative activities to climbing the mountain that will allow you to take in its majesty.  It is 2.5 hours further south of Rocky Mountain National Park.  It makes a great addition to your trip if you have the extra time to spend.
Assuming we are staying on our course, the next destination is 10.5 hours from Rocky Mountain National Park.  Today, we want to get in 5-6 hours of driving.  Taos, New Mexico is nearly six hours into the drive and Santa Fe, New Mexico is almost seven hours into the drive.
Eat: If you choose Taos, check out some of the delicious Mexican restaurants available like Ranchos Plaza Grill or Orlando's New Mexican Grill.
Stay: In Taos, pull in for a night at Taos Valley RV Park.  If you're looking for a hotel, visit Hotel Don Fernando for a taste of New Mexican architecture, beautiful indoor pool and onsite dining.
Full Road Trip Day 9: Carlsbad Caverns National Park, NM | Mini Trip #1 Day 9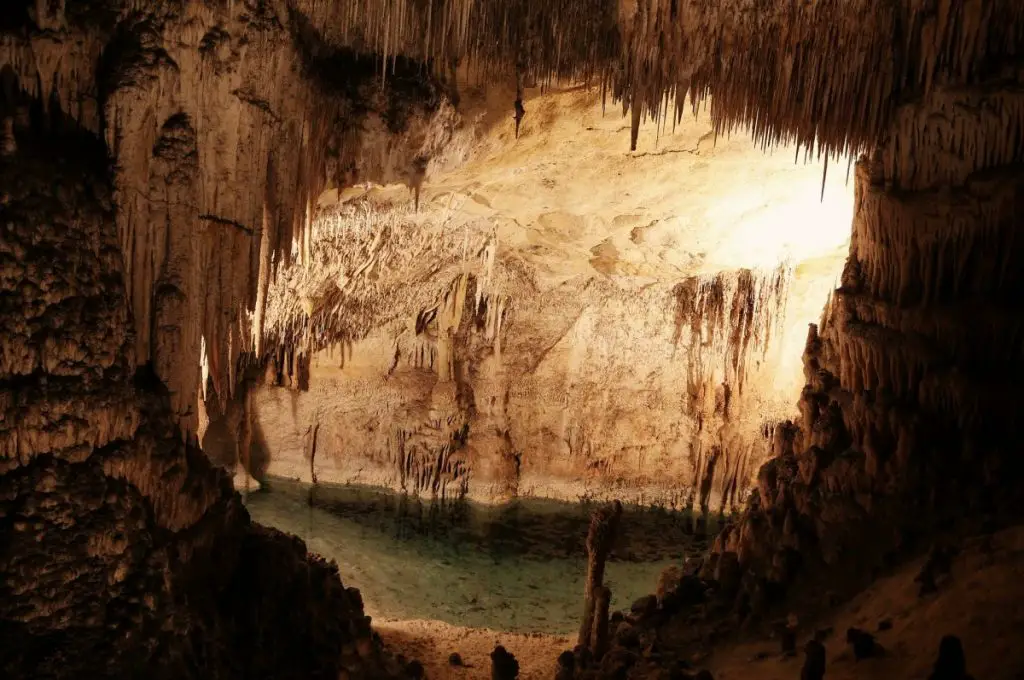 The day begins with another drive, around six hours depending on where you spent the night.  We are not only coming down from the elevations of the Rocky Mountains, but going underground to see what has been created by the sulfuric acid dissolved limestone at Carlsbad Caverns National Park.  The Caverns is located 30 minutes from the city of Carlsbad, New Mexico, but the much smaller community of White City borders the park (with a 2010 census population of 7, we are talking small).
Your first evening is a great opportunity to check out the Bat Flight Program offered at sunset from May through October with the best bat flights in August and September.  The program is free and no reservation is required.
Stay & Eat:  There is no lodging within the park; although primitive camping is allowed.  Even though hardly a soul claims White City as home, you will find the White City Cavern Inn located just outside the park.  The motel style hotel rooms and RV camping options provide a quick proximity to the park.  The property offers a Southwestern style restaurant and kiddie pool with a slide.  This offering is simple, clean and well rated.  It's the right spot for your quick visit to Carlsbad Caverns.
Full Road Trip Day 10: Carlsbad Caverns National Park |      Mini Trip #1 Day 10
You may access the cave system with a self-guided tour or ranger-led tour.  There are options to simply visit the Big Room, which is only .6 miles into the cave system and constitutes about 45 minutes of hiking.  There is a 1.25 miles trail within the caves that takes 1.5 hours to complete.  The trail is relatively flat and not difficult to traverse.  It's recommended you bring a light jacket or sweater as the temperature maintains a cool, even temperature year round.  There are also hiking trails along the ridges of the park that can be explored.
As is a theme of this colossal road trip, it's advised to get back on the road as the next destination is seven hours away and we have to cross West Texas to get there.  This drive covers some very sparse land so choose a final destination before starting and be sure to have a full tank of gas.
Some options include:
Pecos, Texas 1.75 hours into the journey
Fort Stockton, Texas 2.5 hours
Sonora, Texas 4.5 hours
All three have viable hotel/motel options.  We are heading to the Alamo tomorrow, one of our few destinations located within a major city; in this case San Antonio, Texas.
Full Road Trip Day 11: Alamo, Texas | Mini Trip #1 Day 11
Start off Day 11 by making your way into San Antonio.  The Mission San Antonio de Valero, aka the Alamo, is the most famous of a series of dozens of Spanish missions built across the Southern United States.  Depending on where you decided to stay the night before, you may arrive around lunch time.  The area near this National Landmark and Monument is quite touristy with many large restaurant and hotel chains.  Finding a place to catch a bite or sleep for the night will not be a challenge.  The Alamo is open daily from 9am-5pm and a visit is expected to take about 2-3 hours.  Spend your additional time in this beautiful city taking in the River Walk.
Eat: While you stroll on the River Walk, make a stop at Boudro's Texas Bistro.  They offer a delicious and sophisticated menu and even a few uncommon kids menu options like coconut shrimp.  Don't skip out on the guacamole!
Stay:  To stay on the River Walk and enjoy family friendly, beautiful accommodations, choose the Omni Mansion del Rio.  The hotel is set in a historic building that offers rooms with premium views of the river walk as well as a beautiful courtyard pool.
If you are needing a bit more relaxation, stay at the Hyatt Regency Hill Country Resort.  Make the 20 minute drive into San Antonio to enjoy the river walk and Alamo and return to your resort for another night.  The entire family will love this resort property set in the beautiful Texas Hill Country.
For RV campers, check out Mission City RV Park.  It's only 10-15 minutes drive from the Alamo, has a little store, heated pool, and a bus stop to use public transit to see the sites.
Full Road Trip Day 12: Catch Up Day | Mini Trip #1 Day 12
This day is meant to make up time earlier stretched out in the itinerary or to slow down at your accommodation of choice.  You can push forward to your final site and view the nearby big cities of Oklahoma City or Dallas in your journey as well.  Or just take a breath, rest those road weary eyes and get ready for the end of your mini trip or the push into the next phase.
Full Road Trip Day 13: Platt Historic District, Oklahoma |       Mini Trip #1 Day 13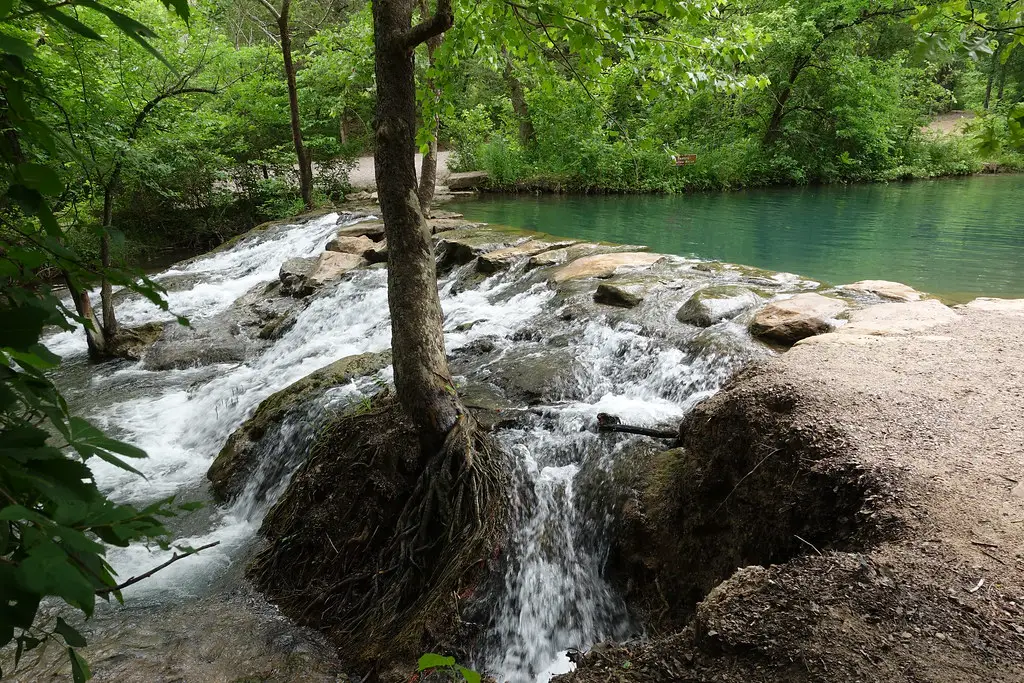 On Day 13, we will travel six hours from the Alamo site to an area that has gone by two different names.  It was once the Platt National Park, established before Oklahoma was even a state in 1902.  There was a realigning of park borders and renaming in 1976 to Chicksaw National Recreational Area, which is also known as Platt Historic District.  The reason for its recognition by the government was the rolling hills, waterfalls, fishing lakes, and mineral springs.  Today, visitors fish, boat, swim, hike, view wildlife, and bike through the park.  For a half day visit, I recommend hiking and relaxing and enjoying the 10,000 acre park's quiet beauty.
Eat: I recommend picking up a few items for a picnic in the park, but if you prefer a sit down meal, try Fat Bully's by the Lake for burger baskets.
Stay:  The park offers over 400 campsites for both tent and RV camping with hook ups available. Some sites are available for reservation.
There are a few lodging options within Sulphur, Oklahoma and slightly further out.  If you are ending your road trip the next day, I would venture further toward your airport of choice.  If you are continuing on this epic route, proceed East on Route 7 toward your next location and find lodging along the route.  Consider stopping in Atoka, OK (1.5 hours) or Broken Bow, OK (2.75 hours).
Break: Ending at this point leaves you in between Dallas and Oklahoma City for catching a major airport.  
Full Road Trip Day 14: Hot Springs National Park, AR |          Mini Trip #2 Day 1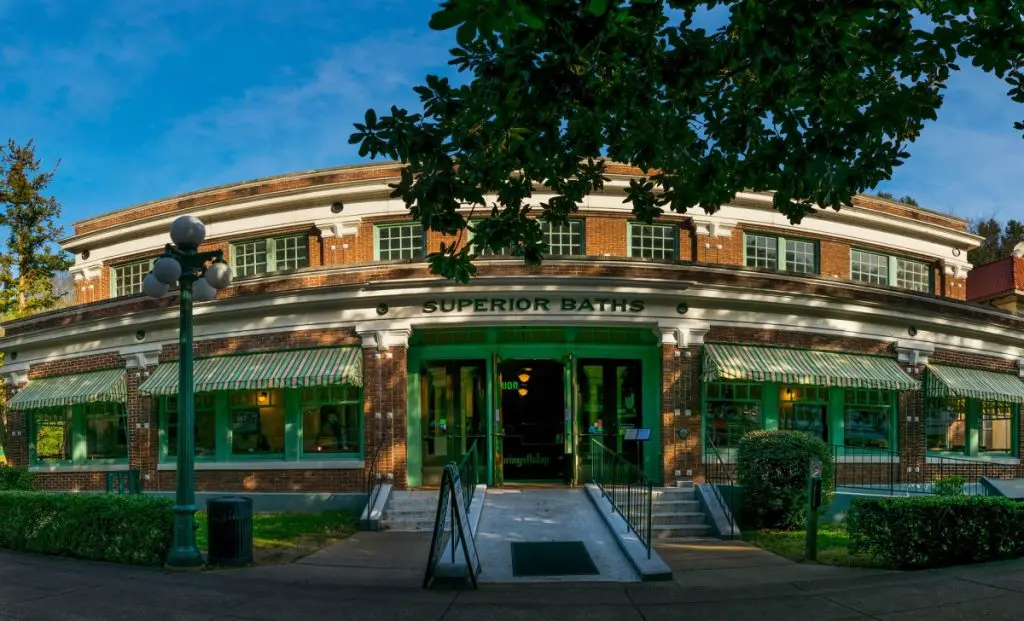 This morning drive the remaining distance of the five hours between Platt District and Hot Springs National Park.  This is a substitution to the original list as the Toltec Mounds are a State Park.   There is no change is the length of the route.  Hot Springs is precisely as it sounds, a series of naturally occurring hot springs creating a spa opportunity for its visitors. The park includes eight beautiful bathhouses whose architecture is to be admired.  Two of these still operate as full service spas; others have been modified for use as stores, brewery and a visitor's center.  You can also drink the water with multiple fountains, some designed for filling glass jugs that can be purchased to enjoy this area's nationally protected elixir.
Located in the city of Hot Springs, there are plenty of services to enjoy around Hot Springs National Park.  Most visitors take in the water by touching the thermal pools where they emerge naturally in the parks while on hikes and picnics.  There is a junior ranger program of course and ranger-led opportunities as well.
Eat:Try SQZBX Brewery and Pizza Joint during your visit.  You can take a pizza to go for a picnic in the park or enjoy dine in service and try the rest of their menu.
Stay: Gulpha Gorge Campground is open to both tents and RVs with full hook ups, bordering the water.  However, they are only available on a first come, first serve basis.
If you want to stay near the park, enjoy a night at The Waters, one of the renovated buildings on Bathhouse Row.  The boutique hotel shows off the best of the area with local art, locally sourced restaurant ingredients and complimentary spring water in every room.
Full Road Trip Day 15: Elvis Presley's Graceland, TN |           Mini Trip #2 Day 2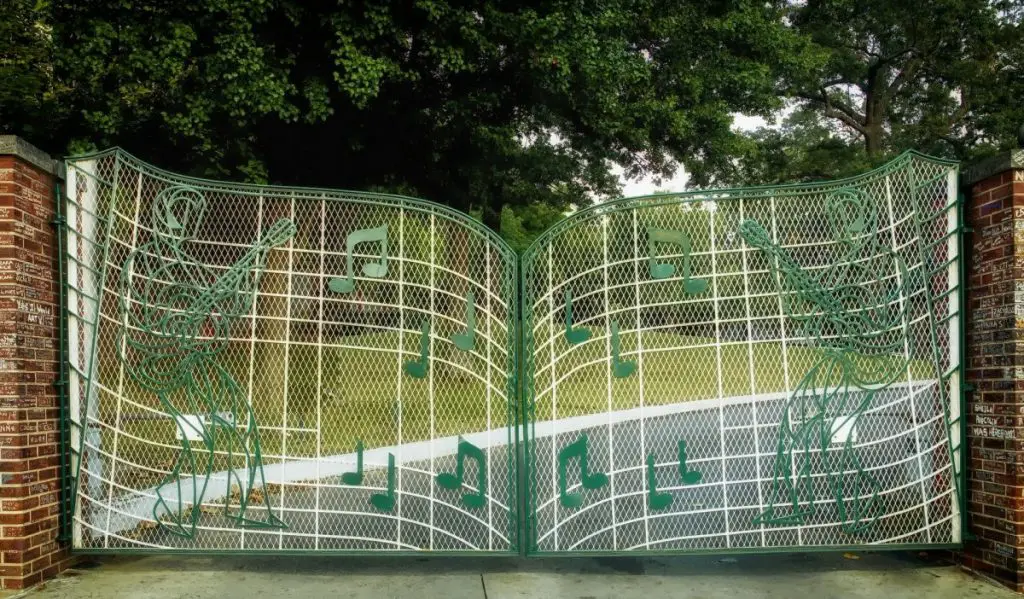 This morning, make the three hour drive to Graceland in Memphis, Tennessee.  Graceland, the former home of rock-n-roll superstar, Elvis Presley, is the first National Historic Landmark on our list.  The property is still fully owned by his daughter, Lisa Marie Presley.  Visitors can purchase tickets for varying levels of access starting at $41 for adults and $21 for children.
Eat: While in Memphis, take a visit to downtown Memphis to feel the vibe of this blues and BBQ focused city.  Don't miss out on Charles Vergos Rendezvous Ribs for famous dry rubbed ribs.
Stay: For the full Graceland experience, stay at the Guesthouse at Graceland hotel or RV park.  The rooms at the Guesthouse embody the King's luxe style choices.  The RV grounds include access to full hook ups, access to the pool and walking trails.
Full Road Trip Day 16: Vicksburg National Military Park, MS | Mini Trip #2 Day 3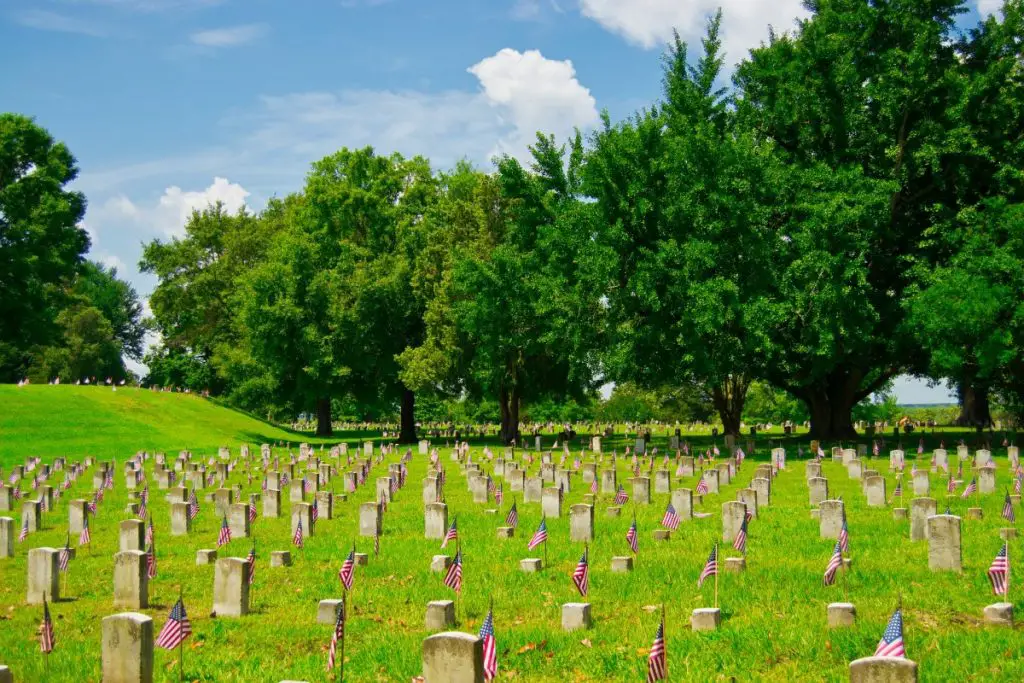 This morning, you will leave for Vicksburg, about 3.75 hours from Memphis.  You may remember Vicksburg from your history books as it was a crucial city in the Civil War where North and South fought to control for over 18 months.  Vicksburg National Military Park is dedicated to that struggle and the people impacted by it.  The city was important because it was a funnel of supplies to the Confederate troops.  You can self-tour the park using a map, a cell-call based recorded tour, or an app called Civil War Trust Vicksburg Battlefield App all for free after entry.  There are also ranger programs and guided tours of the battlefield.  After a visit of a few hours, it's time to get back on the road toward New Orleans.  The drive should take about 3.25 hours.
Eat:  Bordering the park is a little Chinese restaurant called See's that is perfect for a quick lunch before your visit.  Or for some Southern cuisine, try the Biscuit Company of Vicksburg.
Stay:  The French Quarter can be quite a party zone, but there are many quiet treasures to be found.  The Audubon Cottages is the perfect offering of New Orleans's elegance and charm with one or two bedroom units for families.
There is also a beautiful RV park in the French Quarter called French Quarter RV Resort complete with pool and lounge deck.
Full Road Trip Day 17: French Quarter, New Orleans, LA |     Mini Trip #2 Day 4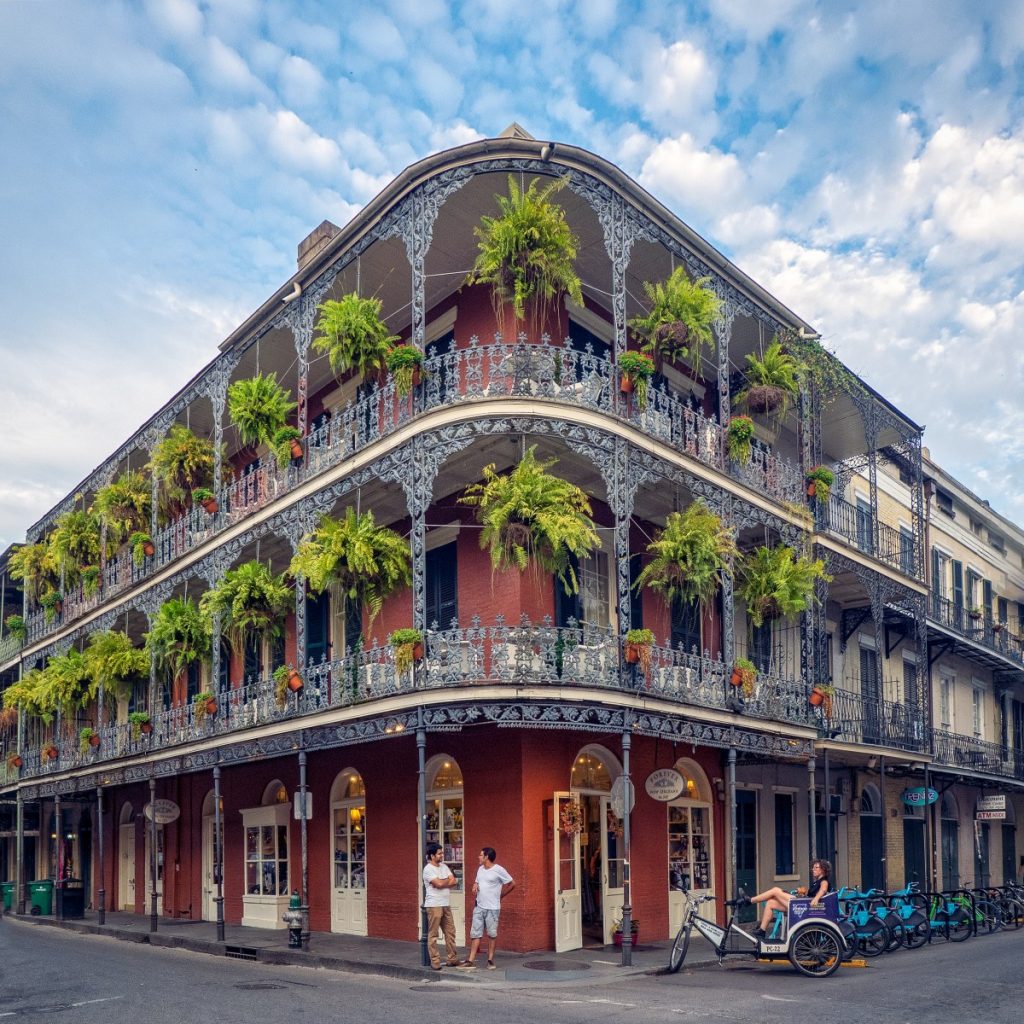 The French Quarter National Park is certainly unique as compared with all of the national parks we have visited thus far.  To understand why the French Quarter qualifies as a national park, start your visit at the Visitor's Center. Here you'll learn the fascinating history of this port city and how people from all over the world contributed to the culture of New Orleans today.  Pick up a map and guide to the many historic sites and homes located in the French Quarter.
The French Quarter is part of a larger National Historic District called Jean Lafitte.  Beyond the city culture, you can enjoy the outdoor beauty, take in a battlefield story, and visit a National Cemetery in Chalmette.  If you're staying in the area longer or on a future visit, I highly recommend the Acadian Culture Center in Lafayette to understand more about the people who have made this region of Louisiana so unique from the rest of the U.S.
Stay for another night and head out in the morning.
Eat: There is no shortage of choices, both iconic, storied and freshly modern food options.  It's a tourist mecca, but don't miss out on the beignets and cafe au lait at Cafe du Monde.  For authentic a N'awlins meal, try out NOLA Cookery and enjoy gumbo, Po-Boys, and a variety of seafood.
Full Road Trip Day 18: Tuskegee, AL | Mini Trip #2 Day 5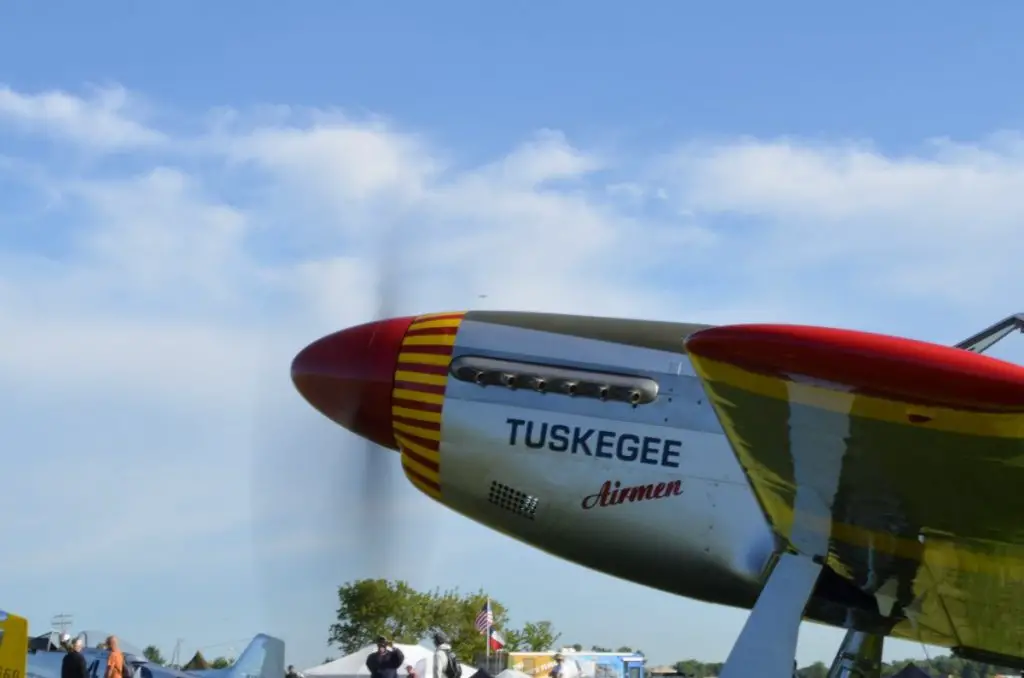 This is where I have gone rogue from the original plan.  The plan includes visiting the USS Alabama.  Although most warships are recognized in military parks such as this one is, it is a bit different destination than other locations on our list.  However, the primary reason I have changed this section is because Alabama is home to a TON of significant African-American historical sites.  There are at least six national sites in the state focusing on this history.  I have chosen to visit some of the closest on the route in Tuskegee because there are two interesting sites, the Tuksegee Airmen National Historic Site and the Tuskegee Institute.  This morning, make the five hour drive to Tuskegee.
Visit the Tuskegee Airmen National Historic Site to learn about this experiment, which was meant to test the ability of African-American pilots under war conditions.  Little known is that these "Airmen" included all of the technicians and support personnel required for these trainings as well as people of Caucasian, Latino, Caribbean, Native American and mixed racial heritage.  Plan to spend an hour or two on the grounds and taking in the museum exhibits.
Equally valuable to visit is the Tuskegee Institute to learn about George Washington Carver, his struggle and his works.  This visit opens the door to learn about the history of the Tuskegee Experiments, a most shameful perversion of Carver's intention to help the black community.  I hope you will agree adding 144 miles to the trip route is worthwhile.
Eat: Once you arrive at your destination for the night, grab a quick sandwich nearby at de Detroiter South or try the Caribbean restaurant, Borinquen Foods.
Stay: After your visits, head out on your route toward Cape Canaveral and stay the night in Columbus, Georgia at Hawthorn Suites.  The family friendly accommodations also offer an outdoor pool, free breakfast, and laundry.
Full Road Trip Day 19: Kennedy Space Station, FL |              Mini Trip #2 Day 6
This is a longer day of driving with a 6.5 hours trip to Cape Canaveral.  This, of course, is also not a national park, but as it is convenient to our route, offers something different than any other part of our road trip.  Since NASA is owned by the federal government and its taxpayers, it seems it should be included. The Space Center is operated by a third party funded from visitor revenue.  The Kennedy Space Center campus is full of fascinating information about the history of space travel for the U.S. as well as several up close experiences with space shuttles, rovers, telescopes and more.
Eat: Within the campus, enjoy their version of frozen ball ice cream and hit up the food truck for more affordable options.  Outside of campus, try Goodrich's Seafood which was operated by nine generations of the Goodrich family and offers a wide variety of local seafood dishes.
Stay: After a day long visit to Cape Canaveral, treat yourself to a stay at the Black Dolphin.  They offer varying room layouts and the ambiance and view can't be beat.
For RV travelers, take a look at Coral Sands RV Resort.  You may find yourself wanting to stay and enjoy this view for longer.
Full Road Trip Day 20: Okefenokee Swamp Park, GA |          Mini Trip #2 Day 7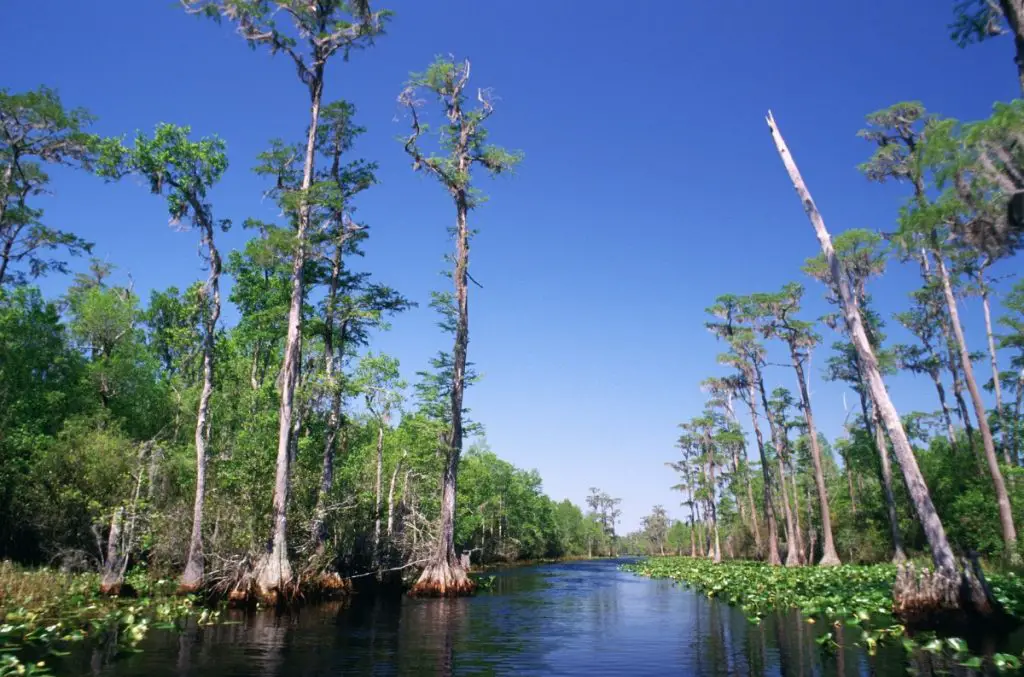 From either of last night's lodging suggestions, you likely have 2.75 hours to drive this morning to Okefenokee National Wildlife Refuge.  The Okefenokee Swamp Park is located within the Refuge.  You can certainly avoid paying for entry into the Swamp Park and just enjoy the walks through the Refuge.  The Swamp Park is a variety of opportunities to interact and observe the animals that naturally live in this area including alligators.  Admission includes a boat ride and they have a train tour as well.  Expect to spend 2-3 hours at the park.
Since the nearest town is in the opposite direction than we plan to travel next, I recommend getting on the road for tonight's dinner and lodging.
Eat:  About an hour into the journey is a place called Skipper's Fish Camp.  This is a good spot for kids to move around on the deck, look out over the water and enjoy a variety of fresh seafood and BBQ options.
Stay:  After your afternoon meal at Skipper's, continue another hour to Savannah, Georgia for the night.  If you haven't visited before, you will want to stay down by the water so you can take a stroll tonight or in the morning.  Try the Homewood Suites Savannah River District for family oriented rooms and a free breakfast.
Full Road Trip Day 21: Fort Sumter National Monument, SC | Mini Trip #2 Day 8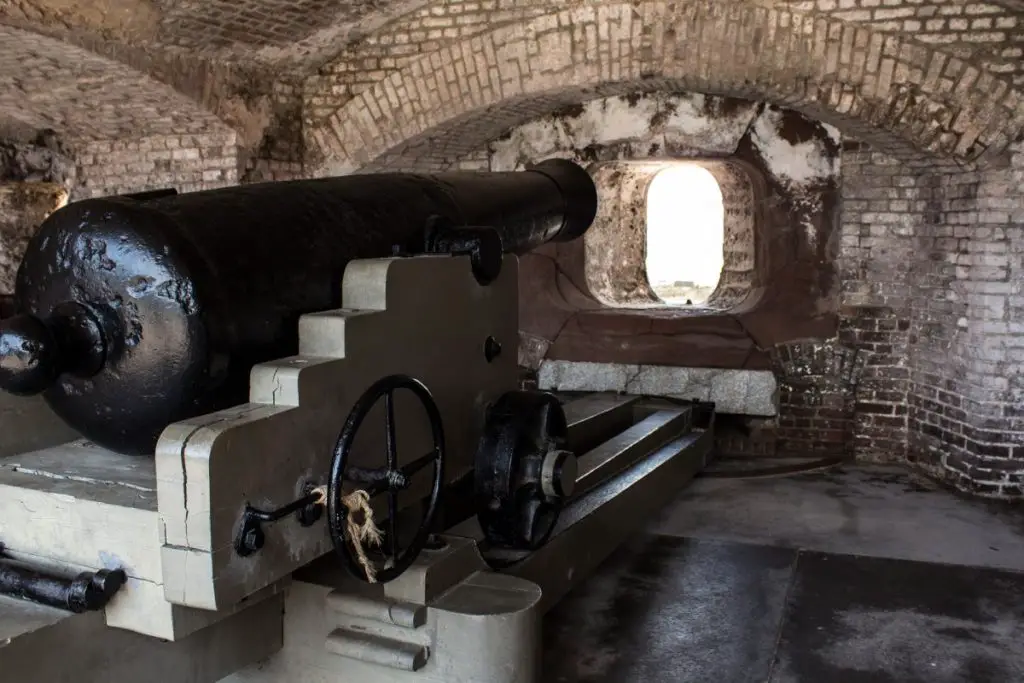 I hope you get to take in a bit of Savannah before you continue on.  It's such a special city.  Your next drive is just two hours to Fort Sumter National Monument.  This spot is important because it is the home to the beginning of the Civil War.  It is also an island in the bay off Charleston.  There is a fee to ride the ferries and enter the fort.  Visitors can take in the view from the island and visit the Visitors Center and Education Centers.  Your visit can easily be completed in less than two hours.
Since this destination is located by another beautiful southern city, Charleston, take in the vibe of this city by grabbing a meal before getting back on the road.
Eat: Charleston is full of great options for whatever you might be craving.  Try Fleet Landing for waterfront dining that's delicious and also kid friendly.
Stay:  If you can make it Fayetteville this evening, you'll have a variety of options from which to choose.  I would choose something close to the highway to keep moving in the morning or go to the downtown historic districts if you can afford an extra day to check out Fayetteville.
Full Road Trip Day 22: Wright Bros National Memorial, NC |   Mini Trip #2 Day 9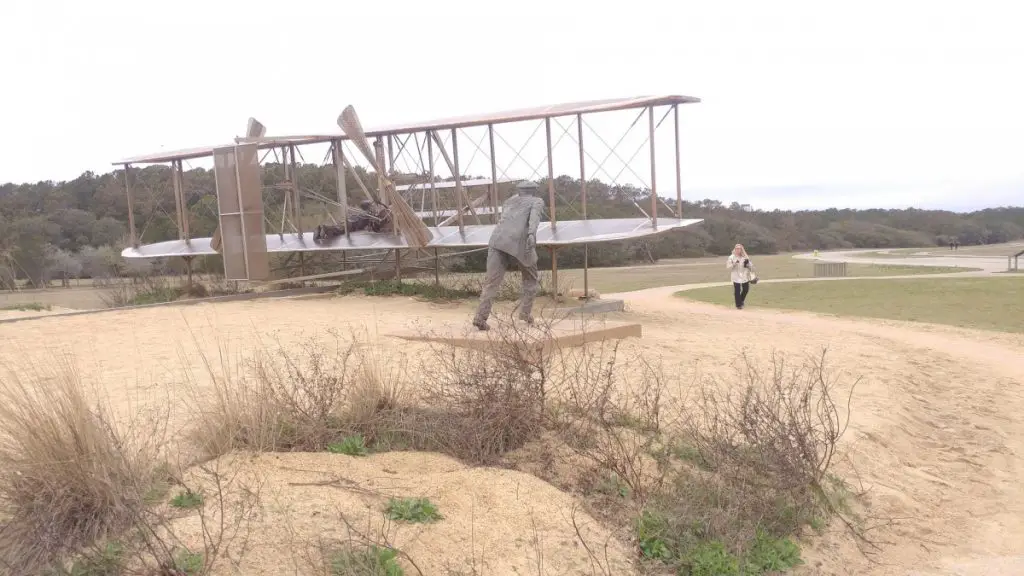 I have altered the order here slightly.  The original destination on the list was a tourist attraction that is not a nationally designated park.  So, next we head to the Wright Brother's National Memorial Visitor Center.  If you stayed near Fayetteville, you have about four hours of driving to arrive there.  The attraction includes a visitors center completed in 2018, a monument, and a replica 1903 camp.  After your visit, stay in the area and enjoy the scenery.  Kitty Hawk and Kill Devil Hills are beautiful oceanfront communities.
Eat: Try Beach Bistro for oceanfront dining with seafood, steaks or for breakfast.  They also offer a kids menu.
Stay: Get the full oceanfront experience at Shutters on the Banks.  Choose from a variety of rooms with a view and configurations of beds.  The hotel is located right on the ocean so you can walk over the dune and enjoy the beach.
RV spots at available at Kitty Hawk RV Park.  This simple park has the best amenity you could ask for, direct access to the beach.
Full Road Trip Day 23: Mount Vernon, VA | Mini Trip #2 Day 10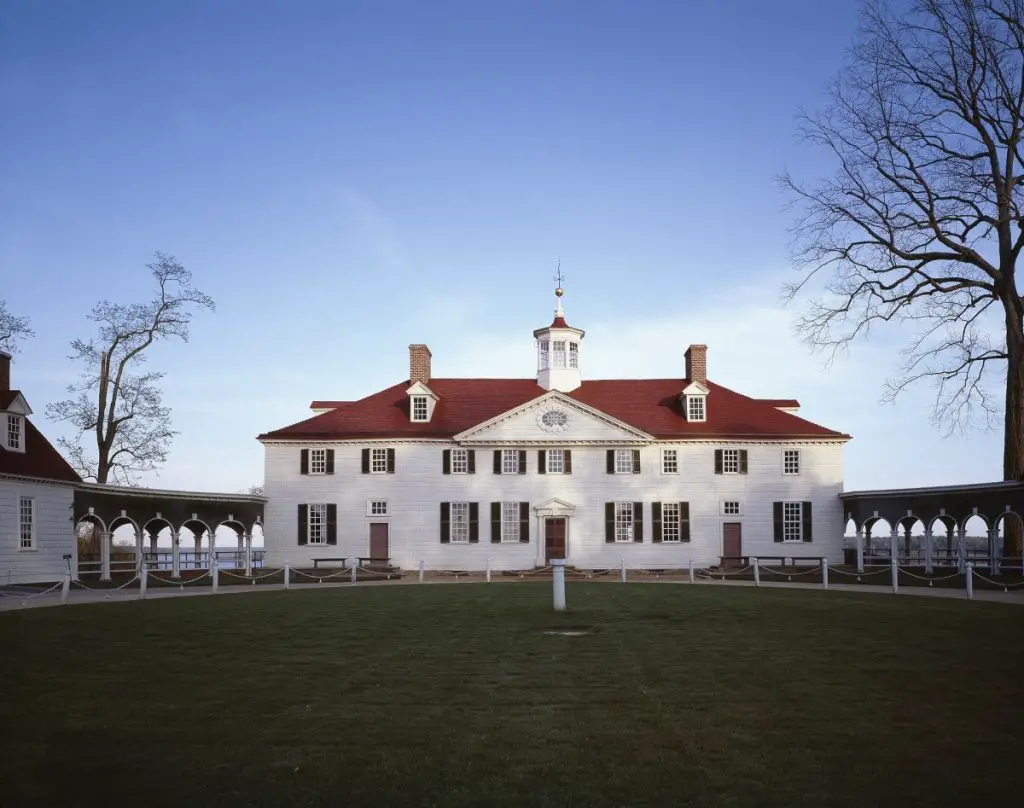 This morning you'll head out on a scenic four hour drive toward Mount Vernon.  George Washington's Mount Vernon and Estates is located just outside of Washington D.C.  Washington took this home, built by his father, and made it a two story home and added extensive square footage in the surrounding grounds to the property.  Visitors to the property can tour the home, museum, gift shop, and grist mill.  View the interactive map to plan out your visit.
Eat: There are two onsite dining options with a sit down restaurant called The Inn and a cafeteria with more casual dining.
Stay: Choose any spot that suits you between Alexandria to Washington D.C. as tomorrow you will be in D.C. for the morning.  I recommend the Kimpton Hotel Palomar.  Kimpton hotels also have a kids program that gives kids a welcome gift and onsite restaurants are always family friendly.
RV camping around D.C. is limited.  You may want to make a home further outside the city and travel in for a day until making your way to Harper's Ferry.
Full Road Trip Day 24: White House, Washington, DC |         Mini Trip #2 Day 11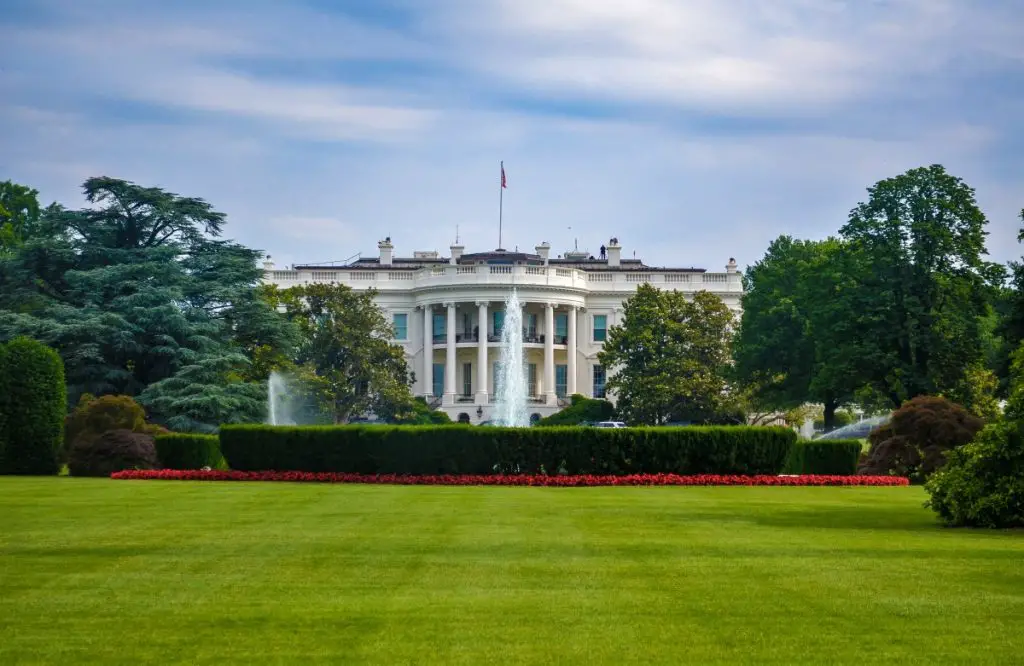 I left this item on the list although touring the White House is not actually something one can do without prearranging a public self-guided tour through your congressman.  You can read about this process on the White House website. However, you can of course take photos of the President's Park (aka White House) from across the street and enjoy any of the many other monuments and sites located in the United State's capital.
You could make your way to the next stop, but I recommend taking in more of this interesting city.
Eat: If you are staying in the area of the Capitol, try Ted's Bulletin for a broad American menu for any of three meals each day.
Full Road Trip Day 25: Harper's Ferry, WV  | Mini Trip #2 Day 12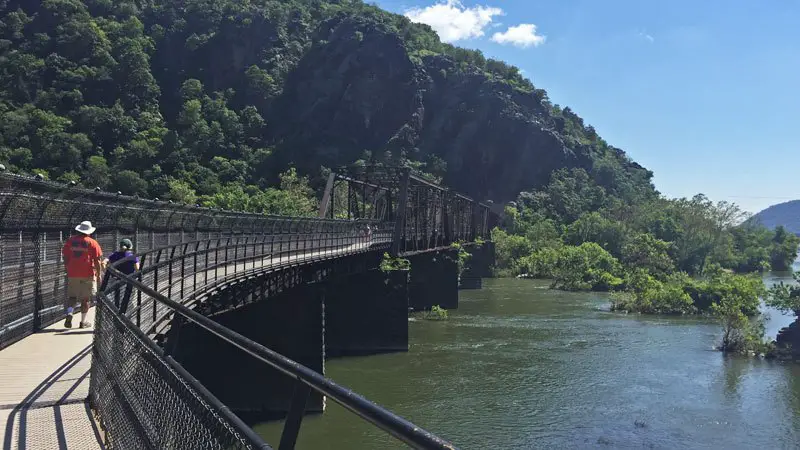 Today we are going to visit the 20th stop on the roadtrip list and this is the final destination of the second smaller roadtrip.  You are just slightly over an hour from Harper's Ferry National Historic Park if you stayed in D.C. again last night.  As mentioned earlier, this destination is a deviation from the original plan which includes Lost Worlds Cavern.  I'm sure that is an amazing place to visit, but sticking with the theme of national sites, I felt Harper's Ferry was more accurate and relevant.  Plus the distance change to the total road trip road is 264 less miles.
Harper's Ferry is important to West Virginia for a couple of important reasons. The city's historical significance as it related the history of the United States dates to George Washington's creation of an armory in 1794.  From that point, Harper's Ferry housed the armory and the professional weapons makers and metal workers to keep it stocked.  That armory is also the reason for John Brown's raid to try to free slaves occurred in Harper's Ferry.  Harper's Ferry changed hands during the Civil War fourteen times because it was easy to capture, but difficult to defend due to its landscape.  Much of the city is preserved and you will enjoy strolling the streets, seemingly back in time.
Harper's Ferry is also important to WV as it is the short point along the grand Appalachia Trail.  It is considered to be the "psychological halfway point" and is home to a Visitors Center and Conservancy Office.  You can join the Trail and cross over the Potomac into Maryland on a historic railroad bridge.
Eat:  Pick up a breakfast sandwich and a coffee at Battle Grounds Bakery to enjoy while you stroll.  For a sit down meal, visit White Horse Tavern and Restaurant to enjoy their specialty burgers along with a variety of delicious appetizers, soups, salads, and entrees.
Stay: There are no RV parks within Harper's Ferry, but several are located just beyond the city.  Visit the Harper's Ferry KOA to enjoy a variety of amenities.  My choice for family-friendly accommodations in Harper's Ferry is the Clarion Inn for its room configurations, swimming pool and free breakfast.
This is the break for the second smaller road trip.  You can fly out of the area from Baltimore or Washington D.C. 
Phase Two of this epic U.S. road trip is coming soon…