Many schools in the Midwest hold a four-day weekend break in late October, typically following a change of quarters and parent-teacher conferences. Teachers and students are ready for an opportunity to take a breath. If your family is trying to pick a destination to fill this weekend without flying, this list is for you.
Choosing a destination in the Southern portion of the Midwest can provide slightly warmer temperatures. Changing leaves may be seen in warmer locales and as far North as Southern Wisconsin depending on the type of Fall experienced.
The following are my Midwest Fall Destination Recommendations:
Lake Geneva, Wisconsin
Galena, Illinois
Rend Lake, Illinois
Springfield, Missouri
Starved Rock State Park, Illinois
Columbus, Ohio
Peoria, Illinois
Chicago, Illinois
Choose a destination based on what matches your family's weekend getaway vibe:
1. Lake Geneva, Wisconsin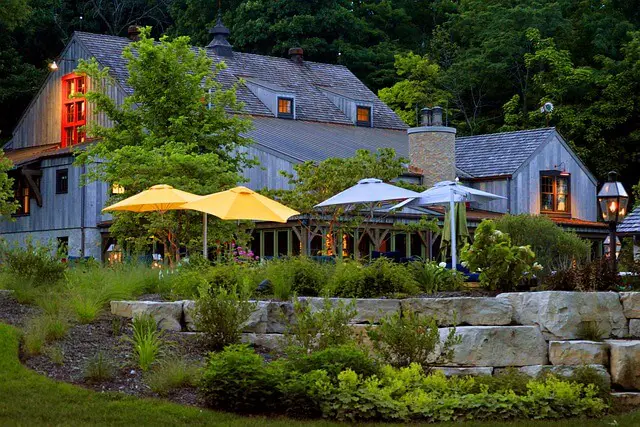 Why Go: Who doesn't enjoy some time by the water? Brisk temperatures and rolling water framed by Fall colors sound like the perfect way to relax over a long weekend. There are many ways to entertain the kids, too.
Take in the views from the water on an Ice Cream Social Boat Tour. Take in an illusionist show and be amazed. Stroll around downtown Lake Geneva to enjoy some shopping. Have an adventure with Lake Geneva Zipline.
Where to Stay:  If you are looking to stay somewhere with onsite entertainment, delicious food, and beautiful accommodations, stay at Grand Geneva Resort and Spa. If it is most important to stay in the middle of Lake Geneva, by the water, choose Harbor Shores.
What to Eat: Grab a pie for lunch or dinner at Next Door Pub. Enjoy a Friday night Fish Fry Hawk's View Golf Club. Don't worry they also offer burgers. Enjoy a supper club experience at Mars Resort.
2. Galena, Illinois
Why Go: Galena is a tourist destination nestled into the hills of Northern Illinois and surrounded by scenic drives – perfect for Fall. Galena's cute downtown is full of shops and restaurants and the community is full of many historic homes.
Appreciate the history by visiting the Ulysses S. Grant Home, Museum and Blacksmith Shop. Find a treasure at the unique gift short, Poopsie's. Check out the current activities at nearby Chestnut Mountain Resort. Have a picnic and let the kids run at Grant Park along the Galena River.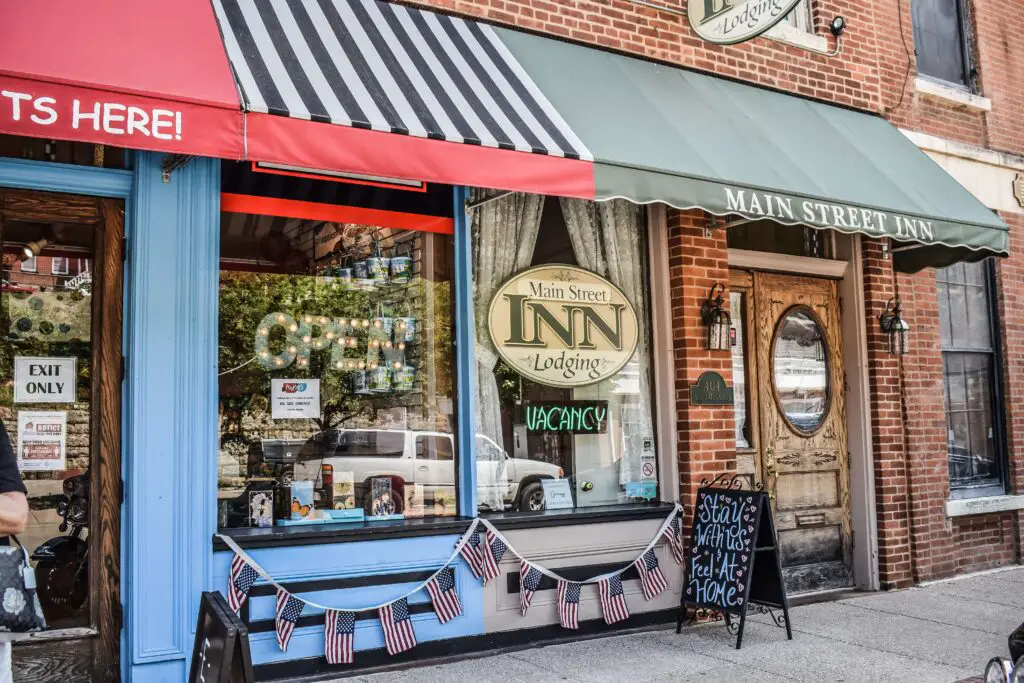 Where to Stay:
Eagle Ridge Resort and Spa is located about fifteen minutes from downtown Galena.  They offer lodge rooms, villas, and vacation homes. If you prefer to stay downtown, visit the DeSoto House Hotel.
What to Eat:
Visit Frank O'Dowd's Irish Pub for a fun, themed dining experience. Durty Gurt's is known for their burgers, but kids will also love the fun interior and the milkshakes. One of my favorite spots with or without kids is Vinny Vanucchi's for made from scratch Italian favorites.
3. Rend Lake, Illinois
Why Go: This 19,000 acre lake and recreation area in Southern Illinois is the ideal destination for outdoor family fun. In late October, temperatures are still in the high 60s with a high probability of beautiful leaves still hanging on. Family fun may include hiking, fishing, archery, kayaking, disc golf, and playing on the beach. The Rend Lake Visitors Center features many interactive exhibits.
Where to Stay: Camping goes hand in hand with this type of outdoor vacation. Benton KOA Journey offers RV spots as well as cabins for rent. For an affordable hotel very close to the park, choose Sure Stay by Best Western.
What to Eat: For a traditional drive in experience, visit Mr. D's in Benton. Seasonings Bistro serves lunch and dinner with a variety of small plates, salad, and entrees. Don't forget to order brown butter broccoli for your side.
4. Springfield, Missouri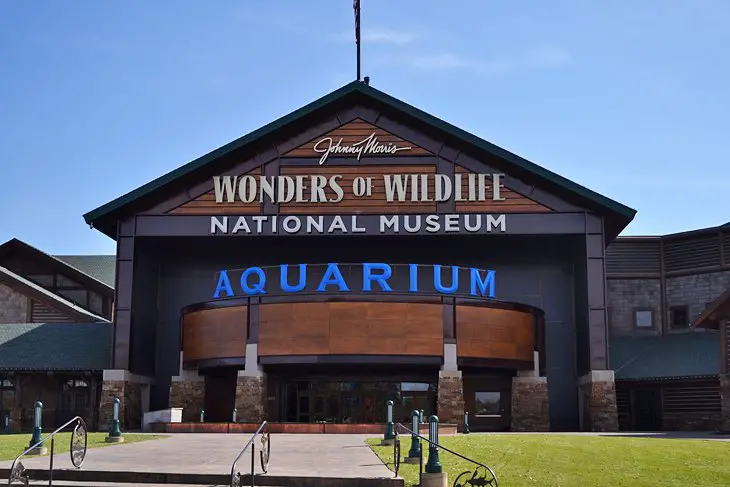 Why Go: This isn't the first time I have recommended Springfield; you can see a full itinerary in this article. This moderate size community has some highly rated attractions and a cute downtown as well. Everyone will enjoy the Johnny Morris Wonder of Wildlife National Museum and Aquarium. Take a ride through the Fantastic Caverns. Enjoy a peaceful visit to the Mizumoto Japanese Gardens.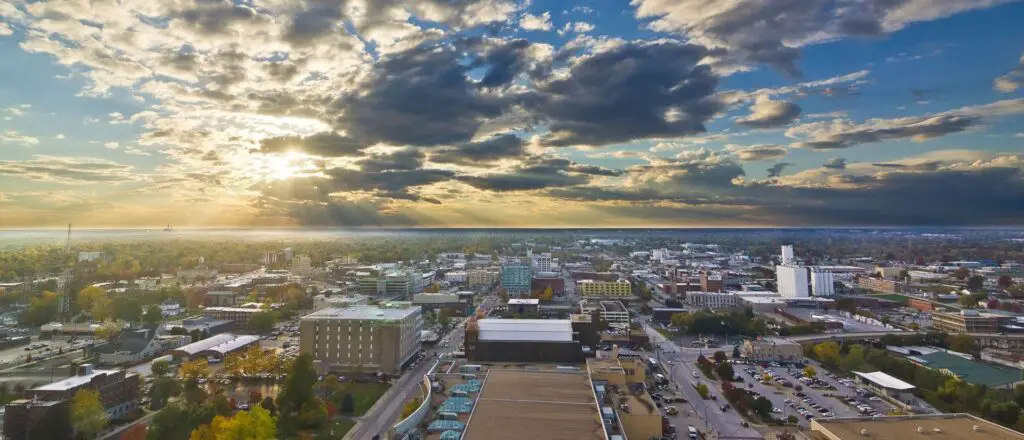 Where to Stay: Stay at Oasis Hotel and Convention Center where the rooms are sleek and modern. Hotel Vandivort is a beautiful, trendy spot with rooftop dining and variety of suite layouts.
What to Eat: Everybody wins with a great burger and shake place; visit Black Sheep for both. London Calling Pasty Company is fun, themed food truck. Check out one of Bambino's two locations for a family friendly Italian cafe.
5. Starved Rock State Park, Illinois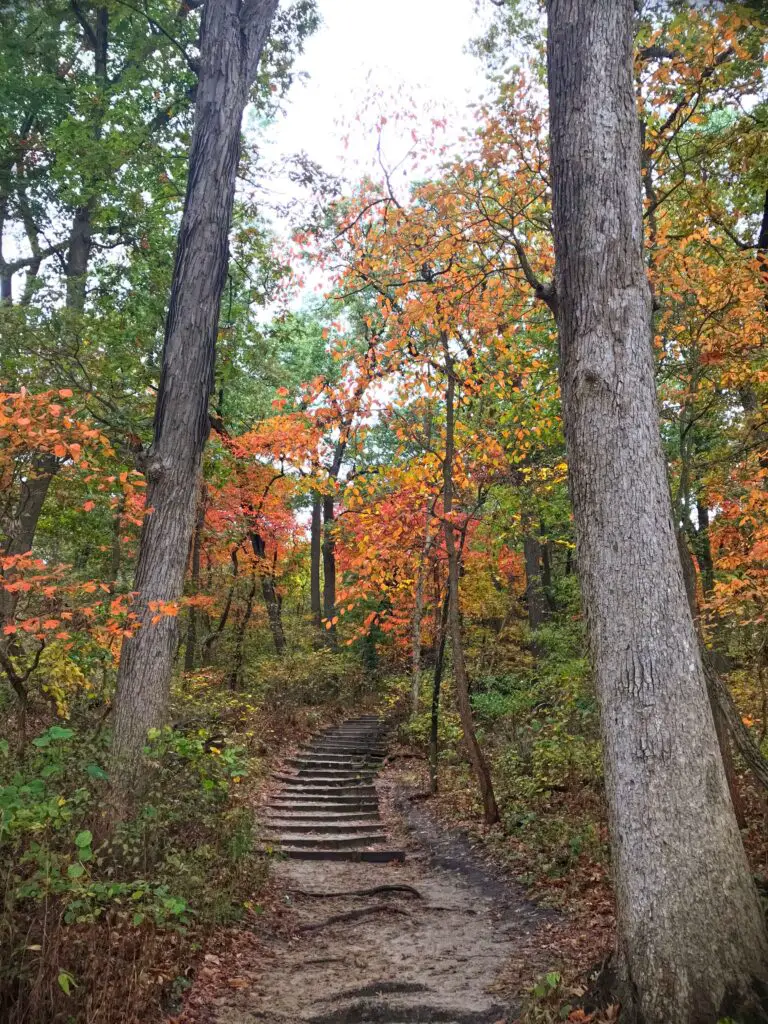 Why Go:  Beautiful sandstone rock formations make a great background for beautiful hikes in this approachable state park. For a long weekend connecting with the outdoors, Starved Rock offers lots of canyons, cliffs and waterfalls to explore.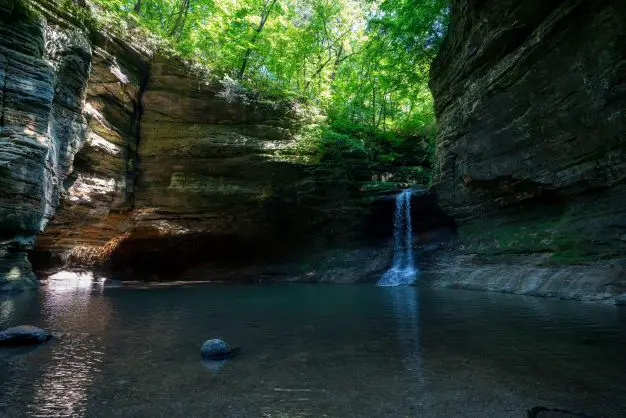 Where to Stay: Located onsite is a beautiful, historic lodge – Starved Rock Lodge. In addition to lodge rooms are cabins that accommodate larger families.
What to Eat: A variety of dining options are available in the Lodge and Park. Enjoy all three meals served in the Main Dining Hall. Meals and snacks are also available on The Veranda, Cafe and concession stand.  If you slip away from the park, check out Nonie's Bakery & Cafe, a beloved local restaurant serving breakfast, lunch, and sweet treats.
6. Columbus, Ohio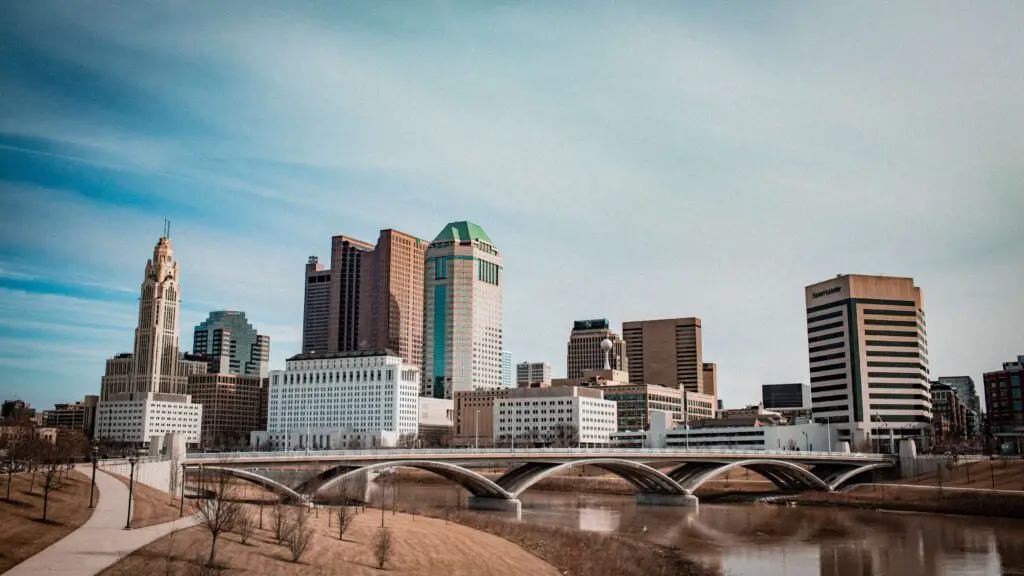 Why Go: Columbus is one of the quickly growing metropolitan areas. There is much to be enjoyed by families. The Franklin Park Conservatory and Botanical Garden is truly impressive. The Center of Science and Industry has great exhibits for all ages. Otherworld provides a very unique experience for art appreciation even by little ones.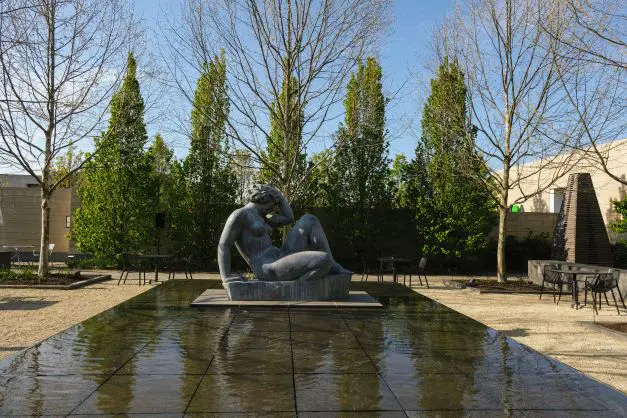 Where to Stay: Graduate Hotels are always a fun choice and the Graduate Columbus does not disappoint with Ohio State-themed rooms and suites. Hotel Leveque is a beautifully renovated historic downtown building. Rooms feature mid-century modern pieces and luxe touches.
What to Eat: If you have an American Girl fan, the Easton Town Center is home to an American Girl Cafe. Cap City Fine Diner and Bar is a unique dining experience with delicious food and a family-friendly environment. Choose from three locations. Take in some of the area's German heritage with this elevated German restaurant, Valter's at Mannerchor.
7. Peoria, Illinois
Why Go: Check out wide variety of Halloween and Autumn activities available in and around PeoriaThis Central Illinois community offers a lot of Fall activities. There are many pumpkin patches and orchards in the area featuring u-pick, rides, and fun for the whole family.  Kids of all ages will enjoy the Peoria Riverfront Museum as well.
I love this beautiful look at Peoria from a local:
Where to Stay: To find yourself near the riverfront and downtown amenities, consider the Embassy Suites East Peoria Riverfront Hotel. If you are willing to drive a bit more, consider a cabin or glamping tent rental at Sankoty Lakes.
What to Eat: Peoria offers lots of tasty options. There are some old-school regional favorites like Avanti's for their gondola sandwiches. Newer on the scene so delicious are Obed and Issac's and Blue Duck Smoked BBQ. And you will always have fun at Burger Barge.
8. Chicago, Illinois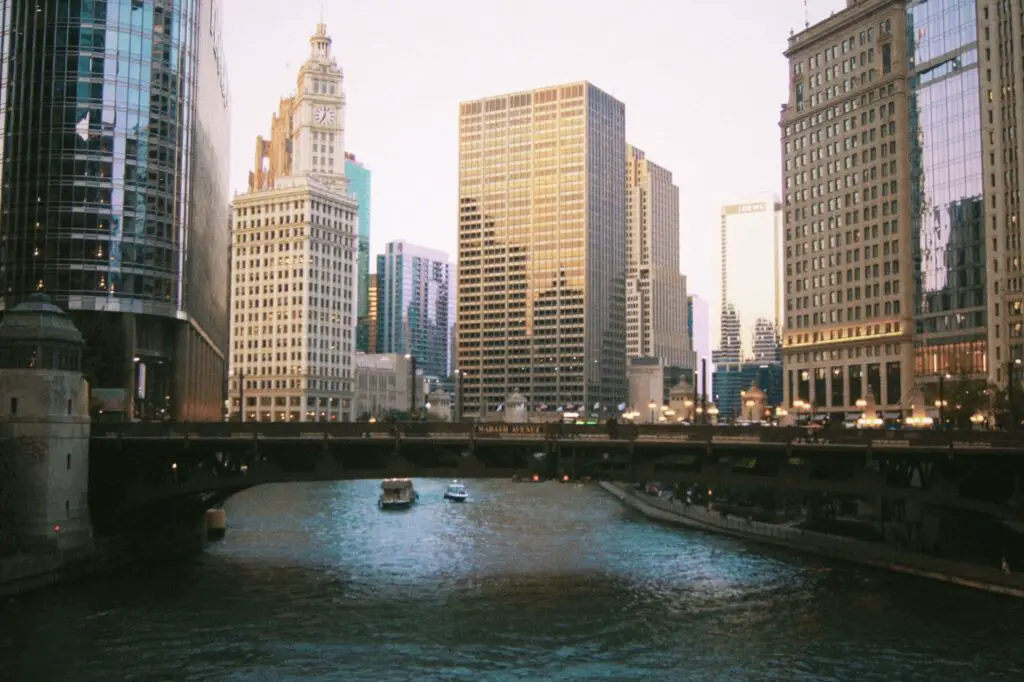 There are many articles with Chicago ideas on the site, but one, in particular, is an itinerary for a Fall visit to Chicago. Find it here!
Where are you adventuring this Fall Break?