Las Vegas may not be an obvious or first choice for families with its reputation for gambling and adult oriented fun, but you need to give it another look. Between the direct flights, warm weather and family oriented activities, Las Vegas has a lot to offer families looking to travel within the United States.
Take a look at my reasons why Las Vegas could be a great destination for your family here.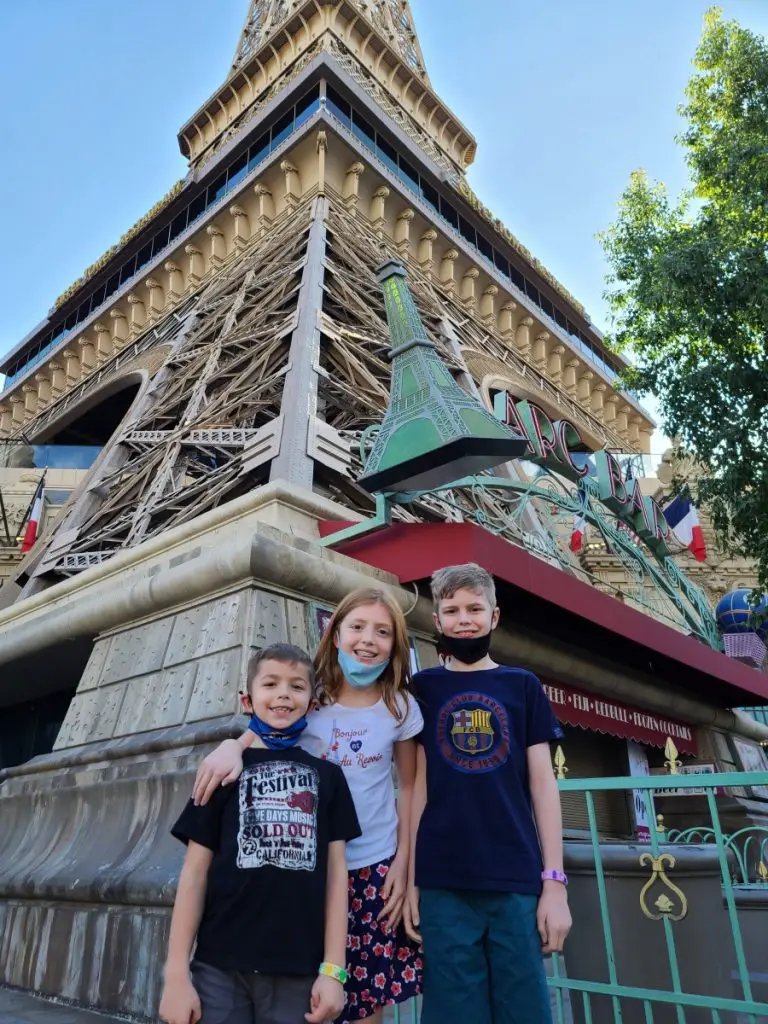 The following is a list of just fifteen of the family fun activities you can include in your visit with kids in Las Vegas:
Resort Swimming Pools
M & M Store, Hershey World & Coca-Cola Store
High Roller
Bellagio Fountains
Minus 5 Ice Bar
Excalibur Fun Dungeon
Shows & Events
Mandalay Bay Aquarium
Grand Canal Shoppes at the Venetian
Siegfried and Roy's Secret Garden and Dolphin Habitat
Mirage Volcano
Downtown Container Park
Red Rock National Conservation Area
Hoover Dam
Lake Las Vegas
Resort Swimming Pools
Kids of all ages love swimming pools: from the little ones splashing, or mine who like to see how far they can swim under and do handstands, to the tweens and teens who like to take in the sun and check their phone poolside.  Las Vegas has many of the best pools I've ever seen to serve all of these needs.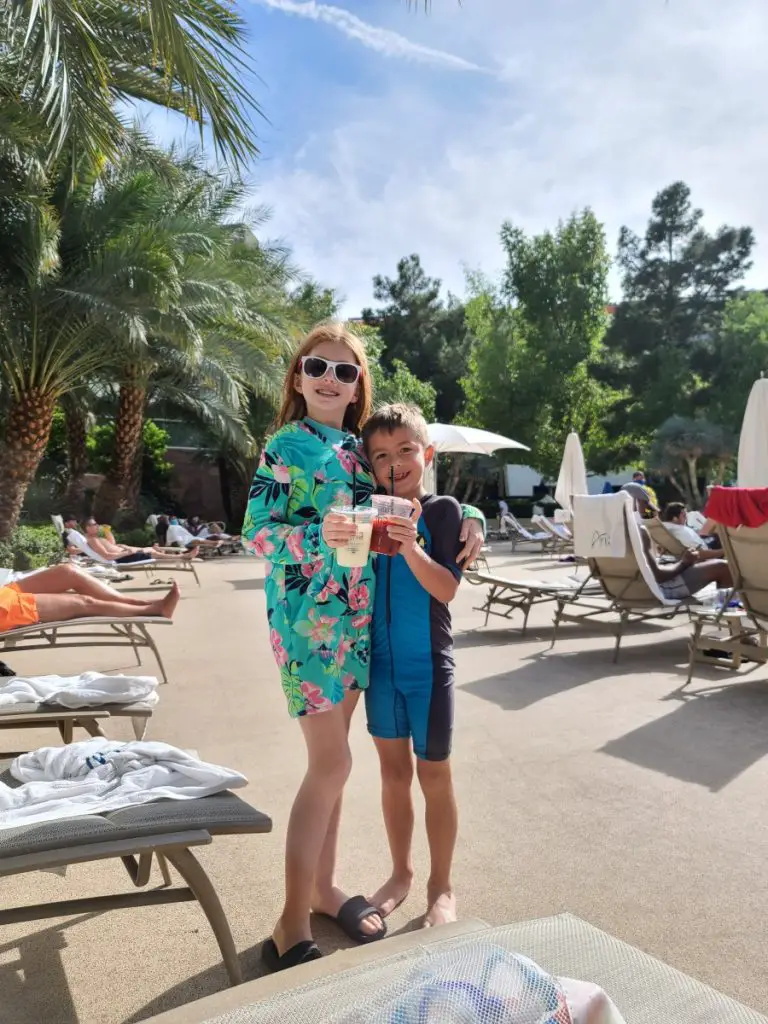 Some of the most family friendly pools:
Kids and pools go together, but none of these will leave anyone bored, even the parents.
M & M Store, Hershey World & Coca-Cola Store
Located in the "block" of Las Vegas Boulevard between Park Avenue and Tropicana Avenue, you will find the Hershey Store.  It is located within the New York, New York Hotel shops and across the street, both the M&M Store and Coca-Cola Stores are located.  I recommend visiting in that order as the Hershey store has the least interactive elements.
In the Hershey store, visitors can choose various iterations of their favorite Hershey brand candy from giant versions to added ingredients.  They also carry clothing and accessories bearing the various brands.  There is a bakery case in the center of the store for sampling cookies containing your favorite candies.  You can make a custom Hershey wrapper as a gift within the store.  Don't miss out on the wall of miniature Hershey flavors and Kisses.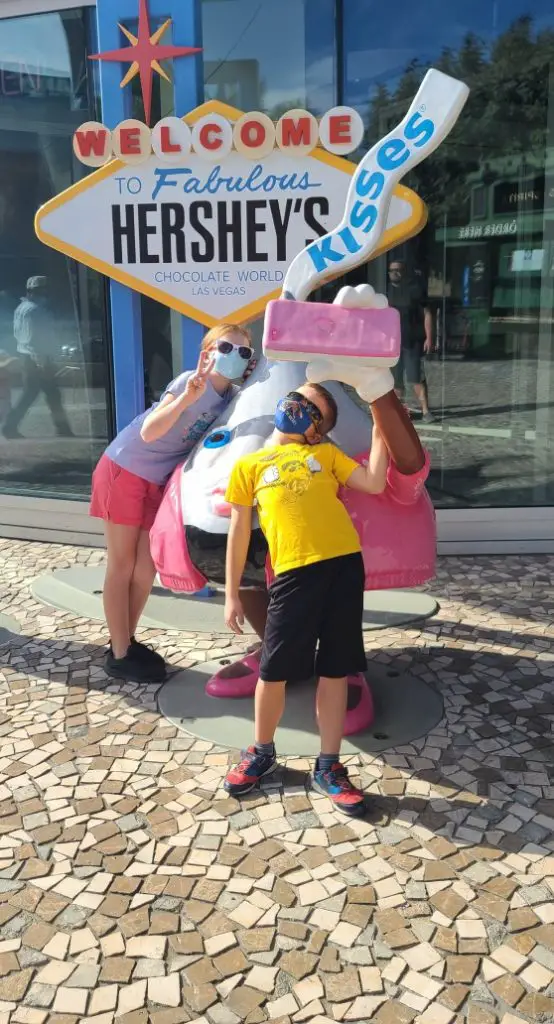 Next, visit the M&M store, which is five stories of various M&M themed apparel and entertainment.  My parents actually started a little tradition buying our kids M&M pajamas here when our oldest two were small and we have purchased two more pairs since that they hand down as they grow.  Our kids favorite part of the visit is designing their own M&Ms.  You can include various themes, your own words, and even your own face.  You take your receipt to the counter and then get to pick your color combination.  A small bag is about $20.
The Coca Cola store is a two story experience with a small order at the counter cafe on the second floor.  Even if your kids don't drink soda, they have a couple of fun options with two different tray options.  There are 8 "floats" made from different soda flavors in sample size and another option with 16 sodas flavors from around the world.  Our kids picked the floats and even though our oldest doesn't like soda, he was able to enjoy a bit of ice cream.  We had fun voting on our favorites.  There are also public restrooms available by the cafe.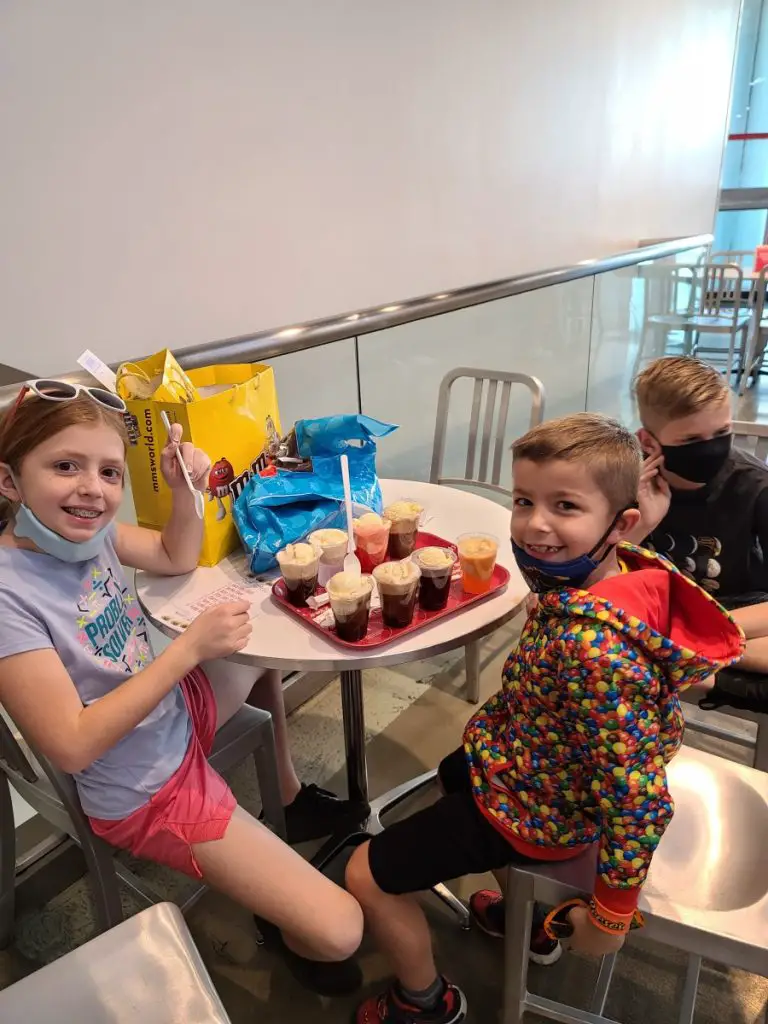 You could easily spend a morning visiting these three stores and the hotels and other stores in the same block.
High Roller
Located behind the Linq Hotel complex, the High Roller is a 550 foot tall ferris wheel comprised of pods.  It provides an awesome view of The Strip and surrounding area.  I recommend choosing a time just before or at sunset for beautiful pictures and a chance to the see the lights.  One trip around is included in your ticket and takes about 30 minutes.  You can buy official tickets here and use the code from your phone for quick entry and no lines.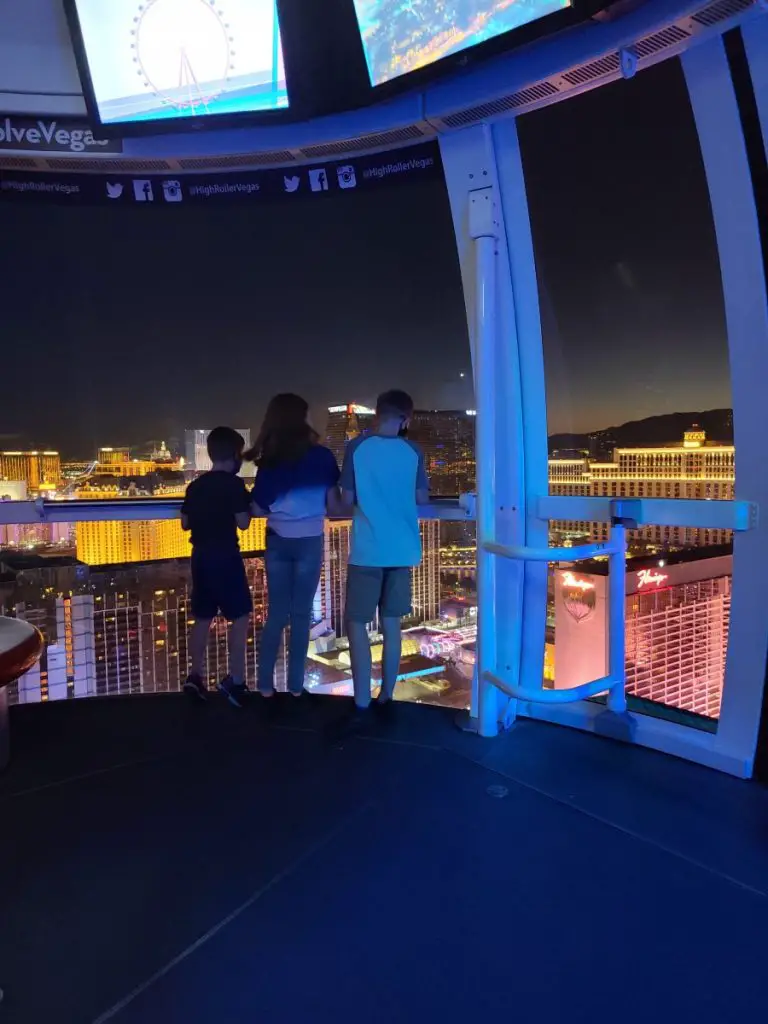 Before boarding your pod, you will wind through the building to show your tickets and have a chance to get a drink or snack for your ride.  They offer frozen fruity virgin drinks with little plastic mini versions of the pods that delighted our kiddos.  There are two benches on either end of the pod if you have someone who requires a seat or feels uncomfortable with the height.
This is a great spot to wonder through the Linq promenade and/or hotel after you're finished to grab kid friendly food and treats.  The hotel also boasts a bowling alley.
Bellagio Fountains
These iconic fountains likely come to mind when you think of Las Vegas.  They are awesome to enjoy from the balcony rooms at the Cosmopolitan (great for an adult visit), but the street view is also quite spectacular. The show runs from 3 pm daily every 30 minutes and then every 15 minutes from 7pm until midnight.  On Saturdays, Sundays, and Holidays, there are additional showings.  The full schedule can be found here.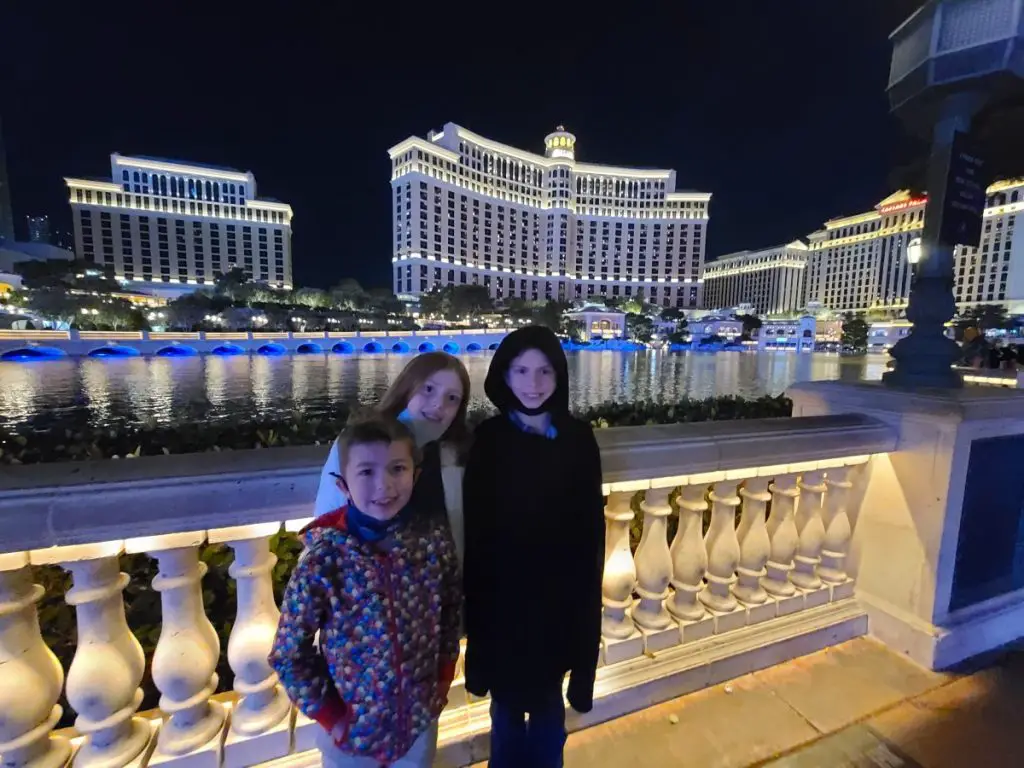 Shows include over a thousand fountains and shoot water almost 500 feet in the air.  Different songs are used for different shows so don't be afraid to visit more than once during your stay.  The anticipation definitely builds as show time nears with everyone carving out their corner along the Bellagio boundary for the best view.  This is certainly the best free entertainment on the Strip.
Minus 5 Ice Bar
Here's another spot that may not be an obvious choice with the name "bar" right in the title.  It's also a bit on the pricey side, but there are packages for differing price points.  However, it is worth it!  Kids can hardly imagine this ice world and the process of donning a parka, fuzzy hat and gloves creates anticipation.  I highly recommend visiting toward the opening time (at Mandalay Bay, that is 1pm during the week and 11am on weekends) to avoid any partying crowds.  Once inside, you can choose from various ice nooks and booths to get settled.  Take photo opportunities in the ice throne, lounging on the animal skins covering the seating, or pretend to be inside of an igloo.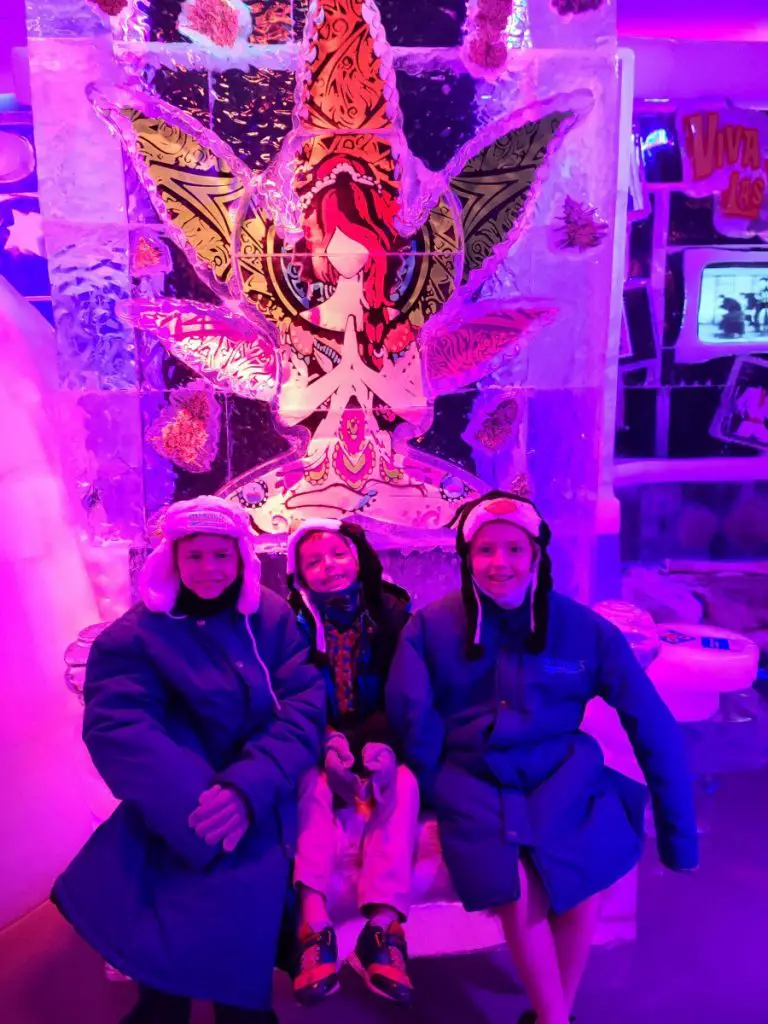 Visitors have the option of purchasing (as part of entry or while inside) traditional or virgin cocktails served in ice cups.  Our kids loved the few games (ring and hook, football throw, plinko) that were available.  They were thoroughly amazed at the opportunity.  Just be sure to dress appropriately – skip the shorts or dresses to avoid cold legs.  There are three locations in Las Vegas, but we visited the one in Mandalay Bay.  You can walk up or make a reservation.  Their family package is meant for children ages 7 and up.
Excalibur Fun Dungeon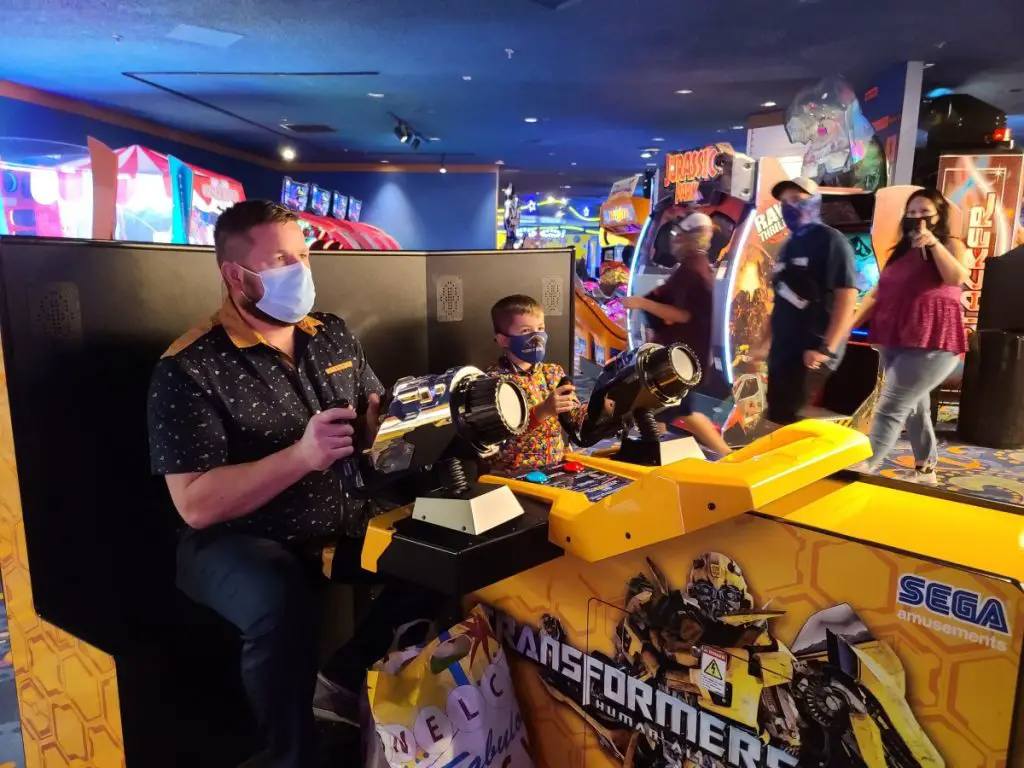 In a city full of completely over the top design and entertainment, the Excalibur Fun Dungeon is a combination of your county fair and a Chuck E Cheese arcade.  There is the inevitable collection of tickets for prizes nearly devoid of value, but the experience is so fun.  Employees run booths where you can select a floating duck or knock down something for a prize.  There are also at least 100 different arcade games and a corner area for little ones.  We enjoyed 1.5 to 2 hours or silliness that tired the kids and provided lots of laughs.  You will also find an Orange Julius in the center of the arcade if you need a bit of refreshment.
Shows & Events
Finding shows that are family friendly can provide a bit of a challenge.  There are surprisingly several shows with no age restrictions or starting at age three.  One of our favorite Vegas experiences came at the Nathan Burton Comedy Magic Show.  Our kids were selected to participate on stage and in the crowd which made the experience extra fun.  It's not a large theatre so the odds of interaction are fairly high.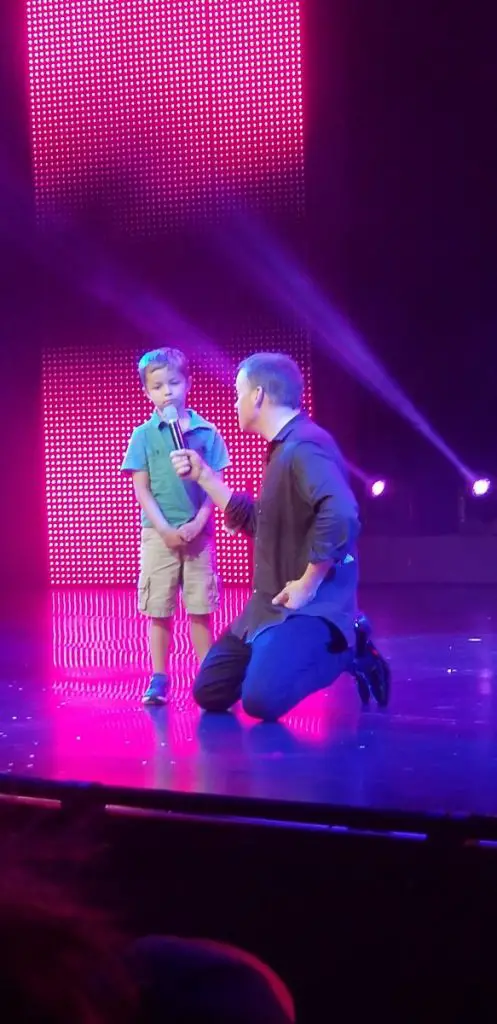 Here are a list of links to family friendly shows:
Mandalay Bay Shark Reef Aquarium
With a typical Las Vegas price point, you may be surprised at the size of this attraction.  It is somewhat compact, but from our vantage point, it's just right.  The displays, staff, and variety of sea life are terrific and it's a less than two hour commitment.  Tickets can be purchased in advance here.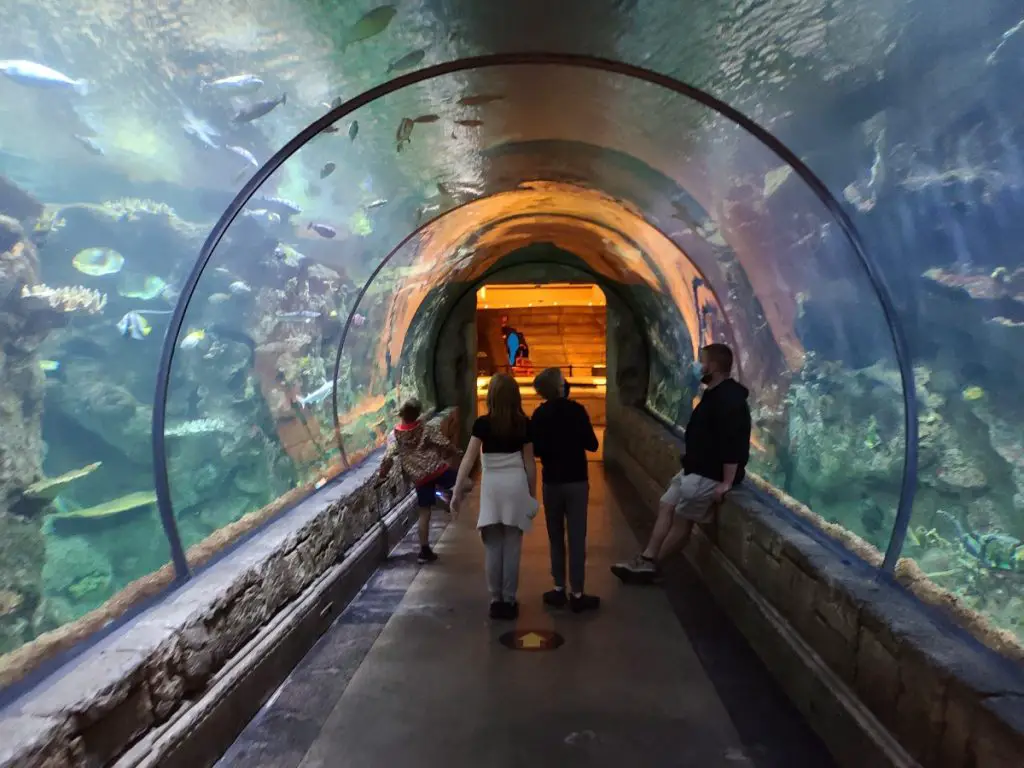 The highlight of the aquarium and the area you can easily spend the longest is the 360 degree immersive experience.  The photos show the tunnel which is very cool, but the adjacent room has windows all around as well as windows in the floor and ceiling which allow you to see shark being fed and hiding on the sandy floor.  Our kids loved see all of the saw fish.
Grand Canal Shoppes at the Venetian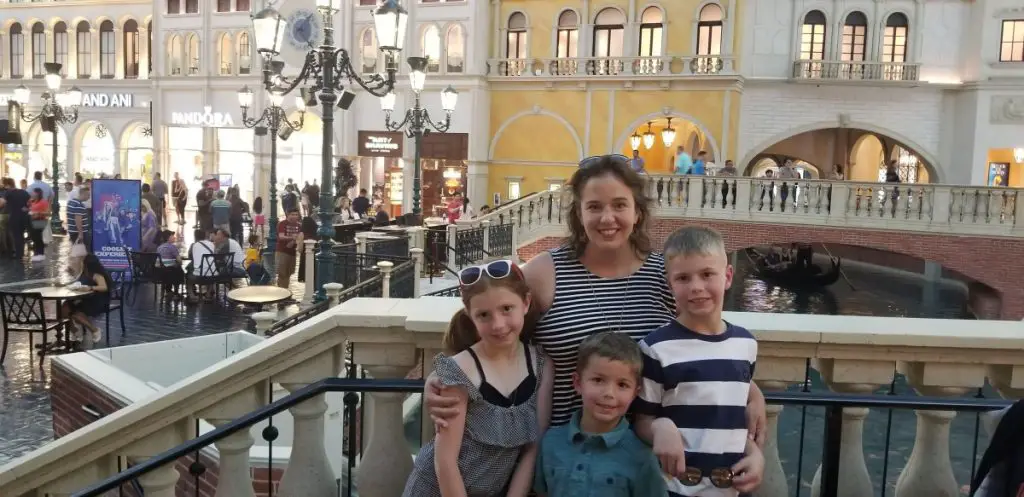 One of the many reasons that we appreciate Las Vegas is for the ability to be transported somewhere all within this one city.  The Grand Canal Shoppes certainly gives you a taste of Venice.  Enjoy the piazza built into the winding hallways with a meal at Canaletto.  You will feel like you're sitting in an open air restaurant in Italy.  Sometimes entertainers will provide singing and dancing on the piazza as well.  Take the Venetian experience all the way with a Gondola ride available both indoor and outdoor.  Even if you don't ride, you can enjoy the scenery and singing of the gondoliers.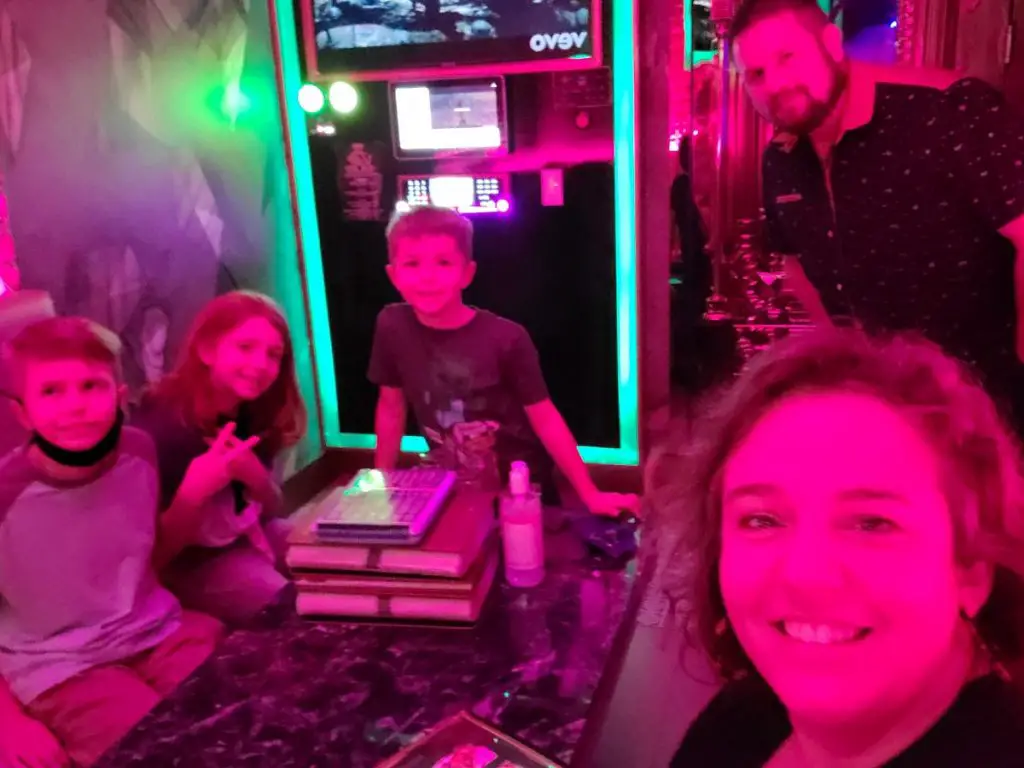 Also located within this shopping mall is Kuma Ultra Karaoke Lounge.  You can reserve a room for your family to sing an hour or the night away.  Hourly rates are less during the week and kids are only allowed until 9 or 10.  Their video catalog includes traditional karaoke as well as access to YouTube for all of your kids' favorites.
Siegfried and Roy's Secret Garden and Dolphin Habitat
Your kids may not remember the amazing stories of the over the top life of Siegfried and Roy, but the legend lives on in this special exhibit located within the Mirage Hotel.  The entrance to the Secret Garden and Dolphin Habitat exhibit is located near the awesome pool at the hotel and is an extra bonus of staying at the property.  With the mission of education and conservation, guests can visit the exhibit's remaining large cats as well as watch and interact with dolphins.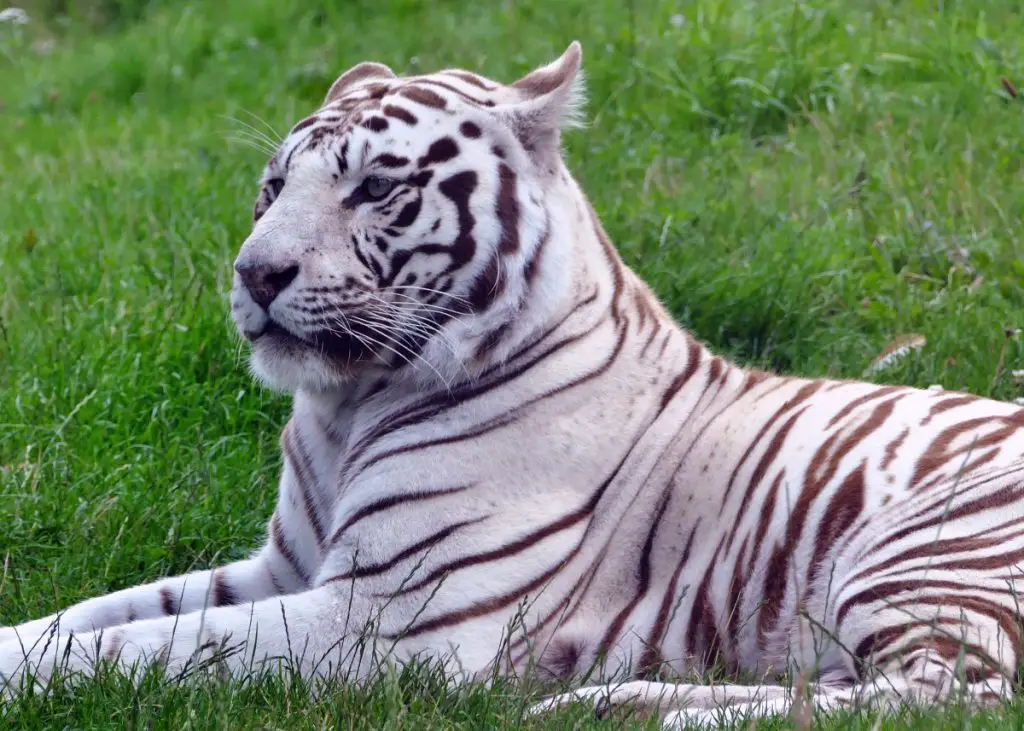 There are several experiences from a VIP tour to Dolphin Trainer 101 that are available for additional purchase.  Our kids enjoyed watching the dolphins play and speed about the pool.
Mirage Volcano
Located on the Strip side of the Mirage resort is their seemingly life size Volcano.  Erupting in spectacular form on the hour every night from 8PM to 11PM, the show and the heat of the fire can be experienced from both sides of the street.  Kids are amazed by this sight and it makes for a good end of the night.  It's located not far from the Venetian should you participate in a karaoke night mentioned above.  The show is just five minutes though so you don't want to be late.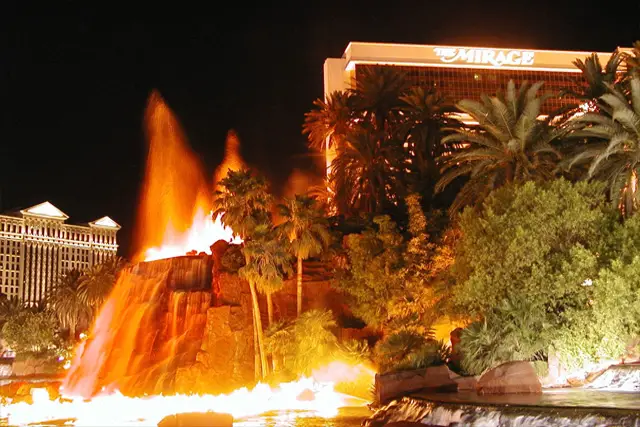 It can be difficult to catch a ride from right in front or across the street as taxis and Ubers are not allowed to stop on the Strip for pick up.  You will need to proceed to the ride share spot at the Mirage or another nearby hotel which will be a little walk.
Downtown Container Park
Located just a few blocks from the Fremont Street Experience (which I would not recommend for younger kids; especially in the evening) is the Downtown Container Park.  We discovered this spot without our kids and knew we wanted to bring them back sometime.  The little commercial park is made of shipping containers, as the name implies, but more importantly has a giant play structure in the center with a tree house theme.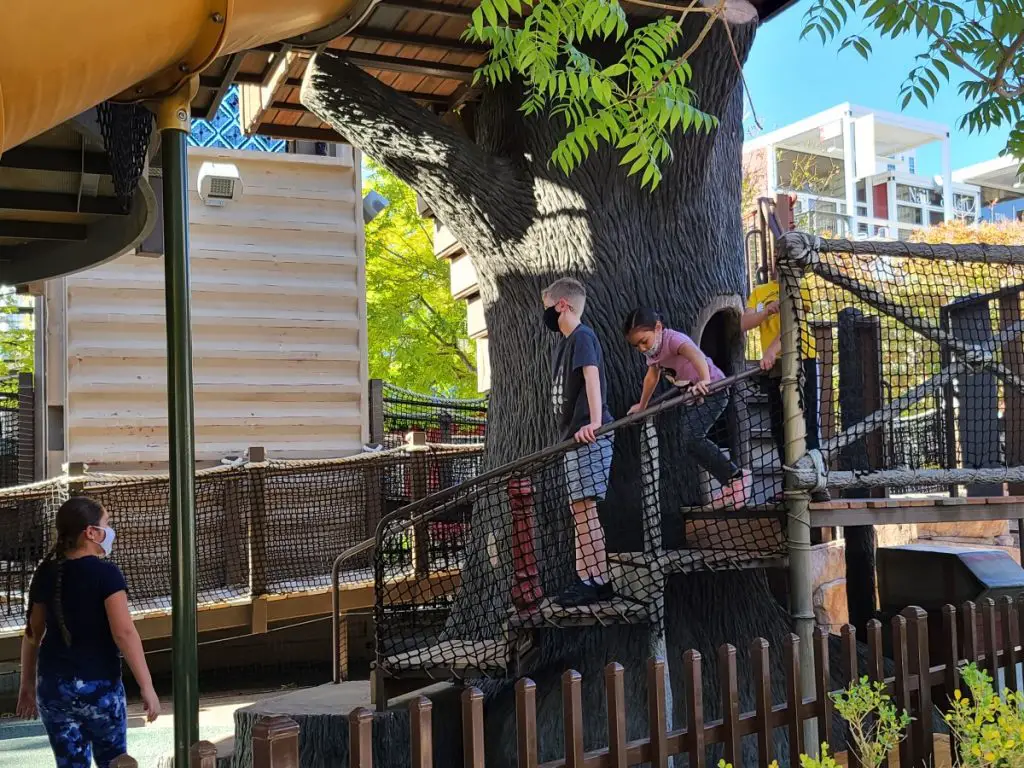 The park is strict about monitoring coming and going from the play area and requires a parent inside the fence or sitting at the fence entrance for kids 12 and under.  The kids will have a great time and parents can order from the surrounding restaurants, both food and drink.  We have enjoyed Bin 702 both times – check out their charcuterie plate!
You will need to get a ride as this location is a 10 minutes drive from the Strip.  You will want to check the calendar for special events as they host outdoor music as well.  Children are only allowed in the park until 9pm.
Red Rock National Conservation Area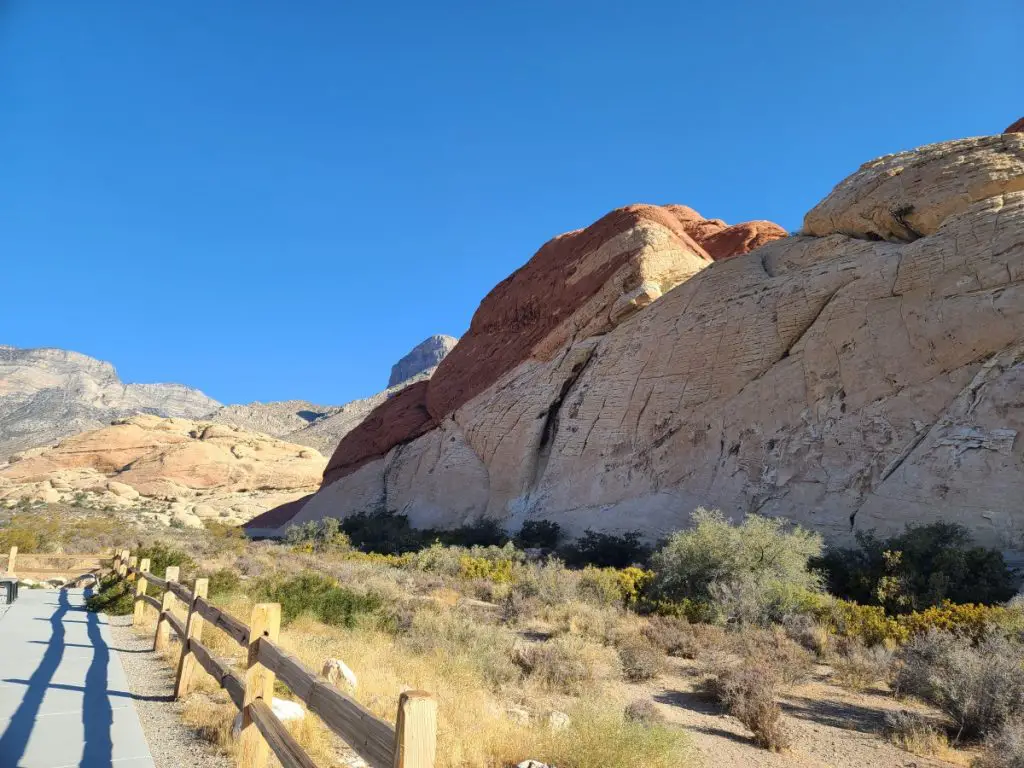 Red Rock National Conservation Area is located just 30 minutes from the Strip.  We chose to rent a car from one of the many rental locations available on the Strip (Hertz at the Cosmopolitan in our case) and drive out.  Visiting here gives the kids a taste of the what the area is truly like without the manmade oasis of Las Vegas – a desert.  The beautiful rock variations can be observed from the scenic loop drive which is a windy one way road.  There are also countless hikes of all lengths.  Be sure to get a map from the Ranger at the entrance.  You will also want to check the weather in advance as there can be some variation from within the city and you'll want to have layers available.
Hoover Dam
The Hoover Dam is a site to take in.  Located 45 minutes from the Strip, your visit can be anything from a drive across the dam, park in a paid parking lot and walk around or take a tour of the tunnels within the dam facility.  The history of the project will be interesting to elementary and older kids especially if you use your drive time to fill them in and they have some background knowledge when they encounter its grandeur.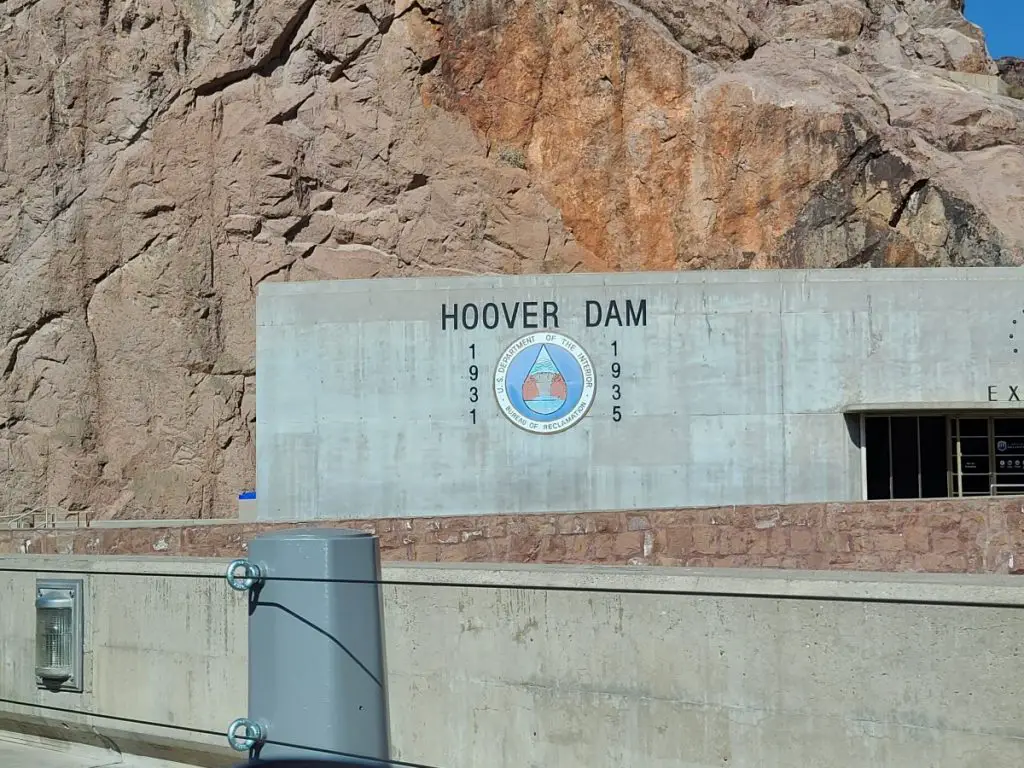 Lake Mead was created by the building of the Hoover Dam and offers various recreational opportunities as well.  Visitors can swim, boat, cycle, and hike.  If you drive across the dam, you will be in Arizona which may be fun for kids to discover.  If you just drive across, this is a free activity.  If you're looking for something to eat, visit Boulder City, NV, which was created for the workers who built the Dam.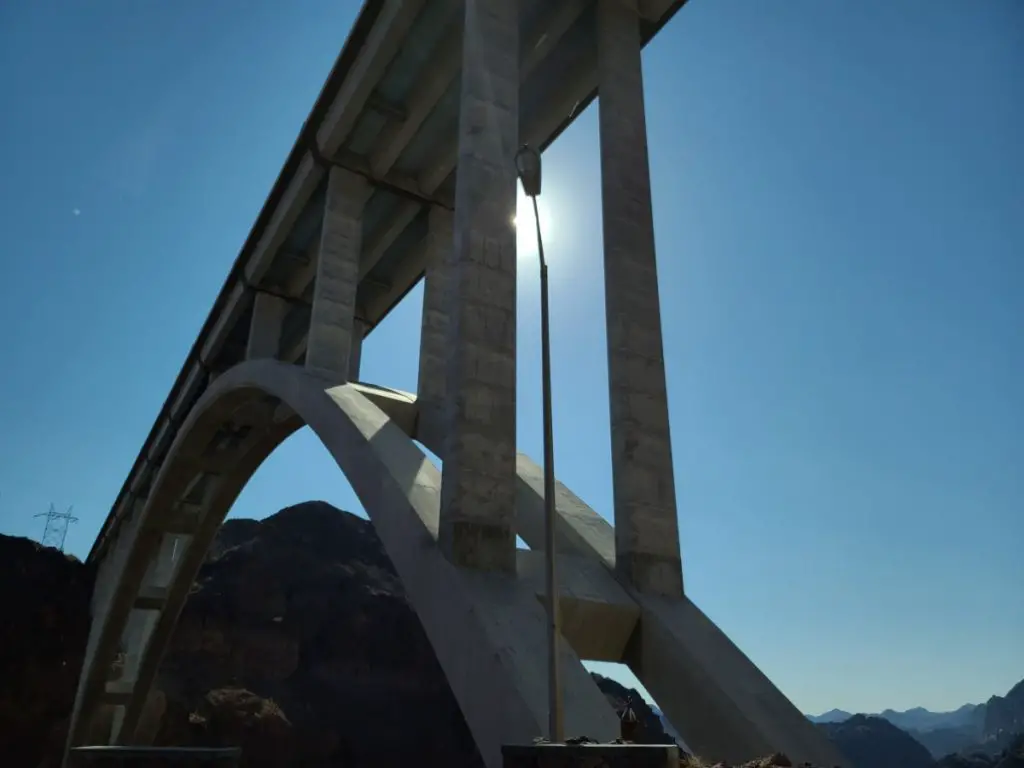 Lake Las Vegas
Lake Las Vegas is a planned community about 35 minutes from The Strip.  Although you may not be looking for a home, it's worth a visit to the community to enjoy its amenities.  Make use of the water based activities that are most appropriate for the age of your kiddos.  There is a grocery store where you can collect picnic items and take a two hour electric boat rental on your own.  With older kids, enjoy the Aquapark which is available on an hourly basis.  You can also rent kayaks, stand up paddleboards, and pedal boats.  Older kids can also rent a jetpack to try on the water.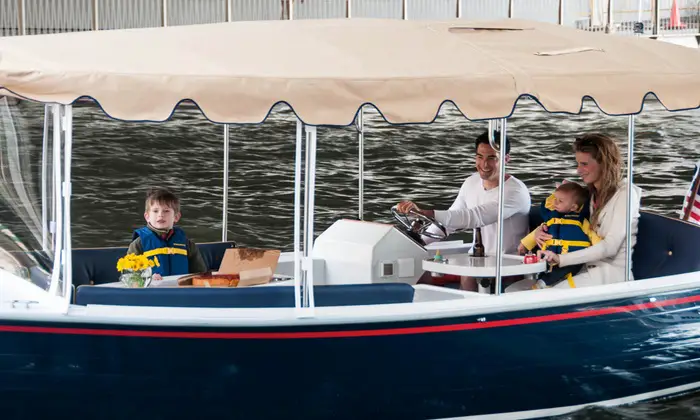 There are a variety of restaurants and a gelateria located in the MonteLago Village that can accompany your visit.
Bonus Tip: Just Walk
Assuming you're visiting outside of 95 plus degree weather, just walk down the Strip.  It's amusing how close everything seems while still being a LONG walk away.  The Stratosphere to Mandalay Bay is over four miles walking distance!  There's so much packed into those piles and always somewhere to look, shop, and eat.  When all else fails, put on your tennis shoes and hit the Strip.