Las Vegas is known for many things, but family vacations may not be the first thing that comes to mind.  Particularly for American families, it deserves another consideration.  Families are often looking for ways to squeeze sun and fun into school breaks and long weekends at the same time as many other families are looking for the same thing.  This causes the most popular destinations to spike in price and be overcrowded.  Las Vegas can offer a reprieve from that as traditional vacation times like Spring Break do not have the same impact on the city.  Should you consider taking your kids to Las Vegas?  Absolutely!  Here are just a few reasons why:
Direct Flights

Family Friendly Resort Amenities

Take on the Day, Let them have the Night

Weather

Affordability

Surrounding Attractions
I think you will see how Las Vegas solves so many family vacation planning challenges without requiring a lot of creativity or compromise.  Las Vegas was built to be an oasis.  Let's talk about how it can be just that for your family.
Direct Flights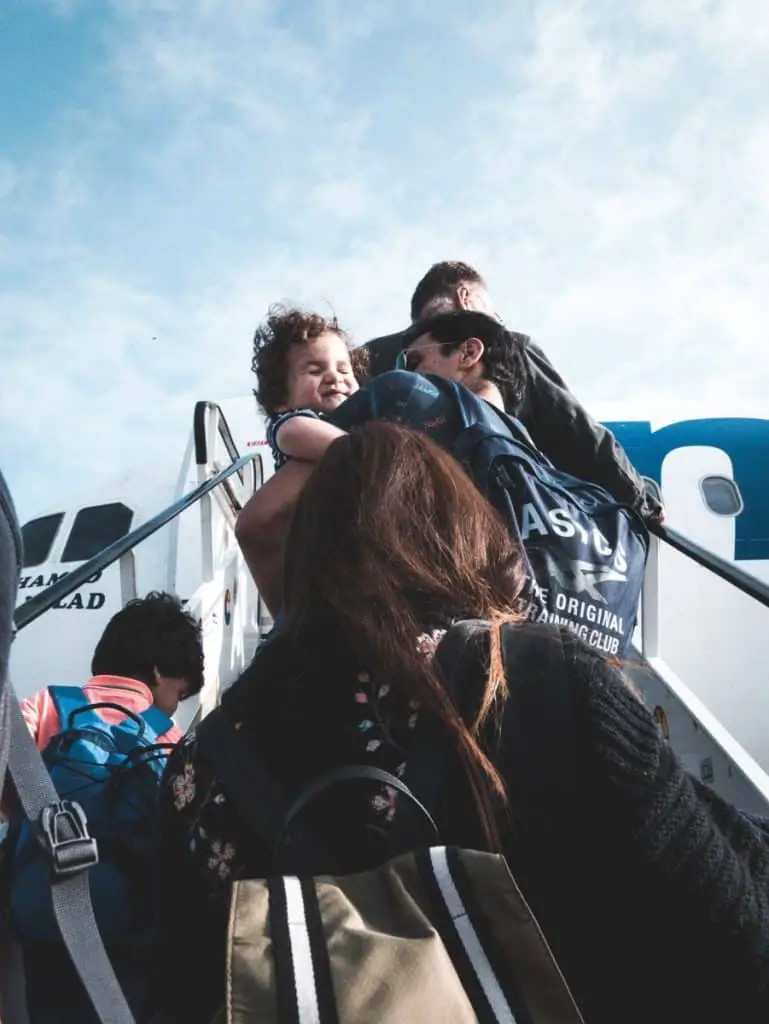 There are currently over 130 direct flight routes that arrive at McCarran International Airport weekly or more frequently.  At present, 114 of these are domestic flights.  Take a look at this Flights From Map to see what your airport options might be and how long each route takes.  Longest domestic flights are just under five hours with a majority of the country being able to reach Las Vegas in three hours or less.
If you have flown with kids before or are looking to try it out, you know that direct flights offer a stress relief in reducing waiting and entertaining times for kids.  In our local market, the direct flight is offered by Allegiant (a budget carrier) and the times of the flights are not "ideal" in that some departures are after our kids bedtimes.  We have always been proponents of flying at night, particularly for long flights.  With this quick flight (and depending on the sleep personality of your child), you will want to consider if making the hotel transfer late at night works for your family.  Getting a safe and easy Uber or private car is easy to do at McCarran (LAS) at any time of day.  With most hotels offering digital key cards now, it's easy to slip into your room and get settled.
Direct flights offer the advantage of cost savings as well whether you are on a major or smaller airline.  With the frequency of flights and abundance of airport options, Las Vegas may offer you more cost competitive flight pricing than other family friendly, warm destinations.  This is especially true of flight pricing during school breaks.
Family Friendly Resort Amenities
What is more family friendly than a city that has rebuilt replicas of worldwide travel destination icons like the Eiffel Tower, pyramids, Sphinx, icons of New York City, the canals of Venice, a volcano, and more?  To me, these places make more sense with kids.  It can feel like a gigantic Disney campus!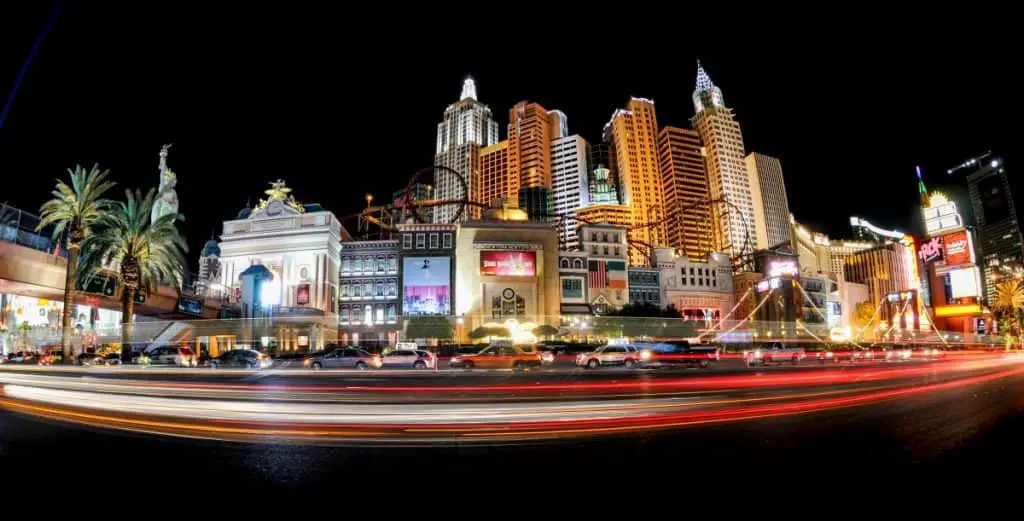 Among the amenities kids will appreciate more than adults are the luxurious and elaborate pools.  The top of our list is the beautiful pool at the Mirage with its winding edges, waterfalls, and surrounding palms.  Like many pools in Las Vegas, there are chairs scattered and it's easy to find a corner for your family to set up at the pool with cocktail servers offering lunch and virgin pina coladas without leaving the water or your belongings.  Mandalay Bay Beach is an aquatic center with a wave pool, lazy river and a lagoon great for families.  The Bellagio pools offer space and elegance as the seating is spaced out and the pools are generally calm and always gorgeous.  There are many more resorts that offer beautiful pools.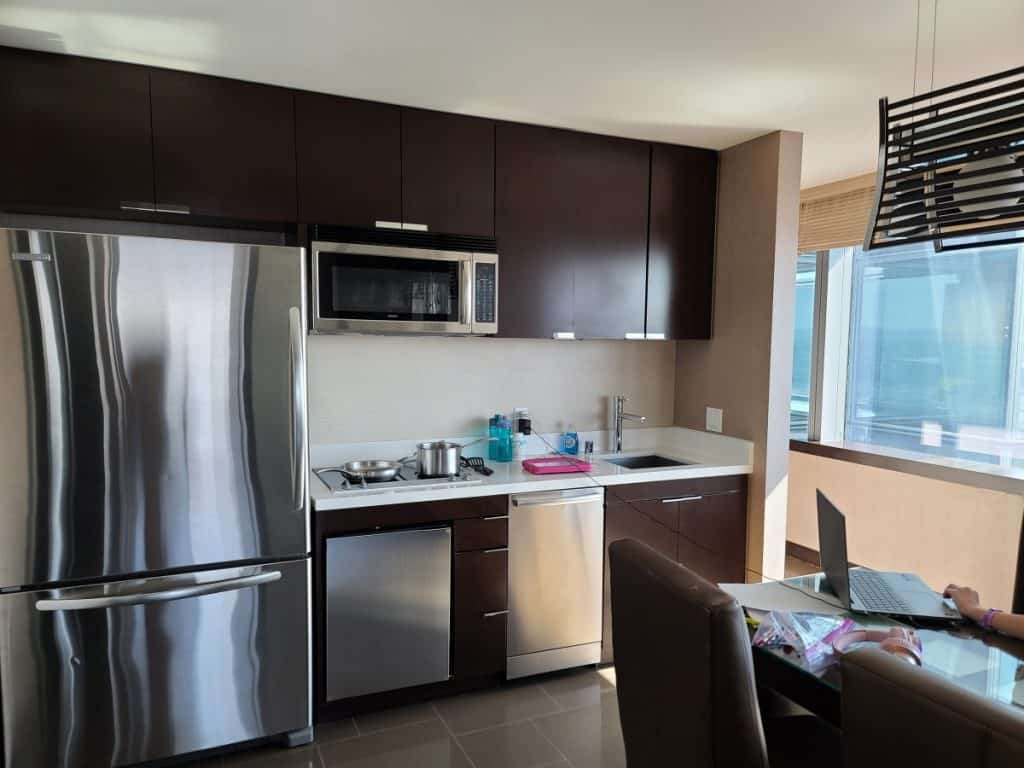 Several hotel properties offer 1-3 bedroom suites with kitchenettes.  One of our favorites is the Vdara which has several different suite configurations.  Already free of the casino vibe, but benefiting from all of the amenities of neighboring Aria, Vdara is a more laid back, but luxurious option.  We have enjoyed the City Corner Suite which offers a separate bedroom from the living room, massive bathroom, and kitchen with full size fridge, stove top, microwave, sink with disposal and dining table.  While staying here, we were able to comfortably eat breakfast in our room (even cooking eggs), store cold snacks and drinks, and settle for Macaroni and Cheese when everyone was too tired to go out.
Take on the Day, Let "Them" have the Night
Whether your family is full of early risers (like ours) or those that prefer to sleep in, if you leave your room before lunch, you will have the advantage over many Las Vegas visitors.  Most attractions in Las Vegas open at nine or ten in the morning which offers families a lot of time on the Strip or at these attractions before adult visitors trickle in.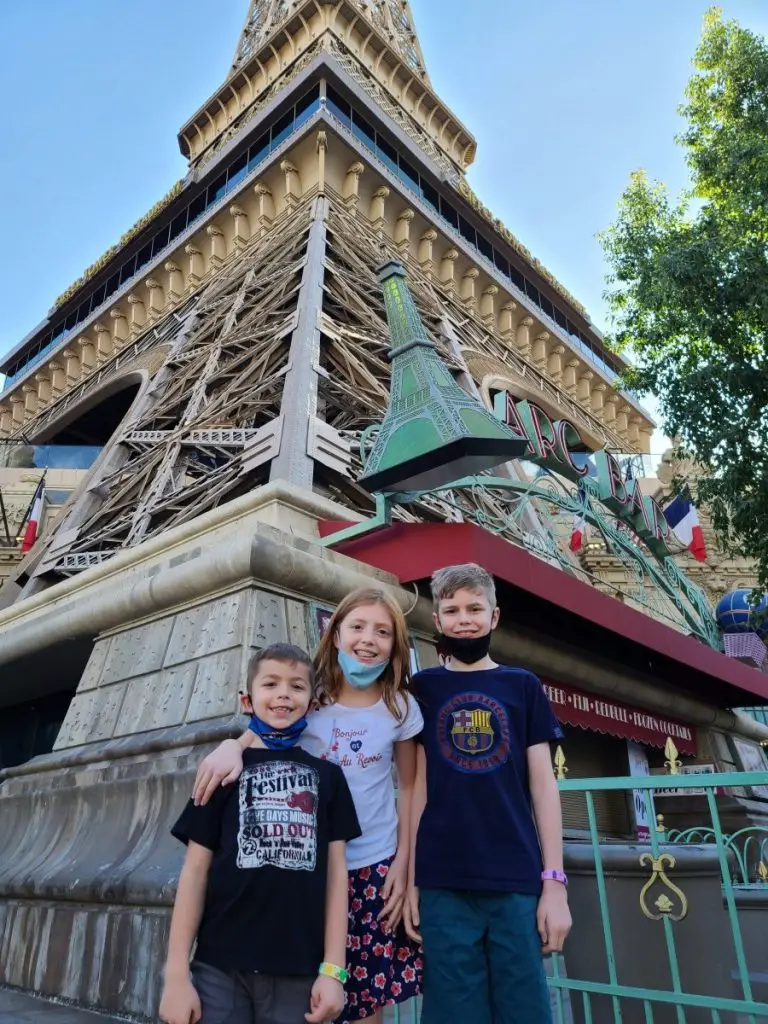 It works best for our family to go out for breakfast or eat a quick breakfast in our room and plan activities in the morning through early afternoon, return to our room for a break and regroup for dinner or a afternoon/evening show/activity.  We are typically in our room between 6-9 PM to enjoy some family TV time.  In contrast with our adults only visit, we feel this offers us a reprieve from larger crowds particularly when staying in a casino hotel or walking on the Strip.  Of course, this is just what works for us.
Weather
There are few locations in the United States known for their year round warm to hot weather.  November through February would be considered mild temperatures with other months warming for pool season to truly hot mid-summer.  If visiting Vegas in July or August, you must consider how little walking outside is feasible as the heat can be seen rising from the sidewalks.  We have found kids need more breaks and lots of water during that time of year.
It also has to be considered that even in the cooler months of the year, the Las Vegas sun should not be underappreciated.  Although you may not feel like taking a dip in the pool, siting outside with the sun shining can be very enjoyable.  If traveling between November to February you will want to check whether the hotel is closing part of their pool area during this slower season.  The months of April, May, early June, September and October are considered the most ideal months to visit.
Affordability
Combining that beautiful weather and Vegas's less traditional reputation as a family destination, you can find affordable flights and accommodations most of the year.  The flights will trend higher during those months mentioned above as the "ideal months to visit".  If you can create a flexible schedule and don't anticipate spending an entire day by the pool, the "off-season" times can be quite affordable.  Spend the morning at the pool in August and use Ubers to get around rather than hitting the hot pavement and you will find better deals on hotels and shows.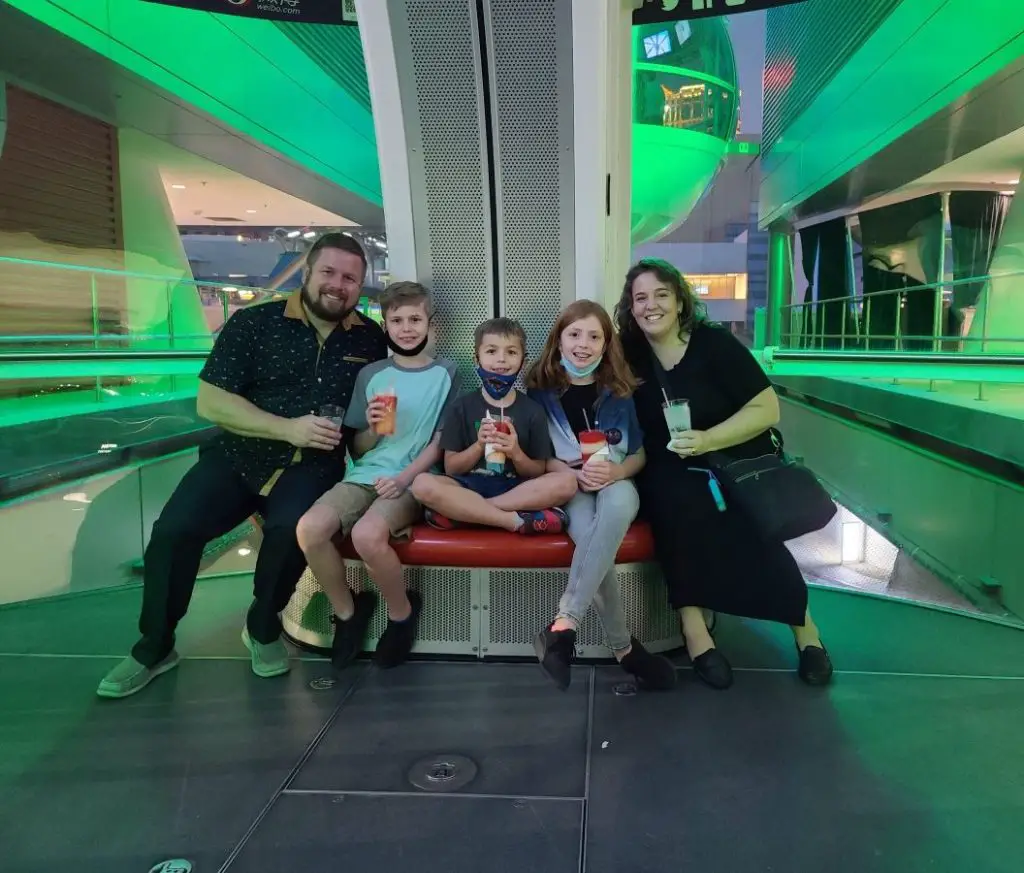 No matter when you visit, Vegas is always offering "deals".  There are lots of sites out there about dining deals and affordable dining if you want to search it out.  I recommend stocking up on breakfast items and snacks for the kids as well as carrying your own refillable water bottles to keep emergency purchases down.  Dining right on the Strip can be pricey and hard to find a quick bite for under $15, but there are lots of finds just off the Strip or in other parts of Las Vegas that reflect prices you might see elsewhere.
Consider less popular show times (especially family friendly shows with afternoon times) or show discount sites to get a deal.  You may have to flexible to score really good prices with day of sale sites.  Check out the following sites for discount tickets:
Honestly, walking the strip and visiting the hotels can be some of the best inexpensive entertainment in Las Vegas.  There is no ending to what you can see and with kids (as long as they are kept in the snacks and water), there is always an adventure to find.
Surrounding Attractions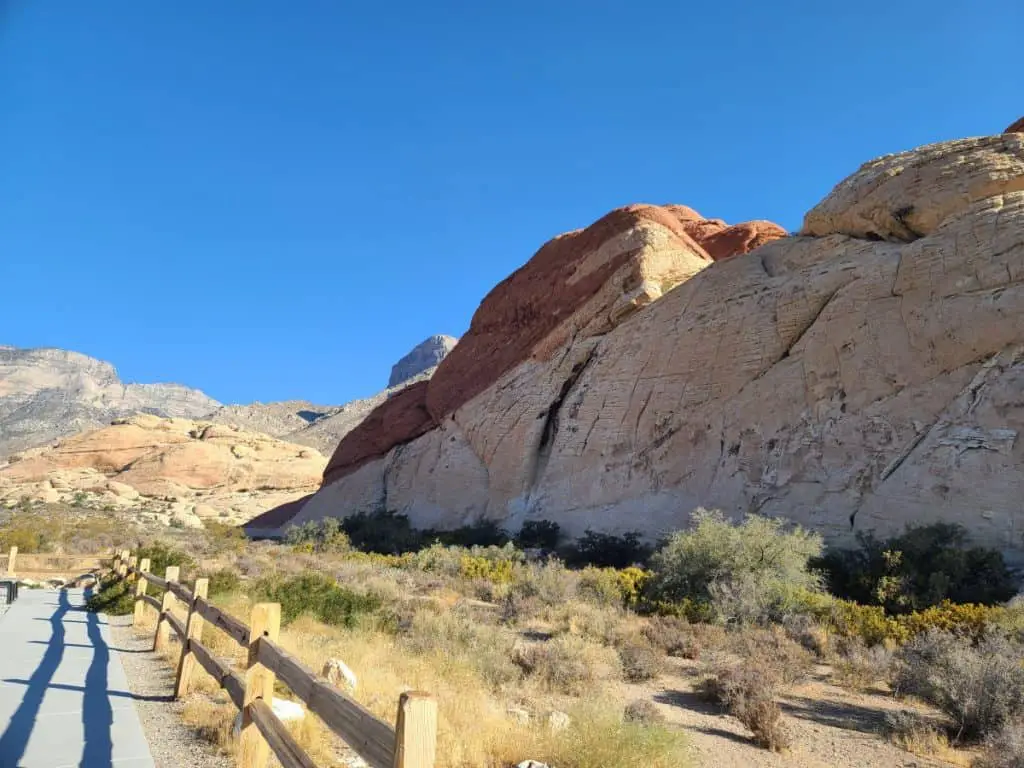 As adults planning a trip to Las Vegas, you may feel two or three nights is plenty of time in a "city that never sleeps".  However, with consideration of the surrounding area, booking a longer trip allows you to venture out to the many attractions within a short trip from Las Vegas.  Some of these include:
Hoover Dam/Lake Mead Recreational Area: 30 minutes
Red Rock Canyon National  Conservation Area: 30 minutes
Grand Canyon: 4.5 hours
Valley of Fire: 1.25 hours
Death Valley National Park: 2 hours
Bryce Canyon National Park: 4 hours
Zion National Park: 2.5 hours
Los Angeles: 4 hours
Sloan Canyon National Conservation Area: 30 minutes
Mount Charleston: 45 minutes
You could incorporate some of these destinations into flying out of a different airport to extend your trip or just take a day trip.  There are multiple tour companies offering day trips if renting a car isn't your thing.  Car rental is quite efficient on the Strip with rental locations dispersed throughout.  We recently used the Hertz location found in the parking garage at The Cosmopolitan for a quick and easy pick up and return.
Your Next Visit
As you can see there are many reasons Las Vegas makes a family friendly destination to just get away for the weekend or avoid the Spring Break crowds.  I would love to hear about your family trip and what family friendly tricks and tips you may have discovered.
"Viva Las Vegas!" – my kids in every elevator and every time we hit the Strip.