Nearly every chain restaurant you can imagine is available on the Las Vegas Strip for an easy way to feed hungry kids.  However, if you are like me and would like to enjoy some of the restaurants unique to Las Vegas or find dining experiences rather than grab McDonald's (don't think my kids didn't try), there are many options that are both comfortable and delicious.  It's also true there are many restaurants in Las Vegas that don't feel very kid-friendly, both in ambiance or price tag.  We'll cut out the work for you to find those that feel welcoming to little ones and leave you a satisfied diner.
Here's a list of options to check out that will please everyone's palates:
The Henry at Cosmopolitan
Sugar Factory
Peppermill Restaurant and Fireside Lounge
Canaletto at Venetian
Gordon Ramsay Burger
Maxies at The Linq
Mon Ami Gabi
Ping Pang Pong
La Strega
The Pub
Food Courts
These restaurants are located on and off the Las Vegas Strip.  Those located off the strip are ten minutes or less by car.  Discover these opportunities for a fun, tasty family friendly meal:
The Henry at Cosmopolitan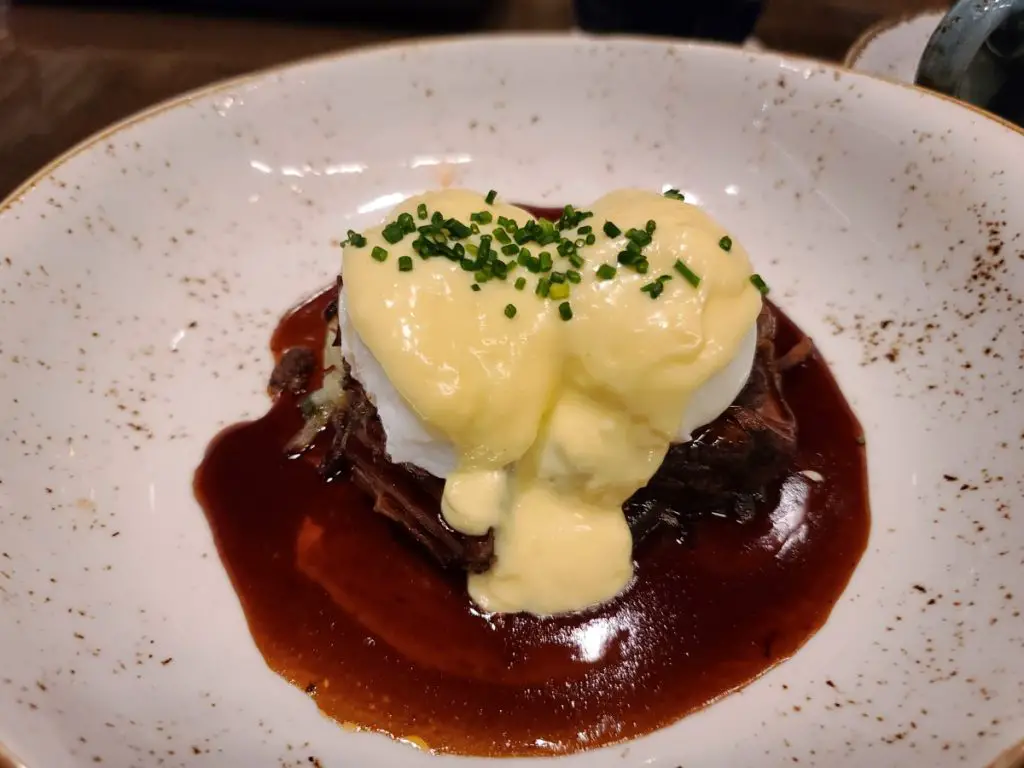 From the moment you enter The Cosmopolitan, it's clear to see that it caters to grown ups with a lounge vibe and trendy restaurant options.  Don't underestimate the option for family dining here.  Start your Las Vegas weekend off with a delicious breakfast at The Henry.  Located right on the first floor near the Strip side entrance and just off the casino floor, the restaurant flows into the hotel.  It is cool and pulled together, but has the look of a nice "hotel restaurant".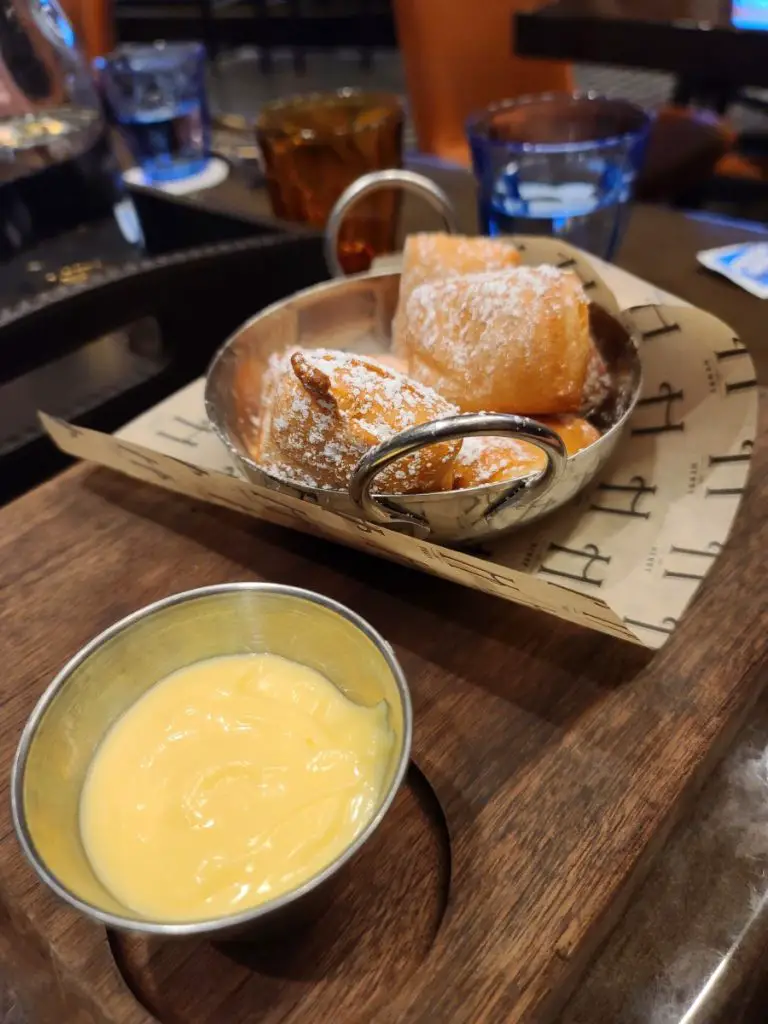 The Southern inspired food is what makes it a great selection.  Kids will love the house made beignets with lemon curd and massive stacks of pancakes in both traditional and brioche.  They can definitely share these orders OR take your extras back for a future breakfast.  They will provide extra syrup to enjoy.
Adults will not be disappointed in the unique offerings either.  I highly recommend the Braised Short Ribs Benedict served over hashbrowns which had me debating how much more I could eat.  The Southern Shrimp and Grits were also out of this world.  The Cosmopolitan keeps menus up to date as they also serve Bruch, Lunch and Late Night Dining.
Sugar Factory
The Las Vegas Strip location is the Sugar Factory's flagship location. The brasserie style restaurant is located within the Fashion Show Mall across the Strip from the Wynn.  Although there are certainly opportunities for adults, such as the rooftop Chocolate Lounge, the main restaurant is great for families.  With sugar in the name, you know the kids will be excited.
No worries that the menu is all about sugar as they serve a variety of salads, burgers, pasta, and other savory items in addition to the over the top sweet treats and adult concoctions for which they are most well known.  If you choose to come just for dessert, you won't be disappointed as they devote as much menu space to their milkshakes and desserts designed for a single or up to 12 people to share.  If you have a tween or teen, they may also be impressed with the celebrity roster that have visited the restaurant.
If you're not down for the Strip meal price of a celebrity endorsed spot, this is still a fun visit for the candy shop and gelato.  If you miss it entirely and are traveling by air, there's also a little Sugar Factory candy store in the center of the airport concourses.
Peppermill Restaurant and Fireside Lounge
The name sounds fancy, but when you approach the building, your first thought will be "diner."  However, it's just not that simple.  Yes, the Peppermill boasts enormous portions served in comfy booths, but that is where the similarities stop.  The velvety purple upholstery and Vegas lighting haze that envelopes the diners lets you know right away this is no ordinary diner.  We learned of the place in the Comedians in Cars episode with George Wallace (a fun Las Vegas moment).
The menu really represents about anything you could want with a expansive breakfast (check out the San Francisco Special), to a variety of burgers and sandwiches (French Dip for me), quick appetizers and several soups and salads (think Detox Salad to clean up your Vegas eating).  It's a great opportunity to enjoy a Vegas institution that has been holding firm on the Strip since 1972 and is kid friendly.  The kiddos will be extra pleased if you order one of their colossal sundaes.
Canaletto at Venetian
If you've read my 15 Family Fun Las Vegas Activities, you may remember my mention of this restaurant.  Visiting the Canal Shoppes at the Venetian is like a little getaway within Vegas.  Canaletto is a great choice to accompany your family friendly visit.  Canaletto feels like an open air restaurant situated right on St. Mark's palazzo.  Our service was complete both times with Italian servers (one of which we would have adopted as our own "Nonno" grandpa).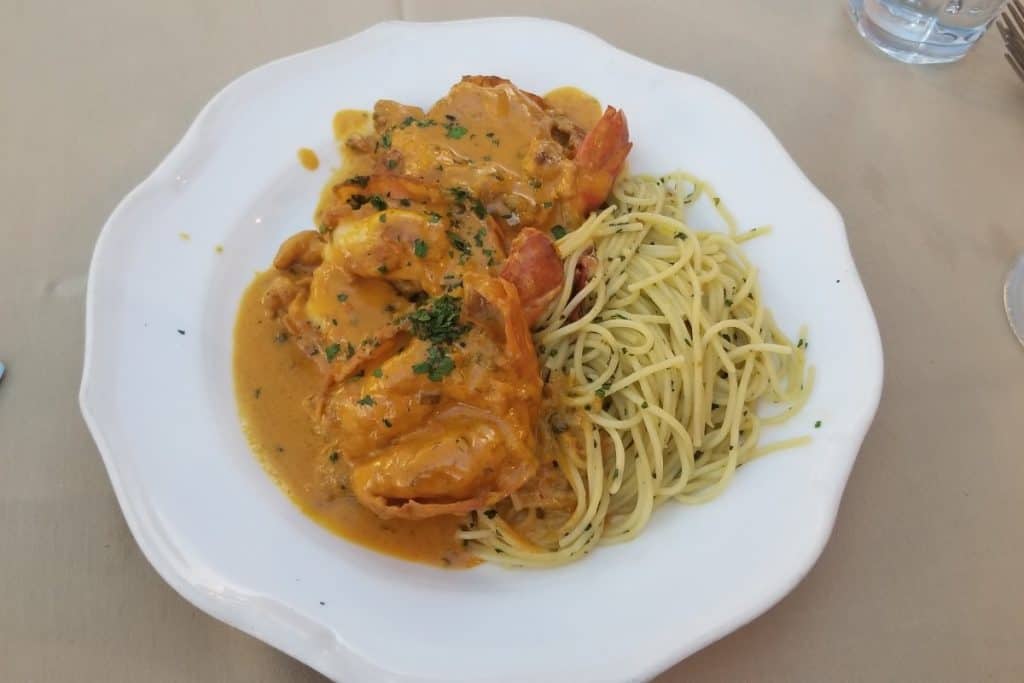 Our kids enjoyed Margherita pizza and eating from our pasta dishes.  The carpaccio and burrata are also both great choices for a grazing style starter.  I think this is a particularly good pick for smaller children as the "palazzo" fee provides for plenty of noise and activity, making parents of fussy babies less uncomfortable and with built in "walk around" space if needed.  There is planned entertainment in this square area (minstrels, jugglers, etc.) which we were able to enjoy around our lunch.
Gordon Ramsay Burger
Located within Planet Hollywood, Chef Gordon Ramsay Burger delivers gourmet burgers and other snacks to make parents and kids smile.  They do not offer a separate kids menu so you may want to consider that in your budget.  The environment is contemporary with cozy seating.  There is a lot of excitement and it can be loud during busy times.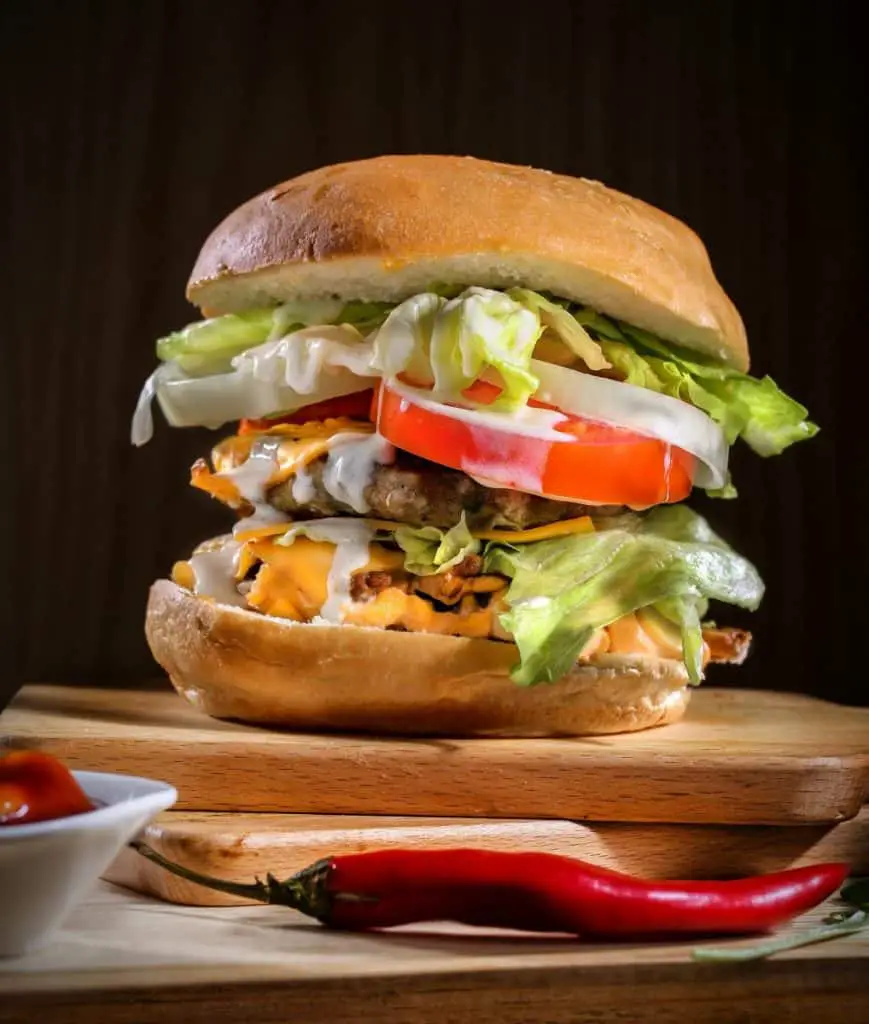 Kids are amazed especially by the full foot long hot dogs, but can also find a traditional cookout hamburger and plain fries with ketchup.  More adventurous kids and adults will love the perfectly cooked designer burgers like the Truffle Burger with pickled shallots, truffle butter AND truffle aioli. Don't overlook the Blue Burger featuring fig jam, bleu cheese, cider vinegar reduction and spicy mayo. The Sticky Toffee Ice Cream Bar gives visitors a bit of an English flair that Ramsay's restaurants tend to incorporate.
Maxies at The Linq
While checking out The Linq Promenade or after riding the High Roller, swing by Maxie's.  Maxie's serves three meals per day and offers a diner style environment with upgraded versions of diner classics.  You won't find multiple types of Avocado Toast on most checker-floored diners and that's the contrast you can expect at Maxie's.
The casual environment is great for families, but the kids will really love the Fruity Pebbles French Toast and Cotton Candy Pancakes.  For breakfast, check out the Chorizo and Guacamole Benedict served with Honey Lime Chipotle and Hollandaise.  For lunch and dinner, you can expect burgers, fries, milkshakes and piled high sandwiches like BLT, Turkey Club or Hot Pastrami.
Mon Ami Gabi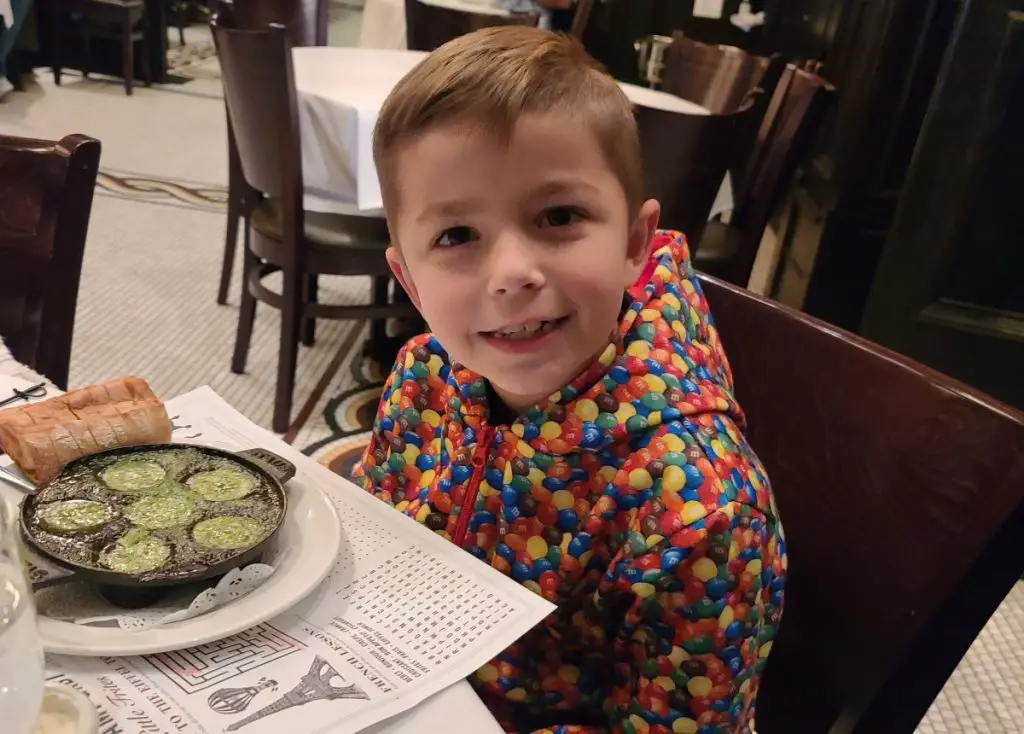 Part of a handful of sister French Bistros, Mon Ami Gabi, is the most classic and expected French favorites.  Unlike many of the finest French restaurants in Las Vegas, Mon Ami Gabi make French cuisine accessible and comfortable for families.  The environment is romantic, but not pretentious.  The outdoor patio overlooks passersby walking the Las Vegas Strip.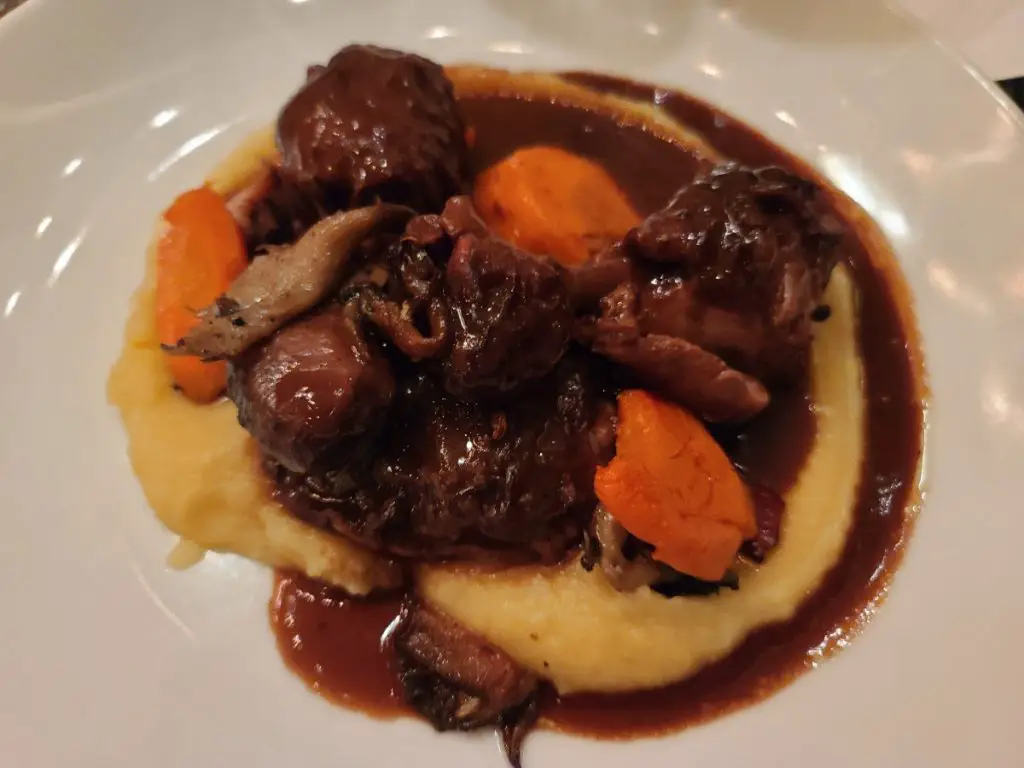 Mon Ami Gabi offers a children's menu with items you would find on others in addition to a child's size Steak & Frites.  Children may be called to try out the traditional menu if they love French specialties like our son does.  He loves to pop those little escargot out and rated these as delicious. We were pleased with the onion soup gratin. This is a good option if you are craving a steak (in a variety of preparations), but don't want to take the kids to a high end steakhouse.  Or perhaps you will get lucky to enjoy Coq Au Vin as a feature.
Ping Pang Pong
Ping Pang Pong is located about a 5 minute drive off of the Las Vegas Strip at the Gold Coast Casino Hotel.  You do have to cross through the rather smoky casino to get to the restaurant, but if you call ahead, they will put you in their VIP line so you will be sat before those waiting in the walk up line.  Chinese food is their specialty and they were even named in the top 10 Chinese restaurants in the country by Travel & Leisure.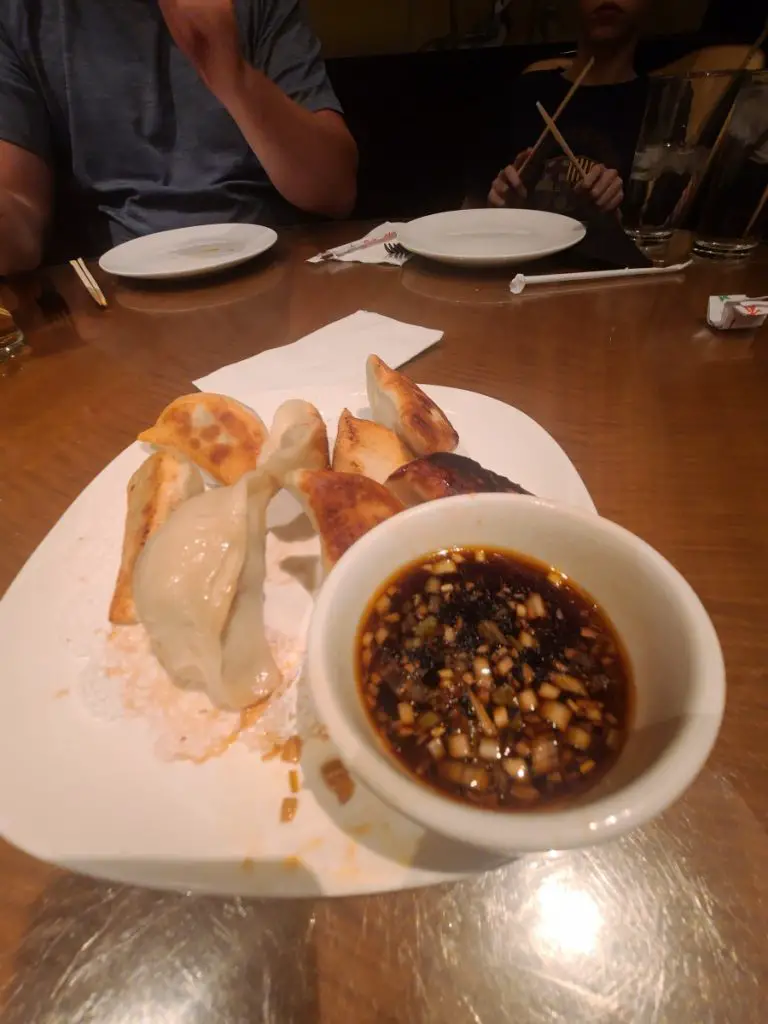 You can have two different experiences at Ping Pang Pong.  For lunch, the restaurant serves a variety of dim sum, but the dinner menu is broader.  This is a real value in comparison to restaurants on the Strip.  Being used to the small pot stickers normally served in restaurants, we ordered two orders to find them almost fist sized hand made delicacies.  We also found every entree to large enough to feed at least two people, maybe more.  I would order two entrees at most for my family of five upon my next visit.  Everything was tasty and it was entertaining to try a few different flavors that we typically experience in our home Chinese restaurants.
Trattoria La Strega
Visiting La Strega is a bit more of a commitment with a 20 minute drive from the Las Vegas Strip, but it is worth it for families.  It is lovely and sophisticated serving seasonal Italian dishes.  It's one of those few restaurants that you assume upon first glance would not be family friendly, but actually offers a kids menu.  What better type of cuisine to experiment with taking kids to a nicer restaurant than Italian where everyone is hungry then find themselves happy.
If you request a kids menu, your kiddo will be able to choose a type of noodle and sauce along with gelato.  In the meantime, parents can enjoy the seasonal pastas, pizza, seafood, etc. that are presently gracing the menu.  Oh, and it's a boisterous environment where you again will not have to worry about your child announcing too loudly that they need to go to the potty.
The Pub is a sports bar…or is it?  From the exterior along the walkway between Vdara and Aria, The Pub looks like an everyday sports bar, but inside is a different story.  Away from the bar is a fun, contemporary, British style eatery with all your American favorites.  Yes, it may be a bit of a mish mash as I'm describing it, but it was an absolutely perfect, laid back spot to grab a meal or watch a game as our family enjoyed.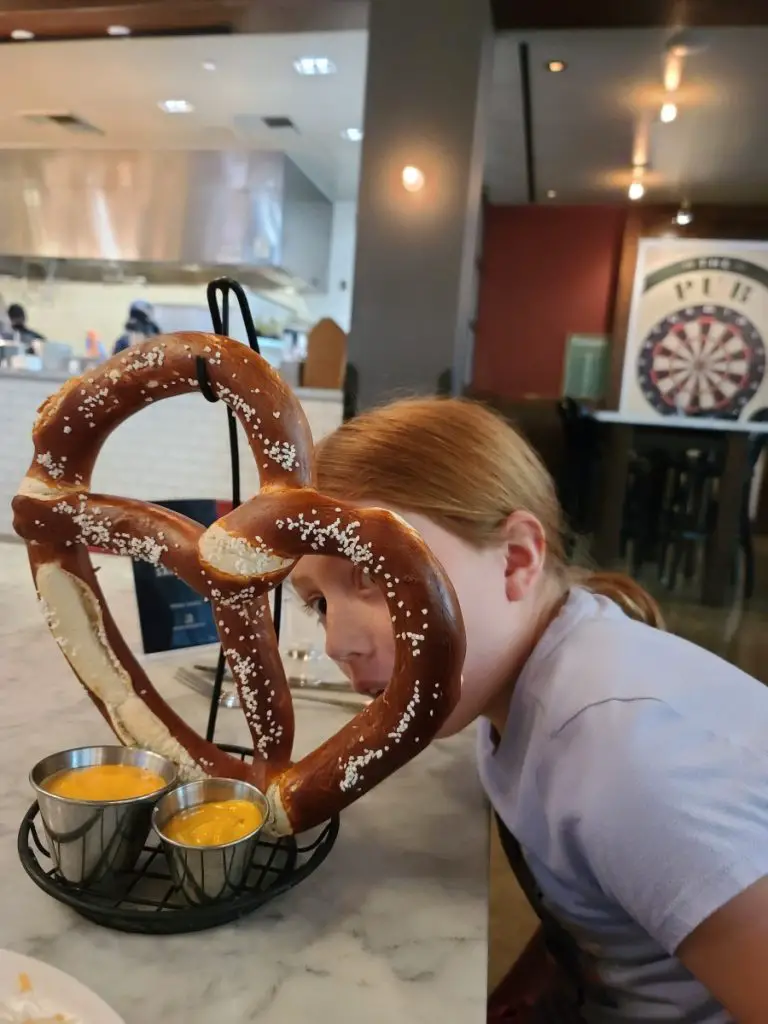 We chowed down on their sampler which included tasty fried goodies with just the right sauces.  Their far larger than your head Giant Pretzel was a winner as well.  Depending on when you visit, you can enjoy a Steak Sandwich with melty swiss and caramelized onions or IPA Cheddar Brat made with their featured Brewery's IPA.  It's fun and easy environment is convenient, especially if you are staying in the surrounding hotels.
Food Courts: Block 16
Although I've avoiding promoting any of the easy fast food joints that may very well save you in a pickle, I cannot ignore food courts as a whole.  The planner parent in the bunch knows a food court can save us when a picky eater isn't interested in our plans and usually everyone leaves happy.  Don't forget to include at least one food court in your visit to Las Vegas.  My top pick is Block 16 at The Cosmopolitan.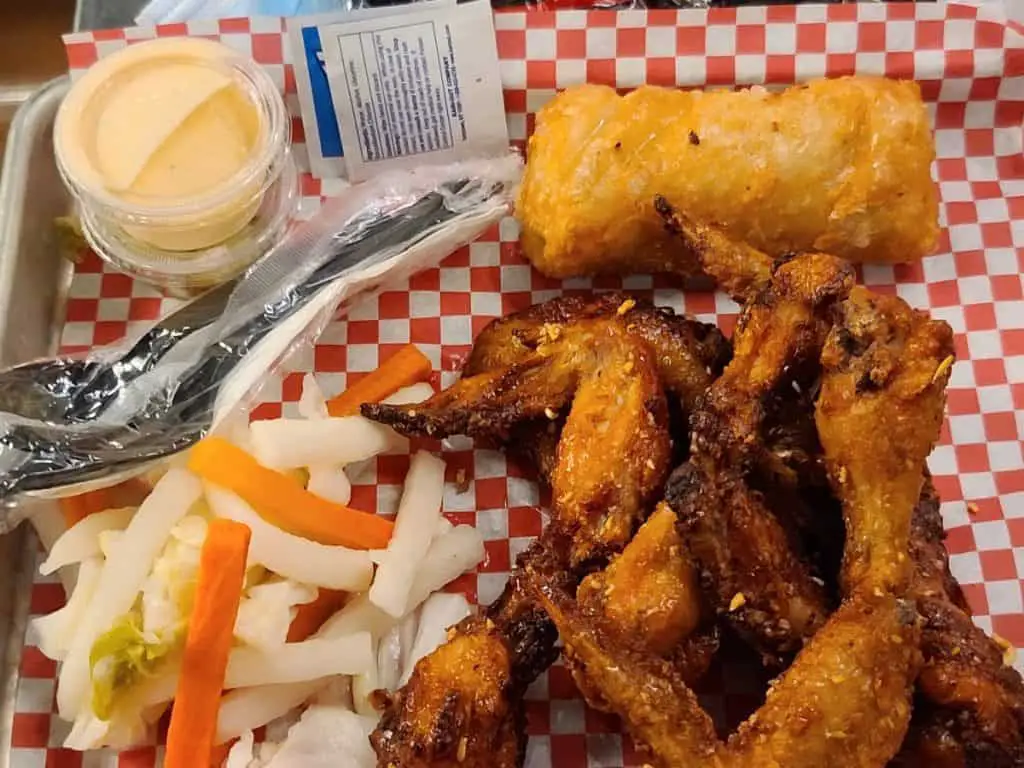 Returning to the funky, sleek Cosmopolitan Hotel, you will visit the second floor to find Block 16 which is currently home to restaurant specializing in barbeque, sliders, hot chicken, pork sandwiches, sushi, and Pok Pok's Vietnamese Fish Sauce Wings (my favorite).  Grab a table and make the rounds.  Most counters offer a variety of beverages, sides, and desserts to satisfy anyone in your crowd.  It is pricier than your local mall food court so some coordination might help save your budget.
Happy Eating!
As I mentioned, dining is an important part of the travel experience for me.  I hope my suggestions make your family visit to Las Vegas that much more delicious.  If you have additional suggestions for my list, please send me a note.