Among America's sixty-two designated national parks, there are some that truly stand out above the rest.  Glacier National Park is certainly one of our great parks.  Planning a visit to Glacier does require some consideration due to weather, location and itinerary planning.  As with any mountainous area, there are hiking trails that vary widely in elevation and difficulty level, but Glacier National Park also boasts many beautiful lakes, several water and land activities and lodging and dining options.
This article assumes you are a first time visitor traveling with children.  In planning your activities, you will want to consider the ages of your kids, their stamina for physical activities and interest level of everyone in your party.  Our family aspires to be able to handle increasingly challenging hikes in future visits, but there are plenty of options for beginners or those with physical limitations to make a first visit extremely memorable.
Consider these topics to plan your perfect first visit to Glacier National Park:
Getting There
Season
What To Pack
How To Dress
Family Friendly Hikes
Glacier Tips
Itinerary
Where To Stay
Getting There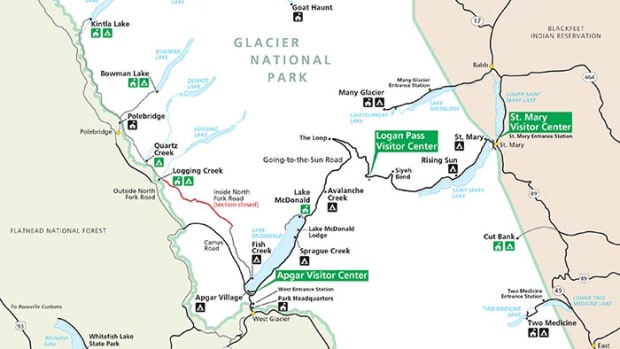 Glacier is located in the Northwest corner of the state of Montana and along the border with Canada.  There is actually a Canadian National Park on the North side of the border called Waterton and together the two parks are designated as Waterton-Glacier International Peace Park.  You will still need a passport (or proof of citizenship and identity) to travel between countries.
The nearest airport is Glacier International Airport located in Kalispell, approximately thirty minutes from the West Glacier entrance to the park.  Visitors may want to compare flights into Missoula which offers different airlines from Glacier International from different hub cities.
We have roadtripped into the area from the East.  Because Glacier has one main road that crosses the park, Going To The Sun Road, visitors must choose whether to stay on the East or West sides or within the Park.  Highway Two follows the Southern Edge of the Park as well as bordering the Northern edge of the Flathead National Forest and is an easy trip to the West Entrances if visitors don't want to travel Going To The Sun Road (GTTSR) in two directions.  Note: In 2020, all accommodations and entrances on the East side of Glacier National Park were closed due to covid-19 and the bordering Blackfeet Indian Reservation.  In this case, drivers on GTTSR had to turn around at Rising Sun (nearest point to the East that was open) and follow GTTSR for the return to the West entrance.
Seasons
Due to its Northern location, portions of GNP close through the coldest parts of the year.  Experienced hikers will traverse the park through most of the year, but roadways like GTTSR will become covered is several feet of snow and become impassable.  For safety purposes, the park services will close portions of the park as weather dictates beginning in October.  For most travelers, the visiting season to Glacier National Park is May through September with May and September being less busy, but with less predictable weather.
It is always important to check trail conditions when planning itinerary and before heading out.  Glacier National Park keeps a Trail Status Report page up to date.  You will also want to note the terminology listed on their page to under the degree of clearing that has taken place in the earlier part of the season.
What to Pack 
Again this section assumes you are a first timer and not experienced hikers.  You will need more gear if you're camping or staying at a campground, but assuming you do not have to carry your own bedding and cooking supplies, the following is a good list of what to include in your backpack(s).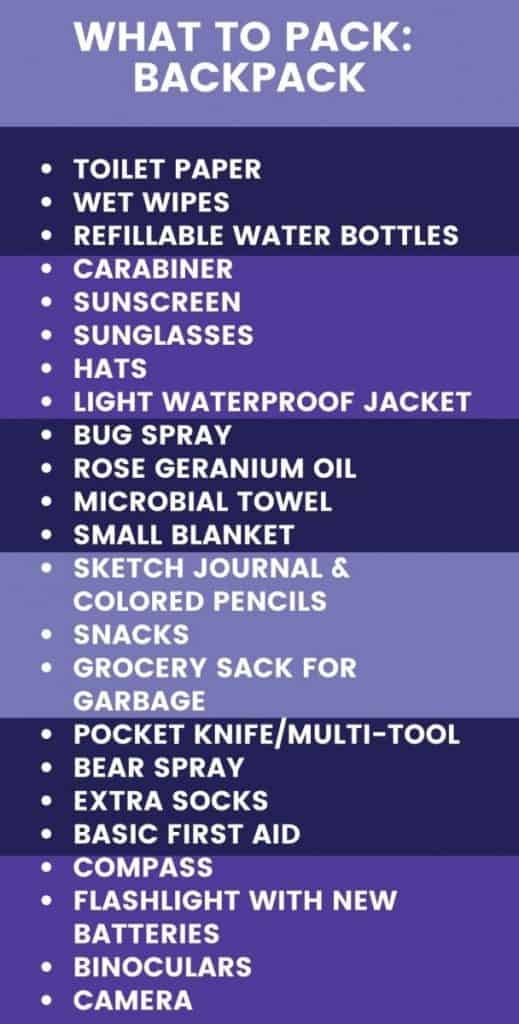 You will notice there is a mixture of preparation items, entertainment, and emergency items on my list.  Some of our favorite snacks to take along are granola bars, nuts, applesauce packets, fun size candy packets (motivational treat), and crackers.  I didn't include meals specifically, but if you are doing a longer hike, we also like to pack sandwiches and quesadillas for a quick lunch.
You can find all of my favorite items to pack for hikes here on my Backpacking Gear page.
How to Dress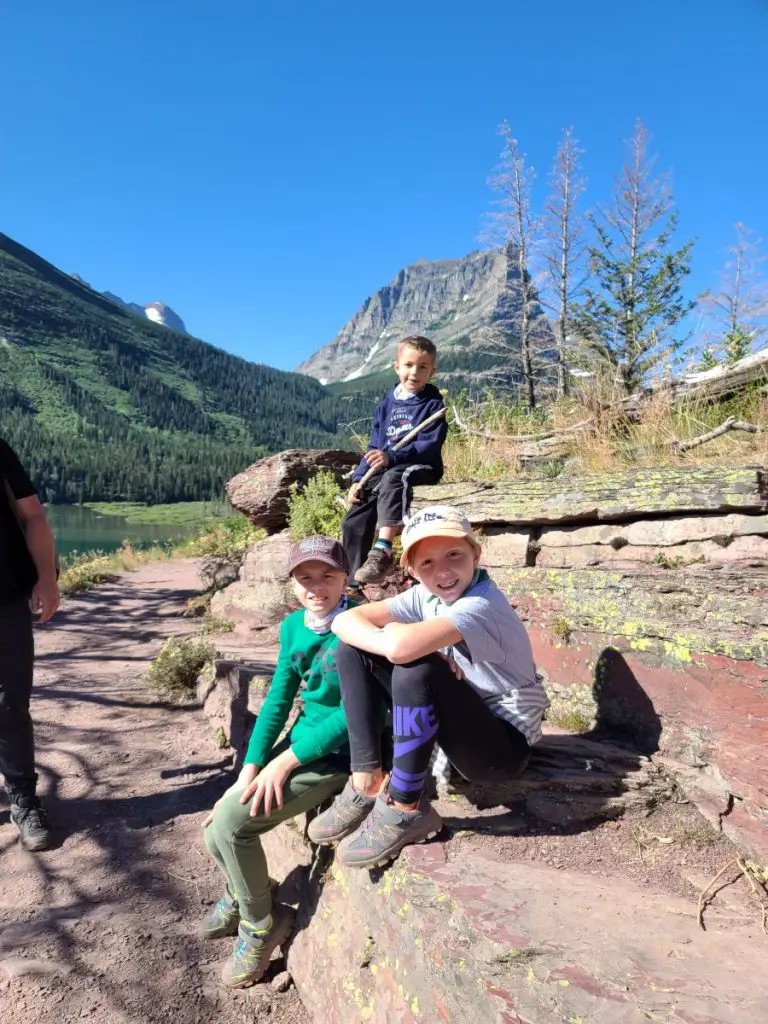 When considering how to dress your family for a trip to Glacier, the most important word is layers.  Since weather varies widely throughout the day, it's important to start off dressed warmer in the morning.  Since traffic can be heavy during the high season, it is recommended to arrive early at the park and this translate to temperatures in the forties even mid-summer.  I suggest wearing comfortable, wicking style pants/leggings with a t-shirt/tank layer covered with one or two warmer layers including a sweatshirt or jacket.  Your waterproof jacket can serve as your top layer.  You and the kids may want gloves or a stocking cap to start the morning as well.
Although I don't support buying extra gear that won't be usable multiple times, hiking shoes or shoes with great grip are really important for hikes at Glacier.  Considering that trails may be damp or slippery during your visit, the hiking shoes are worth the investment.  If you are new hikers, consider affordable style from Amazon like these (link).
Family Friendly Hikes
What determines a family friendly hike varies considerably.  For my family, none of my kids really want to hike more than five or six miles.  They want breaks and need something interesting and we are not doing multiple hikes in a day.  There, that's my qualifier for my suggestions.

Trail of the Cedars/Avalanche Lake: Trail of the Cedars is handicap access as it consists of a boardwalk and dirt path.  Trail of the Cedars is about one mile. If you are also hiking to Avalanche Lake (which I recommend), you will walk half of the Trail of the Cedars on the way up and return to second half on your return.  The maps you will find on AllTrails and on other sites say that this is a 5.7 mile hike.  If you hike to the first clearings by Avalanche Lake, it is only 4.4 miles.  It's a busy hike and best to early and later in the day.  Watching the sun come over the mountains is breathtaking.  It is most ascending on the way up, but not in a steep or particularly challenging manner.  Plan to take breaks with little ones and have your binoculars handy to spot wild life in the clearings on the way up.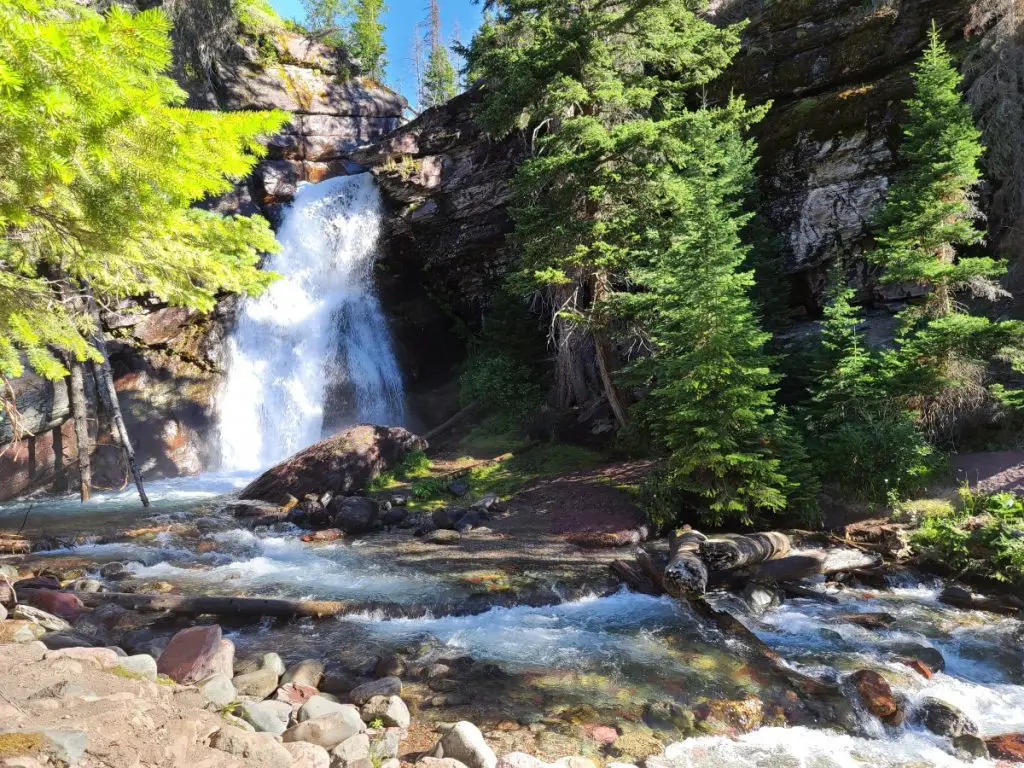 Baring Falls/St. Mary/Virginia Falls: If you want to drive the extent of GTTSR from the West or staying on the East Side, get started early and get to the small parking area by Baring Falls.  It's only about .6 miles to the Falls.  Just beyond the waterfall, you will reach the edge of St. Mary's Lake.  This is a great spot for kids to skip rocks and maybe get their toes wet.  If you continue to either St. Mary's or Virginia Falls, please know that this is a moderate width trail that borders a ledge for most of the hike.  Although the hike is easy, if you have impulsive little ones, there are portions of the hike you may find stressful.
Rocky Point: Once you see Lake McDonald, you will want as much of it as you can find.  Rocky Point is an easy hike on the backside of the lake, away from GTTSR and fewer people.  You can park near the Fish Creek Campground for quick access from the West Entrance and either use a picnic table for lunch or take lunch with you to the edge of the lake during your hike.  This hike is about 1.5 miles.
Hidden Lake Overlook: Just short of three miles, this trail is rated moderate for some steeper steps.  You will be rewarded with a beautiful view and high chance of sighting wildlife.  This is a trail to check on before starting out as it can be closed due to grizzly activity.  Talk with you kiddos about your plan if you spot a bear.  Kids will like the boardwalk built into part of the trail that adds some whimsy to the work they will be doing.
Here are some good websites to research these and other hikes:
Glacier Tips
As with any new place, there are a few learning curve items for you to absorb:
GNP Twitter Feed: Whether or not you use Twitter, be sure to pull up the Park's feed for the most current information on closed parking and trails.  The Park is quite food at keep this information detailed.
Early or Mid/Late Afternoon: This is most important June through August, but if you have a plan to hit popular trails or doing anything that requires parking, you will want to arrive early.  In normal years, there is a shuttle that can take hikers to various trail heads and must be booked in advance.  For the 2020 season, all interpretative tours were cancelled so the parking situation has been horrendous.  For this reason, I recommend in summer to arrive at the park by 6 AM to ensure parking at your trail head of choice.  Many hikers also report spots opening up around 2 or 3 PM.  There are usually tiny lots or turn offs further away from the trail head, but with children in tow adding another quarter or half mile to a trail head can really start you off poorly.
Maps: I suggest downloading AllTrails and considering the annual purchase so you may download offline maps.  This is really handy when telling kiddos how much further we have to go on a particular trail.  There are paper maps available at the entrance gates and also impressive water-proof maps available for sale online.
Breaks: We usually start off with a "first push" distance in mind such as one mile into a five mile hike.  To keep breaks easy, consider downloading a quick game on your phone to play for less than five minutes (such as 20 Questions or Car-tegories).  Also, if it is an out and back hike, plan for downtime at the goal or half way mark such as time to nature journal, eat a meal, take photos, etc.
Wildlife: Please take seriously and respect wildlife.  For us, the possibility of seeing a large animal or one that is rare in our area is a very enticing part of visiting Glacier.  Unfortunately as parks become busier, it seems there are more visitors who don't do their research on bear safety.  Don't leave garbage especially food on the trails.  Know what you will do if you encounter a bear.  Stay away and follow the distance guidelines issued by the park.  Carry bear spray and understand how to use it (take in a couple YouTube videos).  If you are flying in, consider renting bear spray locally since it is not allowed in luggage on airplanes.
Park Pass: You can purchase your Glacier park pass in advance for quicker entry into the park.  If you purchase it at the park, all of the funds are directed to Glacier versus distributed among the National Park System.  If you are arriving at a less busy time, this is no big deal, but if you have a goal to reach an early morning hike, having your pass ready to go can be a time saver.
Itinerary – 5 Day Visit
For this itinerary, I am assuming you are staying on the West side of Glacier National Park.  You can simply flip the priority of some locations in your stay if you are staying on the East side.
Day 1:
Check into your lodging.  Drop your belongings if it hasn't been too long of a day yet and make your way into the park for your first look.  This afternoon/evening, visit Apgar Village/Visitors Center which is located very near the West Glacier entrance gate.
In Apgar, stop at the Visitor's Center to check in with the rangers on your itinerary and see if they have additional suggestions or closures.  You can ask about the Junior Ranger program here to provide additional entertainment for the kids during your stay.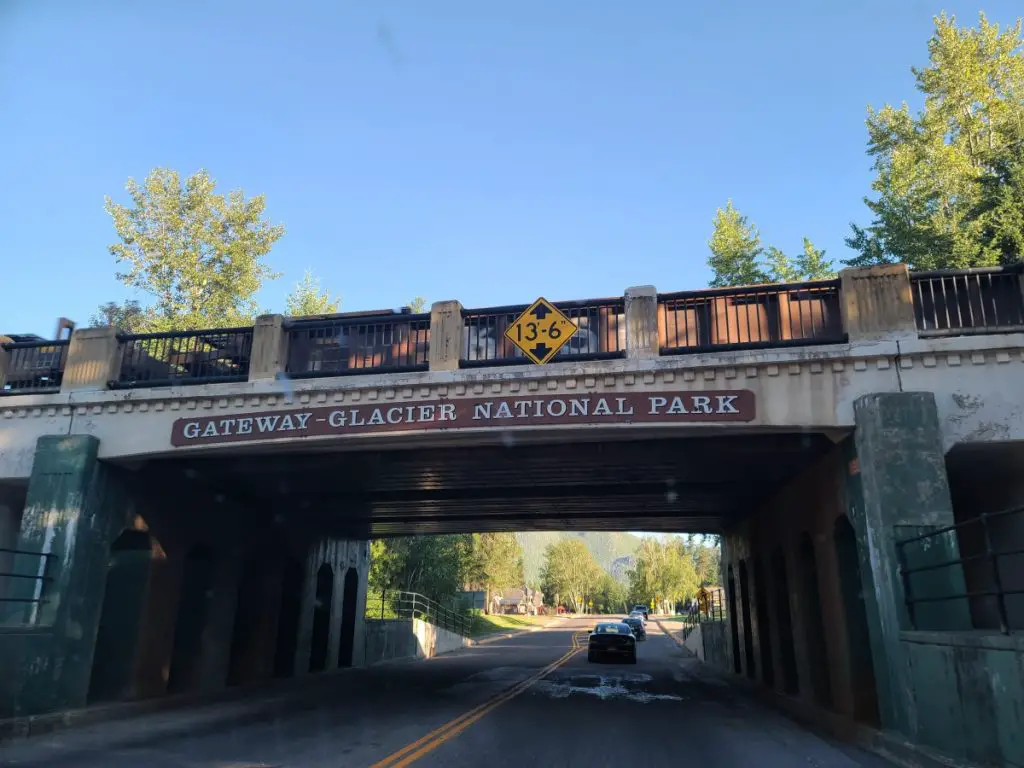 Apgar Village is about .5 miles from the Visitors Center.  Parking can be tough in the area so you may want to grab a spot and walk between the two.  If you're able to reserve lodging in this area, you will have a dedicated parking spot available to you.  Eddie's Cafe is available for a simple meal or simply grab a Huckleberry ice cream and take in the views of Lake MacDonald while you enjoy.
Depending on the time of year, there may be astronomy programs, check with the rangers or visit this page for more information.
Day 2: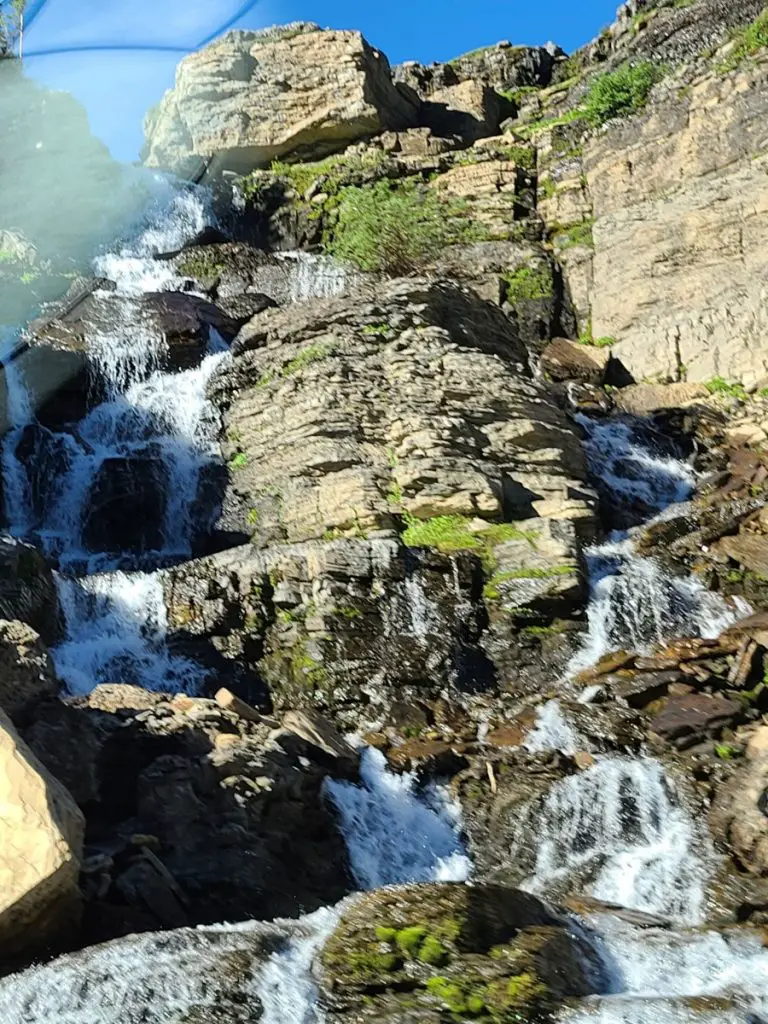 Try to arrive at the West Glacier gate by 6/6:30 in the morning.  Today you will drive the expanse of Going To The Sun Road where you will take in the grand view of what Glacier National Park includes.  The person who isn't driving should have their camera ready to take in the little waterfalls along the drive and pass the kids some binoculars to see what they can spot along the hillside.  I don't recommend stopping at any of the turn outs on the way to avoid losing time. There are a few restroom stops along the way.
Park at the Logan Pass Visitor Center to take on the Hidden Lake Overlook three mile in and out hike.  Arriving early for the sake of parking and lower numbers of hikers if key.  Plan to take snacks or breakfast and spend a little time on the vista platform.  When you return, visit the Logan Pass Visitor Center if you want to check in with rangers.
Continue on GTTSR  toward Rising Sun.  This location has a great camp store, Two Dog Flats Grill, and restrooms.  You can dine in or carry out for lunch from Two Dog Flatts, which offers burgers and salads.  The camp store at Rising Sun is a good spot to grab souvenirs and gifts as well as snacks and drinks.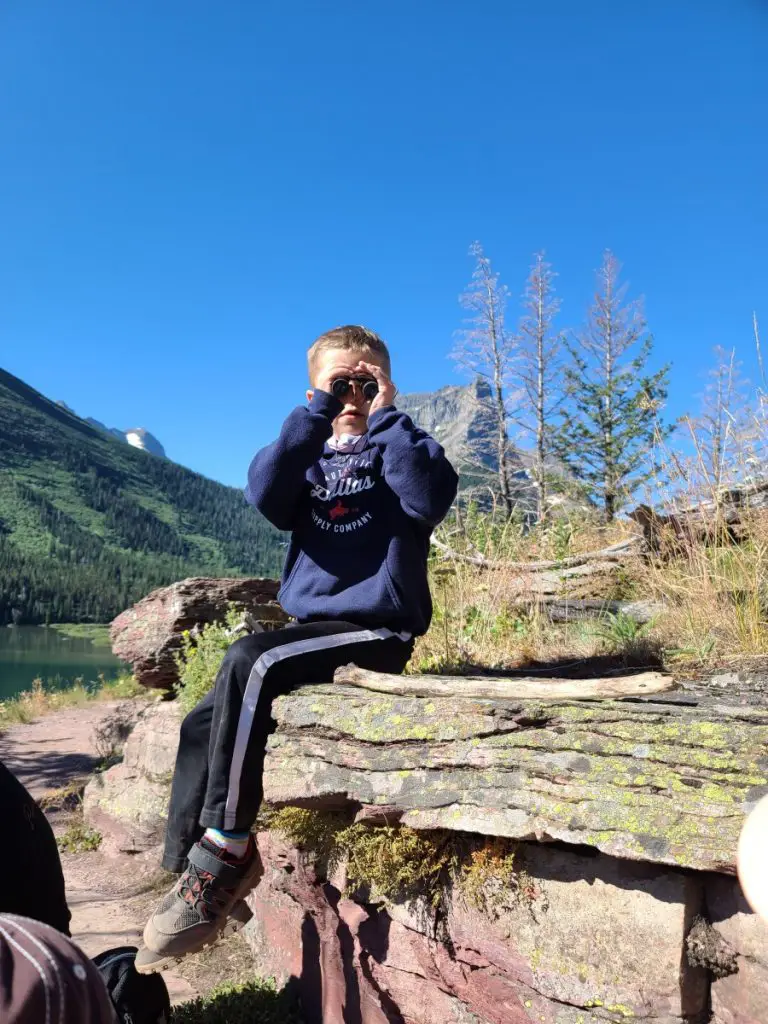 Begin your return drive on GTTSR.  Cross your fingers for parking at Sunrift Gorge/Baring Falls turn out and parking area.  From here you can make the short (.6 mile) journey to Baring Falls and visit St. Mary's Lake.  If you're up for it, continue from here to St. Mary's and St. Virginia Falls.  If parking doesn't pan out in this area, there are more turn outs coming up, but they don't have direct access to this shorter hike.
Your return drive can take as long or short as you like with several opportunities to take photos and take in the view.  Assuming it is sometime in the afternoon, here's a chance to return to your lodging and take a break.  Veg out for a bit and make plans for dinner.
Tonight is a good opportunity to explore the nearby popular communities of Whitefish or Kalispell.  Grab dinner at Ciao Mambo for a super family friendly and equally delicious Italian meal.  Don't skip the garlic bread!  Plan to call for a reservation.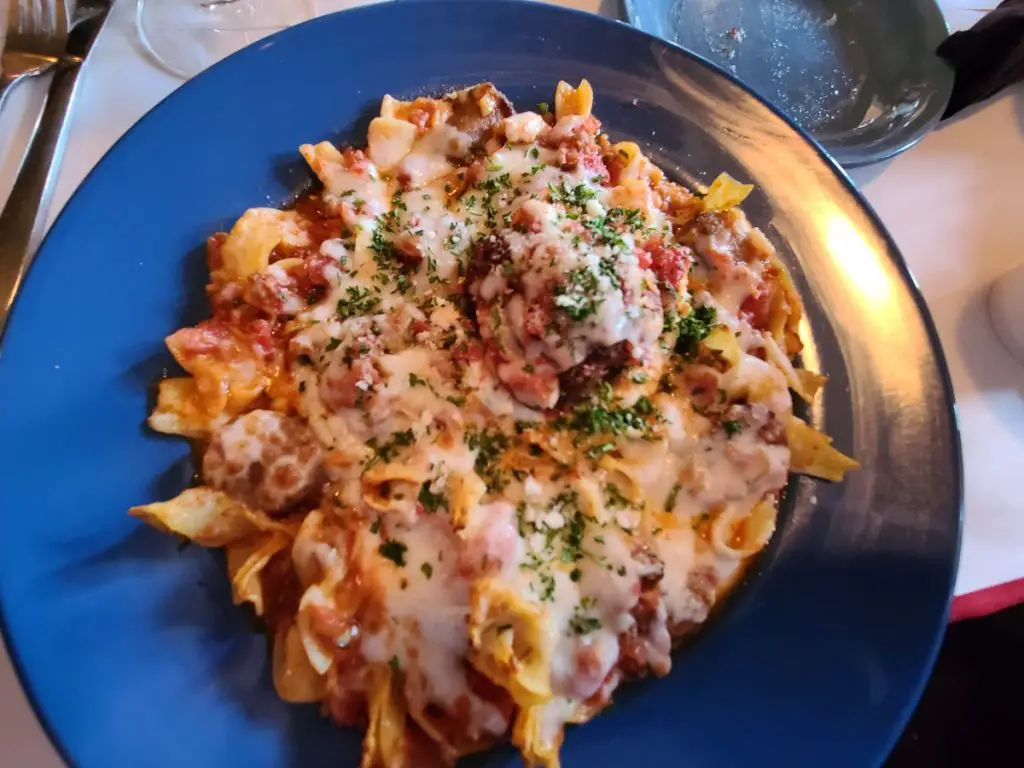 Day 3:
Start out early to make it Trail of the Cedars before 7am.  It will take 20-30 minutes less to arrive at the parking area (which is marked for Trail of the Cedars and Avalanche).  The details of the hike are mentioned above but I would give yourself a good portion of the morning to just enjoy scenery.
As you make your way back along Lake MacDonald, plan to grab a picnic table for a quick lunch by Lake McDonald or find your out of the park to grab some delicious Mexican food at La Casita.  We recommend the quesadilla grand with carnitas!
This afternoon is your change to see Glacier National Park from the water.  Glacier Raft Company offers several family friendly options for rafting and other activities.  Depending on the age of your kids, interest and experience, I recommend choosing between the half day scenic float or whitewater rafting.  Both have morning and afternoon times available.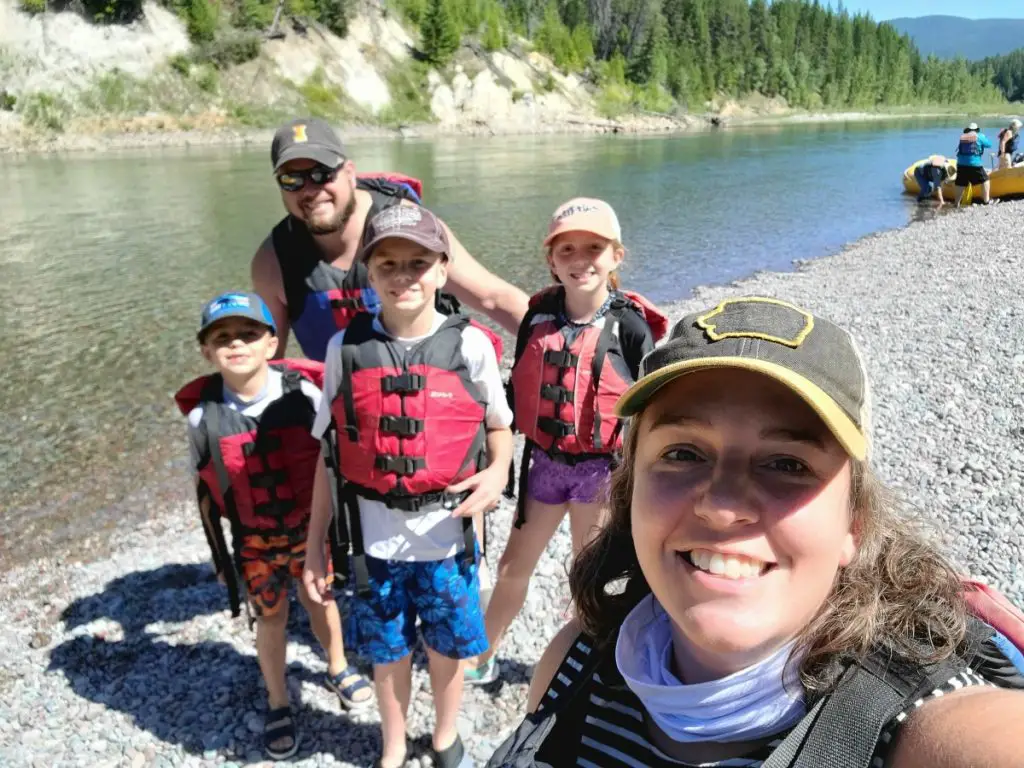 Tonight try out Backslope Brewing for a delicious dinner in Columbia Falls.  The beer is good and the food is truly great.  Enjoy tasty bowls and sandwiches.  It's another very kid friendly spot to check out.
Day 4: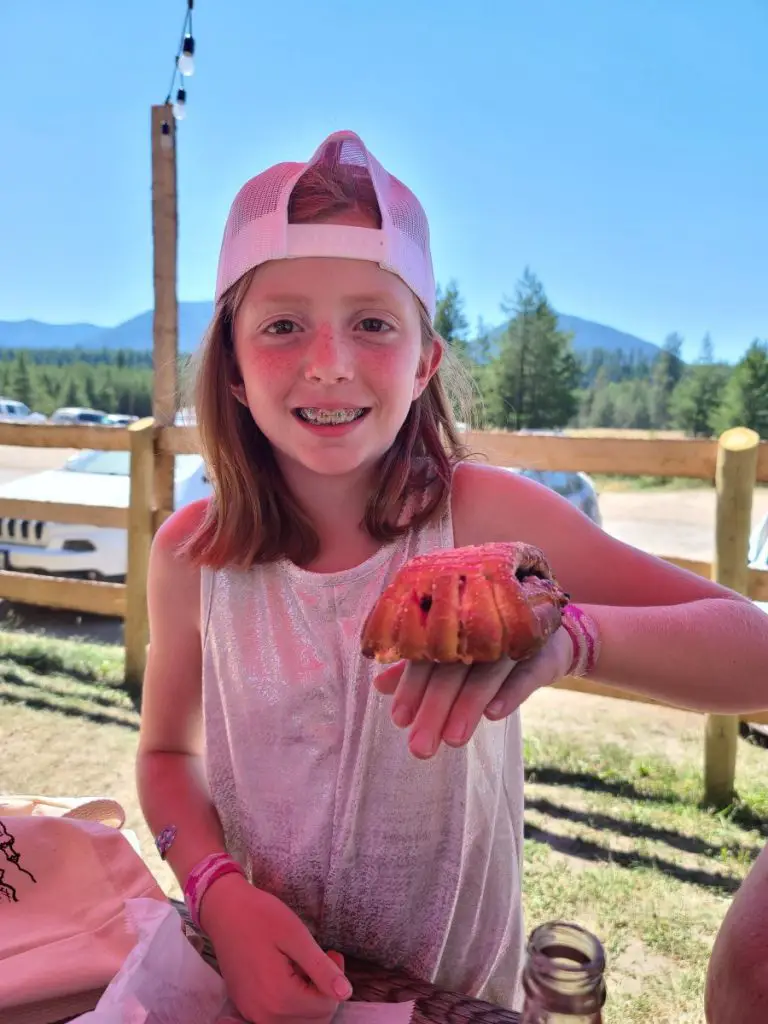 Today let's get away from the crowds on GTTSR and explore other parts of the park.  You can choose based where you are staying.  One example is to drive North on North Fork Road and Camas Road to Polebridge, Montana.  Why not start this morning with a delicious huckleberry bear claw from Polebridge Mercantile?  They are truly legendary and I don't really do sweets.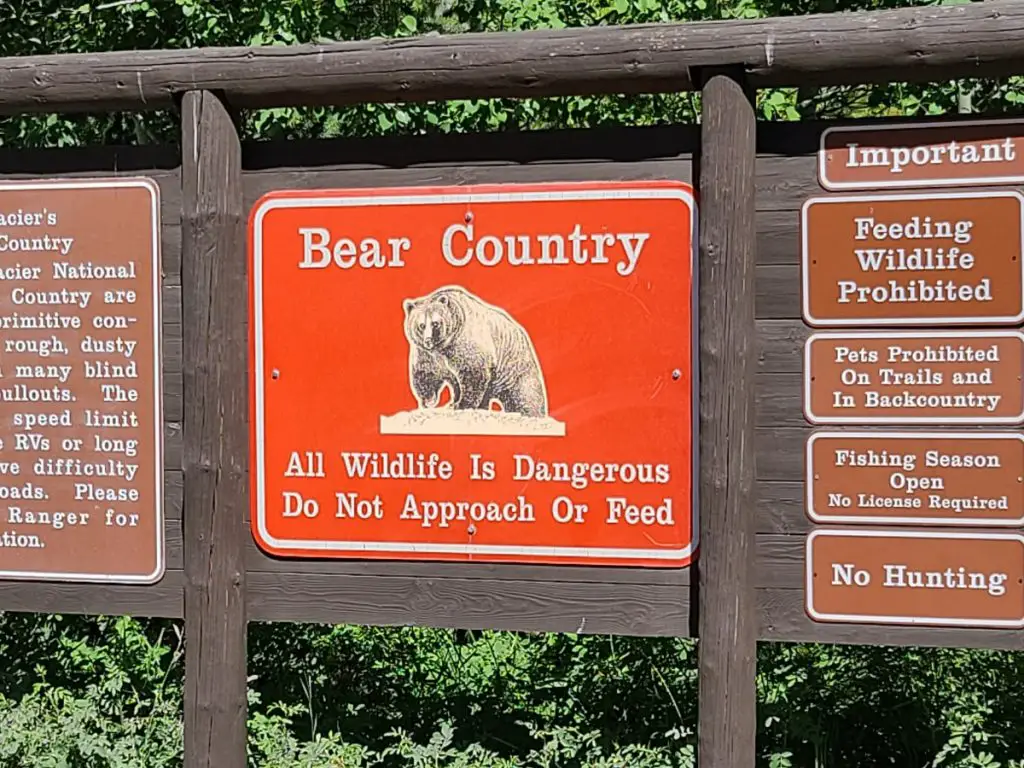 Make your way to  Bowman Lake.  There are a few trails in this area, but very little elevation change.  They are not heavily trafficked and known for some wildlife activity so be sure to have your bear spray.  You will want to drive VERY slowly on the road from Polebridge Ranger Station to Bowman Lake as the road is bumpy and those who don't heed the warning often pay for it with a vehicle repair.  Bowman Lake is known for how serene the area is with glass like water conditions.  If you have access to kayaks, this is the perfect spot to use them.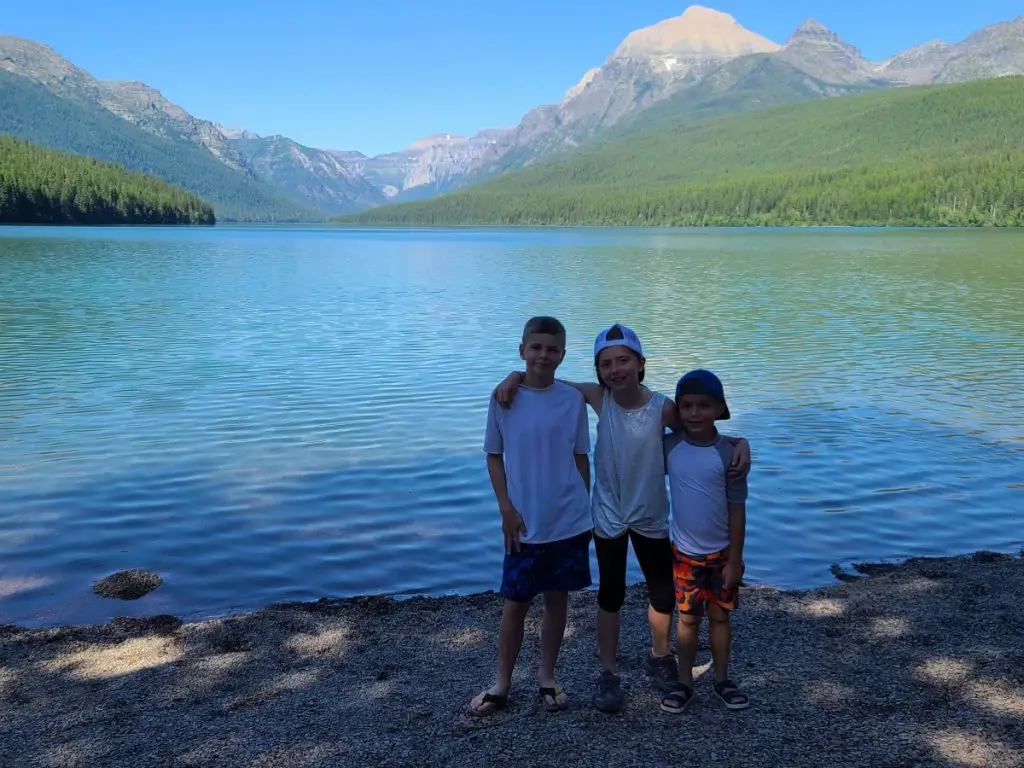 If you have some energy left to burn this afternoon, make your way back to West Glacier entrance toward Fish Creek Campground to follow the Rocky Point trail or just take it enough to access another view of  Lake McDonald.
Return to Whitefish for another tasty, family friendly meal at Buffalo Cafe & Nightly Grill.  The kids menu is fantastic and parents can enjoy a salad, burger, or maybe try a protein option they haven't experience like Elk Enchiladas or Bison Meatloaf.
Day 5:
With one last day available in Glacier National Park, take a ranger's suggestion for a trail you haven't hiked or pre arrange a horseback ride within Glacier National Park which are available in 1 hour to full day options from multiple locations.  Take a few more photos and make plans for what you will see on your next visit to Glacier National Park.
Where To Stay
Although there are many options in the area, if you plan to spend most of your time on this trip within the park, consider the distance of your lodging to the park.
West Entrances
Meadow Lake Resort: Although Whitefish and Kalispell are popular, Columbia Falls is the furthest away from the park I would recommend for those wanting to be in the park on a daily basis.  This resort has a 16 room hotel and many privately owned condos for rent.  You'll have all of the resort amenities including a restaurant, golf, pools, and more.
Under Canvas: If you want a camping experience without much of the roughing it, consider Under Canvas.  This chain has popped up at several National Parks to give those wanting a more authentic stay the option without giving up the bed or private bathroom.  The location is very convenient to the West Glacier entrance.
Apgar Village Lodge & Cabins: The lodge is within the park, but near the West entrance.  The location is fantastic and must be booked far in advance during the high season.  Expect rustic accommodations with easy access to snacks, food, outdoor activities and hiking.
East Entrances
To stay near the East entrances, I would consider selecting a beautifully situated Airbnb like the following:
Enjoy Your Trip
If you or your family have made a trip to Glacier National Park and would like to share your story and additional recommendations, I would love to hear them!  Glacier is unlike any other park we have visited and I feel confident that you will love it too!