Sleep in general is essential but can be elusive. Add in the challenge of sitting upright while trying to keep your arms and legs inside your seat area and avoid snoring, drooling or falling asleep on someone next to you. It really is no wonder sleeping on a plane is such an issue for many of us.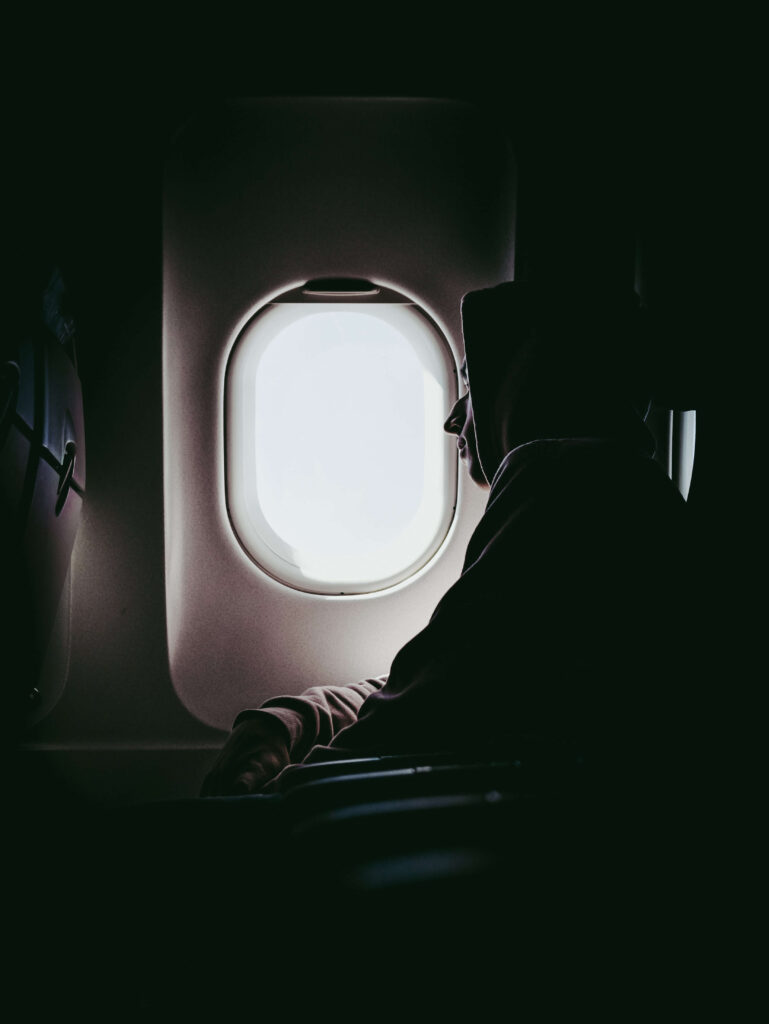 Catching a nap is one thing, but when our family flies overnight, making sure everyone gets some sleep is a top priority. I try not to add a lot of pressure, but certainly want to be prepared. A travel pillow can be effective, but I dislike that travel pillows end up hung on the outside of bags touching everything in the airport. This article will share with you the tools, products, and strategies to find sleep on an airplane.
Sleep Masks
Towel/Blanket
Blow Up Foot Rest
Sleep Podcasts and Soundscapes
Travel Halo
Where You Sit
Body Pillow
Trtl Neck Wrap
Sleep Masks
The obvious benefit of sleep masks is blocking out the light. When we fly at night to Europe, it seems that no matter how late the flight leaves, there are hours of transition getting everyone settled, drink service and an evening meal. For our kids especially, they are beyond tired by the time the lights go down and have usually already eaten dinner while waiting at the airport (See my ideas for saving money on food at the airport). The sleep mask also gives the clear signal that you are trying to rest even if you haven't fallen asleep and will likely mean other passengers and attendants will leave you alone.
For adults, this blackout version is quite effective. It is mean to block out 100% of light and avoid pressure to the face.
Blackout Sleep Mask for Adults
For our children, we have purchased this set of masks. They are fun for little ones and inexpensive if they happen to lose them. I have woken up from sleeping on a plane and be unable to locate one that my child was wearing earlier.

Five Pack of Cute Sleep Masks for Kids
Towel/Blanket
Until the pandemic, we took for granted that we would receive a blanket and pillow on overnight flights. Then, we found ourselves on planes that didn't have sufficient supplies for all passengers. Flights that are long enough to warrant a nap, but not overnight rarely hand out either. For this reason, we began stocking our kids' backpacks with a microfiber towel that can serve as a blanket. They use them to cover up or scrunch them up into a pillow. Since they are actually towels, we then use them on our trips. We have sat on them on rocky beaches in Croatia and stayed warm after getting wet in South Africa. They wash really well and are ready to fold up and put back in their backpacks, taking very little room.
Blow Up Foot Rest
These blow up foot rests are not going to work for every flight, but if it works for you, it can be a game changer for small kids sleeping on a plane. They are stored in a small bag. The passenger sets it between the seat and the one in front of it. Using a hand pump, the foot rest inflates to become an extension of the seat height, creating a bed for a small child. You can also inflate part of the pillow (one of two chambers) to use it as an adult foot rest.
The reason these won't work before every flight is that only some airlines allow you to use them. You can call your airline or look in reviews or travel boards to find more information. Parent also suggest blowing it up once the lights are down to draw less attention.
Sleep Podcasts and Soundscapes
Our family loves using sleep podcasts and other relaxing recorded options to help us get to sleep. Some of our favorite sleep podcasts include:
All three podcasts involve some type of story telling in a manner that allows you to quiet the noise in your head and noise around you. Be sure to download some episodes in advance and try them out to avoid frustration in the moment. If you are not already using a podcast app, I recommend Podcast Addict app. It is free and most podcasts will show up on this app.
The other element to listening while falling asleep is headphones. The adults and older children may be fine with headphones. We have gone through a few sets of this affordable style:

Wireless Earbuds with Touch Control
However, both of our sons prefer a softer headphone that surrounds the ear or at least rests on the outside. Here are the styles that have worked for us:

Wireless Bluetooth Foldable Headset
Travel Halo
This product is innovative and solves several of the issues mentioned above. It is essentially a headphone with a mask and additional support at the back of the headband. It is not bulky like regular travel pillows. It comes with a case that will protect it from direct even if you attach to your luggage.
Travel Halo – Check out the Video
Where You Sit
Any seating strategy is not fool proof. You can tell when looking at seat selections how much of the plane has been sold and even check as you get closer to optimize your location. I have maintained the strategy that sitting in the back of the plane (especially large plane) is best for optimizing your chances for extra space. You can read the details of my strategy here.
Body Pillow
This inflatable pillow comes in a small bag for easy storage. You can inflate it yourself and place it on your tray table. It works either direction if you prefer to rest your chin atop or rest your face in the opening. You could use it paired with several of the other sleep tools. This seems like an effective tool for longer flights as it is a bit cumbersome once blown up to use for short flights. Also consider only this if you won't be blocking other passengers from getting out of the row.
Trtl Neck Wrap
The Trtl Neck Wrap was designed by engineers to ensure the optimal angle for your head and neck while sleeping upright. The wrap is smaller and less bulky than a travel pillow as well. The soft fleece material is comfortable and it folds up nicely when you are not using it. They come in adult and kid sizes. One of the best features is that when worn correctly, it prevents the head from dropping forward (waking you up) or falling too deeply to the side creating discomfort in the neck.
Which will you choose?
Do you have another strategy for getting good sleep while flying? Which sleep aid will you try next time?