As a parent of a child with special needs, everyday life can be full of unexpected challenges and expected additional hurdles.  Like all parents, we work to give our children opportunities that will enhance their future.  For some families, this includes a schedule full of therapies, medical appointments, lifestyle modifications, etc.  Travel is yet another part of life that may require modification for a special needs family to have a positive experience.
With the term special needs covering a very broad spectrum of physical, mental, and behavioral disabilities, the needs of a person with special needs vary considerably.  Likewise, improving the travel experience for the individual and their family vary.  Each products and tools may be applicable to only one type of disability or many. I hope you will find an item that makes your travel easier.
Learning Resources Write and Wipe Pockets

(Link)
These can have several purposes.  They would be great for slipping in schedules for various days of your travel and being able to change or add notes.  You could print a photo schedule as well as written words.  You could use them for a countdown where you mark off the distance on a roadtrip or plane journey.  You could insert lined paper and reuse them for communicating or practicing writing.  This is a great tool for kids who like the size of dry erase markers more than writing with pencils.
Picture Communication Book

(Link)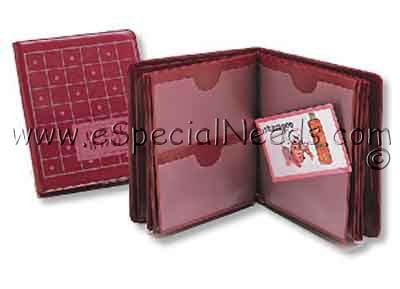 I like the small size of this communication option.  All of the opening are the size of business cards so you can make a tool that fits easily in your travel bag.  I would suggest bringing along some blank cards to add new prompts if necessary or grab a few cards from your hotel lobby and use the back.
Handy Handle

(Link)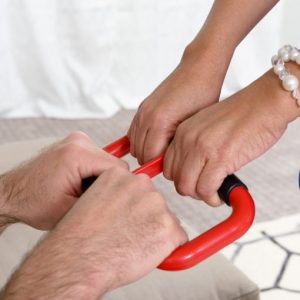 Handy Handle is a simple device that aids in standing.  It is perfect for a person whose mobility is somewhat limited, but has the ability to grip and use the momentum of the person assisting.  As 4.5″ x 9.5″, it's small enough to fit in your travel bag.  It's ideal use is for assisting someone who is larger in size than the person assisting.  The Handy Handle can support up to 350 pounds with its non-slip padded grips.
My Pool Pal Big Boy Trunk with Built In Swim Diaper

(Link)
Swimming is such a great activity for most people with special needs, but it can be challenging if you have an older child or adult who is wearing diapers.  I love these swim trunks with built in swim diapers that span child to adult sizes.  The design is simple and doesn't look juvenile like many products in this category.  They look like gym shorts and should make any person wearing them feel confident.
Frogglez Pain Free Goggles

(Link)
I love these goggles.  We want our kids to be successful in the water, but most goggles have to be fitted rather tightly in order to seal properly.  For many kids with sensory concerns, those tight straps can be enough to keep them from putting their head in the water.  Frogglez come with the lenses shown, but also attach to most goggles if you have a preferred pair.  The soft neoprene strap sits on the head more like a halo that the single strap distributing the pressure and keeping the goggles leak proof.
We use a visual timer at home often, but those are often large and clunky.  Plus, visual timers are based on one hour.  If you are on a long car ride or multi-hour plane ride, resetting that one hour timer may just frustrate your child.  I like these small kitchen timers that show the hour, minute and second.  This also takes care of appeasing the child who is constantly asking "how many minutes has it been since I asked you how long"…or is that just in our family?
BuckleShield Seatbelt Buckle Guard (Link)

If you have experienced the stress of driving a vehicle while a child is unbuckling their seatbelt, you know the value of a device that can prevent the unbuckling.  This is an inexpensive device that prevents your child from unbuckling most standard car buckles.  If you use a more permanent item at home, but want something you can easily slip on a rental vehicle, this guard is for you.  Or if you are just realizing you need something like this for everyday life, this item is so much less costly that other options on the market, it's a great place to start!
EZ-ON Adjustable Vests

(Link)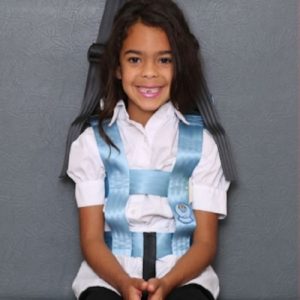 EZ-ON makes a variety of products depending on your need.  The purpose is to support the user in an upright position.  Some models can be used while seated in a wheelchair as well.  This item is great for travel because it takes up so little space when not in use.  You will want to consider whether you want to invest in an item that can grow with your child or one that is tailored to smaller or larger child.  There are also versions that can be used for a school bus as well as a family vehicle.
Scooper Bowl & Placemat

(Link)
When your child has limited fine motor control eating on the go can pose a challenge.  This product helps create more independence for those who are working on the skills of using utensils or even for calming our concerns as parents about the cleanliness of the surface from which they are eating.  This silicone bowl and placemat can be washed down and stored for reuse.  The underside of the placemat contains strong suction which won't allow it to slip.   The bowl is attached and cannot be knocked over which makes it great for cereal or foods containing sauce.  Plus, the bowl has a capacity of 34 ounces allowing for a larger portion or more margin for filling unlike many similar products that are targeted at small children.
The Flexi Cups aid children with several different disabilities in drinking or learning to drink from a cup.  The opening on the cup allows for more of the face to be inserted and great access without having to tip the cup back and risk spilling too much liquid.  The reviews state that Flexi Cups can be helpful for anyone with difficulty in drinking from toddler who are skipping a sippy cup to older adults who lack the neck mobility or coordination for typical cups.  This set comes in 1, 2, and 4 ounce, but there are also larger sizes available (check the Frequently Bought Together section on the Amazon link).
Extra Long Drinking Straw

(Link)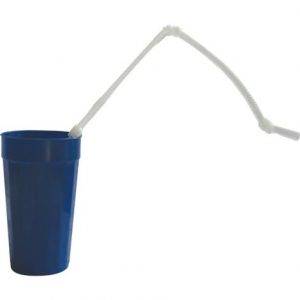 These 28 inch straws are intended for those with limited head and neck mobility.  They are bendable at multiple points to allow for easier access.  This link is for a pack of ten straws made from BPA free plastic.  The straws also have three articulation points (the stabilized spot on the straw where the bend is made) for propping it in a glass and allowing independent hands free drinking.  I'm always a fan of any product that is lightweight (easy for travel) and grows independence.
Social Story Making
Social Stories are an excellent tool for anyone with anxiety, anyone with communication challenges, or anyone with difficulty transitioning between activities.  First time travel provides many unknowns, but a social story can reduce that list substantially.  An app or a hard copy of a story can be very helpful.  We have laminated a trip story and put it on a ring hook for our son to view repeatedly during the trip.
Social Story Creator & Library (Free): This app offers a free version that may fit your need.  You can add photos and audio as well.
Printable, PDF Airplane Travel Story (Free): This free download is a ready made option.  It also shows you how easily you can customize your own.
Weighted Lap Pad (Link)
Weighted blankets have gotten a lot of attention in and outside of the special needs community, but weight lap pads are widely available as well.  If your child enjoys the added pressure of the extra weight, this adorable puppy lap pad might be a fun addition for calming anxieties in your travel.  It comes with a travel bag as well for transport. The lap puppy has a cuddly puppy with soft ears and measures 21″ x 21″.
Safe Place Travel Bed

(Link)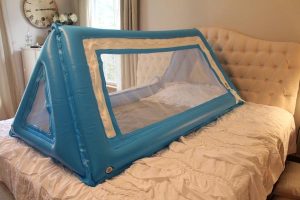 Inconsistency and unfamiliarity can be the enemy of a successful family trip for individuals who thrive on routine.  The Safe Place Travel Bed allows you to bring a familiar environment along with you hopefully making your precious sleep time more peaceful.  The blow up beds have straps that allow for it to be adjusted for any bed.  There are two zippable entry/exit nets for easy access.  The tent shape creates a feeling of security in an unfamiliar environment.  The Safe Place Travel Bed is 75″ long when inflated allowing for a wide variety of ages.  They also offer accessories to custom fit like a camp pad for outdoor use and water resistant mattress pad.
Door Stopper

(Link)
I may have learned this one the hard way.  Occasionally we need to two adjoining hotel rooms in order to accommodate our family.  Since the majority of the time, these rooms are used for people who are not together, it can be easy for a child to lock a parent out of the other room.  You can of course keep a key on you at every minute while you are in the room for both rooms or you can prevent the closure with a strong door stop.  This also prevent hotel staff from having to cut through the swing lock if you were using it to secure the door….this may or may not have happened to us.
Suggestions and Additions
Parents are the real expert in accommodating their child.  I learn from other special needs parents all of the time.  I would love to continue to add to this list and appreciate your suggestions.