Iowa and Waterfall? Perhaps not synonymous, but certainly a real occurrence. Most of Iowa's waterfalls are visible year-round, but most some are dependent on waterflow in Spring and Summer. Hiking to a waterfall as a destination seems to inspire everyone, especially kids. You can take on this list as an itinerary that includes around nine hours of driving. You could also certainly visit a few in a day or half day depending on your starting point.
What's the Difference between a Waterfall and a Spillway?
Some of these water features are technically spillways, but are no less beautiful that the traditional waterfall, but what is the difference? A waterfall is a naturally occurring flow of water over an edge or cliff. Although a spillway may look the same as a waterfall, it is created by routing the water on a path at a dam site. There are
several types of spillways which are described in detail here.
For the nature enthusiast encountering either a waterfall or dam can be equally rewarding.
Iowa Waterfall Destinations
All twelve of these destinations fall within the Northeastern quadrant of Iowa. This part of the state, particularly the most Northeastern portion, has far more diversity of elevation which lends itself naturally to the occurrence of waterfalls. Visit my map with all of these locations here.
Iowa Waterfalls to Visit:
Siewers Springs Falls, Decorah
Dunning Springs, Decorah
Malanphy Springs, Decorah
Willow Creek Waterfall, Mason City
Beeds Lake Spillway, Hampton
Briggs Woods Waterfall, Webster City
Union Grove State Park Spillway, Gladbrook
MacBride Falls, Solon
Backbone State Park Spillway, Dundee
Big Springs Park, Guttenberg
Siewers Springs Falls, Decorah
This spillway is located at the back of the Chuck Gipp Decorah Fish Hatchery grounds. The hatchery facility and offices are open to the public and worth a visit. They produce 130,000 rainbow trout per year which are stocked into area streams. There are picnic areas and the famous Decorah eagles are sometimes seen here. The waterfall requires no hiking, just a little walk that can be muddy depending on the weather. This is a beautiful and easy start to your waterfall exploration.
Nearby Attractions: Decorah is full of great attractions. I have included the quaint city in several other recommendations here. This location is only a mile South of the city. You can visit Luther Colleges campus, explore downtown's shops and restaurants, or check off the many parks in the area.
Dunning Springs, Decorah
Dunning Springs is a spring fed, nearly 200 foot waterfall located just beyond the outskirts of Decorah. There is a convenient parking lot just off Ice Cave Road where visitors can easily see the waterfall. The park area is just dedicated to the waterfall, but this area is also the trailhead for Upper Ice Cave Hill Trail and Van Peenan Park Trail. Visitors can climb up the trail for a beautiful view of Decorah.
As mentioned just above, there is plenty to do in Decorah if you are not heading out to explore more waterfalls yet.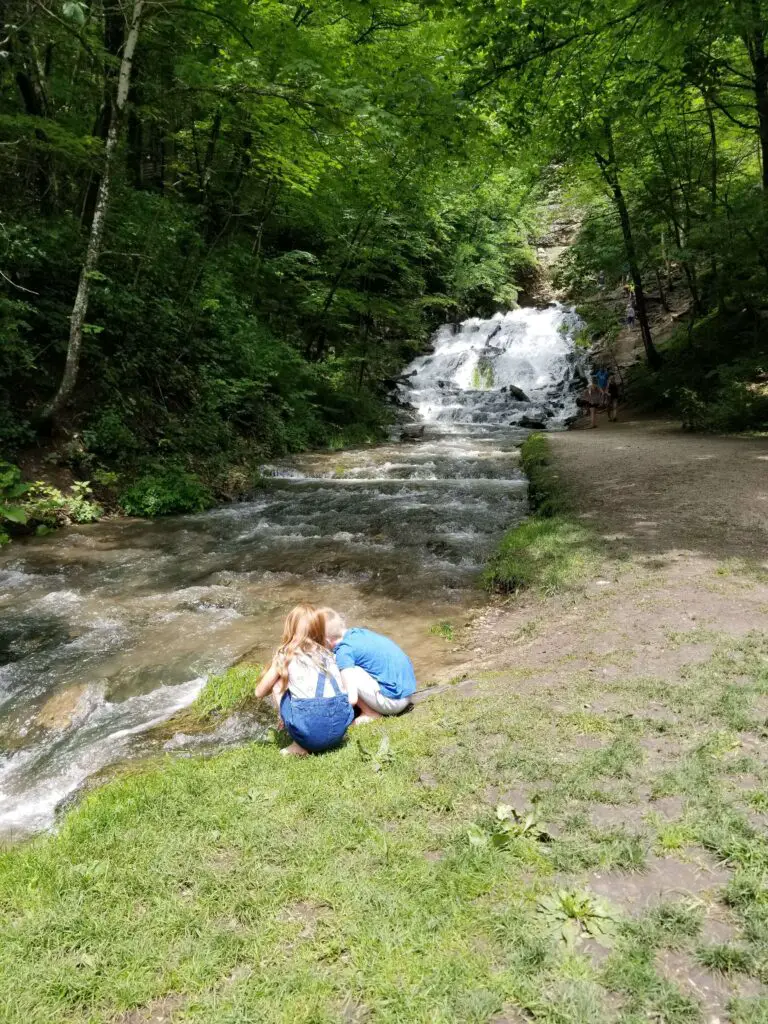 Malanphy Springs, Decorah
Malanphy Spring is located just North of Decorah and its natural destination is the Upper Iowa River. This out and back hike to view these falls is 1.8 miles. The trail is considered easy, but can be muddy if there has been recent rain or thaw.
Find the hiking route here with AllTrails
Nearby Attractions: This area is known for trout fishing; see the DNR's Upper Iowa River information here. There is a park with playground and picnic facilities in the recreation area. Many additional easy and moderate hikes are available nearby. The Upper Iowa River is also a great spot to go kayaking or canoeing. The waterfall itself is very beautiful from the water.
Willow Creek Waterfall, Mason City
This waterfall is actually located on private property, but can be viewed from the street. Although a hike is unnecessary, making this visit will put you near adorable downtown Mason City as well as the beautiful East Park. Visitors can best view the waterfall from the State Street bridge between 1st Street NE and S. Carolina Avenue.
Nearby Attractions: If architecture interests you, Mason City is the perfect place to view some of Frank Lloyd Wright's works in town and nearby. Another cool outdoor stop in Mason City is the Rancho Deluxe Bicycle Garden. Spend some time enjoying East Park which boasts an impressive playground, aquatic park, old locomotive, and two miles of hard surface trails and bridges crossing Willow Creek. Another interesting outdoor attraction in Mason City is the Meredith Wilson Footbridge which sits high over Willow Creek, not far from East Park.
Beeds Lake Spillway, Hampton
Located within Beeds Lake State Park, the Spillway was built to create water storage for the mill located downstream. Today, it is claimed as the most photgraphed dam in the Midwest. The Spillway is prominenty located within the park which is easily hiked along its two mile loop following the lakefront. You can follow the loop here with AllTrails. Expect a leisurely walk with beautiful views. Beeds Lake is popular with boats, fishermen, and those enjoying the beach in warmer weather. The video below gives a full tour of the park; jump to 4:34 to see the Spillway featured.
Nearby Attractions: Although Beeds Lake State Park is the main attraction in this area, you will find other destinations not too far. About 40 minutes away is the Fossil and Prairie Park Preserve. Before or after your visit, make a stop at Rustic Brew for a coffee or lunch.
Briggs Woods Waterfall, Webster City
Located in Iowa's oldest county park, Briggs Woods Park, this series of falls is part of the Boone River. The park boasts a 70 acre lake for boating and fishing, a beach, and campground. You can enjoy the waterfall from the 2.6 loop trail considered Moderate. Find the map here with AllTrails.
View the trail on this video with the waterfall appearing at 3:19.
Nearby Attractions: A little less nature, a little more excitement for the kids could include Fort Frenzy in Fort Dodge. Although Fort Dodge is about 25 minutes away, it would be a fun addition to visiting this part of the state. If you are interested in home interior, visit Heart N Home in Webster City.
Union Grove State Park Spillway, Gladbrook
This 110 acre state park is wooded and offers a lake, small beach, and about three miles of trails. They also have a couple of cabins available for rent in addition to their campground. The location is quite rural and the largest nearby city is Marshalltown, about 20 minutes away. This particular water attraction is dependent on weather and is best viewed in Spring and Summer.  This 2.3 miles easy trail will take you right to the spillway.
Nearby Attractions: Visit nearby Marshalltown to enjoy another part of Iowa's history, Taylor Maid-Rite which has been open since 1928. There are also some beautiful murals and sculptures around Marshalltown to check out including in front of the Performing Arts Center and around downtown.
MacBride Falls, Solon
A visit to the Coralville Reservoir and Lake MacBride State Park is always a good time, but a visit in Spring or Summer could yield a view of this spillway. A slightly over two miles loop trail bordering the Iowa River will take you to the location of the waterfall. This trail can be muddy depending on weather and is known to be overgrown requiring long pants.
Nearby Attractions: This greater park area is full of options for activities. Not far from this trail is the University of Iowa's Raptor Project which is open daily. The Coralville Reservoir and Lake offer camping, fishing, playgrounds, and a beach. Depending on where you find yourself in the park, you are 15-30 minutes from the Iowa City/Coralville/North Liberty area where there are endless activities. You can find some of my suggestions here.
Backbone State Park Spillway, Dundee
Iowa's first state park has an interesting history and you can hear a lot of it in the video below. The longest suggested trail in this list is a 6.3 miles loop trail that covers the entire West and East Lake Loop. Although the spillway itself is minimal, this is a worthy stop for the amenities and beautiful natural features. Be sure to take in Richmond Springs where spring waters bubble up and create a beautiful blue rarely seen in Iowa. You can best find this by locating the Richmond Springs shelter at the North end of the park.
Nearby Attractions: There is a nice lake with boat rental and beach to enjoy in the Southern part of the park. In route to the next spot on the list, stop at Franny's in Edgewood for lunch or dinner.
Big Springs Park, Guttenberg
Big Springs is located within Big Springs Nature Preserve, North of Guttenberg. Views of the falls are only a short walk from the parking area on this trail. Climb the stone stairs to explore this beautiful park located close to the Mississippi.
Nearby Attractions: Guttenberg and nearby area is a small community with a few restaurants and few hotels and campgrounds that take advantage of the Mississippi views available. One of the best things to do in this area is take advantage of a beautiful drive along the river and the various scenic overlooks and parks in the small cities along the way.
What's Your Favorite?
Have you visited any of these scenic Iowa spots? What is your favorite?