Are you searching for the perfect spot for an RV vacation?  The Midwest is home to several interesting and unique campgrounds that may not be on your radar.  From water access, proximity to national parks, full resort amenities or just a place to get away and relax, there are truly special campgrounds tucked all over this great region.
Check out this list of nearly every state in the Midwest and a campground surprise in each:
South Marcum Campground at Rend Lake – Benton, Illinois
White River Campground – Cicero, Indiana
Honey Creek Resort – Moravia, Iowa
Deer Creek Valley RV Park – Topeka, Kansas
Nolin Lake State Park – Bee Spring, Kentucky
Silver Lake Resort – Mears, Michigan
Stony Point Resort – Cass, Minnesota
Riverfront Campground and Canoe – Lebanon, Missouri
Robidoux RV Park – Gehring, Nebraska
Buffalo Ridge Camp Resort – Custer, South Dakota
Fox Hill RV Park & Campground – Baraboo, Wisconsin
Illinois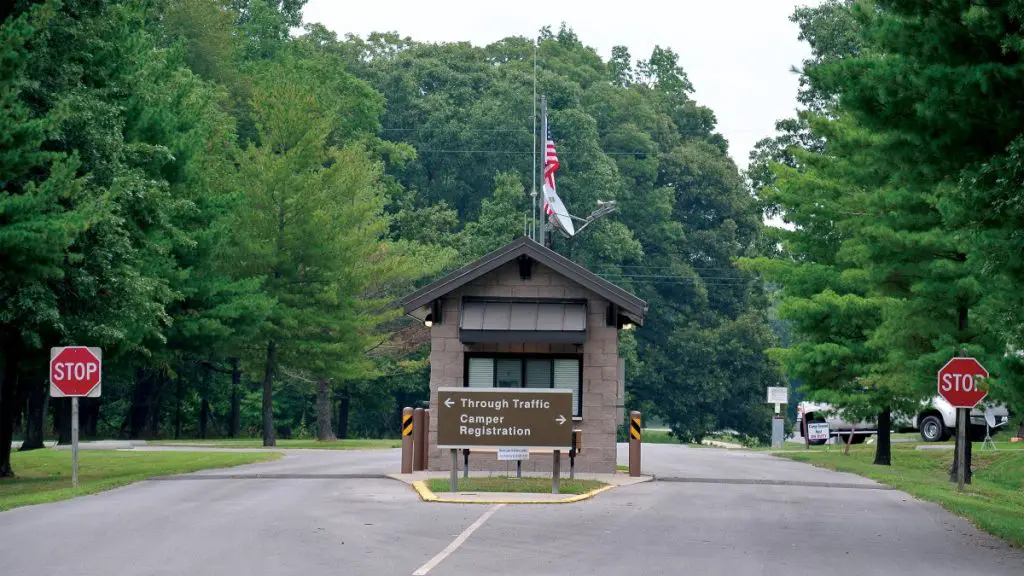 South Marcum Campground is one of a handful of public campgrounds located at Rend Lake.  Outside of Southern Illinois, most people haven't heard of this destination, but Rend Lake has a lot to offer families and this campground is uniquely natural and well positioned. South Marcum is a combination of tent and RV sites (both water only and full hook ups).
What makes it special:  A combination of reservable sites on with water access, large trees and sites laid out for park preservation versus profit can be a win for your family.  If you are bringing a boat, this campground is the closest access to the boat ramp as well.  In addition to the waterfront sites, South Marcum has three playgrounds and a pond for family fun.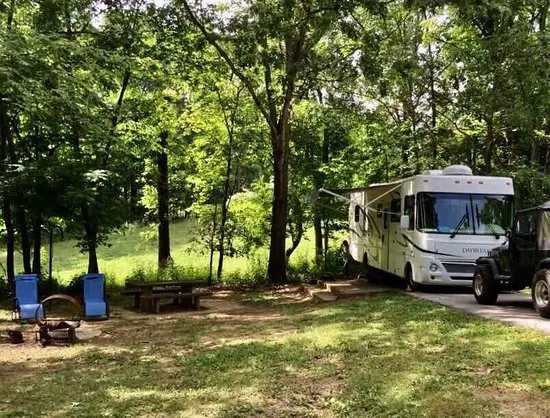 Cost: $16-$26  This small range covers the variety of sites available.  You can reserve waterfront sites for just $26 overnight.
Reservations:  There is a mixture of reservable and non-reservable sites within this campground.  There is also a group camp loop that is reservable just off of South Marcum Campground.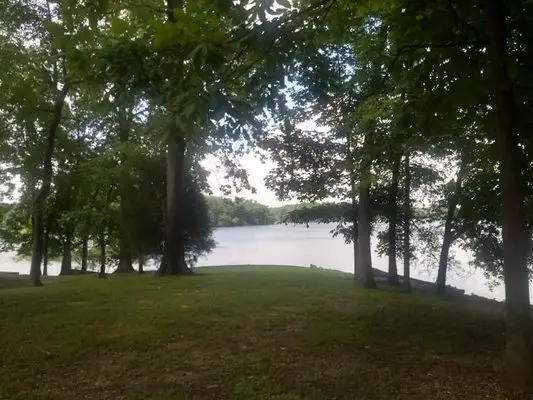 Site features: Sites vary considerably in their view between heavily wooded to water front.  Most are more spacious than you will find at private campgrounds.  You can choose between sites that have more access to shower houses, restrooms, and playgrounds since there are multiple of each within the campground.  Some allow rigs up to 70 feet long.
Amenities:
Pond
Three Playgrounds
Shower Houses with private shower rooms
Picnic Shelter
Multiple Drinking Fountains
Walking and Biking Trails
Pets Allowed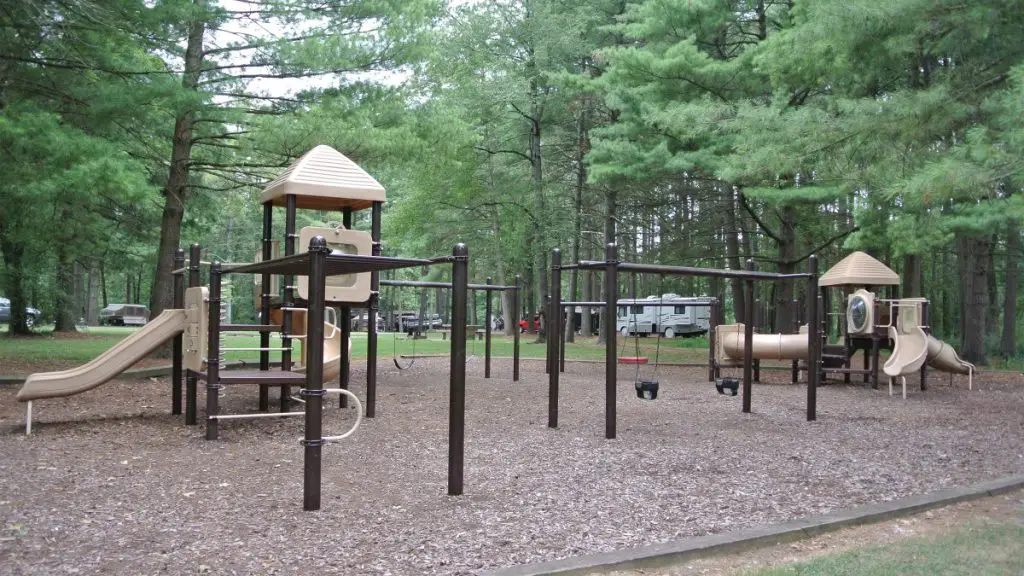 What's Nearby: The campground location of Rend Lake is "where the fun begins" as they claim.  The 18,000 acre lake is available for all types of water activity.  The Marina located onsite offers boat rentals and other water craft rental as well.  There is also golfing and an aquatic center onsite.
Off property, the Rend Lake area is surrounded by small and larger towns.  This campground is located 1.5 hours East of St. Louis, Missouri.
Indiana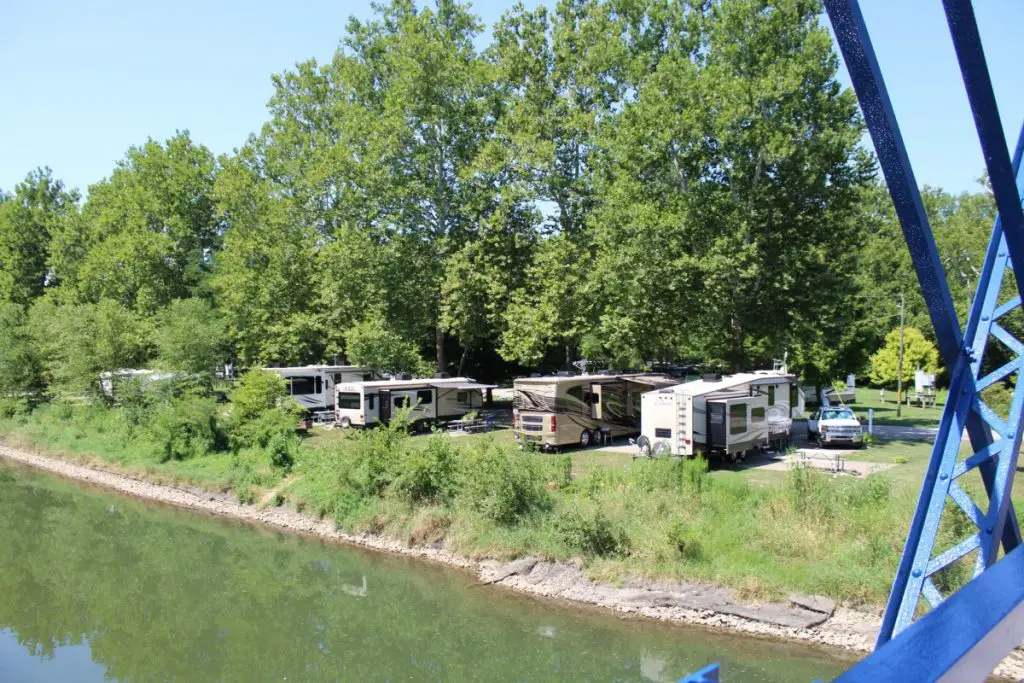 This public campground is well laid out following the White River featuring both water and electric and full hook up sites.  With built in activities on the water and natural features surrounding, there is plenty to enjoy beyond the view.
What makes it special:  In the greater Indianapolis area (45 minutes), you won't find a better camping option.  Also, rarely do you find the majority of sites to be directly on the waterfront.  There is a beautiful bridge crossing the White River to take guests to the Strawtown Koteewi Park, an 800 acre park that includes eight miles of trails, equestrian opportunities and a treetop ropes course.  You can even be picked up at the campsite by a local canoe company to take a canoe trip on the White River.  This is a great option for a quiet stay or for an adventure!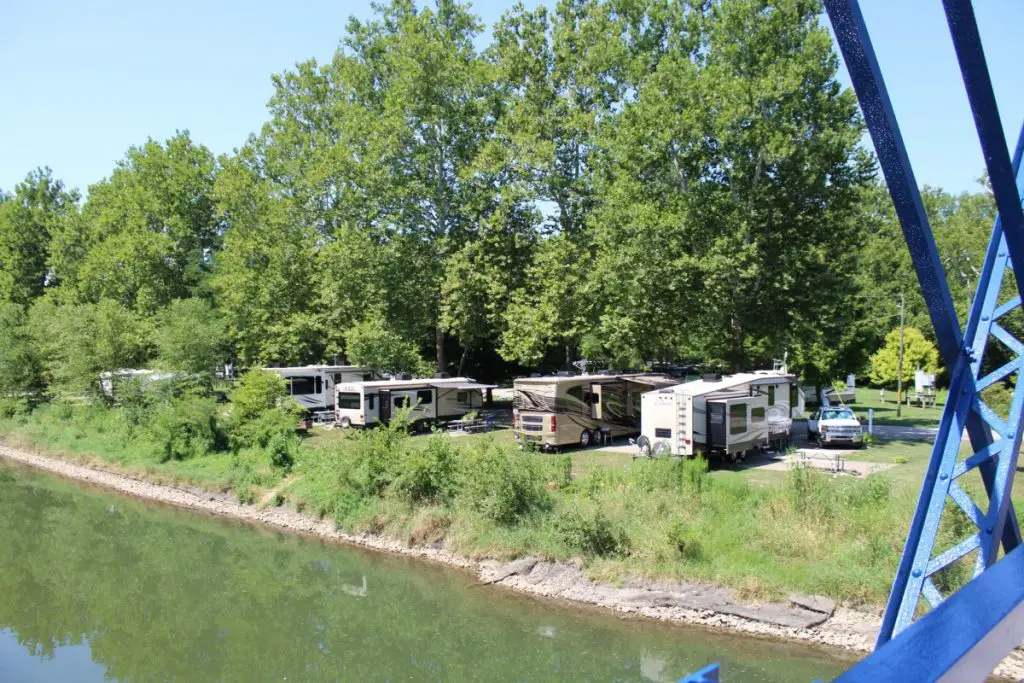 Cost: $30 per night for all RV sites with full hook ups.  A $5 discount is given to county residents.  If you only require water and electric, sites are $25.
Reservations: All sites are available for reservation by calling.  This campground tends to fill up so calling early is recommended.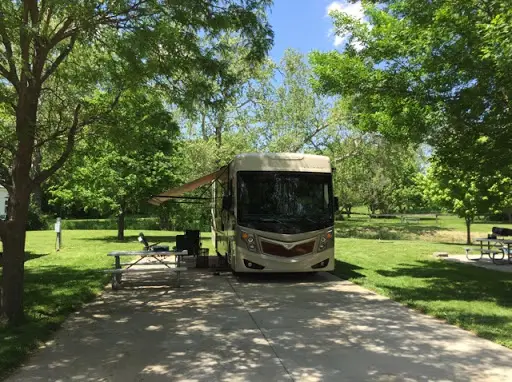 Site features: There are 106 modern and primitive campsites within White River Campground.  Site includes fire rings and picnic tables on concrete pads.  There are not exceptionally wide, but with the majority located directly on the water, they are a rarity.
Amenities:
Playground
Waterfront sites
Locker rooms and restrooms
Access to fishing, hiking and much more
Laundry facility
Canoe launch
Picnic Shelters
Camp store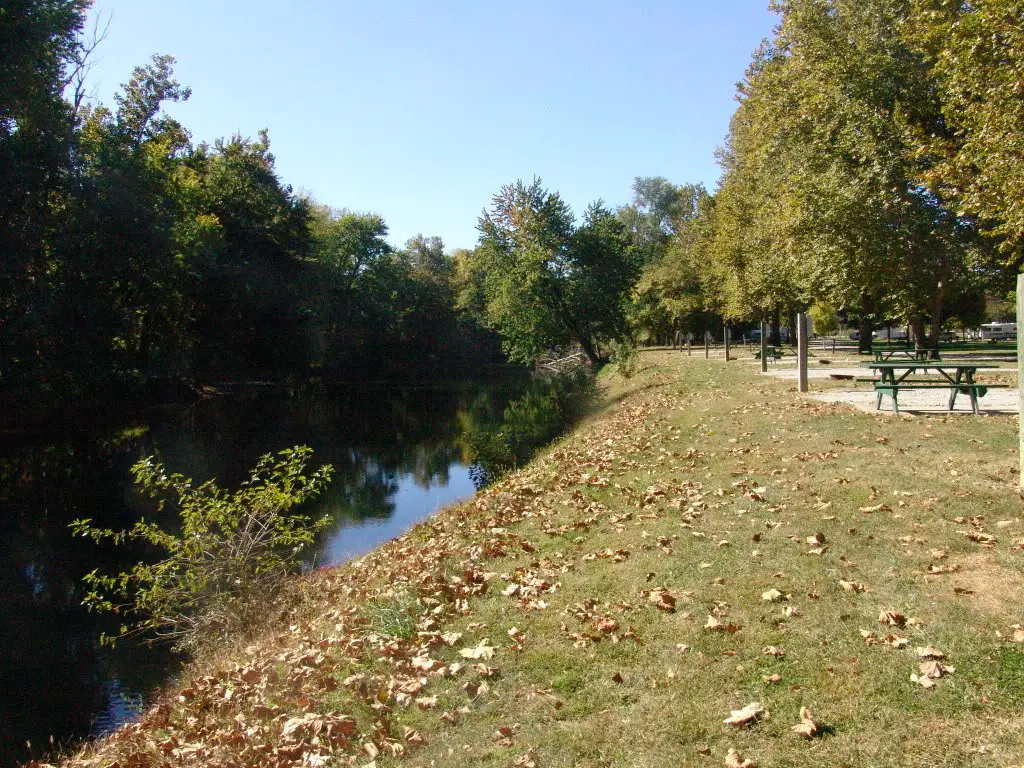 What's Nearby: Though a 45 minutes drive to downtown Indianapolis where you can take it all the big city has to offer, there is much to enjoy in the Hamilton County park itself.  There are also several big and small towns between the park and Indy including Carmel, Indiana.  Just beyond the park, there are at least a dozen restaurants to choose from when you need a break from camp cooking.
Iowa

I have very fond memories of this camping spot as we stayed at a time when my kids were very little and curious.  The location is very much in the middle of Iowa and away from most everything.  The resort itself is owned by the state and operated by a third party. It's a very special mix of hotel, resort property, rental cabins, and RV camping options.
What makes it special:  As a camper, you feel as though you're getting a great bonus deal as access to the indoor waterpark is included in the price of your site along with programs at the nature center and access to water sports and family activities.  Although there is plenty going on at the resort, there is also quiet Lake Rathbun where you enjoy renting a boat for the afternoon.  This would be an ideal location for a family reunion or large group gathering.  I list this and other large group gathering locations in this article (link).

Cost: All RV Campsites are $49/night.  A $15 daily resort fee will be applied to your reservation from Memorial Day weekend through Labor Day and $5 daily outside of this timeframe.
Reservations: Reservations can be made and paid for online.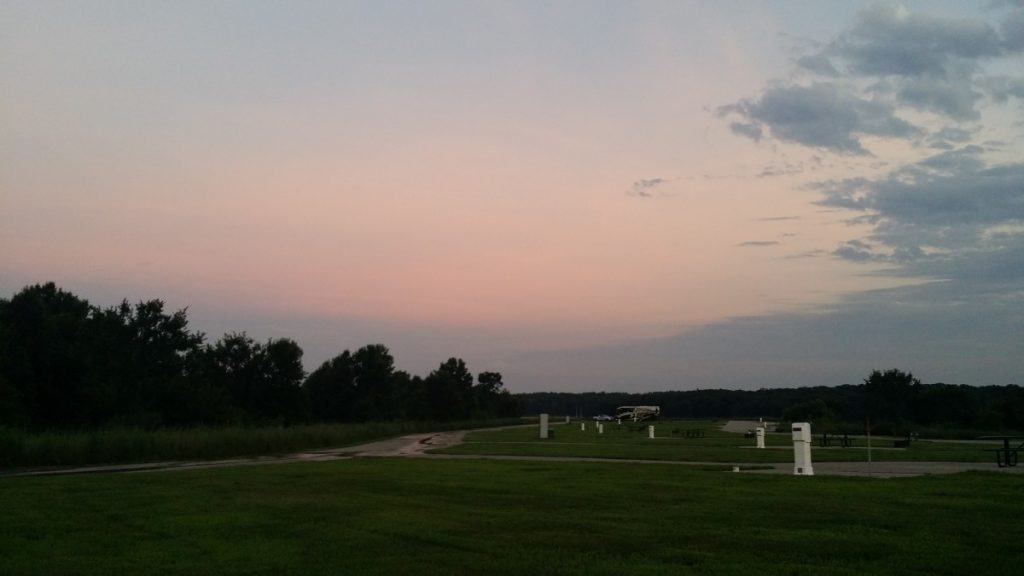 Site features: Sites are concrete surrounded by grass.  All sites are pull through.  Picnic tables are more substantial park type metal and poly tables versus wood.  Fire pits are found at each site.  There is a lot of space between most sites and perimeter sites can all face toward a wooded area for great privacy.
Amenities:
Full hook ups
Fire rings
Access to all resort amenities

Fitness Center
Laundry Room
Bucaneer Indoor Waterpark
Business Center
Planned resort activities
Water sport rental and Boat rental
Live performances
Golf Course
Nature Center programs

Rathbun Lakshore Grille
It should be noted there are no shower houses so a self-contained rig is necessary.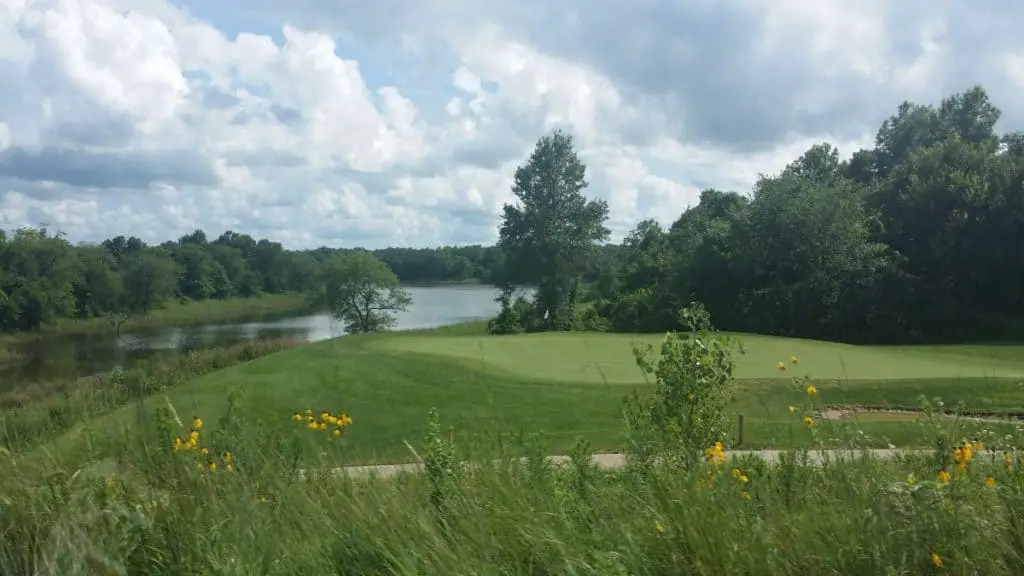 What's Nearby:  There truly are not a lot of outside activities. Guests will want to come to this campground for the resort itself.  There are a few smaller restaurants in the neighboring area.  I recommend Louie's Lakeside Bistro & BBQ if you venture offsite.
Kansas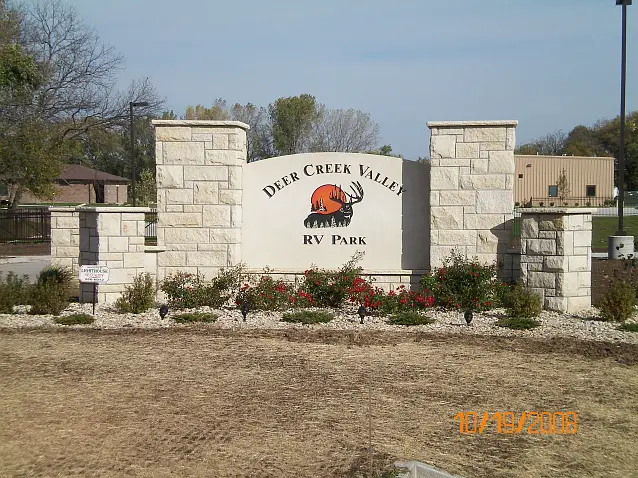 Duck Creek Valley RV Park is straight forward, very well maintained park with all concrete sites and lush grass.  This is THE park for anyone looking for an easy to set up, no fuss or challenge RV opportunity.  It is conveniently located off I-70 and lots of Kansas city capital's attractions.
What makes it special:  This park is like pulling up to your grandparents' perfectly manicured lawn where you can also park your RV and visit the city of Topeka during the day.  What's not to love about that?  The balanced, concrete pull in sites are an easy end to whatever journey it has taken you to get there.
Cost: Nightly rates are $45 with weekly and monthly options available.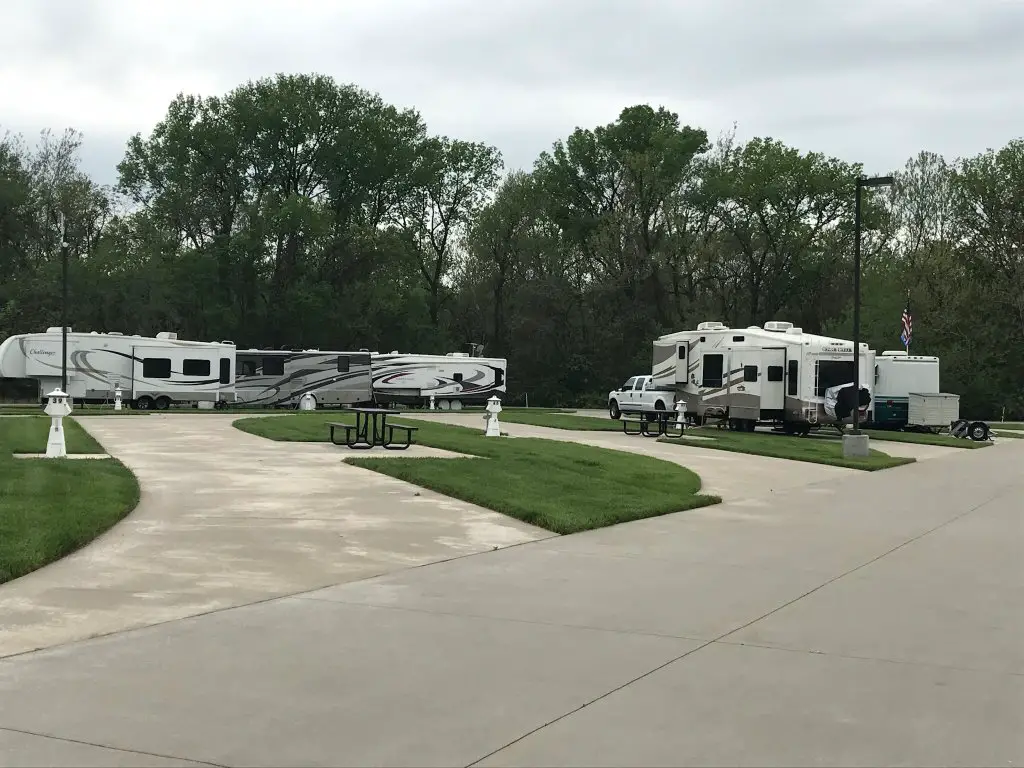 Site features: Rates are for a pull thru concrete site, 12' wide by 75'–90' long with 10'x20' patios.  Sites have 20/30/50 amp electric service, sewer and water, W hook ups, and Wi-Fi & cable TV are available.
Reservations:  Accepted over the phone
Amenities:  Keeping with the theme of an easy RV experience, Duck Creek Valley RV Park includes these amenities
fully enclosed by security fence
all-automatic men and women's restrooms with showers in a concrete building that also serves as a storm shelter
laundry room
in-ground pool
playground and fenced pet play area
wi-fi and satellite
off-leash dog park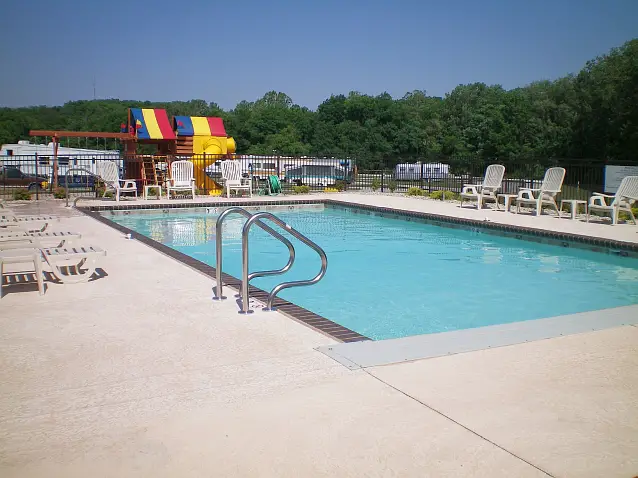 What's Nearby: 1.5 miles north is Lake Shawnee, where you can enjoy fishing, boating, jet skiing, paddle boating, or the beautiful 8-mile trail around the entire lake for walking or bike riding.
Ted Ensley Botanical Gardens is ten minutes away from the campground as well.
Just outside the park, LonnieQ's BBQ restaurant is open daily for lunch between 11:00am & 1:00pm, and Friday for dinner between 5:30pm & 7:30pm.
Kentucky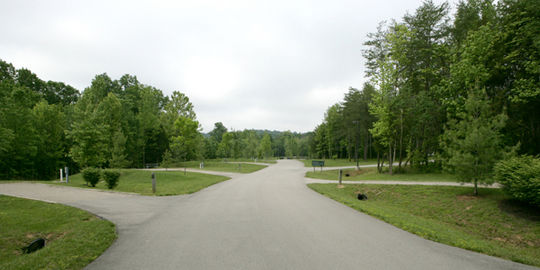 The 32 site RV campground makes up just a small part of this 300 acre park bordering a nearly 6,000 acre lake established in 2001.  Reservable sites between mid-March to mid-November give those lucky enough to stay access to a variety of outdoor activities as well as prime access to neighboring Mammoth Cave National Park.
What makes it special:  The small size of the campground as it compares to the access to birding, travels, beach, and fishing is really special and unique.  Several of the campsites back up to the lake and all sites are surrounded by trees and natural features.  The relatively untouched nature and limited size of this campground gives visitors access to beautiful sunsets and common wildlife sightings.
Cost:  Sites vary from $22 to $28 per night with the higher priced sites located on the water.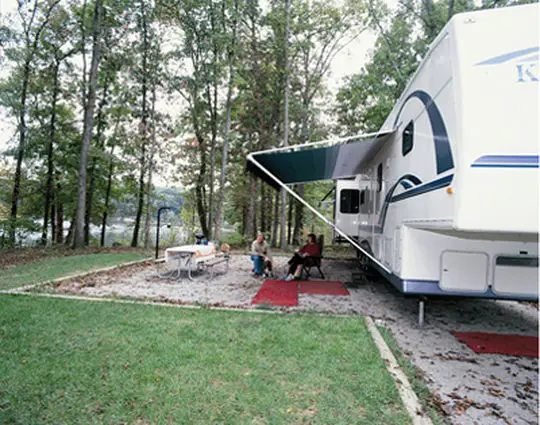 Reservations:  Reservations can be made online through Kentucky reservation system at the site linked above.
Site features: The level gravel sites vary considerably in length reaching up to 120 feet.  All sites are water and electric and back in style.  All sites feature picnic tables and fire rings.
Amenities:
Playground
Bath and shower house
Storm shelter
Beach access with swimming Memorial Day through Labor Day
Nature hiking and biking trails
Fishing
Birding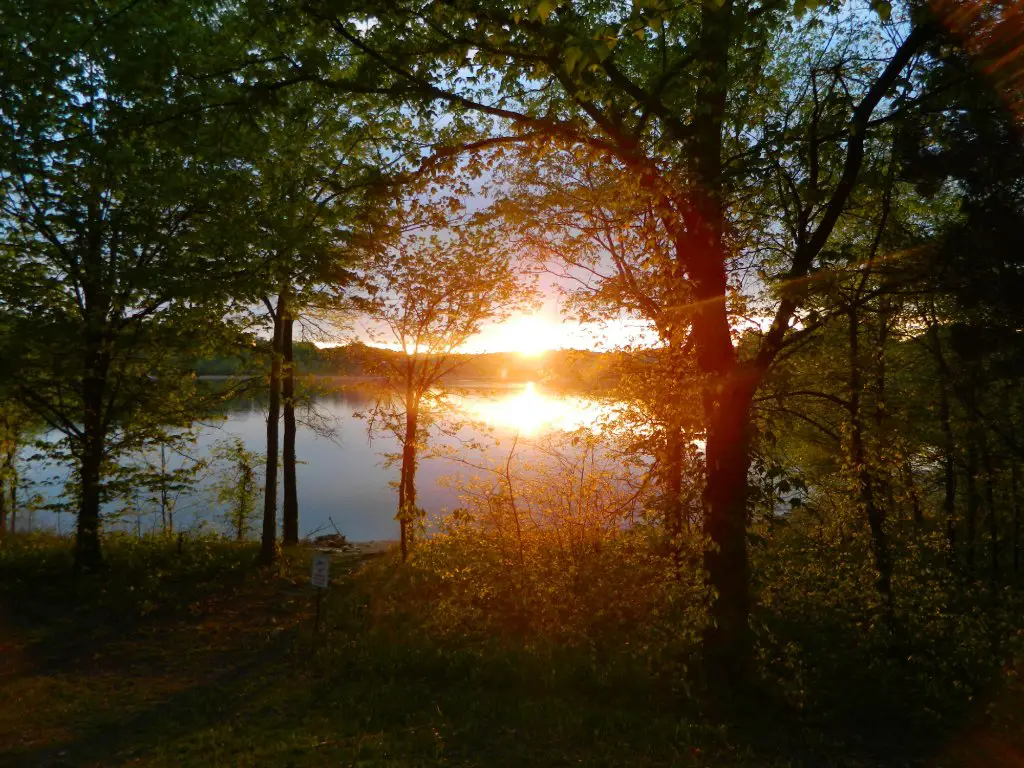 What's Nearby:  As it is a fairly remote location, there are no tourist attractions in the area.  The attractions are all natural between what's available within Nolin Lake State Park and Mammoth Cave National Park.  There are nearby spots to grab a quick bite and pick up firewood as well.  If you travel around the perimeter of Mammoth Cave, there are more dining options in little towns like Edmonson.
If visiting Mammoth Cave National Park is part of your itinerary, don't forget that kids can become a Junior Ranger at any national park.  Mammoth Cave is an impressive site with easy to navigate pathways to access the cave and substantial trails for any level of ability.
Michigan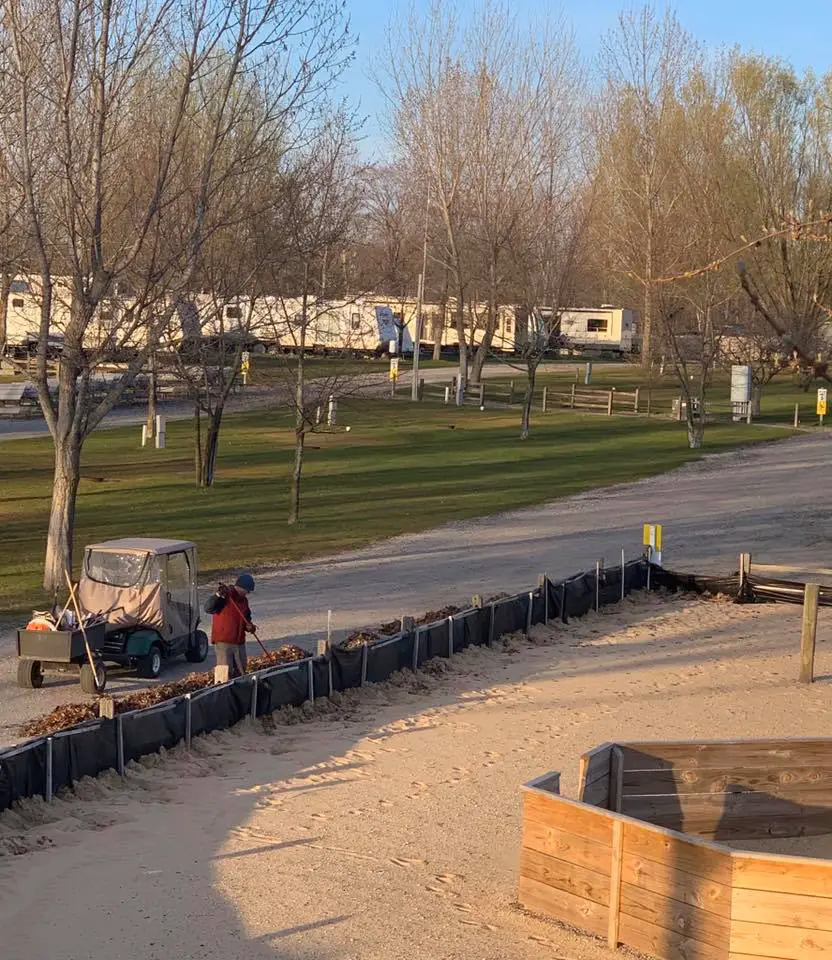 In this area of central Western coast known for sand dunes and access to Lake Michigan, there are several campground options.  However, just a moment reading the reviews of Silver Lake Resort will tell you how beloved this place is for so many.  Over 200 tent and RV campsites along with simple cabins make up the lodging options here.
What makes it special: The opportunities for fun are endless between onsite activities and the access to sand and water located nearby at the dunes and lake.  The property well run with a camp store that has you covered for your morning coffee, extra barbecue supplies and treats like slushies and ice cream.  The property is in its fifteenth season and management knows how to run a great camping season accommodating guests with activities and well run services.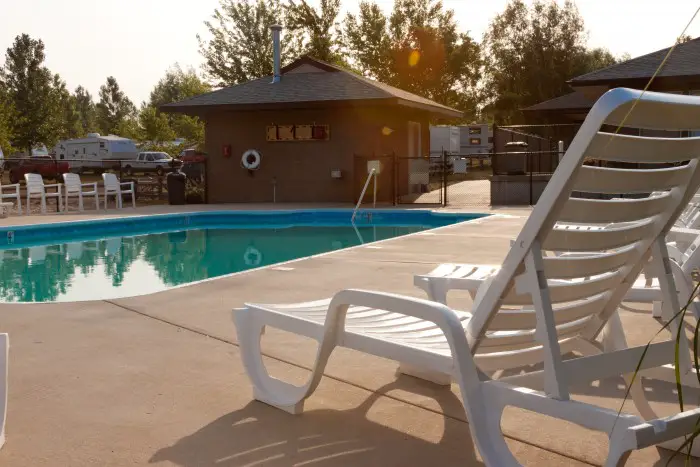 Cost: Rates are based on the part of season and part of the week that you visit.  In peak season, rates begin at $42 for water and electric back in sites and top out at $57 for full hook up pull through sites.  In the lower season, weekday rates are $40 for any site and $45-55 on weekends.  Seasonal rates are available as well.
Reservations: Camping season is May through September with peak season running from June 12th to September 3rd.  There are also three night or more minimums for some dates.  Reservations can be made online, but book early to get your desired dates.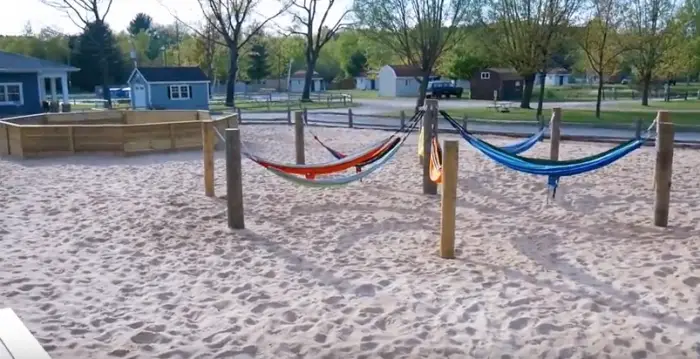 Site features: Silver Lake offers both back in and pull through sites with the following options:
2 types of full hook-up sites.
Spacious 40 x 60 grass sites with 20/30/50 amp service, water, and sewer hook-up.
45 x 65 ft pull-through sites with 20/30/50 amp service, water, and sewer hook-up.
2 types of water and electric hook-up sites.
Spacious 40 x 60 ft. grass sites with 20/30/50 amp service and water hook-up.
45 x 65 pull-through sites with 20/30/50 amp service and water hook-up.
Amenities:
Modern, upgraded tile shower houses
20 x 40 Heated pool with deck lounging chairs
Hammock area
Gaga Pit
Camp store with
Playground
Horsehoes
Basketball
Cornhole
Pickleball
Shaded picnic areas
Wi-fi
Pavilion area
Pond with catch and release fishing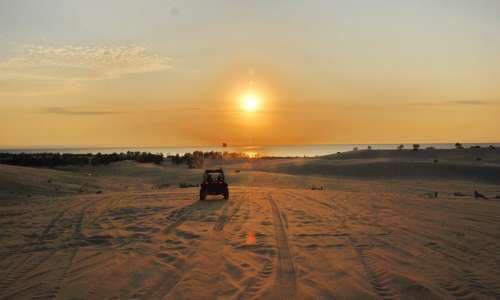 What's Nearby: Silver Lake State Park is a five minute ride from the campground and comprised of sand dune and access to Lake Michigan.  Companies in the area provide dune rides, Lake Michigan cruises, and resort town amenities like ice cream shops.  The area is also popular for off road vehicle riding.
Minnesota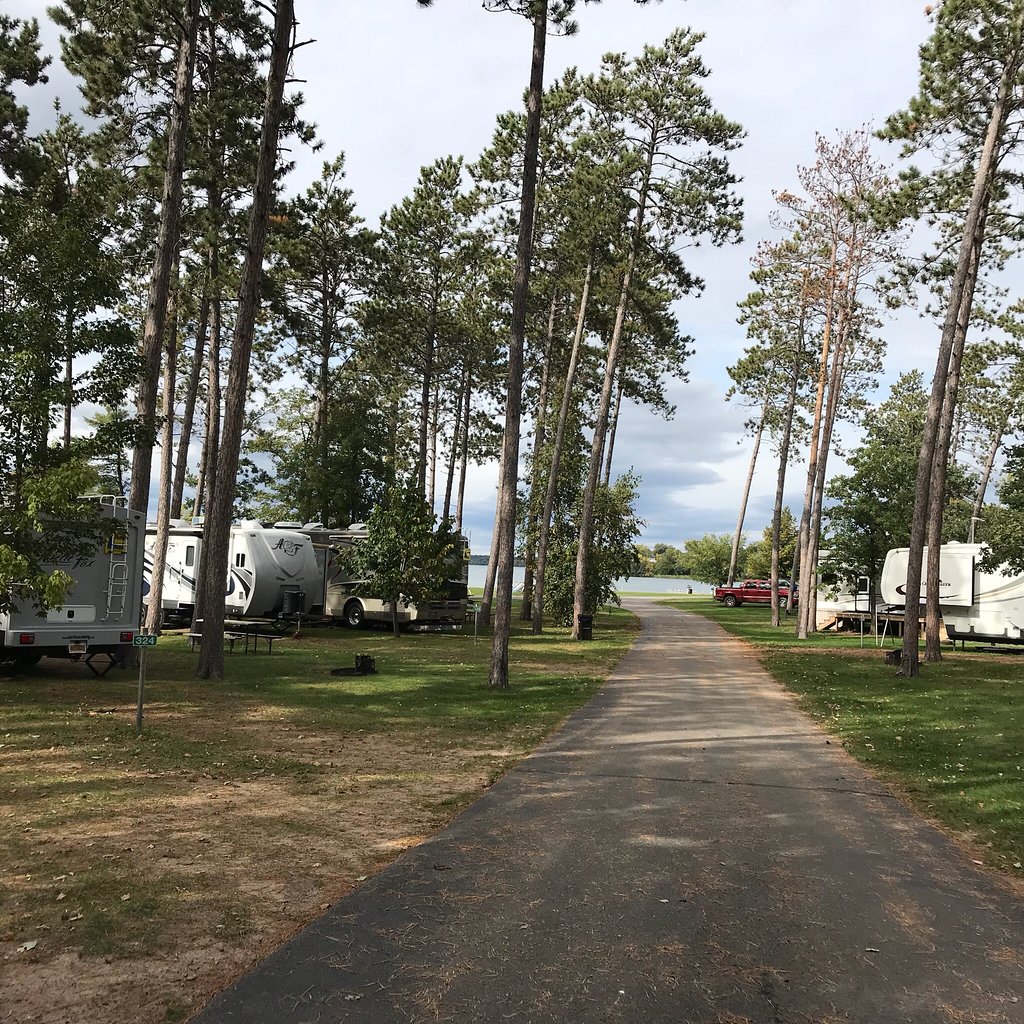 Stony Point Resort is a privately own campground and cabin resort that has been operating since 1939 in Northern Minnesota on the land bridge amidst the grounds of Chippewa National Forest.  The location features the best of the Northwoods with beautiful shaded spots, access to lake shore, and lodge amenities including an indoor pool.
What makes it special:  Imagine the woodsy feeling, lake front feeling of Northern Minnesota but the amenities of a fun family resort and decades of customer service experience.  Resort guests can rent various water craft, swim inside in the pool or outside on the lakefront and climb the inflatable course.  You can launch your own boat as well.  The Canal House restaurant also offers a place to take a break from the campfire.  You can really create your own summer camp experience for the whole family at Stony Point Resort!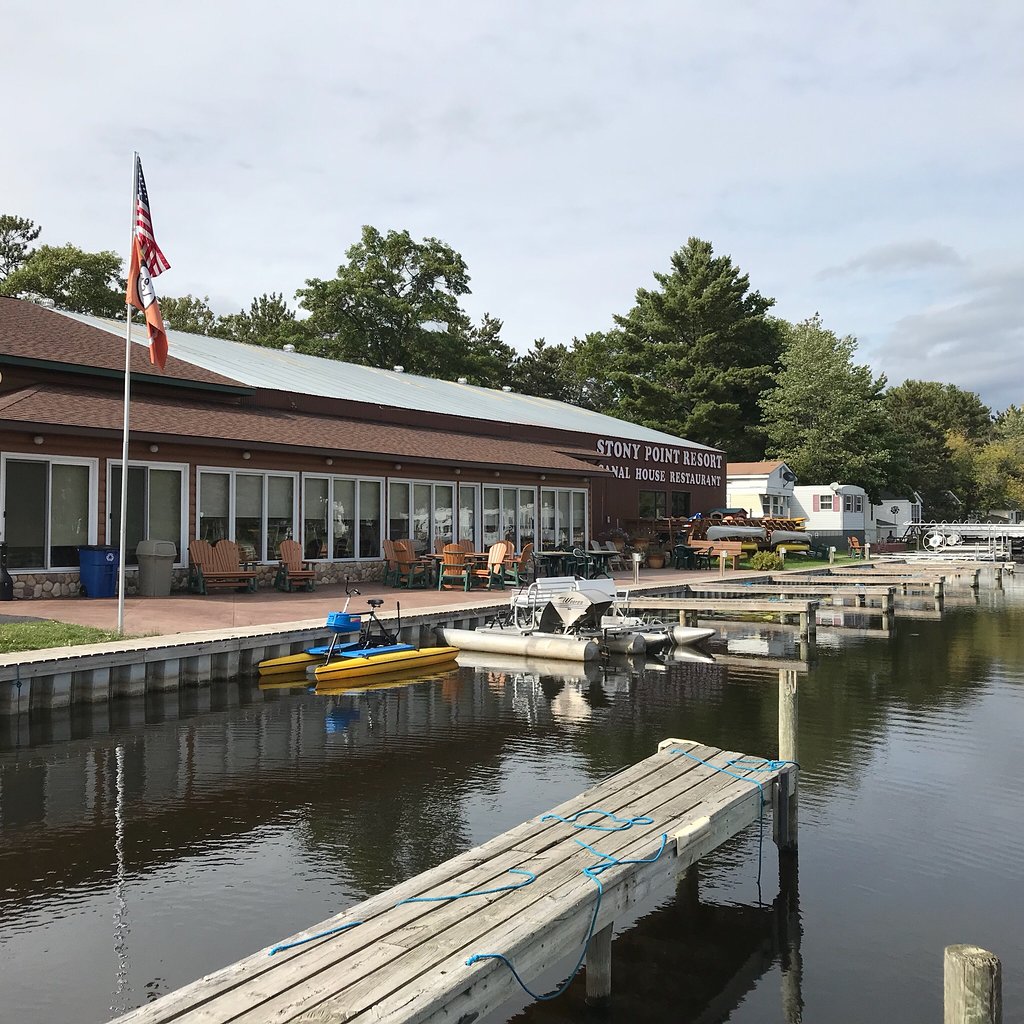 Cost:  Daily, Weekly, Monthly and Annual rates are available. Nightly site rates start at $42 for full hook ups and go to $46 for waterfront lots.
Reservations:  Overnight camping is available from May 1 through Oct 15 with 10% available outside of prime season.  Reservations are made over the phone and are recommended as far out as possible.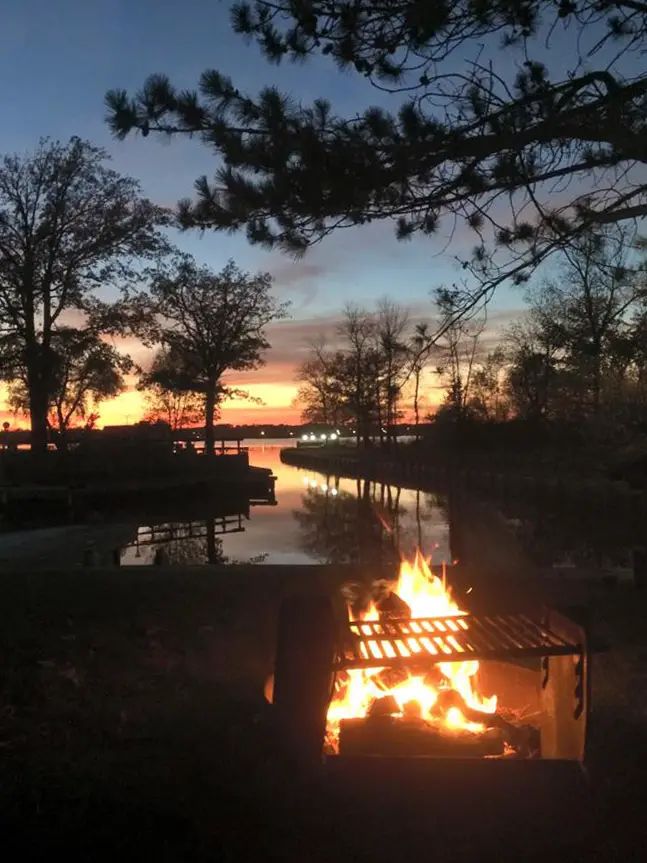 Site features: The sites are gravel with beautiful wooded areas with full hookups for water, electricity, sewer and concrete patios.  Each site has a fire ring and picnic table.  Some feature water views.  There are several pull through sites.
Amenities: Stony Point Resort provides modern and clean bathhouses with hot showers, plus outside hot and cold faucets.  Basic camping needs are met with firewood sales, LP refills and a dump station.  The camp store stocks tons of apparel and gifts to celebrate your Northwoods adventure.  Onsite is the Canal House Restaurant & Lounge which serves lunch and dinner each day during the high season and breakfast buffet on the weekend.  Pets are allowed.
Swimming / Safe Sandy 650′ Swimming Beach
Fishing and Pontoon Bots for rent
Aqua Bikes
Canoeing
Kayaking
Paddleboating
Hiking Trails
Biking Trails
Playgrounds
Volleyball
Basketball
Recreation Room
Horseshoes
Four Wheeling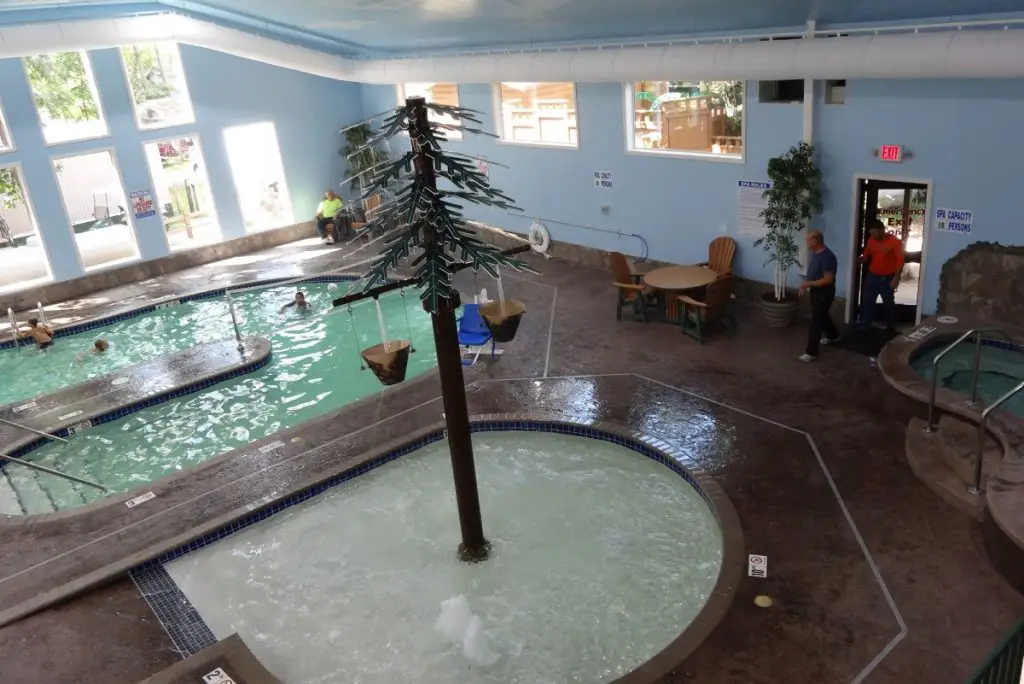 What's Nearby:  Since this private campground is surrounded by the National Forest, there is much exploring available on land and in the water.  There are also golf courses and three casinos in the area.  Stony Point Resort is located just outside of the town, Cass Lake.
Missouri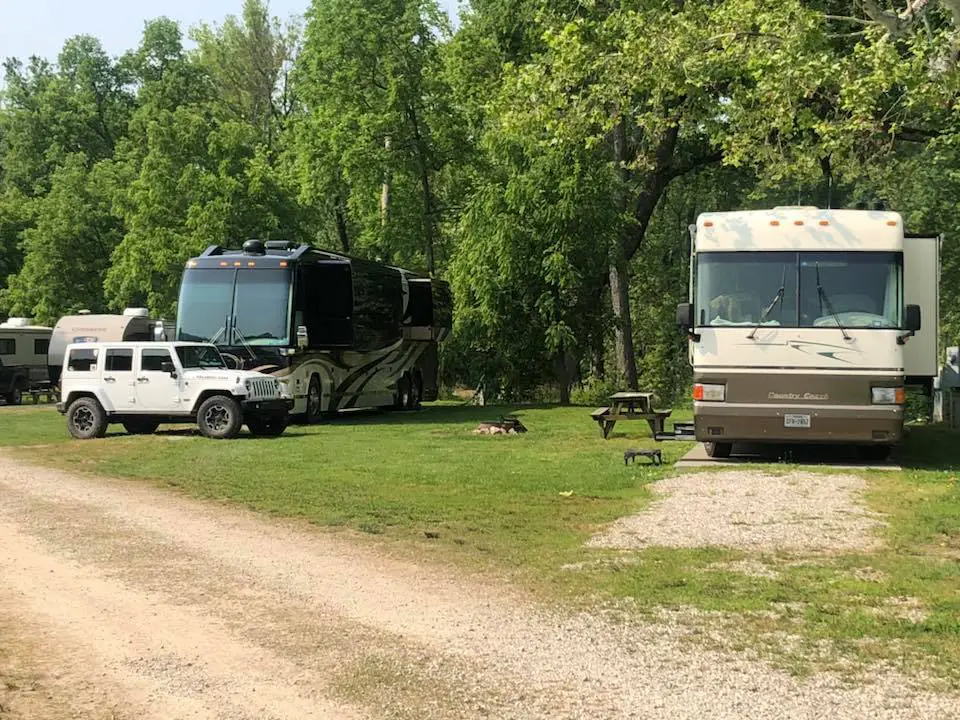 Located on the Niangua River the Ozarks, this 200 acre campground's prime feature is its access to the water.  You bring the RV and they can fully supply you for a float trip on raft, canoe, kayak or tubes.
What makes it special:  This is a great spot for families who are new or experienced on the water.  They have several different float trip lengths to accommodate everyone.  You can even grab an RV site with river access which is a rarity to find.  If staying with young children (and concerned about water access) or family/friends that don't own an RV, there are also rental cabins and a handful of RV sites located on the hilltop.  Guests enjoy the shaded, well spaces campsites.
Cost: $35 per night for any RV site for 3 people.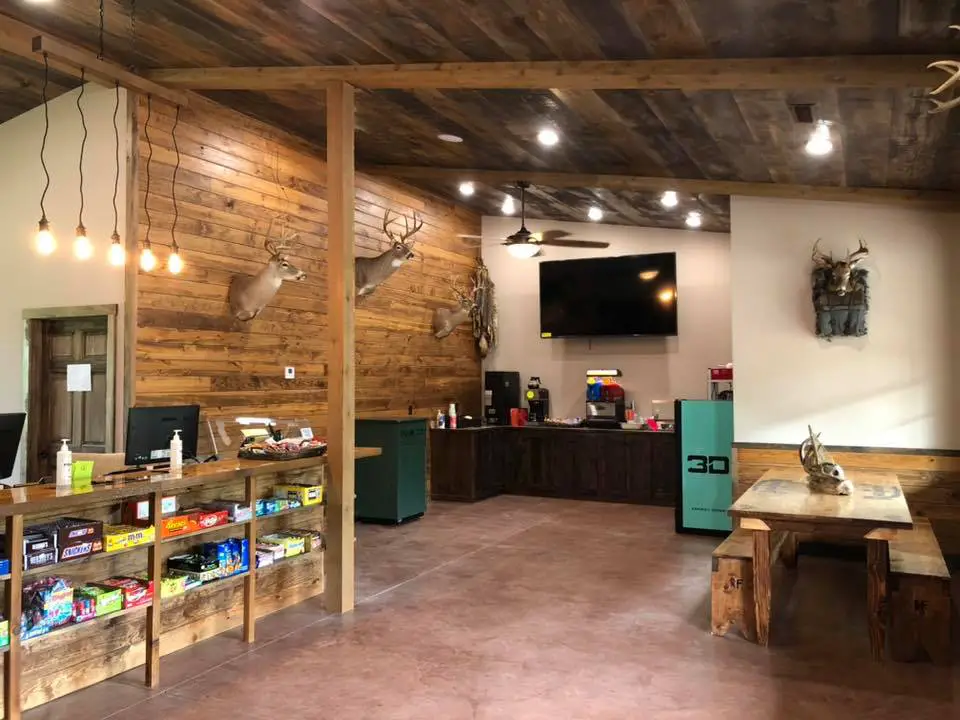 Reservations: Reservations can be made online at Riverfront's website.
Site features: There are two categories of RV sites:
Gold RV sites (44-62)

– These premium sites enjoy close proximity to the Niangua River with many having great river views and access. Concrete pads are 9′ x 40′ in size featuring Water & 30Amp, 50Amp or 110 service, Fire Pit with Grill and Picnic Table. 

Silver RV sites (1-43)

 – Sites 1 through 30 do not have a concrete pad and are typically reserved for tents (although we do rent to RV Campers as well). Sites 31 through 43 have a standard concrete pad, electric and water. They also feature a Fire Pit with Grill.
Amenities:
Shower and bath house
Hiking
Kayak, canoe, tube and float access
Boating
Swimming
Firewood for sale
Picnic Tables and fire ring and/or grill
Campstore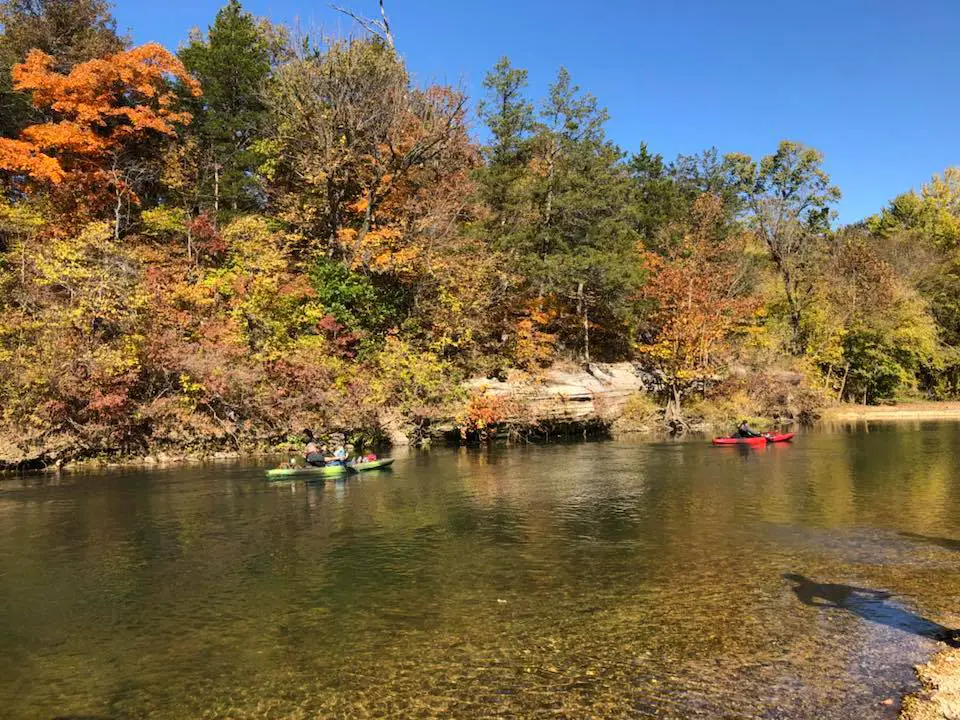 What's Nearby:  Bennett Spring State Park neighbors the campground.  You can expand your water adventures with their legendary trout fishing.  The park is full of trails to explore and is home to a rustic dining lodge that follows the trout season schedule as well as serving breakfast and dinner buffets on the weekends.  Visitors to the park can also utilize the Olympic swimming pool and concessions.
Nebraska

Nebraska campgrounds are often the stopping over point on longer trips as the distance on I-80 can be long and open.  This fifteen acre campground features 42 concrete spots and a different backdrop than most Nebraska campgrounds, Scotts Bluff National Monument.  You will feel like you have crossed the border into Colorado staying across from this beautiful and historic landmark.
What makes it special:  Known for quality customer service and well maintained grounds, whether this is a stopover or a few days visit, Robidoux will be a pleasant stay.  With a view of Scotts Bluff from the campground, it's the perfect stop if that is your destination or a bonus to anyone traveling through the area.  The level concrete spots with full hook ups make this small campground an easy place to get set up.
Cost:  Nightly rates begin at $29 for water and electric and range from $32 to $35 per night for full hook up sites.  There are weekly and monthly discounts available.
Reservations:Reservations can be made by calling the park or using a reservation request form through the City of Gehring.
Site features: All sites are level, concrete pads.  Each site includes a picnic table.  There are some moderate size trees, but campers report that satellite access is not inhibited.
Amenities:
Playground
Shower House
Laundry Facilities
Reservable Meeting Space
Basketball court
BBQ grills
Wifi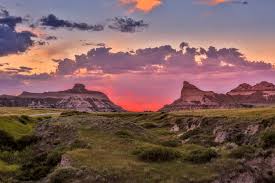 What's Nearby: Scotts Bluff is significant for its natural beauty, historical significance on the Mormon, Oregon and California Trails, and as a paleontological site.  The park is comprised of 3,000 acres of prairie, trails, museum and education, and home to a variety of wildlife.  There is no entry fee.
Robidoux is located on the perimeter of the town of Gehring, home to a few restaurants and stores to help you keep supplied during your stay.
About 25 minutes from the campground is Chimney Rock National Historic Site.
South Dakota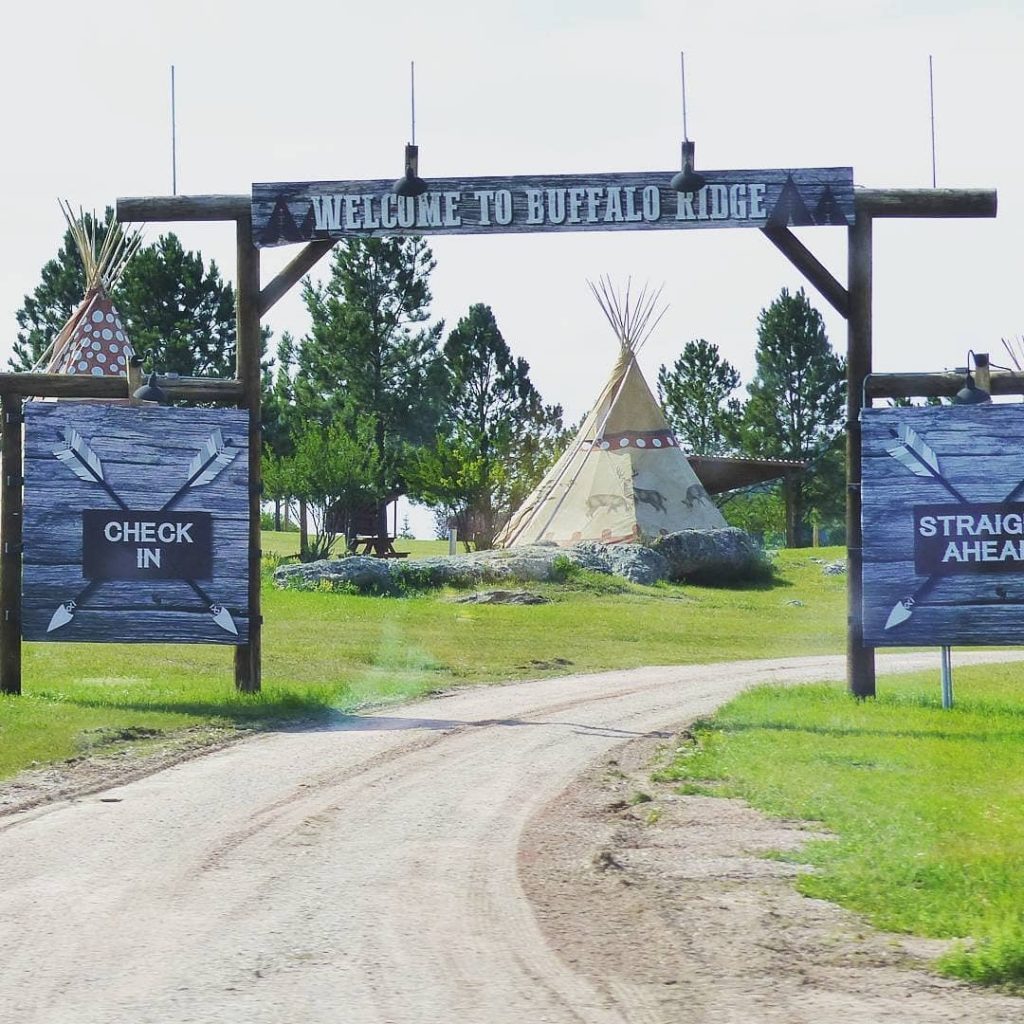 Buffalo Ridge Camp Resort is a new brand of campground.  Like so many of its competition, it is a combination of different types of "camping" experiences including 106 RV campsites, 14 tent campsites, 16 camping cabins plus luxury cabins and glamping teepees spread over sixty acres neighboring the Black Hills National Forest.  This seasonal campground is a great central location to the area's many national treasures and only five minutes from downtown Custer.
What makes it special: There are stylish and sophisticated touches to the resort that make it feel like a modern take on camping.  You'll find it in their marketing as you anticipate your visit, but also in the styling of the cabins and teepees, the customer service, and amenity offerings.  Buffalo Ridge offers the play amenities we expect from campgrounds, but also is upping the ante with a family friendly and adults only solar pool opening this year.  The General Store is not your typical camp store and offers resort style gifts supporting your #camplife or memories of it.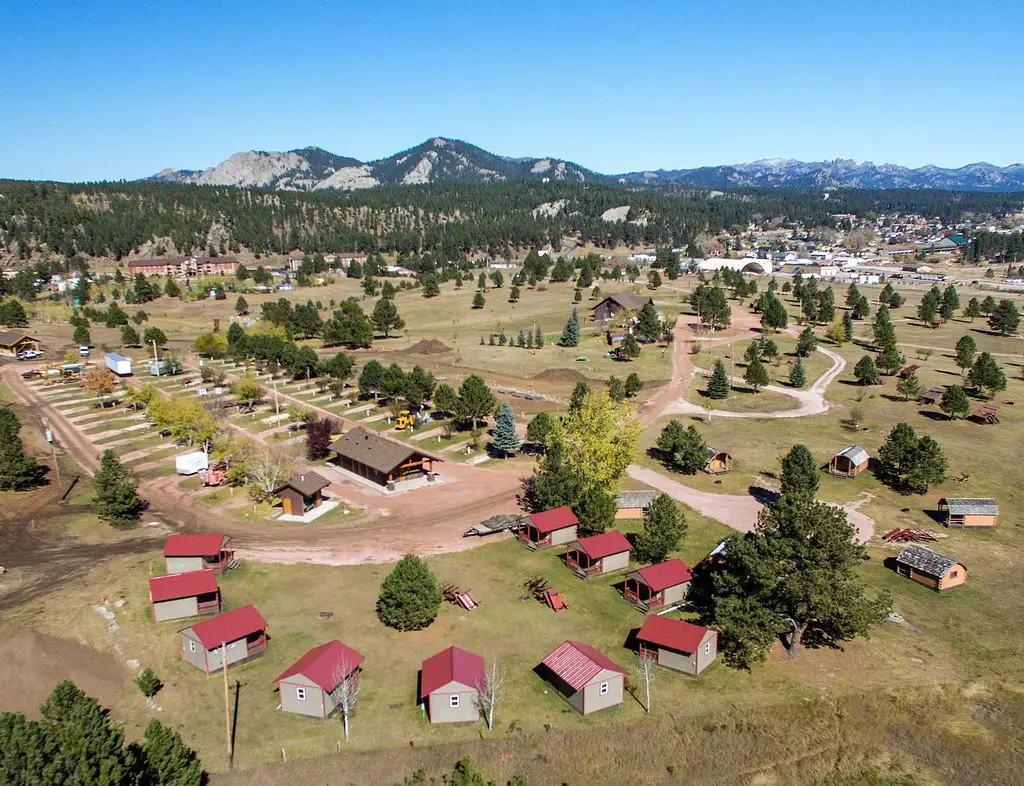 Cost: RV Sites start at $45/night (30 amp, full hook ups, up to 45 ft) to $65/night Deluxe sites (50 amp, full hook ups, up to 65 ft)
Reservations:Open for online booking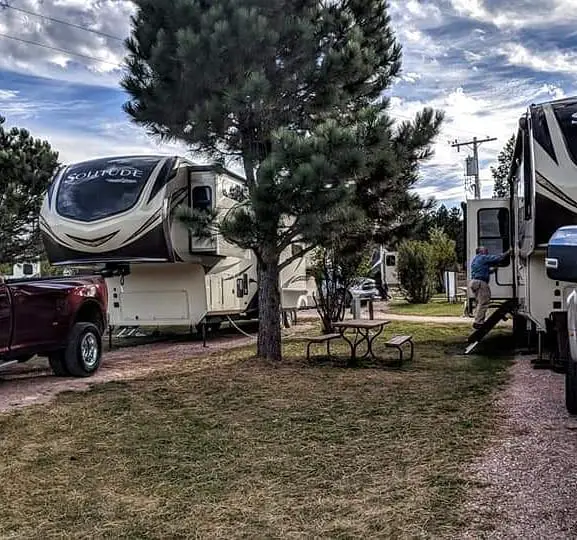 Site features: Sites are up to 65 feet long including fire pit and picnic table.  Most sites are of a modest width but include growing trees and the entire site is surrounded by beautiful backdrop.  The campground is conveniently located within the great resort with a nearby shower building and the ring of cabins and tent sites on neighboring loops.
Amenities: We rarely happen upon campgrounds with newly built features including the General Store, 24-hour laundry facility, and multiple shower houses with spacious, private shower rooms. The Resort takes full advantage of the forest location, offering a menu of adventure rentals like ATVs.  They offer firewood for sale, playground, basketball and volleyball court and easy access to trails.  Coming this year, a new solar heated family and adult pools and hot tub.  Pets are welcome throughout the resort.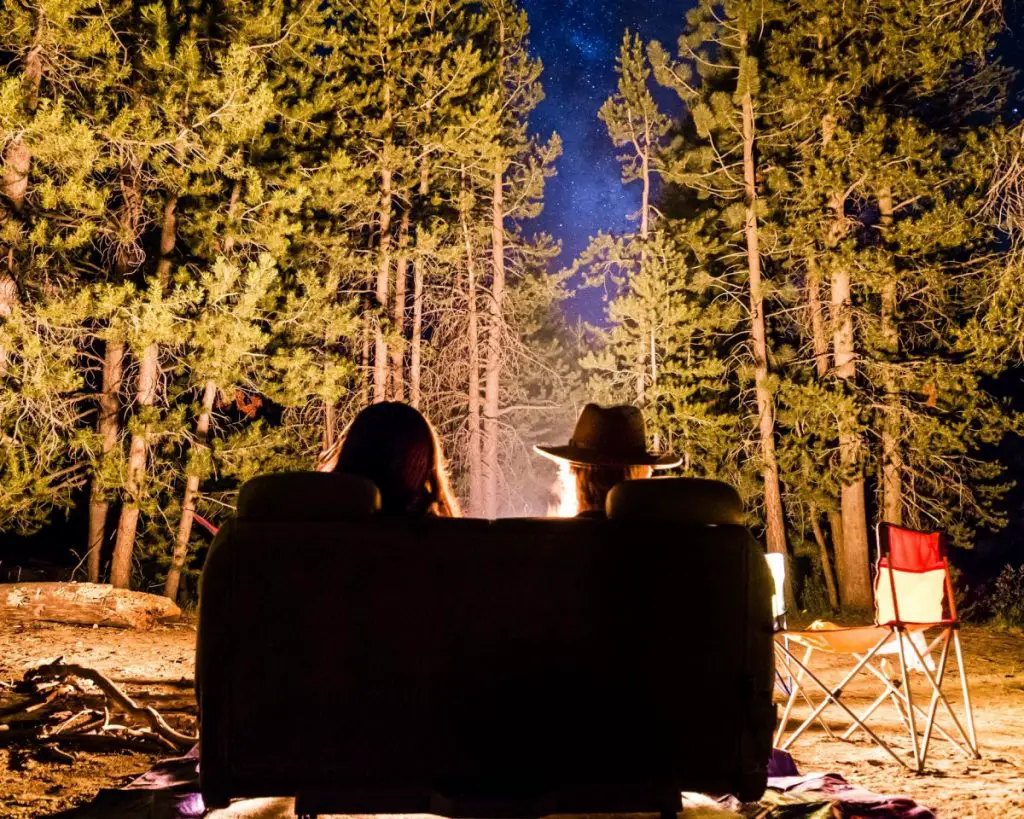 What's Nearby: Mount Rushmore, Crazy Horse Memorial, Jewel Cave National Monument, Custer State Park Historic Deadwood Gambling Casinos and Spearfish Canyon National Scenic Byway.
Wisconsin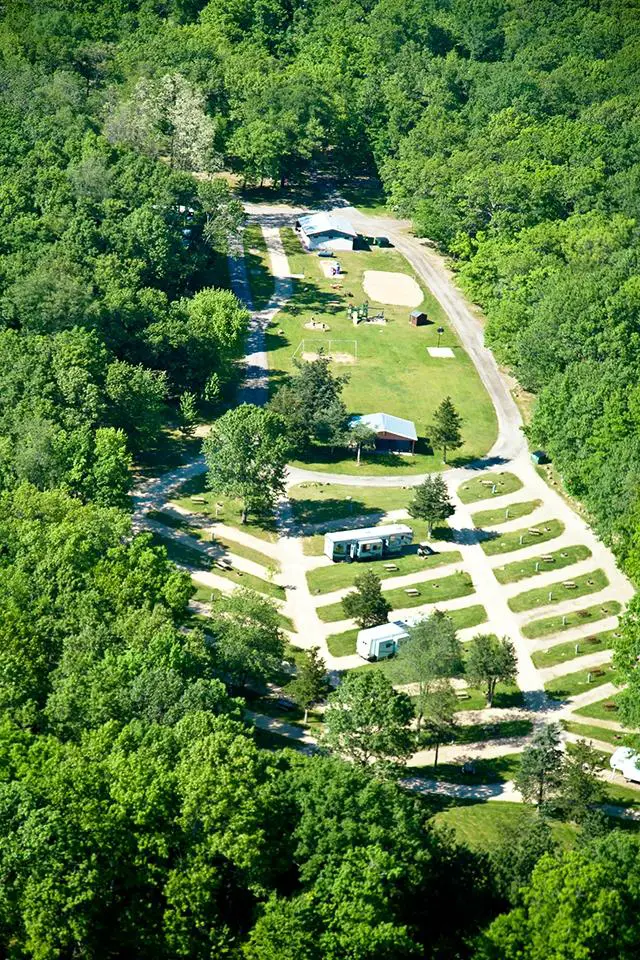 Award winning and guest favorite, this campground in the Wisconsin Dells area is guaranteed to please.  Fox Hill is a mixture of full hook up and water/electric RV sites, tent sites, and cabin rentals.
What makes it special:  For a medium-sized campground, they pack in a lot of fun.  Plus, the location and access to outside activities can't be beat.  The list of amenities and activities available will impress your kids and keep you from ever wondering how you will keep everyone entertained.  They also feature a "pay for 5, stay 7" deal that makes all of the fun more approachable.
Cost: Water/Electric sites start at $44/night in the non-peak season for a standard site and go to $66/night with a Premium Pull Through Full Hook up Site on a Holiday weekend with a variety of price points in between.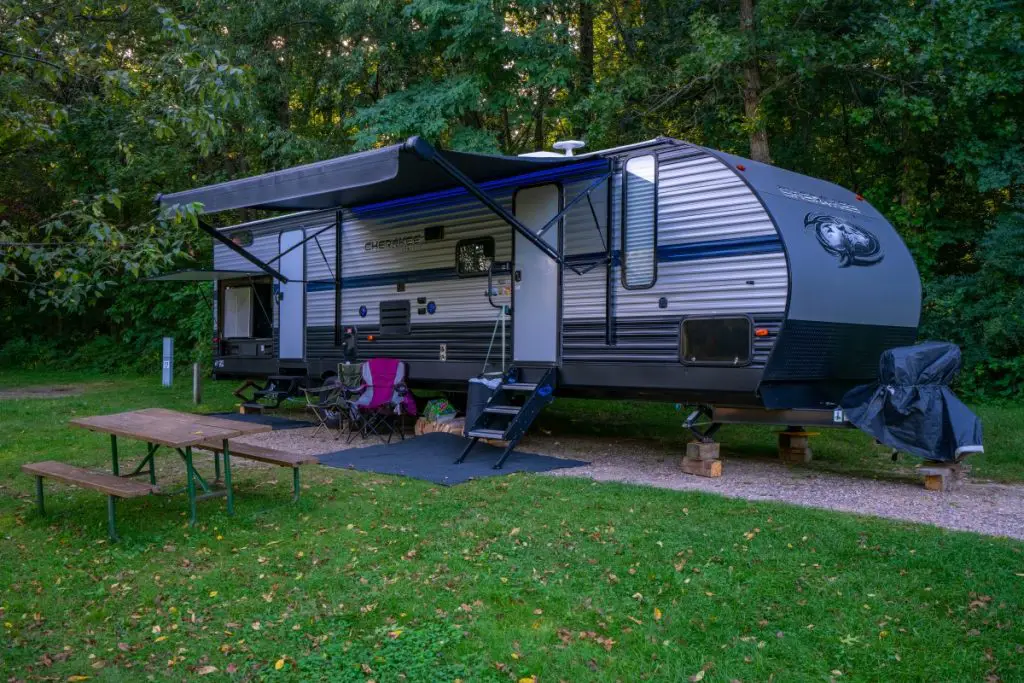 Reservations:  The campground is open late April to mid October.  Reservations can be made online.
Site features: Water/Electric sites are available with 20/30/50 amp as well as full hook up sites.  There are pull through and back in sites available with a rating system making some sites more affordable or costly based on the site quality.
Amenities:
Kiddie Train
Game Hill with large format outdoor games
Tye Dye
Movie and s'mores
Ping Pong
Disc Golf
Table Games
Foam Pit
Wagon Rides
Golf – discounted at nearby course
Swimming Pond
Large heated swimming pool
Wi-fi
Camp store and snack shop
Game room
Playground
Shower and Bath house
Wood delivery
Laundry facilities
Picnic pavillions
Pedal cars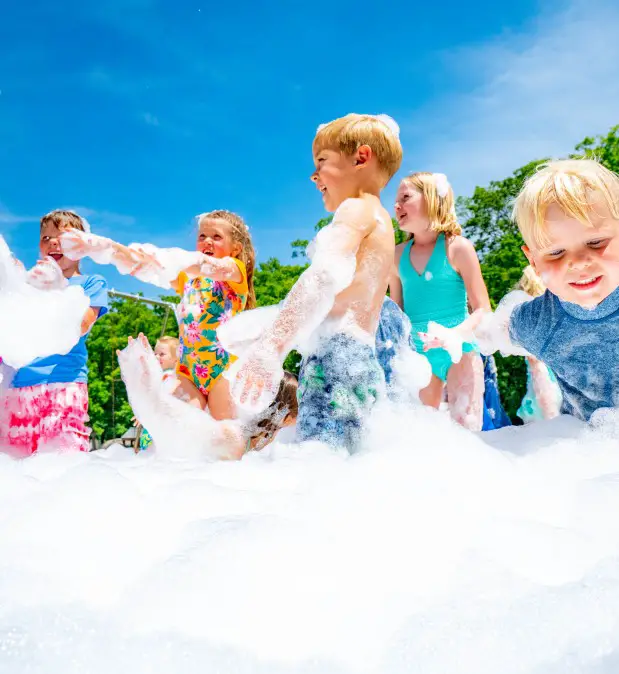 What's Nearby: Fox Hill is located four miles from the Wisconsin Dells and seven miles from Devils Lake State Park.  The Dells are filled with waterparks, tourist attractions, restaurants, and fun of every kind.  Devils Lake State Park is a 360 acre park full of amazing hikes, lake and beach access and unbelievable views.  Guests of Fox Hill can receive discounts at several Dells attractions.
Get Camping!
Have you or your family stayed at any of these campgrounds?  I would love to hear more about your experience and see your photos.