If you are a resident of the Midwest and feel the pressure of limited time opportunities for family trips, the planned winter break most schools take over the new year seems like an obvious chance.  A quick search turns up exorbitant prices and can dishearten those looking for an escape from the winter.  This list of ideas is for the Midwestern family looking to celebrate the time together without extraordinary spending required to visit warm weather locations AND embracing the winter beauty surrounding us.
Hotels & Resorts
The Langham – Chicago, IL
Grand Geneva Resort – Lake Geneva, WI
Big Cedar Lodge – Ridgedale, MO
Boyd Lodge – Crosslake, MN
Zehnder's – Frankenmuth, MI
Rentals
Cozy Pines – Columbus, IN
Beautiful Cabin by the River – Coloma, MI
Scenic Sunset Cabin – Campton, KY
Waterfront Cabin – North Liberty, IA
Hotels & Resorts
The Langham – Chicago, IL
The Langham Hotel is luxury, elegance, and class sitting on the Chicago River.  The views of the frosty waterfront from these gorgeous suites cannot be topped.  Add in the magic of holiday decorating which they accomplish from floor to ceiling and you have a truly special environment in which to celebrate the season.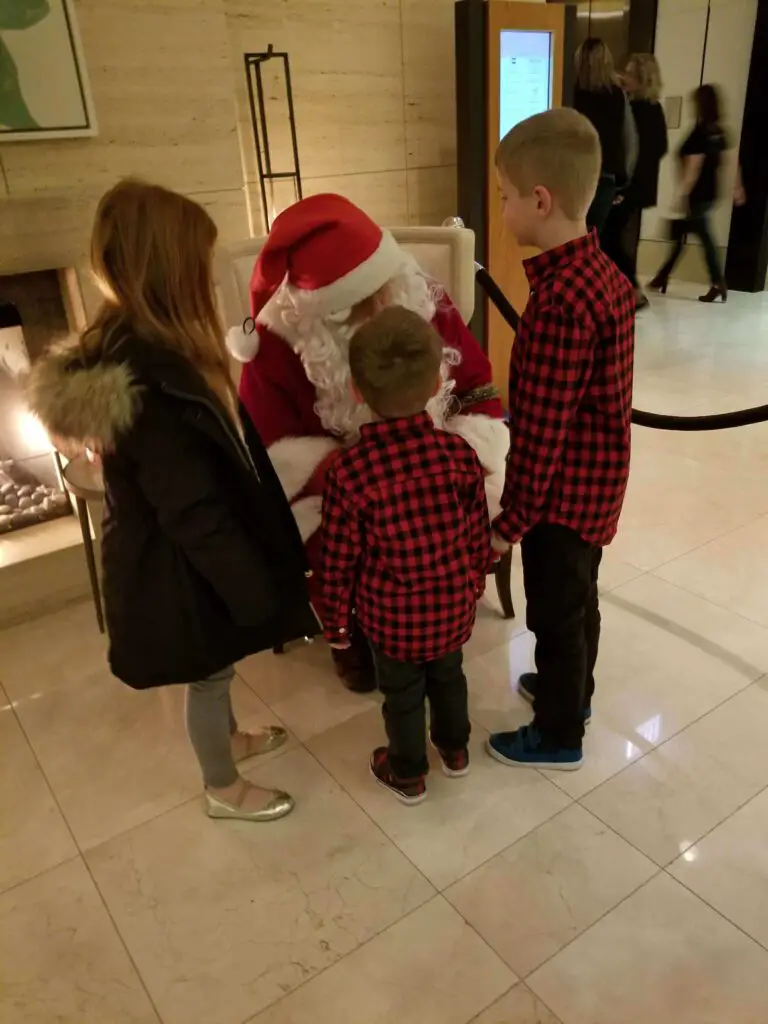 At The Langham, you can also expect holiday events such as choirs performing, visits from Santa, and a hot cocoa bar awaiting your visit.  We are starting this list off at the top of the budget, but if you are splurging on an experience for the holiday, you will be very comfortable and content at The Langham.
Grand Geneva Resort – Lake Geneva, WI
You know a resort is serious about celebrating the holidays when they devote a page of their website year round to Christmas.  Grand Geneva Resort goes all out in decorating the resort property and offers a six week long season of holiday activities.
In addition to the beautiful downtown Lake Geneva, on the resort property, guests enjoy organized activities including a 12 Days of Christmas light trolley ride, igloo rentals, gingerbread house display, and breakfast with Santa.  One of my favorite offerings from Grand Geneva Resort is an option to have a decorated Christmas tree placed in your room – how festive!
Beyond the holiday festivities, Grand Geneva offers access to skiing, skating and sledding. Kids will also love the neighboring indoor water park.
Big Cedar Lodge – Ridgedale, MO
Christmas is a serious priority at America's "Premiere Wilderness Resort".  Big Cedar Lodge's rustic yet lush decor provides a cozy environment with families in mind.  Accommodations vary from lodge rooms, cottage and even log cabins.
The lodge is twinkling with holiday decor, but you will also find a wide variety of seasonal activities.  You can ride in a tractor pulled wagon to see the more than two million lights or participate in a seasonal scavenger hunt that ends with a completed centerpiece.  Make your time extra special for little ones with elf and Santa visits, elf craft workshop and gingerbread house contest.  Families can sit around the fire sipping cocoa and anticipating what is to come or reliving favorite Christmas memories.
Boyd Lodge – Crosslake, MN
Surrounded by Minnesota's beautiful, central lake country, Boyd Lodge has been a family owned lodge since 1934. You can see generations of visitors in vintage photos on their website.  If a snowy, cozy cabin or cottage stay is what you have in mind, Boyd Lodge is perfect. Cabins have 3, 4, or 5 bedrooms and can be described as traditional wooden, more rustics interiors.  Cottages include more upscale interiors, modern amenities and four bedrooms.
Offering activities year round to access the water and onsite amenities, for winter Boyd Lodge offers cross country skiing, sledding, snow shoeing, and access to frozen lakes for ice fishing.  Don't let the cold weather keep you from a cup of cocoa and toasted marshmallows around the fire. Snow mobilers also love the property.  Families can enjoy most activities for free with their stay before warming up by the fire or jumping in the spa.
Zehnder's – Frankenmuth, MI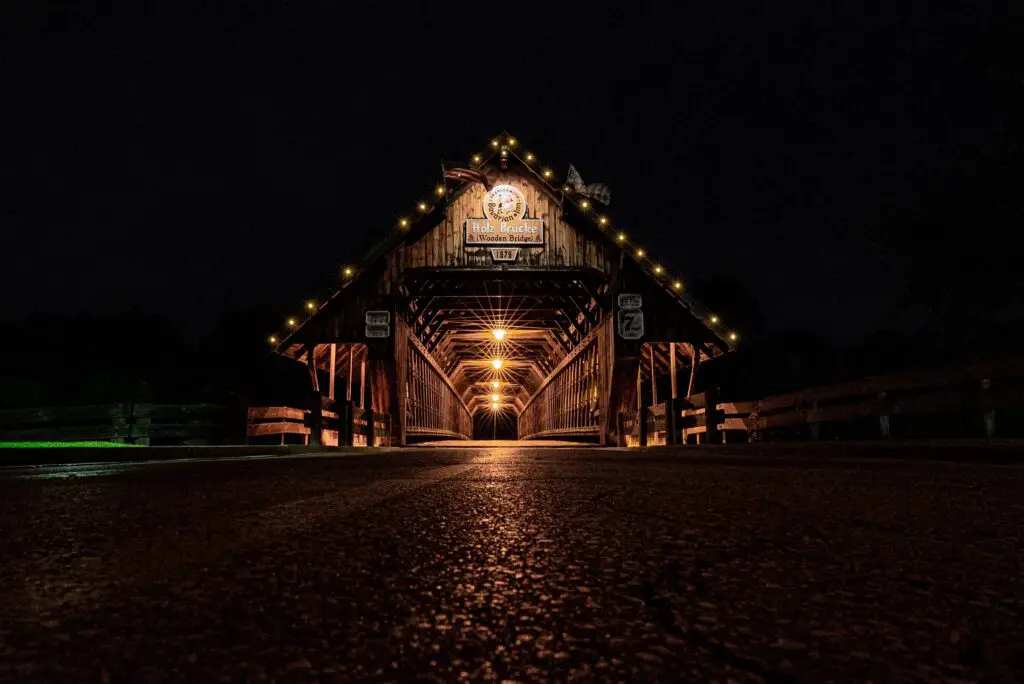 Have you heard of Frankenmuth, Michigan? Located in East Central Michigan (think below the start of the mitten thumb), this town of 5,000 residents celebrates their Bavarian heritage through architecture and festivals.  One of the most festive times of year is the Christmas season.  Combine a waterpark hotel experience with the season of festivities and the whole family will enjoy.
Zehnder's Splash Village Hotel continues to charm guests with an atrium contained waterpark, several on site activities, and several restaurants from which to choose. If there is ever a shortage of fun, they offer a marketplace for shopping and a show schedule.  
Rentals
For families more interested in a getaway without any resort or hotel amenities, here are a few rentals that inspire the cozy, winter vibe.
Cozy Pines – Columbus, IN
Located less than an hour from Indianapolis, Cozy Pines cabin is aptly named. Warm up in the hot tub below the warm lights strung across the cabin's deck.  The natural wood cabin offers four bedrooms with modern style accents.
In snowy times, this cabin would make the perfect winter wonderland with an opportunity to escape to a game room and warm fireplace inside.  On less snowy days, take advantage of the fire pit area located just down the hill or explore the tree house on this wooded, nine acre property.
Beautiful Cabin by the River – Coloma, MI
Water makes such a gorgeous winter backdrop and this cabin in Southwest Michigan provides the perfect nooks and cozy corners to take in a frozen scene.  Beautiful Cabin has three bedrooms that fit up to eight guests offer serenity and the outside its doors, the space to roam and explore.
As a traditional log cabin, the interior is both rustic and cozy with lush, warm decor.  The deck also offers a lot of spaces to relax, read or just take in the view from the hot tub and several seating areas. This getaway is less than two hours from Chicago.
Scenic Sunset Cabin – Campton, KY
The Scenic Sunset Cabin is less likely than my other suggestions to provide a white Christmas, but its location is convenient for Midwesterners in Louisville, Lexington and Cincinnati.  Ideal for a smaller family with two bedrooms and a loft, Scenic Sunset is the perfect getaway to enjoy the holiday break.
The cabin is airy with high ceilings and views from the yard, deck, and hot tub.  Panoramic views above a canopy of trees over the Red River Gorge allow Scenic Sunset Cabin to live up to its name!
Waterfront Cabin – North Liberty, IA
Fun and dreamy are the words to describe this Waterfront Cabin located in East Central Iowa. Coralville Lake provides the backdrop for views from the main living areas and hot tub.  A kid friendly lower living with wood burn fireplace sounds like the perfect spot for Winter Break fun.  
Inside, the decor is mid century modern with thoughtful touches to make the guest experience truly special. A winter getaway here will make you want to return to enjoy the direct access to the water and spacious deck more fully.
Let's add to the list!
Have you or family discovered another favorite spot to spend part of Christmas/Winter Break? Or a place you've visited in the past that you would share?