If you are looking for a domestic destination between late October and April, you should consider Tucson. The daytime temperatures are in the 60 to low 80s during these months with little rain, perfect for lots of outdoor time. We have spent the last couple of Thanksgiving holidays in Tucson and the experience has been amazing. It gets a little chilly in the evening, perfect to cozy up to a fire table or snuggle up inside. 
Take this four-day itinerary and enjoy Tucson for your next long weekend.
Where To Stay
Long Weekend Itinerary

Day 1: Desert Museum, Historic Architecture & Family Fun
Day 2: Pima Air & Space Museum, Mount Lemmon & Agua Caliente Park
Day 3: Biosphere, Historic Fourth Avenue, & Sunset at Gates Pass
Day 4: Reid Park Zoo, Delicious Food & Family Fun
Where to Stay:
The absolute dreamiest AirBnB option exists in Central Tucson. Two connected casitas (one with one bedroom and one with two) are part of a fully fenced-in property. We have stayed here multiple times and the experience is amazing with indoor and outdoor spaces for the family to enjoy and every amenity you could need stocked for your stay.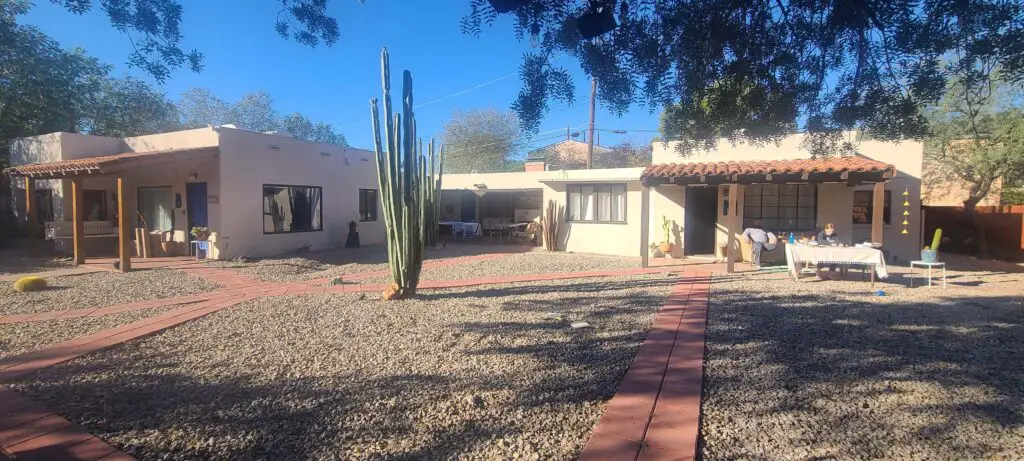 Tanque Verde Dude Ranch is an award-winning property with a variety of accommodations, an all-inclusive plan and lots of family-friendly activities. If you choose to stay here, your itinerary will look a bit different, but your days will be full of the best the Southwest has to offer.
I'm a big fan of Graduate hotels and The Graduate Tucson is no different. Located within the University of Arizona campus, The Graduate is great for families. They offer a family suite with two combined rooms, free bike rental, gym and pool, and an onsite coffee shop and indoor/outdoor rooftop restaurant.
Long Weekend Itinerary
Day 1
If you head out of Tucson toward your morning destination, you will drive through the Tucson Mountain Park and a scenic overlook area called Gates Pass. This introduction to the sheer number of cacti around Tucson is impressive. Enjoy the drive or even try out one of the many short trails along the route on your way to the Arizona Sonoran Desert Museum.
Arizona Sonoran Desert Museum is so good, we have visited twice. Set up over nearly 100 acres, the museum is a series of indoor and outdoor spaces featuring animals and plants native to the area. There is also an art gallery and natural history components to the museum. You will find docents giving talks along the path as well. There is a natural flow that keeps kids engaged and plenty of interesting information that sets the tone for your time in the desert.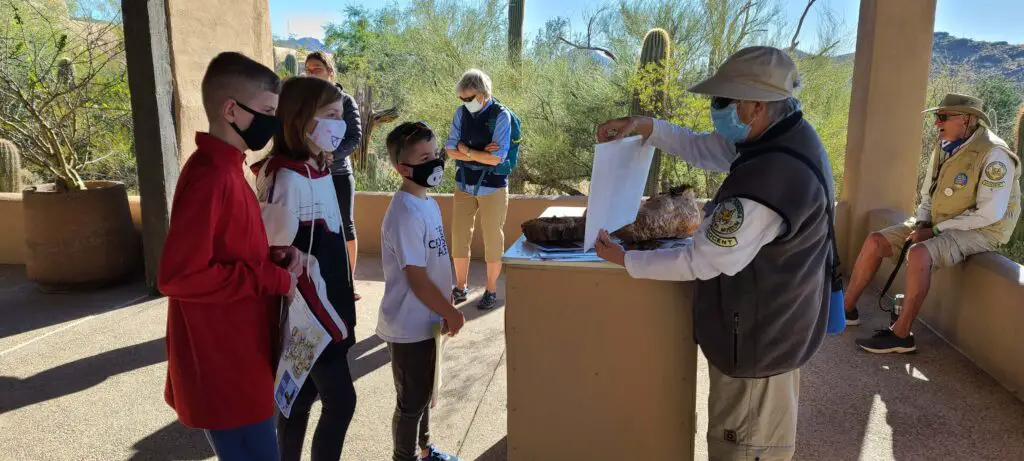 Saguaro National Park is actually in two locations on the East and West sides of Tucson. The museum is located just on the border of the West portion of the park.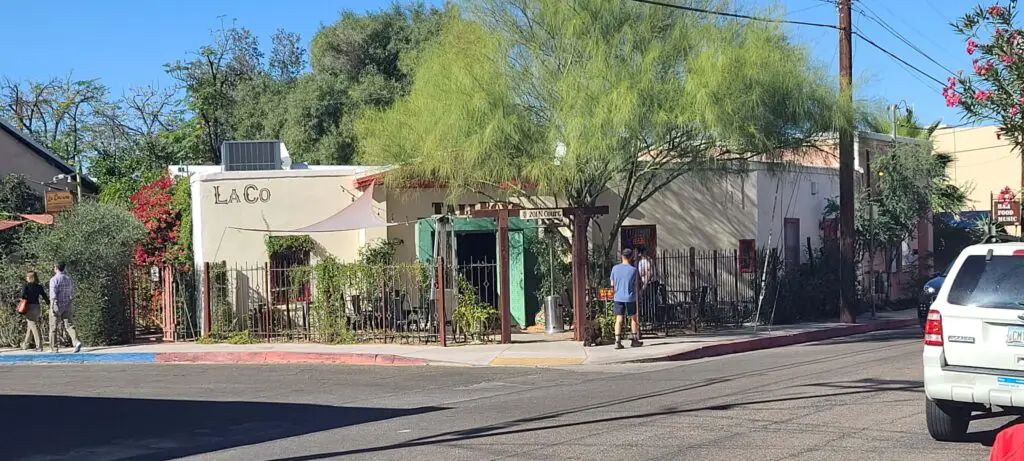 By the time you are finished at the museum, you will likely be ready for lunch. Head downtown Tucson to LaCocina Tucson. This unique open air restaurant specializes in Mexican food, but also features several sandwiches, salads and appetizers. You will be in the Presidio neighborhood. There are several colorful murals that are great for photo taking in this area.
From here, I recommend driving around a bit to see all of the beautiful homes in the area. The College of Architecture at the University of Arizona published a map showing the various styles of homes and the neighborhoods where they are represented.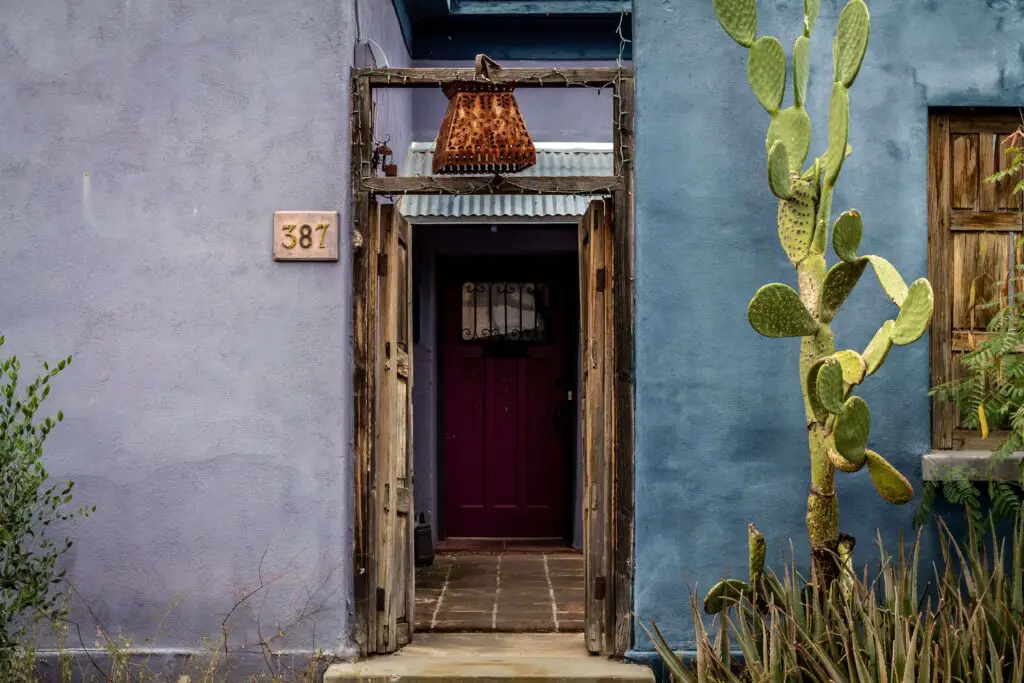 After some downtime at your lodging, head out for some family fun. Here are a variety of activities to check for your specific dates:
Or for fun and food combined, spend the evening eating delicious things while playing games at Culinary Dropout. You have to order the whipped feta and tahini – so good! 
Day 2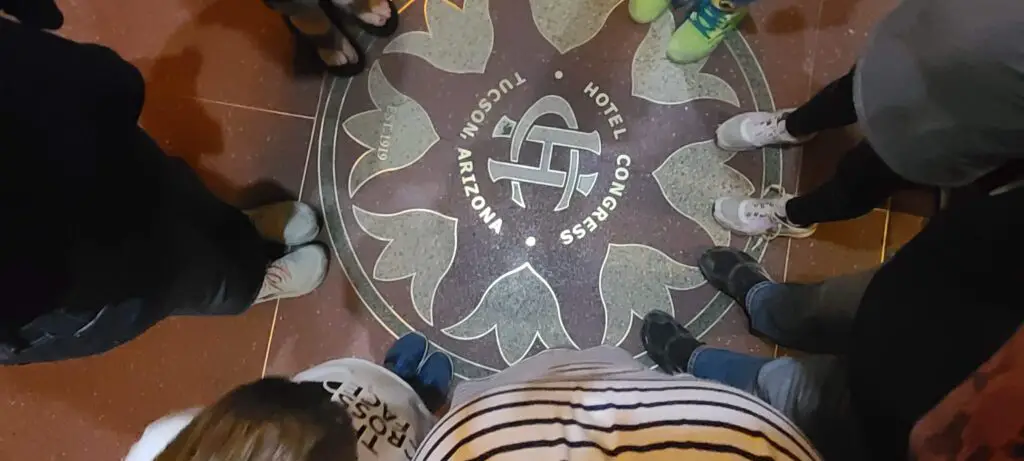 Start the day with breakfast at the Cup Cafe in the historic Hotel Congress. Walk around and check out the hotel a bit. There is a live radio station operating in the lobby and a rich history. Take a look at their History page before visiting to truly appreciate it.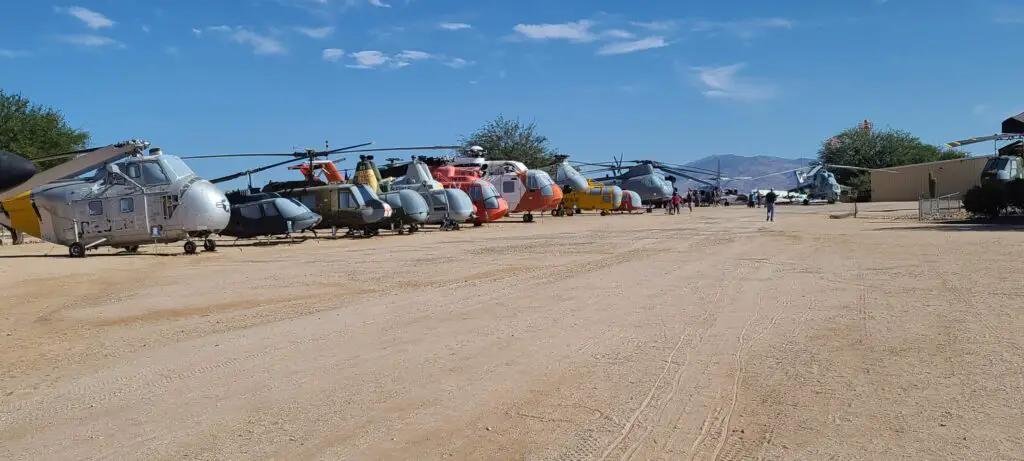 This morning's activity is a visit to the Pima Air & Space Museum. I have to admit that I wasn't expecting to enjoy this museum, but I had no idea how impressive it would be. It features 400 aircraft spread over 80 acres.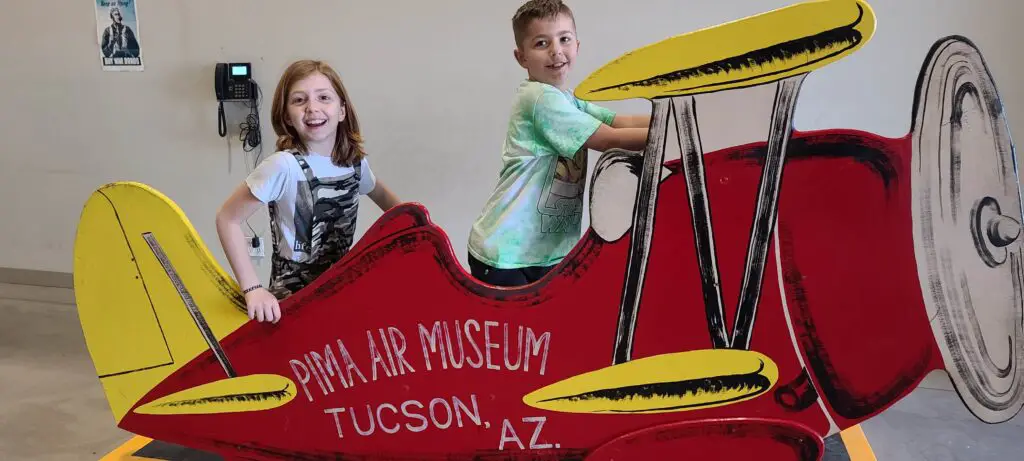 There are a few hanger buildings that display the history of displayed aircrafts, several hands on opportunities for kids, and lots of space to roam outside and get up close with these giant vehicles. I learned a lot and appreciated so much I had never seen before.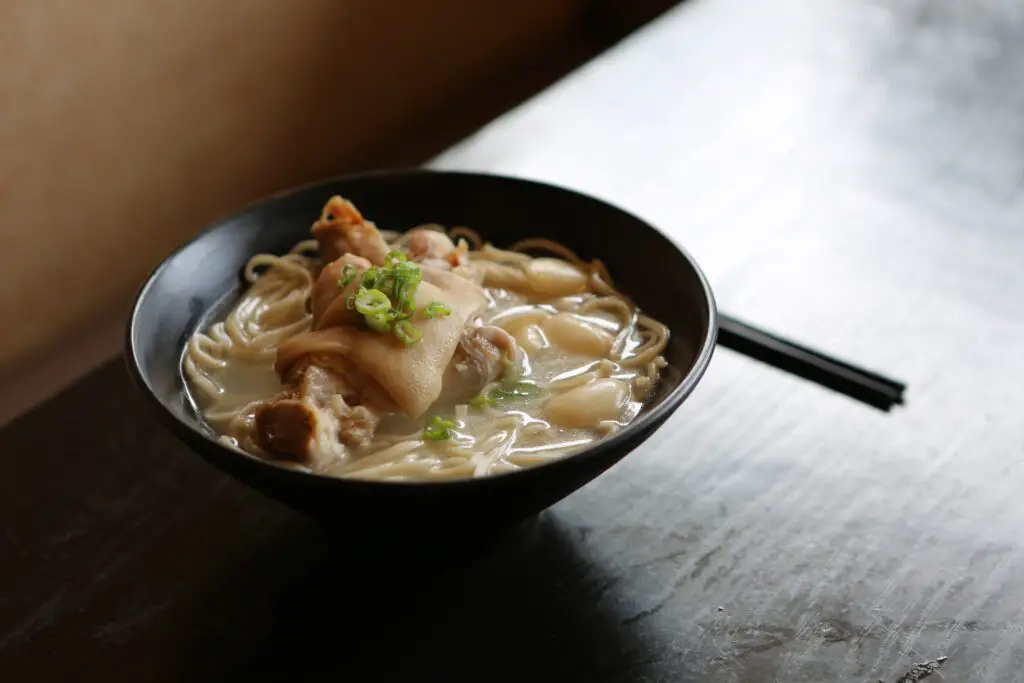 After you've walked all around Pima Air & Space, head to Noodleholics for lunch of savory noodles, scrumptious dumplings and sweet teas. They have options with dietary restrictions and offer menu items for even the pickiest eaters.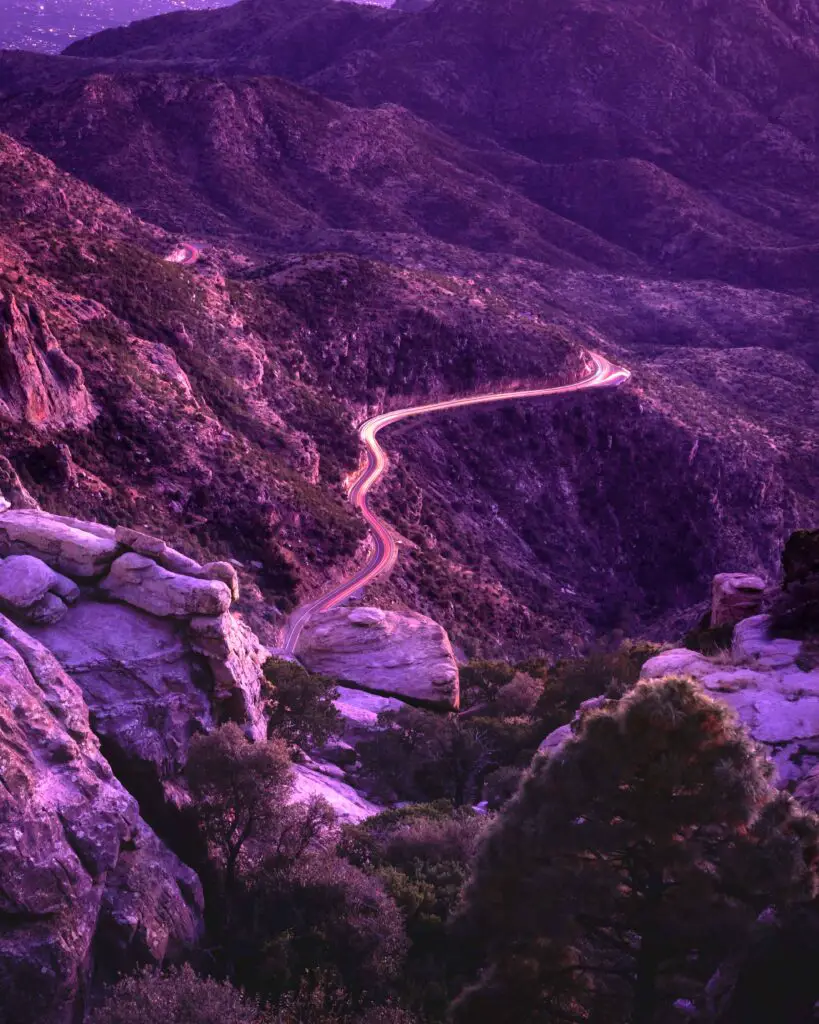 This afternoon, take a scenic drive up Mount Lemmon You will want to check the website for conditions in case of closure due to weather. You will weave your way up to the top of the over 9000 foot peak. You can enjoy skiing during winter months as well. There is a restaurant and shop on the route too. If you are most interested in the great views from the drive, try the app created by the University of Arizona's College of Science to guide your route.
The route to the top and back takes a couple of hours.

On your way back down, venture over to Agua Caliente Regional Park. This beautiful space is a great place to wander. There are several beautiful bodies of water in the park where you will see lots of bird species, turtles, and other wildlife. There are picnic tables and benches for resting spots and lots of open space to explore.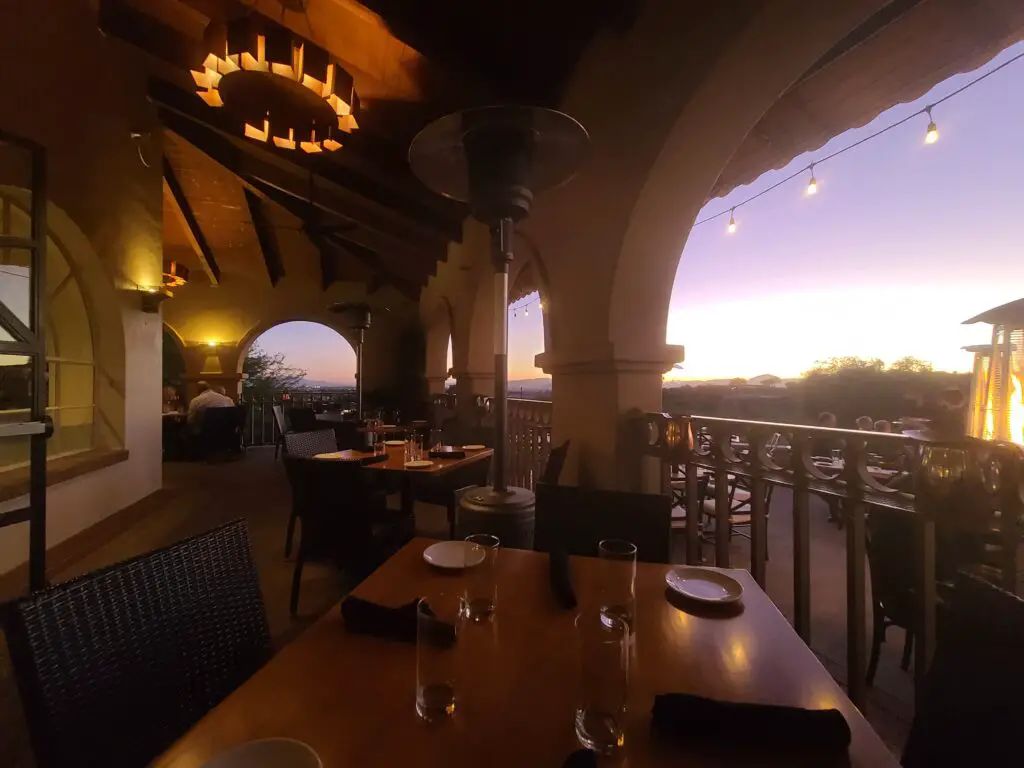 After a rest back at your lodging, consider dinner at Contigo. Be sure to make a reservation for outside dining. We were introduced to this place by family and we enjoyed delicious food and a gorgeous sunset over Tucson. Contigo is located on the Westin property in the Catalina Foothills.
Day 3
To start the day off well, stop at Kneaders Bakery & Cafe in Oro Valley (on your way to Biosphere) for a variety of delicious breakfast options.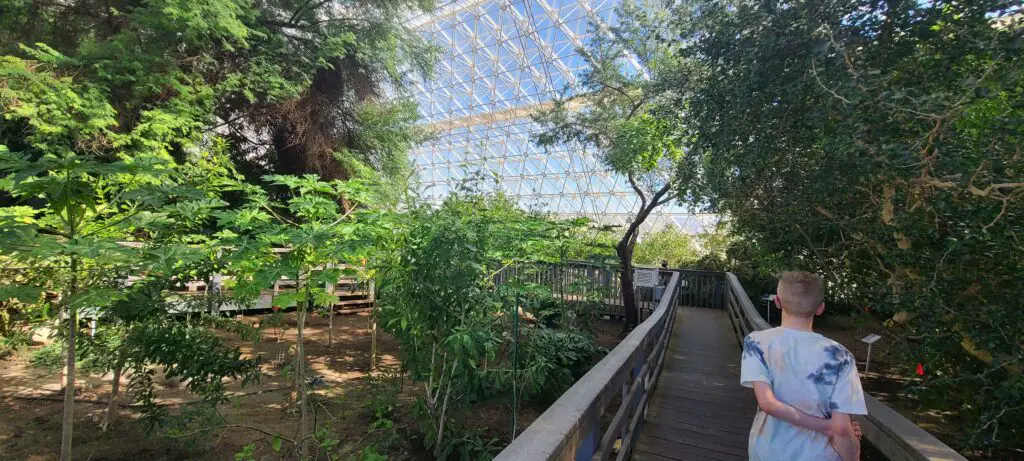 Biosphere 2 If you grew up in the 80s and 90s, you may remember the news around the biosphere project. The property now belongs to the University of Arizona and can be toured. The project was an experiment that simulated several different climates within one property. Qualified individuals were chosen to live within the sphere for a year to perform studies in ecology and survivability.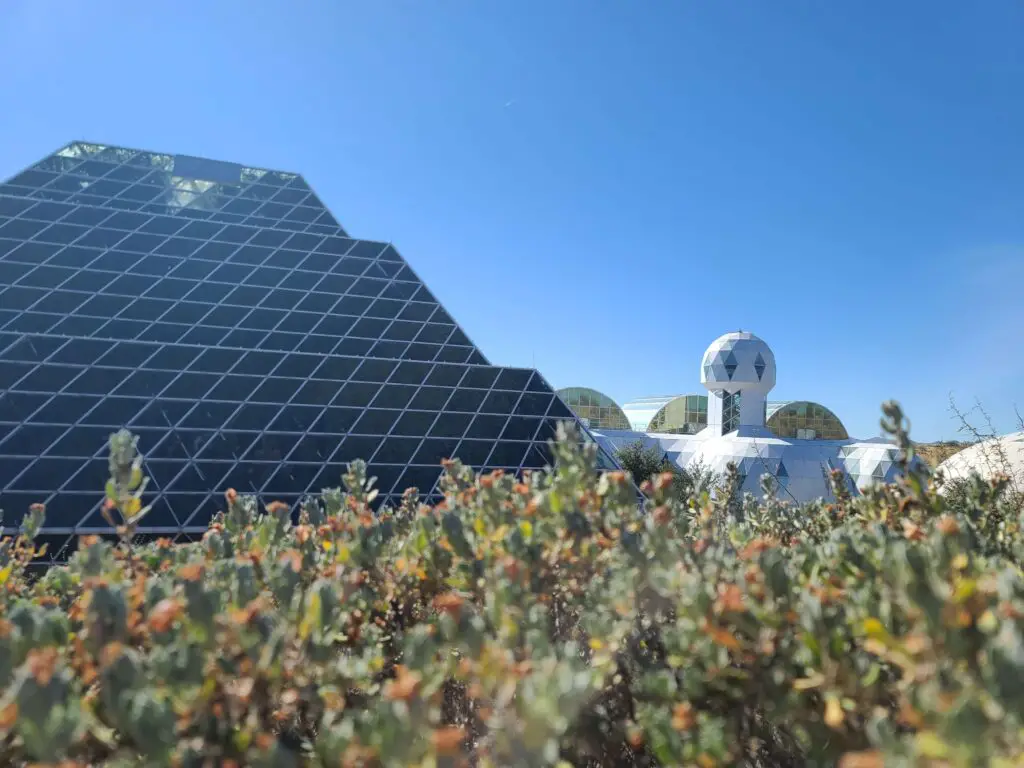 Today the research performed focuses on sustainability and resilience. Even though our children were unaware of the experiments, they found the tour really interesting as you guide yourself around the property with numbered signs and an app to explain what you are seeing. The Biosphere 2 is located about fifty minutes from downtown Tucson.
Come back into town for the afternoon and visit the shops along Fourth Avenue. You may want to grab a bite at the Boxyard. This container park offers you four different restaurant options and a full bar container. There is room for kids to move around and you get to be outside! There are so many cute shops on Fourth Avenue. The Goodwill is actually full of finds that made my kids very happy. My other two favorite shops we visited were Creations Boutique and Pop Cycle.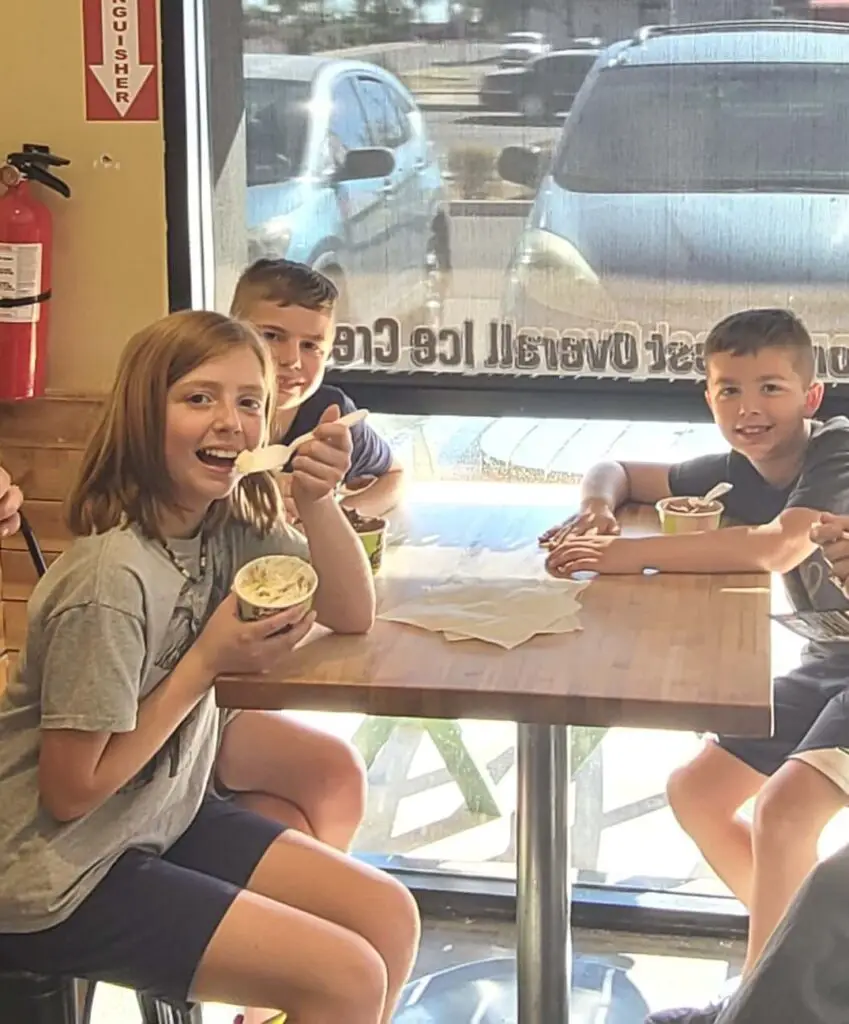 If you are up for a sweet treat, visit one of the Screamery's locations. The one nearest Fourth Avenue is on Congress Street. We particularly liked this ice cream shop because of their unique flavors of homemade ice cream. I'm not a sweets person so I'm always excited when there are some flavors that mix in the savory with the sweet.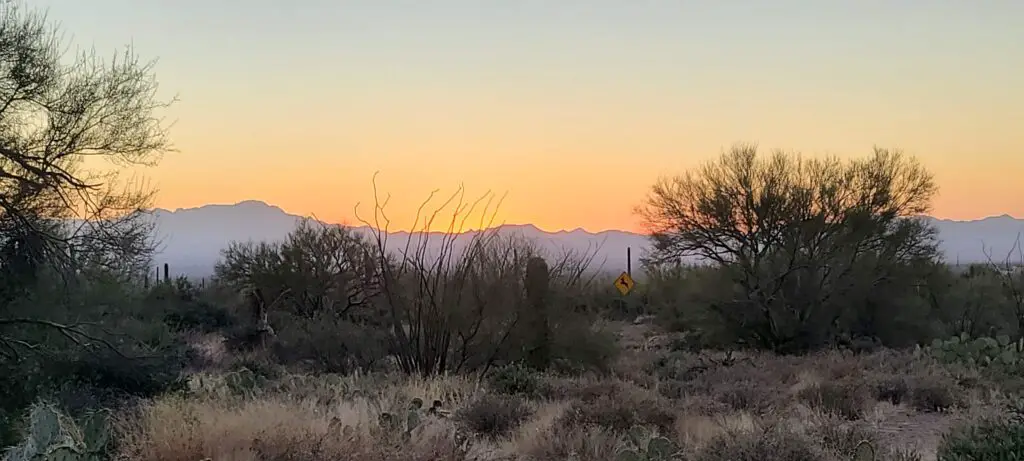 We have been lucky enough to find a parking spot at Gates Pass twice now to watch the sunset. If you drive along Gates Pass Road, there are multiple turn outs where you can park. There are trails all over this area where you can walk. Bring a blanket and some picnic snacks to take in the sunset before heading back into town.
Day 4
One final beautiful breakfast sitting outside at Cafe a la C'art which is open early on the weekends and for brunch on some weekdays. This is also located in El Presidio neighborhood you visited on the first day.
Once you are fueled for the day, head over to Reid Park Zoo. The zoo is part of a larger park that also offers a great playground. This is a great size zoo and will only require a half day visit. The weather typically means there are animals out to view so a good visit is likely. 
If you work up an appetite, visit Blue Willow Restaurant. The Blue Willow offers three meals per day of made from scratch menus. They always have a children's menu available as well.Plus, if you meant to pick up a memento or a souvenir, they have a gift shop onsite.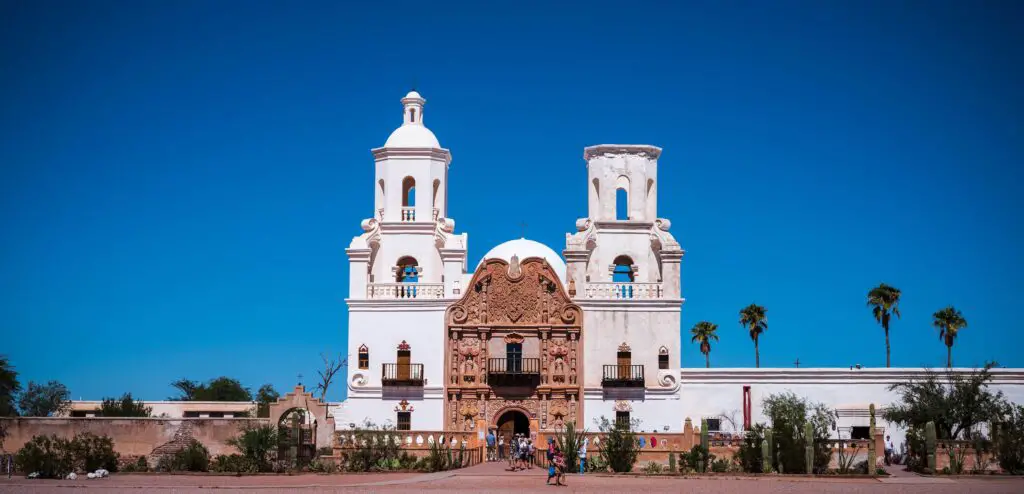 You could spend the afternoon preparing for your trip home, but here are a few options if you want to fit in a bit more:
If you are up for one final beautiful, upscale dinner, try Hacienda del Sol Guest Ranch's grill or terrace dining options. This is also located in the Catalina Foothills and is a perfect spot to take in a sunset.
Enjoy!
I hope your visit to Tucson leaves you wanting more of this cold weather respite. Please share any hidden gems or your new favorites with me. We will be returning to Tucson and look forward to new discoveries.