We love to visit California.  There is no other state that offers such a wide variety of every category for tourists.  We have spent longer stays without roadtripping, but my trips up and down the coast top my list of our times in California.  You may decide which stops are worth spending the night, but I will offer something to do, somewhere to eat, and somewhere to stay for each stop.  I always include accommodations that will work for my family of five to provide you with options that will be family friendly.  At the end, I will suggest how I would lay out the trip. Here are the stops I will include:
San Diego
La Jolla
Solana Beach
Carlsbad
Los Angeles
Santa Barbara
Cambria
Big Sur
Monterey
San Francisco
Where to Start?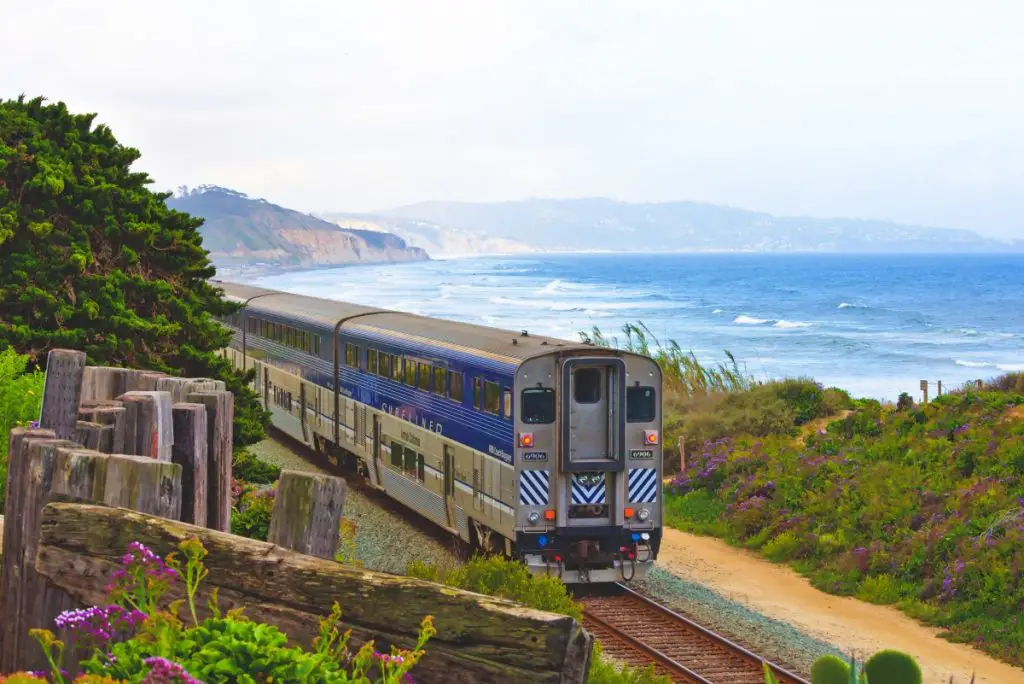 I would honestly just choose whether to start at San Francisco or San Diego based on flights and rental vehicle options. I have both driven the cost with a rental car and with my own vehicle (which was part of a cross country road trip). If you are flying in, I suggest setting up both Google searches for the dates with alternating starting and ending points to find the best flight options.  If rental car rates are cost prohibitive, consider dropping renting from San Francisco to Los Angeles and using the coastal trains to travel to San Diego.  The Coaster train would still allow you visit some of the stops mentioned here and train travel is pretty fun for kids.
When To Go
Depending on where you are from, you might consider California's weather to be fairly mild year round.  If you want sun and fun to be part of your vacation, consider July – September.  Even in your Southern most point of San Diego, the morning is cloud covered.  I find the weather perfect year round in Southern California with highs always ranging between 60-70s, but your expectations for water temperature and sun should be considered.  Northern California ranges at least 10 degrees cooler than San Diego.  Evening temps in both places do cool down and coastal breezes should be considered in your packing  if you are staying directly on the ocean.
San Diego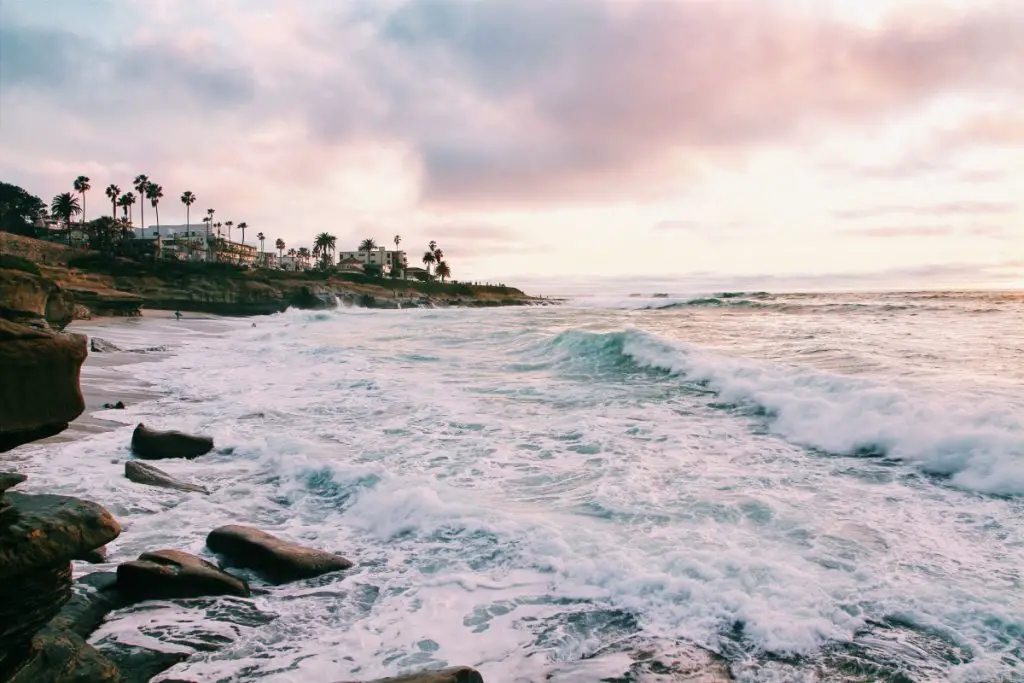 San Diego is a gorgeous city full of exciting neighborhoods, interesting foods, evolving history, beautiful parks, and no shortage of sunshine.  You will see first hand why San Diego has been called "America's Finest City".
What To Do:
Waterfront Park: This is the coolest park!  Lining the Pacific Highway, this park is located between government buildings and across from the USS Midway.  The fountains with jets for kids to walk through and play in span the width of the park.  Behind the water feature is a massive playground with nearly every type of climbing apparatus imaginable.  There is plenty of green space to enjoy a picnic or make your way up the hill to Little Italy for lunch after your visit.  There are bathrooms for changing on site as well.
Balboa Park: You could spend days exploring all Balboa Park has to offer and it will likely be one of the reasons you want to return to San Diego.  The grounds are gorgeous with gardens and playgrounds meeting amazing variety of architecture.  Balboa Park is home to 17 different museums, something for everyone in your group.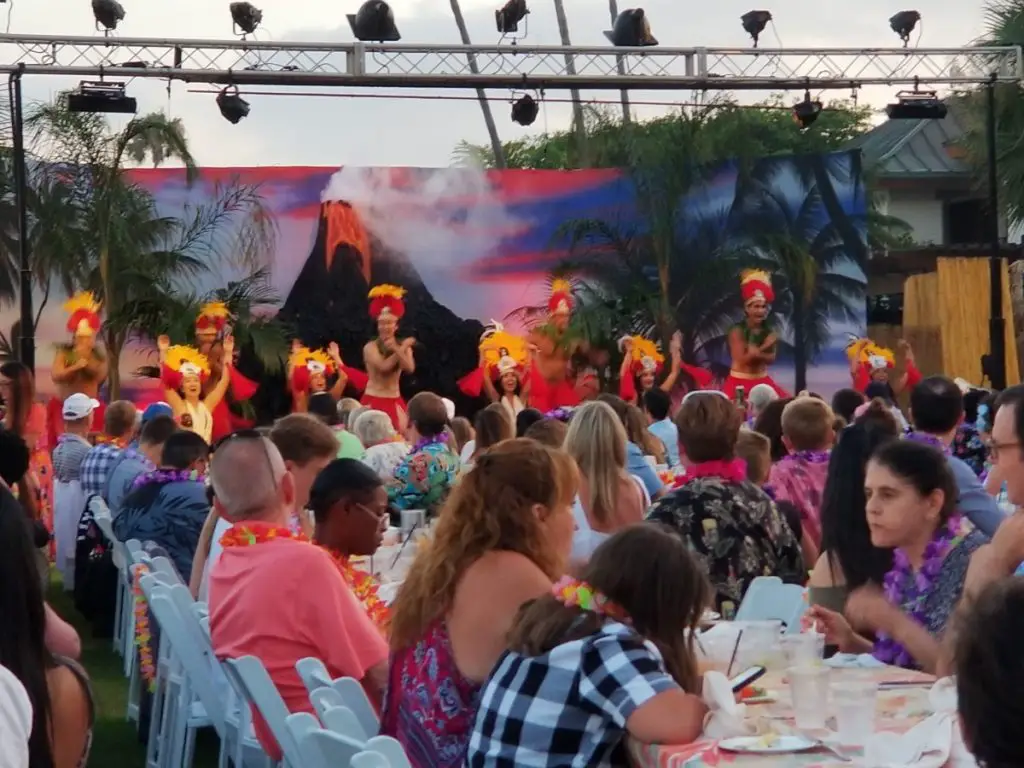 Luau at Catamaran Resort: Outside of Hawaii, this is a most impressive Luau experience.  It draws large crowds, but the food offerings are substantial and spread across the lawn.  It is located at the Catamaran Resort listed below whose grounds on right on the water.  The entertainment is fun for all ages.
San Diego Safari Park: More substantial than a zoo, this massive park offers larger enclosures and safari style tours.  Its partner zoo, the San Diego Zoo is a great visit as well.  If you have very young children or children who will not tolerate a lot of walking or stroller time, consider the Zoo for your first visit.  The Safari Park offers many custom experiences for those wanting to make the visit more substantial in terms of safari experiences and even overnight stays in the park. The park is located closer to Escondido so you may want to incorporate it into your trip up the coast.
Coronado: Step back in time on the island of Coronado.  The beautiful public beaches, historic Hotel Del Coronado, all of the shops and restaurants along Orange Street, and the impressive real estate all over the island are worth a visit.  You can rent bicycles to make your visit special as well.
What to Eat:
Panana 66: There are many dining options with Balboa Park.  I recommend Panama 66 not just for the food and drink, which is tasty and convenient to enjoy, but the setting.  There is a lawn that kids can play on while you dine or enjoy a drink that makes for a lovely afternoon.
Stone's World Bistro: The beer scene is San Diego is substantial which provides for some pretty special places that the parents can enjoy great beer and the setting is great for the whole family.  Stone's World Bistro in Escondido is one of those places.  If you can sit outdoors, you will see planes coming and going from the San Diego airport.  The food is a fantastic mix of modern American fare and they offer a kids menu along with fun kid-friendly drinks like soda without high fructose corn syrup.  This is not far from the San Diego Safari Park (about 15 minutes).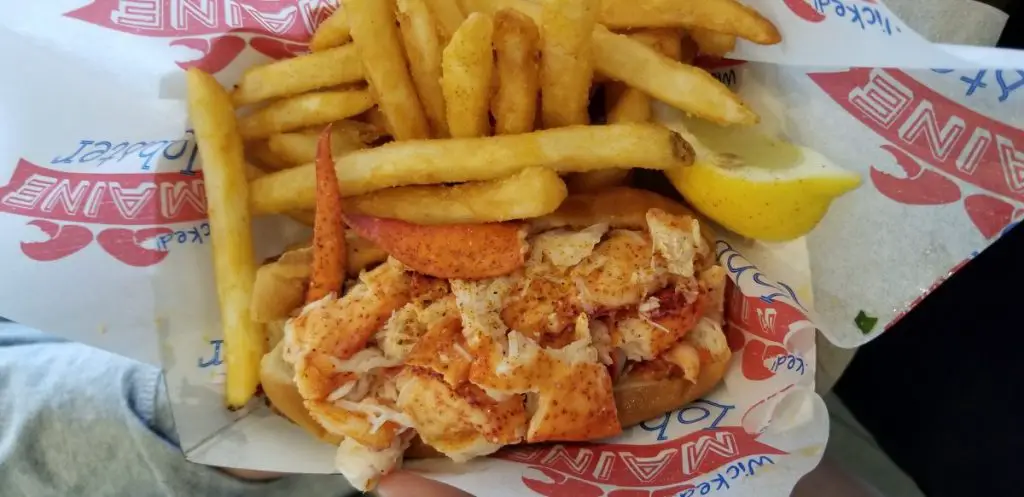 Little Italy: An evolving area full of many great Italian restaurants as well as fun spots like the Little Italy Food Hall and Ballast Point Tasting Room and Test Kitchen.  Little Italy is convenient to downtown attractions like the Waterfront Park.
Convoy Street: San Diego's mecca for all things Asian food is Convoy Street.  You can find a variety of Asian cuisine style as well as Asian ingredients as high quality supermarkets.
Where to Stay:
Catamaran Resort & Spa: With its lush grounds, entertainment, beach access, and dining options, the Catamaran is a great choice.  They offer a wide variety of room types including  two queens with a pull out and a mini kitchen option.
Springhill Suites San Diego Bayfront: If you're looking for family style accommodations in the downtown area, this is a great option.  Like most Springhill Suites, they offer rooms that can accommodate up to a family of 6.  This location has beautiful views of the bay and easy access to fun amenities.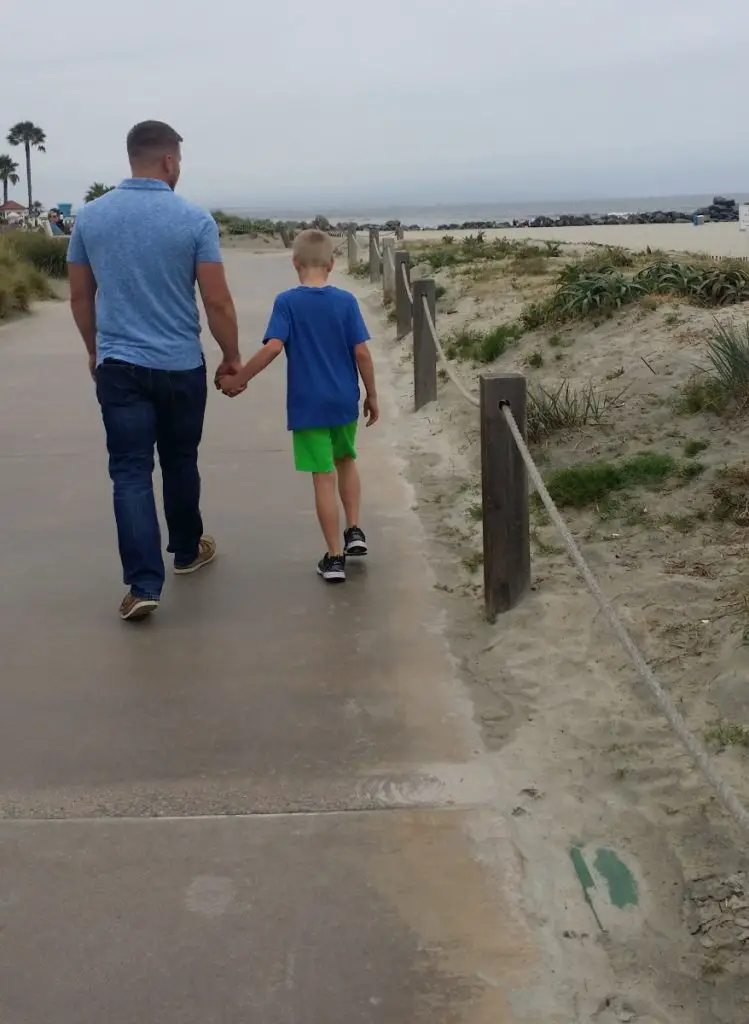 Hotel Del Coronado: Although Coronado is a different city from San Diego, if your budget affords a stay The Del, it is worth the visit.  This iconic hotel has been the backdrop to movies and is situated on one of the best beaches for families in the country.  The resort itself, full of history, winds through beautiful gardens and wooden hallways filled with shops and restaurants.
Bay Club Hotel: Overlooking a marina, this resort style hotel has a modern nautical feel.  They offer a variety of rooms including two queens with a sofabed.  Its location on Shelter Island (not truly an island) gives you the enjoyment of waking up on the water, amenities like onsite dining and pool, and close access to the amenities of the city.
La Jolla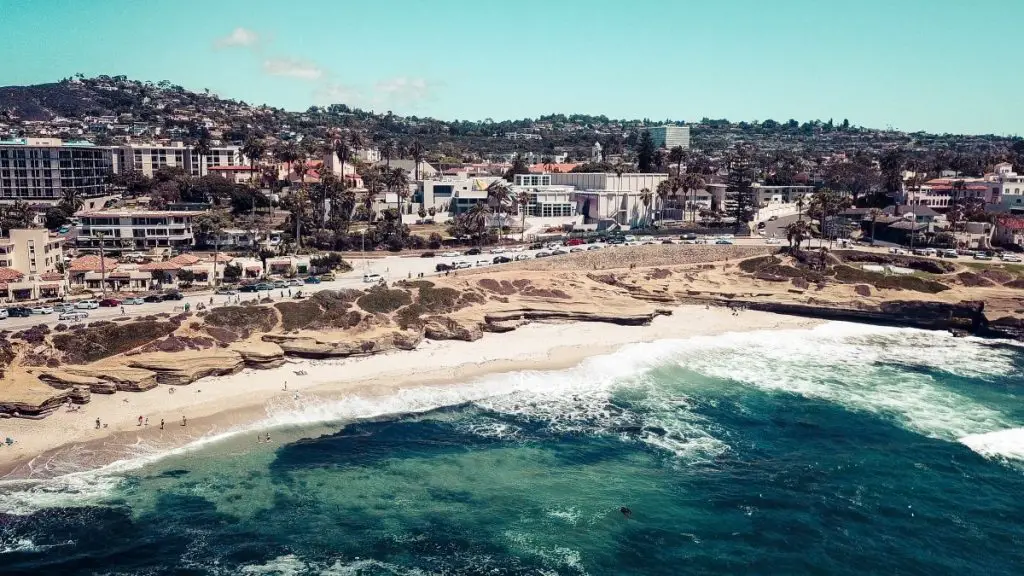 This beachfront community is special for its cliffs lined with exquisite hotels and restaurants, artistic community, the sea lions and seals, and beautiful beaches.
What To Do:
Visit Balboa Candy: You will find modern and classic candies to delight everyone in the party.  It's located only about .5 mile uphill from La Jolla Cove.  If visiting for the day or afternoon, it's best to find a parking spot and walk around as parking becomes very sparse in La Jolla.
See the seals and sea lions:  La Jolla is well known as a hot spot for seals and sea lions.  There are many tourists gathered in La Jolla Cove and the Children's Pool Beach to get a good picture of the impressive creatures.  If you go, be kind and follow instructions not to get close to the animals.
Where To Eat:
Bistro Pazzo: This Italian spot is open for lunch and dinner.  They offer a wide variety of soups, salad, pastas, risottos, and entrees.  Located out of the way of pricier fine dining, it is a delicious option that's affordable for families.
Where To Stay:
The Shoal: A motel style set up with contemporary rooms makes this a great spot for affordability in a high end village.  The Shoal offers a variety of rooms including a two queen with a sofabed option.  There is also a pool onsite, beach chairs and toys for guest use, free parking, and bikes to borrow.
Solana Beach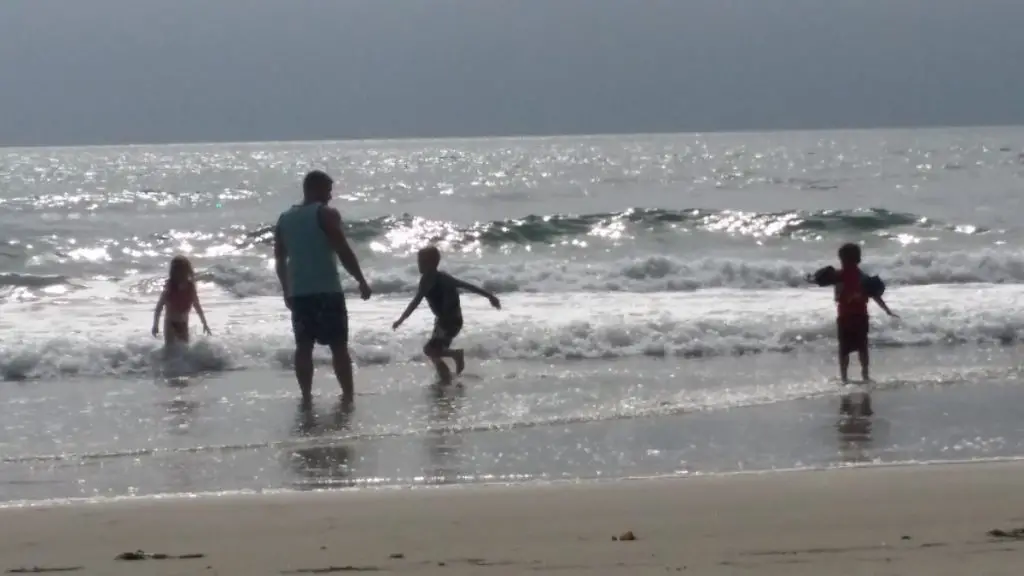 Solana Beach is "California's Friendliest Beach Town".  It is a treat to drink through their adorable downtown and the nearest beach side streets.  There are public accesses to the beach, cutes shops, and beautiful properties to take in.  This is also one of the stops on the Coaster train.
What To Do:
Annie's Canyon Hike: This beloved trail has options that are accessible for families and a more difficult hike for those interested in heights and tight spaces.  You can get a feel for the canyon in this virtual hike video:
Beaches: The few beaches entrances are accompanied by steep staircases.  If you are just going for a short visit, choose Fletcher Cove Park to visit the beach.  There is often free parking available onsite or on the nearby road.  The park has a little playground and green area.  It's the perfect spot to take the croissant I mention below and take in the waves for a bit.
Where To Eat: Brigantine: Although technically in Del Mar, Brigantine offers what's best about California dining – delicious seafood and views.  The outdoor part of the restaurant overlooks the Del Mar County Fairground and Racetracks.  They are very accommodating for kids as well.
Pizza Port: This location is part of a fun chain of pizza brewpubs.  The Solana Beach location has been in operation since the late 80s and has seen a lot of history.  It's got a funky surfer vibe along with great pizza and beer.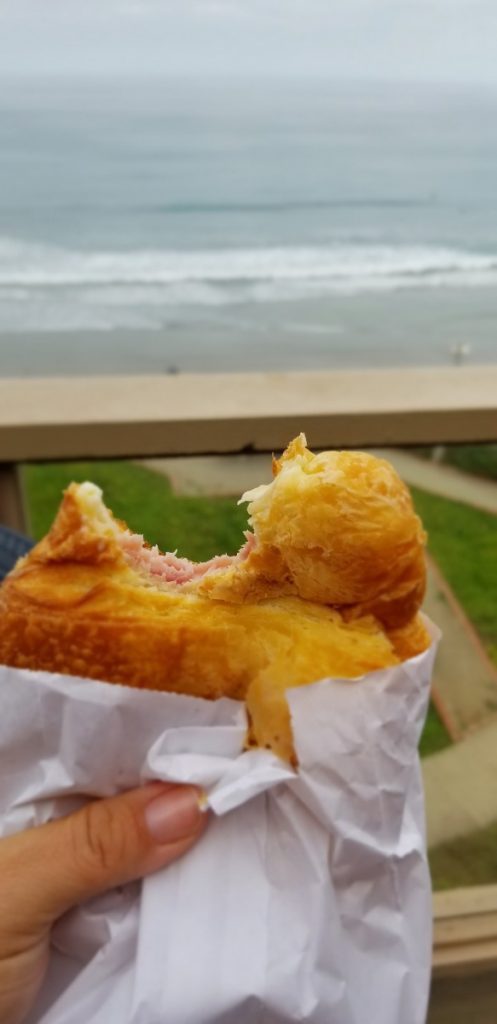 Parlor Donughnuts: Although our beloved Donut House has closed, this chain offers a great option for a tasty breakfast
Where To Stay:
Holiday Inn and Suites: Located right on Highway 101, traveling through Solana Beach, this is a good spot to access the adorable downtown district as well as the beaches and restaurants.  They do have family style accommodations.
There are several properties available via private rental and few resorts.  They can be quite pricey for a family stay so Solana Beach is an ideal candidate for a shorter visit.
Carlsbad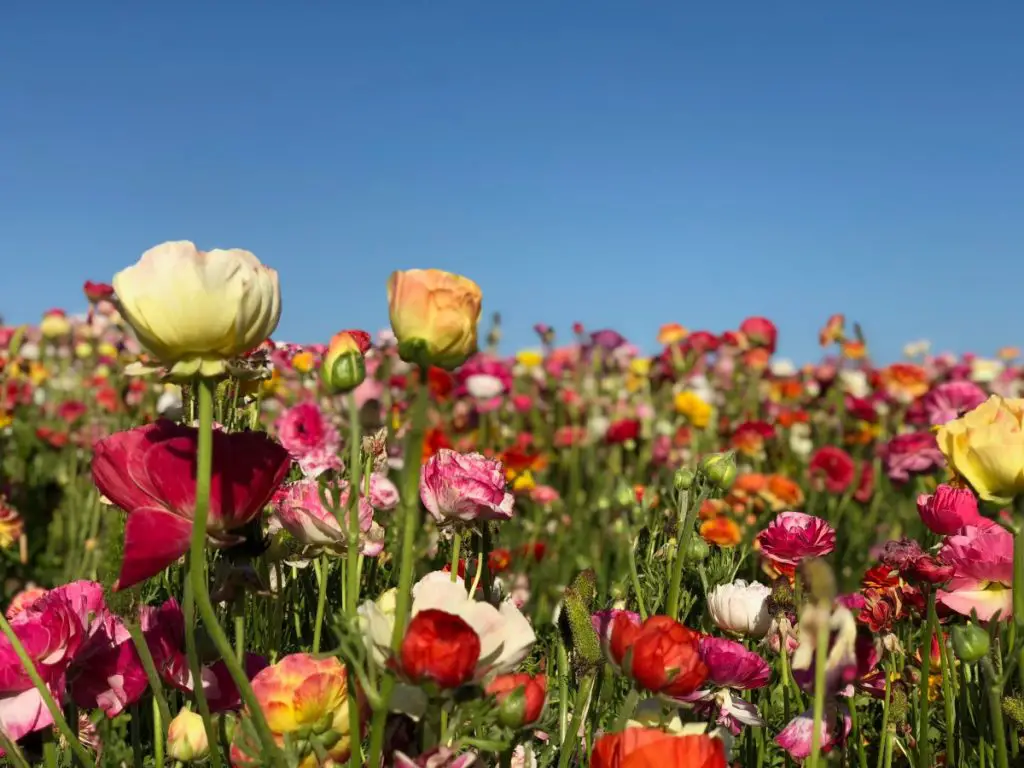 Carlsbad has some of the old school California vibe with its seven miles of coastline and all of the beach activities that invites.  It also has modern California vibe with the family friendly attractions, brewery scene, and every type of active (paddleboard, small plane, cycling, surfing, etc) tourism opportunity.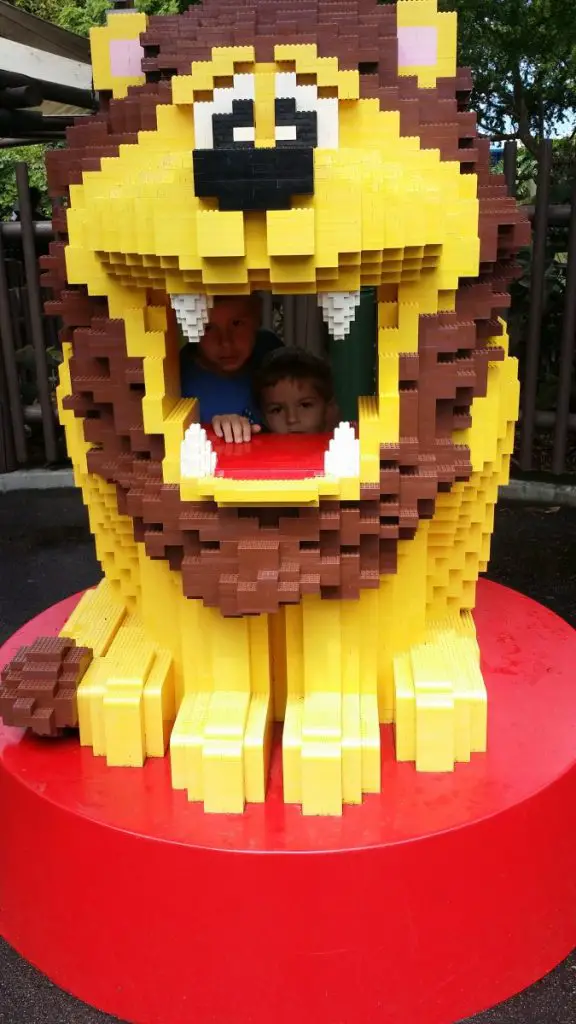 What To Do: Legoland: Legoland includes the original park, Legoland Water Park and Sea Life Aquarium on one site.  Legoland is fun for all Lego enthusiast, but has a LOT for smaller kids as compared with the other theme parks found in California.  Choose one park or all, but just one is hours of fun.  Don't forget to bring a mini-figure to trade with staff at several locations in the park.
Museum of Making Music: This museum is what it sounds like – a place to make music.  You can play around with a variety of instruments and learn a great deal about the history of making music.  It is a non-profit and provides a comparatively affordable stop for families to enjoy.
Flower Fields: If you are visiting in spring time (March – May), it's worth a visit to the Flower Fields.Enjoy a wagon ride, sweet pea maze, and even u pick blueberries in March and April.
Where To Eat:
Campfire: This camp themed restaurant is fun for the whole family.  The food and cocktails will entertain the adults while the tee pee play area is fun for the kids to enjoy.  The menu offers modern creations that will please any palate.  And, of course, you can finish with a s'more.
Karl Strauss Brewing Company: Part of a chain of brewery restaurants, this location offers a diverse menu.  Some of their best items are on their appetizer menu with truffle fries and duck fat pretzels.  Sit out on the patio for a great view overlooking Carlsbard.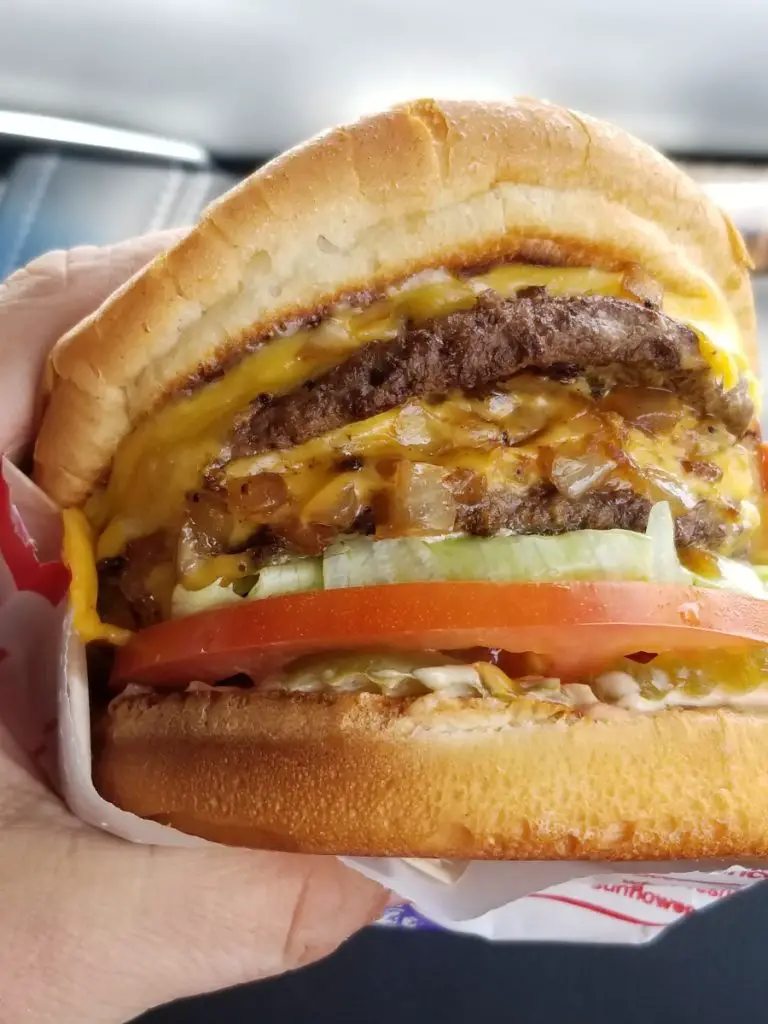 In N Out: Add this into any part of your trip because they are all over California and if you're like us, nowhere near our home.  Give it a try and see how you think it compares.  Don't forget to try "Animal Style".
Where To Stay:
Legoland Castle Hotel: If you're visiting Legoland and want to have the ultimate Lego experience, check out the hotels on property.  The Castle is the newer of the two.  Your room rate includes breakfast, access to a Lego themed pool, a themed room with an activity search and Lego prizes, and nightly entertainment.  I recommend this for off-season or weekday visits as the rate is nearly double in peak times.
Carlsbad Seapointe Resort: This resort has beautiful family apartments.  For a family of five, they offer two bedroom with the children's having a full and a twin, full kitchen and living space.  The resort offers a gorgeous pool and wonderful dining options.
Los Angeles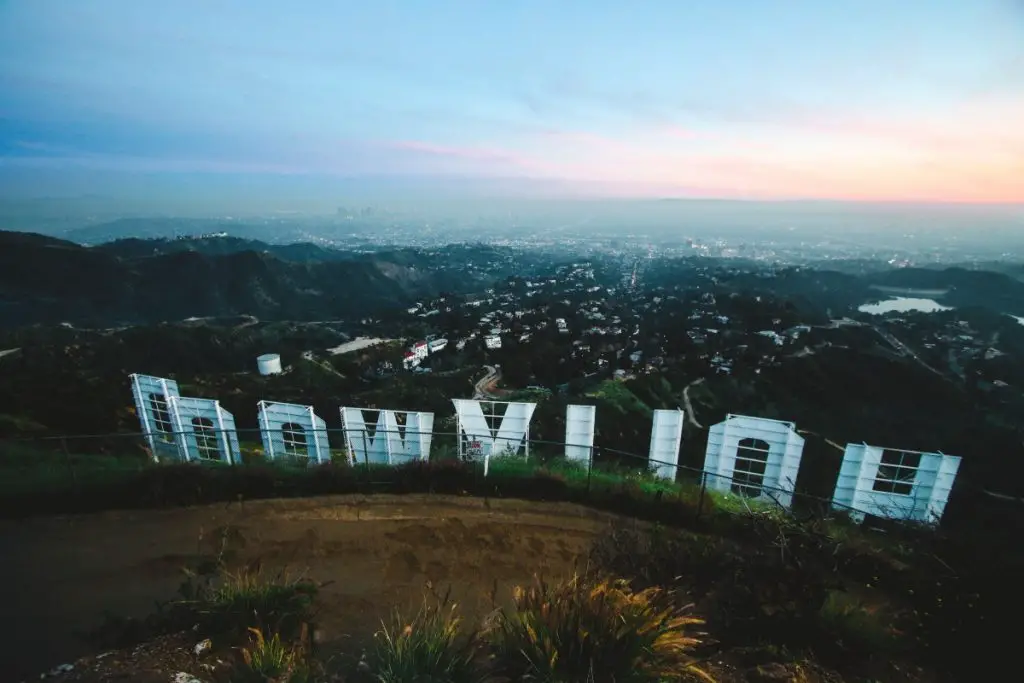 Los Angeles is a lot of things, a lot of people, and a LOT of traffic.  More than any other place on this journey, knowing how you want to spend your time and strategically planning where to stay in regards to those activities.  It can save you hours of siting in traffic.  Los Angeles encompasses multiple beach destinations, pop culture interests, Hollywood history, theme parks, as well as expected big city museums and beautiful parks.
What to Do:
Paddle Boarding Lessons: Learn from a pro how to paddle board and have fun while you learn.  Pick the best provider for your family.  Here are a few in the Los Angeles area. Pro SUP Shop   Paddle Method
La Brea Tar Pits: This affordable family friendly attraction give you a unique chance to see this rare natural wonder.  Fossils from the ice age continue to be discovered and studied at the onsite labs.  The site has a long history, but is now part of the Natural History Museum collection and provides an indoor/outdoor experience.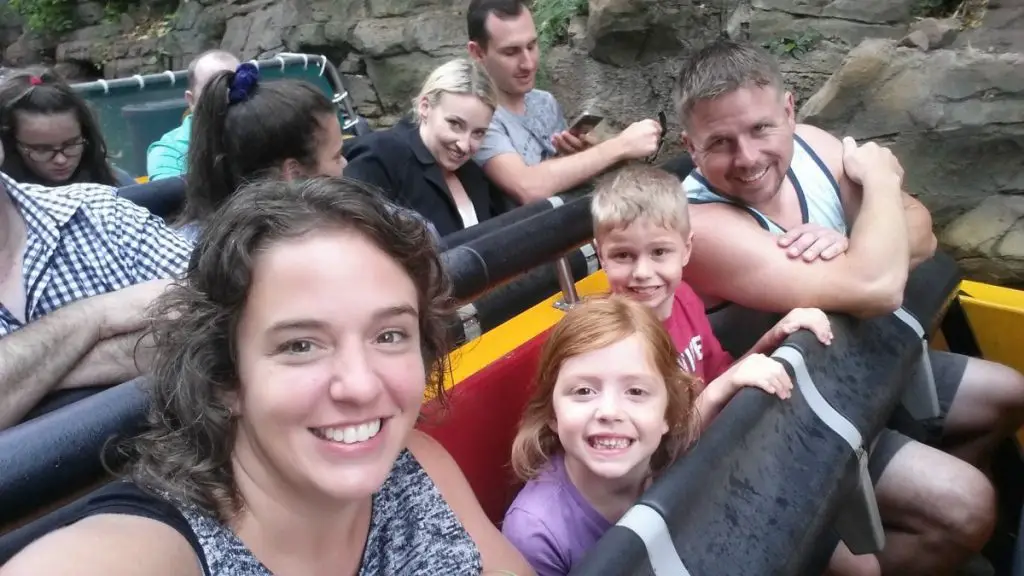 Universal/Disney – I'm not the expert to help you decide whether to do one one or both of these parks.  We have found that your children's current interests would likely determine which park would be more enjoyable.  Be sure to spot these two on the maps since Anaheim (Disney) is in a very different location that Universal and many other LA sites.
Hollywood Sign: There is no more iconic photo you could take than one with the Hollywood sign in the backdrop.  The best way to experience the sign is by hiking to it.  Consider which hiking trail might be right for your family.
Venice Beach/Santa Monica: Both of these beach areas have much history and tourism surrounding them.  Venice Beach is the funkier spot with a focus on the 2 miles stretch of boardwalk featuring street performers and vendors.  Santa Monica is Venice Beach's more upscale next door neighbor.  You will find hip restaurants that you can enjoy for lunch or dinner.  You can bike or walk between the two.
Downtown Hollywood – TCL Chinese Theatre: TCL is an operating movie theatre, but offers a 30 minute walking tour as well.  Most people come to the site to view the handprints left by starts and the Hollywood Walk of Fame which actually extends for many blocks.
Where To Eat:
If you want to get excited about eating in Los Angeles, check out this episode of "I'll Have What Phil's Having".
Farmer's Market LA: I think markets are a great place for families to eat.  You can get different things for different people and pick up snacks for later.
Huckleberry Cafe: This is a great spot for a light breakfast or lunch in Santa Monica before or after hitting the beach.  Their kids menu offers healthy selections your kids will enjoy and tasting options for adults too.
Trails Cafe: If you're hiking to the Hollywood Sign, you may want to began your visit with a stop at this outdoor stand, open seasonally.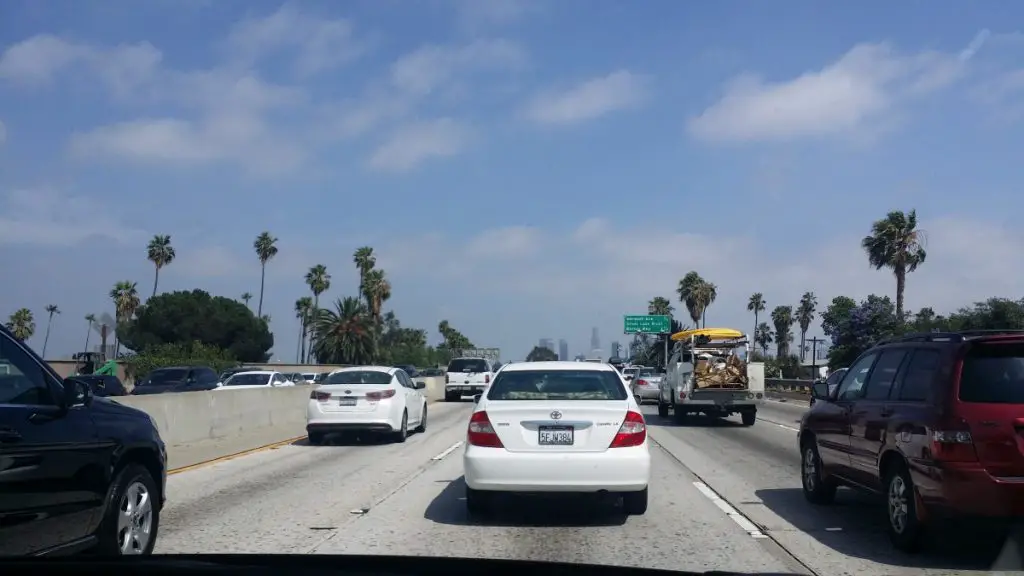 Where to Stay:
Hollywood Roosevelt: This is a place to stay if being in the downtown Hollywood is exciting to you.  I would suggest one night in this area is more than enough as the attractions are limited.  It does check off the box of seeing a historic area.  They do offer a variety of room configurations in this trendy, hip Hollywood hotel.
Hyatt Place Glendale: Stay here if you plan to visit the Hollywood Sign, Universal Studios, or Hollywood sites and desire a family friendly room.
Santa Barbara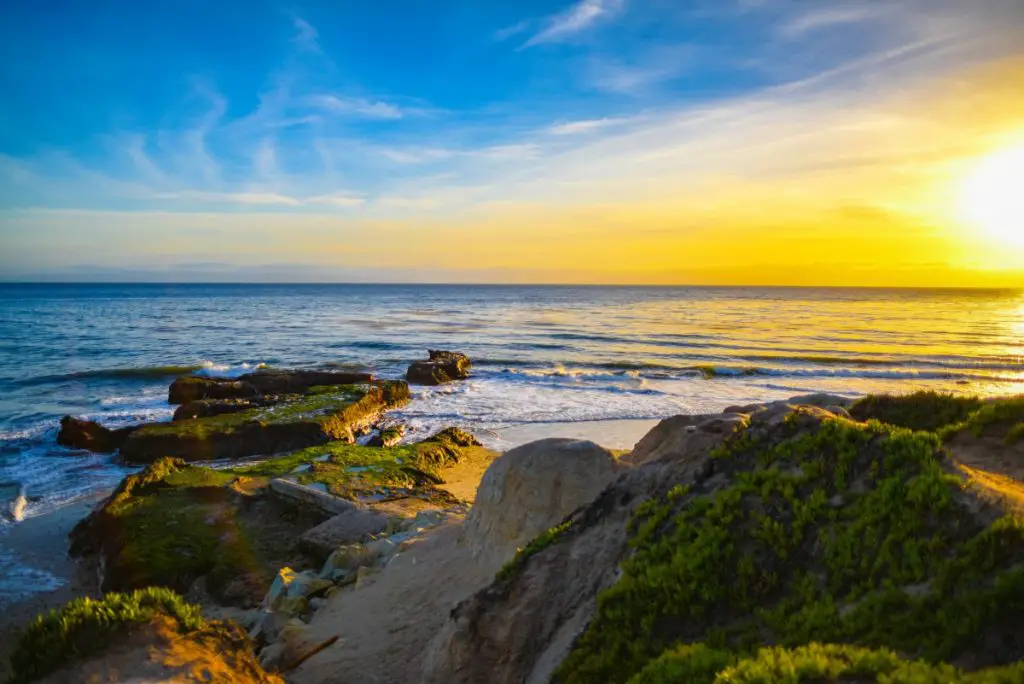 This part of California's coast is considered America's Riviera.  This beautiful area is a slowdown from the Los Angeles area with delicious dining options, relaxing beaches, and a strong connection to its history.
What To Do: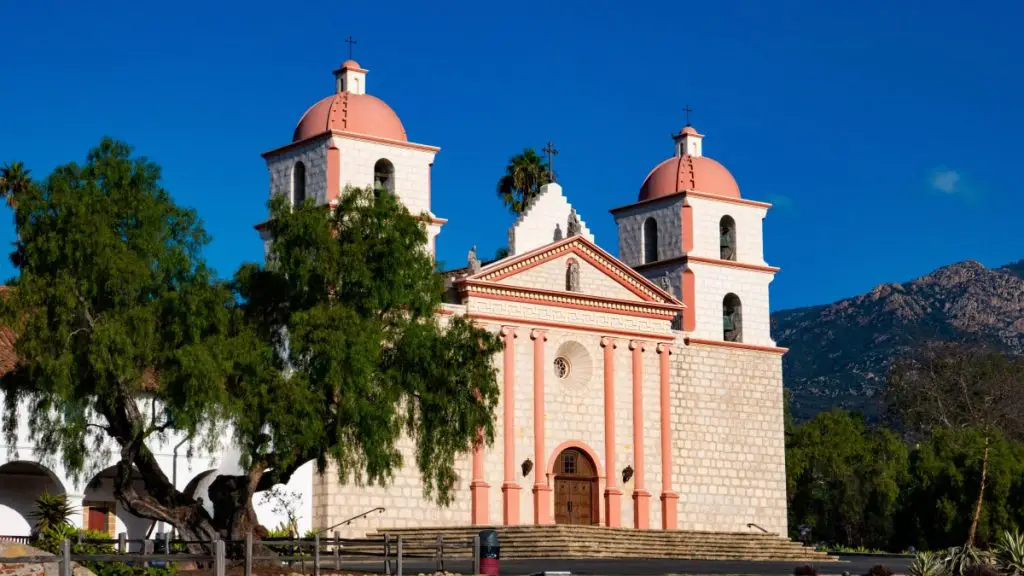 Old Mission Santa Barbara: Established in 1768, self-led tours of this operating parish and monastery give you a feel for some of California's oldest known history.
Whale Watching: There are a number of companies offering whale watching tours.  Choose the size of boat, crowd and price tag to fit your budget.
Urban Adventures: This company operates in several cities and is a great way to get to know a place in just a few hours on food and sometimes public transit.  The version in Santa Barbara will show you around Downtown.
Where To Eat:
Andersen's: This Danish bakery is located in the are of downtown called La Arcada featuring many of the best restaurants and shops, fountains and meandering alleys.  Andersen's is a great spot for breakfast where the parents can enjoy a delicious Benedict while the kids enjoy pastries and pancakes.
Padaro Beach Grill: Enjoy great food while your children enjoy the giant sand play area.  Padaro's is a laid-back lounge vibe of having someone else cook your barbeque while you relax and enjoy.  Check this place out on your way into Santa Barbara as it's about 15 minutes South.
Where To Stay:
el Capitan Canyon: Choose from one of the family friendly cabin options available right here on the Santa Barbara Coast.  Choose from several outdoor activities including hiking trails, bicycling, or heated pool.
Marina Beach Motel: An affordable and family oriented set up that gives you access to this very special city.  This adorable property has been a family run facility since the late 1970s and is located just half a block from the ocean.
Cambria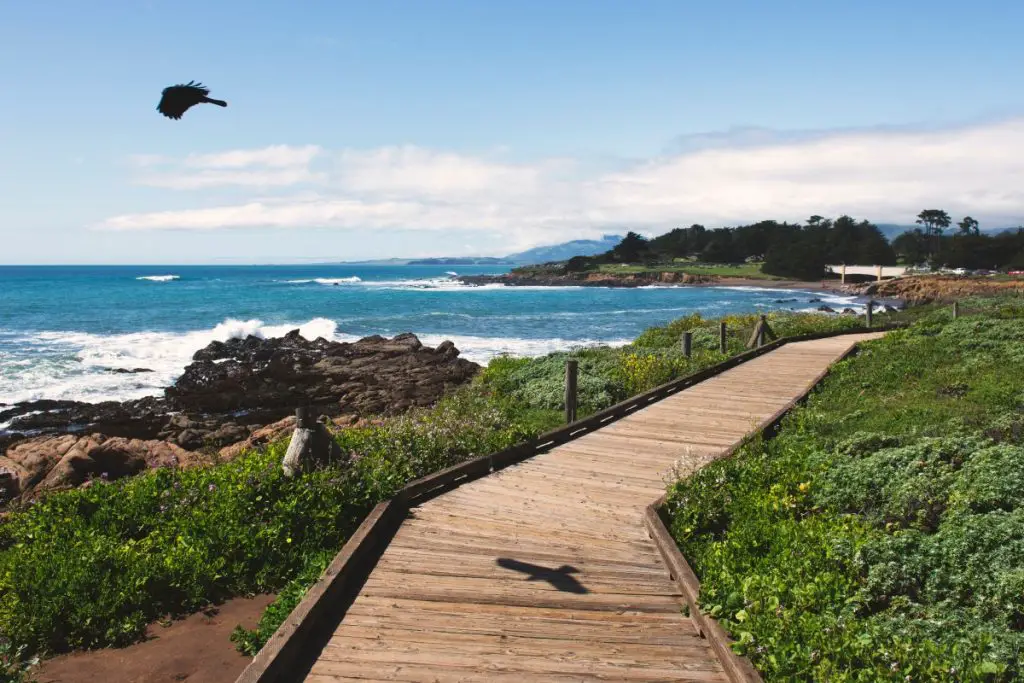 Cambria is a quaint little beach town with picturesque lodges lining the coast.  There is something magical and taking this part of the coast in and preparing yourself for the slow route up the Pacific Coast Highway.
What To Do:
Fiscalini Ranch Preserve: The Bluff Trail is very family friendly route that monthly holds a guided walk.  The rest of the time, visitors can enjoy the beautiful paths that meander the property for free.  Enjoy the natural setting and wildlife that can be seen from the 200 foot cliffs overlooking the ocean.
Covell Clydesdale Ranch: You can set up a private tour of the property where hundreds of amazing Clydesdales live or even schedule a riding experience.
Hearst Castle: A much storied site that impresses all who visit, the Hearst Castle offers a variety of tours.  Consider the length of the tour as it relates to your children's ages.  It can be a great visit for kids, but certain parts are likely of less interest.  Definitely worth a visit and buy your tickets ahead if at all possible to ensure they are not sold out.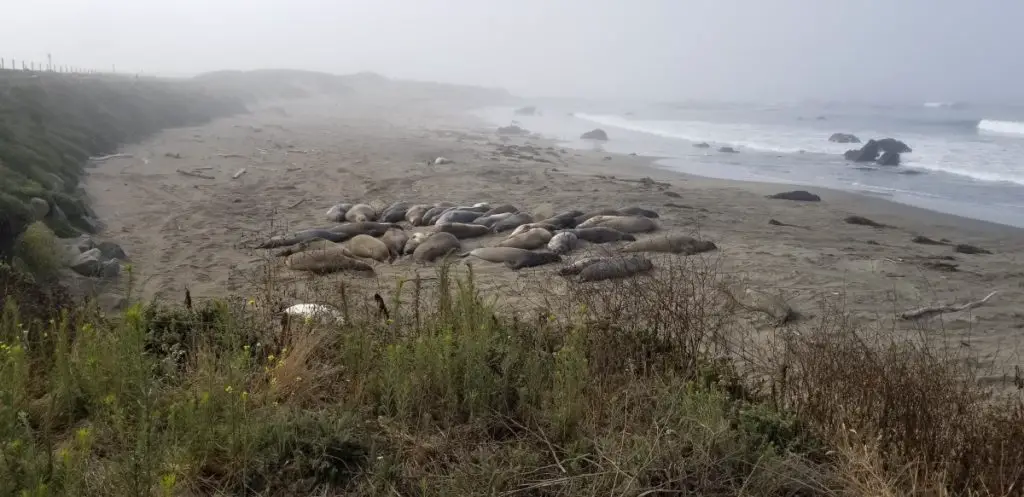 Elephant Seals: Enjoy this stop on your way up the coast.  There is free parking in this unassuming stop and a walkway that will give you a view of several elephant seals lounging on the beach or coming and going from the water.  This is an AMAZING site to behold!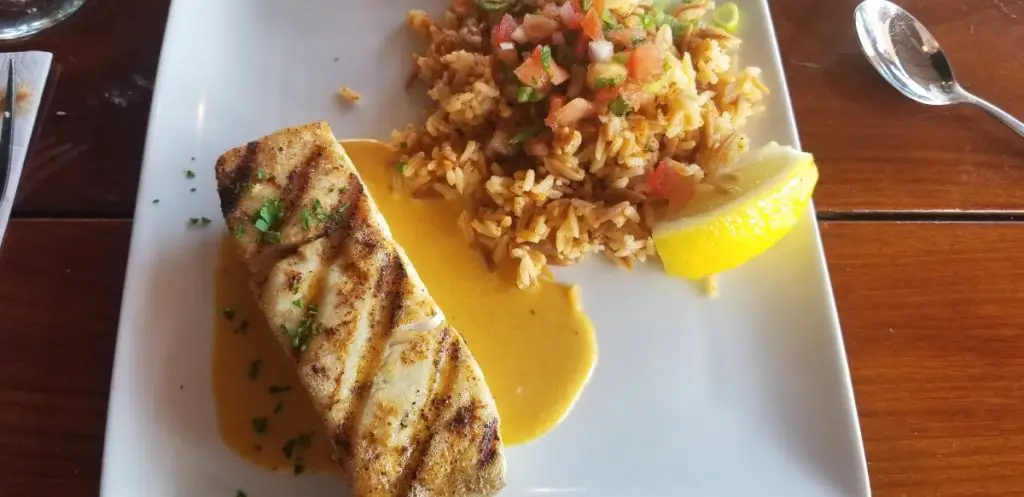 Where To Eat:
Moonstone Beach Bar & Grill: Include this in your visit especially if you can sit outside.  When we visited, there was a wait, but they were incredibly accommodating to our kids serving us beverages in the wait area and bringing them crayons to occupy them and the service was stellar throughout the meal.  Great food and everyone in the family will be happy.
Indigo Moon: Indigo Moon's menu offers a great mix American eclectic flavors with a variety of appetizers, soups, salad, and entrees.  The lunch menu features a nice array of salads for a lighter lunch.  The kids offerings are better in variety and quality that we often expect to find.  And everything is delicious!
Where To Stay:
Pelican Inn & Suites or Fogcatcher Inn: Both of these properties offer multiple configurations including Family Suites with small kitchens and two bedrooms.  Their location cannot be beat as the are across the street from Moonstone Beach.  The views are outstanding, accommodations comfortably modern and the onsite pools make it a great family choice.
Big Sur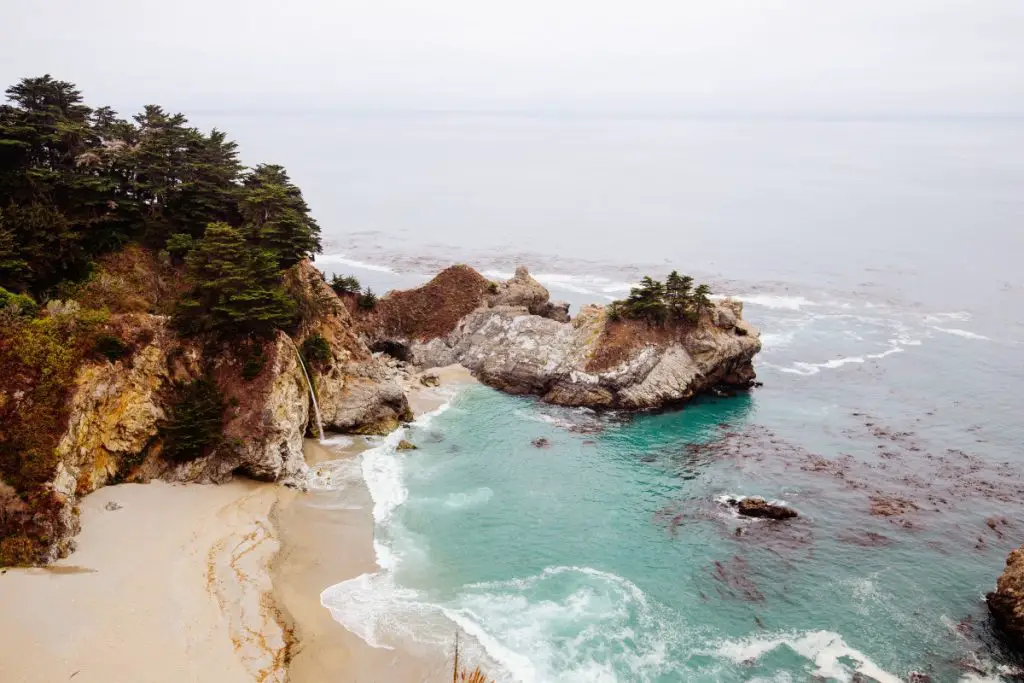 Big Sur is located right in the midst of the most twisting and beautiful parts of the Pacific Coast Highway.  Because of the layout, resorts and restaurants are spread out.  This is a great spot to stay if you want to unwind and possibly have limited access to cell or wifi signal; just disconnect.
What To Do:
Much of what can be enjoyed in Big Sur is the surroundings, but access can be difficult.  You can visit Pfeiffer Big Sur State Park and check out the trails.  There are some ways to access swimming and the beach too.  Simply pay a fee per car to access and check out the stunning beauty of this area.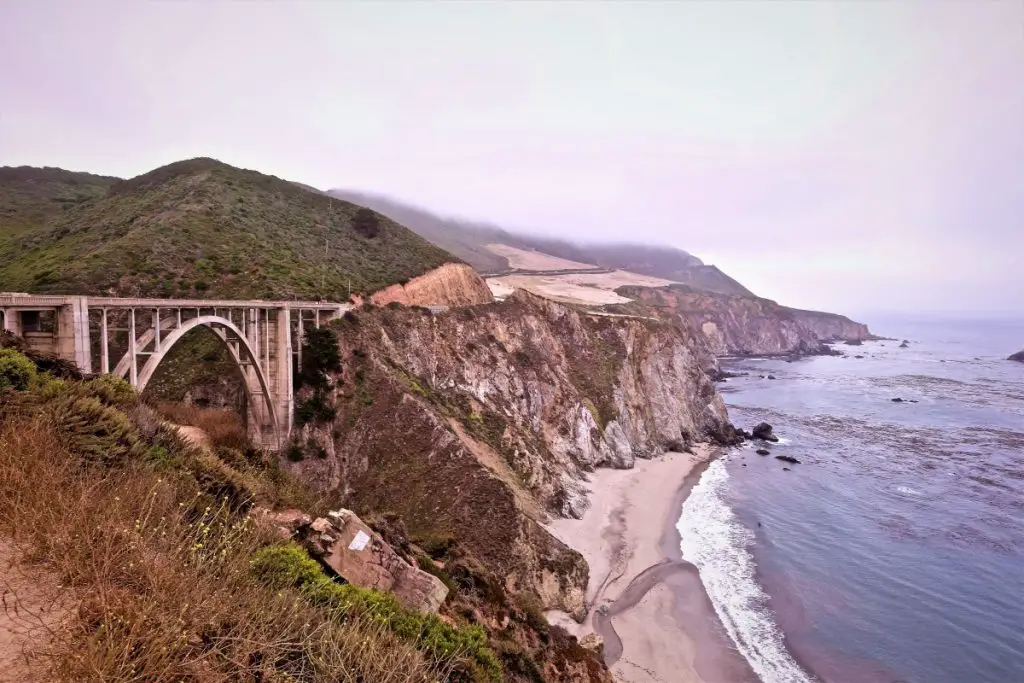 Bixby Bridge: You have certainly seen this bridge used in backgrounds of TV and movies.  If you cross early enough in the day, you may not be able to get a great view under the clouds melt off.  After a breakfast nearby, stop for some great pictures and be careful of busy and tight parking options.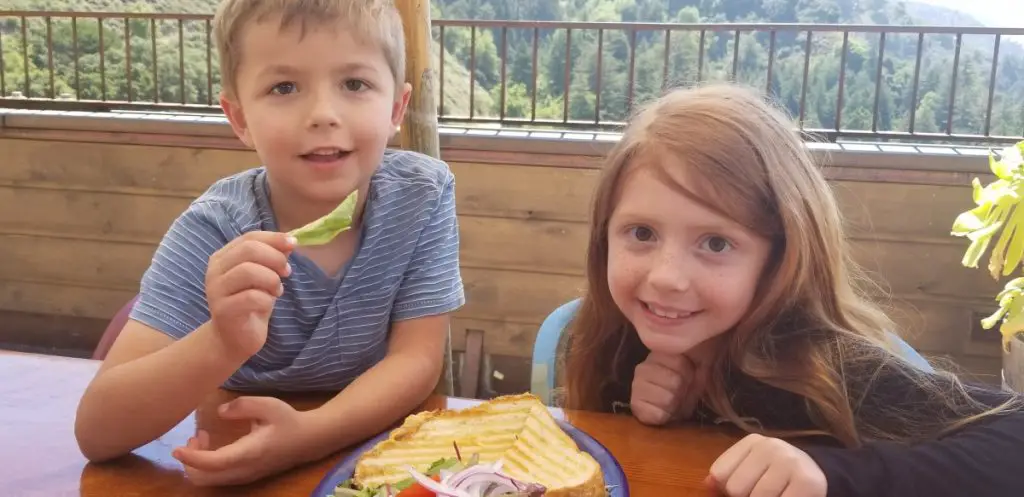 Where To Eat:
Nepenthe & Cafe Kevah: Don't miss this stop.  Be sure to have your directions up so you find it as the twists and turns can make turning around challenging.  This two restaurant and store location has levels of parking available.  Nepenthe, the sit down restaurant, is in high demand and is first come, first serve unless you have 5 or more in your party.  Cafe Kevah is an order at the counter type of open air restaurant.  They serve a bit earlier in the day than Nepenthe.  The onsite shop is full of great gifts and items to remember your visit.  Both restaurants offer tasty options make from fresh, seasonal ingredients.
Big Sur Bakery: Although called a bakery, it is much more.  Serving three meals per day Wednesday through Sunday as well as breakfast and lunch on Monday and Tuesday, this is a busy spot.   Enjoy sandwiches on fresh bread and woodfire pizzas.  Reservations are recommended for brunch and dinner.
Where To Stay:
There are very few options that are truly in Big Sur that are family friendly or have price tags below $1000/night.  This may make Big Sur a good candidate for a stop through, but consider this lodge if you are making the stay.
Big Sur River Inn: Rustic and charming, this hotel is located in the heart of Big Sur.  With an onsite restaurant offering three meals each day, you can stay onsite and spend your day enjoying the onsite pool, reclining in wooden adirondack chairs with your feet in the stream, or listening to the live music everyday Sunday April through October.
Monterey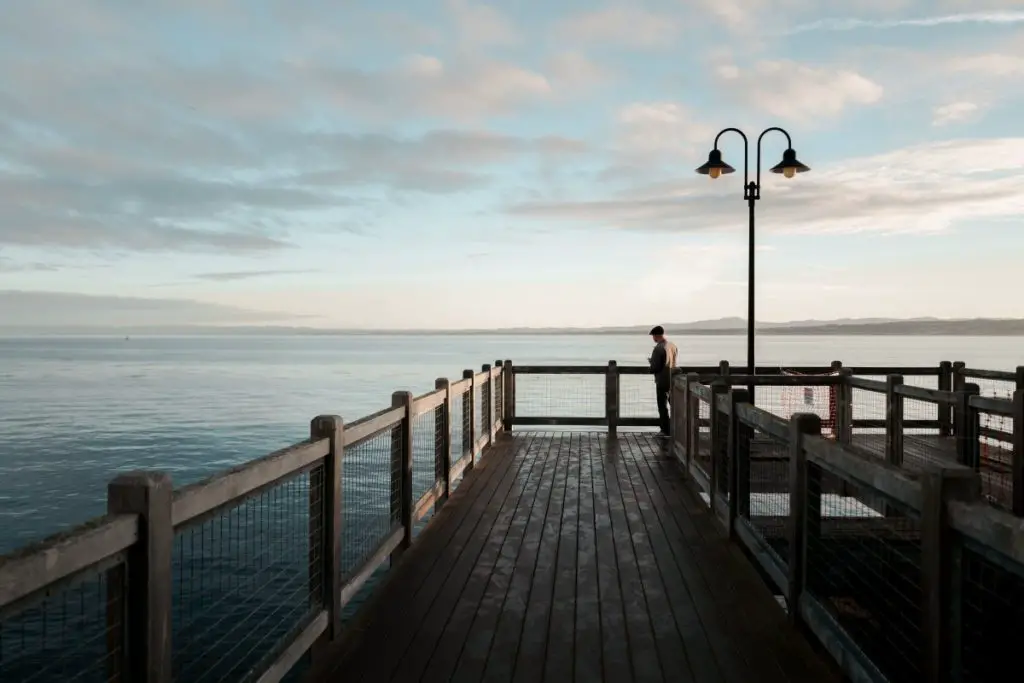 Monterey feels like the entrance into the greater San Francisco area, but with its own charm.  The beautiful city embraces its place on the ocean with the aquarium, seafood, and gorgeous backdrops.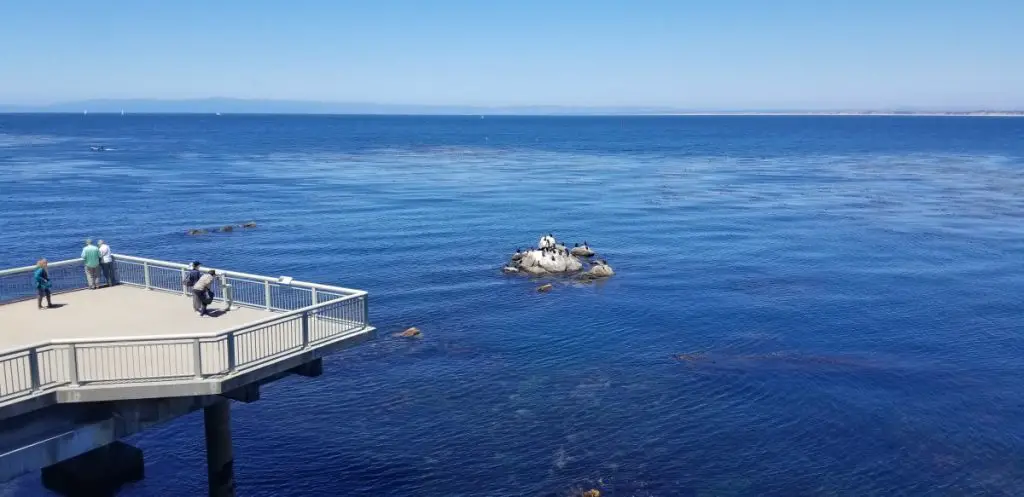 What To Do:
Monterey Bay Aquarium: This is a truly impressive site to visit.  The location is the model for the aquarium seen in the Finding Nemo and Dory movies.  It located right on the water and provides excellent opportunities for learning and feeling up close with so many types of aquatic wildlife.
Dennis the Menace Park (part of El Estero Park): This park got its name it was designed by the creator of Dennis the Menace.  The park is located right next to El Estero Lake and has a lot to offer.  The playground is substantial.  The lake has an exercise path that extends its perimeter. Visitors can also rent paddle boats to get a different view.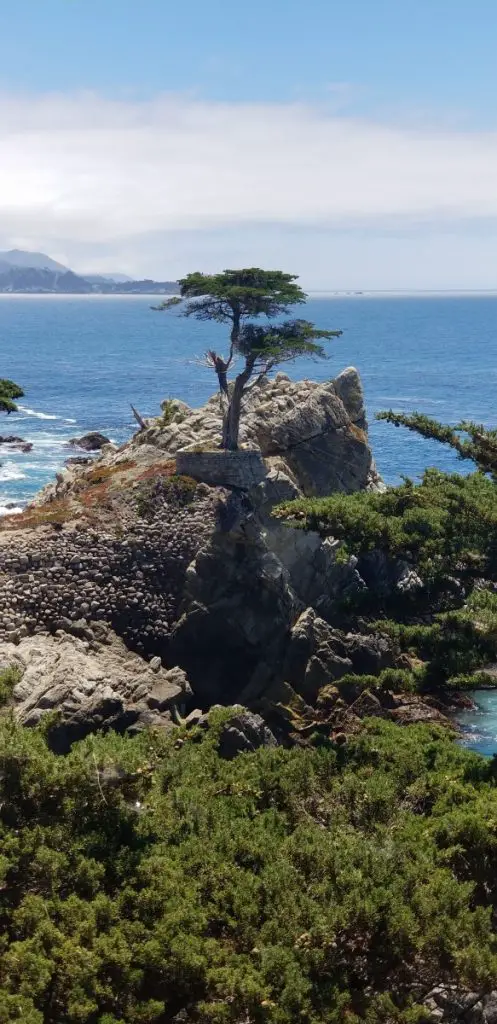 17 Mile Drive: This is an awesome opportunity to take in more scenery when you find yourself nearing the end of your PCH experience.  This drive winds through some of the most exclusive property in the area including Pebble Beach Golf Course.  There is a fee to take the drive, but it is worth for a few great spots to get photos and see the abounding wildlife.
Where To Eat:
Wave Street Cafe: Offering breakfast and lunch, you will find light American fare perfect for the whole family.  If you can snag a seat on the patio and see the view, you will have a great meal experience!
Sea Harvest Restaurant & Fish Market: You can see the offering a fresh variety of sustainable seafood is important to this establishment.  If you want to enjoy fresh seafood prepared in simple ways to showcase the quality, this is a great choice.  They also offer an excellent kids menu as well.
Hula's Island Grill: This is a fun, out of the ordinary option to try some island favorites and Tiki cocktails.  Enjoy bowls, tacos, Pupu platters and more.
Where To Stay:
Monterey Bay Lodge: This motel style lodge features a variety of configurations including family style rooms.  The downtown location makes it convenient.  You'll love the onsite pool and beautiful views of Lake El Estero.
Carmel Valley Ranch: If you want to find an oasis in your roadtrip journey, this could be it!  They offer suites with up to 4 bedrooms, beautiful pools and water play areas for kids, spa, golf and a variety of dining options.
San Francisco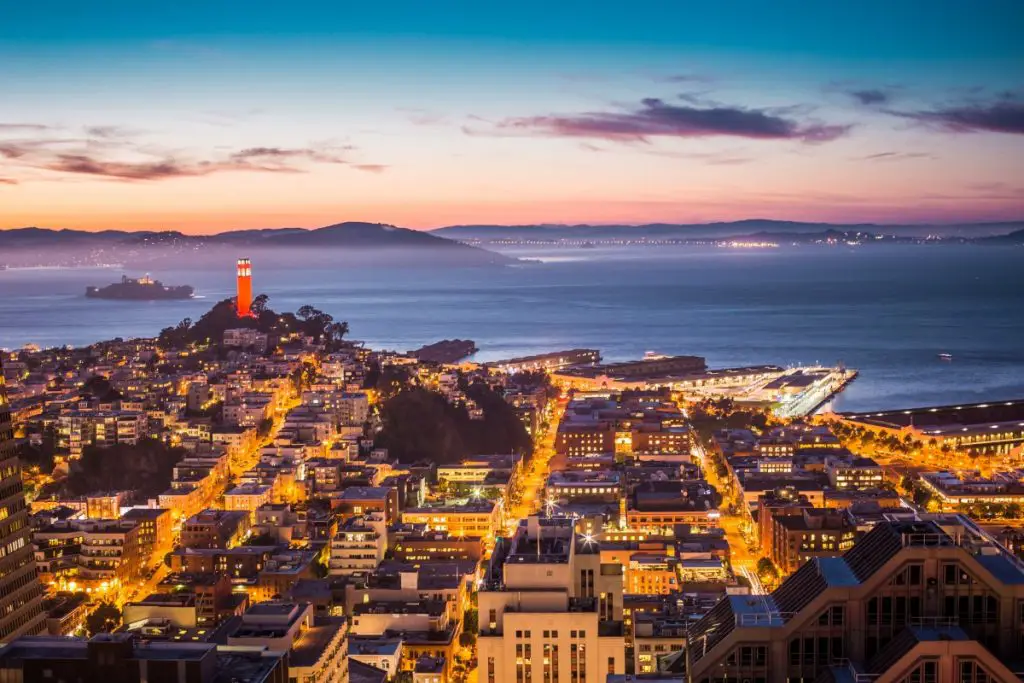 San Francisco is known for their innovative spirit as the region has and continues to be the source of so many new inventions in technology.  There are also many iconic landscapes we have seen in film and TV.  California's largest city of the North offers a very different vibe from our starting point in San Diego.
What To Do: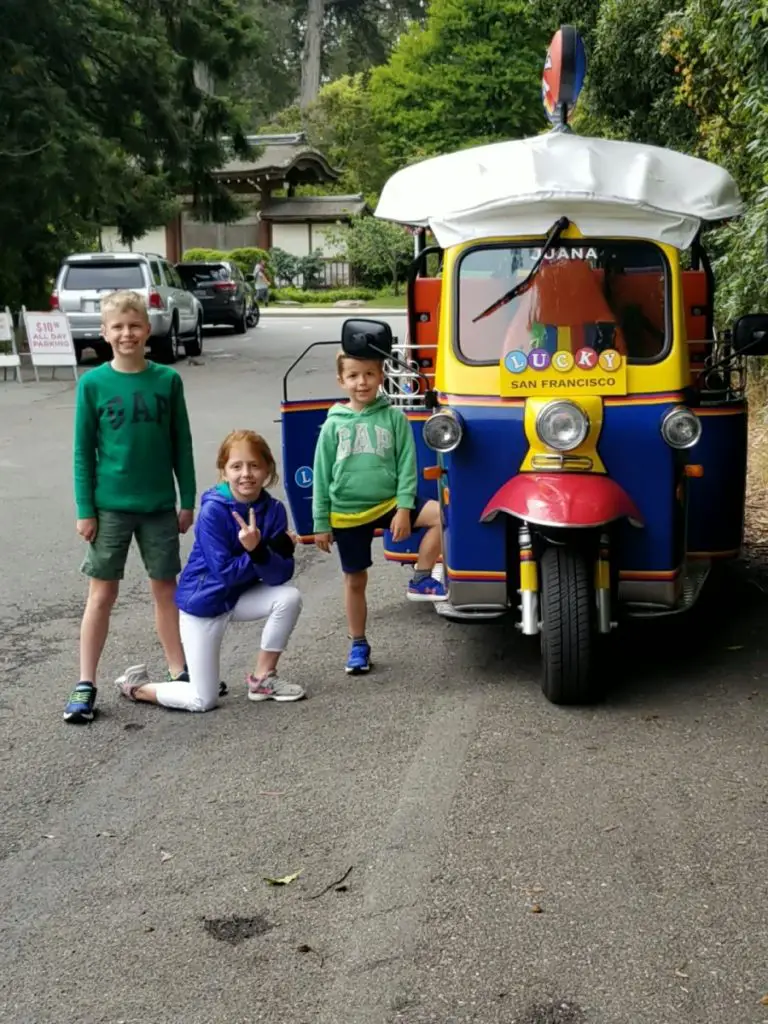 Alcatraz: Don't miss your chance to view this historic site while in San Francisco.  It may seem a bit intimidating with kids, but with the right level of seriousness, it doesn't have to be too heavy.  Check out this article for how to handle Alcatraz with little ones.  As mentioned in the article, I think the Junior Ranger program is a great way to keep kids engaged at National Parks.Tuk Tuk Tour: This is seriously so much fun!  If you want to get a good overview of the city, this is a great way to learn about several sites, grab a few good pictures and have a lot of fun on the journey.  I highly recommend Lucky Tuk Tuk company.  They are fun, flexible and knowledgeable.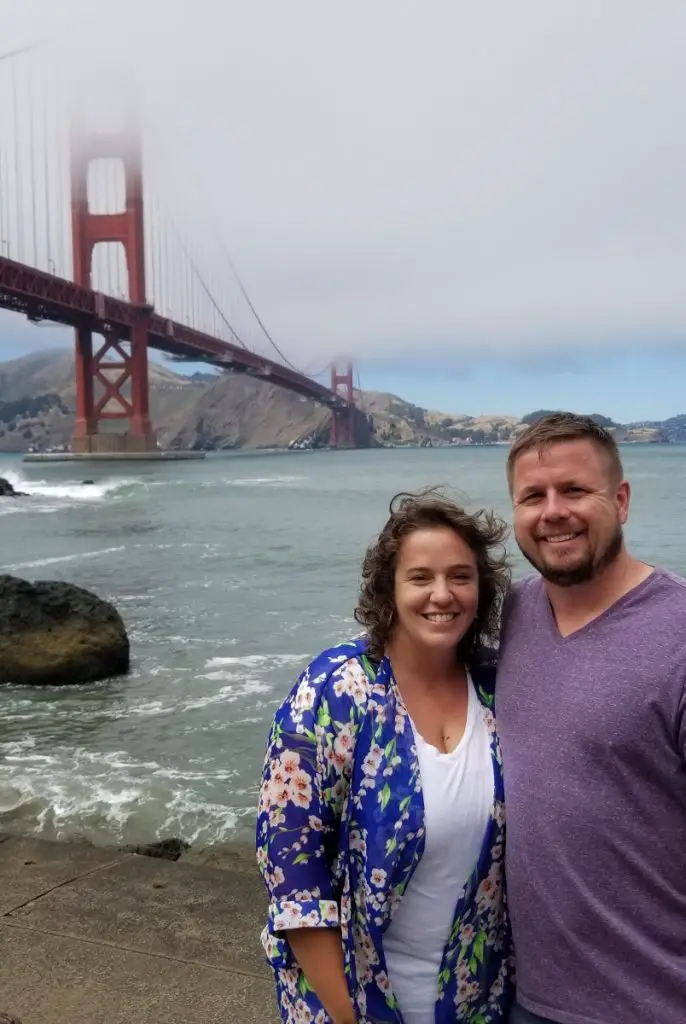 Golden Gate Bridge: Whether you choose to cross it or just incorporate it into a tour or museum stop, you have to get those bridge pics.  Visitors are often amazed at how little of the bridge is visible for most of the day before the cloud cover burns off.
Muir Woods: Located about 25 minutes from San Francisco, this could be a great day trip or you could finish your roadtrip staying in the woods. Assuming you are just visiting for the day, it can also be combined with a half day visit to Sausalito.  They have a junior ranger program for visitors age 5-12.  This is a great opportunity see Redwoods and finish up the diversity of your California roadtrip experience.
Where To Eat: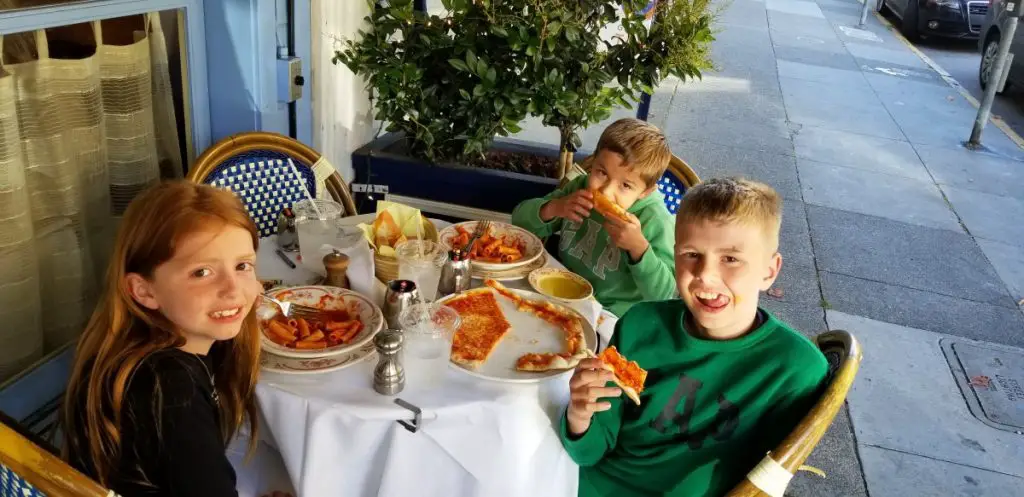 Rose's Cafe: This hidden gem is not to be missed.  Dine alfresco along the sidewalk and feel like you're at a little European bistro.  The menu offers delicious antipasto, pizzas, pastas, focaccia and more.  We took two small tables and let our kids have their own – a little date at the end of many days on the road together.
Where To Stay:
The Laurel Inn: The Laurel Inn is small-ish boutique hotel that is sophisticated and centrally located.  They offer onsite parking and additional parking around the corner.  The stylish furnishing make you feel comfortable and the service is top notch.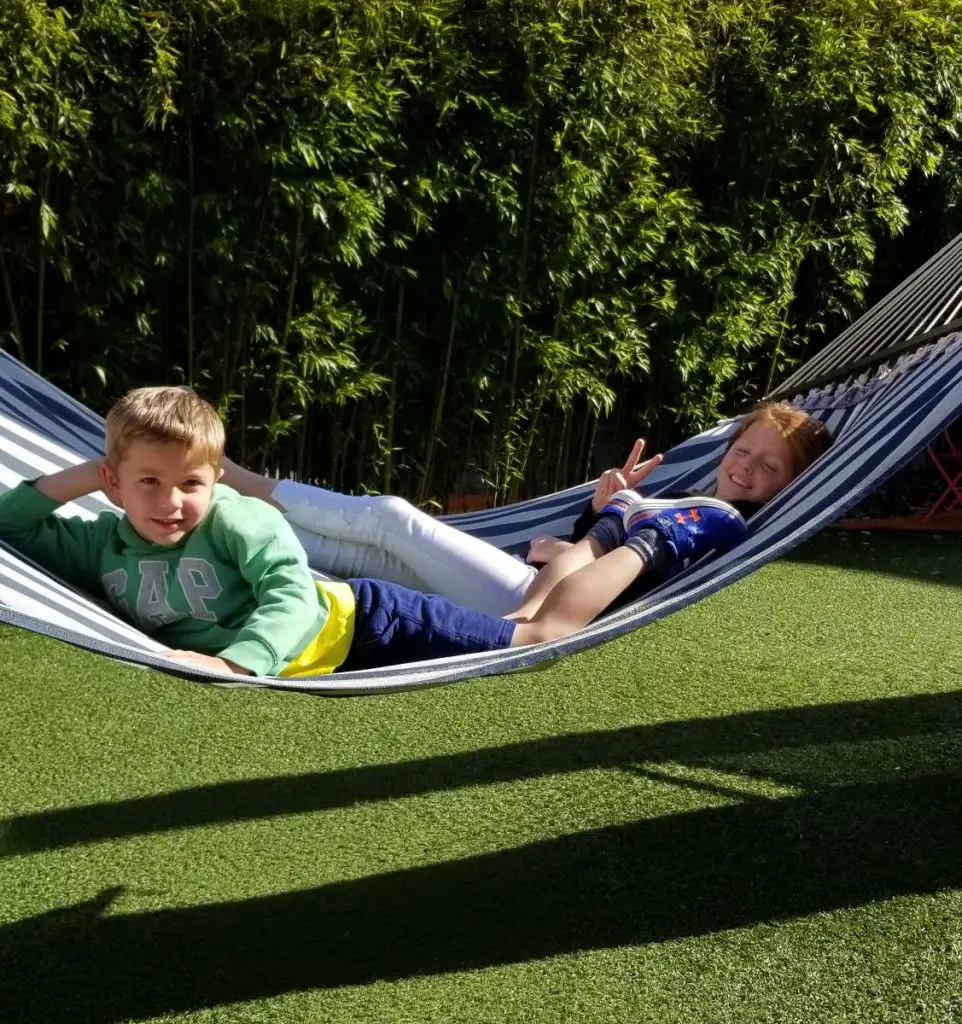 Hotel Del Sol: In a city where hotels can get very expensive and serious, Hotel Del Sol doesn't take it self too seriously.  This boutique is in a quintessential motel property.  You park your vehicle under the second story where the rooms begin.  The pool and faux yard with hammocks and bikes for rent fill the courtyard of the hotel.  The staff goes above and beyond to educate you on the area amenities and serve a tasty continental breakfast.
Itineraries
Suggested Itinerary #1 – 13 Days
Day 1: Arrive San Diego
Day 4: Travel to La Jolla and Solana Beach, stay in Carlsbad
Day 6: Head to Los Angeles
Day 8: Visit Santa Barbara and arrive in Cambria
Day 10: Travel through Big Sur, Stay in Monterey
Day 11: Leave for San Francisco
Day 13: Depart Home
Suggested Itinerary #2 – 7 Days
Day 1: Arrive San Diego
Day 3: Leave early, hitting La Jolla, Solana Beach & Carlsbad along way to stay in Los Angeles
Day 4: Leave after full day in LA, stay in Santa Barbara or further
Day 5: Keep moving through Cambria, and Big Sur, sleep in Monterey
Day 6: Visiting the Aquarium, head to San Francisco for 1/2 day of sightseeing
Day 7: Leave later in the day after getting in a tour
This option will feel VERY rushed, but this is how I would prioritize if you wanted to see it all.
Have a great trip and don't hesitate to ask questions or make suggestions to my itinerary!