Midwesterners are not known to boast and we even have the term "Iowa Nice" to describe how we treat others.  Because of this humility, it's easy to overlook our own beautiful public parks and their campgrounds when consider traveling.  This list includes 19 gorgeous spots to get away and unwind in each corner of the great state of Iowa.
This chart includes public campgrounds with RV camping spots mostly available for reservation, having at least 30 AMP electric hook-up and can accommodate at least a 25 foot camper .  Many of these campgrounds also include campsites available on a first come, first serve basis.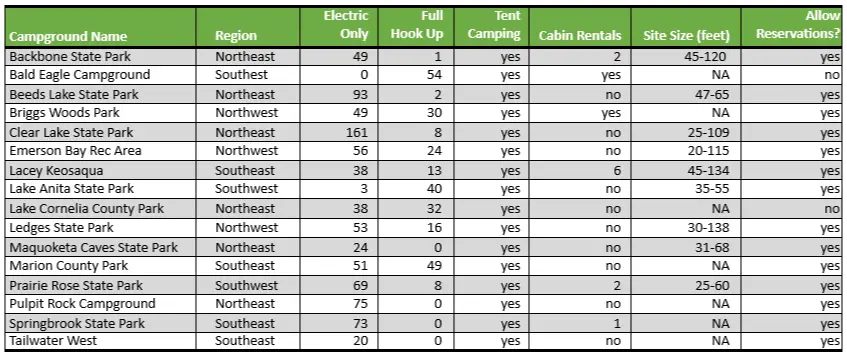 Northeast Iowa
Backbone State Park
Backbone State Park is located in Northeast Iowa and was the first state park of Iowa.  Backbone has 21 miles of hiking and biking trails and boasts one of the highest look points in Northeast Iowa, "Devils Backbone".  Backbone Lake provides the opportunity for electric motor boating, swimming, beach play, and fishing.  A concession stand is operated from Memorial Day to Labor Day at the beach and is also the location for boat and cabin rental check in.  Nearby Attractions include the town of Strawberry Point and Dyersville, Home of the Field of Dreams.
Reservations: Yes, reservations are offered through the state reservation system.  There are two cabins available for rental, but are closed for the 2021 season.
Beeds Lake State Park
Beeds Lake State Park is a 90 acre park created surrounding Beeds Lake.  There is an easy, scenic two mile trail that circles the lake and offers benches for taking in the view and passes the dam that turned Spring Creek into Beeds Lake.  Fishermen will enjoy the docks along the south shore enabling them to pull in catfish, panfish and bass.  There is a sandy beach area where swimmers can access the lake.  There is no restriction on motor size for boaters (no jet skis or high speed boats), but Beeds Lake is entirely no wake.
Reservations: Yes, reservations are offered through the state reservation system.
The city of Hampton is the nearest community, about three miles from the Lake.
Clear Lake State Park
Clear Lake State Park is located on a 3600 acre lake popular for boating and fishing while the rest of the park is approximately 50 acres of open park spaces and campground.  Clear Lake is also popular for kayaking, canoeing, paddle boarding, wind surfing, swimming and relaxing along the 900 foot sandy beachfront.  Although there are no cabins available at the state park, there are many private cabins available for rent around the lake.  The lake is a summer destination with nearby city of Clear Lake used to accommodating tourists in town for fun on the water.
Reservations: Yes, reservations are offered through the state reservation system.
Maquoketa Caves State Park
Maquoketa Caves State Park is a 370 acre park containing thirteen caves, the most of any park in Iowa.  Although the park is full of heights and depths, the park does not allow rock climbing.  In addition to visiting the caves, campers can enjoy six miles of trails.  Although all of the campsites can be reserved online, there are only 24 electric sites and no full hook up sites, so make your reservations early.  Visitors will be impressed with not only the beauty of their trails, but also at how campsites are nestled amongst the trees.  Nearby attractions include a Hwy 61 Drive In Movie Theatre and Bluff Lake Catfish Farm.  The caves are home to hibernating bats during the winter and closed to visitors.
Reservations: Yes, reservations are offered through the state reservation system.
Pikes Peak State Park 
I highly recommend this park, but the campground is likely closed for the 2021 season.  I will add more information once reservations are available.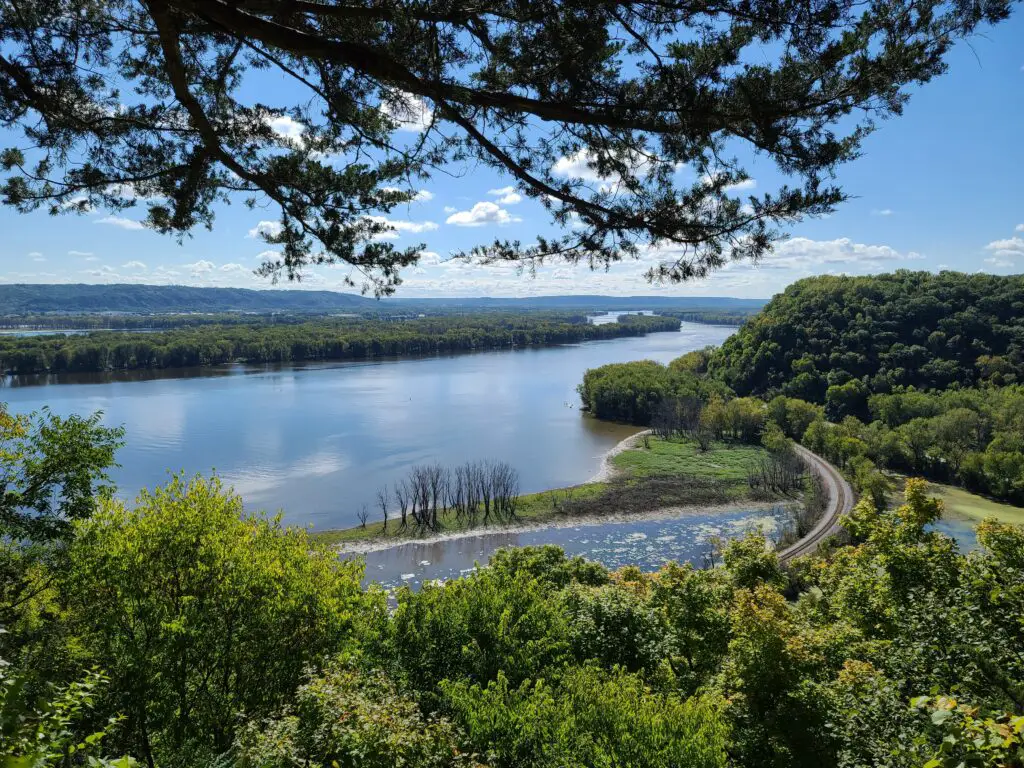 Pulpit Rock Campground
Pulpit Rock Campground is located in Decorah, Iowa, a unique, small college town full of outdoor activities.  The campground is split between the Pulpit Rock side and the Twin Springs side with the stream following between them and different entries.  The city parks department runs the campground and offers a playground and volleyball net for onsite entertainment.  The stream is rich with trout for fishermen and also used for canoeing.  The campground is also right by the trailhead for the Trout Run Trail, an 11 mile loop around Decorah.  I recommend this campground for its access to the many beautiful places to visit in Decorah and fun things to do (Norwegian museum, Topping Goliath Brewery, etc.).
Reservation: Yes, but note that advance reservations open on certain dates for upcoming date ranges as noted on their website and must be made by phone.
Northwest Iowa
Briggs Woods Park 
Briggs Woods Park is an impressive county park with several activities and accommodations available.  The park is also home to 18 hole golf course, Briggs Woods Golf Course.  The lake offers a beach, boating, fishing, and rental of canoes and kayaks.  Maps of the campground, trails and lake are all available at the park link above.  Campers report spacious sites with shade.  In the winter, snowmobilers enjoy trails through Briggs Woods Park as well.
Reservations: Yes, 6 campsites and several cabins are available by reservation through the County Facilities Reservation System.
Lake Cornelia County Park
Lake Cornelia County Park is a 230 plus acre lake located near Clarion.  Seventy campsites are offered in close proximity to the lake.  A boating ramp is available for all types of boating and various fishing jetties.  The park is part of the 33 mile Three Rivers Trail, which is made of crushed stone and great for biking or walking.  Several private properties are available for rent on the lake as well if you have non-campers in your group.  The park also offers free wi-fi.
Reservations: No, but contact Wright County Conservation Office with any questions at 515-532-3185. Email address: wccb@co.wright.ia.us.
Lake Okoboji Area – Iowa's Great Lakes                                                            Emerson Bay State Recreation Area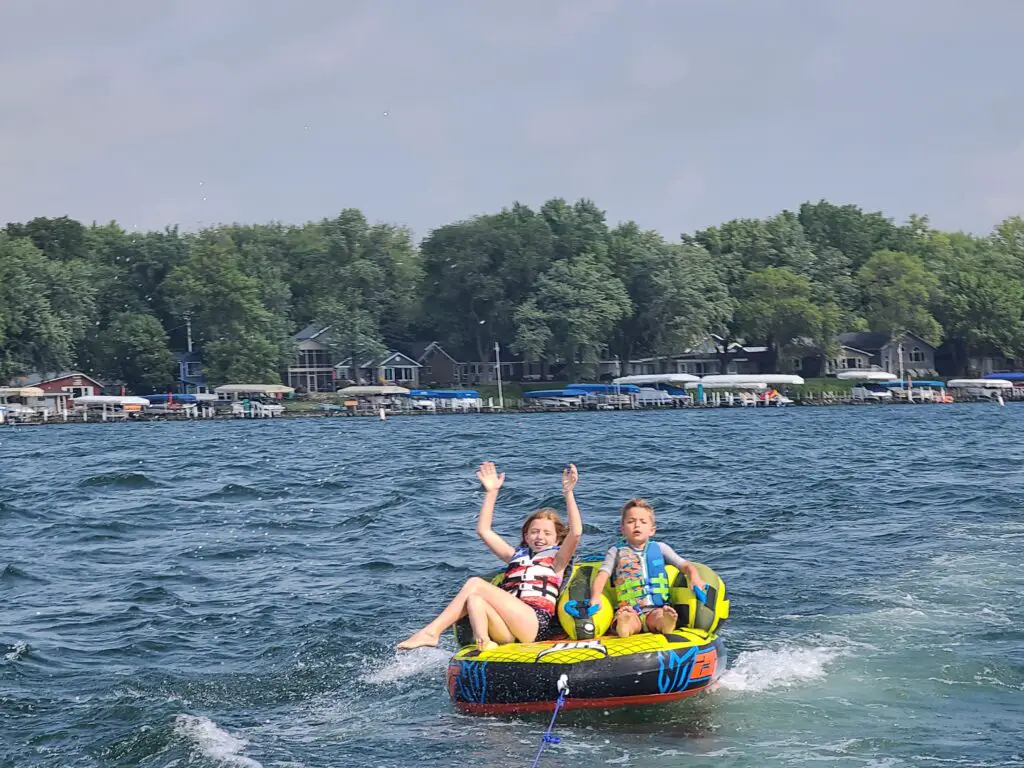 Emerson Bay campground is located on West Okoboji Lake.  Located among sprawling vacation homes and right along the banks of West Okoboji Lake, the 80 campsites offer an affordable access to this summertime Iowa favorite.  The campground is very popular due to its location, shady spots with access to boat ramps, beach, and lookout tower.  The area is full of several attractions and restaurants targeting the summer tourist season.  If there isn't availability here, there are a couple smaller campgrounds around Lake Okoboji to try as well including Gull State Park
Reservations: Yes, reservations are offered through the state reservation system.
Ledges State Park
Ledges State Park is popular with visitors due to the beautiful canyons and sandstone "ledges" lining the park and offering several different hiking trail options.  AllTrails lists more moderate trails than you will find in most Iowa state parks.  Be aware of potential flooding throughout park from the Des Moines River and check conditions and consider avoiding spring melt time if planning to hike.  The campground is mostly gravel and shady.  Ledges is also nearby both Boone and Ames if you're interested in accessing the wide of variety of restaurants and activities available.
Reservations: Yes, reservations are offered through the state reservation system.  Most state parks reserve around one third of spots for first come, first serve, but Ledges is one half which is good or bad depending on your planning.
Le Mars Municipal Park – Willow Creek Campground
Le Mars Municipal Park – Willow Creek Campground is located in the small community of Le Mars, Iowa (population 9900) next to 3.5 acre pond.  The loop of thirty campsites offers access to the small beach area, paved walking trails and fishing pier.  The campground is also neighbor to Willow Creek 18 golf course and the amenities of Municipal Park including volleyball, tennis courts, and a beautiful shelter house for hosting events.  Don't underestimate the small town restaurants, shops and brewery to round out your visit.
Reservations: Yes, accepted up to 14 days in advance by contacting the Campground Manager at Email: Campground Manager or 712-546-8360.
Southeast Iowa
Coralville Dam Complex Campgrounds – Tailwater West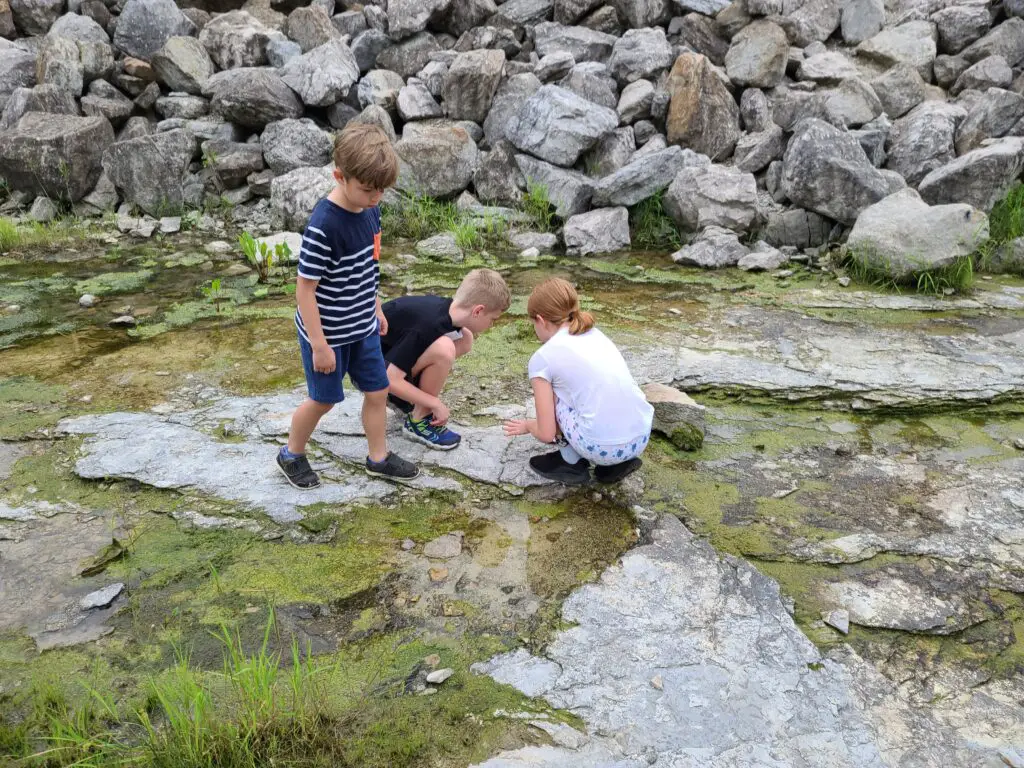 The Coralville Lake and Dam Complex contains several campgrounds including Sandy Beach, Sugar Bottom and Dam Complex (Tailwater East and West, Cottonwood, Linder Point and West Overlook).  Neighboring Lake MacBride also adds to the variety of water accesses available in this area just outside of Iowa City and Coralville.  The substantial sandy beach allows swimmers to enjoy the water or put it or rent a boat to get out further onto the lake for a day of fun on the nearly 5300 acre lake.  The Devonian Fossil Gorge is also located within the park and gives visitors the opportunity to view the land as it would have been millions of years by following self-guided audio tour.  My favorite campground is Tailwater West which includes a circular site layout that feels isolated from the rest of the park with the Iowa River winding around much of the campground.  The water crashes at the backside of the Dam crashed down repeatedly making an amusing and fun backdrop.  The sites feel spacious and shaded.  There is also a playground at this campground.
Reservations: Yes, reservations can be paid through recreation.gov
Lacey Keosauqua State Park
Lacey Keosauqua State Park is Iowa's second oldest state park and located along the Des Moines River.  The park is also the site of 19 mounds created by Native Americans as burial grounds.  A 30 acre lake offers a sandy beach and opportunity to use non-motorized or electric motors.  Fisherman will enjoy lake access and river access.  Lacey Keosauqua is also home to a handful of easy and moderate trails showcasing the park's wildlife and history during the Civil War and part of the Mormon Pioneer Trail.  The park is one of Iowa's largest with more than 1650 acres.
Reservations: Yes, reservations are offered through the state reservation system.
Marion County Park
Marion County Park is 140 acre park with 100 campsites and a 7 acre fishing lake.  Electric motors are allowed on the lake.  The park is home to multiple baseball and basketball courts as well as a Historic Village for visiting.  The campsites are a mixture of both paved and gravel spots.  The park sits on the edge of Knoxville, Iowa, home to some tasty restaurants and Peace Tree Brewing.
Reservations: Yes, reservations can be made through the county site up to one year in advance.
Scott County Park – Bald Eagle Campground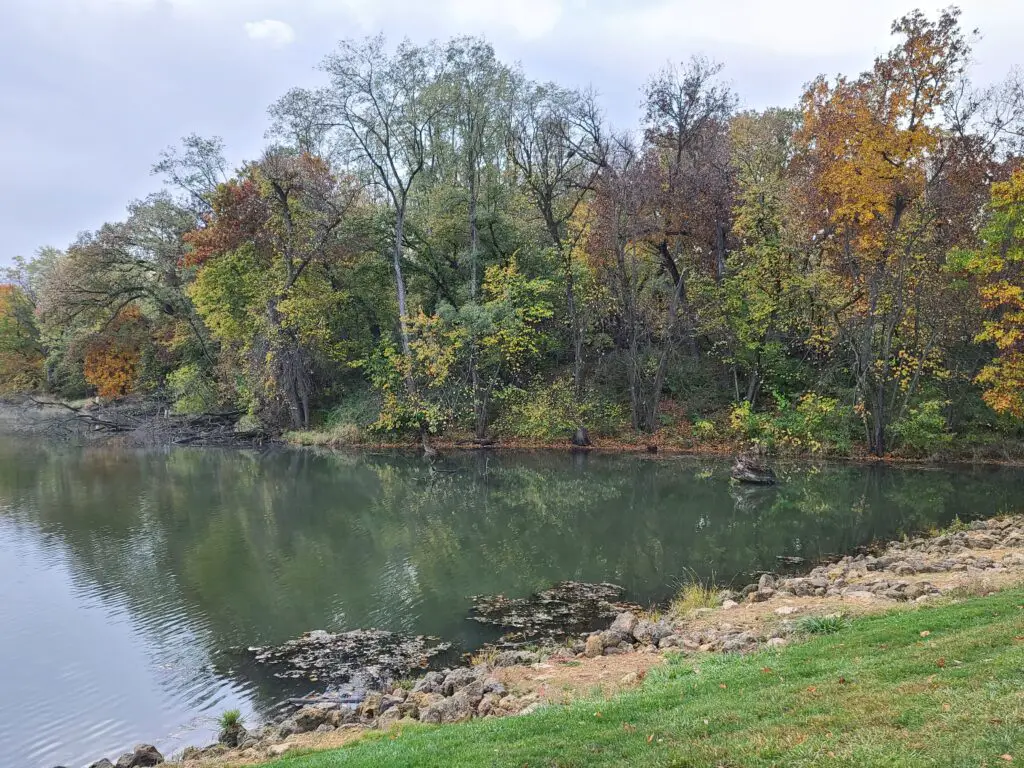 Scott County Park is my home county park so I am a bit biased, but I can say that we have been to many private and larger park campgrounds and declared that they do not compare to Scott County.  The park has five campgrounds, but Bald Eagle is currently the only full hook ups.  There is a new full hook up campground opening in 2021.  The sites are paved and very level.  About half have nice mature tree shade.  Because they do not allow reservations, it is difficult to find a spot during nice weather on a weekend.  The 1280 acre park has many trails open to hikers and equestrians.  In the summer, visitors can enjoy the Scott County Pool, located inside the park.  There is a historic village called Dan Nagel Pioneer Village with old buildings tour and an old fashion soda fountain that operates (check for dates).  In winter, snow skis, sledders and cross country skiers enjoy the vastness of the park and trails.  A new cabin opened in Bald Eagle in the spring of 2020 and can be reserved.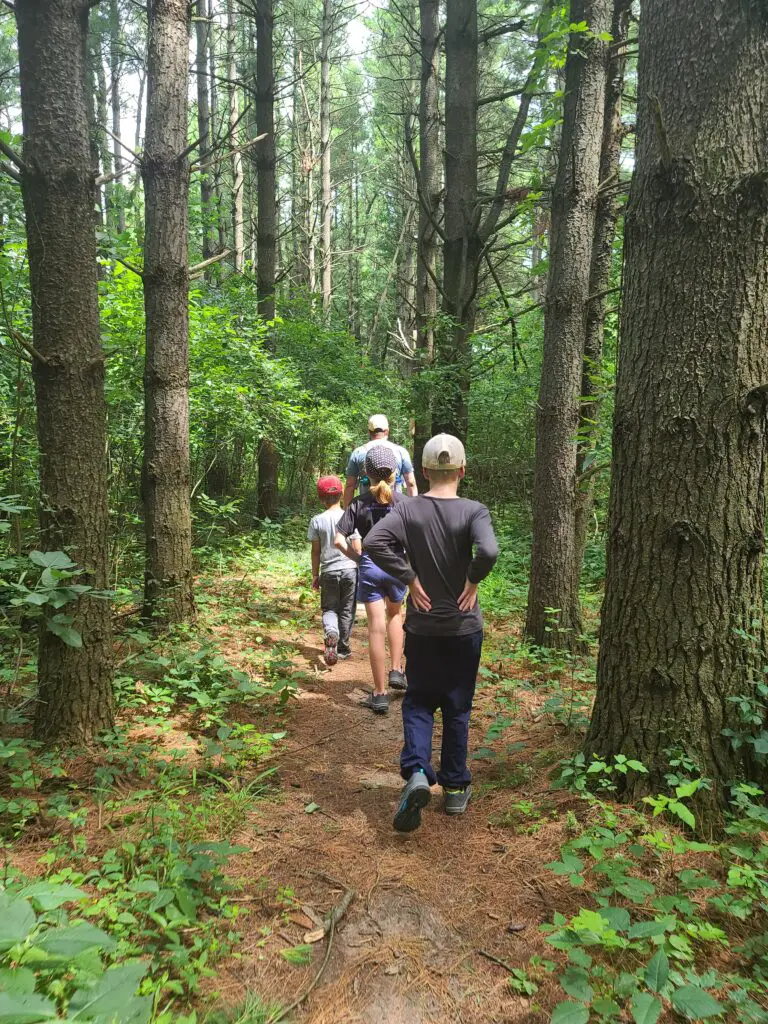 Reservation: No, all sites are first come, first serve.
Southwest Iowa
Lake Anita State Park
Lake Anita State Park offers 92 campsites on a manmade 170 acre lake.  The lake is surrounded by a moderate 4.5 mile loop great for walking or biking.  The small sandy beach hosts those who want to play sand volleyball, swim and purchase snacks from the concessions (Saturday mornings).  You will find many of the gravel campsites in direct view of the lake.  Lake Anita State Park is just five miles from I80 interstate for an easy RV pull.
Reservations: Yes, reservations are offered through the state reservation system.
Prairie Rose State Park
Prairie Rose State Park features a lake, beach, trails and playground along with campground and two cabins.  The lake allows all types of water craft at no wake speed.   This is a perfect quiet weekend camping location with easy walks around the lake including a land bridge that makes a three mile loop.  Fishermen and wildlife lovers will also appreciate this quiet state park.  Choose camping at Prairie Rose for a simple (low on amenities and crowds) and quiet weekend of country views and fun on the water.
Reservations: Yes, reservations are offered through the state reservation system.
Saylorville Lake 
Saylorville Lake, Reservoir and surrounding campgrounds are managed by the Corp of Engineers. The nearly 5000 acre lake is home to multiple campgrounds including:
These campgrounds are popular for their lake access as well as additional amenities.  Playgrounds are found at various points in the park.  The 26 miles Neil Smith Bike Trail passes the park by Cherry Glen Campground.  Big Creek State Park and Tournament Club of Iowa (golf) are neighbors to the Core property.  With its substantial size, Saylorville Lake is home to all type of boating and water sports.
Also near the lake is Jester Park which is a county park with multiple campgrounds having electric only hook ups and gravel spots.  There is a Nature Center with Elk and Bison viewing near Jester Park.  There is an Equestrian Center where horses can be rented and Jester Park Golf Course.
Reservations: Yes, each campground is reserveable at the links above with their individual names.
Springbrook State Park
Springbrook State Park is a 930 acre park filled with rolling hills and over 12 miles of trails to explore.  The 17 acre lake allows for gas motors and is enjoyed by leisure boaters and fishermen.  A swimming beach and playground offer more family fun.  The area is also popular for its proximity (6 miles) to the Raccoon Valley Bike Trail.  There is a 4 bedroom, 3 bath house called Sherburne House that was a 10 acre addition to the park and if rentable through the reservation system.
Reservations: Yes, reservations are offered through the state reservation system.
Enjoy Iowa Park Campgrounds!
These are many more parks to explore in Iowa.  Don't be afraid to explore a park right in your backyard!