The Lake of the Ozarks has been part of my story for my entire life. First, it was the summer time visits spent with our extended family at my grandparents' condo. Next, it was the visits to my parents' condo, eventually bringing along little ones. And today, we visit annually to create new traditions of our own. This lake has changed SO much since I was little, but it still has my heart. It is such a great destination for families to have a classic summer experience. I also love visiting the Lake in other seasons, but we will start with summer as an introduction to your waterfront fun.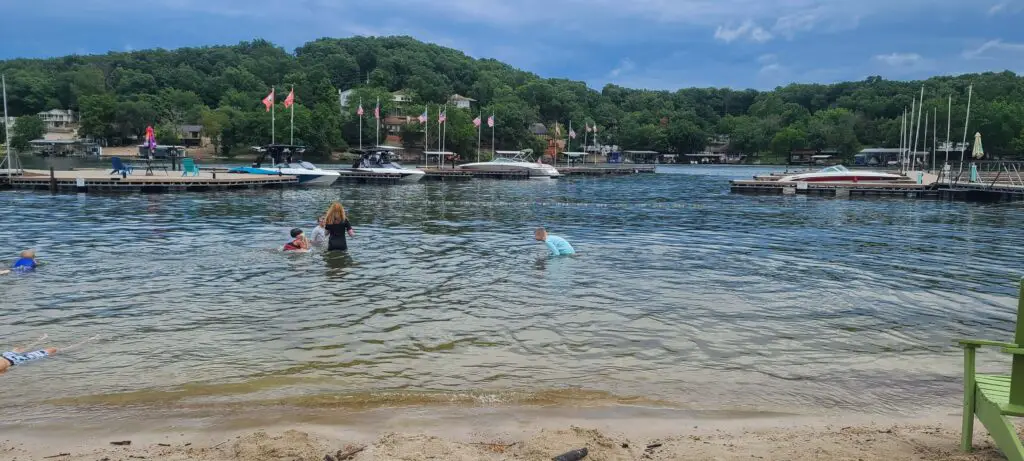 For some clarification, the lake itself is called Lake of the Ozarks. There are towns called Lake Ozark, Osage Beach, Sunrise Beach, Camdenton, Linn Creek, Laurie, Gravois Mills, Rocky Mount, and a few other small villages that make up the Lake area. Over the decades, building and commercial activity built up in the Osage Beach area and spread in all directions. Improved roads in places that were more remote have made the build up of major resort communities possible. In 2010, the initial construction of an expressway that now extends around Osage Beach began with continued improvement plans in the works. This allowed visitors to more quickly access cities South of Osage Beach and to move through the halting traffic in town on busy days more efficiently. It also heavily impacted the business climate which was all built along a main strip of Old Highway 54. Much of the primary commercial developments off the expressway are new or reimagined in the last decade due to the expressway.
No matter where you stay or play, it's all considered part of "The Lake" or "The Ozarks". (There is a much larger part of Missouri and Arkansas that is also called the Ozarks, for its location in the Ozark Mountain or Plateau. That is not what I am referring to here.) You will see me using these terms interchangeably.
Where To Stay
Choosing a place to stay may vary by the direction from which you are traveling or where to you want to be on the lake. Moving through the Ozarks from tip to tip can take about 40 minutes. The options in the Ozarks include condo developments with pools and other community amenities, individual rental homes with their own docks and lake access, and complete resorts with restaurants and entertainment. I will share options in all categories.
Condo Developments:
North: Isla Del Sol – This property is unique because it was an island until recently. The condo was developed with only ferry access for many years. We have stayed here a few times and found that element very fun, but now Isla Del Sol has its own land bridge. This is an AirBnB we have stayed out, but you can find others by searching rental sites using the term "isla del sol". Enjoy the property pool including water features for kids. Here is a little more background on this island's development. Isla Del Sol: The Serene Island Life, Close To Lake Of The Ozarks Action | Lake Expo Advertorials | lakeexpo.com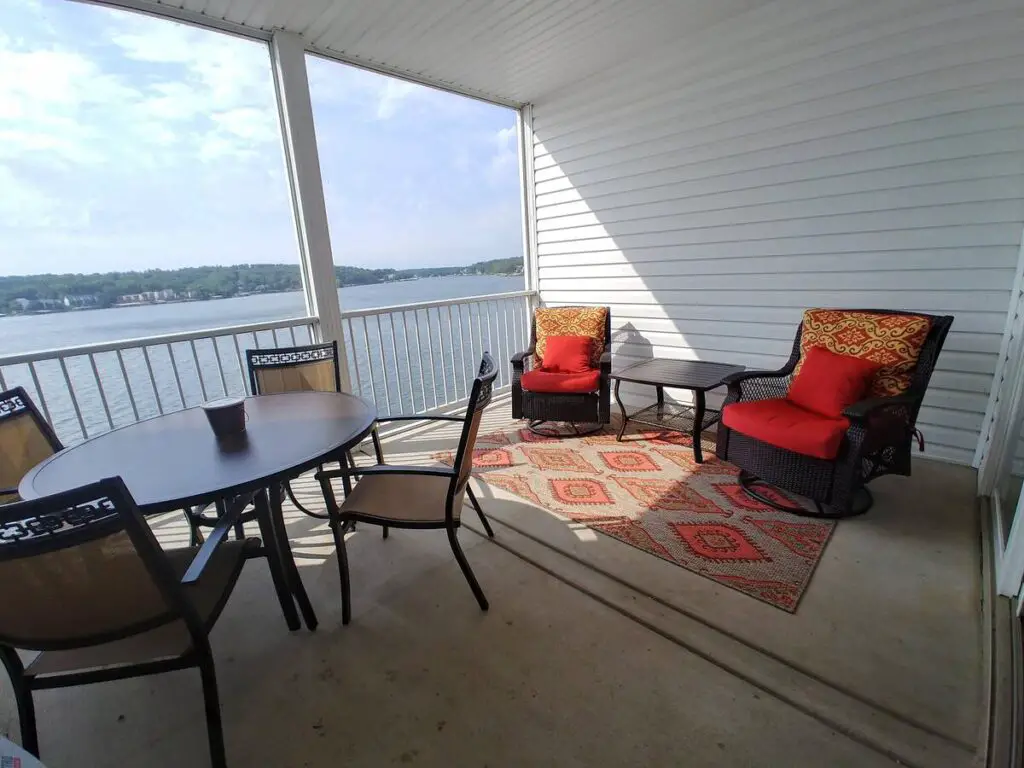 Photo via AirBnB
South: Clearwater Condos – This large condo complex is located on an arm of the Lake called the Big Niangua in Camdenton. We like this area (and the Little Niangua) because it is often not as busy as other parts of the lake. We have stayed in this 4th floor unit with a loft. We like this layout, which is available at multiple condo complexes because there is no one above you and the vaulted living area brings a lot of light into the unit.  Clearwater has two pools and a park area with pavilion. There are condos on the lake level and another level above. When this occurs, typically both levels have good views of the lake still, but it is good to verify the location of your unit as it pertains to pools, docks, etc. I also like this location due to its proximity to Ha Ha Tonka State Park and several of our favorite lake side restaurants.
Houses:
North: Stephanie's Lakefront Cabin – This is a special property. It is located on a cove with a real neighborhood feeling. The homeowner keeps this residence extremely well-stocked and is very generous. The dock, to which you can attach your own boat or rental, features a seating area with kayaks, a lily pad (for playing or relaxing on), life jackets, and paddle boards. Inside is very comfortable with the best use of space to fit a large family and lot of extras provided like beach towels. I highly recommend this rental!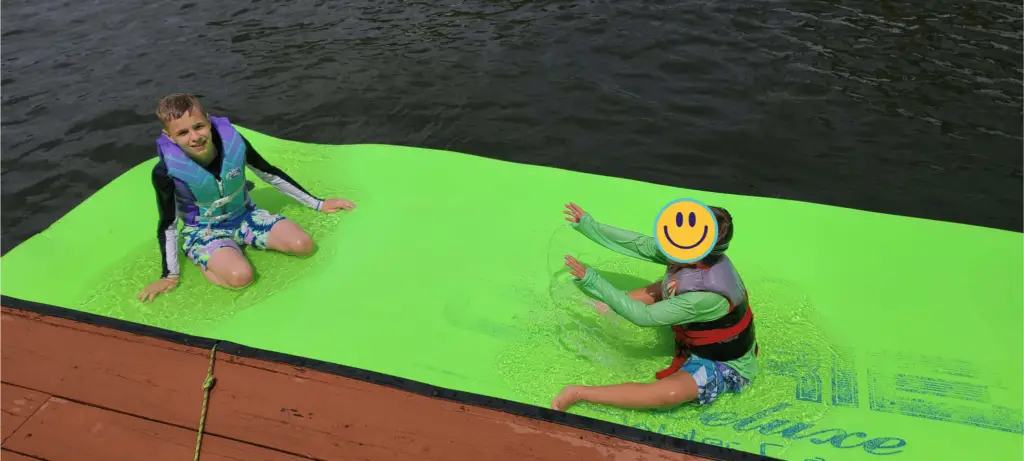 Mid-Lake: Red Head's Rentals – I will talk more about Red Head's as a restaurant and cool spot to hang out below, but here we are talking about what makes their multiple house rental options great. These properties have dock access but are not set up with individual docks. They all have a water view and look across the cove at Red Head's restaurant. The absolute best part of staying here is having a restaurant with a pool, a marina with boat rentals, and a golf cart to access it all. The rentals are modern, well-equipped, and well-managed.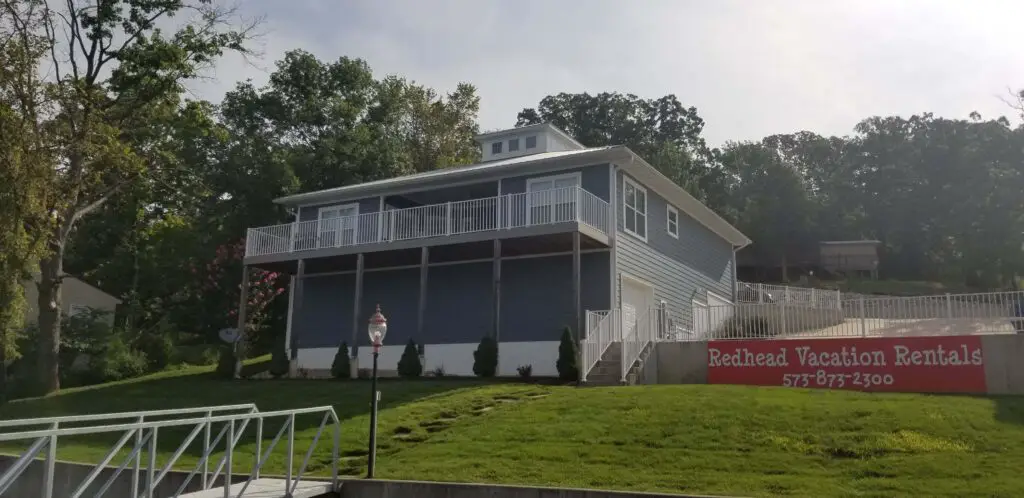 South: Cozy Lake Front Cottage – If you want to be on the quieter part of the Lake, this is a great choice. This mid-century bungalow has been transformed to fit up to seven to eight guests with several cozy, unique spots to relax. There is a direct dock and water access. You can use their slip right off the deep water of this Niangua Arm main channel. This is also a great price for such a find!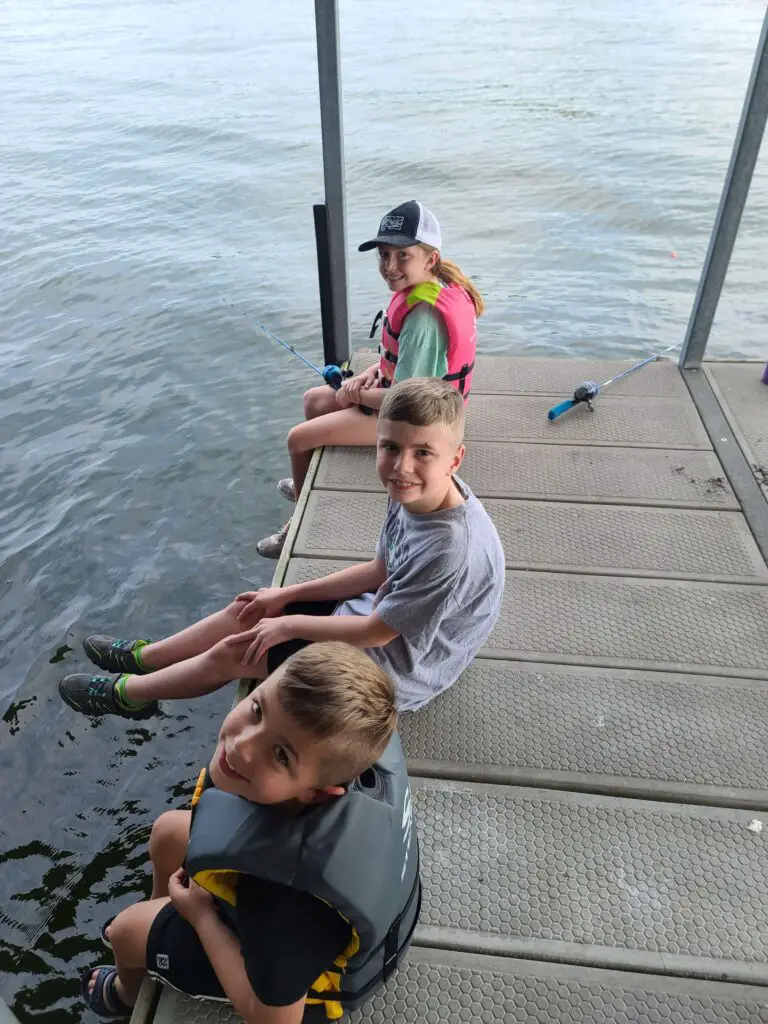 Resorts:
If you are more interested in staying in a hotel like space with pools, restaurants, etc. you will find a couple great options at the Lake. On the North end of the Lake is Camden on the Lake which features several room styles, multiple dining options and often hosts live entertainment on the property. Mid-lake you will find Margaritaville Lake Resort. Formally Tan Tara Resort, the resort is also surrounded by rentals which would be an option if you are looking for a condo feel with nearby entertainment. Margaritaville offers outdoor pool, an indoor water park, several dining options, and a spa.
Where to Eat
The variety of restaurants available has really changed over the years, but there are still classic Lake destinations. Lakeside restaurants are always a blast with a fun atmosphere, great view, and often entertainment. We typically find a way to include a steak house in our lake itinerary as well.
North:
Tucker's Shuckers – Located at Bagnell Dam, this two-story restaurant boasts a fun atmosphere and unique menu. We continue to come back for the escargot and Korean wings.
H. Toad's – Located at Camden on the Lake Resort, this restaurant has evolved over the years to serve three meals per day. In good weather, the view from the outside dining balcony is fantastic for overlooking the property and Lake. The menu is diverse and they offer a variety of kids menu options as well.
Franky & Louie's – For a fun stop on the water or a day spent enjoying their beach, Franky & Louie's is fun for the whole family. The dock set up creates an enclosed swimming area with beach. In additonal the restaurant with its extensive patio and decks, they also offer an ice cream window, shop, and live entertainment.
Mid- Lake:
Andy's Frozen Custard – During my childhood staying in Osage Beach, a little custard shop popped up. Today, over 35 years later, they have locations throughout several states and offer a wide variety of custard-based treats. Andy's is a must visit for any Lake trip.
On The Rise Bakery – Another beloved spot off the water, On The Rise offers breakfast and lunch. During the busy season, this spot is in demand! It is worth the wait to try the Lobster Bisque en Croute or Lobster Pot Pie.
Redhead Lakeside Grill – Redhead's has been an entertainment haven for several years. You will find delicious food and in the warm season, two pools for adults and kids to enjoy. They boast lots of boating spots or you can also visit by land.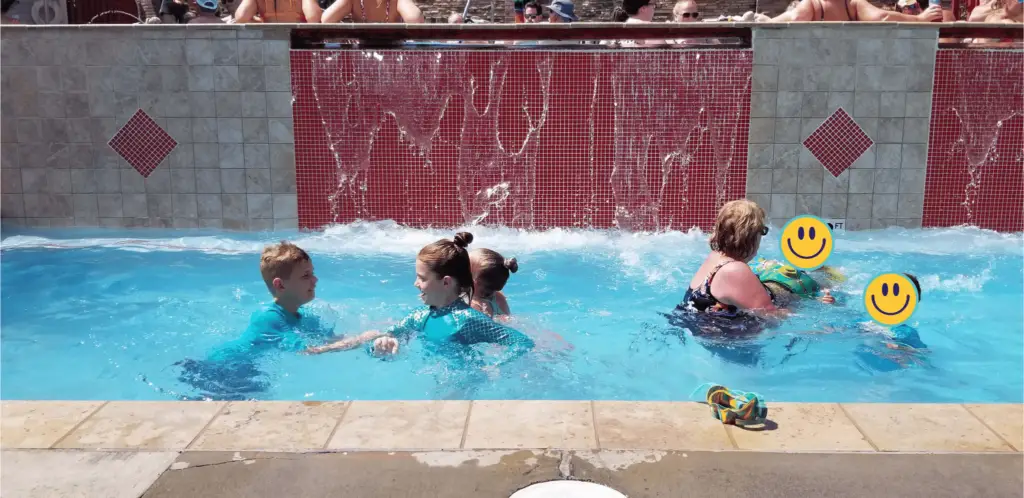 Michael's Steak Chalet – You can drive to Michael's but still enjoy a gorgeous view of the Lake from their patio. For nearly 30 years, Michael's has been offering dry age steaks, seafood, and delicious appetizers and sides. I love that they have a Steak Bites entree for kids on the menu as well.
South:
The Fish & Co – Open seasonally, we have enjoyed so many great stops at The Fish. You can arrive by water or land. The food is always good, but kids will also love the little game room, fish tanks, and feeding the fish. Adults will enjoy the common live entertainment found on the deck in the summer.
Captain Ron's Bar and Grill – Another lakeside spot where you can spend hours and hours. Captain Ron's has a swimming beach area, volleyball court, playground, and indoor/outdoor dining. We love the Crab Lagoons and Sugar Snap Peas. They have a variety of seafood choice in addition to the typical bar and grill choices. There is extensive parking by land or water.
The Cave Bar and Grill – Open for the first time for Summer 2022, the Cave is extremely popular! Built into the Forever Cave, they offer pools in which to stay cool – even a toddler pool. The menu boasts a delicious variety of sandwiches, burgers, and pizza. They also offer a ton of boat parking.
Where to Play
The primary activity and recreation at the Lake is getting on the water, but it is certainly not the only thing to do. If you have your own boat and depending on your choice of where to stay will determine your options for putting your boat in the water. Some condo rentals also include a rental or free dock spot for your use. If you (like us) are now boat renters, I will share a few suggested marinas below. Most places offer half-day, whole-day, or multi-day rentals. Since boat rental is an investment, also consider getting in the water at some of the great restaurants mentioned above.  It is also important to clarify with the marina whether they will have the life vests sizes you need or if you should bring your own. Most places also offer rental of tubes, lily pads or wave runners to enhance your experience.  At the end of your boat rental, you will be expected to fill your gas tank before returning. Finally, although driving a boat may seem easy, learning how safety rules for having people in the water is crucial. You can read more about this here.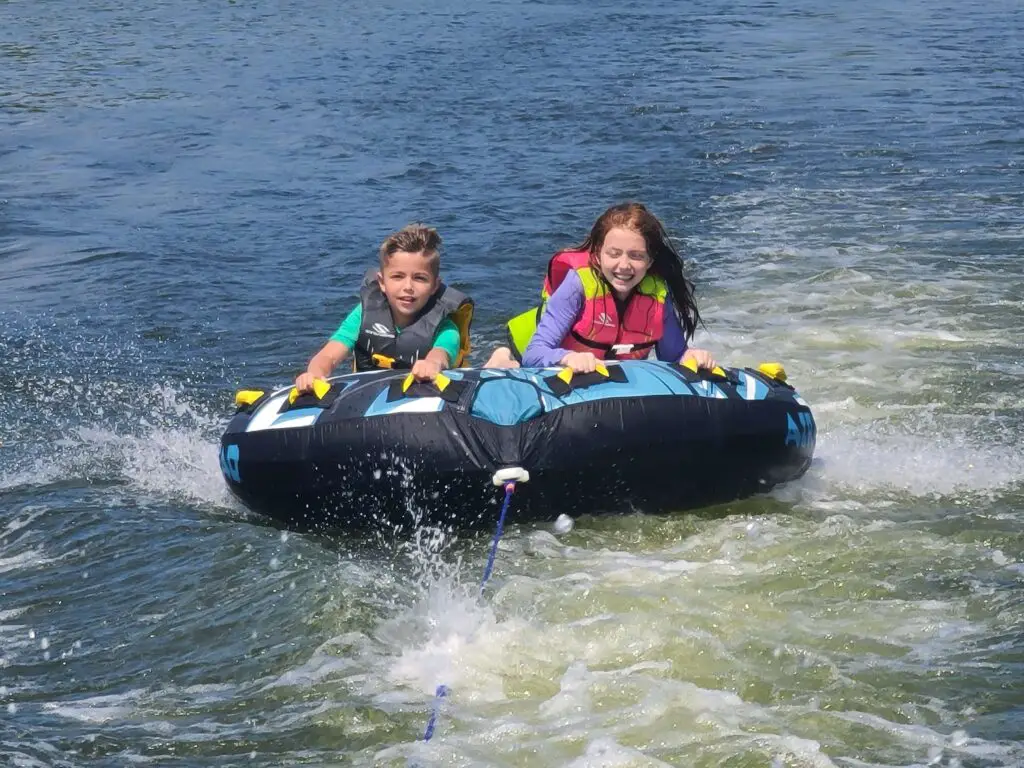 Marinas: For the North to Middle of the lake, Red Head's Yacht Club is a great spot to rent a pontoon. Further South, consider Montego Bay Marina to rent a pontoon, fishing boat, ski boat, and all of the associated equipment.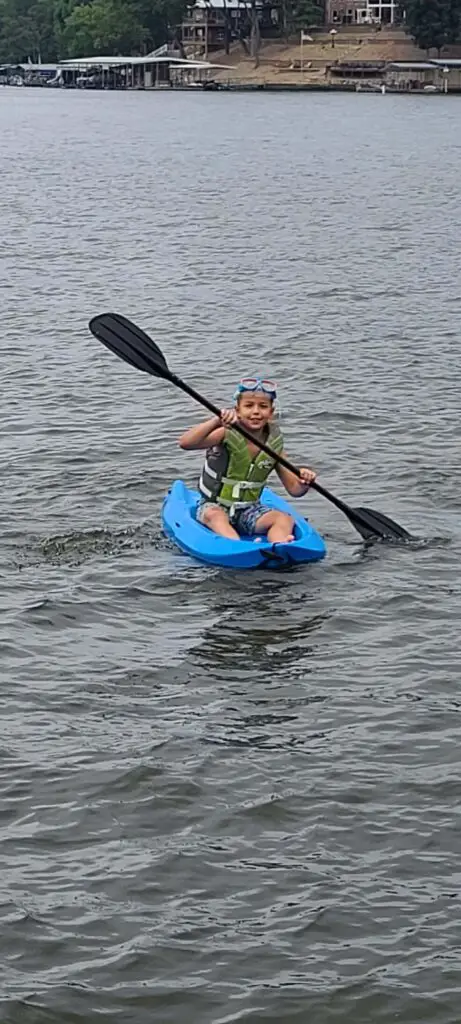 When I was a child, a small boat could easily traverse this part of the main channel on a busy summer weekend. Today, however, you will mostly find larger boats in the busiest parts of the main channel on the mid-summer weekends. Consider this when deciding your travel days, location, and when to rent a boat. We always try to rent on weekdays to avoid the crowds on the water so we can enoy tubing and coving (swimming in coves) more freely.
Bagnell Dam – On the far North end of the Lake is Bagnell Dam. Decades ago, this was a very happening place, but recent years have seen a reinvigoration of this area. We typically visit for a meal and Old Time Photo. During the summer season, Malted Monkey is a fun spot with a ropes course and a full menu.  You can also cross the Dam and view it from above at a Scenic Outlook.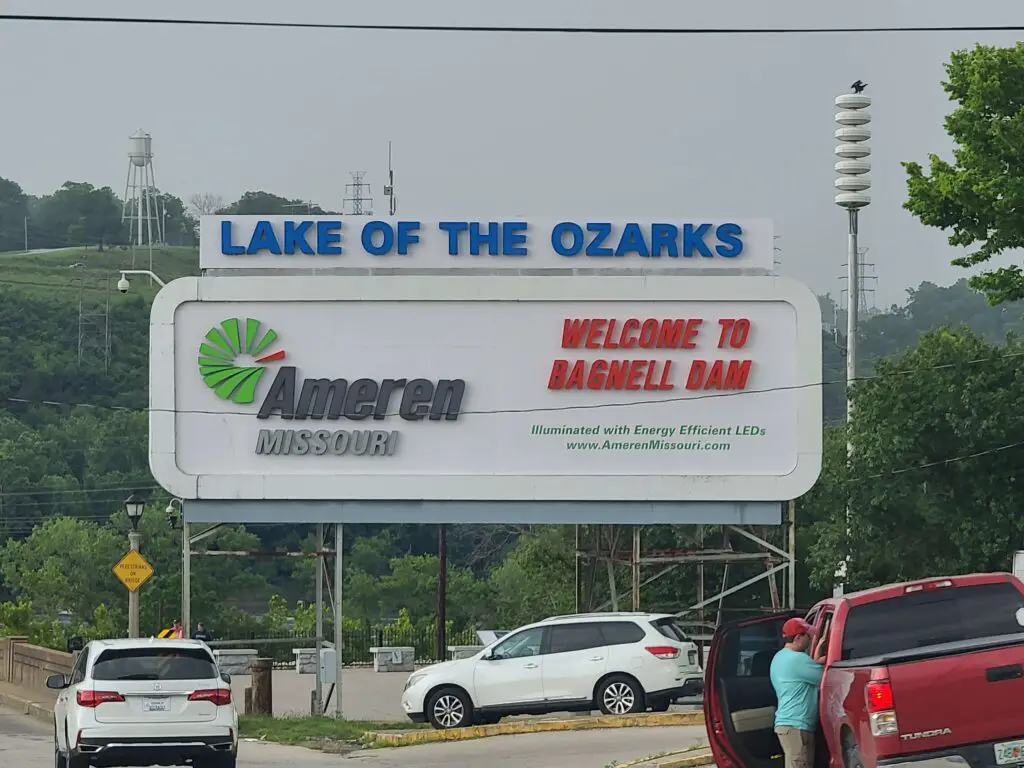 Ha Ha Tonka – Located on the South end of the Lake in Camdenton, this state park is great for exploring. There are many trails and boardwalks for you to explore the caves, pools, and ruins that make up the park. A morning walk here is a great start before a lazy day on the Lake!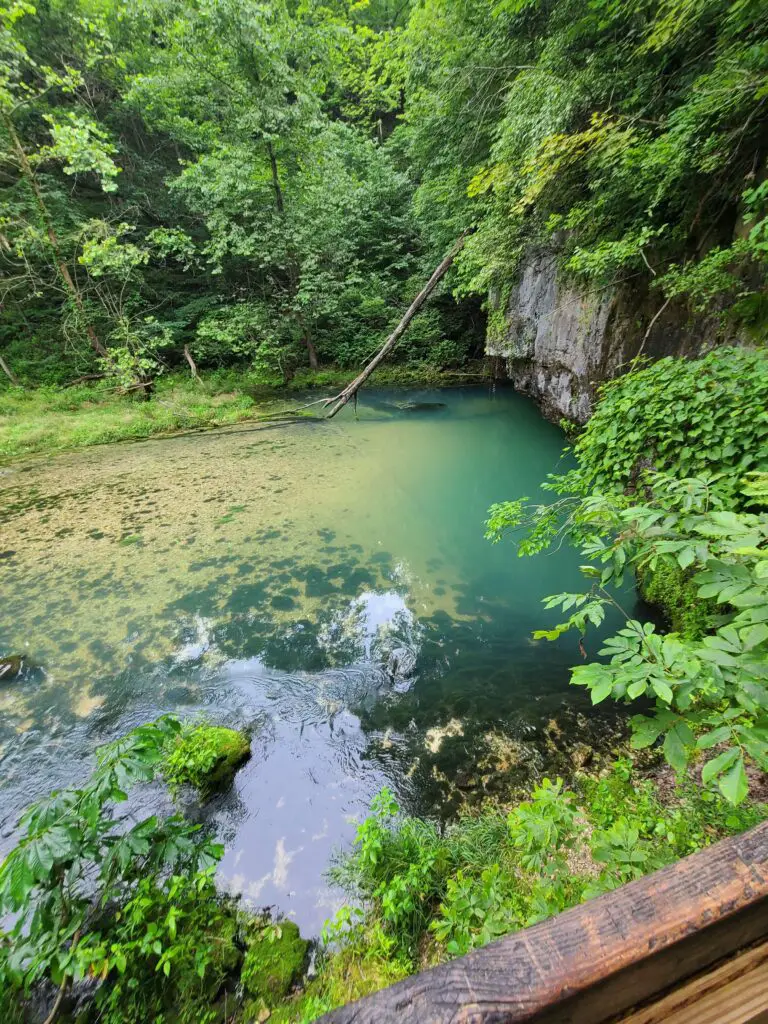 Putt Putt Golf & Go Karting- Whether early morning (before the heat of the day) or around dinner, we have always enjoyed putt putt golf and go karting while at the Lake. Putt N Stuff has both options just down the road from one aother. Pirate's Cove is another great spot with different course options. Sugar Creek is a very natural environment for putt putt.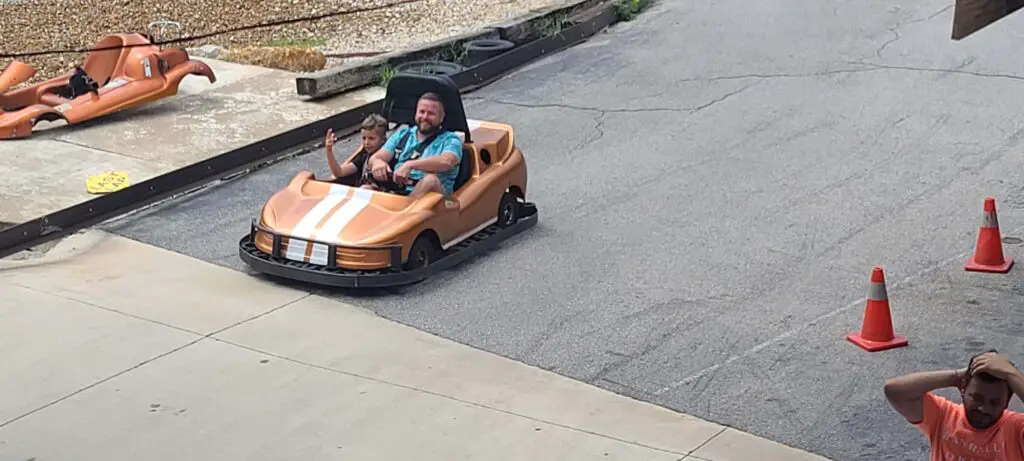 There are many more opportunities in the Ozarks including shopping, caves, parks, wineries, etc. We have always focused more on the water than anything else and the Lake of the Ozarks has been providing us with family fun for all of my forty years. If you haven't been, I hope you will consider it for your family's summer vacation!