When we think of a great road trip or vacation destination, it's not often a state park comes to mind.  An introduction to South Dakota's Custer State Park can change your perspective.  Custer State Park is a truly special place located in the middle of America.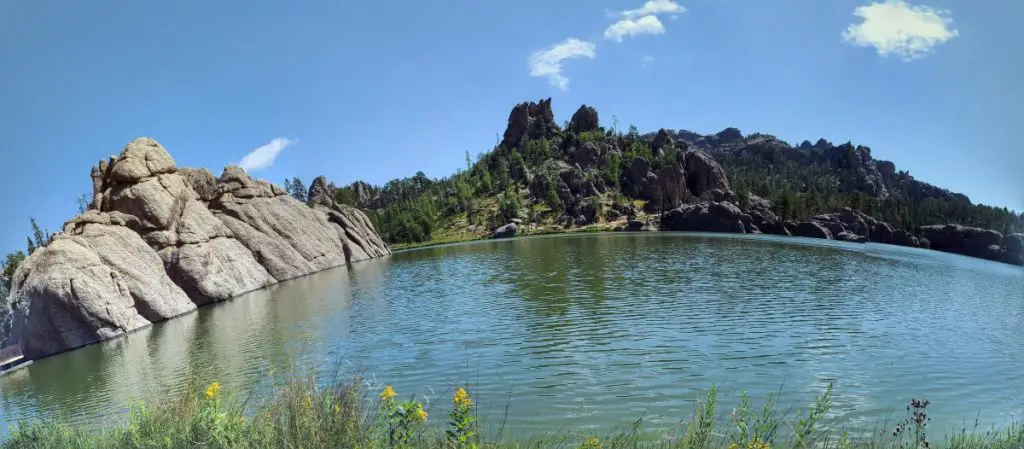 This comprehensive guide will help you plan your family trip to Custer State Park:
About Custer State Park
What to Do with Kids
Staying in the Park
Suggested Itinerary
About Custer State Park
History
Prior to South Dakota's statehood, it was included in a national program that designated acreage based on the number of representatives each state would maintain.  This program goal was to support agricultural learning at the collegiate level.  In newer states, it was presumed land would be sold to fund to the institution of high education and/or partially be the home to the place of learning and later educational test sites.  For South Dakota, this included around 60,000 acres.
Post-statehood (1889), South Dakotans determined the scattered sites dedicated to state schools, located within timberlands, would better be exchanged for more consolidated land in Custer and Harding Country.  The new Custer State Forest was approximately 62,000 acres.  This exchange was made in 1912.  Visit the official Custer site to learn about the chronological evolution and additions to the park over the following century.
Location
Nestled into a region of scenic byways, overlooks, and history, Custer State Park is a highlight.  The region is home to Wind Caves National Park, Badlands National Park, Black Hills National Forest and the Mount Rushmore National Monument.  The state of South Dakota offers endless opportunities to appreciate diverse natural highlights, connect with the great outdoors and appreciate the native history of today's United States.
The park is located within proximity to Custer (25 minutes), Keystone (30 minutes), Rapid City (40 minutes) and Hill City (50 minutes).  All of these South Dakota cities offer a variety of restaurants, lodging, and tourist attractions.  For reference, Custer State Park is seven hours by car from Yellowstone National Park and 13 hours from Chicago.  Custer State Park has its own airport, but most visitors would utilize the nearest domestic airport in Rapid City.  Rapid City Regional Airport sees incoming flights from Minneapolis, Denver, Dallas, Chicago, and Salt Lake City.
Visitor pass
All visitors are required to purchase a pass to visit Custer State Park.  A weekly pass (the shortest available) is $20, but if you are from the area an annual pass can be purchased for $36.  Park ranger booths are found at all entry points to the park to display or purchase your pass.
Size
At 71,000 acres, Custer State Park is substantial in size.  If it were a National Park (as some have suggested it should be), it would be approximately 45th on the list in size.  Due to its proximity to other National Parks and National Forests, it seems to spread into an even larger park landscape.  Custer is South Dakota's largest state park.
When to Go & How Long to Stay
Custer State Park is open year round, but weather may dictate elements of your visit between October 1st through April 30th.  Between those dates, visitors can expect water facilities at campgrounds closed due to cold temperatures.  Vault toilets remain open through most weather.
The best time to visit may depend on your temperature tolerance.  The park is busiest during the warmest months as it is the primary time to access the water elements and coincides with school breaks.  The months of May, September and October are still quite mild weather and offer smaller crowds, particularly on weekdays.  You may not want to swim on those days, but the weather is great for a hike or picnic.  Custer State Park is wonderful for a magical winter getaway if you are happy to take in the snowy sites and understand not all trails and roads may be accessible.
How long to stay in Custer is really about how much your family wants to pack into a day, two or three and whether you are using Custer lodging as a base to visit other area attractions.  Take a look at the list of activities and consider which activities are feasible due to weather to determine the length of your visit.  See my suggested itinerary at the end of the article.
Lakes
Custer is home to four lakes including Sylvan, Center, Stockade and Legion Lakes and the Game Lodge Pond.  Swimming is allowed in all of these bodies of water, but no life guards are on duty.
Sylvan Lake is often considered the most beautiful and scenic lake in the park.  It is about 17 acres in size and reaches depths of 30 feet.  With one mile of shoreline, there are a lot of beautiful vantages accessible from a hiking trail around Sylvan Lake.  Sylvan is located in the Northern most part of the park and is near Needles Highway, Sylvan Lake Lodge and Campground.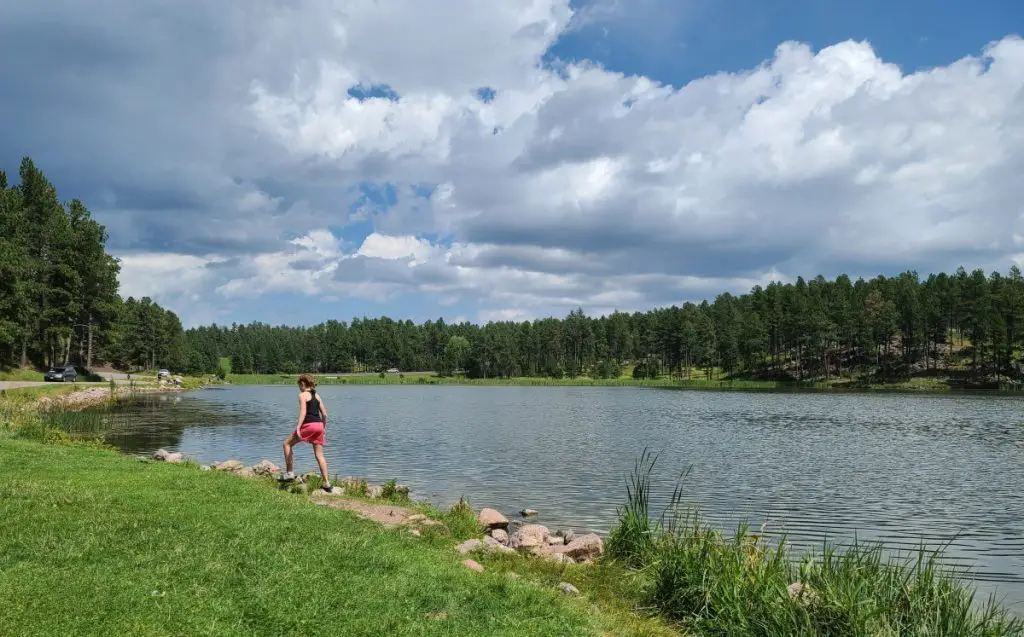 Center Lake is sometimes overlooked, but offers 27 acres of beautiful backdrop for beach access swimming, non-motorized boating, fishing and its own campground.  Legion Lake is 10 acres in size, located most centrally within the park and offers the same benefits of fishing, water sports, lodging and camping.  Stockade Lake is the largest of Custer's lakes at 120 acres, located near the park's west entrance and has a lodge and two campgrounds along its shore.
Parking is limited in busy months so arrive early if visiting a more popular lake (such as Sylvan).
Wildlife
Wildlife is often the primary attraction to the park.  It's truly special to be in such close proximity to magnificent creations.  You will hear the word "buffalo" used throughout your visit and I will use it here due to that fact.  These are actually bison as we have no buffalo in North America.                 (see here for more)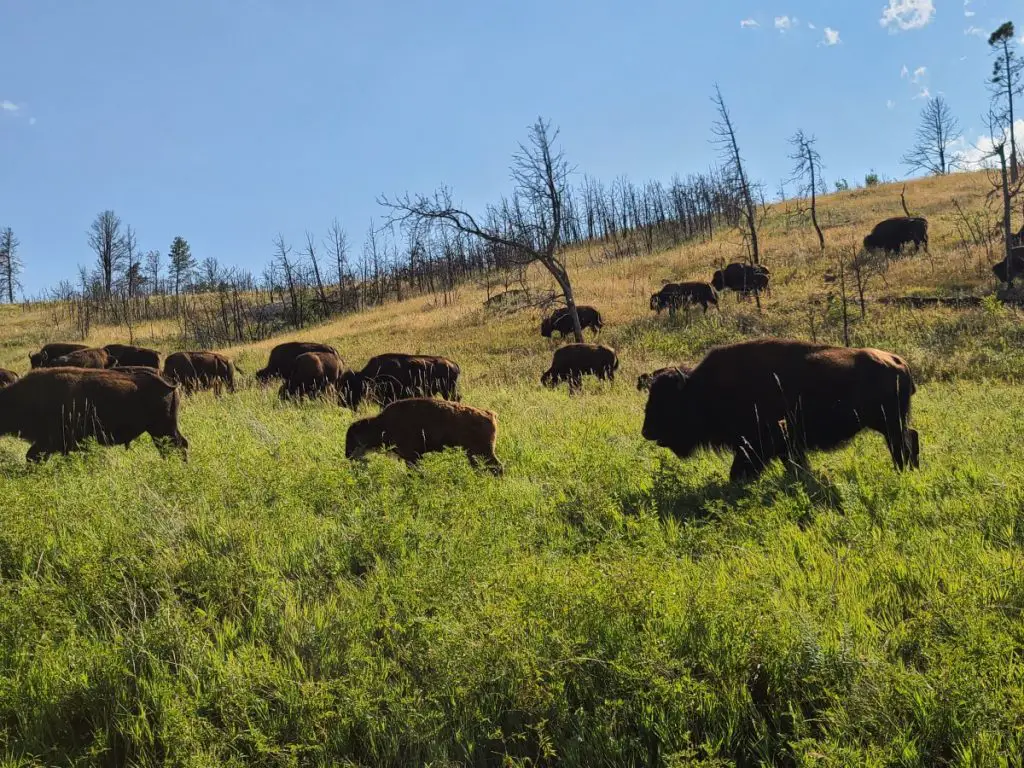 It is extremely important all visitors recognize the rules to stay far away from large animals regardless of how docile they may appear while grazing.  Do not feed animals of any type for their health and safety.  Observe the speed limits within the park to avoid putting native species in danger.  If you have come to the park to appreciate the animals, give them the space they deserve to keep them thriving for future visitors.  Ok, I'll step down from my soapbox.  😉
Custer State Park offers a helpful, interactive map found at this link.
What to Do with Kids
The Custer State Park Visitor Center is centrally located at the top of the Wildlife Loop and Highway 16A.  I completely recommend visiting here early in your trip.  If you are on the fence about trails or what activities to prioritize, utilize the expertise of the staff and the interactive map features to get a better feel for the park before heading out.  You can also learn about scheduled activities from the staff here and grab a map if you didn't pick one up at the entrance booth.  The Visitor Center is open 9AM-6PM except from Oct 1 – Memorial Day when it closes at 4PM.  Plan to visit for 30 minutes.
Also located centrally within the park (just one mile from the Visitor Center), the Education Center offers planned learning opportunities as well as multiple education and unstructured play spaces.  This space is most similar to a "nature center" you might find at other parks with the intention of teaching about the park's ecosystem and wildlife.  Plan to visit for 30 minutes or more if attending a scheduled program.
Located on the Southern end of the Wildlife Loop, the Wildlife Visitor Center is a historic building used originally as a herdsman house.  A quick restroom stop here and a chance to appreciate this historic building is worth it as you may just catch sight of some buffalo hanging around the Buffalo Corrals nearby.  Please do not consider walking to the fencing, even if others are doing so, as this is not a containment area and buffalo can easily and quickly come to the other side of the fencing.
Driving within Custer State Park is always scenic, but there are a few more popular drives you don't want to miss.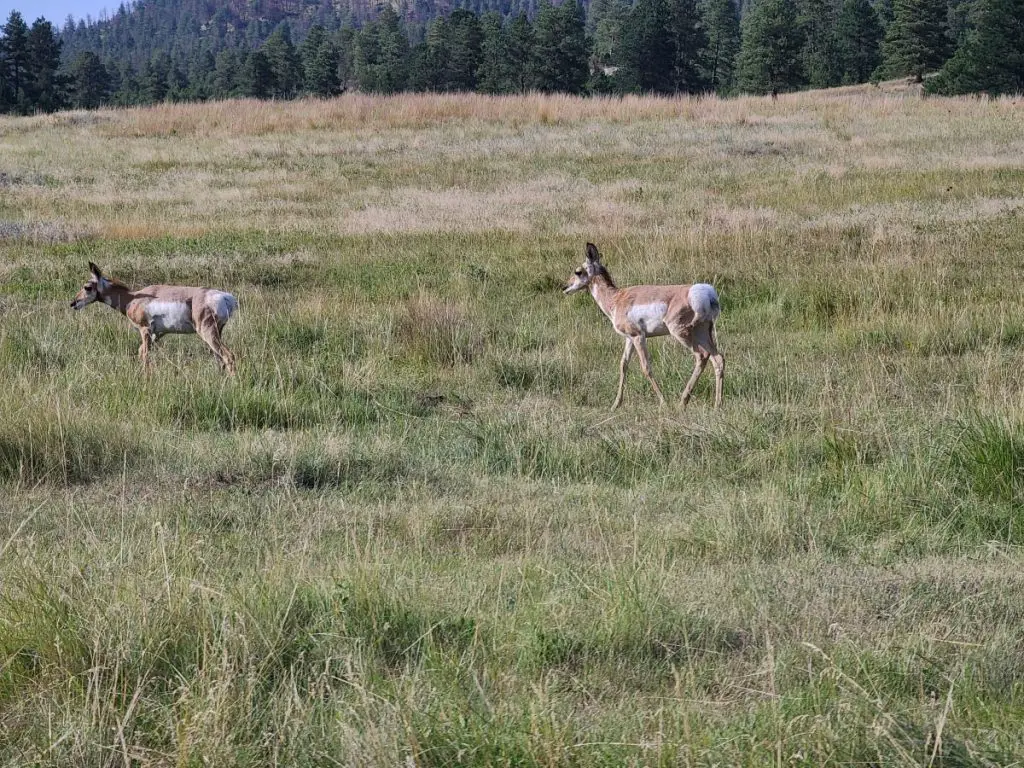 Wildlife Loop Road can take you anywhere from 1.5 to 3 or 4 hours.  This is all about the amount of people and animal traffic and your desire to take it in.  There are turn offs on the side of the road you should use if you want to stop for pictures.  If you're lucky enough, you'll be stopped in a buffalo traffic jam.  Typically cars are still able to move slowly and the crossing doesn't take more than 15 minutes, BUT don't plan yourself so tightly that you end up trapped for longer, anxious and missing out on the best part of your visit.  The route is 18 miles in total.  As with any wildlife, you may have better luck viewing them early in the day and at dusk..  You'll also avoid more drivers.  We have noticed it is popular among motorcyclists which can create a lot of noise and possibly keep more timid animals away.  It's important to keep in mind if you are visiting around the time of the Sturgis Rally.
Needles Highway is good for a bit of adventure.  The narrow road climbs up through the pine and spruce forests, winding its way to the narrow tunnels at the pinnacle of the drive.  The Needles Eye Tunnel is 8′ 9″ wide by 9'8″ high and the Iron Creek Tunnel, 8′ 9″ wide by 10'10" high so keep this in mind.  No RVs should attempt this highway.  Also keep in mind the highway is closed during winter months for safety. Expect the drive to take about an hour.
Iron Mountain Road is another scenic, narrow, and windy drive, but with an entirely different objective, to showcase the beauty of the Black Hills and connect Mount Rushmore and Custer State Park.  There are three tunnels with the following measurements to keep in mind: Doane Robinson Tunnel, 12′ 0″ wide by 11′ 4″ high; C.C. Gideon Tunnel, 11′ 6″ wide by 10′ 9″ high; and Scovel Johnson Tunnel, 10′ 9″ wide by 11′ 0″ high.  Only part of this road is considered within Custer State Park.  Expect the drive to take at least an hour.
Peter Norbeck Scenic Byway is a great way to go if you plan to visit Mount Rushmore during your visit.  You are essentially combining a loop of the four numbered highways: SD 87 (Needles Highway), SD 89, SD 244, and US Route 16A (Iron Mountain Road).  This route gives you a view of or access to nearly everything in the Northern half of the park.  Depending on your planned stops, following this route could take a half day or more.
Safari Jeep Tour
The Buffalo Safari Jeep Tour is, by far, my family's favorite Custer State Park activity.  You will take an open sided jeep (above the door frame) on a 1.5-2 hours drive around the Park that takes you to wherever the most recent buffalo sightings have been.  Drivers know the "off-road" places to get up close to the buffalo as well as areas right along main roads where they might be crossing.  We encountered at least three massive herds during our drive, far more wildlife than we saw driving the Wildlife Loop on our own.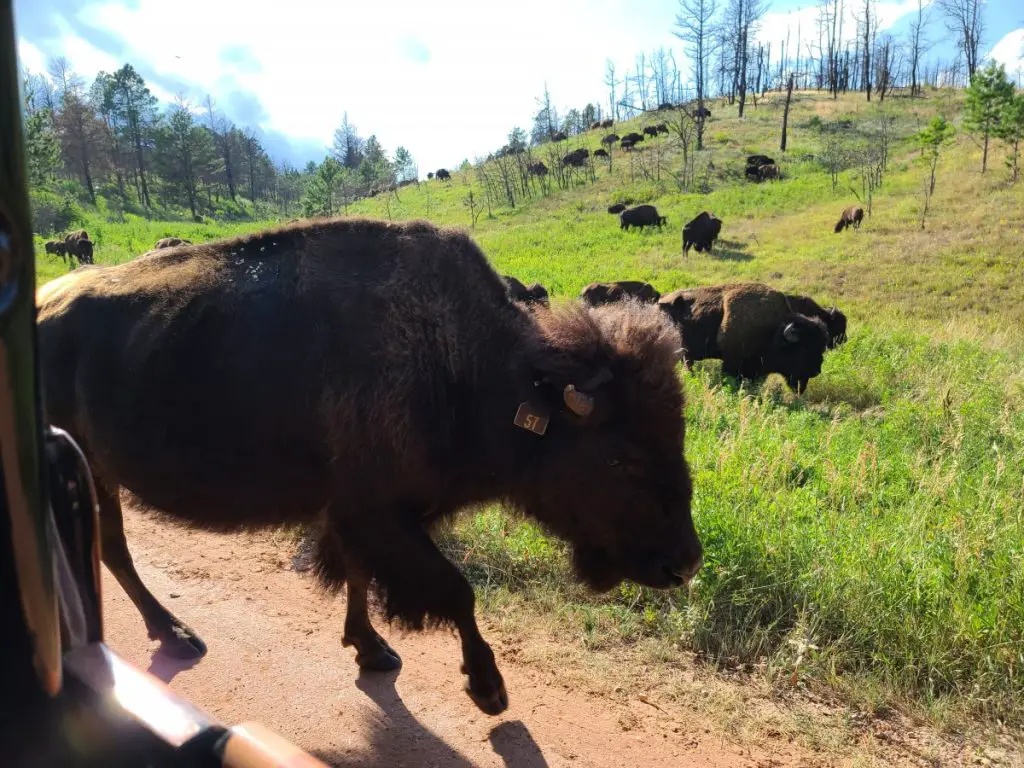 It is comforting and exciting to have a knowledgeable expert as the buffalo cross near and in between the jeep while crossing the road.  The jeep tour gave us proximity that would not have been safe for us outside of our vehicle. We left the tour feeling very satisfied and fortunate.
Please consider tour guides do the best they can to spot and visit sites of wildlife, but wildlife doesn't always come in close proximity to the jeeps and this is beyond the control of the drivers.  The jeep tour is currently $55 for adults and $50 for children under 12. Winter and sunrise safaris are also available.
Chuckwagon Dinner
The Chuckwagon Dinner and Hayrack Ride make you feel as though you are part of the wild west.  Each hayrack is hosted by a guitar toting singer leading a group sing a long and insight into the park wildlife.  The 45 minute ride brings guests to the meadow where a chuckwagon dinner is served.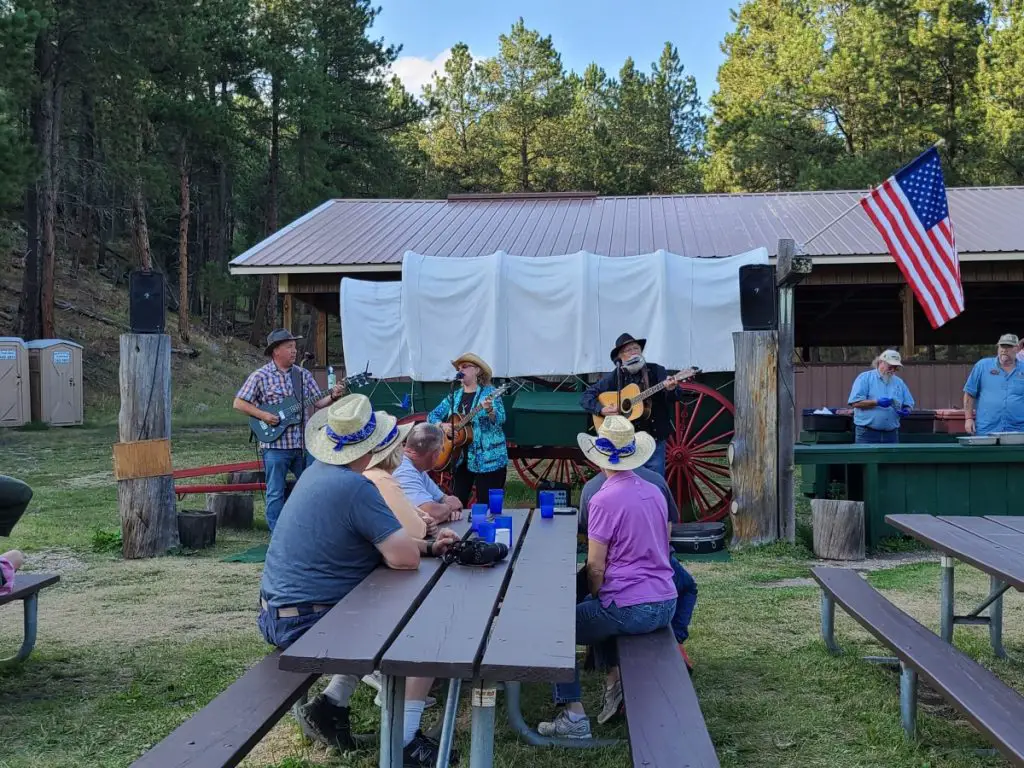 The dinner portion of the night is led by the group of talented singer/guides offering their favorite and requests of well known country music with a few surprises.  The meal is a choice of steak or burger with plenty of sides and a cookie dessert.  On our visit, there was an opportunity for seconds of your favorite items.  Guests can enjoy lemonade, coffee or water.
Each guest leaves with a souvenir cowboy hat and bandana.  The music and open field provide room for the kids to dance and move around.  This option is not offered during colder months.  The price is $58 and $51 for adults and children (over 3, eating from their own plate).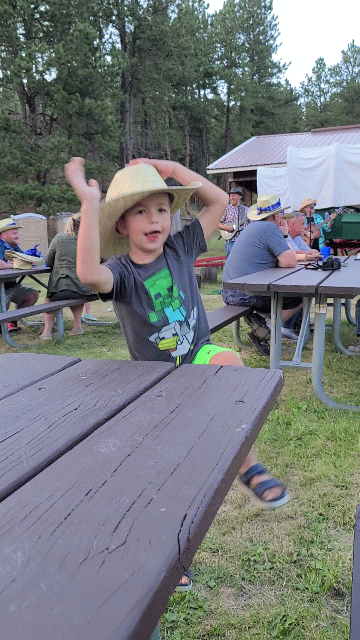 There is another option that combines the Buffalo Safari and Chuckwagon Dinner that is my preference.  This skips the hayrack ride, but still offers the music.  In this combination, guests leave early for their safari to see plenty of wildlife and arrive at the dinner alongside the wagons.  This option is $93 for adults and $86 for kids.
Junior Naturalist
The Junior Naturalist Program is available through the South Dakota Department of Game, Fish & Parks.  The program is a bit different from a National Park Junior Ranger program.  There are differing levels, the higher ones likely would be best achieved by families spending a good deal of time in South Dakota parks.  Level 1 participants must attend programs and participate in healthy outdoor activities with the signature of a staff member.  You can plan this out during your visit to the Visitors Center at the beginning of your time in Custer National Park.  The Naturalist program is open to kids ages 7-18.
Begging Burros
The Begging Burros are pretty well known to visitors of Custer State Park and you will see images on the Park's website of visitors petting the burros.  You will find them clustered along the roadside while driving the Wildlife Loop.  They are wild animals, but you would hardly believe it with all of the petting and feeding that they have come to expect.  They were actually working burros early in the parks history to move visitors up to the higher peaks and then later released to roam freely.  If you open your window to get a better view, just know they will reach their head in to see what you have to offer.
Hikes
All trails at Custer are primarily used between April to October.  However, many trails are passable during other months.  Please ask before heading out during colder months.
Sylvan Lake Shore Trail: This trail is really beautiful and 95% very, very easy.  There is a very short amount of steep up and down climb that would be hard for those with physical limitations, but kids do great here.  The 1.1 mile trail wraps around Sylvan Lake and is a great way to take in the beautiful setting.  It is heavily trafficked so expect a little bit of waiting in narrow spots.  One highlight is the narrow passageway that invites photos.
Grace Coolidge Fishing Area Trail: This trail is easy, but almost six miles so better for kids who are used to some hiking or families who are willing to take their time with it.  Kids will enjoy all of the interaction with water as there are several opportunities to cross the creek over log bridges.  You can pack a meal and enjoy it in the middle of this hike next to Center Lake before returning on this out and back trail.
Badger Clark Historic Trail: Add this short (.6 mile) loop trail to your list.  With easy to navigate trails, this moderately trafficked path includes information markers and a historic cabin that can be visited.  The cabin was home to Badger Clark (for whom the trail is named), South Dakota's first Poet Laureate.  You can expect to require an hour or less on this trail.
Swimming
Swimming is permitted in all five lakes at Custer State Park, but please be aware there are no lifeguards on duty.  You will find small beaches lakeside for setting up your sunbathing spot for the day.  There are ledges and rocks surrounding some swimming areas.  There are signs asking visitors not to jump from these, but you will find this is still a common practice.  Swimming season (aka when you actually want to get in the water) is likely limited to really warm days in June through September as water temperatures remain cool.
Water RentalsCanoes, kayaks and stand up paddle boards are available for rent at Custer State Park.  There are two rental locations – Sylvan Lake and Legion Lake.  Canoes and kayaks can accommodate up to three people.  Rates are by the half or whole hours and a family rate is offered for up to 3 people on a boat as well.  This is a great way to get another view of the stunning rock formations found throughout the Black Hills.
Fishing
Fishing is readily available at Custer's five lakes.  Fishermen can expect to catch Brown and Rainbow Trout, Northern Pike, Largemouth Bass, Muskellunge, Smallmouth Bass, and White Perch.  Stockade Lake is also open for ice fishing in the winter.  If fly fishing is your preference, Grace Coolidge Creek and French Creek are good options.  Keep in mind you will need a fishing license to fish in Custer State Park.  You can obtain a Family Fishing License for parents and children under 16 years old.
Custer State Park offers guided horse trail rides.  There is something for all ages with pony rides available at the stable by Blue Bell Lodge.  If riders are old enough to ride on their own, they can join the guided trail ride.  There are varying length of rides available from 1 hour to whole day (including a lunch) and prices range from $50 to $275.  There are suggested ages for the varying lengths available on their website.
Horses are available May through September.
Black Hills Playhouse
The Black Hills Playhouse has been a part of the University of South Dakota Fine Arts program since 1946.  The Playhouse offers high quality theatrical productions throughout the summer.  It is located in the North Central part of the park along Playhouse Road and near Center Lake.  If you are lucky enough to be visiting during their season, read up on the impressive history of auditioning actors from around the country, the sleep away theatre camps held for kids in upper grades, and tradition of inclusion and driving art into the community.
Buffalo Round Up
The annual tradition of rounding up all of Custer State Park's buffalo population in late September has been ongoing since 1965.  The park tries to maintain a buffalo population of 1300-1400 buffalo to manage foraging resources.  The round up allows for the health of the animals to be checked, for older or sick buffalo to be removed from the herd, for branding of new calves and vaccinations to occur.  Visitors should arrive to the designated viewing areas early in the day with the whole event concluding before lunch.  Park staff joins around twenty volunteer cowboys and cowgirls in collecting all of the park buffalo except the largest, most aggressive males.
Hot Air Balloon Ride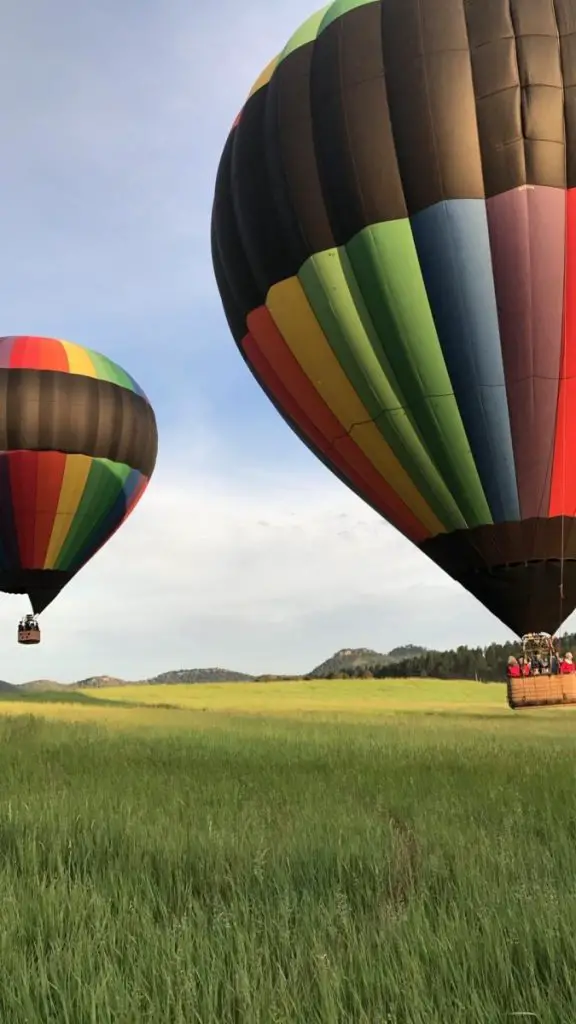 Although hot air balloons are not a park feature, Black Hills Balloon does offer flights over the park.  The one hour sunrise flights are available for families with children ages four and older.  If you're celebrating a special occasion or just simply want a dreamy view of all that I've described at Custer – the buffalo population, beautiful lakes, lush forests, and jutting rock formations – this is a magical way to take it in.
Staying in the Park
You have several options if you want to stay within Custer State Park.  The park contains 3 lodges with lodge rooms, camping (rustic) cabins, modern cabins found near 2 additional lodges and campgrounds for both tents and RVs.  Reservations are available one year out on most accommodations.
Lodges
Located near the Visitor Center on Highway 16A, the State Game Lodge has a mixture of historic rooms and modern rooms available.  The historic rooms are dedicated to the mid 1900s visits of Presidents Calvin Coolidge and Dwight Eisenhower.  All rooms can accommodate 2-4 people.  Built in 1920, State Game Lodge features a restaurant serving three meals per day both indoor and outdoor (weather permitting).
Sylvan Lake Lodge contains rooms for 2-6 people.  The location is next to the park's jewel, Sylvan Lake, and is the Lodge's best feature.  The proximity puts guests steps from water activities and hiking with great views.  The Lodge's isolated location translates to poor wi-fi signal which might be just right for anyone wanting to get away.  The restaurant at Sylvan Lake Lodge offers indoor and outdoor dining.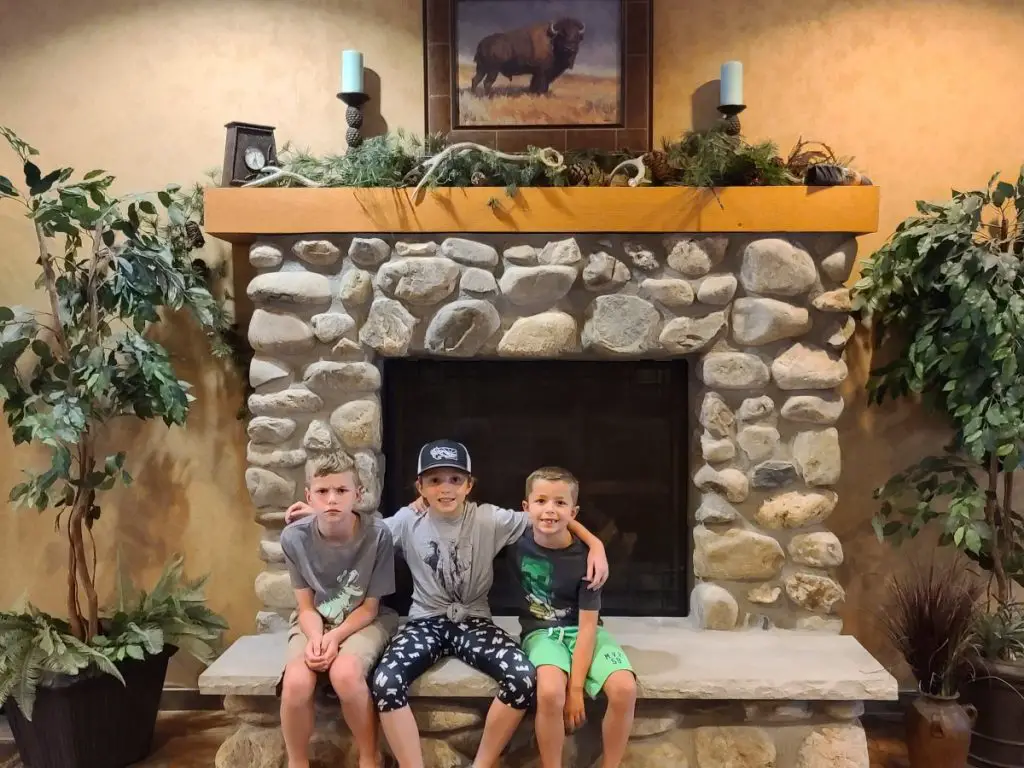 Creekside Lodge is on the grounds of the State Game Lodge.  Built in 2008, Creekside features all modern rooms and accommodates 4-6 people.  Rooms are large in size and offer a rustic theme with buffalo featured in artwork and upholstery.  The lodge is two stories and does not have an elevator.
Cabins
Camping cabins are located throughout the park and accommodate 4-5 people.  Campers can expect heat/air conditioning and electricity, but do not contain restrooms.  When staying in these camping cabins, you will need to bring all items related to food preparation and storage as well as bedding.  Camping Cabins are located at Bluebell Campground (23 cabins), French Creek Horse Camp (3), Game Lodge (11), and Stockade Campground South (13).  Camping Cabins can be reserved at this link.
Modern Cabins have running water, electricity and maid service.  There are a variety of cabin layouts available within Custer State Park.  The available accommodations at Bluebell Lodge are cabins with occupancy ranges from 4 to 24 people.  These cabins enjoy the amenities of the Blue Bell Lodge including a restaurant, general store and access to park activities. The State Game Lodge also has a variety of cabins serving groups of guests from 2 to 28.  Sylvan Lake Lodge has multiple cabins which accommodate between 2 to 20 people including a the luxury Cathedral Spires Cabin built in 2016.  Legion Lake Lodge, like Blue Bell, is comprised of a lodge building featuring a restaurant and general store and 26 modern cabins.  Modern cabins can be reserved at this link.
Campgrounds
There are 10 campgrounds within Custer State Park not including a dedicated youth group area.  Most have some electric spots and can accommodate RVs as well as tent campers.  Reservations for camping can be made up to one year out through South Dakota Game, Fish and Parks Department website.  Reserved campsites are very popular and book well in advance.

Suggested Itinerary
I would recommend enjoying the Black Hills area from lodging within Custer State Park.  Here is a 3 night suggested itinerary:
Day 1 
Arrive at Custer State Park and stop at the Visitor Center and Education Center. Here you can run your plans by staff to see if you want to add or subtract based on weather and events.
Take the Wildlife Loop for your first sightings of bison, deer, and the begging burros.  Stop at the Wildlife Station mid-way through to observe the historic building and learn of any wildlife sightings.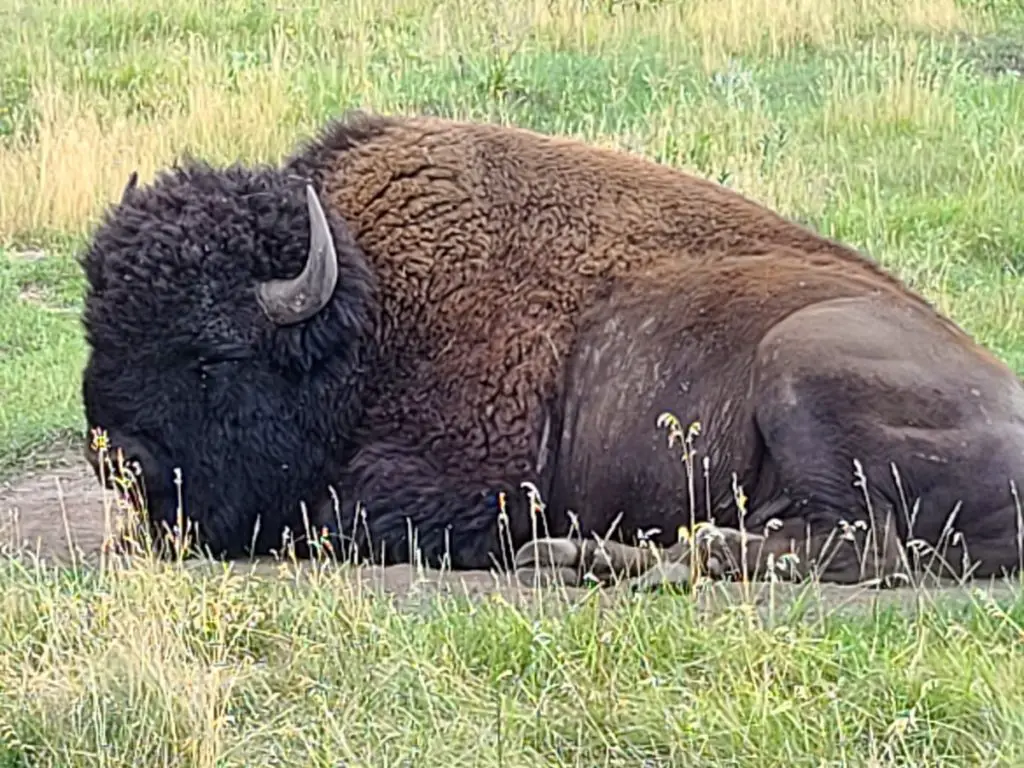 I prefer the centrally located accommodations for reaching everything in the park.  Follow the loop to check in at your lodging of choice.
After check in, make a quick drive to the trailhead for Badger Clark Historic Trail and spend an hour reading about Badger Clark and getting a taste for hiking in the Black Hills.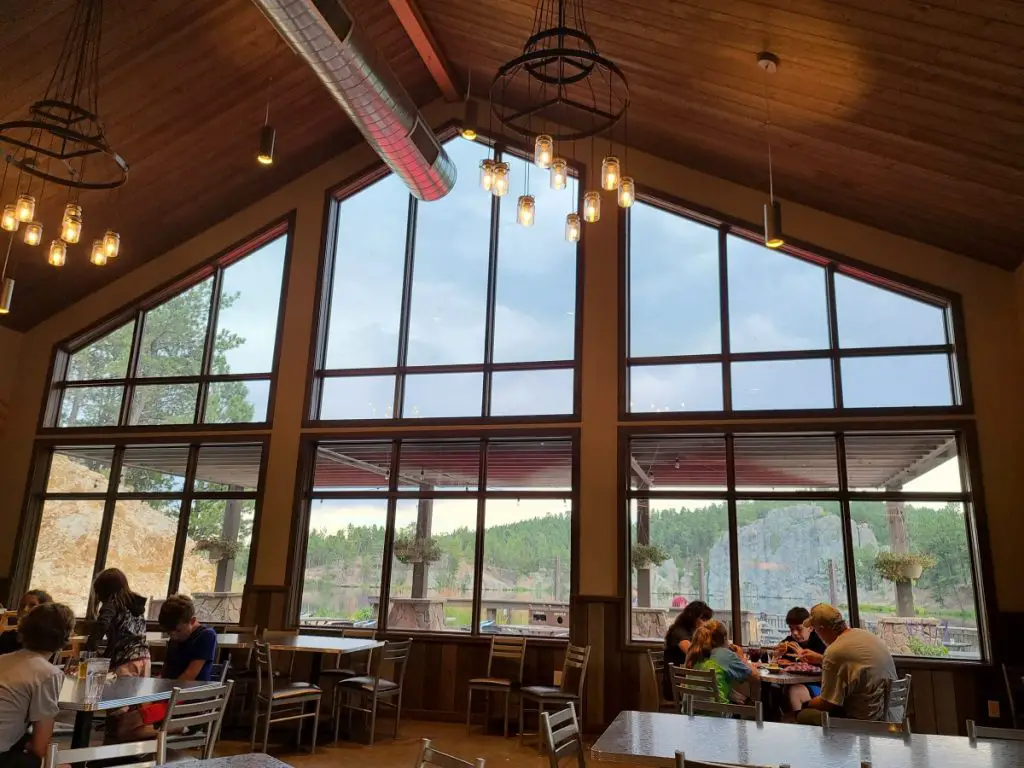 After your hike, you will be just a half mile from Legion Lake Lodge.  This is a great spot to have dinner and definitely sit outside on the deck overlooking Legion Lake if the weather allows.
Day 2
Head North on Needles Highway for a scenic, winding drive toward Sylvan Lake.  Depending on the weather, enjoy the lake from water or from the Sylvan Lake Shore Trail.  Both is even better.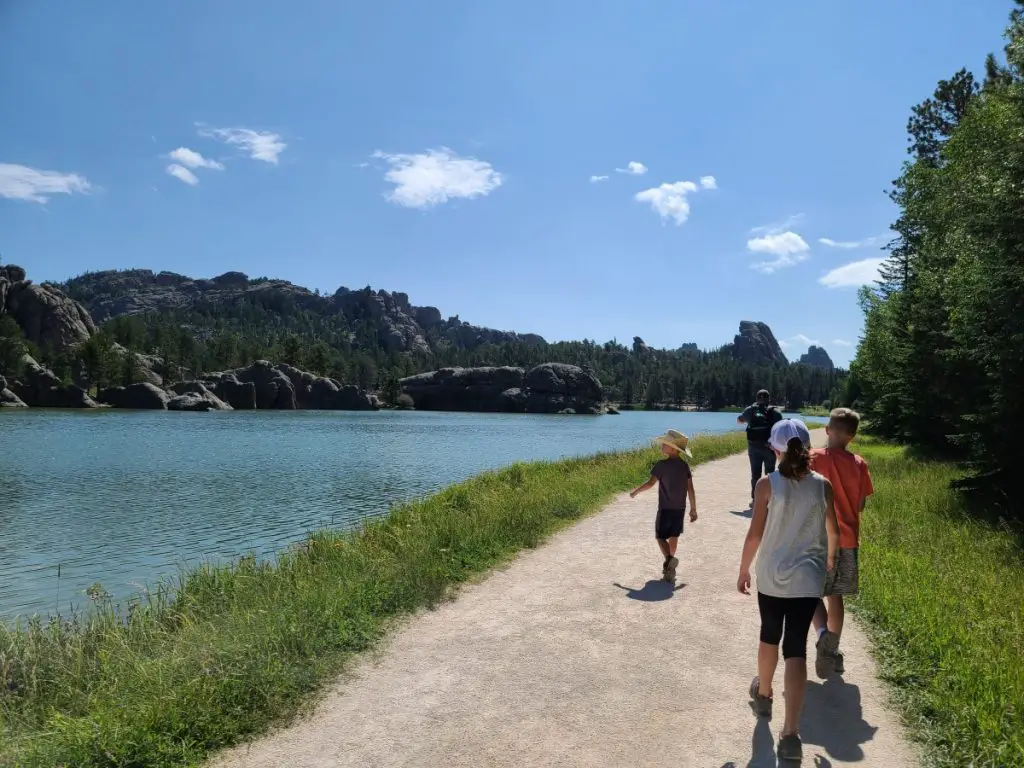 Have lunch at Sylvan Lake Lodge before returning back toward your lodging for a rest and to get ready for the evening.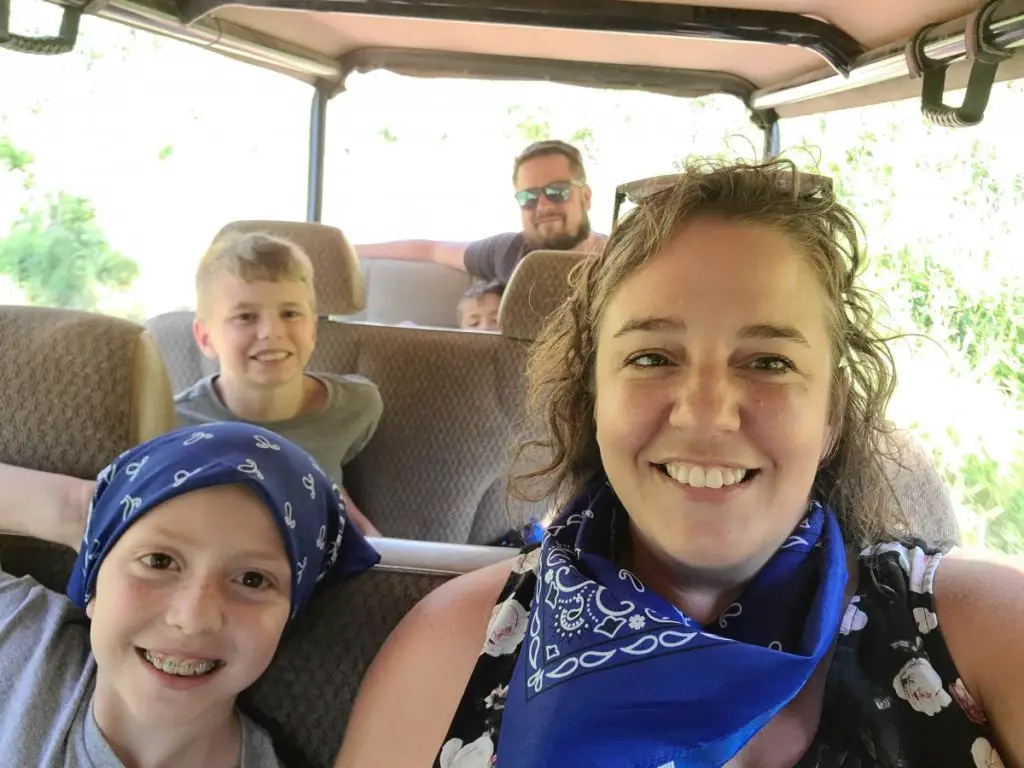 At 4pm, leave on the Buffalo Safari and Chuckwagon Dinner.  Plan to return home at or after dark from your long day of activities.
Day 3
Today is a day for hiking.  Get your bellies full of breakfast at the State Game Lodge and head to the trailhead for Grace Coolidge Fishing Area Trail.  As described above, this nearly six mile trail can take several hours with little ones.  Be sure to make your lunch.  The trail crosses the creek several times during the out and back.  (Pro tip: Have diversions ready for little hikers who are losing steam like the app "Car-tegories" for a little break time and refueling.)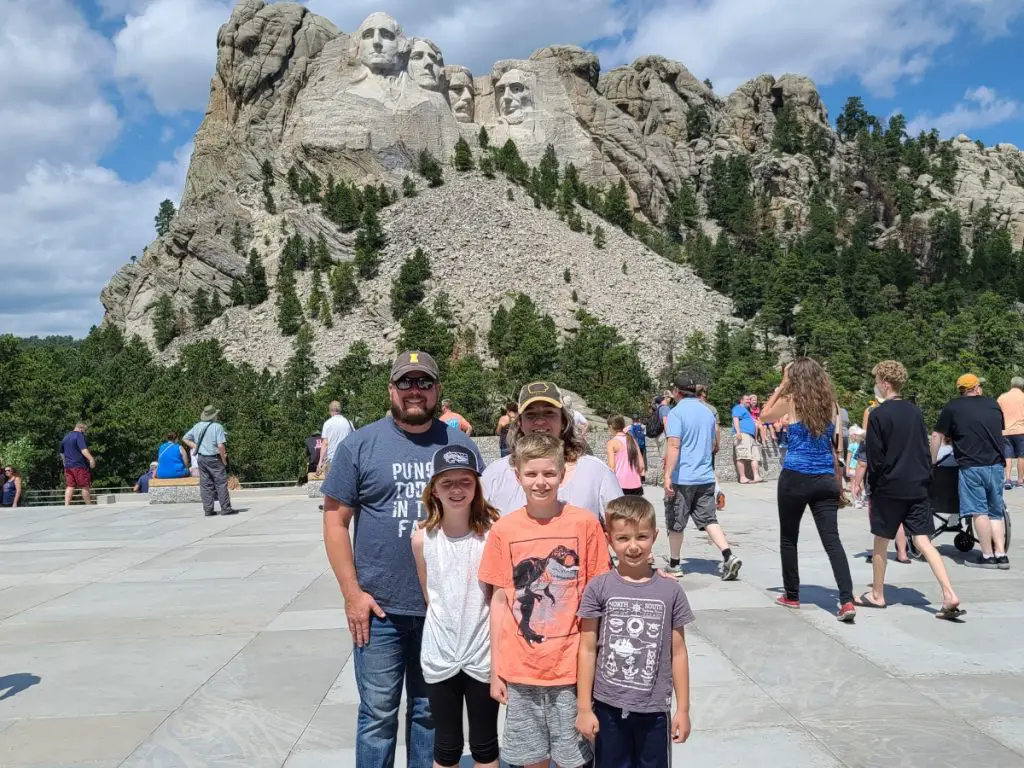 If you feel like a drive to rest your feet or let little ones nap, head north to Mount Rushmore.  It's approximately 30 minutes from the trailhead.  After your visit, enjoy some fun in Keystone.  Stop at the Visitor Center to get a map of their free historic walking tour to choose what you're most interested to see.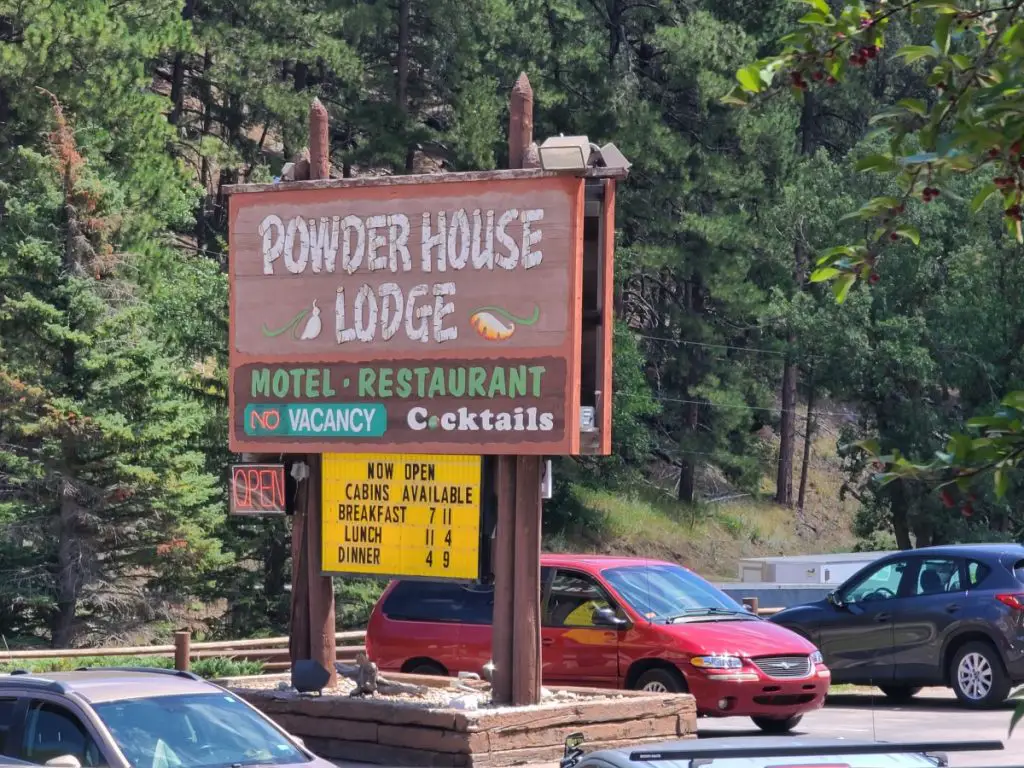 If you stay long enough for dinner, check out the Powder House for their great kids menu and historic, rustic environment before heading back to your lodging for the night.
If you choose to head back rather than road trip and it happens to be summer time, hopefully you have arranged for tickets to a show at the Black Hills Playhouse for your final evening in Custer.
Day 4
Get your final views of Custer State Park and the surrounding Black Hills from your ride with Black Hills Balloon.  The hour long ride is the perfect way to close out your visit.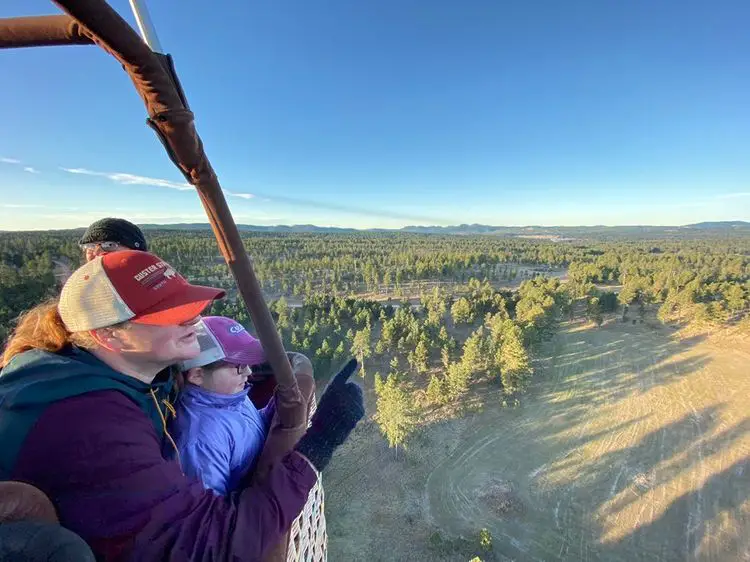 Check out of your accommodations and exit the park to the West and head to the Crazy Horse Memorial.  This is a fascinating project that has been in the works for decades and is very educational about the relationship between Native Americans and new Americans.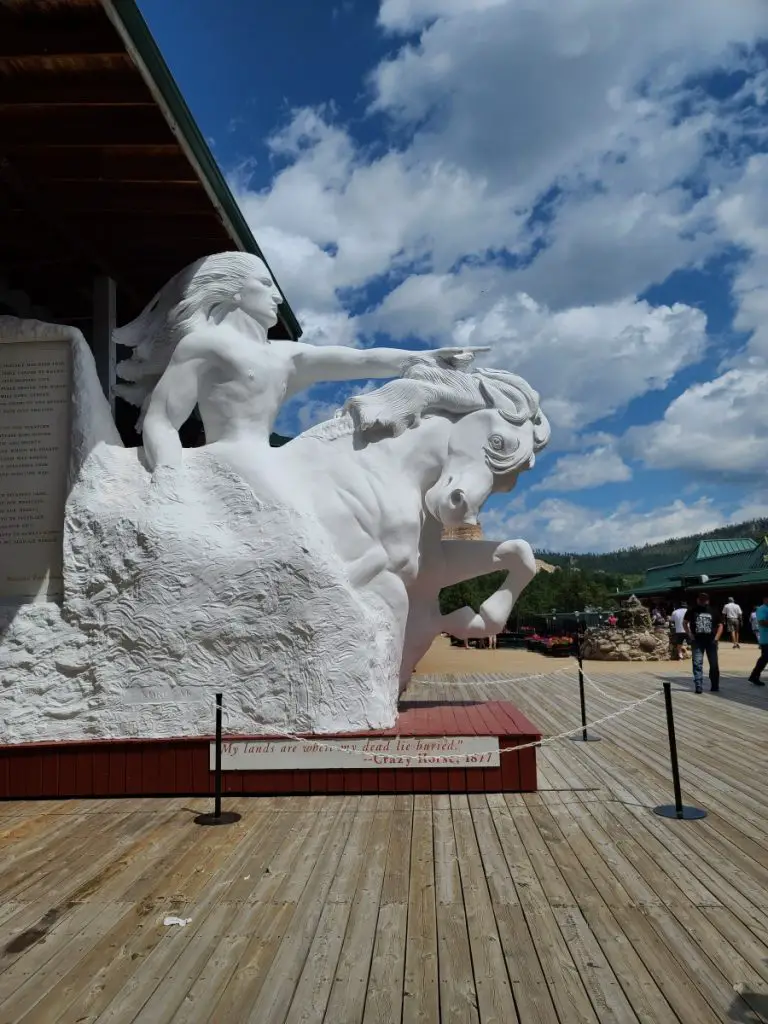 From here, head North to Hill City.  Grab lunch at Desperados Cowboy Restaurant or Bumpin Buffalo Bar and Grill (both open seasonally).  Kids will enjoy the 1880 Train or Museum at Black Hills Institute (think budding paleontologists).
There is so much more to take in between National Parks and Forests and other great cities and attractions, you could spend several more days in the Black Hills.  If you leave a bit more on your list, there's always your next visit.
Enjoy your Trip!