For a decade our travel luggage was fully thrown together; choosing whatever baggage we already owned to meet the size requirements and honestly, sometimes not meeting them. We learned a lot and continued to streamline what we carry. 
These days, I want to carry a personal item that is sleek and attractive. I want to be able to use it functionally with my family and also be happy to carry it when traveling on my own or as a couple.
First, what is the restriction on personal items size? Below is a chart that breaks this down. As you will see, some airlines do not specify. Generally, it is accepted that your personal item is a bag that fits under your seat as compared with a carry on which may go in the bin or be plane side checked if the flight is too full. It is very infrequent that the size is actually measured.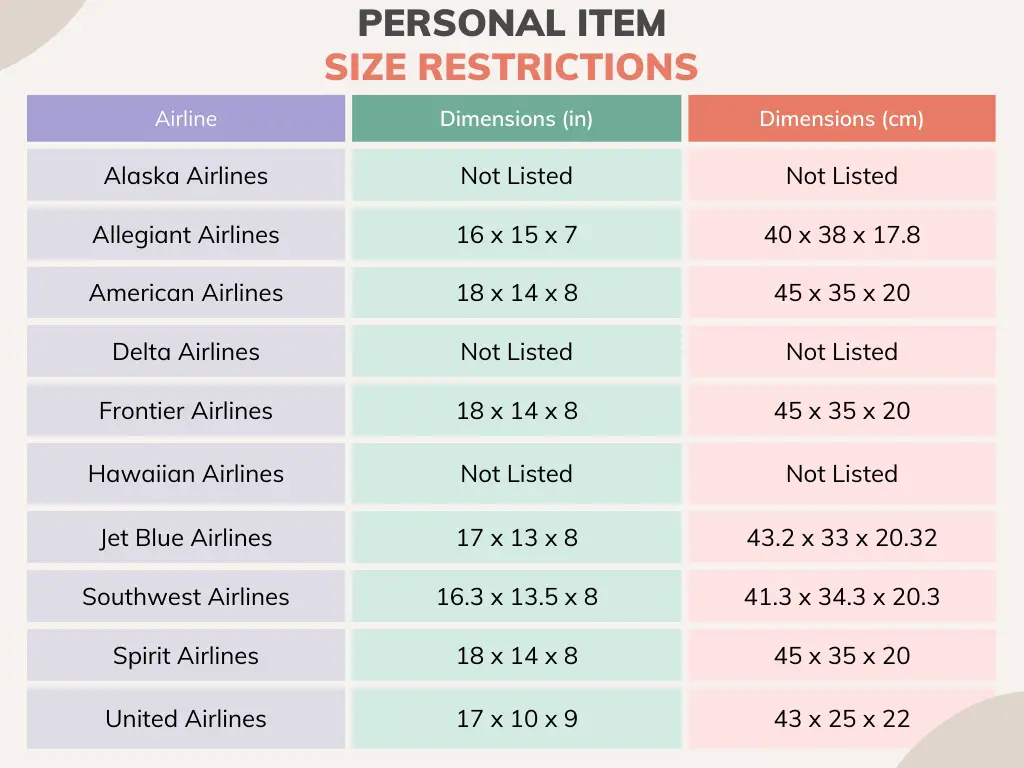 A personal item could be a purse, briefcase, laptop bag, small backpack, duffle, tote or daypack. The personal items on my list meet the following criteria.
Criteria:
Easy to clean
Easy to carry – cross body, back pack, or slide over luggage duffel
Adaptable for parenting or adult travel
Easily accessible pockets
 The average size of those listed above comes in at 17 x 13 x 8 inches. Of course, always double check parameters for any trip. Travelling internationally may impact your strategy as well. For smaller intercontinental airlines, you may have to check your carry on and consider your personal item your carry on. 
The follow eight bags give you flexibility, accessibility while looking great:
HFSX Backpack
BAGSMART Duffel
Neatpak Canvas Sling
Sowaovut Backpack
Osprey Jester Backpack
Travelpro Versapack Deluxe Tote
CLUCI Leather Daypack
Away Everywhere Bag
HFSX Backpack
This very affordable backpack has sturdy straps and several interior and exterior pockets.
Features: water-proof material, built in USB cord, headphone port, side pocket for water, adjustable straps
Size: 17″ x 13.8″ x 7.1″, 1.1 lbs
Fits up to 15.6″ laptop
BAGSMART Duffel
I only included duffels that slide over the handle of rolling luggage. This duffel is affordable, sleek, and can also be used as a weekender bag.
Features: two distinct storage sections, waterproof interior pocket for toiletries, front exterior pocket for quick access, detachable shoulder strap
Size: 17.5″ x 12.5″ x 8.25″, 2.61 lbs 
Fits up to 15.6″ laptop
Neatpak Canvas Sling
This cross body sling gives you the ultimate flexibility especially when needing an extra hand and easy access to the outside pockets.
Features: RFID security pocket, cell phone pocket on strap, metal hook for adding carabiner, water bottle pocket
Size: 18.5″ x 12.5″ x 4″,  13.9 oz
Sowaovut Backpack
This bag has quilted detail and contrasting metal details. Although it is a backpack, it opens like a tote to fit more than other styles.
Features: waterproof material, USB port, strap to attach to rolling luggage, hidden back pocket for laptop
Size: 17″ x 11.25″ x 7.5″, 1.74 lbs
Fits up to 15″ laptop
North Face Jester Backpack
This bag looks most like a traditional backpack. It is very sleek and avoids a bulky backpack feeling.
Features: padded laptop sleeve, able to stand freely, water resistant fabric, two water bottle pockets
Size: 17.25″ x 11″ x 6.75″, 10 oz
Fits up to 15″ laptop
Travelpro Versapack Deluxe Tote
This duffel has options that make your travel smoother. Not only does it slide over roller luggage, it also offers substantial exterior pocket for all of your quick access items.
Features: removable shoulder strap, water botle pocket, water resistant coating, multiple smaller divsions within larger storage sections
Size: 17″ x 11″ x 9″, 2.6 lbs
Fits up to a 15.6″ laptop
CLUCI Leather Daypack
This beautiful authentic leather daypack is sleek and functional. Beautiful color combinations with three separate compartments.
Features: breifcase elements with card and pen slots, high quality clasps and zippers, room for multiple devices 
Size: 16.5″ x 11.8″ x 3.9″, 3.17 lb.
Fits up to a 15.6″ laptop
Away Everywhere Bag
It is no secret that I am a fan of Away products. I use this bag as a daily laptop bag as well as for travel. I chose the Medium Everywhere in Sand with black accents. 
Features: slides over rolling luggage, shoulder or hang straps, interior pocket division, quick access exterior pocket
Size:  16.3″ x 7.3″ x 10.2″, 2.61 lbs
Fits up to a 17″ laptop
Whether you are on a family vacation, work trip or personal adventure, these personal item selections will set up for easy travel.