There is no denying that RVs have increased in popularity since 2020 had us all rethinking what travel would mean for the future.  Jumping into a new hobby with a purchase in the tens of $1000s can be intimidating to anyone. A few considerations before heading to the RV dealer or buying from a previous owner:
If you are pulling a camper, do your own research to understand the weight your vehicle should pull is important for the long term health of that vehicle and your towing experience
Study what will work for your family for at least the next few years in terms of beds and layout.
Resist the urge to go bigger and longer with your first towing experience unless you know you and your vehicle are comfortable with it.
When you find a particular model you like, always look it up on the company website to see if there is a variation that is similar but even more your preference in the current or recent years of models.
Depending on where you plan to camp, you may want to keep your camper under 25 feet to fit in some national parks
If you are purchasing an RV with an engine (Class A, B or C), do your research on where you can get repairs done, what warranties are available and what to expect in your first several years for maintenance.
If you are new the RV world, you may be surprised to find there are many types of campers.  In this article, I'm sharing the following styles:
Travel Trailers

Coachmen Freedom Ultra Lite  238BHS
Grey Wolf 19SM
Keystone Outback Ultra Lite 21 OURS

Toy Hauler

Grand Design Imagine XLS 24 MPR

Pop Out

Keystone Bullet Crossfire 1650EX

Class C (smallest model of engine enclosed RV)

Gulf Stream Conquest 6237
There are also a few acronyms listed below that require explaining:
Hitch Weight: (aka tongue weight) is the weight applied at point the tongue (coupler) of the trailer meets the hitch of the towing vehicle.  This is very important to consider before purchasing a trailer for smooth pulling and wear on your towing vehicle.
UVW: Unloaded Vehicle Weight is the dry (no fluids) weight when completed by manufacturer
GVWR: Gross Vehicle Weight Rating is the maximum loaded weight of the camper including fluids
CCC: Cargo Carrying Capacity (approximately GVWR – UVW) is the maximum weight that can be added to the camper for safe travel
Please use these recent models to test out your towing math and consider different layouts that may work for your family of five as they grow:
Coachmen Freedom Ultra Lite Travel Trailer 238BHS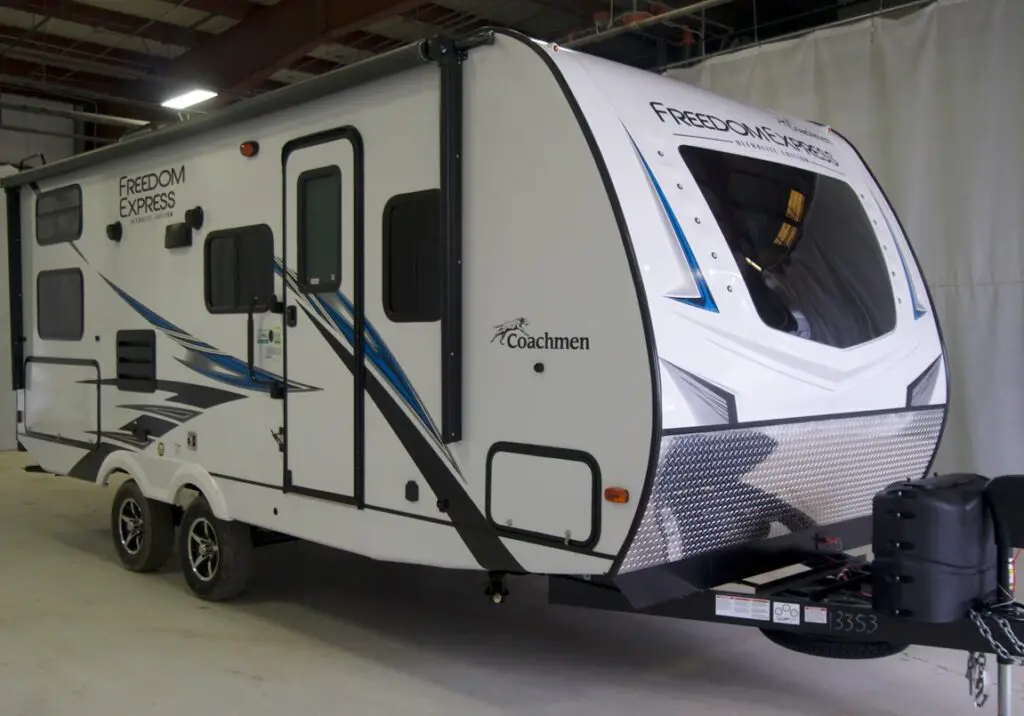 Coachmen Freedom Ultra Lite is a travel trailer that comes in several layouts.  I selected this layout because it is still relatively short for a family camper, but big on packing in the space for family enjoyment and storage.  The innovative murphy master bed provides families with more space to comfortably hang out together early in the morning, during poor weather or to watch a family movie.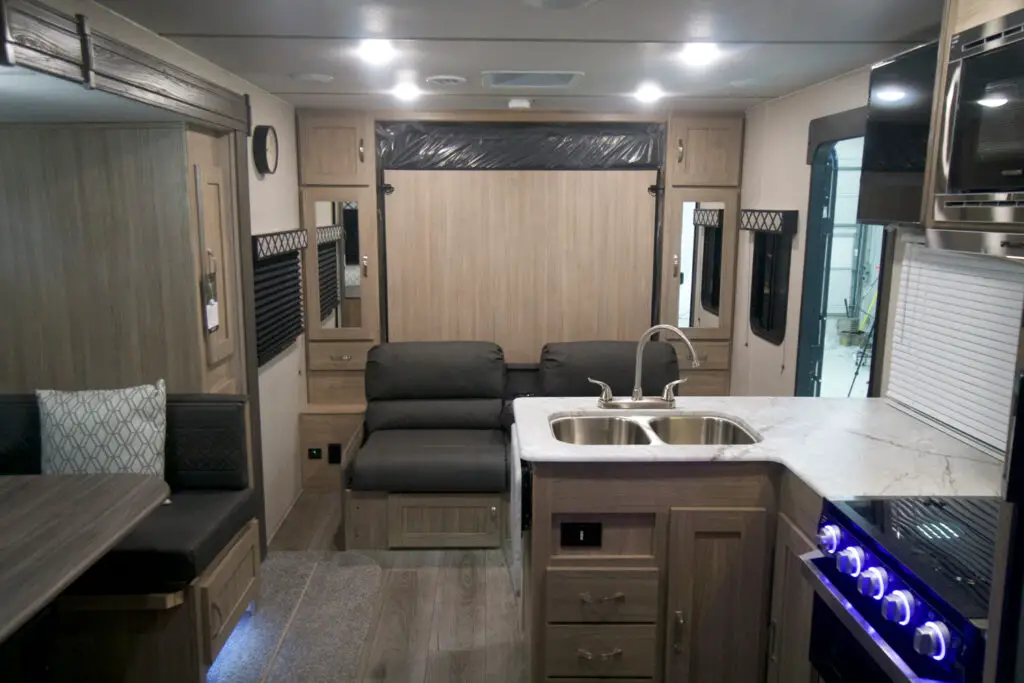 Specifications:
| | | | |
| --- | --- | --- | --- |
| Hitch Weight: | 694 lb | GVWR: | 7600 lb. |
| UVW: | 5314 lb | CCC: | 2286 lb. |
| Exterior Length: | 25'9" | Fresh Water Tank: | 50 gallons |
| Exterior Height: | 11'1" | Gray Water Tank: | 35 gallons |
| Exterior Width: | 96" | Black Water Tank: | 35 gallons |
What to Love:
Murphy Bed option for Master bed that gives extra hang out space for families
Plenty of dining space with an 88″ dinette that can become a nearly full size bed
Pantry and storage space creatively tucked into most corners
Optional outdoor sink and cooktop
Flip up kitchen countertop extensions
40″ Swivel TV maximizes family use
"Night light" features under dinette and stove knobs to get around in the dark
Solid outdoor steps
Comfortable seating with cup holders and USB ports
Movable dining table for ease of use
Bunks have outlets and USB ports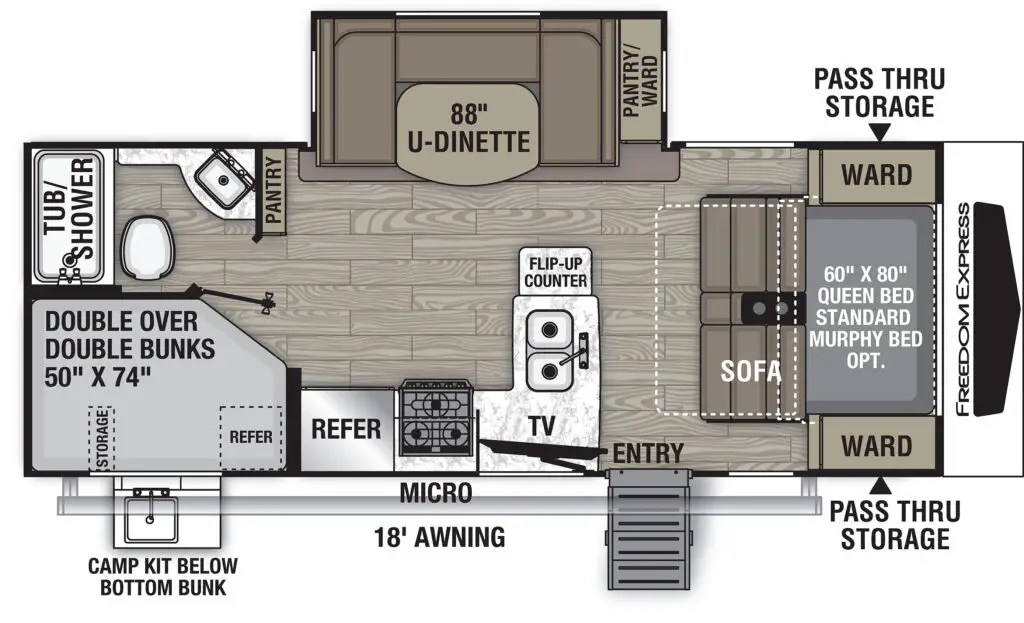 What to Consider:
Little privacy for master
Inconvenience of putting the murphy bed up/down
Not at all seating may have best TV view
Kids using bunk beds will need to create storage system below bunks or in main area
Grey Wolf 19SM Travel Trailer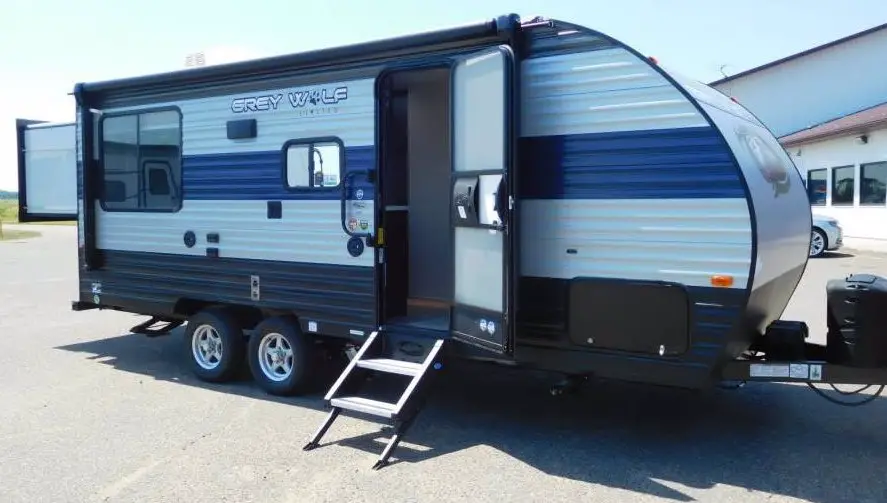 Grey Wolf 19SM is a nice small trailer for families because of the two queens plus bunk layout which is an uncommon feature.  These smaller travel trailers give you a comfortable space with the intention of keeping camping about outdoor fun.  Grey Wolf continues to include more storage for outdoor activities with a cargo rack and exterior access storage so you can set up your outside living area and start having fun right away.
Specifications:
| | | | |
| --- | --- | --- | --- |
| Hitch Weight: | 522 lb | GVWR: | 7522 lb. |
| UVW: | 4846 lb. | CCC: | 2676 lb. |
| Exterior Length: | 24'5" | Fresh Water Tank: | 40 gallons |
| Exterior Height: | 10'6" | Gray Water Tank: | 38 gallons |
| Exterior Width: | 8′ | Black Water Tank: | 38 gallons |
What to Love:
Devoted beds for five with room to sleep three more on dinette and sofa
Bathroom cabinet
Wide single bowl farm style sink with cutting board countertop extender
Movable faucet with built in soap pump at kitchen sink
Additional cutting board that stores behind stove
Three burner stove
Sturdy entry steps
Nice size windows around bed
Cargo rack on back for bikes, etc
Backup Camera
Charging stations around beds
Optional "Juice Pack" with rooftop solar panels

What to Consider:
Dinette will not accommodate 5 people, but sofa is in proximity for additional seating
Curtains for privacy for bedrooms in small trailers
No built in TV
No exterior cooking option
Bunk queen is RV queen (53″ x 75″), but master is full queen (60″ x 80″)
Keystone Outback Ultra Lite 21 OURS Travel Trailer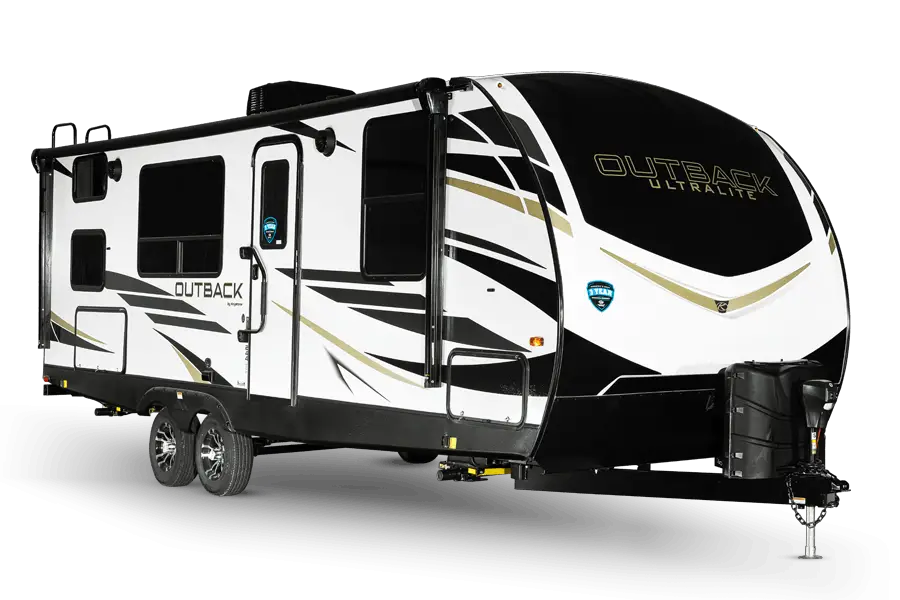 This ultra light model gives you something you will always miss if you sleep on a King size bed at home, a King size bed in your camper.  I like the Keystone Outback Ultra Lite for young families due to the flexibility of the two single bunks, convertible sofa and dinette (sofa can be used for little one without conversion) and the extra space if someone ends up in your bed.  They have also included features that make life easier with a larger fridge for this type of model, actual storage in bathroom, and a wider sink.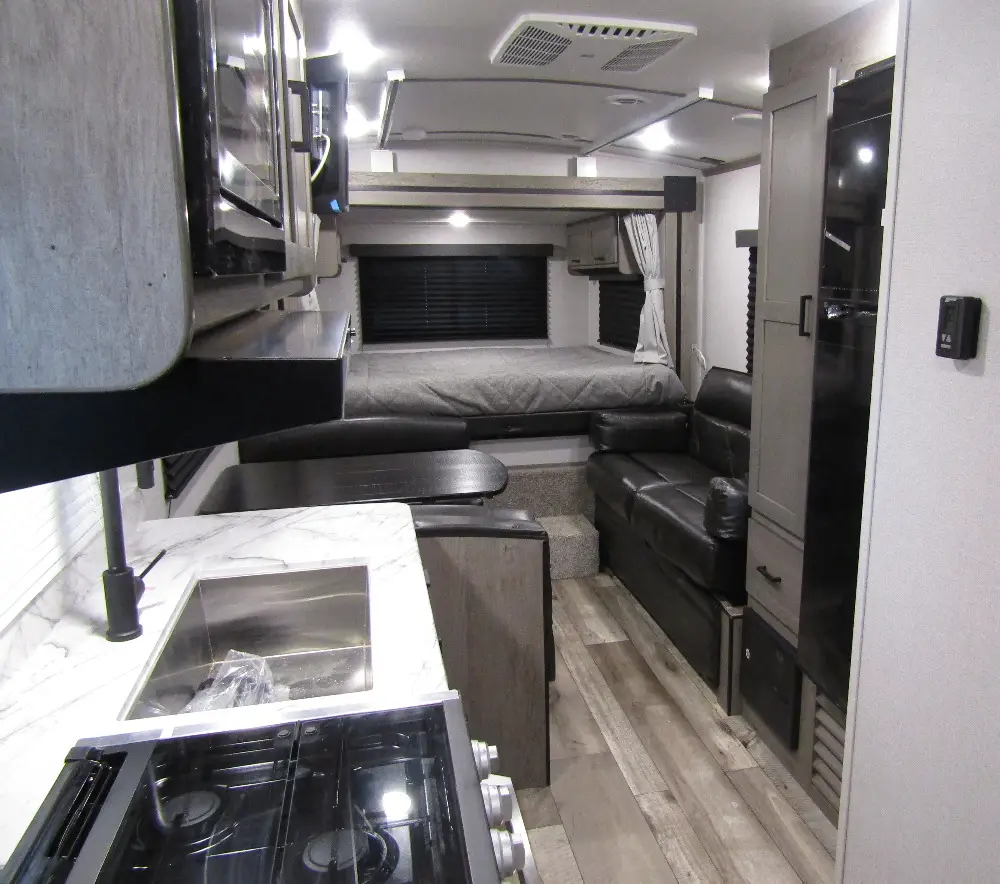 Specifications:
| | | | |
| --- | --- | --- | --- |
| Hitch Weight: | 485 lb | GVWR: | 4400 lb. |
| UVW: | 4670 lb. | CCC: | 1830 lb. |
| Exterior Length: | 23' | Fresh Water Tank: | 60 gallons |
| Exterior Height: | 11'1" | Gray Water Tank: | 30 gallons |
| Exterior Width: | 8′ | Black Water Tank: | 30 gallons |
What to Love:
King size bed slide out
Wide single bowl sink with drying rack
Fold up bunk for additional storage access
Storage in the bathroom
TV visible from master bed
Good ratio of storage to space
Bicycle storage door
Two decor color schemes
60 gallon fresh water tank
up to 10 cubic foot fridge capacity
What to Consider:
Two single bunks means a third child will need to use the sofa sleeper
Dining is ok for four people (certainly of two are children), but will likely also use couch for seating
Small TV
No exterior kitchen option
Grand Design Imagine XLS 24 MPR – Toy Hauler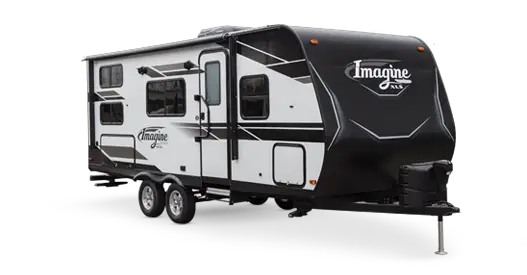 We are moving into a slightly longer trailer at 29'11", but the Grand Design Imagine has incorporated everything you would want as a family of 5 who intend to camp to kayak, four wheel, mountain bike, etc.  This innovative design expertly uses the toy hauler "garage" for hauling and allows for a single over queen bunk system when parked. This unit is in a higher price point, but unmatched in this size, design and functionality.  This is a heavier trailer than the other models listed, but again, is required to incorporate all of the toy hauler and comfort features.  The master queen bed is murphy style to provide even more daytime space and comes standard with 110v and USB ports.

| | | | |
| --- | --- | --- | --- |
| Hitch Weight: |  843 lb | GVWR: | 9295 lb. |
| UVW: | 6212 lb. | CCC: | 1241 lb. |
| Exterior Length: | 29'11" | Fresh Water Tank: | 43 gallons |
| Exterior Height: | 11'1" | Gray Water Tank: | 82 gallons |
| Exterior Width: | 8′ | Black Water Tank: | 37 gallons |
What to Love:
Large gray water tank allows for more dish washing, showering and casual water use
Prepped for back up camera
Quick recovery water heater
Deep stainless steel sink and pull down sprayer faucet
Extendable countertop
Off road tires
Solid, aluminum exterior steps
Full size residential walk in shower and bathroom with counter and cabinet space
Sliding door into garage area
Sink and storage area within garage for bunk users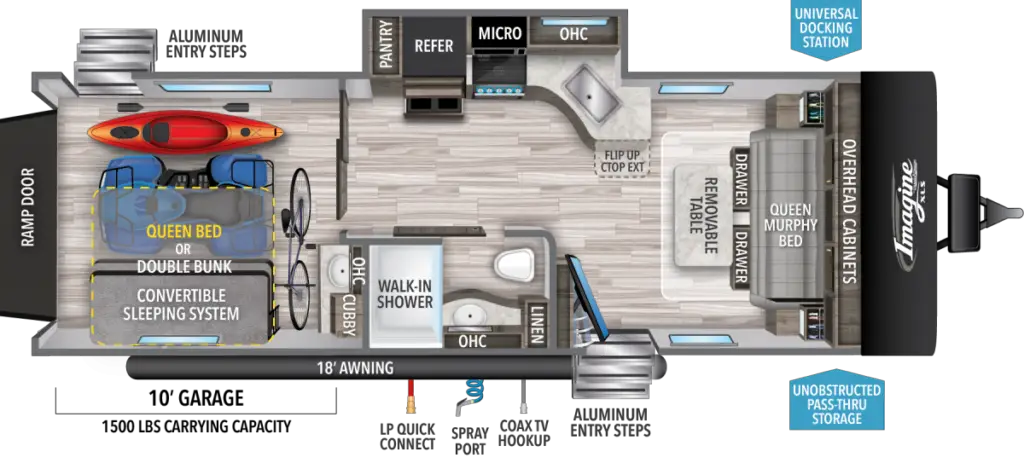 What to Consider:
Smaller fresh water tank means you'll need to consider proximity to water source and length of use
Dinette is telescoping (meaning it folds out of the way for more space), but also means there is no traditional dinette
In order to have a toy hauler of this size, there will be less storage within the non-garage portion of the trailer
This size and weight of trailer is probably best for someone with some towing confidence
Due to murphy bed configuration, there is minimal privacy in this trailer
Keystone Bullet Crossfire 1650EX – Pop Out Trailer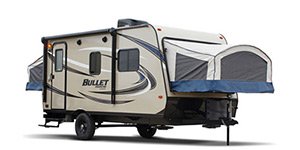 I don't know what comes to mind when you think of a pop out camper, but I doubt it is the Keystone Bullet Crossfire 1650EX.  Campers might choose a pop out camper because they are often lighter, easier to tow, affordability, and focus on being outside rather than inside amenities.  As a hybrid pop out/trailer model is all of those things except that the inside finish is modern, sleek and feels higher end.  With two queen size beds, convertible sofa, and a convertible dinette, there is easy sleeping space for a family of five or more.  They have also done a great job squeezing cabinets and counter space into this 19′ trailer.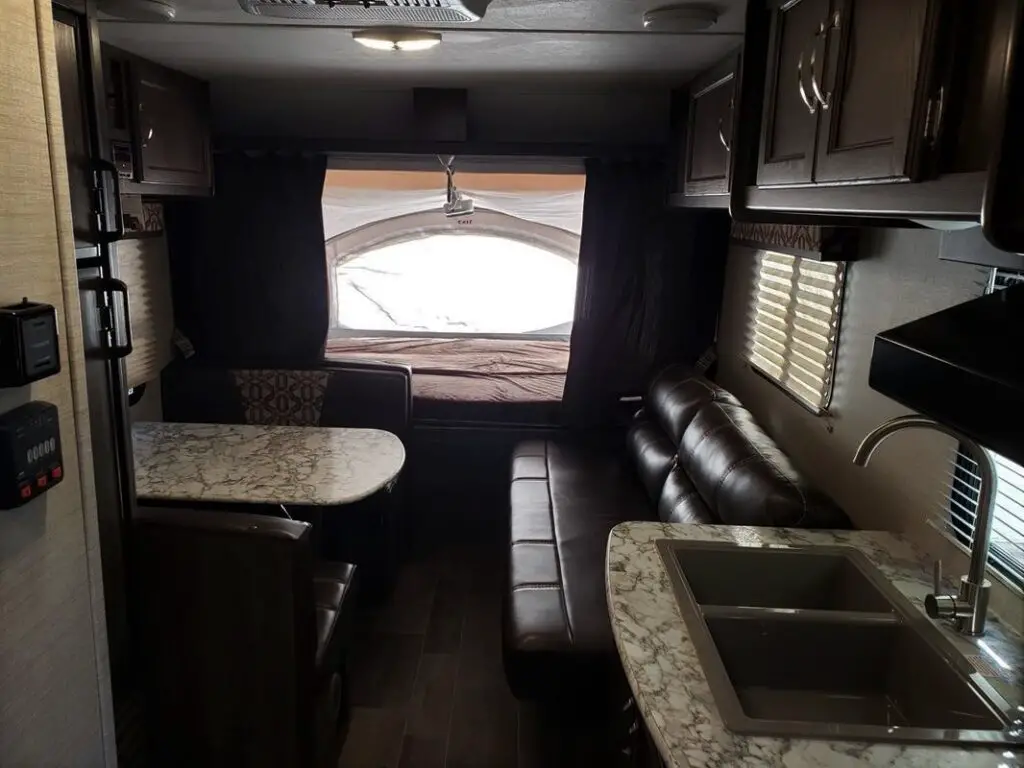 | | | | |
| --- | --- | --- | --- |
| Hitch Weight: | 470 lb | GVWR: | 4700 lb. |
| UVW: | 3459 lb. | CCC: | 1241 lb. |
| Exterior Length: | 19'6″ | Fresh Water Tank: | 43 gallons |
| Exterior Height: | 10'5" | Gray Water Tank: | 30 gallons |
| Exterior Width: | 8′ | Black Water Tank: | 30 gallons |
What to Love:
Standard power tongue jack
Hot and Cold outdoor shower
Power Awning, outdoor speakers, and LED lights
Pop out queen nearest door has curtain, individual light and USB and 110 Volt plug in
Shower contains small tub for smaller kids
Bathroom counter space
Stove top comes covered for increased counter space
Larger fridge/freezer space than traditional pop outs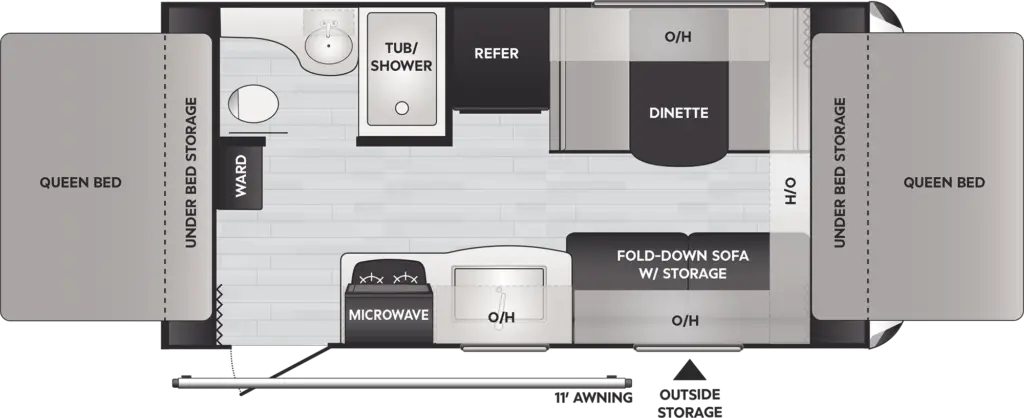 What to Consider:
Reduced storage inside and out compared to larger models
Less fresh water tank space than other trailer models
This type of unit is meant to encourage time outside and discourages kids having permanent, private space within camper
If price point is the goal, this is still near other small travel trailers, but it's difficult to find this much bed space for the size/price.
Gulf Stream Conquest 6237 Class C Motorhome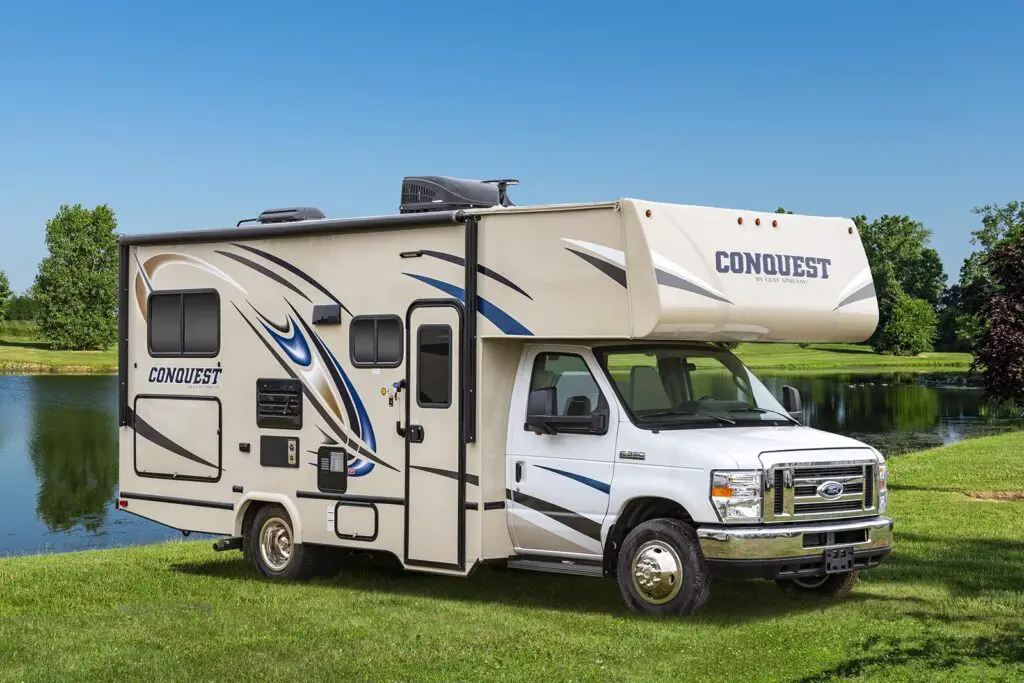 If the idea of towing is not right for your family and you would prefer a smaller, one vehicle motorhome, a class C motorhome might be right for you.  There are slightly shorter models available, but this Gulf Stream Conquest unit (at 24″) provides the feeling of three separate spaces with the step into the master bedroom, a spacious dining banquet, and the over cab bunk area. As a family of 5, I can truly envision our kids split sleeping between these areas, my husband and I with our own space, but also with enough space to watch a movie or serve a meal on a raining night.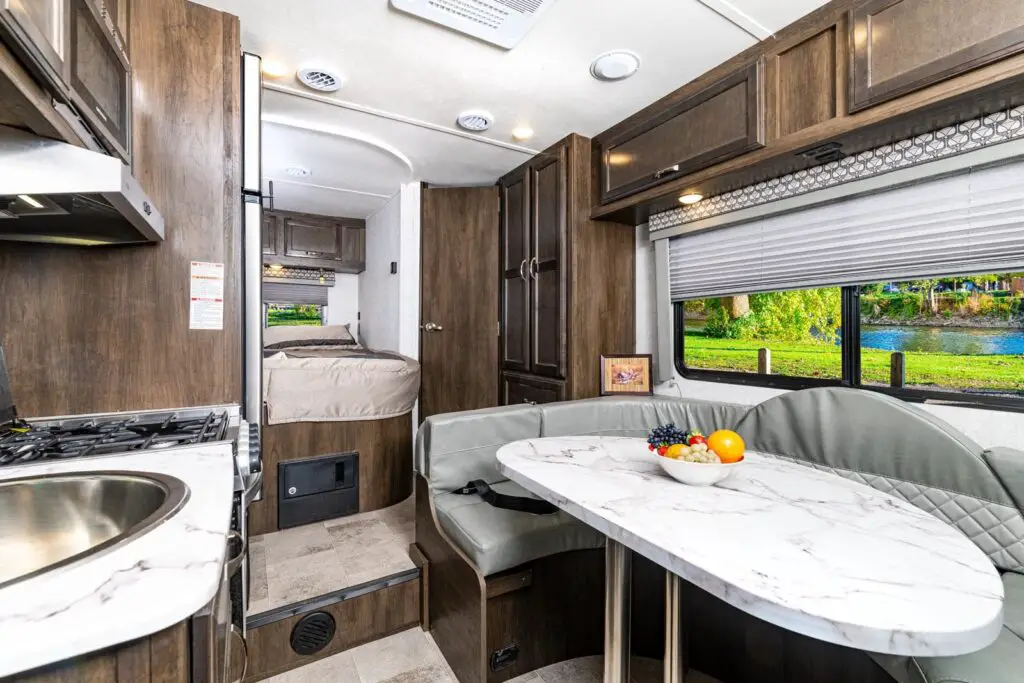 | | | | |
| --- | --- | --- | --- |
| Exterior Length: | 24″ | Fresh Water Tank: | 37 gallons |
| Exterior Height: | 11'3" | Gray Water Tank: | 31 gallons |
| Exterior Width: | 100″ | Black Water Tank: | 31 gallons |
What to Love:
Raised master queen bed and bath area that break up small space for feeling of privacy
Spacious horseshoe dinette that converts to bed
Storage built in overhead in master bed, over dinette, around cab, in bunk area, kitchen cabinets and a wardrobe with closet space and drawers
Large exterior storage in back
Foldable stove covering to maximize countertop
Overhead reading lights and plug in options at top of master bed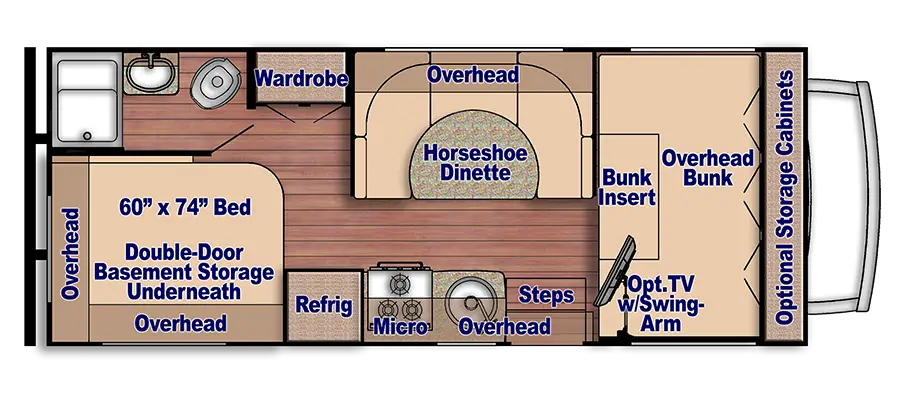 What to Consider:
Class C Motorhomes are equipped with seatbelts in the banquet to allow everyone to travel inside.  Do your research on how this works for the size, age and weight of your child and car seat needs.
This model is not new and older versions are available.  When assessing a Class C, you're considering not only how the space works, but also the health and age of the engine and other upkeep required.
Class C is a much larger investment than a trailer and consideration not only in price point, but how long you believe the model can serve your family is important
Happy Camper Shopping
I hope this gives you a comparison of what "smaller" campers are available that can still serve a family of 5 or more.  If you currently drive or pull a fantastic small camper that fits this criteria, let me know so I can add it to this list.  And, of course, Happy Camping!