For our family the beach and ice cream go hand in hand.  Spending days in the sand whether in the low season or on the hottest days of the summer can only be made better by sampling a delicious cold treat.  While spending five weeks in Gulf Shores earlier this year, our kids became unofficial ice cream tasters and judges.  Spoiler: Kids think all ice cream is good!  We, as parents, may have also "taken taxes" on our ice cream purchases and agree that Gulf Shores/Orange Beach has a LOT of great ice cream opportunities.  If you're visiting, you'll want to incorporate stops at a few of these sweet treat hangouts.
Ice Cream Shops Visited:
Cherry on Top
Scoops Ice Cream
Sweet Cone Alabama
Matt's  Alabama Ice Cream
The Yard Milkshake Bar
Yumm Twister & Ice Cream
Del's
Cowbell Rolled Ice Cream
Kilwin's
Cherry on Top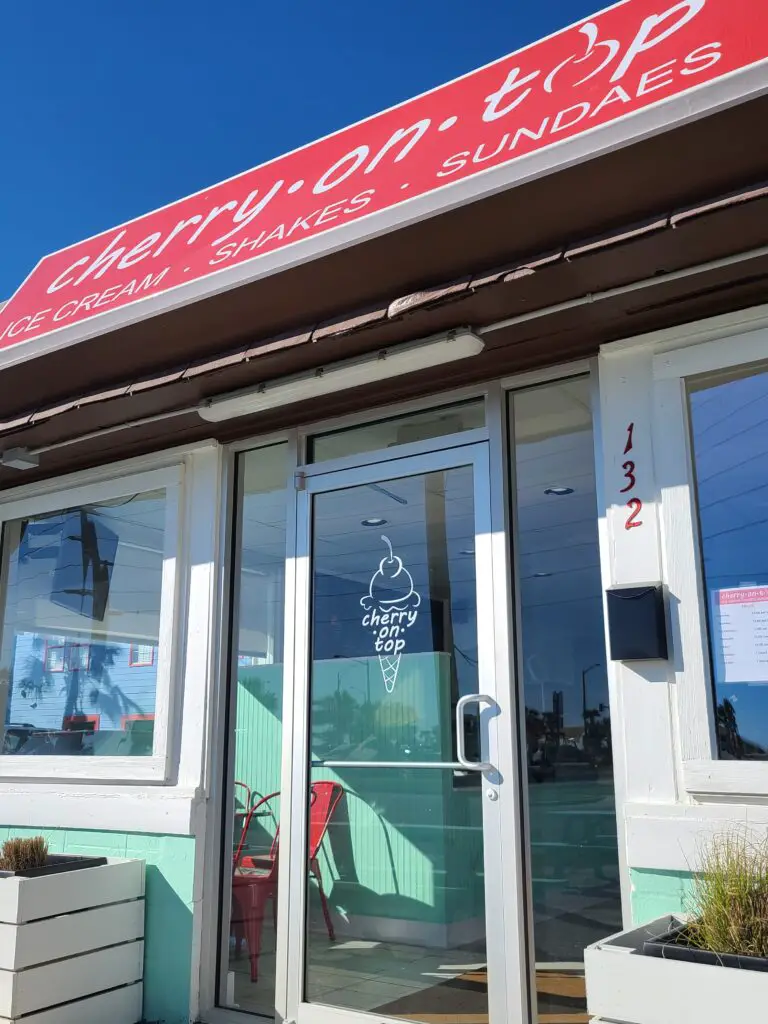 Located on West 1st Avenue a block from the beach and next door to DeSoto's, this cute shop painted mint green and cream, offers hand scooped ice cream, milkshakes, sundaes, and splits.  Cherry on Top offers a few small tables inside and several picnic tables and benches for outside seating.  As always, check the hours before you go, but you can expect to visit 7 days each week between 12-9 PM.  The bright, cheery color scape make Cherry on Top a sweet stop in more ways than one.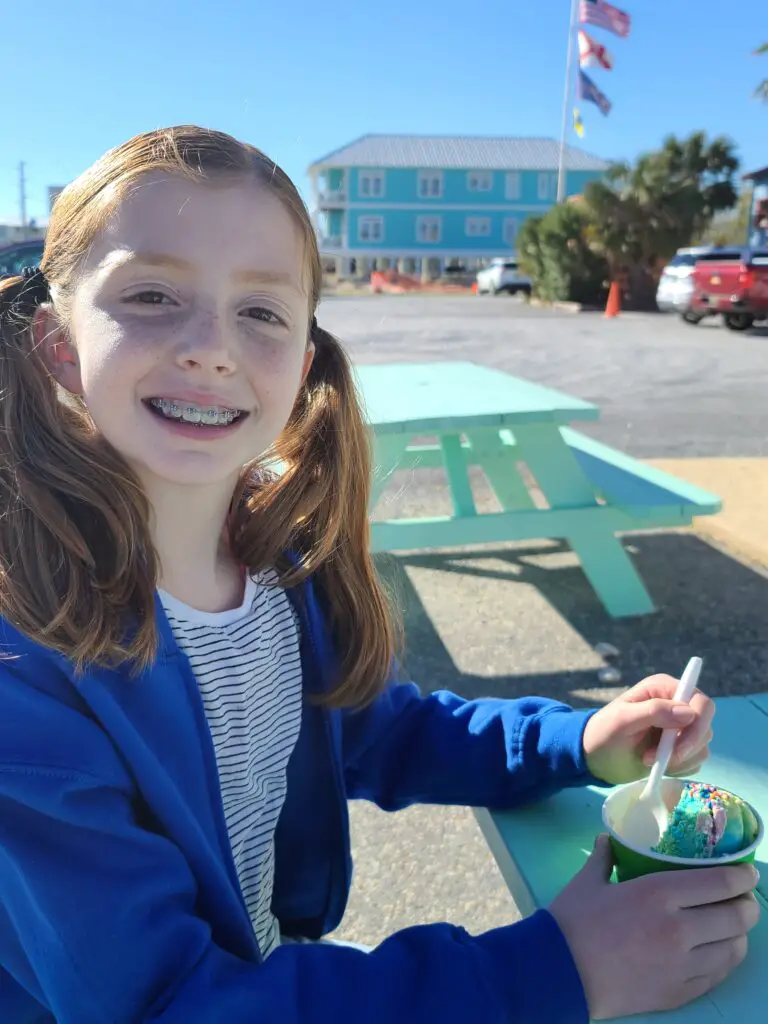 What We Enjoyed:
  Each of our kids tried two different scooped ice cream flavors in a dish.  Those combinations included:
Chocolate Chip Cookie Dough and  Smoky Mountain Fudge
Cookies 'n' Cream and Birthday
Supercow and Strawberry with Sprinkles
Average Score: 9.25

Scoops Ice Cream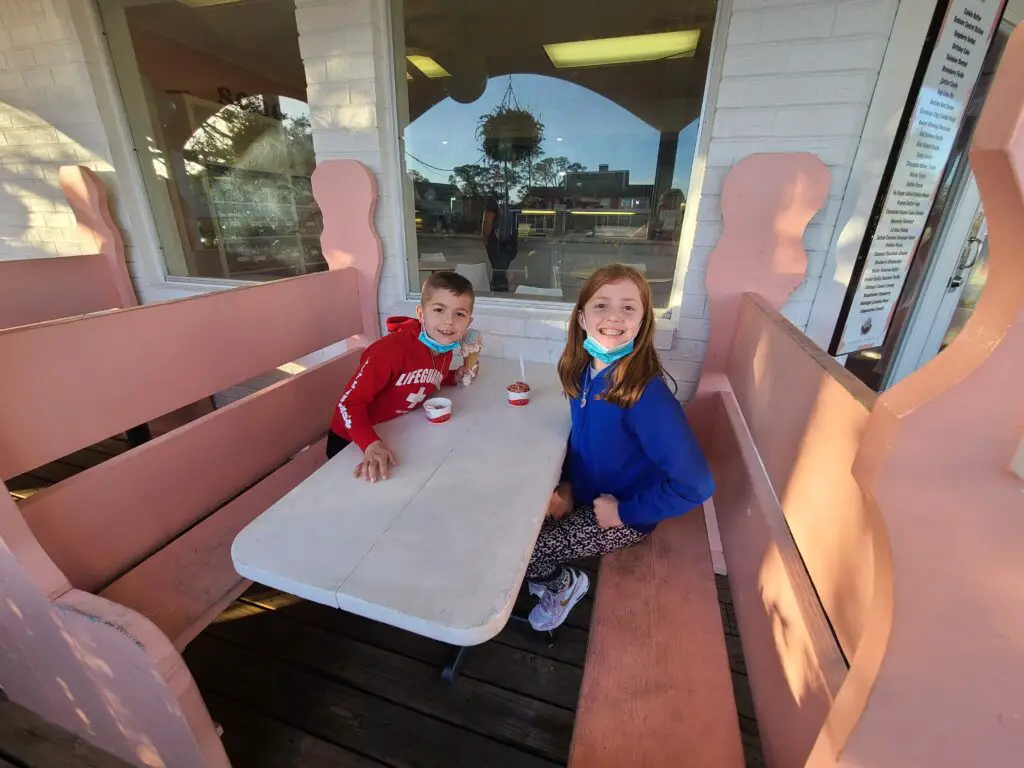 You will find Scoops Ice Cream on Gulf Shores Parkway and has been serving the community since 1980.  The big white porch with pink booths catches the eye and signage promises ice cream, yogurt, and other treats.  You can expect hand dipped ice cream, milkshakes, sundaes, frozen yogurt and sugar free options.  They also offer a wall of "scoop"able candy for purchase by the pound.  There are tables inside, but sitting on the porch is the way to go on a beautiful day!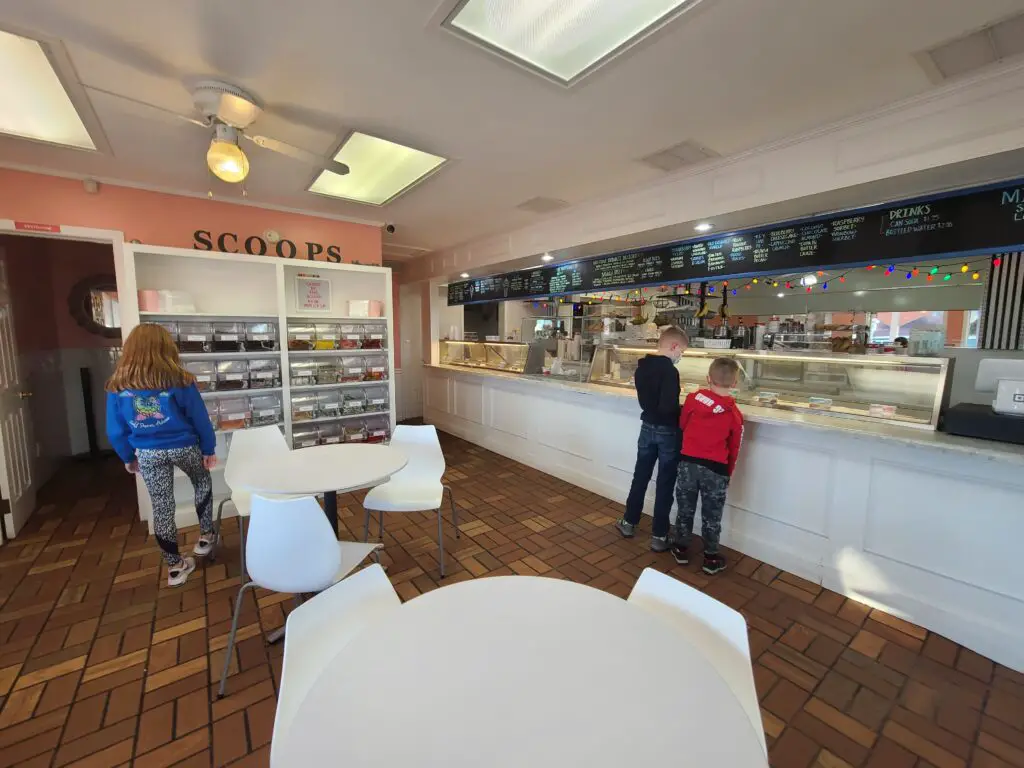 What We Enjoyed:
Award Winning Chocolate and Better Brownie Batter in a waffle cone
Raspberry Sorbet with sprinkles in a cup
Cotton Candy and Chocolate Chip Cookie Dough in a waffle cone
Average Score: 8.67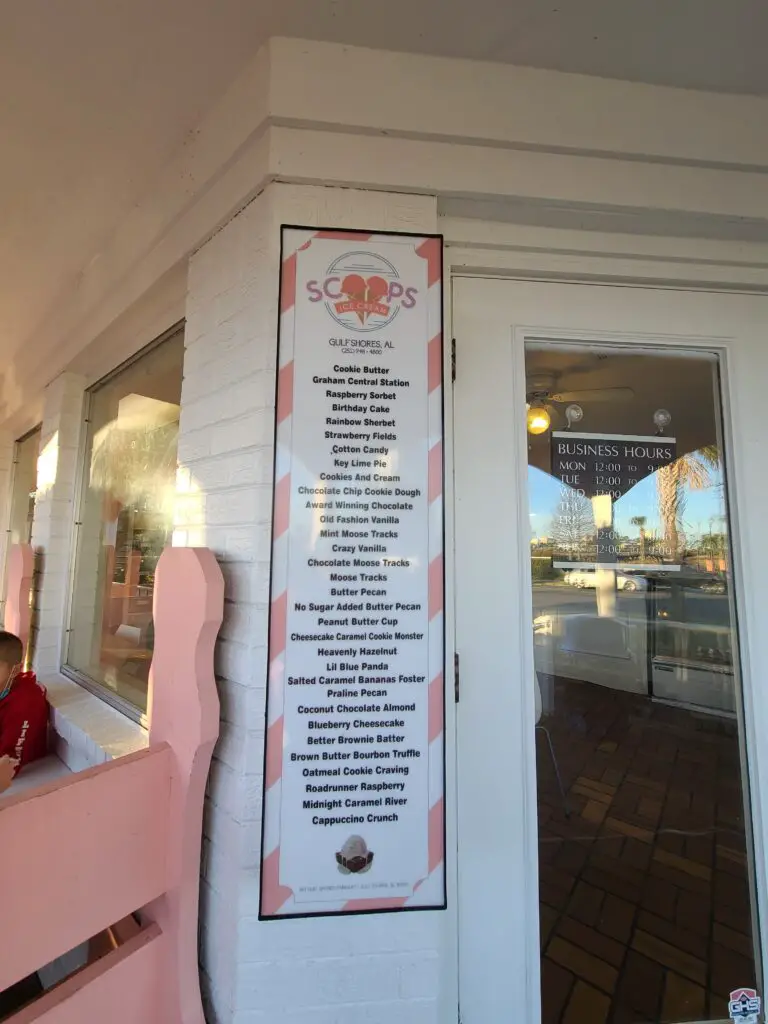 Sweet Cone Alabama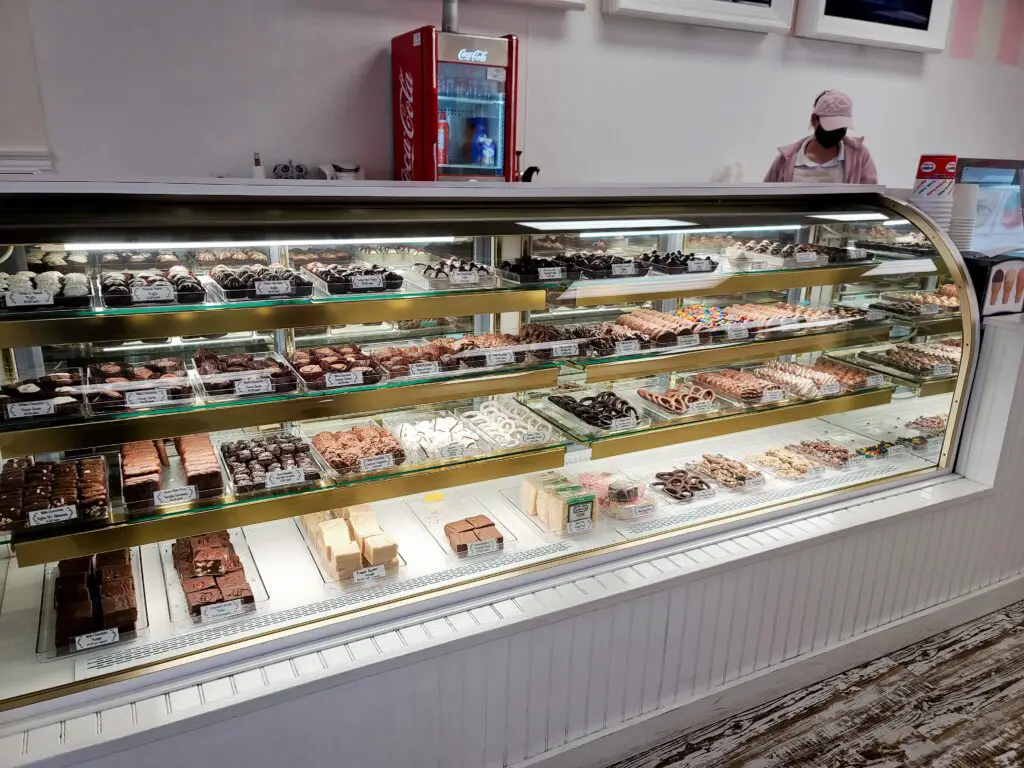 Sweet Cone Alabama
is located in a small strip center on Perdido Beach Boulveard in Orange Beach.  There is also another location in Pensacola.  We heard the name and had to try it.  We were extremely pleased with what we discovered inside!  The interior is bright and lively with pink and white striped walls, all white cases, tables, and shelving.  You may be distracted from the ice cream by the candy by the pound and a giant case of chocolate candies.  However, we persisted and tried the ice cream only on this visit.  The kids gave a perfect score!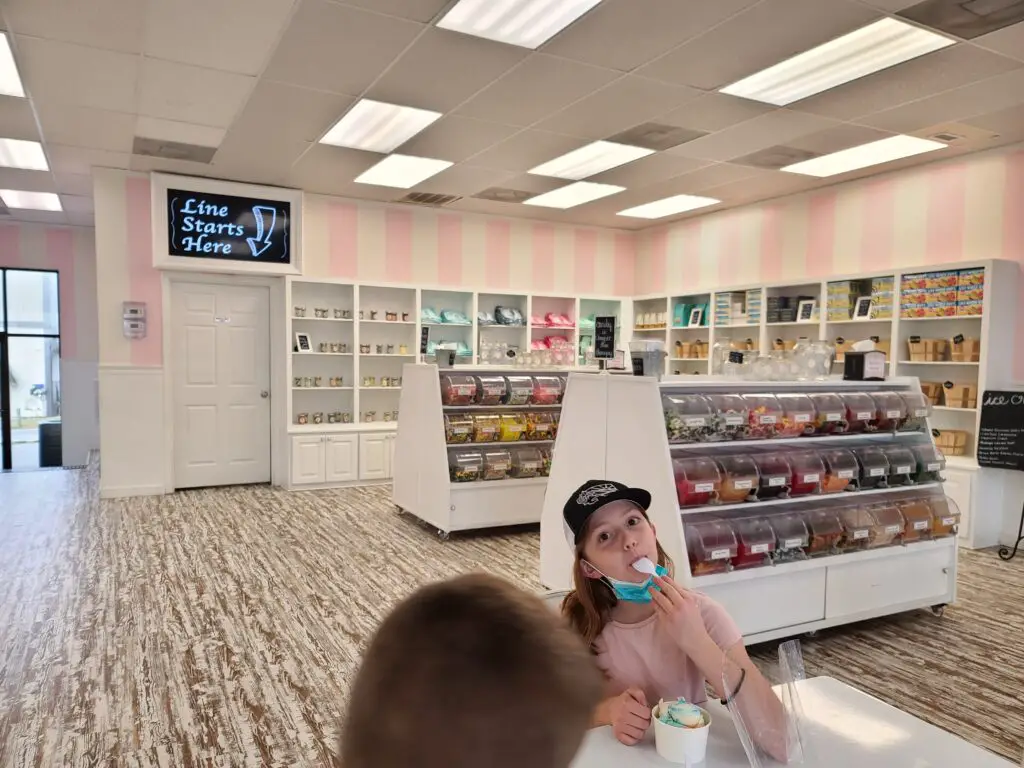 What We Enjoyed:
Batter Brownie and Chocolate Cookie Dough
Birthday Cake and Cotton Candy
Award Winning Chocolate and Cotton Candy
Average Score: 10
Matt's Alabama Ice Cream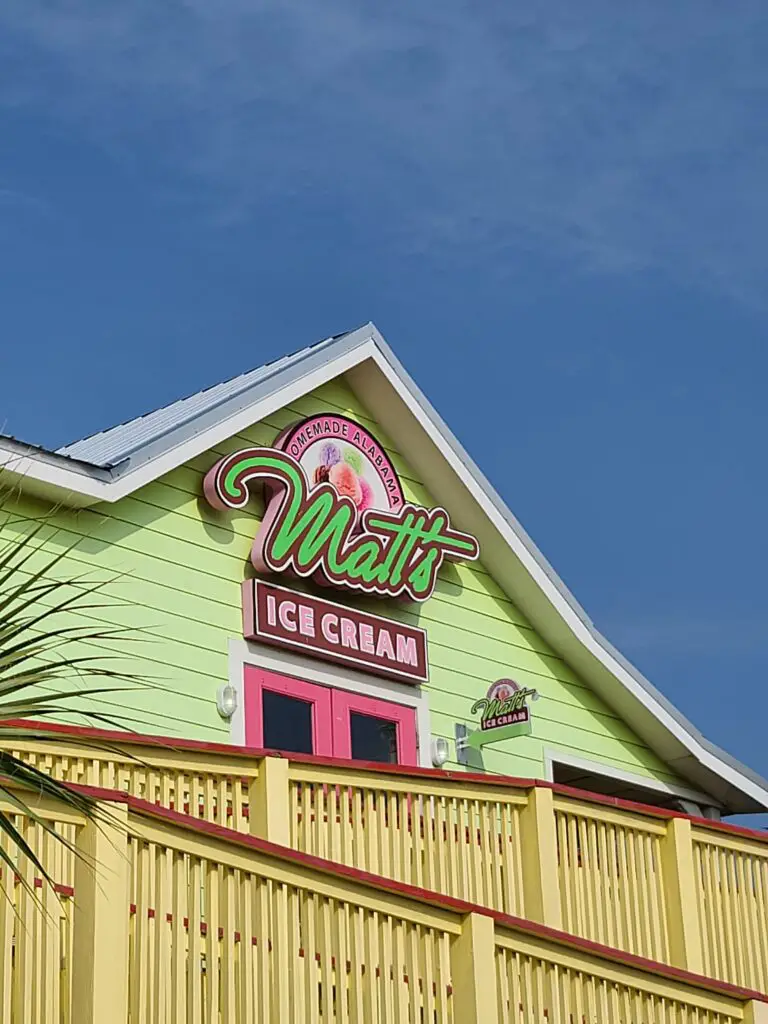 Before our visit, I noticed that
Matt's Alabama Ice Cream
topped some other reviewer's lists so I wanted to know whether it lived up the hype.  It certainly did!  Matt's boasts two locations on Gulf Shores Parkway to handle the busy season crowds.  We visited the location at 701 Gulf Shores Parkway in the shopping center with the Oyster House and several other shops.  The exterior and interior were dressed in shiny bubble gum shades from the walls to the chairs.  Friendly staff offer forty handmade ice cream flavors as well as milkshakes, sundaes, splits, coffee, and old fashioned sodas.  They also sell candy by the pound.  Matt's received a perfect score from the kids.  We visited Matt's two times during our stay.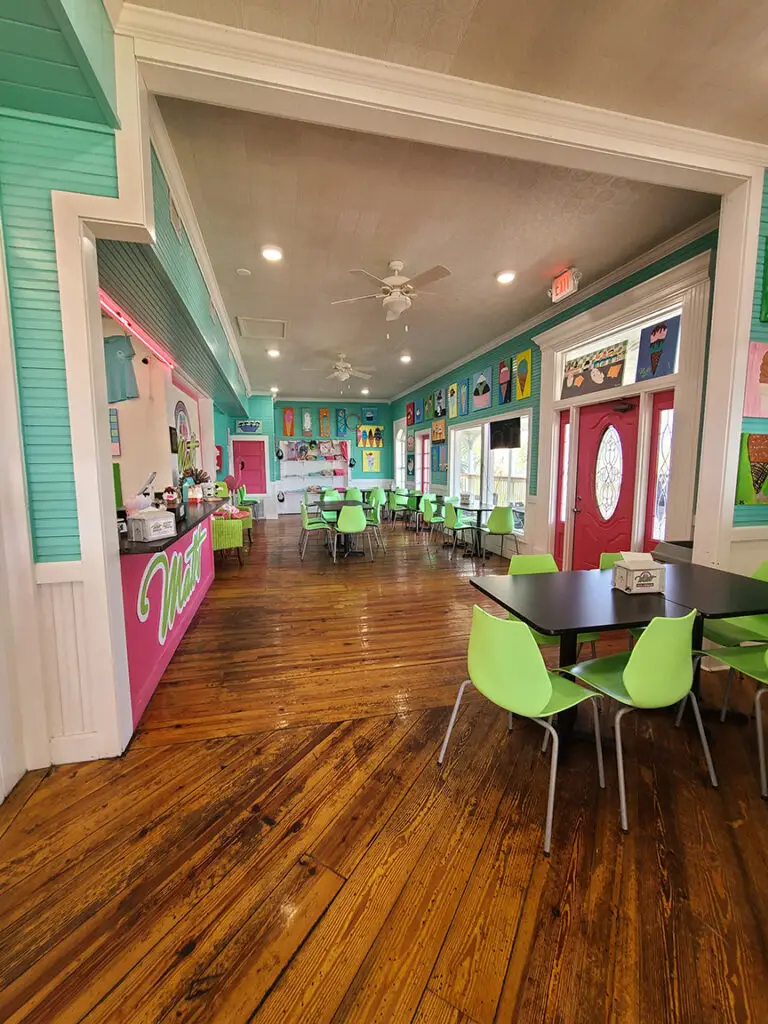 What We Enjoyed:
Cotton Candy and Caramel Cheesecake
Cookie Monster
Cotton candy and Chocolate Cake
Average Score: 10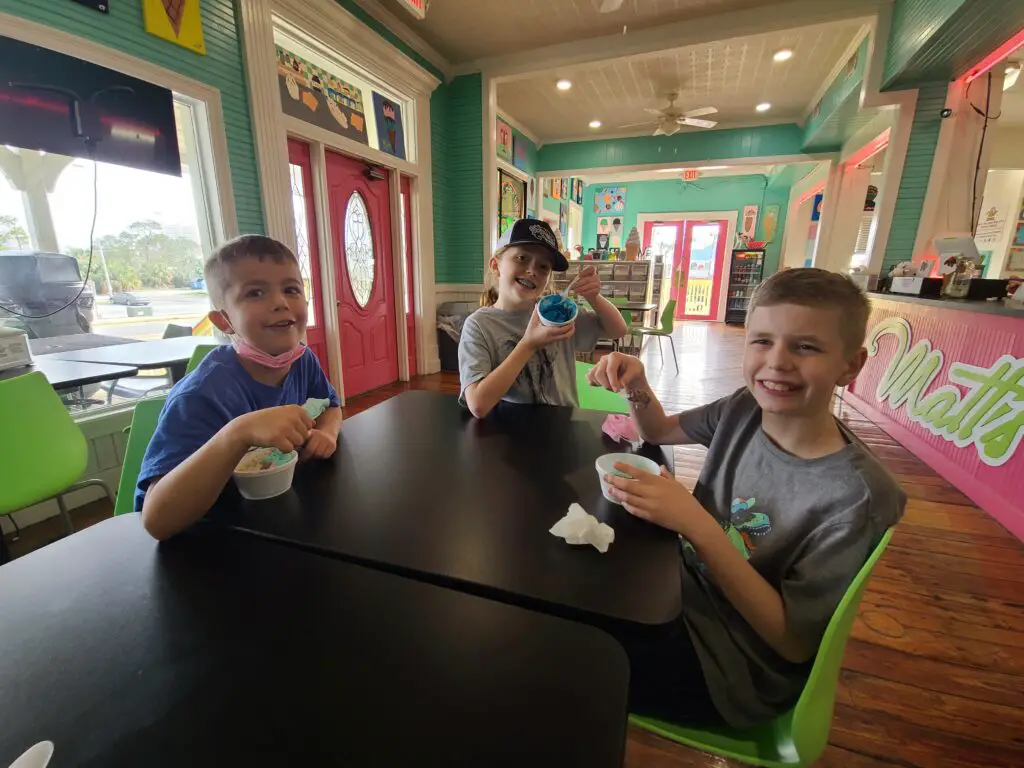 The Yard Milkshake Bar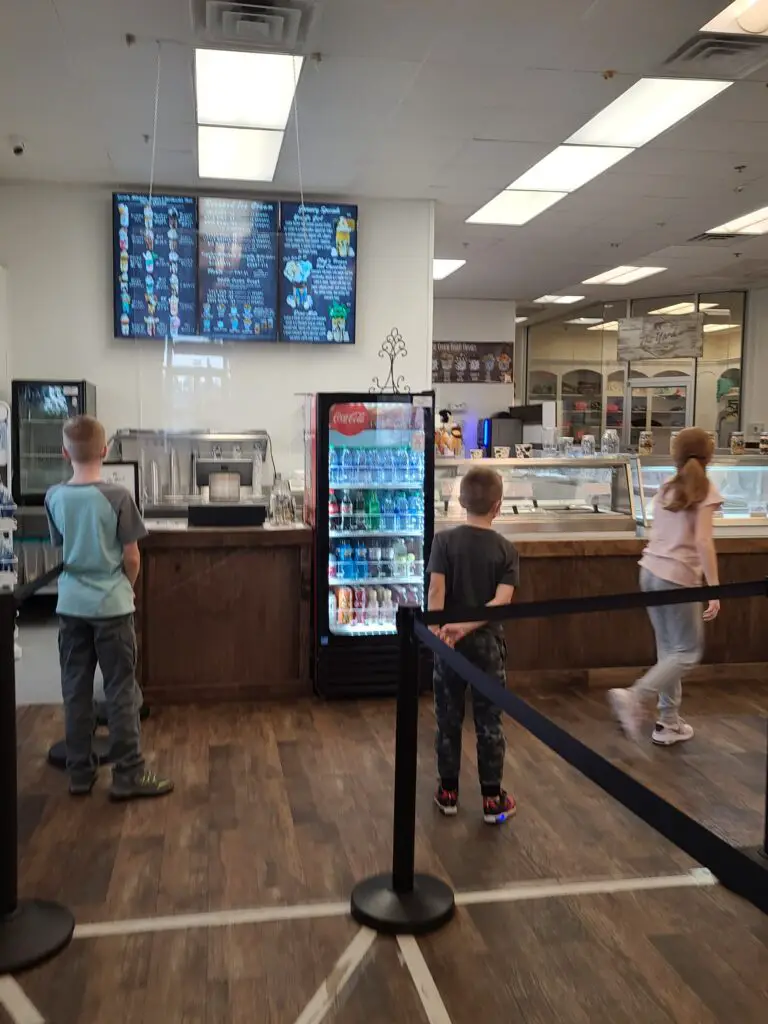 This chain, found mostly across the Southern United States and as seen on Shark Tank, is located within a shopping center on Gulf Shores Parkway.  It's also near a Target if you're running to get vacation essentials.  We visited while there were Covid protocols in place and reduced seating, but in brighter times, the inside is lined with benches and several seats at large high top tables.  There are also picnic tables outside at the shopping center.  These over the top milkshakes come in either pint or quart size, with a souvenir glass included.
The Yard
features monthly specials which happened to include a dinosaur shake for our dino lover.  They also offer hand scooped ice cream with about 36 flavors to which you can add toppings, edible cookie dough, specialty ice cream "bowls", and ice cream bars.  You will find something for everyone here.  The interior has a farmhouse vibe and a fun sign for your milkshake photo op.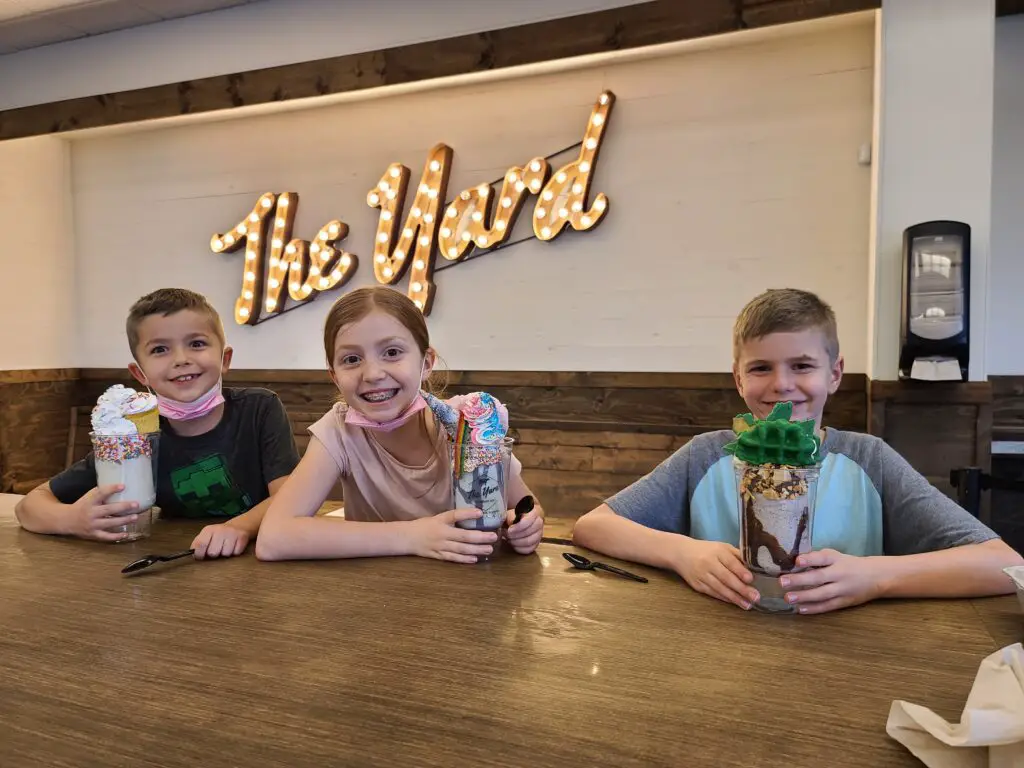 What We Enjoyed:
DinoMite Milkshake
The Unicorn Milkshake
Birthday Cake Milkshake
Average Score: 10
Yumm Twister & Ice Cream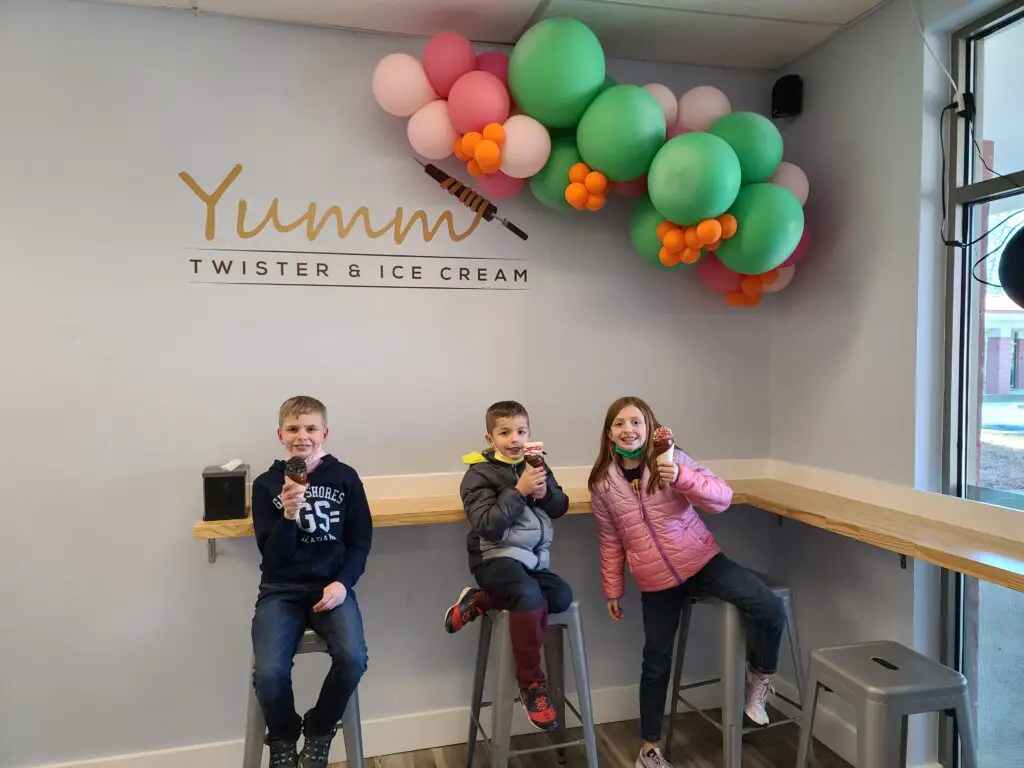 At Yumm Twister, you can order a specialty milkshake, scooped gelato, or gelato sundaes, BUT you really should go for the Twister cakes!  These can be eaten alone, with toppings and fillings, or as part of their Twister cones filled with delicious gelato and topped uniquely.  Yumm Twister is located in a small strip center with interior and exterior seating.  There are cute outdoor lights over the exterior seating.  Inside is clean and crisp with a modern feel; different from several of the bright colored interiors we find in other ice cream shops.  The reviews from our kids included calling the Twister Cakes "the bomb"!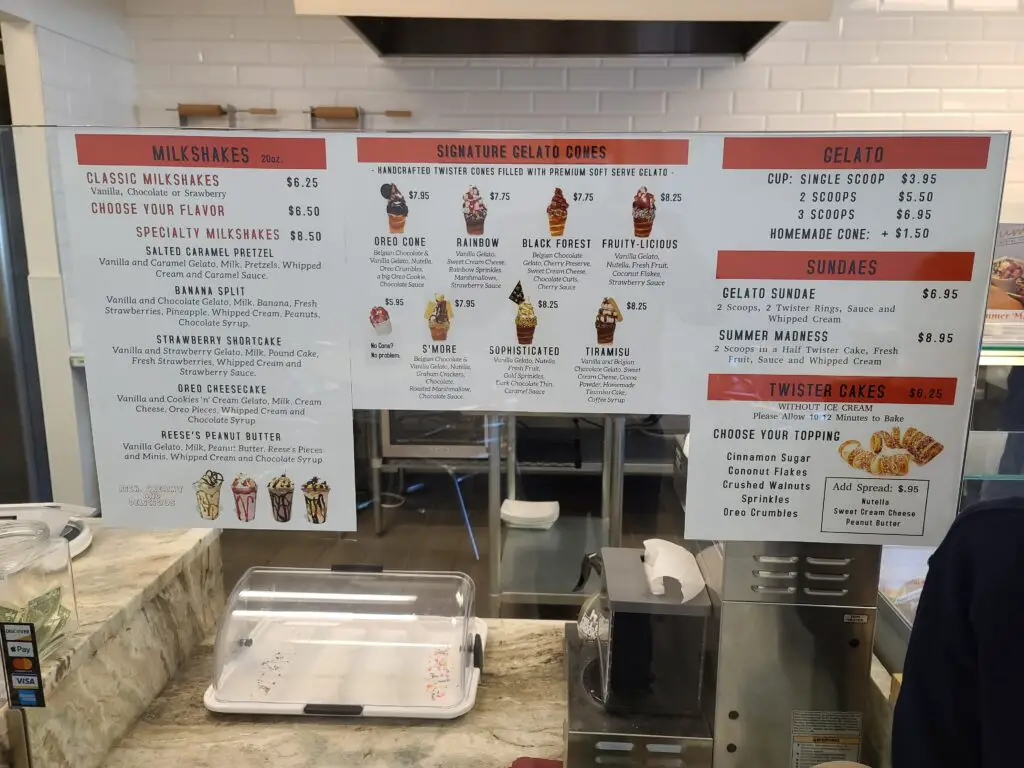 What We Enjoyed:
Strawberry gelato with strawberry sauce and sprinkles
Cookie Monster with chocolate sauce and Oreo dusting
White Chocolate Raspberry with Strawberry Sauce and a ladyfinger
Average Score: 9.33
Del

's Ice Cream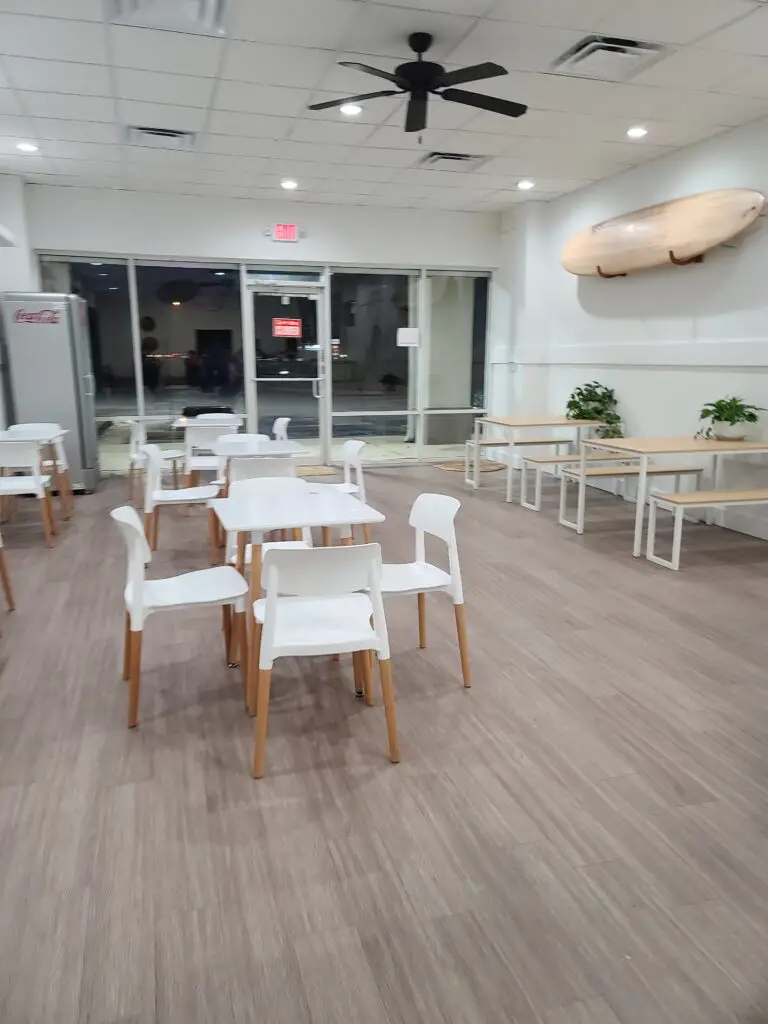 Del's
has a serene color scheme and trendy feel to the interior.  They offer 36 flavors of Cammie's Old Dutch ice cream in scooped ice cream, milkshakes, sundaes, floats, and signature creations.  Beyond enjoying the atmosphere, the service was great and they offer some unique flavors such as King Cake, Peeps, Banana Pudding, and Tie Dye Vanilla.  Although I don't see it on the current menu, I believe we also tried Creole Praline.  I appreciated the uniqueness and style.  In addition, Del's offers dairy free sorbet and sugar free options.  You find Del's on Perdido Beach Boulevard or Canal Road in Orange Beach.
What We Enjoyed:
Cookie Doug and Chocolate
Cotton Candy and Strawberry
Cotton Candy and King Cake
Average Score: 8.67
Cowbell Rolled Ice Cream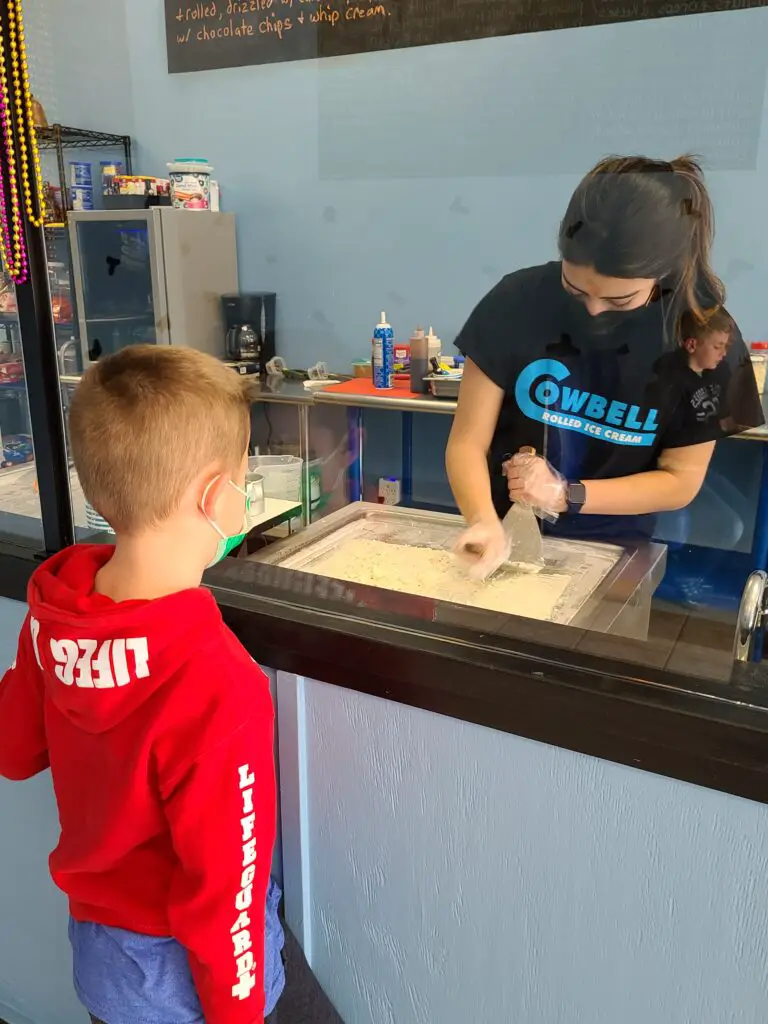 Have you tried rolled ice cream?  Not only is the outcome delicious, watching your selection being made is quite entertaining.  The first time you see the liquid concoction of your flavor being poured on the uber cold metal slab, you will doubt what the outcome could be.  The beautiful sundaes at the end feel a little like magic.  Cowbell Rolled Ice Cream is a single location in a small strip mall on 2nd Street in Gulf Shores.  The interior is painted a moody blue with cow motif throughout.  They offer you the option to select from one of their rolled sundae creations or build your own.  The service was great as well.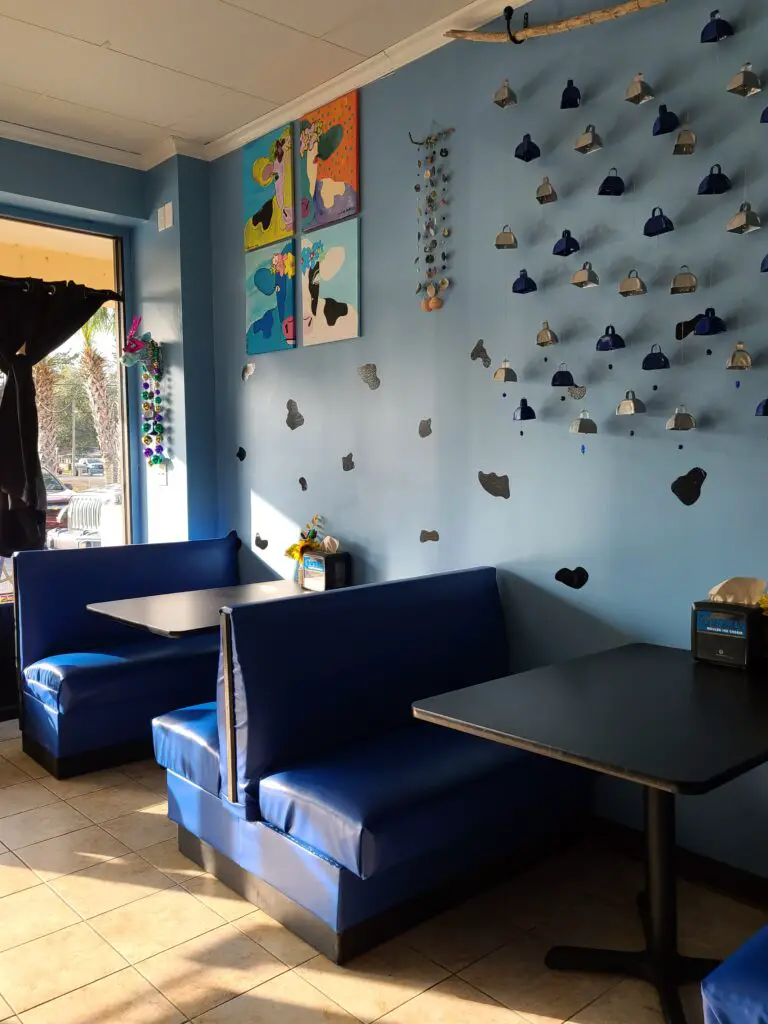 What We Enjoyed:
The Dark Side
Birthday Cake x 2
Average Score: 9.67
Kilwin's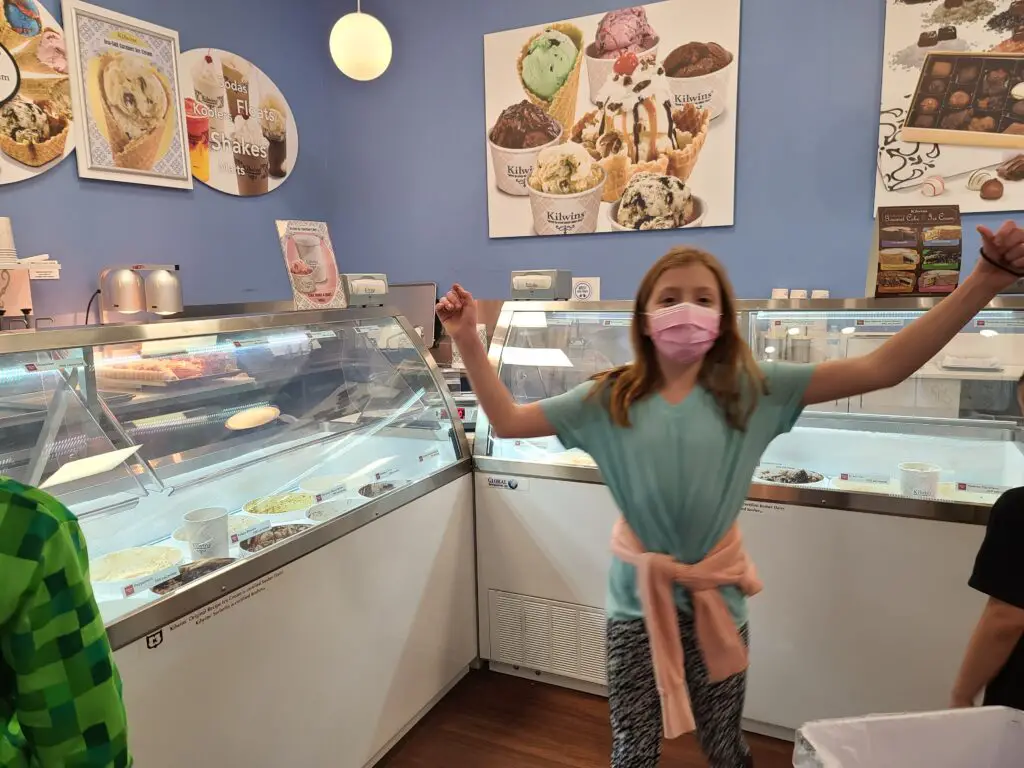 Although
Kilwin's i
s native to the upper Midwest, you can find locations in many cities East of the Mississippi a few West in Texas and Colorado.  Kilwin's ice cream has been made in the same way since 1985 and focuses on quality of ingredients.  The location in Orange Beach is located on the main level of The Wharf entertainment complex, making it a great spot to grab your treat and enjoy the nightly light show.  If ice cream isn't your preference (or maybe in addition), you will find homemade chocolates, candied apples and sweet treat gift items in the store.  You can expect friendly service as well.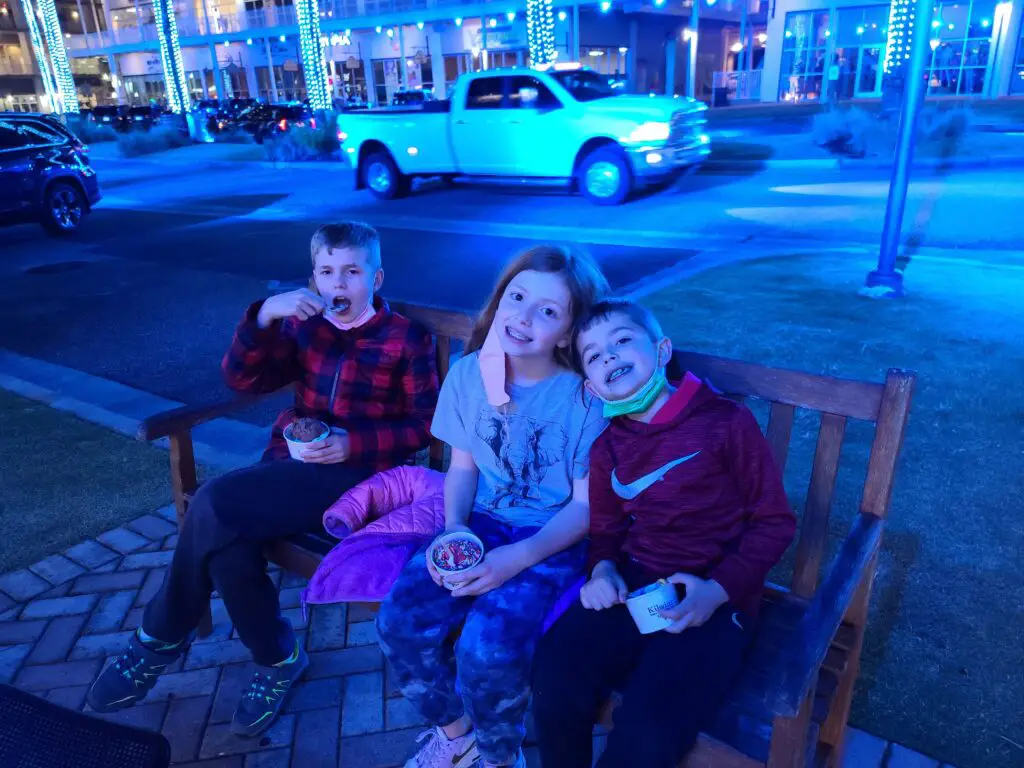 What We Enjoyed:
Superman x 2
Fudgie Brownie
Average Score: 9.33
Enjoy
Our "ice cream experts" have determined you simply can't go wrong when searching for something sweet in the Gulf Shores/Orange Beach area.  If you're like us, you may want to map these great shops along with some fun and excitement that make the area just a great vacation destination.  Cheers to sweet treats and sandy feet!