We were lucky enough to spend five weeks in Gulf Shores this year and I spent a lot of that time discovering which restaurants were truly family friendly and, of course, delicious.  That's why I'm bringing SEVENTEEN restaurants you could include in your itinerary.  This is not every restaurant we tried, but every place we ate something memorable and we felt comfortable dining with our kids.
Determining family friendliness can be quite subjective.  When my kids were smaller, this usually was determined by the volume of a restaurant, meaning would they be able to hear my child cry or whine and draw attention to ourselves.  As they have gotten older, there are other considerations for picky eaters, child friendly environment, or other entertainment.  As much as we try to broaden our children's palates, expose them to many styles of food, and expect them to use their manners, we acknowledge they are kids and the dining experience works better if it's accepting of our presence, offers something each person will eat, and leaves the parents satisfied.
These are the 17 who made the list:
Anchor Bar & Grill
GT's on the Bay
The Gulf
Lulu's
The Hangout
Woodside Restaurant at Gulf State Park
Southern Grind
Cosmo's Bar & Grill
DeSoto's
Foodcraft
Oso
Niki's Thai & Seafood
Flying Harpoon 2
Gulf Shore Steamer
Hog Wild
Ruby Slipper
Sunset Cork Room
Anchor Bar & Grill
I'm starting this list off with one of my favorite restaurants in the Gulf Shore Orange Beach area.  Anchor Bar & Grill is an unassuming, small structure overlooking Terry Cove.  All of the seating is outside on the deck so prepare with layers if visiting in the off season.  Anchor offers an evolving menu that elevates items you may have had elsewhere into their best form.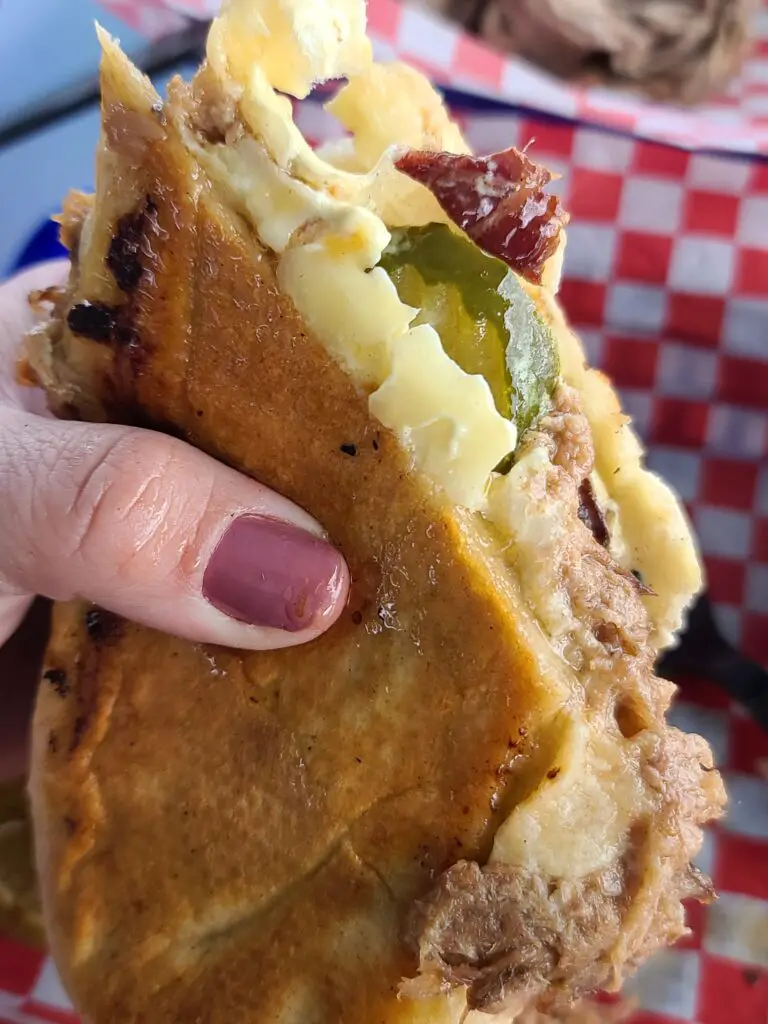 Personally, I had the best Cuban sandwich I've ever had here.  I love Cubans and have eaten them in Cuban restaurants, but this was hands down my favorite.  Similarly, my husband felt his burgers was one of the best he's ever had.  The menu is small offering about six entree options plus a couple of kids items, but I promise you will find something delicious!
Kid Menu: Yes, a couple different options
Kid Comfortable: Yes, outdoors and laid back
GT's on the Bay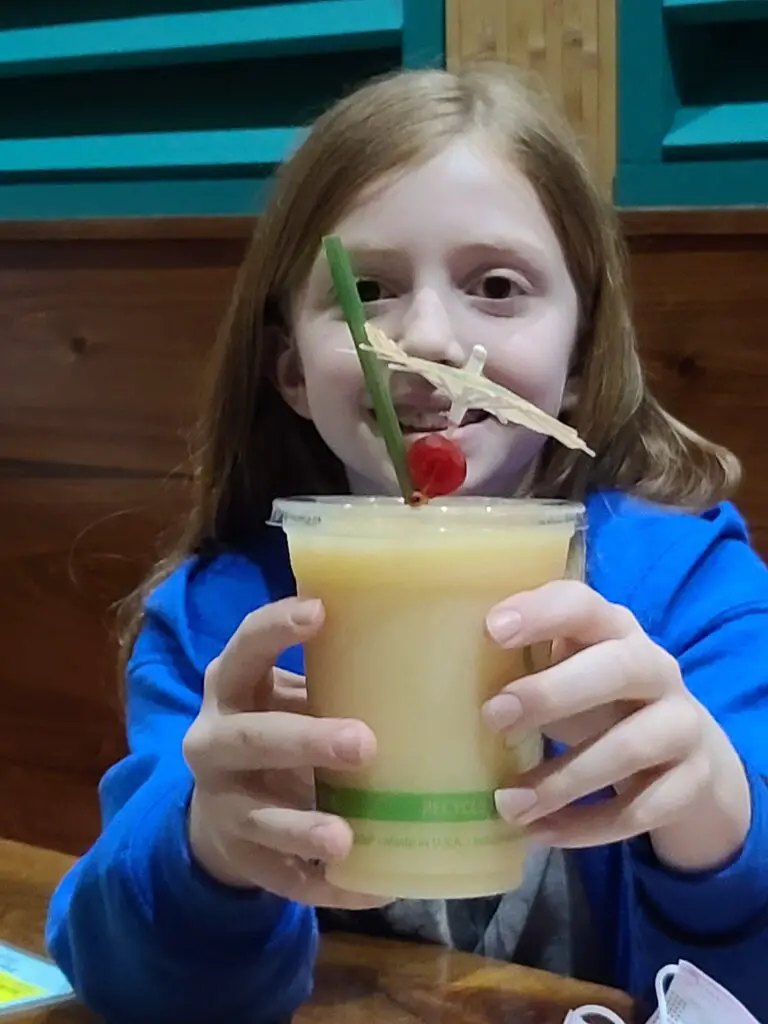 GT's on the Bay, located in Orange Beach, even describes themselves as family friendly so let your guard down right away.  The restaurant is large with a high ceiling in the main dining room and a pool that is home to a remora (look it up).  This will fascinate the kids while they wait for their food.  There is also outdoor seating on their lovely deck overlooking the bay.  In nice weather, kids can play in the sand, climb around on the pirate and tackle the small rock wall and mini ropes course.  Parents can enjoy their food with the kiddos in view.  The menu is broad with an emphasis on seafood.  They offer a salad bar, which always helps supplement picky eaters, but you shouldn't have trouble finding something for everyone as the kids menu offers seven different entrees and variety of kids beverages.  The adults in our group enjoyed the Cajun Empanadas, Salad Bar, Beef Tournedos with Parmesan Grits and Crab Legs – all were tasty.  You can also have an inexpensive early dinner during their 3-5pm Happy Hour with discounted appetizers, drinks and even a $6 cheese pizza to please the kids.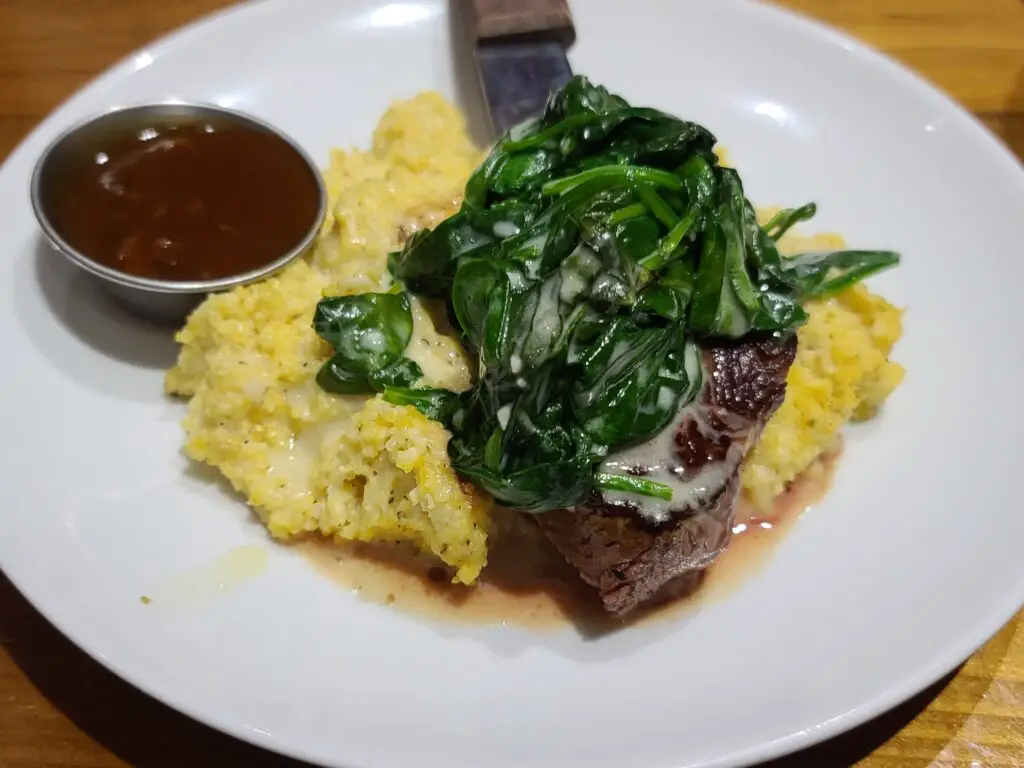 Kids Menu: Yes, seven options including pasta, burger, and shrimp.
Kid Comfortable: Yes, inside or out.  Kids will love the chance to move around while you dine.
The Gulf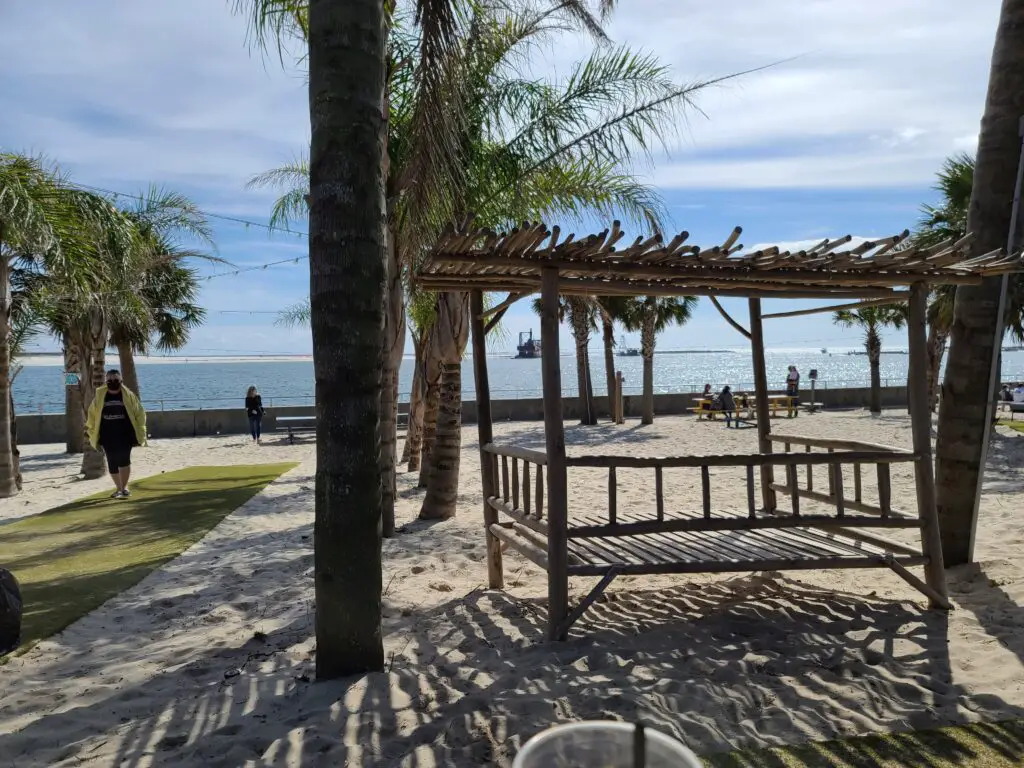 The Gulf has been a favorite of ours since our first visit to the Gulf Shores/Orange Beach area.  This super cool waterfront restaurant is built from upcycled sea containers.  The property is segmented into separate spaces for the bar, kitchen, gift shop, restrooms and lots of seating options.  There are tables on the main deck with heaters for cooler weather, a variety of picnic tables and casual seating laid out on the sand from the deck to the wall bordering Perdido Pass.  Since most of the restaurant is outdoors, they do close during inclement weather – just check their social media.  The menu features snacks, salads, tacos, fresh seafood, burgers, sandwiches and changing chef's specials.  We have visited here at least five times and have loved every thing we have ever ordered.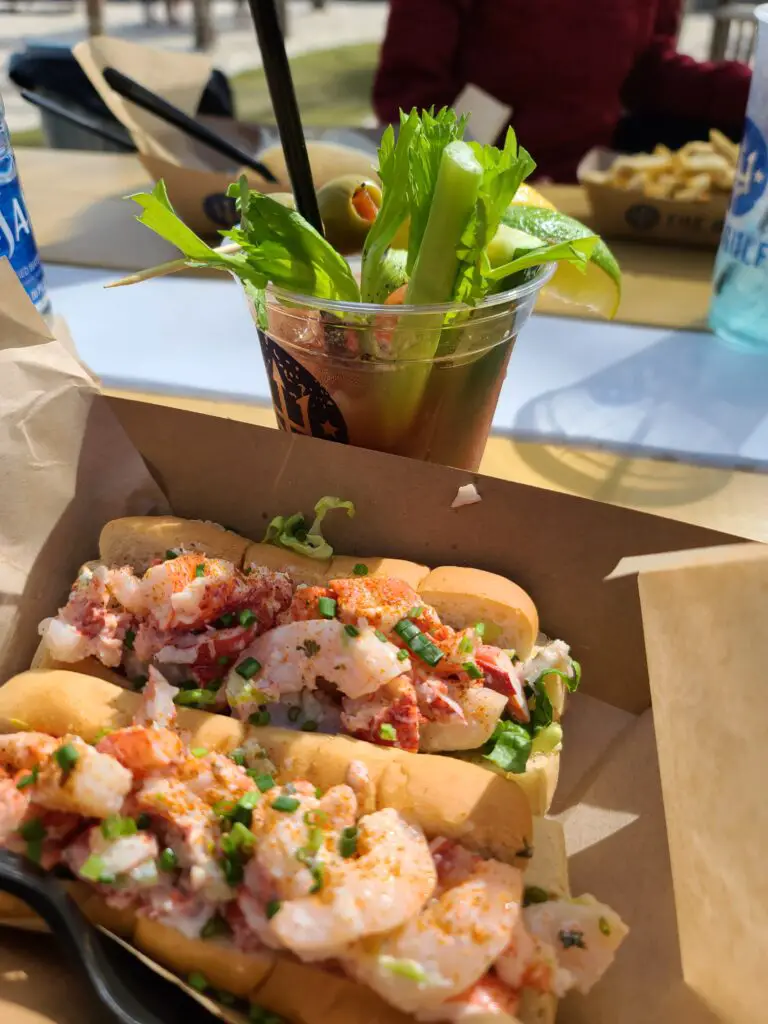 It's delicious, laid back, and decidedly cool.  Don't miss the gift shop during you visit which always has very neat apparel and tons of special gifts you don't find other places.  You'll order at the counter, get a number, and grab a comfy spot to enjoy the sunshine and great food.
Kids Menu: Yes, they offer chicken tenders and grilled cheese, but many main dishes are kid friendly.
Kid Comfortable: Absolutely, being outdoors and spacious allows the kids to move around, play in the sand, and socialize.
Lulu's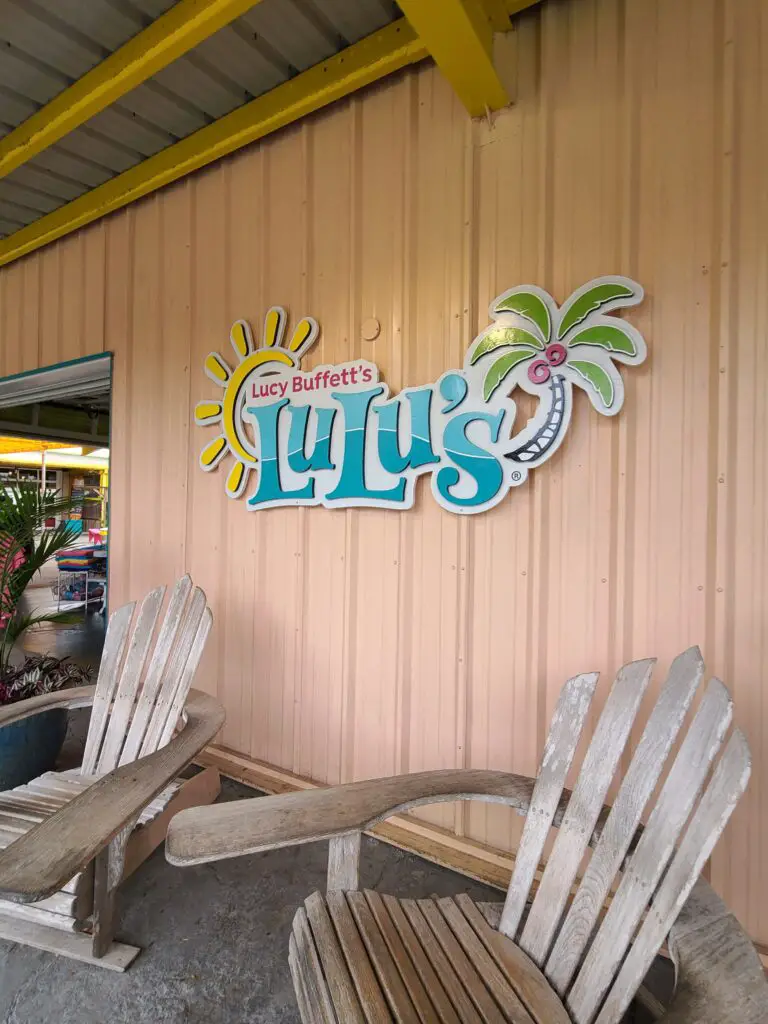 Every visit to Gulf Shores should include a meal at Lulu's, but plan to spend more than an hour to grab a quick bite because there is more fun to be had here.  When we had little kids, we loved the large sand box area to sit near so the kids could move around while we waited and ate.  With bigger kids, you won't be able to stay out of the arcade or even try the ropes course.  Lulu's is situated on Portage Creek so you can enjoy waterfront views while you relax.  Lulu's is self-proclaimed as family friendly and you can feel it immediately from the fun atmosphere.  The menu features a lot of great regional seafood, but also has sandwiches, burgers, and salads.  Our favorite thing on the menu is the nachos – they will have you licking the bottom of the bowl with the queso drizzled under and in between all the layers. Dessert and drink options are good as well.  Come to Lulu's for an entertainment experience.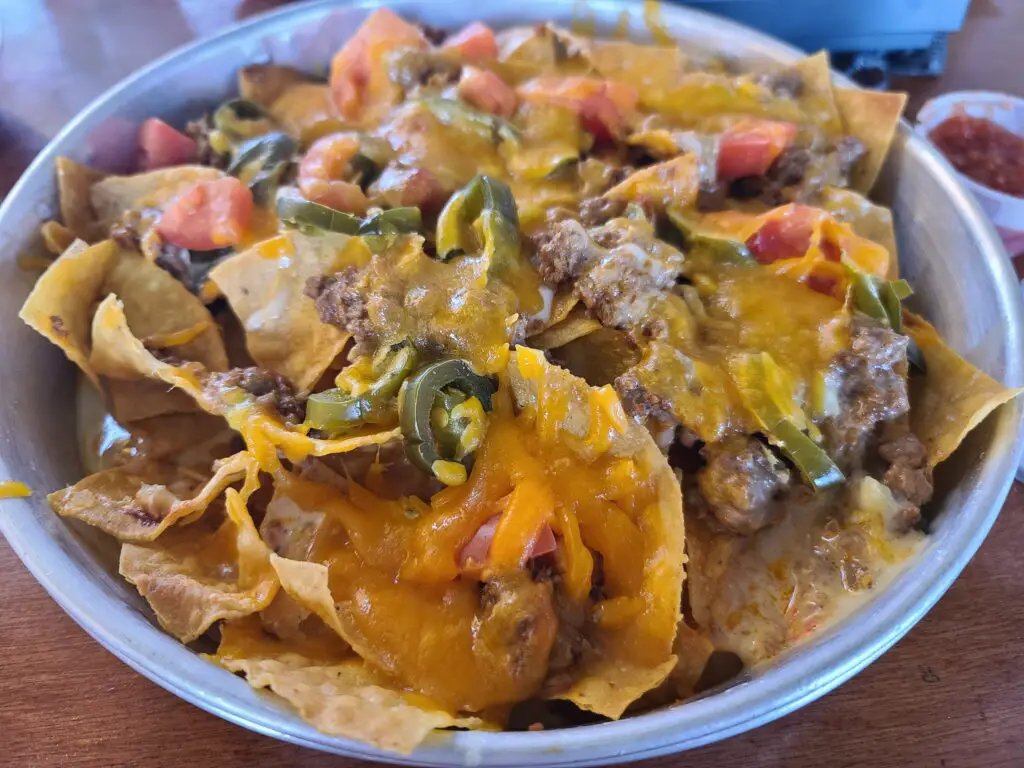 Kid Menu: Yes, with eight kid favorites, great side options, and beverages.  Kids love the smoothies.
Kid Comfortable: Yes, they have made every effort to keep kids entertained and allow parents to relax.
The Hangout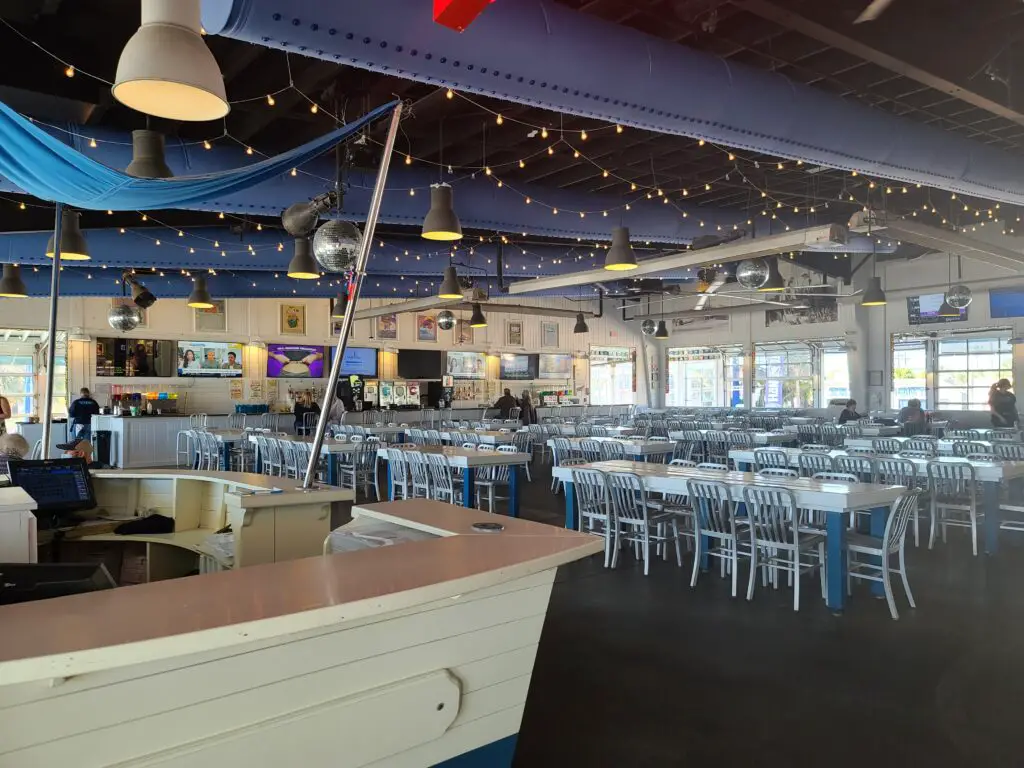 As the name implied, The Hangout is a laid back party of a restaurant.  With its prominent location right at the intersection of Gulf Shores Parkway and Beach Boulevard, you cannot miss it.  It also sits on the main area of the beach accessed by the public so there is always lots of action just outside the windows.  Indoors is huge and has lots of fun decor like the toys cars adhered to the door/window frames.  You will also find a gift shop inside.  Outdoors is host to a concert venue, tons of seating, and entertainment.  The menu is broad with something for everyone and featuring plenty of local seafood.  Whether your kids are dancing on tables or enjoying a foam party, they won't soon forget their visit to The Hangout.  Check out their website as they always have something new and fun planned like live music or pirate/princess breakfasts.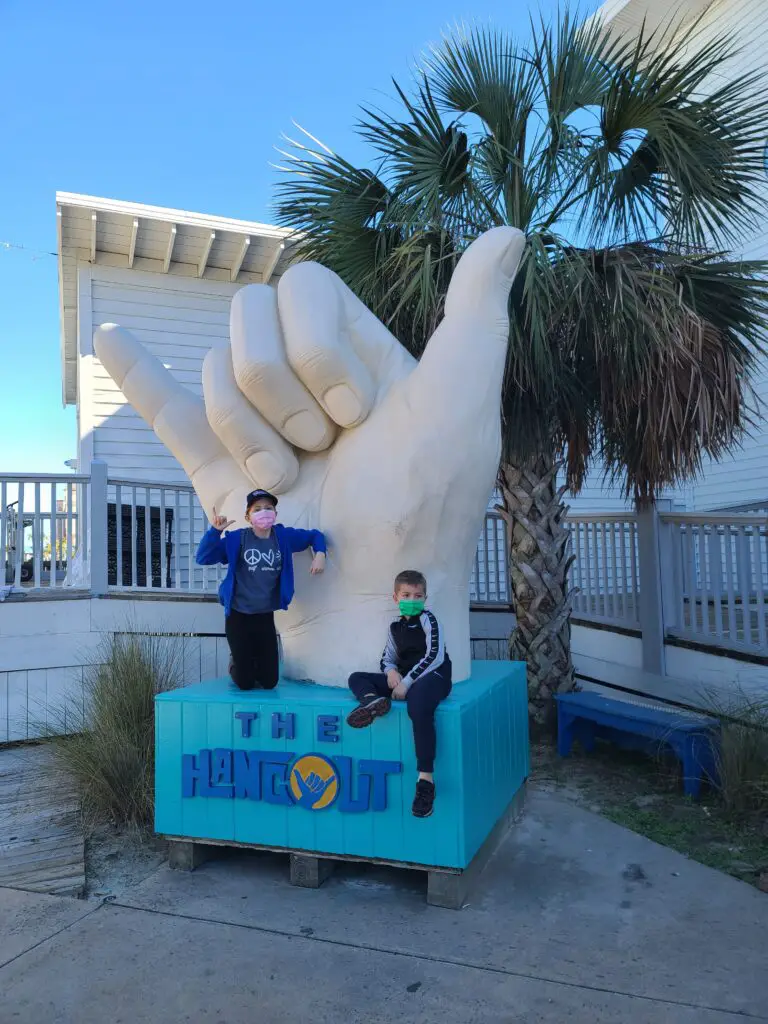 Kid Menu: Yes, they offer five options that come with a side.  I think the Popcorn Chicken is adorable as it's served in a popcorn bag.
Kid Comfortable: Yes, they claim family friendly and they deliver.
Woodside Restaurant at Gulf State Park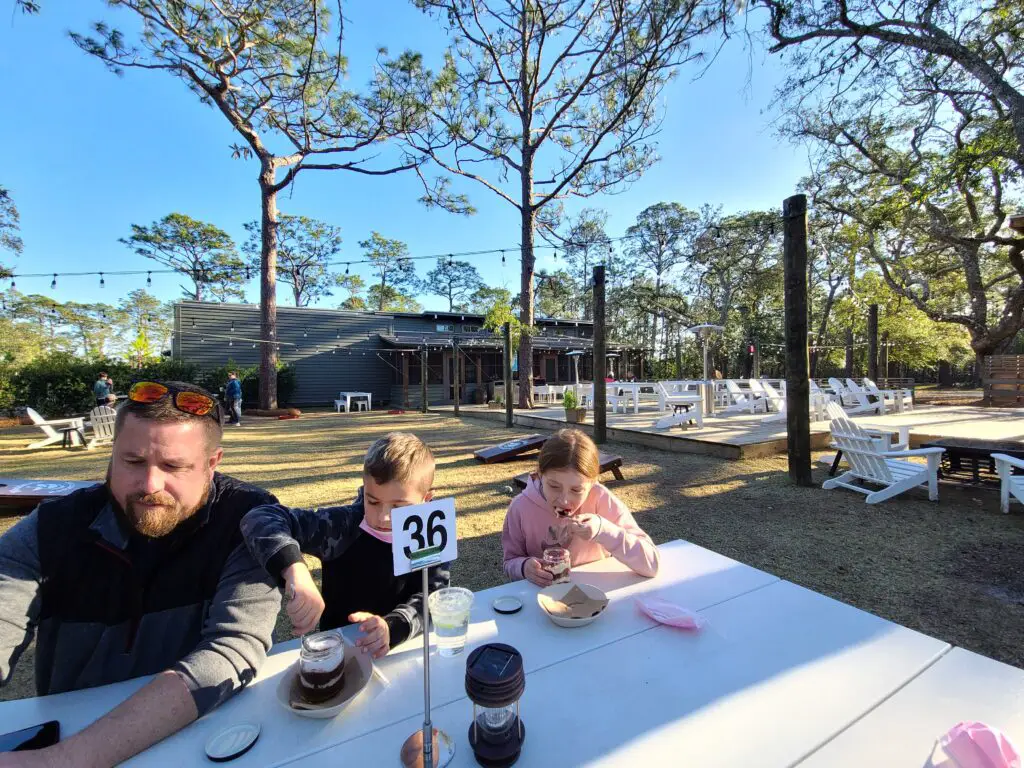 If you don't have visits to Gulf State Park in your itinerary, please reconsider.  This is a great park!  We already loved it and have camped here, but in our most recent visit, we enjoyed the restaurants that are new to the park.  Honestly, my expectations for a state park restaurant were pretty low, but this oasis provides great snacks, an awesome indoor and outdoor space, and great service. Woodside Restaurant serves three meals per day with a small menu for each meal time.  In addition, they have desserts and snacks.  The environment is made for a rest from your hiking or a great spot for an afternoon or evening of entertainment.  They have a small stage for live music, indoor and outdoor games, a variety of seating to accommodate any size of group.  My favorite from their menu are their brussels sprouts with horseradish cream.  If you're staying in the park or using the bus system, there is a stop right next to Woodside as well as ample parking.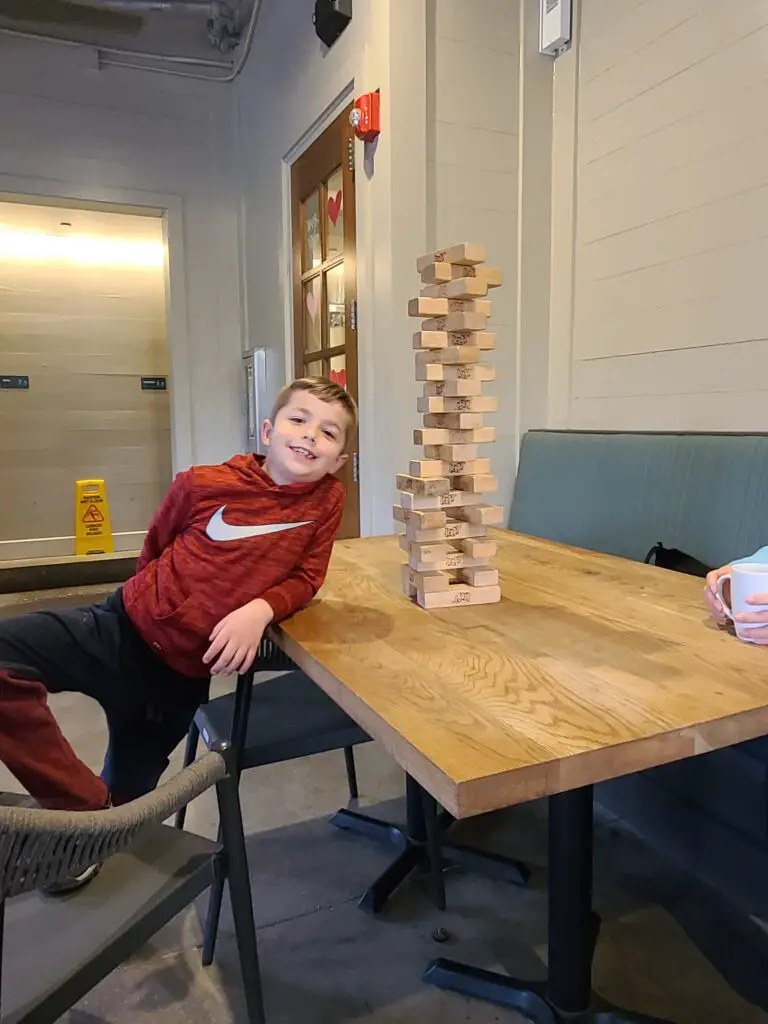 Kid Menu: Yes, kids will enjoy chicken fingers, grilled cheese, or a cheeseburger or order the mac n cheese off the regular menu.  They also offer pancakes or scrambled eggs for kids breakfasts.
Kid Comfortable: Absolutely, kids are encouraged to play games and you're in a park!
Southern Grind
These coffee shops (located both at The Wharf and Hotel Indigo) offer more than morning beverages.  The menu at Southern Grind covers "breakfast, lunch, dinner, dessert and coffee" as they say.  You will find delicious breakfast sandwiches, but also plated breakfasts like omelets, biscuits and gravy, and Belgian waffles.  For lunch and dinner, they offer a wide variety of salads and sandwiches.  Don't forget the gelato.  Not only is the service very friendly and food quite tasty, the sea inspired decor and gifts surrounding every nook make Southern Grind feel like an escape.  My favorites are the Kings Hawaiian and Croissandwich breakfast sandwiches, but I've also enjoyed a featured breakfast sandwich that was excellent.  The whole family will enjoy your visit, but it's also a great spot for a parent to take a break, have a yummy drink or catch up on some work.
Kid Menu: Yes, they offer a PB & J, quesadilla, and turkey sandwich, but there are several items on the main menu that will likely appeal to kids as well.
Kid Comfortable: Yes, the environment is similar to most coffee shops.  If your child is screaming or crying, others will notice, but it's also a casual space where kids feel welcome.
Cosmo's Restaurant & Bar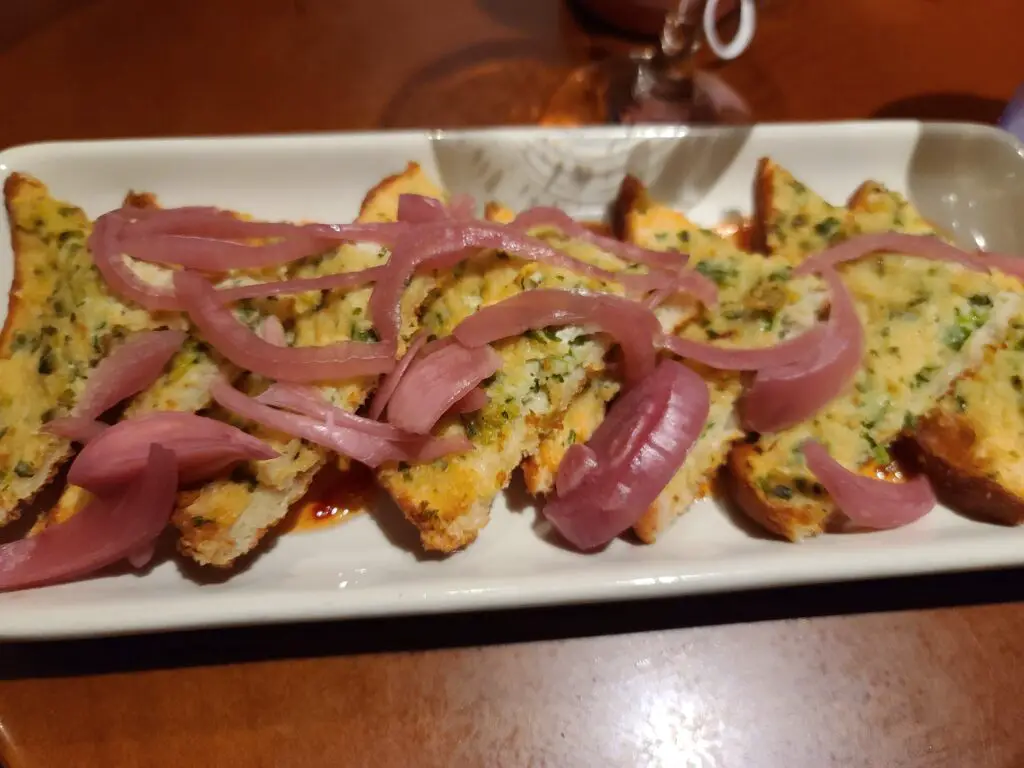 Cosmo's Restaurant & Bar in Orange Beach is part of a restaurant group that also own's GT's mentioned above and others not listed here.  I appreciated that across their restaurants they have the same kids options so you feel confident they are both welcome and covered by options.  Cosmo's is located a bit away from the hustle of the main thoroughfares and upon walking up, it feels like you're approaching the porch of a big, friendly home.  Off the main entry, there are shops with gifts to peruse.  You will find indoor and outdoor seating options.  The menu focuses on Southern seafood dishes and features items we didn't see at other restaurants.  We opted to try several appetizers including the savory cheesecake, shrimp toast, blue crab and corn cala, and crab cakes.  They offer several smaller snacks and drink specials between 3-5pm if you happen to be hungry early.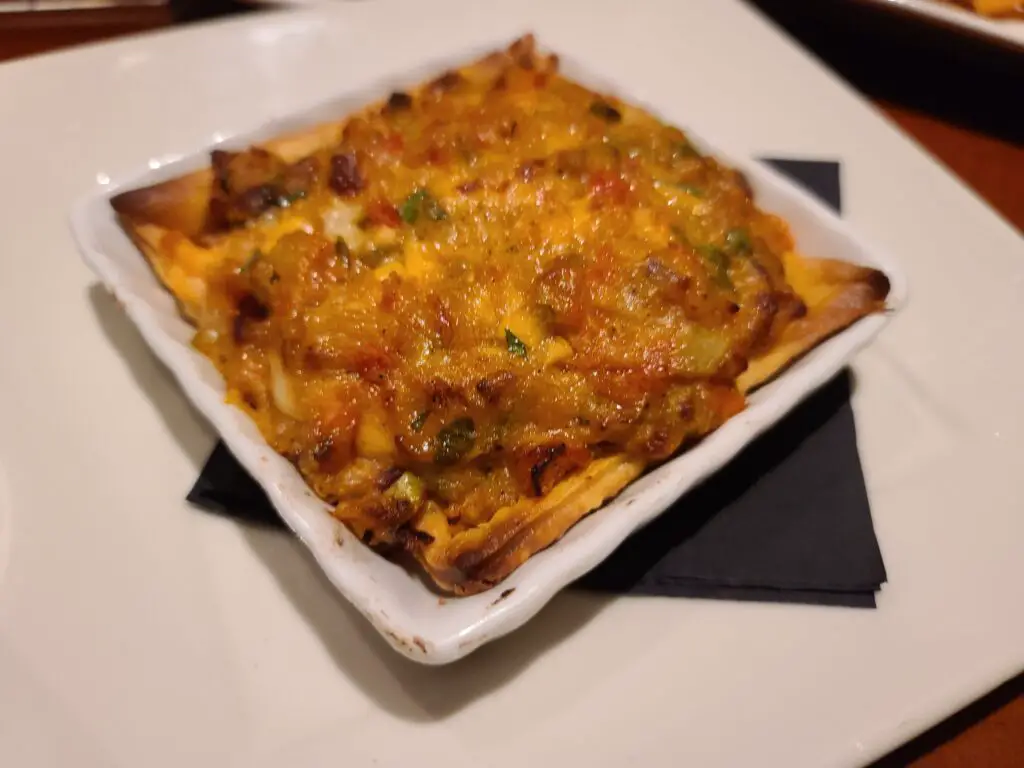 Kid Menu: Yes, they offer an extensive kids menu of entrees and beverages.
Kid Comfortable: Yes, the environment is casual.  If you sit indoors, noise carries a bit more, so noisier kids would be more obvious.  Opting for outside might be most comfortable and laid back, but kids are quite welcome anywhere.
DeSoto's Seafood Kitchen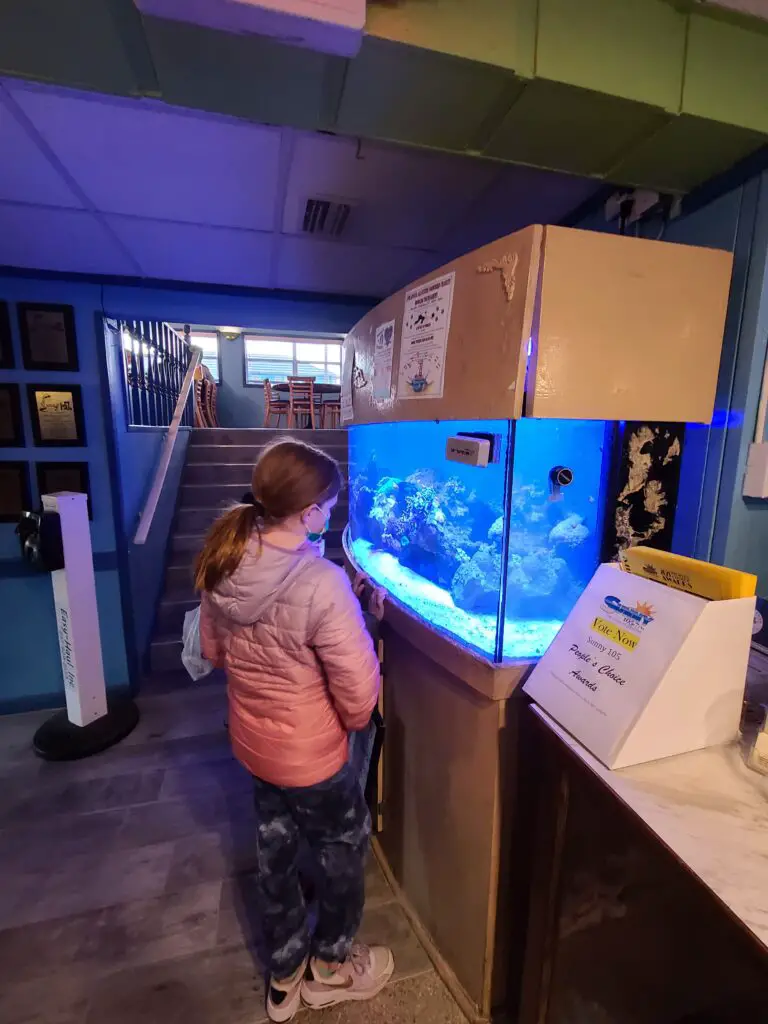 When researching where we would eat, DeSoto's Seafood Kitchen always came up on lists of other visitor's favorites.  I wasn't certain what to expect as the menu offers such a wide variety of seafood (which at home can signal higher end environment), but DeSoto's is extremely comfortable and laid back.  They offer a wide variety of preparations for the fish more commonly found in the area.  I tried the Paneed preparation and returned to eat it again – SO delicious.  The kids loved the fish tank near the entry, crayons and paper menus, and 8 entrees offered to them.  You can find hush puppies, fried green tomatoes, and gator bites on their appetizers menu and nearly every style of seafood favorite.  They offer a handful of options for the meat and pasta lovers as well.  Although we visited in colder weather, their outdoor seating looks cozy and fun.  Make sure to visit DeSoto's to enjoy the homemade flavors and maybe try something new!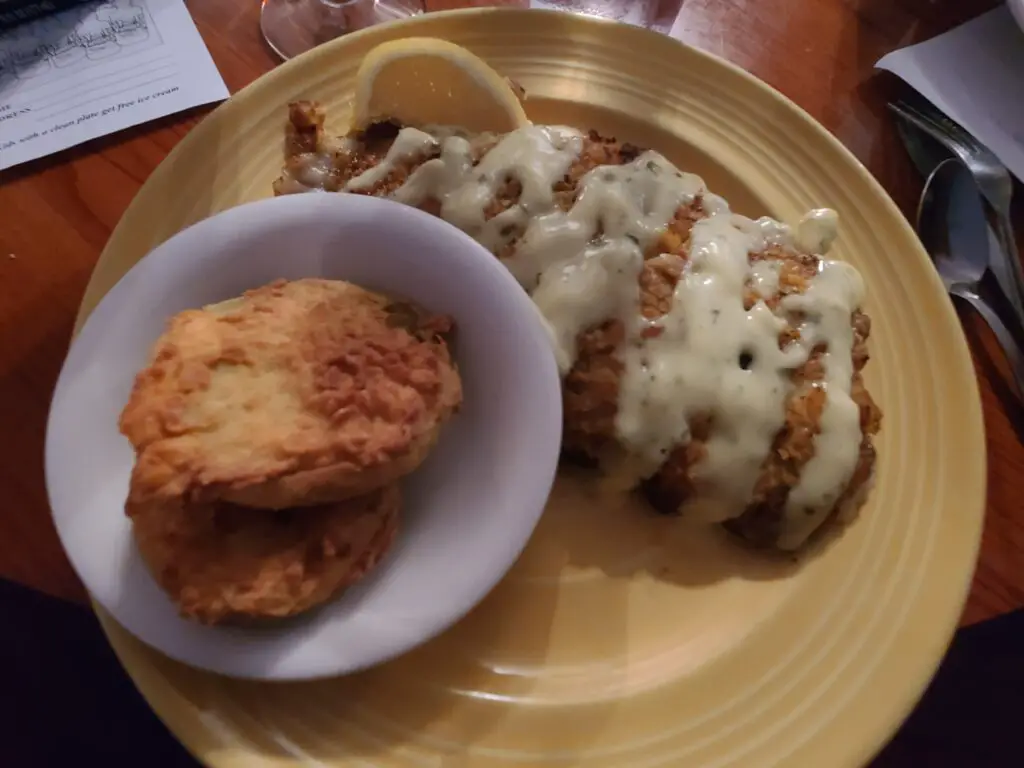 Kid Menu: Yes, eight entrees from shrimp to corndog to pasta.
Kid Comfortable: Yes, the ambiance is casual, busy and welcoming.
Foodcraft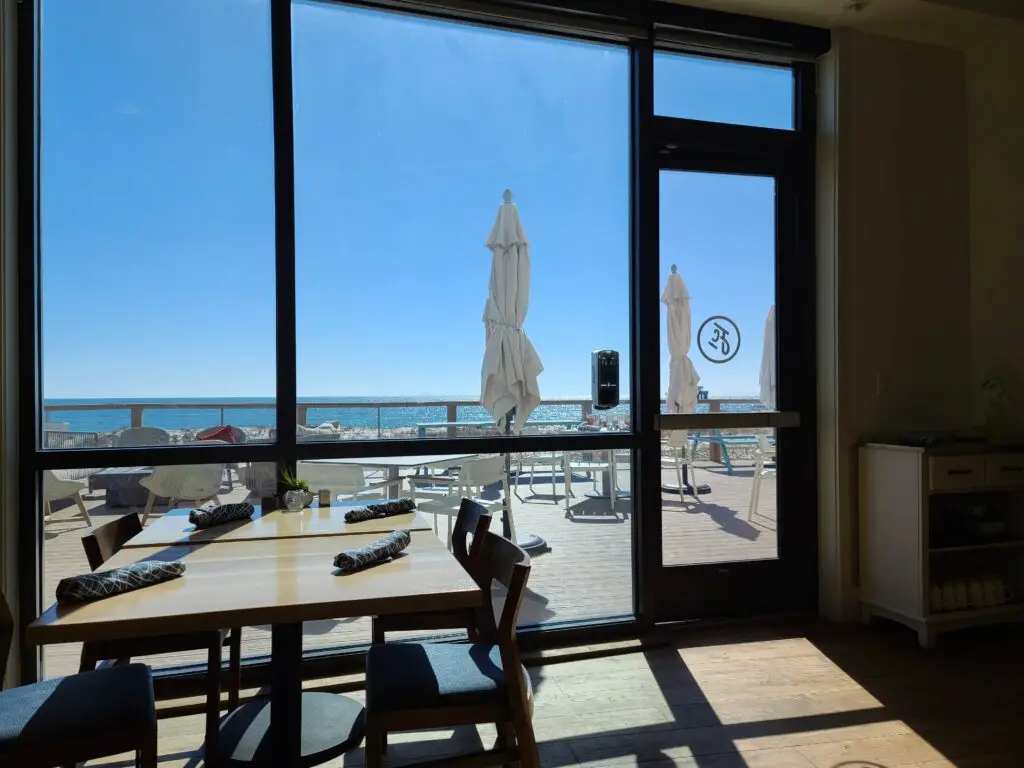 Foodcraft is one of the restaurants located at the Lodge at Gulf State Park.  Foodcraft is a great choice for families with its airy mixture of indoor seating and waterfront deck outdoor seating.  The flexible seating also allows for larger families or family groups.  Opened in late 2018, Foodcraft brings a fresh perspective to three meal per day restaurant for hotel guests, locals, and area visitors.  Although you will find seafood featured in several dishes, there are some unique presentations we didn't see elsewhere such as crab fritters, snapper bites, variety of stuffed oysters, and grouper "cristo".  We used our visit to try some fritters, fried goat cheese, lodge burger and chicken paillard.  Everything was full-flavored and presented in a way that kept our meal light.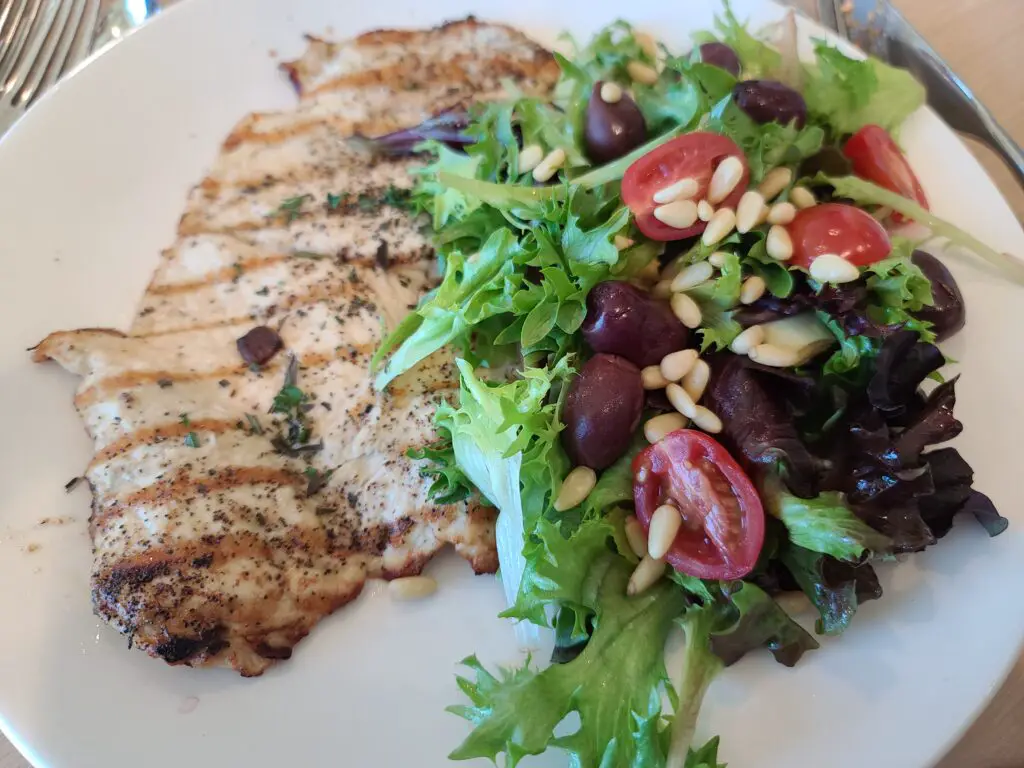 Kid Menu: Yes, they offer a kids menu and were very flexible.
Kid Comfortable: Yes, the casual environment felt very comfortable and staff was very welcoming.  They even offer a prize box for after kids finish their meal.
Oso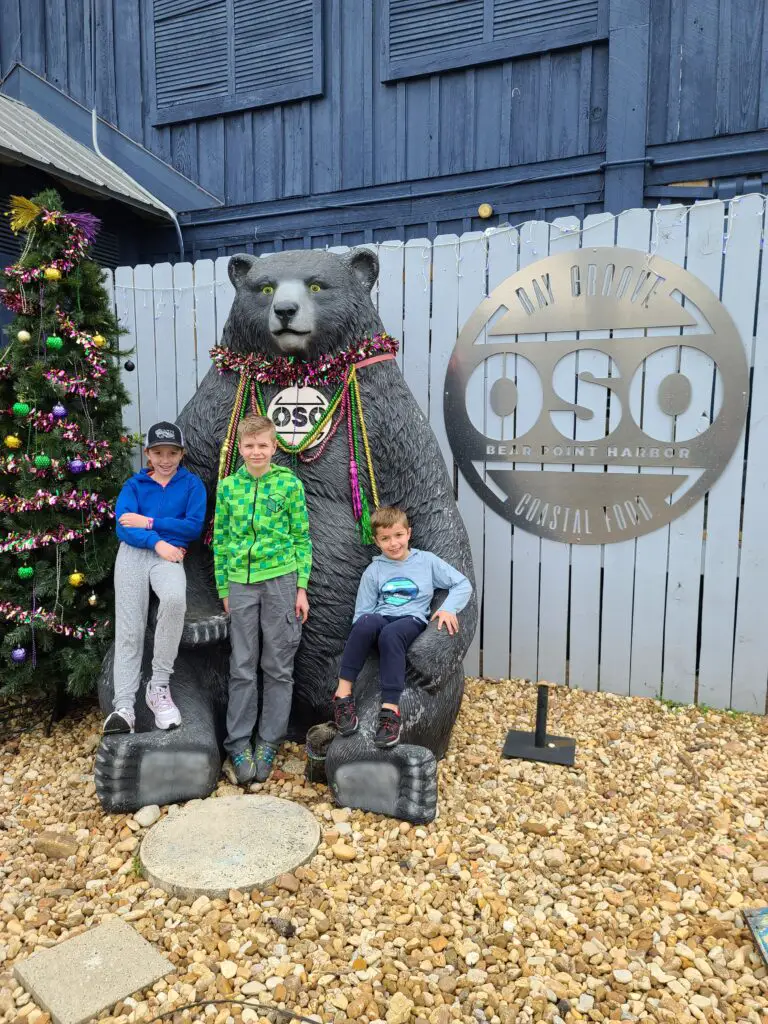 Oso at Bear Point is a waterfront restaurant with a different view that any other restaurant mentioned in our list.  Bear Point is its own unique part of Orange Beach.  The restaurant is a party all on its own with indoor and outdoor seating, an adjoining tiki bar, and live music.  Oso featured menu items you won't find anywhere else like the blackened crawfish quesadilla, debris po-boy, various bowls offered over cilantro lime rice or lettuce, and desserts like bushwacker cheesecake and beignets foster!  Add Oso at Bear Point to your list for a laid back, hangout that can get lively on the weekends.  Located right on a marina, you can also use this as a jumping off point for a boat tour.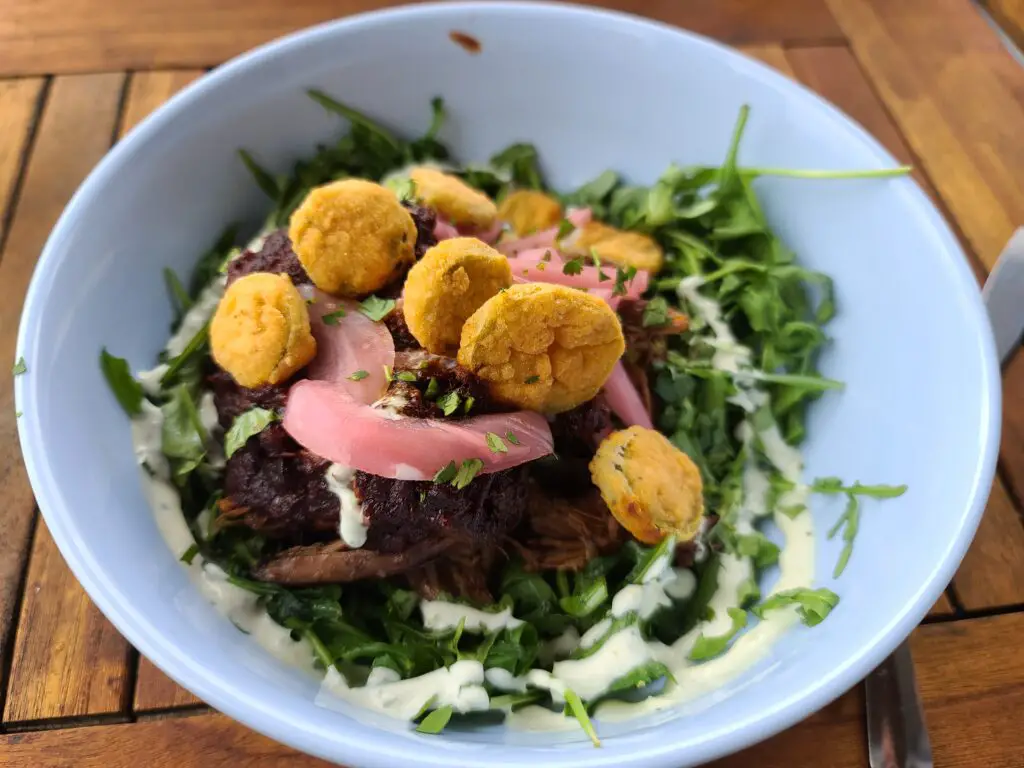 Kid Menu: Yes, six kid specific options are available.
Kid Comfortable: Yes, the boisterous environment with live or speaker music make this a comfortable place for would up kids.
Niki's Thai & Seafood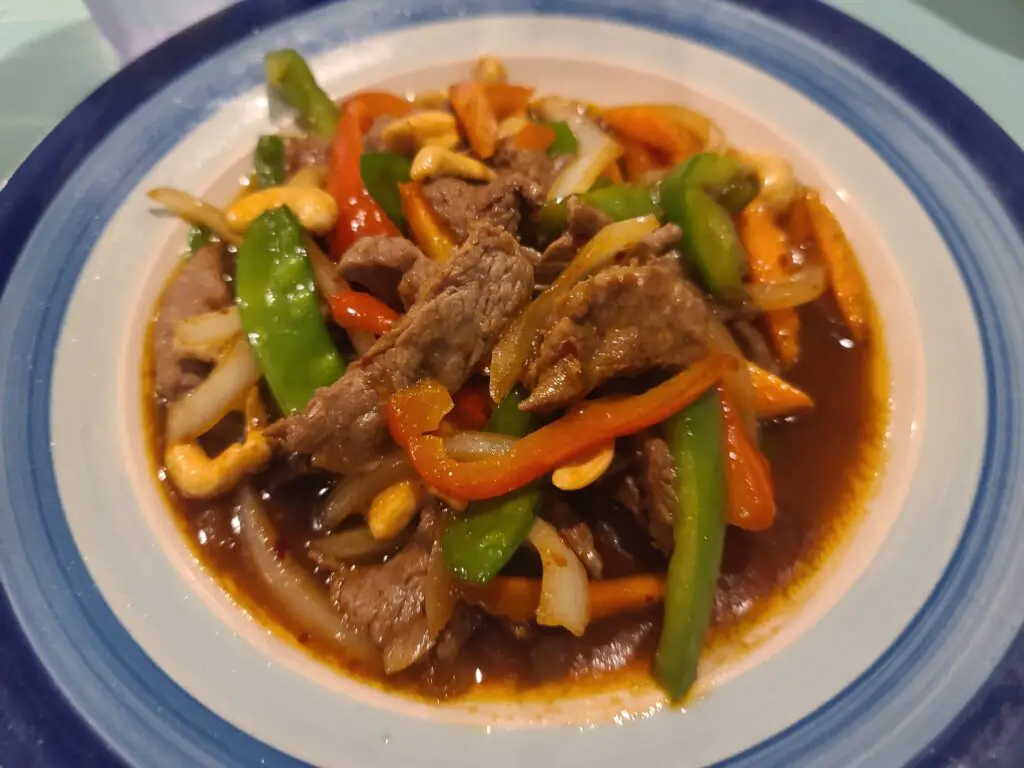 If you're ready to change it up a bit and have had your fill of local seafood and Cajun inspired dishes, give Niki's Thai a try.  Niki's Thai & Seafood is located near The Wharf and features indoor seating in a bright, fresh dining room with a beachy color scheme.  You can still get your fill of fried seafood, but come to Niki's for the staple Thai soups, rice, noodle, curries, and stir fry dishes.  We found Niki's dishes to be the perfect mix of spicy, sweet and savory.  Eating something a bit different from what most of our list represents was a palate cleanser and a welcome change of pace.  It's also a great option before a visit to The Wharf on a busy night.
Kid Menu: Yes, they offer four kid entrees, but we were able to use their appetizer and sides to concoct a dish that worked for our pickiest eater.
Kid Comfortable: Yes, the environment is bright, lively and welcoming.
Flying Harpoon 2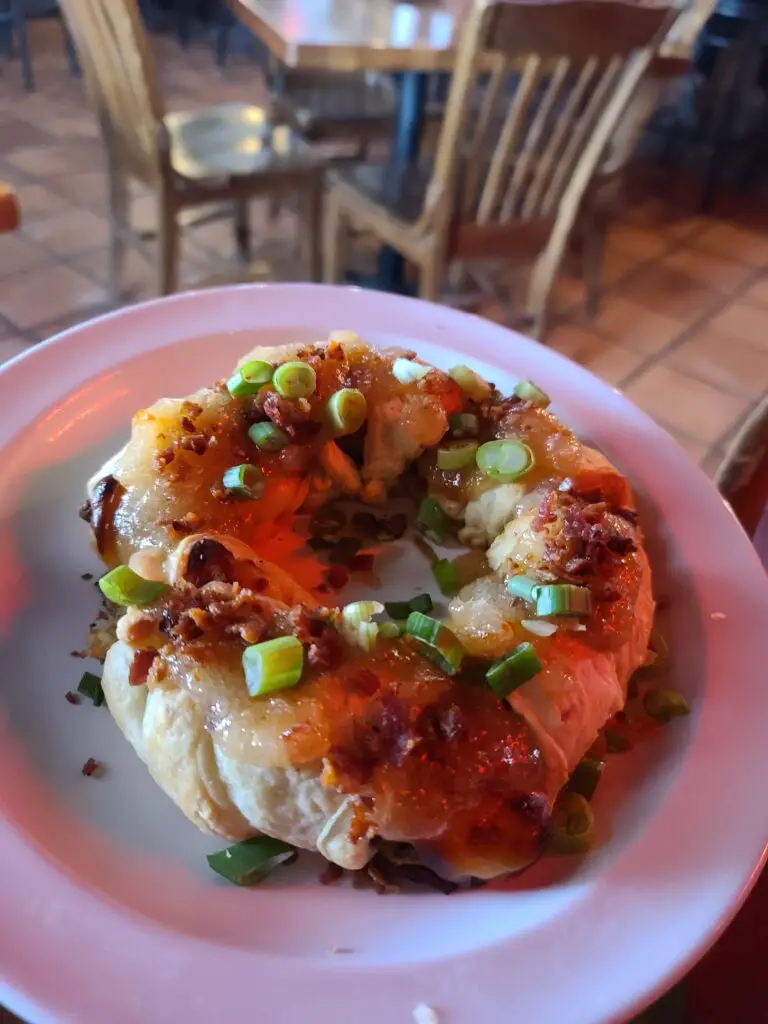 Flying Harpoon, the original, and Flying Harpoon 2 offer the mostly the same favorites, but we recommend the second location for a family so there is enough room to be seated.  When only the upstairs is open, it has more of a bar feeling, but grab a table on the deck below for a comfortable, fun experience.  Definitely visit here if you want to try Bayou favorites.  And pay attention to their features as they are sometimes the best items available.  Be fair warned I would describe this place as a local "dive" in the best sense of the word.  Don't be afraid to give a try to experience the super friendly service and tasty food.
Kid Menu: Yes, they offer chicken strips and french bread pizza.  Ask your server for more details.
Kid Comfortable: As mentioned, the bar like atmosphere may lead families to prefer outdoor dining.
Gulf Shores Steamer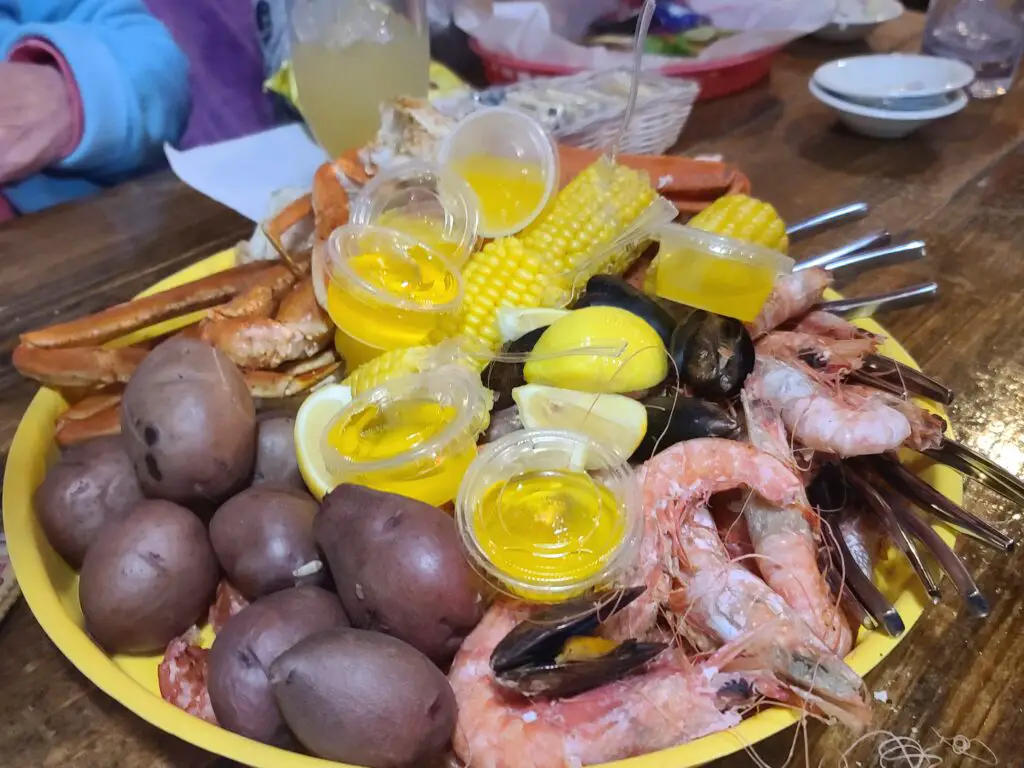 Who's ready for a steamed seafood feast?  Gulf Shores Steamer offers just that in a relaxed environment.  We actually celebrated Mardi Gras here with a giant pile of crab legs, mussels, and Royal Reds.  Gulf Shores Steamer has been in business since 1989 and in their current location for over a decade.  They advertise themselves as casual family dining so you can rest assured kiddos are quite welcome.  You don't have to order a pile of seafood for the whole table as they offer a variety of combos of your favorites and many seafood and meat entrees as well as sandwiches and salads.  The Gulf Shores Steamer is located in a small shopping center with retail stores if you visit earlier in the day. They also promise "no fried" seafood on their menu so you can enjoy your favorite steamed items without the heaviness.
Kid Menu: Yes, if the kids are digging into a seafood boil with you, there are 8 kid oriented entrees.
Kid Comfortable: Yes, Gulf Shore Steamer has a laid back bar and grill vibe.
Hog Wild Beach & BBQ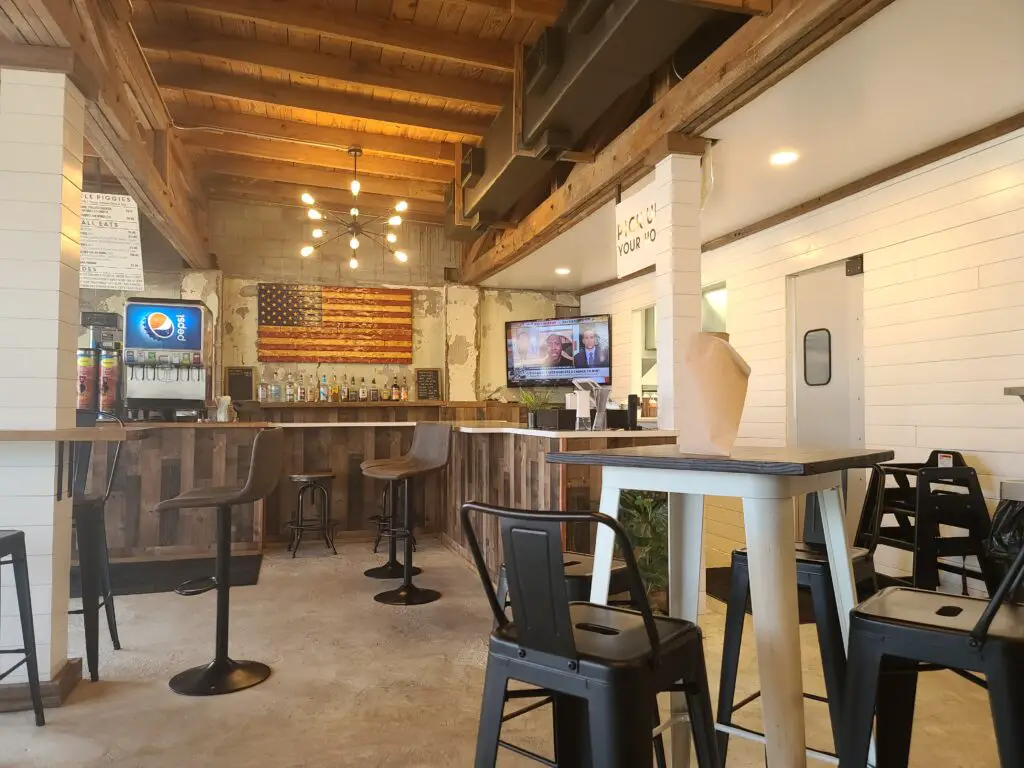 A welcome change of pace in a beach front town, Hog Wild Beach & BBQ is offering up some flavorsome meats and sides right along Gulf Shores Parkway.  If you are a cooking show fan, you may have seen Hog Wild featured on the Cooking Channel.  My husband tried the famous Nasty G sandwich with just about all of the meats plus shrimp and slaw.  I had a bite – very good!   They offer inside and outside seating, but overall it is a small space.  I would recommend going outside of peak hours if you're visiting during peak season. The interior is decorated in a kind of farmhouse chic vibe that's fresh and makes the most of the older building.  Compared to other BBQ joints, you will appreciate the variety of meats, sandwiches, and small bites they offer.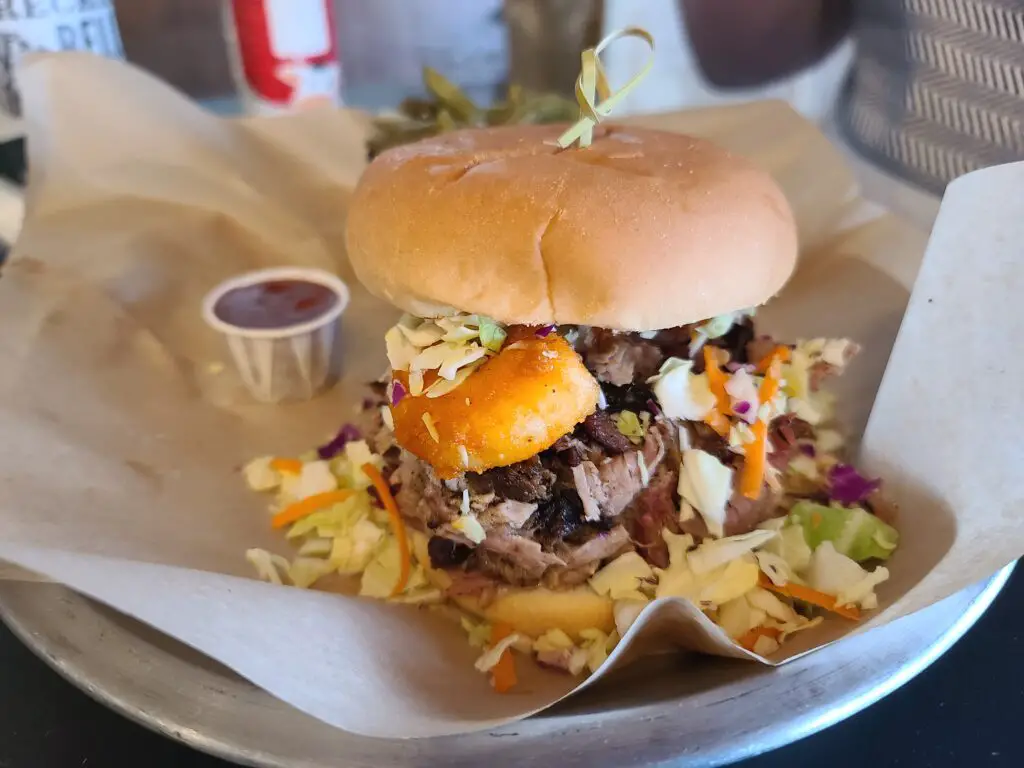 Kid Menu: Yes, they offer sandwiches and platters of their various meats as well as grilled cheese.  Kids' meals come with a side and drink.
Kid Comfortable: Totally, a very casual environment with no pretention.
Ruby Slipper Cafe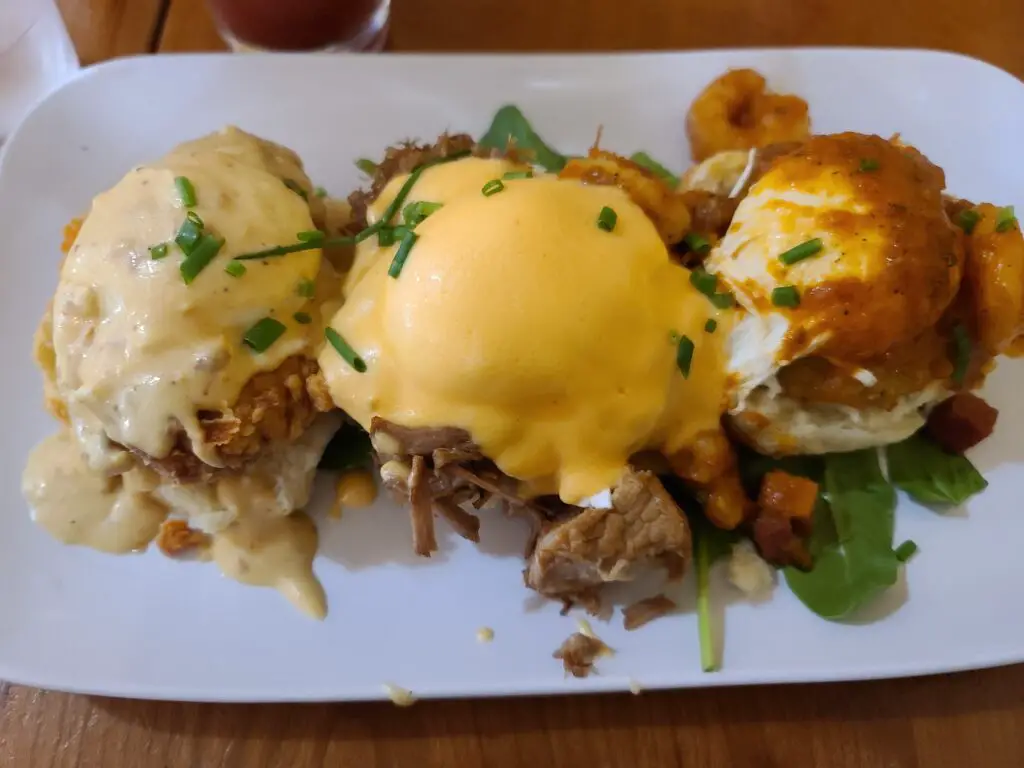 Ruby Slipper is part of a regional chain that celebrates the New Orleans spirit and foods.   The original location was born out of rebuilding after Hurricane Katrina and has now expanded to eleven locations along the coast. Ruby Slipper is all brunch, all the time.  They offer sweet and savory to please the entire family.  I highly recommend The Trifecta if you like Eggs Benedict since you get to enjoy three different types offered as individual dishes.  The Orange Beach location also sits conveniently in front a nice, new mini golf location that makes the perfect vacation morning.
Kid Menu:  Yes, there are three specific kids items (biscuit slider, mixed breakfast dish, and pancake plate), but good luck keeping bigger kids from indulging in all of the "Sweet Spot" items.
Kid Comfortable: Yes, Ruby Slipper is casual and comfortable and as family friendly as any chain restaurant.
Sunset Cork Room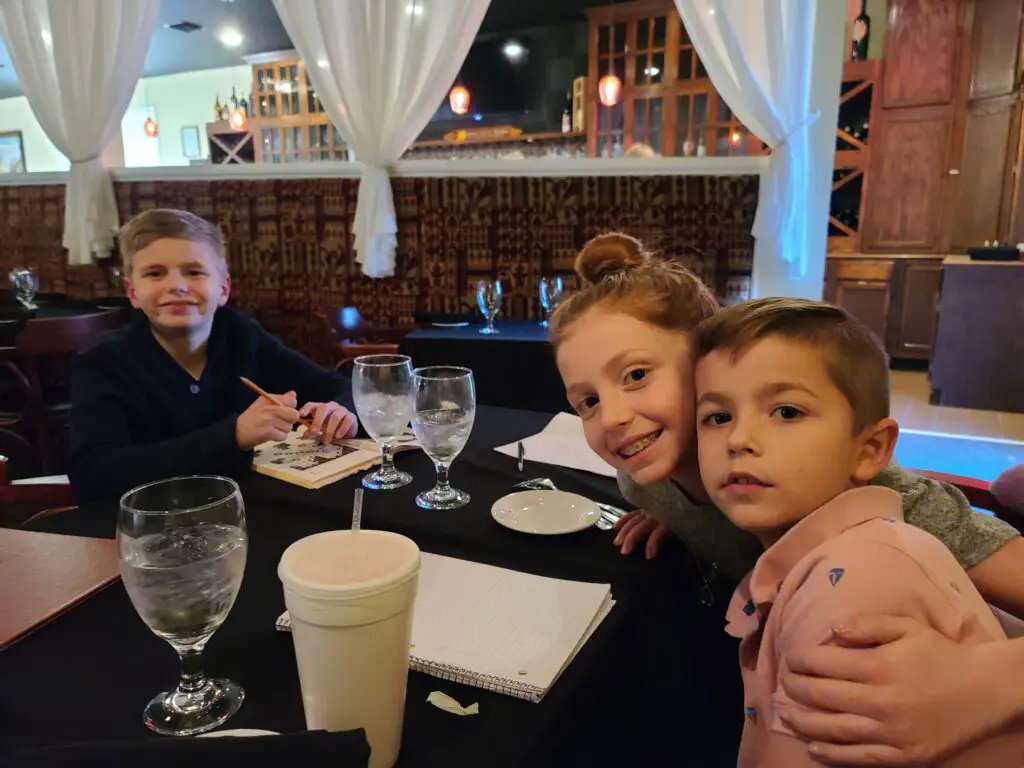 Let me preface this recommendation by explaining that we were celebrating a milestone birthday and looking for a high end option we could successfully visit with our kids in tow.  Sunset Cork Room is a quiet-ish, fine dining restaurant.  It would not be fun for a boisterous family.  That said, my seven year old is about as boisterous as it comes.  If you have strategies for entertainment (take along bag with drawing materials, etc.) and a serious preface to this visit, this is possible and SO worth it.  It was so great that we visited a second time during our five week stay and were lucky enough to have live music provided by a very interesting gentleman who shared his story between songs.  We didn't order anything I would not recommend, but we especially loved the lamb chops with red wine reduction.  On our second visit, we actually asked for the entrée with the appetizer sauce because all five of us enjoyed it so greatly.  If you're looking for a special occasion spot, please choose Sunset Cork Room.  Be up front when you call about your party, prepare with some activities for "bigger" little kids, and enjoy the hospitality we absolutely received on both visits.  We were so grateful for the kindness and appreciation our little diners garnered.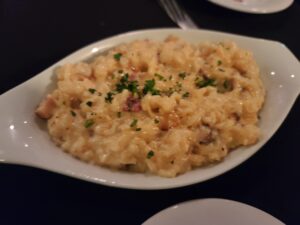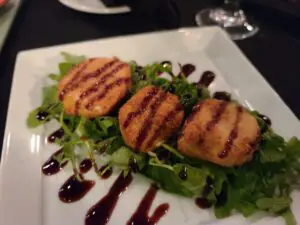 Kid Menu: No, but I recommend ordering the risotto, baked potato, paneed chicken plain, scampi pasta, or pork chop.
Kid Comfortable: Yes, if you feel comfortable preparing kids for the experience and being flexible, the staff will be more than accommodating.

Eat and Enjoy!
There are endless options in the Gulf Shores/Orange Beach area, but these are safe bets for a family friendly experience.  I hope you will indulge in some of my suggestions and let me know what restaurants you discover to be worth a family visit.