Streamlining your travel bag collection is very useful with increasing baggage fees and restrictions.  I spent my 20s and most of my 30s with a random collection of luggage which I added at the occassion arose to grab an affordable randomly sized piece.  When airline baggage rules evolved, this proved to be a weak strategy.  We had multiple trips where we hoped for no overage charges because my bags were simply to big and clunky.  I developed a more minimal packing style and have never felt more confident packing for a trip.
Suitcases
Maybe you have heard of the Away Luggage brand that popped onto the scene in 2015 or at least these bags look familiar as dozens of copycats can be scene in big box stores and online.  I received the Bigger Carry On (hard side) as a Christmas gift.  Here's what I LOVE about it:
 Sleek and stylish
Moves well across surfaces
Inside space layout is very smart
The zipper is unbreakable
Tough enough to be tossed around
One side of the away bags has a mesh zipper top which has a packing cube effect and encourages me to squeeze my items in efficiently.  The other side is covered by a hard framed pocket that lays flat and can be tightened to press excess space (air) out of the packed contents.  I cannot believe what I can fit in here and it still zips!
The Bigger Carry On is great because it's just slightly (.7″) larger than carry on restrictions, but fits perfectly in the overhead compartment giving you just a bit more space.
Backpacks
I never would have imagined at 36, I would take my first backpack trip across Europe, but that's exactly what we did.  Granted, we didn't trapse without a plan from hostel to hostel if that's what came to mind.  We traveled with our three kids (ages 8, 6, and 3 at the time) and my parents from Rome to Copenhagen.  The backpacks provided efficiency for all of the little hands that needed held or to push a stroller.
I researched and researched which bag would suit our family.  Chris and I each carried one.  The eBag Motherlode Weekender Bag was a great choice for us for these reasons:
It packs like a suitcase with sectioning and secure straps
Easy access outside pockets for grabbing items along the way
Great length for shorter people (I'm 5'4″)
Interior mesh pocket for separating shoes
Tons of extra zippered sections for dividing small items
Laptop pocket tucked into the back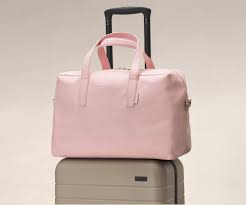 Personal Item
Away Luggage is my go to in this category as well.  I received The Everywhere Bag as a gift late last year.  I wanted this bag to use a carry on, but also as a daily work bag.  I carry a larger laptop (15″) which can limit my choices.  When I received the bag, I was packing my laptop in the inside side pocket which would be great for smaller laptop, but mine fits best in the middle section.  Once I made this change, I have LOVED how sleek and smooth this design is.  The exterior pocket is perfect for passport access (even if you're carrying 5).
I honestly feel so pulled together pushing my Away Bigger Carry On with The Everyday Bag slid over the handle through the airport.  It's so easy and I'm not straining or dropping things as I try to juggle everything.
Travel Purse
I have taken Travelon Crossbody purse or Travelon Classic Backpack as my travel purse for the past six years. I feel confident that everything is secure with their clip close zipper pockets and strap that can't be cut.  The cross body fit is perfect for me and keep it out of the way for holding a little one's hand.  The best part are the variety of pockets.  Before each trip, I organize the 4 separate pockets for different purposes – the my wallet, my personal items (hair clip, toiletries, etc), and easy access items like kleenex, gum, headphones, etc that the kids might need quickly.
I chose black in the Crossbody and midnight blue in the Backpack.
Travelon Signature 3 Comparement Crossbody
Daypack
The term daypack was introduced to me when I was researching our backpacks (listed above).  Before having kids, I just carried a purse and then when there were younger, we had a diaper bag.  A daypack allows us to take minimal number of bags and more efficient luggage with the daypack tucked away for use once we arrive at our final destination.
We love these Bago Water Resistant Daypacks because they fold into themselves to make a tiny pouch.  They are great for handling the day's supplies (water bottles, extra jacket, sunscreen, etc).  Plus, if you find yourself in a rain shower or carrying it through a sweating jungle (happened), the contents are not soaked.
Carseat Bag
J.L. Childress Padded Car seat Bag
Managing all of the gear when you have a small child can make air travel daunting.  We really liked using this car seat bag to initially moving through the airport easier.  When our kids were bigger and we didn't use the car seat on the plane, but wanted to travel with it, we checked it planeside in this bag and stuffed it with anything extra we didn't want to manage on the plane.
Toiletry Bag
eBags Classic Pack-it-Flat Toiletry Bag
We first used this bag for our 3 week trip to Thailand for all 5 of us.  It is amazing.  There are so many pockets and ways to separate items.  The lining made me comfortable that if a semi-wet (I know, gross, but kids) toothbrush landed in the bag, I could wipe it out.  There is an expander zipper to allow for more space.  But really it's the layout of the pockets that make this bag (15″ wide, but only 9″ tall) so versatile.  I filled the main section with the few full size items (i.e. deodorant) and all of my toilety size hair products, detergent packet, our razors, etc. I used the side pockets as a medicine section, skin care section, tooth related items.  Plus, the portion that unfolds to hang is perfect for little items like hair ties, tweezers, etc.
Lay N Go Drawstring Makeup Bag
I love the flexibility of this little bag.  I typically only put my makeup in it, but when we inevitably cannot fit something else meant to go in the toiletry bag upon repacking, this little bag always can handle something extra.